PRO8 targets "zero crime" rate as SY 2013-2014 starts
By RPCRD, Police Regional Office 8
June 3, 2013
CAMP KANGLEON, Palo, Leyte – After ensuring the peaceful midterm elections, the Police Regional Office 8 (PRO8) has shifted its focus to the opening of classes as the entire police force in Eastern Visayas was placed on heightened alert status wherein an estimated 1.2 million students troops to various public schools in the region as school year 2013-2014 formally starts Monday.
PRO8 director PCSupt. Elmer Ragadio Soria informed that Police Assistance Desks (PADs) were established in different schools regionwide as intensified Police Integrated Patrol System (PIPS) is continuously conducted in different schools, campus, and universities particularly in Tacloban City and other urban cities where huge volume of students are expected to converge.
"We plan to achieve a 'zero crime incidence' as school officials and students returns to schools," said Soria, "Aside from securing them, we want also to prevent the occurrence of any untoward incidents in nearby areas".
Uniformed policemen will conduct mobile and foot patrol along traffic routes leading to different institutions of learning and within the immediate vicinity of school premises, aside from assisting the traffic enforcement groups to help smoothen the flow of traffic.
PRO8 has prepared security plans to ensure that crimes usually committed during the opening of classes will be minimized, if not totally eradicated, Soria assured.
Aside from ensuring peace and order, police personnel manning the PADs would also coordinate with school officials in handling and guiding the anticipated surge of students and pupils and ensure the smooth resumption of classes.
Flyers on safety and crime prevention tips have been distributed to parents and students during the enrolment period the past two weeks, Soria said.
Notwithstanding the security preparations, Soria advised the public, especially parents and students, to remain vigilant and observe precautionary measures to avoid being victims of petty crimes, like theft, pick pocketing and snatching.
Soria earlier ordered the deployment of anti-illegal drug operatives near school premises to ensure that the school environment would be free of pushers and users who may influence students and introduce them to illegal drugs.
Further, the police official called on the public to immediately seek the attention of the nearest PAD or report to the nearest police station any suspicious looking person, groups or actions in schools and their surroundings.
Cayetano says COA's blacklisting of NGO should prompt government, lawmakers to take strong action vs. erring contractors
By Office of Sen. Alan Peter S. Cayetano
June 3, 2013
PASAY CITY – Senator Alan S. Cayetano today urged the government and fellow lawmakers to be vigilant and take strong action against fake non-government organizations (NGOs) and contractors which avail of government infrastructure funding, including lawmakers' Priority Development Assistance Fund.
Cayetano made the statement following the Commission on Audit (COA)'s blacklisting of Pangkabuhayan Foundation Inc., which the agency found to have submitted fabricated documents and forged signatures to liquidate P161.914 million in PDAF allocations it received in 2009 and 2010.
"PDAF funds projects can help communities create jobs and build for the future. These funds should never be allowed to enrich unscrupulous organizations and individuals." Cayetano said. He added that "We need to send a strong message that PDAF funds are a tool to help poor families all over the country."
"It is the poor who suffer for every ghost government project, substandard bridges and roads, and other anomalous contracts entered into by such erring contractors."
Cayetano was re-elected in the May elections on a platform of PTK (Presyo, Trabaho, Kita). He said that "Filipino families suffer daily from high prices of goods, lack of available jobs and low wages and we cannot stand idly while the funds that are supposed to be for them are stolen by these groups and individuals."
The senator also encouraged lawmakers to file cases against erring contractors and to blacklist them in order to avoid further incidents of corruption. He added that by blacklisting these fake contractors and NGO's, fellow lawmakers can create informed decisions before releasing their PDAF.
"Through this, we can help assure the people that their money is going to worthwhile institutions aimed at creating jobs and improving our communities," he said.
Furthermore, Cayetano called on the Commission on Audit (COA) to ensure an NGO's capacity to fully utilize the PDAF by conducting a strict and thorough internal audit of their track record and capabilities.
"The release of PDAF without implementing strict measures would allow corrupt practices to continue. Instead of the people's money going to NGO's and contractors aimed at helping those in need, they simply go to the pockets of unscrupulous individuals," Cayetano said.
Green groups slam Atienza's anti-Buhay track record
By Sibuyan ISLE
June 1, 2013
SIBUYAN ISLAND, Romblon – An environment group in Romblon scored Buhay Hayaan Yumabong (Buhay) party-list representative-elect Lito Atienza's anti-life background on environmental protection. Backed by a strong Catholic charismatic renewal group El Shaddai, BUHAY party-list got three seats for the next congress as it gained victory garnering 1,265,992 votes equivalent to 4.74 percent of the total votes cast.
According to the website of Buhay, the party-list's core principles are based on the Pledge of Allegiance to the Philippine Flag: for God, people, environment and country. In being maka-kalikasan or pro-environment, Buhay believes that the Creator gave us abundant and overflowing natural resources which must be developed and used justly for the benefit of all Filipinos and the next generation – not only for the chosen few. Buhay further sees that the Philippines was formed by God to be emulated by the world through the promotion of good and effective governance.
But Sibuyan Island Sentinels League for Environment Inc. (Sibuyan ISLE) director Rodne Galicha said in a statement that the background of former Department of Environment and Natural Resources (DENR) secretary Lito Atienza as future lawmaker goes against the very principles of Buhay.
"One working day, on December 23, 2009, before Atienza resigned as DENR secretary to run in Manila as mayor, he signed five mineral production sharing agreement (MPSA) permits and three exploration permits. What was questionable? All these are midnight deals. How come? December 24th was non-working holiday, 25th a regular holiday, 26th is a Saturday and 27th is Sunday. He resigned December 28th, Monday."
Atienza stayed as head of DENR from 2007 until 2009 under the baton of former President Gloria Macapagal Arroyo. The lady president that period was bullishly promoting the mining industry left and right through Executive Order 270-A and the Mining Act of 1995 despite lack of social acceptability and environmental threats in communities.
"In 2007, he vowed to help us in Sibuyan as we personally delivered our petitions and opposition letters against nickel mining. After an anti-mining activist was shot to death, even the thee mayors of our island that year signed a memorandum of agreement that destructive mining shall not be allowed and the barangay councils revoked former recommendatory resolutions. But lo and behold, in 2009 he signed through a midnight deal an MPSA for 1,581 hectares of land to mine nickel, iron, cobalt, chromite and other associated mineral deposits."
Sibuyan ISLE demanded that Atienza must be held accountable by Buhay itself, in the first place. By approving mining in Sibuyan, the source of almost 95% clean energy is threatened – Cantingas River. It is also the source of irrigation of San Fernando town's rice granary on top of being the summer tourism capital of Sibuyan and apparently, of Romblon province as a whole.
"Being pro-life is to protect human life as a whole – not only from the Catholic Church's claim of conception, or from birth when the fetus becomes a baby curiously staring for the first time at the kaleidoscope of Earth's life. Protecting life in the present and in the future is as important as protecting it from conception, fertilization or birth, or else one becomes a backward pro-lifer being pro-conception, pro-fertilization or pro-birth but generally, anti-life", said Galicha.
Meanwhile, national group Alyansa Tigil Mina (ATM) coordinator Jaybee Garganera urged the national government through the Mining Industry Coordinating Council (MICC) to conduct an immediate investigation on the alleged midnight approvals and eventually revoke the license.
"As our country becomes a candidate for the Extractive Industry Transparency Initiative or EITI, transparency and accountability in governance especially in mining deals must be promoted. Although the Sibuyan license has been suspended, it must be revoked due to lack of social acceptability and threat to the environment and people's lives."
ATM further challenged the new elected officials in Sibuyan to stand firm and prove themselves right to defend their people. It also urged Buhay party-list to make Atienza accountable and to be true to their principle on environment by supporting pending legislations like Freedom of Information Act, National Land Use Act and Philippine Mineral Resources Act or the Alternative Minerals Management Bill.
Alyansa Tigil Mina is an alliance of mining-affected communities and their support groups of NGOs/POs and other civil society organizations who oppose the aggressive promotion of large-scale mining in the Philippines. The alliance is currently pushing for a moratorium on mining, revocation of EO 270-A, repeal of the Mining Act of 1995, and passage of the AMMB.
Post-election concerns
By Ramon Aboitiz Foundation Inc.
May 31, 2013
CEBU CITY – Now that elected officials are already proclaimed, Filipinos await the fulfillment of these winners' promises of good governance, sustainable growth and development, and a better quality of life, among others, in the next three years.
"After the elections, we need to stop talking and start working. Our transparent service to the public is our payback to the trust people gave us. Nothing is impossible if there is unity among the stakeholders," Mandaue City Mayor Jonas Cortes said, during the May 25 episode of Pagtuki, the official radio program of Ramon Aboitiz Foundation Inc. (RAFI).
Collaboration, Cortes said, between the executive and legislative departments will result to more projects and programs for the barangays.
The Mandaue local government is currently addressing issues in the areas of education, housing, infrastructure, and traffic.
"We all know that many schools lack classrooms. We need to draft solutions on how to address this growing concern. In solid waste management, it is everybody's concern. These issues should not be left alone to the leaders but to all of us," he said.
Cortes also pointed out the need for a province-wide, multi-sectoral collaboration through the Mega Cebu project. He said that what the project started should be nurtured and continued.
"Mandaue City cannot address alone the problem on drainage and traffic. Sooner or later, the problem of one city will be a problem of other cities in the future. Thus, we need to have a unified development plan," he stressed.
"People have spoken loud and clear. It is now time to set aside politics. We should consider ourselves as part of the problem and the solution," he added.
Evelyn Nacario-Castro, executive director of RAFI Eduardo Aboitiz Development Studies Center (EADSC), said that RAFI is ready to work with whoever is installed in the office.
"We are encouraging local leaders to pass a resolution for Mega Cebu project, and at the same time to review their respective local visions and how they can align their visions to the bigger vision of the Mega Cebu project that is seen to benefit not only the Metro Cebu area but the entire province of Cebu," Castro noted.
She hopes to get active participation and support from the different local governments to achieve the aims of the Mega Cebu.
"We are encouraging the newly-elected and the freshly mandated officials to take leadership role in the project. We need to take actions to realize the 2050 vision of the Mega Cebu project," she said.
Pagtuki is aired over DyLA every Saturday at 10-11am. The program, which is one of the Knowledge Sharing & Advocacy capabilities of RAFI, tackles timely and relevant issues on community development, politics and governance, micro-financing, education, environment, early childhood care and development, and culture and heritage that affect the Cebuano community.
Leyte, Biliran water projects undergo DILG spot checks
By MYLES JOSEPH E. COLASITO
May 30, 2013
TACLOBAN CITY – Four water projects in Leyte and Biliran under the Department of the Interior and Local Government (DILG) were recently inspected by the DILG Central Office.
This was revealed by Regional Dir. Pedro A. Noval Jr. who added that the team, composed of personnel from the DILG Office of Project Development Service (OPDS) and DILG-8 Regional Office, visited the towns of Alang-alang, Calubian and Tolosa in Leyte and the municipality of Culaba in Biliran last May 22-24.
Dir. Noval said the group looked into the financial and physical status of projects being implemented by beneficiary towns under the Sagana at Ligtas na Tubig sa Lahat (SALINTUBIG) program to ensure that government money is spent for its intended purpose. He added that inspections would be done in all other DILG projects to promote accountability.
The water system for the Rural Health Unit (RHU) of Culaba, Biliran is now fully completed. Aside from serving the RHU, the water supply system was expanded to 30 households covering three barangays. The Level 3 water project in Calubian is about 45% done and on time for completion by July. About five barangays in Calubian which are presently using Level 1 (communal well) water system will be able to avail of potable water inside their own homes once the project is finished.
On the other hand, the project in Alang-alang, Leyte is at the detailed engineering design stage. Slated to start by August, it is expected to end by December of this year. The municipality of Tolosa, Leyte has already bought a 1.8 cubic meter water tank for its RHU, and is arranging for its eventual connection to the water district. Once completed, the project will also serve the needs of the newly built municipal executive building.
The office shall be hiring additional engineers on a contractual basis to assist in the monitoring of its projects. RD Noval likewise encouraged citizens to take an active part in the project through their cooperation and monitoring.
DILG-8 is currently assisting 25 LGUs which benefited from the regular SALINTUBIG program for 2012, and 33 LGUs which availed of SALINTUBIG projects under the 2013 Bottom-Up Budgeting (BUB) system.
SALINTUBIG aims to provide water supply systems to waterless municipalities, waterless barangays, and waterless health centers as part of the country's commitment to attain the Millennium Development Goals (MDGs).
65 EV cops undergo random drug testing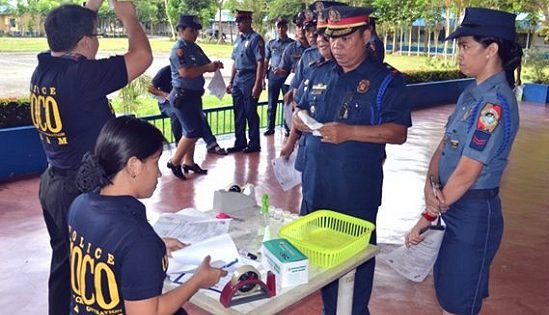 By RPCRD, Police Regional Office 8
May 30, 2013
CAMP KANGLEON, Palo, Leyte – The war against illegal drugs in Eastern Visayas started right in the own backyard of the region's primary law enforcement agency as 65 policemen assigned in Police Regional Office 8 (PRO8) were subjected to random drug testing on Wednesday.
"Policemen are expected to strictly adhere to the policy of non-use of dangerous drug. Drug dependents within our ranks should be weeded out as law enforcers should set as good example to the public," said Police Chief Superintendent Elmer Ragadio Soria, PRO8 director.
Soria added that the random drug testing will ensure that his men are not using illegal drugs as he will not hesitate to dismiss from the police service those who will be found positive for drug use.
Personnel from the Regional Crime Laboratory Office 8 (RCLO8) administered the surprise test since police officers only knew about it early in the morning when they reported for duty.
The drug testing for PRO8 personnel is prescribed in Letter of Instruction 17/2012 "Kontra Droga Charlie-Waray" issued on May 3, 2012 as an internal cleansing strategy in line with the National Police Commission (Napolcom) Memorandum Circular No. 99-008 which requires the administration of drug test on PNP uniformed personnel.
Those found positive for illegal drug use shall be separated from the service after notice and summary hearing without prejudice to the filing of appropriate criminal charges against the offender.
Further, any PNP member who without any justifiable reason, refuses or fails to submit a drug test when officially required shall be liable for misconduct and after notice and summary hearing will be penalized accordingly.
Passing the drug test is also one of the general requirements for appointment to the PNP and when policemen apply for promotion, mandatory schooling and deployment for United Nations peacekeeping missions.
Relatedly, Soria ordered the deployment of anti-illegal drug operatives near school premises in anticipation of the opening of classes next week.
"We will ensure that the school environment would be free of pushers and users who may influence students and introduce them to illegal drugs." Soria said.
15 million informal workers target of TUCP, gov't and LGU partnership
By TUCP
May 30, 2013
QUEZON CITY – Around 15 million vendors, drivers, barbers, tailors, fishermen, barbers, plumbers, tailors and construction workers nationwide stand to benefit from a social protection program designed by the Trade Union Congress of the Philippines (TUCP), various executive departments and local government units.
A memorandum of agreement creating a national convergence program aimed at establishing social protection floor for workers in the informal sector will be signed today, Thursday, May 30, between TUCP, various government departments and agencies led by the Department of Labor and Employment (DOLE), and representatives from Union of Local Authorities of the Philippines (ULAP).
"We are committing fully to this comprehensive but targeted approach in addressing the growing perceived needs of millions of informal workers' immediate access to government services such as affordable housing, health and nutrition, skills development, job matching, loan and credit facilitation, expanded social security coverage and subsidies. We are going to collaborate with government and give our best effort," said Gerard Seno, general secretary of TUCP.
The agreement is between TUCP, local government units, 23 government departments and agencies led by DOLE, DENR, DOH, DepEd, DPWH, MMDA, DILG, DSWD, DAR, CHED, HUDCC, Pag-Ibig, DA, DAR, DTI, NHA, PCSO, NSO.
"It's like diverting government resources and labor group's expertise towards informal workers who have no protection and access to basic government services especially if unemployment, disaster, or sickness strikes them," explains Seno adding: "We really hope it will work out because informal workers desperately needs this kind of intervention."
The MOA designates the DOLE as the program manager by ensuring that the program strategies are working and that respective partners are contributing their identified responsibilities.
Beginning next year, an initial target of 2.5 million informal workers will be benefited by the program's expansion of SSS and Philhealth coverage by requiring membership of all government livelihood grants and subsidies, livelihood, training on safety and health in performing their jobs, skills training and labor market information for graduates of government's Conditional Cash Transfer program.
Liquor consumption in government offices prohibited, CSC reminds
By Philippine Information Agency (PIA 8)
May 27, 2013
GOVERNMENT CENTER, Palo, Leyte – Officials and employees who are caught in the act of consuming intoxicating liquor and other alcoholic beverages during office hours, as well as those who will be reporting for work under the influence of alcohol, shall be held liable for Misconduct which is punishable by suspension for one to six months for the first offense, and dismissal from service on the second offense.
The pronouncement was made by the Civil Service Commission as it reiterated the prohibition on the consumption of alcoholic beverages in government offices.
CSC Region 8 Director Attorney Raymund Gonzales said that pursuant to CSC Resolution No. 1100039, the consumption of alcoholic beverages such as, but not limited to, malt, wine, and intoxicating liquor in workplace among government officials and employees during office hours is prohibited.
He said that the mere consumption of alcoholic beverages in the workplace during office hours, as well as reporting for work while under the influence of alcohol, is considered as an administrative offense, separate and distinct from the offense of habitual drunkenness.
Director Gonzales clarified that the consumption of alcoholic beverages may be allowed during programs and rituals such as ceremonial toasts and observance honoring of local customs and traditions.
During such instances, the alcoholic beverage must be limited to malt and wine, and the consumption shall not result to intoxication. Director Gonzales explained that intoxication is defined as, "the impairment of a person's mental faculties ensuing to the loss of control over his/her behavior and/or actions."
Both the head of office and the officials or employees concerned will be held liable should an untoward incident happen as a result of such consumption, Director Gonzales said.
June 29 is Festivals Day in Tacloban City

By Philippine Information Agency (PIA 8)
May 27, 2013
TACLOBAN CITY – June 29, 2013 is Festivals Days in Tacloban City. The Pintados-Kasadyaan Festival will be conducted in the morning while the Festival of Lights will be held in the evening.
This was the agreement made during a meeting held on Friday, May 24, by the representatives of the City Government through City Administrator Tecson John Lim and the Pintados-Kasadyaan represented by Alangalang Mayor Loreto Yu.
Quoting Atty. Lim, "representatives of Sangyaw and Pintados-Kasadyaan were at City Hall to discuss how we can all have a peaceful and fun-filled Fiesta this year and for the years to come."
Mayor Yu said that the Pintados-Kasadyaan will be allowed to street dancing parade in the parade route requested by the group.
Since the original request of the Pintados-Kasadyaan is for a June 27 activity, Mayor Yu said the organization will have to write the City again for permit to hold a festival parade on June 29.
Moreover, the request of the Pintados-Festival organizers to have nightly activities at the RTR Plaza was also approved, Mayor Yu added.
For his part, Atty. Tecson noted in his Facebook, "So happy with the results of the meeting as it would seem that Pintados-Kasadyaan would be amenable to having a "Day of Festivals" where Pintados-Kasadyaan will hold their parade in the morning and the Sangyaw staging their Parade of Lights in the evening."
Pintados Festival is now in its 27th year, Kasadyaan Festival is in its 18th year while the Sangyaw Festival of Lights was introduced last year by the City Government.
The Pintados Festival is a religious festival that pays homage to Senor Santo Niño, the Patron of Leyte, through merry-making event displaying the rich cultural heritage of Leyte and Samar in a unique and colorful way, showcasing the art of body tattooing which Visayans were known for in the past.
The Kasadyaan Festival of Festivals showcases the unique cultural and colorful history of the Province of Leyte.