Soria orders manhunt vs. 3 pushers in buybust shoot-out
By RPCRD, Police Regional Office 8
July 19, 2013
CAMP KANGLEON, Palo, Leyte – Police Chief Superintendent Elmer Ragadio Soria ordered a massive manhunt operations against three suspected drug pushers who engaged in a shootout with lawmen during a buy-bust operation in a westcoast village in Hilongos town in Leyte that leave a policeman wounded Wednesday night.
The regional police director informed that the shootout ensued around 8:00 p.m. at Brgy. Talisay between joint elements of Leyte Police Provincial Office and Hilongos Municipal Police Station and the suspects, identified as brothers Socrates and Teofilo Fabio and one Charlie Zarate, who are now the subject of manhunt operations.
Wounded was PO3 Lord Bolito, a member of the Anti-Illegal Drugs Special Operation Task Group (AIDSOTG) of the Leyte PPO who sustained two gunshot wounds on his left arm and one on his chest.
Bolito was rushed to Remedios T. Romualdez Memorial Hospital in Tacloban City and is now in stable condition.
Soria said the shootout ensued when Socrates Fabio opened fire when Bolito was about to arrest him after being able to purchase a sachet of "shabu".
The suspects eluded arrests under the cover of darkness.
"Tracker teams are conducting pursuit operations against the suspects and we intend to put them behind bars as soon as possible," Soria added.
Meanwhile, the Regional Special Operations Group (RSOG) arrested a drug suspect in a buy-bust operation conducted in Basey town in Samar.
The RSOG, led by PInsp. Constantino Jabonete, Jr., arrested one Harold Alcoseba, 35, single and a resident of Mercado.
Alcoseba was nabbed around 10:30 p.m. Wednesday after handing out a plastic sachet containing "shabu" to a police officer who acted as a poseur buyer.
Also recovered from the suspect was another sachet of "shabu" worth P500 and the P500 marked money.
The suspect is now detained at the Basey police station.
The suspected drug pushers are facing raps for violation of the Republic Act 9165, otherwise known as the Comprehensive Dangerous Drugs Act of 2002.
Greenpeace, BFAR vow to end illegal fishing, "the scourge of Philippine seas"
By GREENPEACE
July 19, 2013
PIO DURAN, Albay – Greenpeace and the Bureau of Fisheries and Aquatic Resources (BFAR) today vowed to end illegal fishing, which they said was the "scourge of the Philippine seas."
The warning was made as BFAR enforcers, accompanied by activists from the Greenpeace ship, Esperanza, conducted fishing license checks this morning at the port of Pio Duran in Albay Province, around 500 kilometers south of Manila.
The Esperanza is in the Philippines for the "Ocean Defender Tour of Southeast Asia 2013." The tour, which started on July 9 in Apo Island central Philippines, aims to tell the story of the richness and the beauty of the Philippine seas, expose destruction that causes marine degradation and sound the alarm to call for urgent government action to save the Philippine seas from crisis. Greenpeace is calling for more stringent measure to stop illegal fishing in Philippine waters.
"Greenpeace is here to unmask the menace of illegal fishing which is plaguing our country's seas," said Vince Cinches, Greenpeace Southeast Asia Oceans Campaigner on board the Esperanza. "Illegal fishing not only steals fish from municipal fishermen and coastal communities – it also steals the future of our oceans by emptying the fish out of the oceans, depleting fish populations and endangering the health of reefs."
During the inspection today, BFAR and Greenpeace representatives encountered the fishing vessel Divine Mercy, which lacks a valid fishing license. This is a violation of Section 86 of Article 8550, or the Philippine Fisheries Code of 1998, which requires all fishing vessels to have licenses. Frank Ombao, BFAR's Regulating Division Chief explained that Divine Mercy has no license to operate, the crew have no licenses, and the only documents they have are expired safety certificates issued by the Maritime Industry Authority.
In December 2012, another vessel by the same company was apprehended by BFAR for using "super lights" along municipal waters, and for operating without a fishing license. Fishing using "super lights" is a destructive method that is used to attract marine life at night, capturing everything including juvenile fish and non-targeted species.
The Esperanza crew together with Bureau of Fisheries personnel have been patrolling the Burias-Ticao Pass area in Bicol for almost a week. Greenpeace received reports that there were vessels using super lights operating in and around the pass in several areas before the Esperanza arrived. However, during the joint patrol by Greenpeace and BFAR, the waters were eerily empty.
Upon questioning, a crew member of the Divine Mercy, Maestro Pedro Dabian, confirmed that they have been docked in port and have not gone out to sea for almost a week now.
"This is part of the challenges that we face, where commercial vessels need to be caught in the act before we can apprehend them," said BFAR Region V Director Dennis Del Socorro. "Aside from that, commercial vessels once registered can go to any area and it will be hard for us to monitor them. With our limited resources, we cannot watch all the areas all the time. That is why we also do these daytime checks for licenses of commercial fishing vessels."
"The fisheries in the Burias and Ticao pass are already overexploited. What is not fully known is how much illegal commercial fishing contributes to this decline," said Dr Victor Soliman, marine scientist from Bicol University. "The government must acknowledge that there already is a crisis in fisheries, take bold efforts to take measures on fishery management such as better data collection, rehabilitate our seas and do its utmost to improve the plight of the fisherfolk."
"What we know is that active enforcement works," said Cinches. "There should be consistent efforts at enforcement and prevention in order to minimize and eventually eliminate illegal and destructive fishing in these waters. Greenpeace is asking President Benigno Aquino III to convene an Oceans Crisis Response Team that will take the lead in establishing a Roadmap to Recovery for our seas. Bold steps are needed in order to restore our oceans."
RSOG captures Abuyog town's most wanted person
By RPCRD, Police Regional Office 8
July 18, 2013
CAMP RUPERTO KANGLEON, Palo, Leyte – One of Leyte's most wanted crime personality fell into police hands during a sting operation by the Regional Special Operations Group (RSOG) Wednesday.
Police identified the suspect as Reynaldo Verterra y Almini, 37, married, and resident of Brgy. Kilim, Baybay City.
PCSupt. Elmer Ragadio Soria, Eastern Visayas police director, said the arrested suspect was tagged as the number one most wanted person of Abuyog, Leyte and ranked 10 in the list of top ten most wanted persons in Leyte province.
Verterra was collared by virtue of a warrant for murder issued by Abuyog Regional Trial Court Branch 34 Judge Frisco Lilagan by RSOG led by PSInsp. Dinvir Revita along Mabini St., Baybay City at past 10:00 a.m.
Soria informed that aside from the above non-bailable offense, suspect is also facing a string of cases for robbery under criminal cases 2874 and 2898 pending at Mc Arthur and Abuyog courts and in criminal case number 2904 for rape pending in Abuyog, Leyte court.
Meanwhile in Samar province, RSOG led by PInsp. Constantino Jabonete, Jr. arrested Renita Macabacyao, 43, farmer, of Purok 2, Brgy. Rama, Sierra Island, Catbalogan City in a manhunt operation at the vicinity of Pier 2, Brgy. 3, Catbalogan City at 10:00 a.m. Wednesday.
The RSOG was clothed with an arrest warrant issued by Judge Agerico Avila, Presiding Judge of Regional Trial Court Branch 29 in Catbalogan City, for Qualified Theft docketed under criminal case number 8493.
Recommended bail for Macabacyao's temporary liberty is fixed at P40,000.00.
Arrested persons were brought to issuing courts for proper disposition.
"These manhunt operations are part of our continuing effort to account for wanted persons and solve cold cases in the region," said Soria.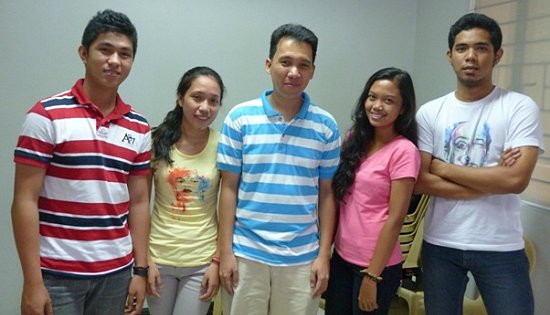 Philippine youth delegates to the ASEAN Workshop on the Role of Youth in Green Consumption: Stepping Forward to One Community which is held on July 15-20, 2013 in Bangkok, Thailand. From left to right: Leo Kevin Mante and Donnady Lao of the University of Eastern Philippines, Catarman, Northern Samar; Jann Ursula Aree Ibones and Bren Garette Rivera of Catanduanes State University, Virac, Catanduanes. Joining them is Mr. Niño Pinalva, Librarian and Youth Desk Officer of the Environmental Management Bureau-Department of Environment and Natural Resources (center). [Photo by EMB-DENR]
PHL students attend 2013 ASEAN environmental youth event
By EMB-DENR
July 17, 2013
QUEZON CITY – Four youth leaders represent the Philippines to the ASEAN Workshop on the Role of Youth in Green Consumption: Stepping Forward to One Community in Bangkok, Thailand on July 15-20, 2013.
The Philippine youth delegation composed of the following: Bren Garette Rivera and Jann Ursula Aree Ibones of Catanduanes State University in Virac, Catanduanes; and Leo Kevin Mante and Donnady Lao of the University of Eastern Philippines in Catarman, Northern Samar. Those universities are the regional winners and national finalists under college category of the 2011 National Search for Sustainable and Eco-Friendly which was organized by the Department of Environment and Natural Resources-Environmental Management Bureau, the Department of Education, the Commission on Higher Education and Smart Communications, Inc.
Said youth leaders came from the different universities in the country to join with the different youth leaders from Southeast Asia to discuss green consumption which serves as an alternative for environmental sustainability.
The ASEAN environmental youth workshop on green consumption has the following objectives: (1) To provide knowledge and understanding on the main concept of green consumption and its related issues to ASEAN youth, in particular the situation and good practice in Thailand; (2) To encourage ASEAN youth to exchange views and ideas regarding green consumption and to examine ways for further cooperation and commitment in the ASEAN region based on the power of youth and; (3) To support the role of youth in environmental sustainability in ASEAN region. The said environmental youth workshop is one of the target objectives of the ASEAN Environmental Education Action Plan for 2014-2018 under the theme "Environmental Education for Sustainable Development".
In the Philippines, the Philippine Youth Environment Network (PhilYEN) was relaunched last June 28, 2013 at SM City North EDSA, Quezon City under the theme: "Araw ng mga Eco-Filipino: Kabataan Para sa Kalikasan". The said national youth environmental network provides platform for environmental youth organizations and individuals in the Philippines to generate environmental initiatives for their respective schools and communities. PhilYEN was created as a response to the United Nations Environment Programme-South East Youth Environment Network (SEAYEN)-TUNZA strategy and Republic Act No. 9512 (National Environmental Awareness and Education Act of 2008).
The Philippine youth delegation will be expected to undertake environmental programs during the next one year and contribute towards strengthening PhilYEN. They will also be expected to disseminate information about ASEAN, SEAYEN and PhilYEN during any forum/ national/ international meetings that they participate and appropriately inform the National Focal Point and ASEAN Secretariat about the same.
Program for water supply improvement to be implemented in Catbalogan City
By LAIMINH MABULAY
July 16, 2013
CATBALOGAN CITY – The City of Catbalogan is the latest Local Government Unit to become a recipient of the Sagana at Ligtas na Tubig sa Lahat (Salintubig) Program – which is being undertaken by the Department of Interior and Local Government (DILG) to make clean and safe water supply accessible in several municipalities and barangays.
To mark this development, Catbalogan City Mayor Stephany Uy-Tan personally came to the DILG Regional Office 8 in Tacloban City to receive the cheque worth P1.3 Million to be used for the first tranche of the project.
The turn-over of said grant was facilitated by DILG Assistant Regional Director Arnel M. Agabe and Salintubig Program Manager Engineer Ofelia Pido. City Department Heads Engr. Arnaldo Aroza, City Planning and Development Coordinator and Ms. Elizabeth Lim, the ICO - Assistant City Treasurer was also with the mayor to witness this occasion.
The said amount, which is just half of the total project cost of P2.650 Million, shall be used to fund the installation of underwater pipes to access fresh water from the Catbalogan City main land to the island barangays of Darahuway Dako and Darahuway Gote.
The City Government will be forming a partnership with the Catbalogan Water District for implementing this project. At least 20% of the expenditures in the first tranche must be liquidated first before the City Government can get hold of the remaining funds, which will then be used for the water supply in Sitio Majaba, another island community.
The Salintubig Program first came to be in December 2010 through a Memorandum of Agreement signed by the DILG, the Department of Health and the National Anti-Poverty Commission. This was in response to item no. 7 of the Millennium Development Goal which aims to reduce by 50% the world population without access to safe and potable water.
The said program has targeted 455 barangays at the start of its implementation. The aforementioned barangays are among the 290 targeted to become areas for the project for the period of 2013 to 2016.
Soria views as challenge result of survey on corruption in the PNP
By RPCRD, Police Regional Office 8
July 16, 2013
CAMP RUPERTO KANGLEON, Palo, Leyte – The region's top police official considers as a challenge the latest Global Corruption Barometer of the anti-corruption watchdog Transparency International labeling the Philippine National Police (PNP) as the most corrupt institution in the country.
"We must take the survey as a challenge to improve the people's perception on us, it offers a great opportunity and room for improvement in the reform initiatives of the PNP to block corruption that has no place in the organization," said PCSupt. Elmer Ragadio Soria, director of Police Regional Office 8.
"The PNP fully support the national government's continuing campaign against corruption that is being vigorously addressed by President Aquino's administration, we assure the public that concrete reform measures are underway to cleanse our ranks and improve the delivery of police service," he added.
Soria disclosed that the issues on corruption and other concerns related to the law enforcement are already being addressed under the Peace and Order Agenda for Transformation and Upholding of the Rule-of-Law or PNP Patrol Plan 2030, the PNP's roadmap in attaining a highly capable, effective and credible police service, as reinforced by the PNP chief's CODE-P reform agenda that focuses on Competence, Organizational Development, Discipline, Excellence and Professionalism.
PRO8 conducted last week the Follow-Up Cascading of Enhanced PNP Patrol Plan 2030 attended by provincial and city directors and police chiefs in Eastern Visayas aimed at instilling a culture of reform and transformation to members of the organization.
Soria further informed that transparency and public accountability is the established norm in all transactions in the PNP.
An example, he said, is the recent acquisition of Glock pistols, considered the biggest procurement project in PNP history, wherein the transparent conduct of the bidding process for the handguns, with P40,940.00 market price but PNP got a better deal with the distributor that sold the guns for only P16,659.94 actual purchase price.
The PNP was able to save P200,082.954.24 from the original P1.198 billion allocation and later used in buying additional 15,000 pieces of the same brand of handgun.
He added that the PNP continue to satisfy a great majority of Filipinos with respect to the performance of their sworn duties which is to serve and protect.
Soria cited the all-time high rating in a recent performance survey by Social Weather Stations (SWS) conducted during the Christmas holidays which showed that six out of 10 Filipinos were satisfied with the performance of the PNP, which garnered an all-time high 50 percent net satisfaction rating.
"The SWS survey showed that majority of our countrymen are satisfied in our performance in crime solving and protecting the people," the police regional director averred.
Soria advised his men in the not to be distracted by the survey and instead focus on their job to serve and protect the people.
As an organizational measure against corruption, the PNP also has strengthened and empowered the Internal Affairs Service and the Discipline, Law and Order Division (DLOD) as the lead units in addressing issues on corruption in all levels of the organization, the police official added.
DA gives free tarp mats, advice via "Usapang Palay"
By LAIMINH MABULAY
July 16, 2013
CATBALOGAN CITY – City Mayor Stephany Uy-Tan facilitated in giving laminated tarpaulin mats to 160 farmers from various barangays last July 11, 2013 at Cocina de Cabral, this city.
The laminated tarpaulins mats are to be used for the process of drying harvested rice grains under the sun, a method that is recommended by agricultural technologists instead of laying the grains on asphalt or cement roads.
Prior to this, Catbalogan City's farmers benefited from the free advice and tips on farming that were given to them during the "Usapang Palay", a question-and-answer type of forum regularly conducted by the Department of Agriculture (DA).
Here, farmers were given the opportunity to raise the concerns and problems that they commonly encounter on the field. This also serves as a venue where representatives of key offices get to share updates on rice technology as well as the different services that are available for the farmers.
Agriculture Program Coordinating Officer Johnny Ibanez led the panel which included representatives from the National Food Authority, Office of the Provincial Agriculturist and Philippine Crop Insurance Corporation. Provincial Rice Program Coordinator Enrico Cinco served as the moderator for the said forum.
"Does an old boys' club exists?"
Chiz asks Senate for a full-blown investigation on the P10-billion PDAF scam
By Office of Senator Chiz Escudero
July 15, 2013
PASAY CITY – A full blown inquiry into the alleged ten billion pesos Priority Development Assistance Fund (PDAF) scam is pushed in the Senate by Senator Chiz Escudero once the 16th Congress opens next week.
Escudero filed Senate Resolution Number 40 (PSRN 40) directing the Blue Ribbon committee to conduct an inquiry into the said scam purportedly involving the Janet Lim-Napoles Group.
The scam was bared in an investigative report which showed how the PDAF collectively known as pork barrel was released to dummy non-government organizations through forgery, falsification and bribery.
"Accountability and transparency in government dictates that this report must be quizzically looked into, not only for the representatives of the people to clarify their respective positions, if some may be involved, but to show to every Filipino as well that neither sacred cows nor the notion of an "old boys' club" exists in a government working for change" Escudero explained in his resolution.
The senator, who has always espoused for a transparent and relevant use of PDAF, said the scam is damaging to the country as a whole and besmirching the names of all congressmen and senators in general.
"It has become a painful misconception that the PDAF is a cash allocation given to congressmen and senators with unlimited discretion to disburse and spend with neither constraints nor accountability. But to the contrary, legislators do not handle the funds and implement the projects. Their participation is but limited to the designation of beneficiaries and identification of projects, and the implementation is undertaken by government agencies concerned".
Escudero said the designation of PDAF beneficiaries and how it purportedly mutated into a multi-billion government racket or scam allegedly by the Janet Lim-Napoles (JLN) Group of Companies must be scrutinized and must see an end where legislative and preventive measures are enacted to address this disturbing matter.
"We deserve no less as a people and as a nation, we have to make sure that everyone adheres to the principles of good governance when it comes to public funds. At the same time, we have a responsibility to protect the integrity and reputation of the Senate as an institution and as a pillar of our democracy. This should be non-negotiable" he said.
"Let the sovereign decide after due hearing and investigation whether to hang the Sword of Damocles or not".
Cayetano pushes for reforms strengthening barangay units as frontliners of government
By Office of Sen. Alan Peter S. Cayetano
July 15, 2013
PASAY CITY – "Government reform should happen from the ground up."
Sen. Alan Cayetano, in a national radio interview, called for reforms to further enhance the capabilities of the barangay – the most basic unit of government – if the barangays are to be expected to effectively fulfill their mandate in addressing the basic needs of their respective communities.
"Barangays are at the forefront of public service. However, it is unfortunate that they are still the most neglected sector in government. Many still lack the necessary funds and resources to make them responsive and productive," said the senator.
In his consultations with many barangay officials around the country during the campaign period through his PTK Listening Tours, he said many have complained of the severe lack of resources to improve their capabilities to serve the basic needs of its constituents.
"For instance, barangay officials alone are not provided the necessary benefits such as health insurance and proper compensation. Our barangay tanods risk their lives on a daily basis in order to maintain peace and order without assurance of financial support in case of injuries or worse, death," said the senator stressing that government must provide them with increased benefits as incentives for accomplishing their duties properly.
"Then, barangay day care workers in some provinces receive less than P1,500 as honoraria for their services rendered. This amount is not even sufficient to maintain a decent standard of living. In addition, they are expected to shell out some of their own personal resources to fund the operations of their respective offices because of lack of funding," he added.
The senator also urged Congress to work for policy reforms that will strengthen the capabilities of barangay units as front liners in public service, safety, and peace and order. "By exercising our oversight functions on the local government code, we can identify provisions that must be amended," he said.
Cayetano said that basic services such as medical and legal assistance as well as livelihood and financial management seminars for poor families may be provided in the barangay level.
He also pointed out that by strengthening the people's court, resolutions to domestic conflicts can immediately be reached and thereby free our national police or the higher courts from added workload.
"More importantly," he said, "with the barangay as the effective front line unit, the whole government bureaucracy will be in a better position to deliver reforms addressing grassroot problems related to presyo, trabaho, kita (PTK)" he said.