2 murder suspects arrested
By RPCRD, Police Regional Office 8
July 16, 2012
CAMP RUPERTO KANGLEON, Palo, Leyte – Calbayog City Police arrested its number 5 in the list of Most Wanted Persons, PNP PRO 8 said.
On July 13, 2012, Calbayog City Police Station led by PSInsp Aquilino G Poncol III, arrested a certain Alfredo Corpin Rosillo, 62 years old, married and a resident of Brgy. Cacaransan, Calbayog City.
Rosillo was arrested by virtue of Warrant of Arrest for the crime of Murder with recommended bail of Three Hundred Thousand Pesos (P300,000.00) issued by Presiding Judge Honorable Clemente Rosales of RTC Branch 31, 8th Judicial region, Calbayog City.
Said arrested person is rank number 5 in the list of Most Wanted Persons in the City Level at the Calbayog City Police Station.
The next day at about 9:00 AM at Northern Samar Provincial Hospital, Catarman, Northern Samar, elements of Silvino Lubos Police Station led by PSInsp Anthony Tobes Din, chief of police, arrested one Jimmy Loyogoy Jarito, of legal age, married, jobless and a resident of Brgy. Poblacion, Silvino Lubos, Northern Samar by virtue of Warrant of Arrest for the crime of Murder issued by Honorable Jose F. Falcoleto, Presiding Judge of RTC Branch 21, Laoang, Northern Samar.
It was learned that Jarito is still presently admitted to said hospital with five (5) personnel of Silvino Lubos Police Station are detailed as security.
Said arrested person ranked number 9 in the list of Most Wanted Persons in the municipality of Silvino Lubos, Northern Samar.
Negros coal power proposals violate island's 100% renewable energy policy
By GREENPEACE
July 14, 2012
MANILA – Greenpeace today slammed plans to construct two coal-fired power plants in Cadiz City, Negros Occidental saying that the proposal is a clear violation of the 100% Renewable Energy (RE) policy established in Negros island in 2002. The environmental group is calling on Cadiz Mayor Patrick Escalante to immediately reverse his questionable decision which directly contravenes one of Southeast Asia's landmark sustainable energy policies.
"This decision is technically illegal and sabotages Negros Island's pioneering renewable energy policy which has been hailed worldwide as a model for energy sustainability," said Anna Abad, Climate and Energy Campaigner for Greenpeace Southeast Asia. "The people of Negros Island do not want coal plants – Negros was the first ever province in Southeast Asia to reject coal power, and to commit to 100% renewable power generation. Mayor Escalante has committed a grave disservice to Negrenses. Instead of promoting dirty coal power, he should keep Negros on track with its RE commitments, which he is duty-bound to do."
Coal is the dirtiest fossil fuel; the acute and long-term environmental and social costs associated with coal usage make it an expensive and unacceptable burden to its host communities. The burning of coal for fuel pollutes the air and water, ruins crops and negatively impacts community health and livelihood. The proposed coal plants in Negros is targeted to generate 170 MW.
Negros Occidental is the first province in Southeast Asia to embark on a sustainable energy-based development agenda crafted collectively by local and national government, progressive industry, and civil society. In 2002 Negros became the first ever community in Asia to reject a coal power plant installation, and to commit to becoming the first province in Southeast Asia to be powered 100% by renewable energy such as wind, solar, geothermal and modern biomass. The experience was hailed as a model for energy planning for the whole country.
Negros Island has a vast potential for clean energy such as wind, solar and modern biomass that is just waiting to be harnessed. Crucial to the development of the RE sources in the island is the implementation of the Renewable Energy Law which, four years after it was passed, is still not yet fully implemented by the Department of Energy.
Greenpeace also expressed its disappointment with Negros Governor Joseph Marañon's support for the coal plans which is a turnaround from his decision last decade to fully support RE development in the province.
"Negros' 100% RE policy is a pioneering policy that addresses some of the most crucial challenges of our time: energy security and climate change. Unfortunately, it seems that poor leadership and lack of political will of the Negros government, who seemed to have aligned themselves with the Department of Energy's pro-coal agenda, would like to see the province go down the path of dirty fossil fuels.
"Negrenses must reject the black agenda of coal power proponents and must stand firm against politicos who renege on their commitments, especially if it stands in the way of progress and development. Negros must continue to be an RE beacon for the country, and the rest of Southeast Asia," said Abad.
Cancel Delfin Lee's passport - VP Binay
By OVP Media
July 13, 2012
MANILA – Vice President Jejomar C. Binay said he will ask for the cancellation of Globe Asiatique (GA) owner Delfin Lee's passport if reports that the controversial property developer has left the country to evade arrest are confirmed.
Aside from canceling Lee's passport, the government could also request for Lee to be extradited back to the country, he added.
"Pag na-trace yan sa abroad, magpa-file sa pamahalaan na kung pwede ay pabalikin dito kasi may kaso. Para bang pinapa-cancel mo 'yong pasaporte," Binay said in an interview Thursday.
The GA owner has an outstanding warrant of arrest issued against him for syndicated estafa in connection to GA's Xevera housing project in Mabalacat, Pampanga.
The Vice President said he feared Lee's escape, if true, will lead to loss of the public's trust in the government.
"Ito po ang mga pagkakataong nawawalan ng tiwala ang mga kababayan natin sapagkat maliwanag pa sa araw ang kasong ito at talagang hot issue ang kasong 'yon," he said.
Binay, the Chairman of the Housing and Urban Development Coordinating Council (HUDCC), said he will not allow Lee to escape arrest and vowed to help the public regain its trust in the country's judicial system.
"Hindi po ako papayag. Ibabalik po natin ang tiwala ng taumbayan," he said.
He added that he has written the National Bureau of Investigation (NBI) and the Bureau of Immigration (BI) to confirm if Lee had indeed left the country.
"Please validate the reports quoting Secretary Jesse Robredo saying that Delfin Lee is already out of the country despite his outstanding warrant of arrest for syndicated estafa in Criminal Case No. 18480 issued on May 22, 2012 by Judge Amifaith Fider-Reyes, Presiding Judge of the Regional Trial Court of San Fernando Pampanga, Branch 42. If confirmed, I would highly appreciate an immediate investigation on how a fugitive from justice can easily escape from our jurisdiction," Binay said in his letter to the NBI and BI.
The Vice President said he was no longer questioning the apparent failure of the authorities to arrest Lee, but for the GA owner to be able to leave the country was another story.
"Kasi sa aking pagkaka-practice ng batas, magkaka-file po ng information. Pagka-issue ng warrant, yang warrant na yan pinapadala sa lahat ng agencies: sa CIDG, sa PNP, sa NBI. So, paano nga nakalabas kung nakalabas nga," he said.
In October 2010, after he was named housing czar, Binay directed Pag-IBIG to investigate the fraudulent loans obtained by GA during the previous administration. It was revealed that GA used "ghost borrowers" and fake documents to obtain over P6.5 billion in loans from the Home Development Mutual Fund (Pag-IBIG) for its Xevera housing project.
According to the investigation by the NBI, GA used fake documents such as TINs, marriage contracts, and identification cards for thousands of ghost buyers for the Xevera project.
Pag-IBIG and the Department of Justice subsequently filed syndicated estafa charges against Lee.
On May 22, Judge Amifaith Fider-Reyes issued warrants of arrest with no recommendation for bail against Lee, his son Dexter, and other GA officials.
The housing czar remained hopeful that the case against Lee will not be neglected.
"Inaasahan ko at ng mga nabiktima sa Pampanga, dito sa pabahay na project ni Delfin Lee, na hindi pababayaan ang kaso," he said.
Man arrested for illegal guns and ammos in Calbayog
By RPCRD, Police Regional Office 8
July 13, 2012
CAMP RUPERTO KANGLEON, Palo, Leyte – PNP PRO 8 in compliance to the directives of PNP Chief, Director General Nicanor A. Bartolome to intensify its campaign against loose firearms, Calbayog City Police Station collared two (2) men for illegal possession of firearms.
On July 9, 2012 at about 4:00 PM, Calbayog City Police Station collared two (2) suspicious looking men on a motorcycle.
Reports disclosed that at P-8, Sitio Talahib, Barangay Trinidad, Calbayog City, two (2) men were spotted onboard a motorcycle standing by the sidewalk as if waiting for something. They were identified as one Gregorio Costorio Canaman, 28 years old, married and a resident of Brgy. West Awang, Calbayog City together with his back rider identified as Michael Garahales Gotenas of same place.
Upon sensing the presence of PO2 Arcadio P Abia, presently assigned with Calbayog City Police Station, they immediately drove their motorcycle and sped off towards the city proper. PO2 Abia alertly followed the duo and flagged them down.
During the process of investigation, PO2 Abia was able to confiscate from the possession and control of Gregorio Costorio Canaman a .357 revolver with no serial number loaded with six (6) live ammos and failed to present any proof of ownership of said firearm.
Subject person was immediately brought to Calbayog City Police Station for proper disposition.
PNP PRO 8 also encourages the public to report weapons/firearms smuggling and other related information to the PNP Text ("Isumbong Mo Kay Tsip" Program) # 2920 or report to your nearest police station.
Automated Weather Facility provided to Visayas provinces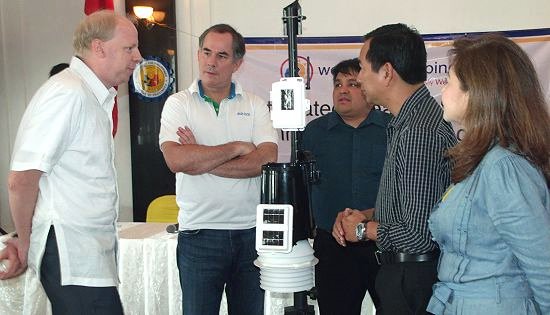 Leyte Gov. Carlos Jericho Petilla listens intently to the functions of the Automated Weather Station recently turned over to the province of Leyte thru Weather Philippines Foundation. Present during this Installation Training and Turn-over were (from left) Mark Vornhausen of Meteomedia; Mr. Sabin Aboitiz, CEO of Pilmico Foods Corp.; Mr. Celso Caballero III, General Manager of Weather Philippines Foundation; and Ms. Susan Policarpio, VP for Government Relations, Aboitiz Group of Companies. (PMRC)
By Provincial Media Relations Center
July 13, 2012
TACLOBAN CITY – At least fifteen provinces in the Visayas, including Leyte province, are recipient of an automated weather facility provided by Weather Philippines Foundation of the Aboitiz Group of Companies in partnership with the League of Provinces of the Philippines (LPP).
The turn-over of the automatic weather facility was conducted after the Installation Training provided by Weather Philippines to more or less 30 representatives from the provinces of Negros Oriental, Guimaras, Siquijor, Bohol, Cebu, Iloilo, Aklan, Antique, Dinagat, Capiz, Samar, Eastern Samar, Northern Samar, Biliran and Leyte.
The representatives from these provinces were trained on the maintenance and installation of the automated weather device at the Governor's Hall of the Provincial Capitol.
The automatic weather facility would provide a localized picture of current and future weather conditions. The facility, a technology of a company in Switzerland, is an electronic device that senses, measures, and transmits meteorological data of weather conditions.
Mr. Celso Caballero, Weather Philippines Foundation General Manager, said the foundation has not been set up to compete with PAGASA, rather to complement and augment efforts of the public weather bureau in providing weather information.
"We would like to contribute to the Philippine society and economy by operating a premiere weather forecasting system that will provide free weather information in an effort to reduce risks and calamities associated with adverse weather conditions" Caballero said.
Caballero likewise disclosed that Weather Philippines Foundation is presently working to provide its key deliverables which include the set up of roughly 1000 weather instruments/devices all over the Philippines in its first two years of operations; affiliate and coordinate with various scientific, government and non-governmental agencies for the supply of weather information; and, through its technology partner Meteomedia Philippines, operate the weather portal that could show seven-days forecast in a three-hours interval.
Meanwhile, Leyte Gov. Carlos Jericho Petilla said that the province was one of those who clamored for the installation of the automated weather system since typhoons and rainy seasons are often occurrence in the province.
"We need these facilities so that we can immediately warn the public in cases that they need to evacuate. To be able to do that, we need reliable devices within our reach," Gov. Petilla said.
The provincial government is interested to install such units in all towns in the province in its bid to strengthen early warning system.
SPARU member arrested by Catarman police
By RPCRD, Police Regional Office 8
July 11, 2012
CAMP RUPERTO KANGLEON, Palo, Leyte – A SPARU (Special Partisan Unit) member was arrested by combined elements of PSOG, NSPPO, 803rd Brigade, 8ID, PA and MIG 8, ISAFP led by PSI Joseph A. Imperial, Chief, PIB, Northern Samar Police Provincial Office at about 9:00 AM on July 8 2012.
Subject arrested person was identified as one Faustino Laurino Gerbon alias "Jay-ar/Tinoy", a SPARU member and an active member of Rudante Urtal Command (RUC) Special Operations Group of Northern Samar Provincial Party Committee of the EVRPC.
Faustino Gerbon was arrested by virtue of Warrant of Arrest for the crime of Murder issued by Honorable Judge Norma Megenio-Cardenas of RTC Branch 19, 8th Judicial Region, Catarman, Northern Samar.
It was also learned that subject NPA member is a suspect in the killing of the late Mayor Ceasar Vicencio of Catubig, Northern Samar.
Subject person was immediately brought to NSPPO for documentation prior turn-over to the court concerned for proper disposition.
The PNP in coordination with the AFP and other government agencies concerned will continue with its intensified implementation of the Police Integrated Patrol System (PIPS) thru maximum visibility, static checkpoints and preemptive police operations to ensure the safety of the public.
Meanwhile, the PNP also urges the public to help the government troops secure their respective localities by providing timely information on criminality and terrorism.
Alternative Learning System (ALS) may soon eradicate illiteracy in the city
By PIA Samar
July 11, 2012
CATBALOGAN CITY – The Alternative Learning System (ALS) program in Calbayog has helped reduce the number of illiterate Calbayognons, according to DepEd-ALS Program Supervisor Ricky Cano.
Cano, in an interview over Radyo ng Bayan-DYOG bared that illiteracy rate has declined, as he compared the data in 2010 to 2011.
"In 2010, there were more than 5 thousand illiterate folks in Calbayog City out of the 160 thousand population or some 3.48%; in the year 2011, the number declined to 5,046 as against the population of some 201 thousand Calbayognons or 2. 50%," Cano explained.
The program added Cano, helps the out-of-school youth get education while doing other responsibilities, like earning a living.
"They can go to school when they have the time," Cano said.
The ALS Basic literacy program targets those who have not attended formal schools.
Cano added that most of their students are parents who attend classes anywhere they agreed upon, be it under the trees, or in the comforts of their homes – where the family is also involved in the so called family literacy program where they teach each other reading and writing.
"Often literacy problems are passed from one generation to the next. By involving the family with literacy objectives, this education pattern can be changed," an education official said.
DepEd Calbayog City Division has eight mobile teachers focused in making Calbayog City a literate city, where the Basic Literacy Program is presently implemented in Barangays Cagmanipis Sur, Cagmanipis Norte, Bante, Tomaligues, Amampacang, Cogon and Naga. (with J Allegado, Radyo ng Bayan-DYOG)
Marijuana grow found in Southern Leyte
By RPCRD, Police Regional Office 8
July 10, 2012
CAMP RUPERTO KANGLEON, Palo, Leyte – PNP PRO 8 stands resolute in its campaign against illegal drugs and its recent accomplishment is a great contribution to the anti-drug campaign earning the respect and appreciation of the community.
On July 8, 2012 at about 2:30 in the afternoon, a joint team of Southern Leyte Police Provincial Office, Maasin City Police Station and PDEA 8 led by PSInsp Delfin Tan, PSInsp Marianito Malibago and IO2 Christine Ann Dumapias respectively, conducted operations on illegal drugs which resulted to the recovery/uprooting of marijuana plants at Barangay Cambooc, Maasin City.
Said team was able to arrest a certain Agapito Balangbalang Acasio, Jr, caretaker, 21 years old, single, jobless, and a resident of said place.
Four (4) plots of marijuana plants were recovered by the operatives witnessed by Ramon Buyser, a media representative, Kagawad Randy C. Siega and Josephine A. Hatayna, DOJ Representative.
On the same day at about 4:00 PM, same team also conducted illegal drugs operation at Barangay Rizal, same city. It also resulted to recover/uproot marijuana plants.
Suspected arrested cultivator was identified as Rex Asis Cerro, of legal age, single, jobless and a resident of the aforementioned place. Five (5) plots of marijuana plants were recovered/uprooted with planting aid equipment.
The inventory and documentation of said items were witnessed by same representatives. It was then submitted to Southern Leyte Provincial Crime Laboratory while the subject persons were brought to Maasin City Police Station for booking and documentation.
A case for violation of RA 9165 has been filed against the suspects.
PNP PRO 8 further recognizes the indispensable role of the community in combating this social menace, thus the public and all stakeholders are encouraged to help their police in decisively crashing the illegal drugs trade.