8ID trains army recruits for peace and development in Samar
By DPAO, 8ID PA
July 9, 2012
CAMP LUKBAN, Catbalogan City – The 8th Infantry (Stormtroopers) Division, PA formally accepted 95 young recruits into the ranks of the Philippine Army as they took their oath of duty and service to the country in a simple opening ceremony of Candidate Soldier Course (CS) class 299-2012 on July 9, 2012 at the 8ID Headquarters in Catbalogan, City.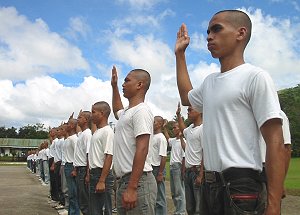 The ceremony was graced by Colonel Virgilio M Espineli the Assistant Division Commander of 8ID, in the presence of the candidate soldiers' families, Officers, enlisted personnel and civilian employees of the command.
The CS training will be a 5-month course in which the Army trainees will be transformed into Peace and development advocates, and will assist the peace and development efforts of 8ID in line with the implementation of Internal Peace and Security Plan Bayanihan in the area. Upon completion of the training, the trainees will be enlisted into the Philippine Army with the rank of Private.
Colonel Espineli in his remarks challenged the trainors to train the new recruits to become good and professional soldiers. "I congratulate each and every one of you for volunteering to join this noble profession of arms and for successfully passing all the requirements and screening for the Candidate Soldier Course Class 299-2012", Espineli said.
The candidate soldiers came from the different provinces all over the country. 68% are from the Visayas while 7% and 20% are from Luzon and Mindanao respectively. The youngest trainee is 18 years old and the oldest is 24 years of age. For educational profile, the recruits are composed of one (1) registered nurse, one (1) license criminologist, 17 college graduates, 26 college level, 26 vocational graduates and 24 high school graduates with special skills.
The training of the new recruits will be guided by the guidance issued by MGen Gerardo T Layug AFP, Commander 8ID, PA, that every soldier will not only be trained to fight and defend the country, but more importantly to become human rights advocates and ardent catalyst of peace and development in the countryside.
Victim stabbed to death by son-in-law
By RPCRD, Police Regional Office 8
July 9, 2012
CAMP RUPERTO KANGLEON, Palo, Leyte – A 48 years old father-in-law was stabbed to death by an enraged son-in-law, Ormoc City Police Office reports.
On July 1, 2012 at about 1:36 PM a stabbing incident transpired at Sitio Tipik 1, Brgy. San Jose, Ormoc City.
The victim was identified as Emiliano Tagalog, 48 years old, a widower from Villaba, Leyte and a resident of the aforementioned place. The suspect was a 31 year old driver of same place identified as Alvin Ordaniza Arnaiz.
Reports disclosed that, Arnaiz (suspect) is the son-in-law of Tagalog (victim) and were on a drinking spree with immediate family members. With no apparent reason, the latter stood up and went to his house and took a long bladed weapon locally known as "bolo" and challenged a fight to his family members and even to their neighbors.
One of his relatives identified as Artemio Simbajon tried to pacify him who was already at the verge of attacking his eight (8) year old son. Alvin Arnaiz (suspect) who was then enraged by the behavior of his father-in-law (victim) immediately took a knife and stabbed him twice hitting the stomach and chest causing his instantaneous death.
Artemio Simbajon has attempted to disarm Arnaiz but failed to and was even wounded and immediately rushed to the nearest hospital for medical treatment.
Suspect threw the weapon used in committing the crime but was recovered later and subsequently voluntarily surrendered to the responding police officers. He was then brought to Police Station 2, Ormoc CPO for documentation and for filing of appropriate case in court.
PNP PRO 8 Regional Director, PCSupt Arnold Rayala Revilla believes that police operations must be focused more on crime prevention through increased police visibility and patrol operations for an effective crime deterrent here in the region.
Army officer believes barangay officials' vital role in achieving peace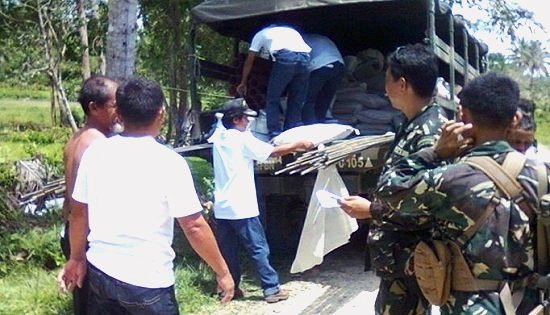 The 4SFC (STALKER) Company provided security assistance and transportation to the delivery of basic services in the far flung barangays in the different Municipalities of Bohol Province in connection with the Purok Power Movement Program of Bohol Province / IPSP Bayanihan Program of the Government conducted by the members of the Prosperity Team from of SF(army) personnel, PNP Bohol and Members of the Provincial Development Council. (Photo courtesy of 4th Special Forces Company)
By JAZMIN R. BONIFACIO
July 9, 2012
BALILIHAN, Bohol – "Barangay officials and tanods holds a vital role in achieving peace and order in Samar and Leyte, should they only be given a chance to perform well with their functions."
This was the reaction made by Cpt. Elmer A. Namocat, commanding officer of the 4th Special Forces Company, previously assigned in Brgy. Abuyogon, Burauen Leyte now based in Brgy Baucan Sur, Balilihan, Bohol.
The 4th Special Forces Company, under the 2nd SF battalion remain steadfast in its mandate of totally eradicating insurgency problem in order to maintain peace and development in Bohol.
They as well adopted programs and activities aimed to uplift the well being of the people in the areas presently entrusted to them.
Cpt. Namocat told Samarnews.com that aside from recent implementation of Countryside Development Programs in connection with the Purok Power Movement Program of Bohol Province / IPSP Bayanihan Program of the government to where they recently deployed their members of the Prosperity Team from the SF (army) personnel, they as well conducted various medical and dental civic actions activities, and most importantly, is the implementation of the Integrated Territorial Defense System (ITDS) for the barangay populace in Bohol under the Barangay Security System.
He further disclosed that such programs and activities are being undertaken in coordination with different stakeholders such as the local government units, non-government organizations, people's organizations and local chief executives, irrespective of their political affiliations having that common end of rendering service to the people.
"Govt officials, the people itself of Bohol supports the programs, a major factor why Bohol attained peace, and they do help in maintaining it", Namocat said.
According to Cpt. Namocat, the Special Forces unit implements ITDS through volunteerism and not by forcing anybody's involvement. However, since said program aimed to safeguard the barangay from intrusion of terroristic groups and was conceptualized in the spirit of bayanihan system that solicit support from other stakeholders to make it fully work as a system.
"Barangay officials and Brgy tanods played vital role in BSS program, nababantayan nila ang sarili nilang barangay", Cpt. Namocat said.
It was learned that ITDS was also implemented by the 4th Special Forces Unit in the villages of Burauen Leyte.
"The ITDS was effective and we are so very thankful for the great support of Mayor Fe Renomeron and to the people itself of Burauen, even for a very short span of stay in the place they made it through for the success of our programs and activities in the area," Namocat told SamarNews.com.
To recall, the 4th Special forces previously assigned here in Leyte, formed a team for their Civil Military Operations in Burauen, Julita, La Paz, Mayorga, Dulag, MacArthur, Javier and Abuyog all in Leyte.
Cpt Namocat is appealing to the local chief executives and to all people to be vigilant enough and to continue to work hand and hand to achieve peace and ultimately development for the people of Samar, Leyte and Bohol.
The 4th Special Forces Company, 2nd SF Battalion, SFRA (Airborne), Socom, Phil Army is under the command of 802nd Brigade Phil Army, of the 8th Infantry Division based in Ormoc City.
Calbayog City re launches Iwas Dengue campaign
By PIA Samar
July 9, 2012
CATBALOGAN CITY – The Calbayog City Health Office once again reiterates its advocacy campaign to sustain the cleanliness of their surrounding especially this rainy season.
According to City Health Officer Dr. Sylvia de Guzman in a radio interview at Radyo ng Bayan-DYOG, there are reported suspected dengue cases in the city.
She added that Calbayog City Mayor Ronaldo Aquino will issue an Executive Order to re launch an Iwas Dengue Campaign done in the city in 2010. She likewise urged the listeners to be extra careful and cautious with dengue virus carrying mosquitoes.
One such suspected dengue case has been reported from Barangay Capoocan, three in Barangay Rawis, one in West Awang and another one in Barangay Aguit-itan.
Last year, the city health office reported that some 16 dengue cases were reported in the barangays of Balud, Macatingog, Payahan, Anislag, Basud, Bugtong, Cabugawan, Carayman, Obrero, Rawis, San Policarpo and Tinambacan Norte.
To recall, it was in the year 2010 when dengue cases soared record high in Calbayog City with 479, with 20 cases in 2009, some 28 dengue cases in 2008 and 40 in 2007.
The people are reminded to discard empty bottles, tin can, replace water in flower vases regularly as these are favorite breeding places of dengue virus carrying mosquitoes.
"Make sure that all water stocks are covered, kept clean and water is also regularly replaced," the health officer announced over the radio.
"It will really help if we practice hygiene and sanitation so that we can protect our families," she added.
Finally, the doctor urged the public to seek medical treatment once they suspect any of these symptoms on dengue fever like headache, joint and muscle pains, rashes and nose bleeding.
Meanwhile, the Department of Health (DOH) reported that dengue outbreaks this year has increased to 41% from last year, thus the nationwide campaign on ASEAN Dengue Day in June. (with J Allegado, PBS-DYOG)
Army woos community pillars to strengthen peace and development advocacy
By PIA Samar
July 9, 2012
CATBALOGAN CITY – The Philippine Army through its civil affairs office sees the need to woo community pillars to strengthen its partnership with the community they serve.
In Friday's subject matter exchanges at the 8th Infantry Division (8th ID) Philippine Army, Catbalogan City, DPAO Chief invited the community pillars in media, women, religious group, Indigenous People (IP) and some government agencies representatives.
"We want to enhance the skills of the military in dealing with the different sectors of the society and to be familiar with the norms customs and traditions of the community," Lt Col Arvin Lagamon told PIA.
Speakers from the general headquarters taught the different 8th ID army battalions, units and companies how to deal with these pillars in the community to ensure support in their peace and development efforts.
One official said that these sectors are influential in the communities and it is best to engage them but not to be overly familiar.
Jennifer Cabadonnga, leader of the Mamanwa tribe residing in Barangay Baclayon, San Jose de Buan narrated how her people scoured the jungles of Samar to find a peaceful place to stay as they were reportedly harassed by some soldiers.
"All we need is livelihood and we can exist peacefully," she implored the army. Cabadongga admitted though that the encounter took place several years ago.
Deputy Division Commander Col. Virgilio Espeneli assured the Mamanwa leader that the army is different now.
The government personnel present promised Cabadongga that they will 'bridge' her requests to the different social services of the government.
The army also engaged the sector representative in a discussion as how best the army can secure their support in their peace and development efforts.
Representatives of the sectors invited gamely agreed or disagreed at some points and threshed out the differences in their perspective.
French Minister to help lift aircraft blacklist on PHL - VP Binay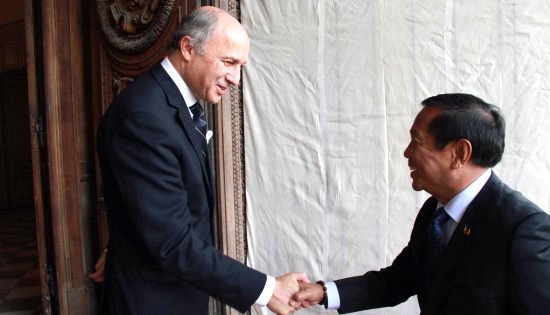 Vice President Jejomar C. Binay meets French Foreign Minister Laurent Fabius at the Quai d'Orsay in France. Binay asked Fabius to help lift the European Union aircraft blacklist on the Philippines. He said at least 84 Airbus planes are now in operation in the country and a purchase order for another 115 Airbus planes at the cost of $15 billion, has failed to move forward because of the blacklist. (OVP Media)
By OVP Media
July 7, 2012
MANILA – Vice President Jejomar C. Binay said French Foreign Minister Laurent Fabius promised to "exert a more vigorous effort" in helping lift the European Union aircraft blacklist on the Philippines.
"I pointed out to the Minister that at least 100 French companies have already established their presence in the Philippines, but that we believe there should be more," Binay said in an arrival press conference at the Ninoy Aquino International Airport.
"At least 84 Airbus planes are now in operation in the country, a purchase order for another 115 Airbus planes at the cost of $15 billion, has failed to move forward because of a European Union aircraft blacklist on the Philippines," he added.
In 2010, the European Union banned all airlines from the Philippines from flying into the region's airports, citing "serious safety deficiencies" found by the United Nations and U.S. aviation authorities.
The European Commission, which manages the airline "blacklist," said it would forbid airlines from the Philippines from flying into the 27-country bloc as a precaution until its remaining concerns could be addressed.
Binay was scheduled to meet with French Prime Minister Jean-Marc Ayrault but an urgent business at the National Assembly prevented him from doing so. This prompted the Prime Minister to ask Minister Fabius to meet with Binay at Quai d'Orsay.
The Vice President said he reiterated President Benigno Aquino's official invitation to President François Hollande to visit the Philippines, possibly on his way to or from Vientianne where is due to participate in the meeting of Asian and European leaders (ASEM) this November.
"I reminded the Minister that two Filipino presidents have already visited France – President Cory Aquino in 1989, and President Ramos in 1994. It is now our turn to reciprocate the favor by receiving the French president," he said.
Binay also said the Minister expressed unequivocal support for freedom of navigation in Panatag (Scarborough) shoal. However, Binay said Minister "could say nothing" on the sovereignty question.
"Our discussions covered a wide range of issues regarding the global situation and Franco-Philippine relations. The Minister began by expressing his appreciation for President Aquino's work in the Philippines, which he said is important to France," Binay said.
"He expressed concern about developments in Syria, and the continuing problems in Europe. But he expressed confidence that under the combined leadership of Germany and France, Europe would ultimately be able to surmount its present problems," he added.
Binay left the country for Saudi Arabia on the last week of June upon instruction of President Aquino to condole with the Royal Family on the death of Crown Prince Nayef.
While on his special mission, the Vice President also took the opportunity to meet with the Filipino community in Riyadh and then in Dubai in hs capacity as presidential adviser on Overseas Filipino Workers' Concerns.
After his mission, Binay went with his family on a pilgrimage to Italy and France. The trip was primarily a personal visit with the consent of President Aquino and was paid for by his children as their gift in celebration of his 40th wedding anniversary.
Despite the personal nature of the trip, Binay met with the Filipino community in Rome to thresh out their concerns including the prolonged controversy over the omission of their middle name in official documents issued by the Italian government.
Eastern Samar police intensifies campaign against criminality
By JAZMIN R. BONIFACIO
July 7, 2012
BORONGAN CITY – The police in Eastern Samar is intensifying their campaign against criminality in the entire province. Thus, a police integrated patrol system program is now being implemented by and every police station.
Eastern Samar is one of the three (3) provinces of the island of Samar having 23 PNP Stations.
It was learned from Police Senior Superintendent Manuel Cobillo, PNP Provincial Director of Eastern Samar that a random checkpoints is now being effected to different strategic areas in Eastern Samar.
A random checkpoint is a tactic used by police and military personnel involving the setup of a roadblock primarily to disrupt unauthorized or unwanted movement.
Vehicular and pedestrian traffic that approach with the intent of passing flying checkpoints can be asked to produce identification and submit to a search of their persons and/or vehicle. In some cases, people without proper identification or who arouse suspicion may be refused passage, detained, or arrested. Contraband may be confiscated.
SSupt. Cobillo in an interview stressed that a 4-hour checkpoint per day is now being implemented by every police station.
"This is part of routinary preventive measures of the PNP to get rid of criminality in the area", Cobillo said.
To recall, Dolores PNP apprehended a man riding in a motorcycle carrying an unlicensed firearm and now charged in court.
Communist terrorist leader arrested
By RPCRD, Police Regional Office 8
July 6, 2012
CAMP RUPERTO KANGLEON, Palo, Leyte – PNP PRO 8 acting on instructions from PNP Chief, Director General Nicanor A. Bartolome has ordered all PPOs and NSUs to give due attention to service warrants and accounting of wanted persons here in the region.
At about 7:30 in the morning today (July 6, 2012), combined elements of ORID, PRO 8, 802nd Brigade, 8ID, PA led by PInsp Kenny Llanza Tantiado, Chief CSB conducted manhunt operation at Sitio Balanak, Brgy. 89, San Jose, Tacloban City.
It resulted to the arrest of one Francisco Jabinal Baylon, 41 years old, married, a Social Worker and a resident of said place.
Baylon was arrested by virtue of Warrant of Arrest for the crime of Frustrated Murder and Murder issued by Honorable Judge Decoroso M. Turla of RTC branch 21, Laoang, Northern Samar with no bail recommended.
It was learned that subject person is said to be the head of the Regional Peasant Department (RPD) of the EVRPC and was subsequently brought to PRO 8 for documentation prior turn-over to the court concerned for final disposition.
"I believe that one criminal off the street accords citizens with a sound sleep", Bartolome added.