KALAHI-CIDSS adapts bottom-up budgeting
By Philippine Information Agency (PIA 8)
March 5, 2012
TACLOBAN CITY – The Kapit-Bisig Laban sa Kahirapan-Comprehensive and Integrated Delivery of Social Services (KALAHI-CIDSS) in Eastern Visayas is adapting the bottom-up budgeting, DSWD Region 8 Director Leticia Diokno informed.
Director Diokno said that in line with the bottom-up budgeting scheme, the KALAHI-CIDSS has trained the first batch of newly-hired staff for area coordinating team in pilot areas in the Region, under the Millennium Challenge Corporation fund.
Another batch of trainees, particularly the newly hired staff under the World Bank Additional Fund, is currently undergoing training at the Leyte Park Hotel.
The ACT is composed of Area Coordinators, Deputy Area Coordinators, Municipal Financial Analysts, and Community Facilitators, Director Diokno said.
Ms. Natividad Sequito, Regional Project Coordinator, said that the training aims to equip and orient the newly hired staff about KALAHI-CIDSS and the Community Driven Development (CDD) process.
After the training, these new staff will be deployed to the pilot municipalities for 10 days, before they will be sent to their permanent assigned municipalities. They will be exposed on the realities and ground conditions of the KALAHI-CIDSS municipalities wherein they are tasked to gather insights and lessons on integrating local community priorities into NGA plans and budgets. Also, they are required to keep field notes, reflection papers and reports, RPC Sequito added.
The final output for the whole duration of the 10-day exposure of the new staff is the project proposals based on the Local Anti-Poverty Plan (LAPP) of the covered pilot municipalities.
The municipalities covered in the region are: Las Navas, Silvino Lobos and San Roque; all in Northern Samar. Other municipalities are Matuguinao, Tagapul-an, Sto. Niňo, Sta. Rita, Gandara, Tarangnan, Sta. Margarita, San Jose de Buan, Daram, Motiong, Paranas, Pinabacdao and Villareal, Samar.
This bottom-up budgeting in KALAHI-CIDSS is pursuant to the Department of Budget and Management's (DBM) issuance of national budget memorandum number 112 dated December 29, 2011 which mandates the use of bottom-up budgeting process in the preparation of National Government Agencies (NGAs) budget for FY 2013 that will fund anti-poverty programs and projects of about 300 to 400 focus municipalities and cities identified by the Human Development and Poverty Reduction Cabinet Cluster (HDPRCC).
KALAHI-CIDSS is an anti-poverty project of the government spearheaded by the DSWD. It aims to empower the community, improve local governance, and reduce poverty.
What about Joma's crimes against humanity?
By ANAD Partylist
March 4, 2012
QUEZON CITY – "What does President Aquino III mean when he said that Joma Sison may join the 2013 polls only after a formal and comprehensive peace agreement is signed by the government and the National Democratic Front (NDF)? (PNoy: Joma may run in 2013 polls, 03/03/12, www.tribuneonline.org). Does this mean that once an agreement is signed by both parties, a presidential clemency is to be handed down for Joma despite the many criminal cases against him that are pending with the courts?" asked ANAD Rep. Jun Alcover in reaction to several stories coming out of the national dailies last Saturday (March 3).
"Surrender of their firearms is not enough so that Joma and his cabal of demagogues could be able to join the country's political fray. They must be made to answer for the grizzly crimes they has committed against the Filipino people," the former NPA political and commanding officer turned pro-democracy advocate stressed. (Yield and join polls, Aquino tells rebels, 03/03/12, www.inquirer.net)
Rep. Alcover said that it is unconscionable for anyone to think that Joma, primus enter pares of Maoist communist terrorism in the country, by just a stroke of Presidential fiat could easily get away from the many criminal cases; while government law enforcement units are ordered to hunt down retired Maj. Gen. Jovito Palparan for the alleged trumped-up case of kidnapping that many believe is politically motivated. "It is grossly unfair for government to openly display double standard in the implementation of our laws," he said.
"We should not forget that sometime in l987 Joma discreetly went to the Netherlands. With the assistance of his communist friends there, he was able to acquire refugee status and thus evade the long arm of our laws," Rep. Alcover pointed out as he strongly urged the government to uphold the rule of law and the country's established judicial processes.
On the other hand, Rep. Alcover hit Presidential Political Adviser Ronald Llamas who reportedly went twice to Utrecht, Netherlands to convince Joma to come home (Noy open to Joma's return, 03/03/2012, www.philstar.com). "What is Sec. Llamas trying to show and prove to us? Will Sec. Llamas explain what does he mean by political settlement? Doing these under wraps yet using public funds connotes serious devious intentions! Has President Aquino III given the go signal for back-channel efforts instead of the formal peace negotiations which is now indefinitely suspended?" he asked.
"If not for some media personalities 'with a nose for factual and relevant informations', we are always left in the dark. Despite ANAD's several calls for transparency in the conduct of the peace talks, the Aquino III administration made no response," Rep. Alcover said even as he expressed willingness to help government achieve what it believes is best for its people and country.
"We have sworn to serve the Filipinos people in all honesty and candor but never to be lapdogs and mouthpieces of anyone especially those with viral and selfish political interests," he said.
"Definitely, we will push for the creation of a House Special Oversight Committee, solely for this GPH-Maoist CPP-NPA-NDF talks, to see to it that the millions of Filipinos are not deprived of the true and timely information on the actual developments of the peace talks and see to it that the taxpayers' money is judiciously and properly spent," Rep. Alcover cited.
DENR taps CBFM beneficiaries as primary partners of greening program
By Philippine Information Agency (PIA 8)
March 3, 2012
TACLOBAN CITY – Some 144 people's organizations under the Community Based Forest Management Program of the Department of Environment and Natural Resources will be tapped as primary partners in the implementation of the National Greening Program in Eastern Visayas.
Now in its second year of implementation, the NGP in region 8 has a total of 12,365 hectares targeted for development by the 144 POs implementing the CBFMP, Ms. Purificacion Daloos, chief of the Public Affairs Office of the DENR 8 informed.
No less than Secretary Paje announced to around 2,000 participants of the recently-held CBFM Practitioners' Congress at the Fontana Convention Center, Clark, Pampanga that the CBFM POs will be tapped to take the lead role in the production and planting of seedlings, as well as maintenance of plantations under the NGP.
However, only qualified CBFM POs can enter into contract for NGP activities with the DENR, Ms. Daloos said.
Qualified POs are those which have registration certificates from the Department of Labor and Employment, Securities and Exchange Commission and the Cooperative Development Authority. The said POs should also be accredited by the DENR and must have capability building experiences like nursery operation, seedling production, planting techniques as well as financial management, Ms. Daloos added.
In order to facilitate the registration of POs, Secretary Paje ordered the creation of special units at the Central and Regional offices of the DENR that would link the POs to registering agencies. These POs would also undergo accreditation process from the DENR, Ms. Daloos said.
Once qualified, the POs can enter into contract with the DENR to undertake NGP activities and avail on a first come first served basis, the 100 million pesos funding provided by the government for livelihood opportunities as announced by Secretary Paje, Ms. Daloos added.
More importantly, all products from plantation and projects implemented by the POs in production areas will plow back to them. Plantations in timberland areas and protected areas should, however, be saved as climate change mitigation measure, the information officer concluded.
NPAs ambush soldiers responding to request for assistance in Eastern Samar
By Philippine Information Agency (PIA 8)
March 1, 2012
CAMP LUKBAN, Catbalogan City – A military escort team of the 43rd Infantry Battalion based in Eastern Samar was ambushed by about thirty communist terrorists on February 27 at about 8:00 o'clock in the evening at the vicinity of Barangay Antipolo in the municipality of Llorente in Eastern Samar.
Lt. Colonel Niceforo Diaz, spokesman of the 8th Infantry Division, informed that the team was on board a military vehicle, responding to the request for law enforcement assistance from the Regional Trial Court Branch III of Guiuan to secure confiscated illegally-mined Chromite minerals when it was ambushed.
The military vehicle was damaged when communist terrorists detonated the four (4) landmines they planted along the road.
The soldiers fought back and bravely held their ground for about an hour until the perpetrators were repelled causing them to retreat with a number of casualties.
One soldier, however, Private First Class Erwin G. Ocenada, a native of Paranas, Western Samar was killed in the incident, Lt. Colonel Diaz said.
Seven soldiers were wounded as well but only three remain under treatment at a hospital in the City of Borongan as of press time.
Meanwhile, Eastern Samar Provincial Police Director Manuel Cubillo in an earlier statement informed that upon learning of the incident on February 27, elements of the Llorente Municipal Police and the Eastern Samar Provincial Police Office immediately proceeded to the scene of the crime.
Director Cubillo said that the military team was led by Sgt. Rogelio Barbosa together with some 13 soldiers were ambushed and land mined by more or less thirty heavily armed communist terrorists led by an unidentified female commander.
Recovered from the scene, Director Cubillo said, were two (2) unexploded hand granades, assorted ammunitions and empty shells of different calibers and one (1) magazine of AK 47 assault rifle loaded with 40 live ammunitions and personal belongings of communist terrorists.
The Eastern Samar National Police continues to conduct thorough investigation regarding the said incident.
The Eastern Samar Provincial Police Director underscored that despite the incident on February 27, Eastern Samar remains to be generally peaceful.
2012 Monthly Women Celebration of PIA-8 showcases ENTREPINAY in EV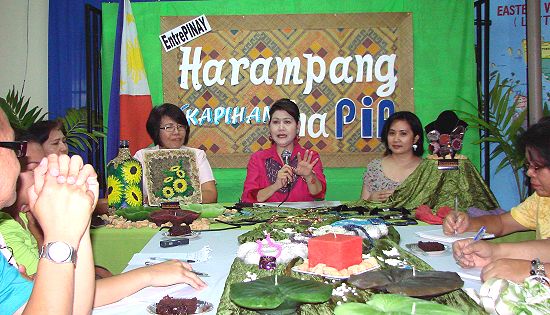 PIA 8 regional director Olive Tiu (center) introduces to media artist-entrepreneur Marjorie Clarin (right) proprietor of My Konzepto to media during the Harampang ha PIA as Araceli Larraga (left) of DTI look on. In front are some of Clarin's products such as necklaces, scented candles and pastries shown to the media during the presscon. (VINO R. CUAYZON)
By CATHERINE T. BALDELOBAR, Samar News.com
March 1, 2012
TACLOBAN CITY – The Philippine Information Agency Region 8 (PIA-8) "Harampang-Kapihan" on February 29 showcased an "EntrePinay" in Eastern Visayas as part of its monthly commemoration of the 2012 Women Celebration, featuring the talent and creativity of female Waraynons. This month features Ms. Marjorie Clarin, the owner of "My Konzepto" – maker of fashion jewelry; home accents; candle holders, hand painted bottles, plates, and ceramics; and variety of candles.
As stressed by Erlinda Olivia Tiu, Regional Director of PIA-8, Clarin posed as an epitome of women empowerment in the field of business, her distinct artistic inclination of creating one-of-a-kind designs serves as its differentiation to be able to withstand in the industry. Clarin's story of success started with an investment of P2,000, at the age of 12 she engaged in creating designs of fashion jewelleries' as part of her hobby and gradually innovated her product lines to candles, and other home accents. She also, pointed out the support-arm of government agencies, among others, the Department of Trade and Industry Region 8 (DTI-8) who assisted in her business development and training.
Director Tiu likewise emphasized that concerned government agencies and Local Government Units (LGUs) shall extend supports in the development and sustenance of micro small and medium enterprises (MSMEs). As averred by Araceli Laragga, Chief Consumer Welfare Division Leyte Provincial Office, the DTI-8 has in place programs and projects, among others, catering assistance for the development and sustenance of MSMEs, this covers the existing and would-be entrepreneurs through providing financing support, training, marketing, and product development.
Marketing of researches, technology development in EV pushed
By Provincial Media Relations Center
March 1, 2012
TACLOBAN CITY – Leyte Governor Carlos Jericho Petilla pushed the Eastern Visayas Consortium for Industry and Energy Research and Development (EVCIERD) to harness the competitive advantage of all researches made in the regions for the industry, energy and engineering field and work for its "immediate commercialization".
"The assurance of a sustainability for any research developed in the region also depends on how quickly we can market the product and put it out for mass use," declared by Gov. Petilla during the closing ceremonies of the 11th EVCIERD Anniversary.
Among those featured successful researches in energy, food and technology during the EVCIERD Exhibit at the Robinson's Place were the Banana wine and Tuba with lychee developed by the Eastern Visayas State University; palauan torta by the NorthWestern Samar State University, automatic transfer switch of the University of Eastern Philippines; solar powered charging station of the Eastern Samar State University; plant oil stove and Taro tuba from the Visayas State University and other discovered products and inventions made through diligent researches by state university and technological institutions in the region.
Gov. Petilla pushed universities to strengthen tie-ups with the Department of Science and Technology (DOST-8) to further improve these products and inventions, as well as forge partnerships with other government agencies and private organizations to help market the products.
"The students, faculty and the university have placed much in researching and developing new ideas thus marketing these products would mean their ideas and efforts were not wasted," Gov. Petilla said.
To recall in 2011, through the launch of the EVCIERD Research Strategic Plan for 2012-2016 DoST, research studies in Eastern Visayas Region are expected to become more relevant to the public in the next five years.
The plan maps out activities to be engaged in the next five years in the areas of industry and energy in Eastern Visayas. By aligning their studies along priority areas, researchers hope for better funding and practical application of their studies to the needs of the community.
EVCIERD comprises government line agencies and state universities and colleges involved in research and development, and extension. The EVCIERD was organized to provide research and development needs of the region's industry and energy sectors.
ANAD Rep. Alcover named Outstanding Congressman
Press Release
March 1, 2012
QUEZON CITY – "Thank you very much. This award gives me more than just enough of reasons to exert more effort towards a strong and vibrant democracy and freedoms that has constantly been badgered and threatened by those who are strong adherents and purveyors of a Godless and violent ideology."
Thus said ANAD Rep. Jun Alcover moments after receiving the prestigious Outstanding Congressman Award from Superbrands Marketing International (SMI) and Global New Network (GNN) during fitting ceremonies at the Mandarin Hotel, in Manila, last February 29.
Rep. Alcover was among the 20 District and Partylist members of the House of Representatives picked by SMI-GNN for the annual awards that went through a tedious screening process conducted by members of the academe, business, professional and industrial sectors mainly on the performance of members of the House with respect to his/her district or constituency. GNN is the official TV network covering the day-to-day activities of the House of Representatives.
Rep. Alcover is one of the only two partylist Congressmen selected by SMI-GNN for the award. The other is Ang Kasangga Rep. Teddy Haresco. Other awardees were: Reps. Giorgidi Aggabao, Juan Edgardo M. Angara, Elpidio Barzaga, Speaker Felciano Belmonte, Amelita Villarosa, Winni Castelo, Salvador Escudero III, Rodolfo Fariñas, Orlando Fua, Anthony Rolando Golez, Lucy Torres-Gomez, Ma. Milagros Magsaysay, Lani Mercado-Revilla, Emmanuel Pacquiao, Ferdinand Martin Romualdez, Minority Leader Danilo Suarez, Augusto Syjuco, and Niel Tupas.
Rep. Tupas is the leader of the House Prosecutors panel to the Senate Impeachment trial while Reps. Aggabao, Barzaga, Fariñas are members of the same Prosecuting team.
In his message, Harry Tambuatco, President and CEO of SMI-GNN pointed to the awardees' "accomplishments cited on every spread featuring each Awardee as a living testament to the criteria conferred as 'Outstanding'. . . The bills filed in Congress are pieces of legislation regardless of their ascending to republic acts eventually are discussed in multiple hearing rooms with resource personnel and Representative colleagues. . . Interestingly enough, the work of legislators have been put to test by perceptions generated by media and current events that have overtaken the contributions and the role of Representatives. Unfortunately some perceptions were ill conceived," he added.
Rep. Alcover emphasized that SMI-GNN's recognition of ANAD's advocacy to strengthen the structures of our democratic institutions and freedoms, for the 2nd consecutive year, "Shall be our source of courage and energy as we jointly seek peace and entrench well the pillars of democracy as a testimony of what we are today and of the future."
Public urged: Undergo early screening to prevent colorectal cancer
By RAFI
March 1, 2012
CEBU CITY – A Cebu-based cancer center urged the public to undergo early screening to fight colorectal cancer.
The Eduardo J. Aboitiz Cancer Center (EJACC) of the Ramon Aboitiz Foundation Inc. (RAFI) also advised the people to observe a healthy lifestyle through regular exercise and maintenance of a well-balanced diet.
EJACC urged the public to take this counsel seriously as the country celebrates Colorectal Awareness Month in March.
Colorectal cancer, a disease in which cells in the colon or rectum become abnormal and divide without control, forming a mass called a tumor, is one of the leading causes of cancer-related deaths among Cebuanos, based on the Cancer Registry of EJACC.
The Metro Cebu Population-based Cancer Registry of EJACC recorded 653 cases in 1998-2002 and 364 reported who have died of it. In the year 2002-2007 the Cancer Registry recorded an increased number of reported cases in Metro Cebu – 862 cases were reported and 489 cases died of the disease.
Individuals age 40 and above, who have a sedentary lifestyle, who are eating high fat and low fiber diet, who have family and medical history of the disease, and who have polyps and ulcerative colitis, face high risk of acquiring colorectal cancer.
"The most important thing to know about colorectal cancer is that it often exists without any symptoms. This is why regular screening is very important. Regular screening can detect polyps at an early state before cancer develops or when it is most curable," Ronald delos Reyes, EJACC program coordinator, said.
He also pointed out that the colon and rectum, which comprise the large intestine, are vital in turning liquid stool into formed fecal matter.
Colorectal cancer is characterized by a change in bowel movements, blood in the stools, abdominal discomforts, unexplained appetite and weight loss, fatigue, and pelvic pain in the later stage.
Diagnostic procedures in detecting colorectal cancer include fecal occult blood test, rectosigmoidoscopy, colonoscopy, irigography, virtual colonoscopy, fecal DNA test, and double contrast barium enema. The disease may be treated through surgery, chemotherapy, and radiation.
"The disease could be prevented by being health conscious and submitting to regular screenings," Delos Reyes said.
For more information about colorectal cancer, please contact EJACC at 254-6351 and look for Gina Mariquit.