Withdraw case vs budget - ESamar prov'l employees appeal to SP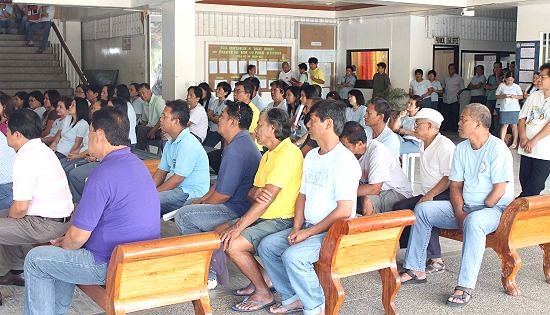 Employees gathered at Eastern Samar provincial capitol's lobby on March 28, 2012 to voice out concerns over the non-receipt of their pay for the second half of the month. The province is prohibited from making any financial transaction by virtue of a preliminary injunction issued by RTC Branch 1. (photo by Reinier M. Ampong)
By EDEN CIDRO and MEDORA NB QUIRANTE
March 29, 2012
BORONGAN CITY – Employees of the Eastern Samar provincial government have declared March 30 as a Black Friday.
In a forum held on March 28 at the Provincial Capitol's lobby, employees agreed that the easiest fix to their plight is to appeal to the six Sangguniang Panlalawigan members to withdraw the case they filed against the implementation of the province's 2012 budget.
BMs Aldwin Aclao, Atty. Byron Suyot, Jojie Montallana, Atty. Enerio Sabulao, Jenny Baldono and Betty Reyes filed the case early February alleging the budget failed to get the required number of votes for its passage.
Fast forward to March 19, the regional trial court's first branch issued a preliminary injunction against the said budget prohibiting all of the LGU's financial transactions including the payment of employees' salaries, wages and other benefits. The employees, in effect, did not receive their pay for the second half of the month due March 22.
"My family relies on what I make as an employee of the provincial government," Sergio Amoyo, an employee of the province's engineering department said. Amoyo added that if staging a "rally" is necessary for him to get his wages soon, "I will even volunteer to be one of the speakers."
But employee union's board of director Judee Paano denied previous reports that employees will stage a rally. "We will attend the SP's session so we can have a dialogue with the board members who filed the case," Paano said.
The delay in the payment of the employees' salaries gave birth to other concern including payment to lending institutions. "I owe the banks and because I can't pay my loans on time, the penalty will be an added burden," Regal Opena, provincial agriculturist said.
According to Paano, the employees looked at several options but the need to find a quick fix to the problem made them decide to call for a withdrawal of the case. "If they withdraw the case, the LGU can proceed with the financial transactions and employees can get their pay immediately," Atty. Christopher R. Coles, provincial legal officer said.
The provincial government also filed a motion for reconsideration with regards to the injunction order issued by the court.
What concerns Gov. Conrado B. Nicart Jr, aside from the clamor of the employees is the delivery of social services and debt servicing. "How do we manage the subsistence of the inmates in the four jails and patients in the eight hospitals that the province maintains?" Nicart told the employees.
The provincial government also pays P70M annually for the amortization of a loan used to purchase heavy equipment during the term of former governor Ben Evardone, now representative of Eastern Samar's lone district. Provincial Accountant Vener Dulfo confirmed that if the province does not make the payments to the loan on time additional interest will be incurred.
"I need P700 for my mother's medical expenses every day and I don't know how long I can manage with this," Lea Cargando, assistant provincial accountant said. With the legal battle over its annual budget, Cargando and more than 1,500 other LGU employees face an uncertain future daily.
On March 30, the employees will wear black shirts to see whether their anxiety could be ended soon. (with reports from Nino Pinangay)
167,124 Eastern Visayas students graduate in elementary, high school this school year
By Philippine Information Agency (PIA 8)
March 29, 2012
PALO, Leyte – More than 167,000 students both in the elementary and High School levels are set to graduate this week, the Department of Education (DepEd) Region informed.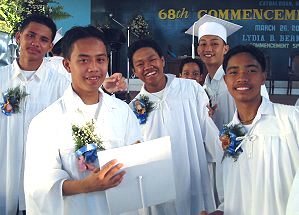 Dr. Rebecca Ragrag, the regional information officer designate, told the Information Agency that the 167,124 graduates for this school year in Eastern Visayas include those from the private and public schools.
There are 101,132 candidates for graduation in the elementary level while 65,992 are set to graduate from the secondary level.
Of the 101,132 graduates in the elementary level, 2,529 of them are from private schools while of the 65,992 who finished their fourth year high school, 8,592 came from the private schools, Dr. Ragrag added.
Dr. Ragrag observed that this year's number of graduates is higher compare to last year. She said that last year, 162,640 finished both their elementary and secondary educations both from the private and public schools.
Dr. Ragrag, who is also the officer-in-charge of the policy, planning and research division of the DepEd-8, said that the agency is happy that there is a higher number of graduates because it is a manifestation that the measures implemented in order to keep the students in school have been effective.
Meanwhile, Dr. Ragrag reiterated the call of the Department to ensure that the graduation exercises be austere considering of the financial crisis the country is facing.
According to her, the school administrators, particularly in the public schools, should be reminded that Education Secretary Armin Luistro has issued DepEd Order Number 9 setting the guideline for the holding of a simple graduation.
Under the same order, no collection should be exacted by school administrators to graduates, especially the so-called non-academic projects, Dr. Ragrag added.
"Collection is not only discouraged but strictly prohibited (under said order). Graduation should be made solemn and austere," she said.
According to Dr. Ragrag, graduation in the public schools is set from March 29 to 31.
Arrest of other wanted persons
By RPCRD, Police Regional Office 8
March 27, 2012
CAMP RUPERTO KANGLEON, Palo, Leyte – Three (3) persons fall to PNP PRO-8's step-up drive versus Most Wanted Persons in the region.
On March 24, 2012 at about 8:00 AM, Leyte, Leyte Police Station led by PSInsp Margarito Aldas Salano, chief of police, arrested a certain Crestuto Sarsosa Yubal, 56 years old, widower, farmer and a resident of Barangay Basud, Leyte,Leyte.
Suspect was arrested by virtue of Warrant of Arrest for the crime of Murder issued by Honorable Judge Lauro AP Castillo Jr, Presiding Judge of RTC Branch 36 Carigara, Leyte with no bail recommended.
At about 3:30 PM on March 25, 2012 at Sitio Betaug, Barangay Lamanoc, Merida, Leyte, elements of Merida Police Station led by PSInsp Florando S. Relente, chief of police, arrested one Nestor Siprado Dumagsa Jr, 19 years old, single and a resident of said place.
Dumagsa was arrested by virtue of Warrant of Arrest for the crime of Sexual Assault under Paragraph 2 of Article 266-A of the Revised Penal Code issued by Honorable Apolinario M. Buaya, Presiding Judge of Branch 35 with recommended bail of P120, 000.
On same date, a resident of Barangay Buri, Jaro, Leyte was arrested by the joint elements of Intelligence Section, Leyte Provincial Police Office and Jaro Police Station led by PCInsp Jesus N. Son and PSInsp Ricky C. Reli respectively.
Arresting team identified the suspect as a certain Venancio Posos, alias Ben, 40 years old, farmer and a resident of said place. Posos was arrested by virtue of Warrant of Arrest issued by Honorable Judge Rodulfo C. Ramos, MTC Judge, Jaro, Leyte for the crime of Qualified Theft with recommended bail of P12, 000 for his temporary liberty.
It was learned that during the arrest, authorities were able to recover from his possession and control five (5) tea bags of suspected marijuana contained in a plastic bag.
Thereafter, Posos was immediately brought to Jaro police Station for purposes of inventory as witnessed by two (2) Barangay Tanods Mario Balasanos and Crisanto Llena.
A case for violation of Section 11 of Article ll of Republic Act 9165 otherwise known as the Comprehensive Dangerous Drugs Act has been filed in court against the suspect.
Anti-Littering Ordinance receives strong support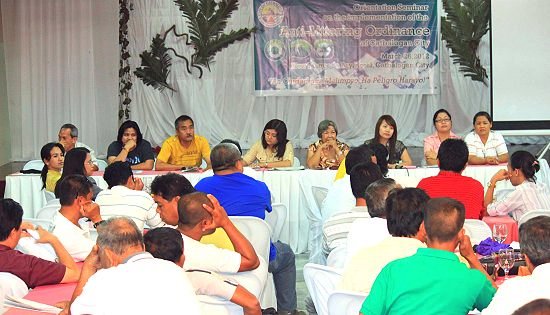 By ADOR LEANDA HURTADO
March 27, 2012
CATBALOGAN CITY – Nearly 200 individuals from different sectors attended the "Orientation Seminar on the Implementation of the Anti-Littering Ordinance of Catbalogan City" last March 26, 2012 at the New Maqueda Bay Hotel organized by City Mayor Coefredo "Tekwa" Uy and Ordinance Proponent City Councilor Hon. Stephany Uy-Tan.
Attendees present were the Barangay Chairs of the 57 Barangays as well as Barangay Tanods of select barangays of the city; Traffic Enforcers of the Catbalogan City Auxiliary Traffic Brigade; from the Philippine National Police; from the academe represented by different schools and colleges; Media Partners; youth organizations, and other socio-civic groups.
City Vice-Mayor Art Sherwin Gabon gave the welcome remarks, which was followed right after by Mr. Jose Obrero, City Local Government Operations Officer from the DILG whose topic was on the salient points of RA 9003 or the Ecological Solid Waste Management Act of the Philippines. RA 9003 was one of the basis of the Anti-Littering Ordinance of Catbalogan City.
SP Committee Chair on Environmental Protection and Natural Resources City Councilor Hon. Stephany Uy-Tan was the main proponent of the Anti-Littering Ordinance that was enacted middle of last year. During her overview discussion, she stressed on the need of the said ordinance for three (3) reasons: (1) it being outdated since the original ordinance was enacted way back 1990 and was amended last 1993; (2) because it has been ineffective and therefore not applicable anymore to the current state of the city; and (3) because it is urgent today more than ever as the world faces more ecological and environmental issues.
Sangguniang Panlungsod Secretary Ms. Donna Jane Teves discussed on the content of the ordinance while City Legal Officer Atty. Aileen Forteza discussed on the prohibitions, penalties and sanctions mentioned in the ordinance. An open forum was facilitated right after, that opened concerns of the barangays as to the need for segregation and proper collection, as well as on the enforcement by the PNP and Traffic Enforcers with regards to the ordinance.
Mayor Tekwa gave a strong message that highlighted on the need for political will instead of personal vested interest on the implementation of the ordinance. He further urged everyone by saying, "Pagburublig kita tanan para han mas malimpyo nga Catbalogan City."
After Mayor Tekwa's message, the talk of Ms. Lovelle Lapura of the New Life Christian Center, which was on Values Formation received much appreciation with her Three (3) Rights: Do Right Thing, You are the Right Person, and You have the Right Attitude. Ms. Herminia Cabral, City Administrator gave the closing remarks of the event.
The major highlight of the whole-day seminar was the Commitment Signing in support of the Anti-Littering Ordinance of Catbalogan City, which gathered more than one hundred signatures from different sectors.
The Anti-Littering Ordinance (2011-016) it said to be fully and strictly implemented after a one-month intensive warning or grace period around April of this year to serve as an info-dissemination campaign before the actual implementation of the ordinance.
We're one of the most efficient in region 8 - ESAMELCO
By MEDORA NB QUIRANTE
March 26, 2012
BORONGAN CITY – Despite consumer complaints, Eastern Samar Electric Cooperative Board Director Manuel Catuday said the power supplier is still one of the most efficient in Eastern Visayas.
Catuday said this in reaction to DYES Radyo ng Bayan Borongan Reporter Penelope Pomida's statement that the radio station had received several text messages from listeners complaining about the unreliability of electricity in the province.
"From the last few days of February until the first week of March, we met several power interruptions because of problems we had with the 69kV line," Atty. Diogenes D. Inciso, Jr. Board President told members of the local media in a press conference held at ESAMLECO's main office in Borongan City on March 9.
Consumers also took to social networking sites complaining about the frequent blackouts through a fan page named "ESAMELCO Haters."
"The wood poles we had to replace were located in the middle of the jungles of Samar," National Grid Corporation of the Philippines (NGCP) engineer Joel Tan said.
According to Tan, NGCP linemen worked overtime to fix the problem.
"We went to the site and we saw them using a power generator so they could work even at night," ESAMELCO OIC-General Manager Marilen Reyes added.
"The complaints are only coming from consumers in Borongan City," Catuday said.
According to the power supplier's board director, consumers from other towns have observed that ESAMLECO's service through the years has "improved significantly."
Also, from being a Category C cooperative, ESAMELCO had been rated B by the National Electrification Administration.
When asked what the rating covered, Reyes explained that NEA rates electric cooperatives based on: 1) prompt payment to power producers like NGCP, 2) rate of system loss, 3) collection efficiency, 4) payment to NEA, and 5) barangay electrification.
Catarman No. 10 wanted for illegal drugs nabbed
By RPCRD, Police Regional Office 8
March 26, 2012
CAMP RUPERTO KANGLEON, Palo, Leyte – PNP PRO-8 said that the police will continue and intensify operations against illegal drugs trade in the region.
On March 23, 2012 at about 6:00 PM, Catarman Police led by PCInsp Federico N. Sanchez, ACOP conducted buy-bust operation at Barangay Zone 2 UEP, Catarman, Northern Samar and arrested one Edgar Ongsotto Caranzo, 40 years old, married, jobless from Barangay Cawayan of said municipality.
Caranzo is rank no. 10 in the watch list of illegal drugs personalities in Catarman and was arrested for selling a sachet of suspected "shabu" to PO1 Mitchelle E. Montalban who posed as buyer.
Confiscated from his possession were: one plastic heat sealed sachet containing suspected shabu, One Thousand peso bill with SN MW359470, Five Hundred peso bill with SN QM814641, two (2) One Hundred peso bills with SN HJ597033 and CV639122, Fifty peso bill with SN RH785712, Twenty peso bill with SN X612646, Nokia 3310 mobile phone, and a Yamaha Vega motorcycle with plate number HJ2287.
Said items were seized, photographed and inventoried from the possession and control of the suspect inside the Barangay Hall of Barangay Zone 2, UEP, Catarman, Northern Samar.
The arrest was witnessed by Honorable Medarda N. Galit, Barangay Chairman of said barangay together with Mr. Elmer Talacay, DOJ Representative and Ma. Cristina Caparal, a representative from the local media.
Caranzo was then brought to Northern Samar Crime Laboratory Office for fluorescent powder dusting examination and later brought to Catarman Police Station for documentation and filing of appropriate charges in court.
PRO-8 Regional Director, PCSupt Arnold Rayala Revilla appeals to the public to cooperate and help in the campaign against illegal drugs by giving information that would expedite the solution of the problem for the welfare of the populace.
Cayetano warns of threats from rise in sea level to communities
Press Release
March 26, 2012
PASAY CITY – Senate Minority Leader Alan Peter Cayetano urged the government to address the absent or lack of preparation for climate change related calamities in areas where increases in sea levels pose immediate threats to communities.
He said tropical cyclones and flashfloods that killed and displaced hundreds of thousands of people in Mindanao and the Visayas last year and previous calamities caused like typhoons Ondoy and Pepeng should serve as crucial lessons for the government to learn from.
Senator Cayetano was alarmed by the recent study of the Asian Development Bank (ADB) that identifies the Philippines as the world's most vulnerable countries to climate change. The country ranks 5th globally in terms of the number of people to be affected by sea level rise.
The ADB report titled "Addressing Climate Change and Migration in Asia and the Pacific" acknowledged that sea level rise is already seriously threatening communities with coastal flooding with most of them found in Southeast Asian countries like the Philippines, Thailand, Vietnam and Myanmar.
Cayetano said as an archipelagic country, a large number of population live in coastal areas and most of them are poor families living in shanties.
"Efforts must be made to identify areas that are at serious risks on account of rise in sea level so adequate planning and preparations can be made," he said.
The ADB report recommended that governments must invest heavily on improving urban infrastructure resilient to harsh calamities and basic services to people in times of these disasters such as health, water and sanitation and education for displaced schoolchildren.
"We can no longer afford to simply take risks when flashfloods and typhoons hit any part of our country. Our poor people are constantly helpless due to lack of government programs and strategies for their timely safe evacuation them to safer places," said Cayetano.
He said donations and relief operations are short-term programs and do not address the main issues for mitigating the impact of climate change in the Philippines.
Watch related video: Ang Pinoy At Ang Hamon Ng Climate Change
ANAD tells Sec. Llamas: Expose, oppose, and isolate the 'extreme communists'!
By ANAD Partylist
March 25, 2012
QUEZON CITY – "Sec. Llamas must identify who among those in government are the so-called 'extreme communists' and those he alleged are his comrades in the Democratic Left."
This is ANAD Rep. Jun Alcover's reaction to President Political Adviser Sec. Ronald Llamas' admission that "...the Democratic Left is gaining influence in government with its push for peaceful reforms..." before students and military officers of the National Defense College of the Philippines, in Camp Aguinaldo, last March 23 (03/24/12, www.manilastandardtoday.com).
Rep. Alcover challenged Sec. Llamas saying, "If he is sincere in exposing the socalled 'extreme communists', he should reveal the names of the people when he said "...Communist extremists were becoming irrelevant with their call for armed revolution." (03/24/12, www.manilastandardtoday.com).
Rep. Alcover pointed out that Llamas' acknowledgement validates the accuracy and truthfulness of what ANAD had been saying. "These are not figments of one's imagination or product of wishful thinking. But these are facts borne out of what is happening in our midst vis-a-vis the doctrines of communism, in all its forms." he added.
The sole pro-democracy solon in the House of Representatives remained skeptic about Llamas' revelation saying, "At present, Llamas' so-called Democratic Left remains aligned and conjoined with the 'extreme communist' forces," said Rep. Alcover citing joint efforts of the Rejectionists' Akbayan Rep. Kaka Bag-ao and the Reaffirmists' Bayan Muna Rep. Neri Colmenares as members of the House Prosecuting Team in the impeachment case against Chief Justice Renato Corona. This is aside from the many protest actions against government jointly undertaken by both Llamas' Rejectionist and the Reaffirmist 'extreme communists' sectoral front organizations led Bagong Alyansa Makabayan (BAYAN), he added.
In the same breadth, Rep. Alcover dared Sec. Llamas to support his claim that his Rejectionist group currently, "... pushes for a platform of political reform within the bounds of law and the Philippine Constitution."
"He could easily do this because as Political adviser of the President, Llamas could influence and persuade President Aquino III to stop the peace talks that has now become senseless due to the dramatics well played-up by the Maoist terrorist CPP-NPA-NDF leadership," Rep. Alcover added.
"Likewise, Llamas must come out into the open to expose, oppose, and isolate the extreme communists whose leaders, he (Llamas) said had long been wanting to overthrow the government and seize political power through violent means guided by the principle of protracted war," Rep. Alcover stressed.
"If Llamas refuses to accept this challenge, the free and democratic community shall take all of the things he said at the NDCP as one of the many communist's propaganda slur, veiled deception, and lies," the erstwhile NPA leader turned pro-democracy advocate said.