COTS outbreak in Ormoc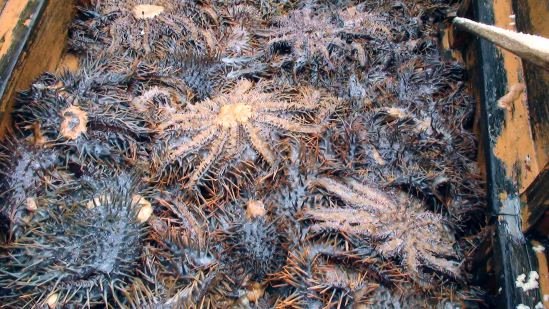 By RONNIE C. ROA
March 7, 2012
ORMOC CITY – Alarming number of COTS was seen here in Ormoc. The outbreak was confirmed last Sunday, March 4, after Irish Belmonte of Animal Production and Fisheries Division of the City Agricultural Services Office collected almost 400 pieces of COTS in just 2 hours of diving in more or less 200 square meters inside the fish sanctuary in Barangay Ipil, this city.
COTS or Crown-of Thorns Starfish, dap-ag in local term are marine invertebrates that feed on coral and occur naturally on reefs throughout the Indo-Pacific region. When conditions are right for COTS to multiply, they can reach plague proportions and devastate the hard coral population on affected reefs. COTS with scientific name of Ancanthaster Planci is a large nocturnal starfish reaching to 60 cm in diameter with an average of 17 arms and numerous sharp and poisonous thorns and could be found two to 20 meters, and sometimes deeper.
Late of February, COTS outbreak was reported in Padre Burgos, Southern Leyte. This was prompted city's marine bio advocates to check Ormoc waters. The first checking was just tolerable after the Bantay Dagat collected only 5 pieces. But last Thursday, March 1, the group collected over a hundred of COTS.
Last Sunday, Belmonte and Bantay Dagat took a dive to collect the harmful starfish. The group observed dead corals because of this marine pest. They used sticks to get the COTS for it is thorny and poisonous once it touches any part of human skin. They immediately buried the collected 381 COTS in the shore.
Belmonte said that they will collect COTS daily in all fish sanctuaries in Ormoc to prevent the rapid increase of population. They don't want COTS to destroy and wasted their efforts in taking good care of the fish sanctuaries in Ormoc, she said.
No. 1 most wanted person in Dagami captured
By RPCRD, Police Regional Office 8
March 7, 2012
CAMP RUPERTO KANGLEON, Palo, Leyte – PNP PRO 8, in its effort to fast track the service of warrants and the accounting of wanted persons in line with the implementation of LOI "Manhunt Charlie" has conducted a simultaneous arrest of Most Wanted Persons in Dagami, Leyte.
On March 5, 2012 at Barangay Camonoan, Dagami, Leyte, three (3) wanted persons in a span of 24 hours including the recommended number 1most wanted person in the municipal level was captured by the joint elements of ORID, PRO 8 Tracker team led by PSI Denvir Lazaro Revita, PInsp Red Voloso Prejula and PInsp Kenny Llanza Tantiado and Dagami Municipal Police Station led by PSI Romulo Germones Alvarina.
This resulted to the arrest of Jerwin Besa Demeterio, 29 years old, married, farmer and a resident of said place ranking as the number 1 in the list of Top Ten MWPs in Dagami MPS.
Demeterio was arrested by virtue of Warrant of Arrest for the crime of Murder docketed under Criminal Case Number BN-11-03-4644 and case for Qualified Theft of Coconuts docketed under Criminal case Number BN-10-10-4610, both cases filed before the RTC 8, Branch 15, Burauen, Leyte.
Subsequently, a simultaneous arrest was then effected to two (2) other wanted persons identified as Juliebert and Juanito Demeterio, both residents of same barangay accused for Qualified Theft of Coconuts filed before the same court.
On the same instance, the younger brother identified as Jomar Besa Demeterio was also arrested while in actual possession of a homemade shotgun with three (3) live ammunitions.
Said arrested persons are now facing charges filed against them by the court.
PNP Chief PDG Nicanor Bartolome reported recently the downtrend of crime rate over the past two years. The decreasing trend was recorded from a "Total Crime Volume" of 502,665 cases in 2009 to only 246,958 in 2011, indicating a steady decline in the commission of crime with an average monthly decrease of 3.57 percent until the end of 2011.
Pres. Aquino recognizes Kito Mendoza leadership; TUCP lauds NAPC for not bowing to Herrera rump group
By TUCP
March 7, 2012
MANILA – President Noynoy Aquino recognized the leadership of Democrito "Kito" Mendoza as the duly president of the Trade Union Congress of the Philippines (TUCP) despite a series of desperate attempts of its disgraced former Secretary-General and former Sen. Ernesto Herrera to steal the presidency.
Aquino appointed TUCP nominee Rosalinda Manabat, as Sectoral Representative of National Anti-Poverty Commission's Formal Labor and Migrant Workers (NAPC-FMLW). Manabat was formally sworn in office yesterday in a ceremony at the office of Secretary Joel Rocamora, lead convenor of the NAPC.
With the appointment of Manabat into the NAPC council, Mendoza said the TUCP's decent work agenda, specifically the workers' security of tenure, will continue to be integrated with the anti-corruption and anti-poverty policies and initiatives of the Aquino government.
Mendoza, meanwhile, lauded Aquino and Rocamora for not caving in to the pressure imposed by Herrera and his rump group, who were accused of alleged corruption and attempted to illegally grab the TUCP leadership.
"I commend Secretary Rocamora for refusing to act on the nominee of Mr. Herrera of a so-called TUCP representative in the NAPC. Mr. Herrera has been replaced as the Secretary-General of TUCP and therefore he has no authority to appoint any TUCP representative as part of the NAPC Formal Labor and Migrant Workers (FMLW) Sectoral Representative," Mendoza said.
Herrera has been voted out and replaced by TUCP General Council on January 24 and is now undergoing expulsion proceedings for financial anomalies, loss of confidence and gross mismanagement of TUCP affairs during his tenure. He has no authority whatsoever to represent the TUCP or to appoint anyone as TUCP representative in any offices, Mendoza emphasized.
The next day, January 25, he attempted to takeover TUCP offices and control the compound in Quezon City in an apparent attempt to seize documents, records, and dossiers proving his alleged complicity to financial wrongdoing.
Herrera was replaced by Victorino Balais, president of long-time TUCP affiliate Philippine Trade and General Workers Organization (PTGWO).
Herrera wrote Rocamora telling the NAPC on February 1 that "he (Herrera) has taken over as TUCP President" and he is appointing Rafael Mapalo as TUCP representative in the NAPC Formal Labor and Migrant Workers.
Rocamora wrote back and told Herrera that "NAPC's official relations with TUCP have been with the Mendoza leadership. Having maintained official relations with TUCP through the Mendoza leadership in all NAPC undertakings in the labor sector and with the House of Representatives, it will be imprudent for us to simply acquiesce to your letter telling us that you have "taken over as TUCP President."
The TUCP is also conducting an ongoing third-party financial audit of projects and grants-in-aid given by the government, international and local affiliates to support TUCP projects that benefit workers and their families during Herrera's tenure.
The NAPC was created by RA 8425, otherwise known as Social Reform and Poverty Alleviation Act which took effect on June 1998. The Act institutionalizes the government's Social Reform Agenda which enjoins NAPC to strengthen and invigorate the partnerships between the national government and the basic sectors including the TUCP.
LGUs to highlight women's role in disaster risk reduction and management during Women's Month celebration
By MYLES JOSEPH E. COLASITO
March 7, 2012
TACLOBAN CITY – The key role of women in disaster risk reduction and management shall be among the highlights of the activities that will be conducted by local governments nationwide as they celebrate Women's Month this March, according to Interior and Local Government Secretary Jesse Robredo.
"It is high time that we accentuate women's involvement in disaster preparedness, risk reduction, recovery and rehabilitation," said Robredo, adding that "they (women) too play an equally important role in these efforts."
The theme for this year's celebration, "Women Weathering Climate Change: Governance and Accountability, Everyone's Responsibility," underscores the role of women as powerful agents of change in disaster risk reduction.
In his directive to provincial governors, city and municipal mayors and punong barangays, the DILG Secretary also urged them to undertake activities that will help contribute to the building of gender-responsive, resilient and accountable communities that are prepared for any disaster that may come their way.
Such activities include the following: kick-off parade and tree-planting activity; local school board policy formulation prescribing each student to plant and nurture a tree; community information caravan on the Magna Carta of Women, Climate Change Adaptation and Disaster Risk Reduction; convocation on the role of women in disaster preparedness, risk reduction, recovery, rehabilitation and climate change adaptation; and recognition of women or women organizations or associations and their significant contributions during disasters and typhoons.
Meanwhile, DILG-8 Director Pedro A. Noval who was invited to open the conference of the regional federation of women legislators in Tacloban City, stressed on the need for government to provide the equalizing environment through good governance and accountability so that women and their children would be less vulnerable to calamitous situations.
"Money lost to corruption is money that could have been well-spent, through needed infrastructure or social welfare projects including those benefitting women and their children", said Dir. Noval. He revealed that his office would be redoubling its efforts to promote transparency in all LGUs.
Secretary Robredo said local governments should ensure that local disaster risk reduction and climate change adaptation strategies and plans are gender-responsive.
He also encouraged them to focus their activities on sustaining the national and local advocacy on the implementation of RA 9710 or the Magna Carta of Women and the Millennium Development Goals focusing on MDG7 which is ensuring environmental sustainability.
For greater community awareness and participation, LGUs may display streamers in public places and post their program of activities in conspicuous places, their websites, local newspapers and broadcast in radio stations.
The annual celebration of Women's Month is provided for under Presidential Proclamation Nos. 224 and 227 which declared March of every year as Women's Month, and the first week of March as Women's Week and March 8 as Women's Rights and International Peace Day, respectively. Likewise, Republic Act 6949 has declared March 8 as National Women's Day and the whole month of March as Women's Role in History Month.
ANAD condemns alleged coup plot against PNoy
By ANAD Partylist
March 6, 2012
QUEZON CITY – "The pro-democracy Alliance for Democracy and Nationalism (ANAD) Partylist strongly denounce and condemn any move to grab power from our country's duly constituted leaders in government!"
This is ANAD Partylist's reaction to Senator Antonio Trillanes' statement that some elements are using the 'red scare' to recruit soldiers for a coup plot to oust President Aquino III. "Even if we submit that indeed the communists, both Maoist and socialists, have gained more influence (notoriety) in the PNoy administration, we don't believe or we'll go out in support any form of power grab because, based on our experience, any coup bears down heavily against our economy and political stability. If this happens, God forbid, the Maoist terrorist and other communists in the country will rejoice, be grateful to those behind the coup, and shall heap unquantifiable praises to Mao Tse Tung, Karl Marx, and Vladimir Lenin!" said ANAD Rep. Jun Alcover.
The lone pro-democracy solon pointed out that in the more than 28 years of ANAD's existence, "Our position then and now is consistent! We abhor and strongly is against the use of firearms and bullets to confront and oppose Maoist terrorism. ANAD waged our campaign solely by way of educating our people on the evils of communism so as provide them wider horizons and understanding on the threat that facing our country," he added.
On the other hand, Rep. Alcover describe Sen. Trillanes' claim as "nagpapapansin lang" and for propaganda mileage to attract President Aquino III and other stalwarts of the Liberal Party's attention. "As a leader of an extreme rightist group, Sen. Trillanes just wanted to be actively involved in partisan politics for the survival of his group," he added.
"With the seeming tripartite grouping, e.g. the PNoy's Liberal Party-Akbayan of Roland Llamas-Makabayan of Joma Sison and Satur Ocampo, Trillanes' wanted his Magdalo to get in and put-up a quadripartite political force under the LP in the run-up towards the 2013 elections," Rep. Alcover explained.
"In this case, the political spectrum is complete with the extreme right and the extreme left forces joined under President Aquino III's political bandwagon, the Liberal Party," he stressed.
"Surely, this would not escape anyone's appreciation of facts in the light of the several denials made by the Armed Forces of the Philippines (AFP) on the reported coup plot against PNoy," said Rep. Alcover.
However, the former NPA political and commanding officer called on the Filipino people to remain vigilant against people who wanted to 'ride on the tiger'. "We should be watchful against the forces of evil who wanted to ride on any and every opportunity, specially the election on 2013, to advance their respective personal and political agenda," Rep. Alcover stressed.
8ID troops seize NPA explosive factory in Samar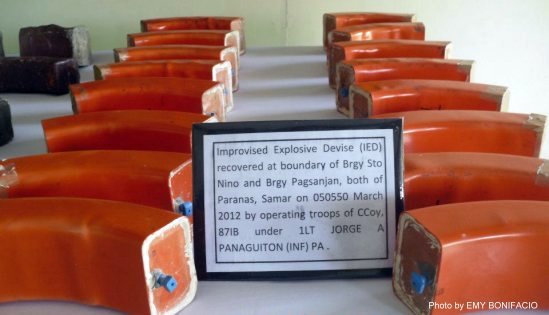 By DPAO, 8ID PA
March 6, 2012
CAMP LUKBAN, Catbalogan City – Government troops seized an NPA explosive factory in the hinterlands of the Municipality of Paranas, Samar in the early morning of March 5.
While the soldiers performed community work in the barangays of Paranas, some residents informed the soldiers of an existing explosive production facility by the NPA in an area at the boundary of Barangays Santo Nińo and Pagsanjan. According to the residents, their safety is threatened by the illegal activity not only because it is illegal but also because the explosives the NPA produce is used to destroy innocent lives and properties.
Guided by concerned residents in the locality, the soldiers reached the vicinity of the suspected camp at about 5AM of March 5.
The NPA manning in the camp were caught off-guard with the arrival of the soldiers prompting them to engage in a brief firefight as they escaped. In the course of the armed engagement, Sergeant Freddie C Gusoso was hit at the thigh. The soldiers eventually overran the camp and seized the following war materiel:
- 44 pieces improvised landmines;
- One unit machine for landmine production;
- 20 pieces blasting caps with detonating cords;
- Assorted explosive production paraphernalia;
- One B40 type rocket launcher;
- One improvised round for B40 type rocket launcher;
- One M16 Rifle with SN:189748
Sergeant Gusoso was safely evacuated to RTR Hospital in Tacloban City for medical treatment.
The soldiers are now investigating the recovered pieces of evidence from the site with the help of the local PNP and the community.
With the volume and quality of explosives recovered and the geographic location of Samar Island, MajGen. Mario Chan, the Commander of 8ID believes that the seized NPA explosive factory has produced landmines for NPA terrorists in the Bicol Region and Northern Mindanao.
Financial woes move more women to work, provide for family
By RAFI
March 6, 2012
CEBU CITY – Lady Canonigo, 45, used to stay at home doing the household chores while her husband is working. But times have change, prompting Lady Canonigo to find work to help her husband in feeding their four children.
With the unstable income of her husband who works as a contractual driver, Canonigo decided to earn an income selling fish in Barangay Tangke, Talisay City.
Now, through the combined hard work of Canonigo and her husband, two of their four children will receive their college diploma this month.
"If I stayed in the house, doing laundry and cleaning, I don't think my children would have finished their studies," she said in Cebuano.
Canonigo, a client of Ramon Aboitiz Foundation Inc. (RAFI) Micro-finance, is among the increasing number of women who is assisting their spouses to provide for the family amid the challenging financial times.
This does not mean, though, that men should feel weak with the changing roles of women today, according to sex and gender development sociologist Aldwin Empaces.
"Both husband and wife can benefit with this change. The nurturing instinct is developed among men and leadership skills among women," Empaces said in an interview with Pagtuki, the official radio program of RAFI aired every Saturday at 10-11 a.m. over dyLA.
In celebration of Women's Month in March, Pagtuki featured women entrepreneurs.
Empaces pointed out that stereotyping on the roles of women and men should not have a place in this generation.
"What we need is a place for acceptance of change. We have not reached that level of total acceptance. We are still in the stage of complete tolerance. There should be no concept like 'lalaki dapat..., babaye dapat...'. The acceptance should begin at home," he said.
He said that what is nice with the Filipino culture is its openness to change in terms of gender development.
Canonigo admitted that her husband was reluctant in letting her open her business. "Maybe it was his pride which made him reluctant, because he believes that a man should provide for his family. In the end, he agreed," she recalled in Cebuano.
One factor that brought the shifting of role of women is the economic challenges in the society, said Empaces. The current economy demands that one breadwinner in the family isn't enough, he added.
LADLAD cries foul on banning of gay performers in Puerto Galera
By LADLAD Partylist
March 6, 2012
PASIG CITY – The partylist for lesbian, gay, bisexual and transgender (LGBT) Filipinos, Ladlad cried foul on the alleged banning of gay performers in Puerto Galera. The party has called for a dialogue with the local officials in the island if the news report were true.
"I will personally visit Puerto Galera and have a dialogue with the local officials about this matter," said Ms. Bemz Benedito, first Congressional nominee of the group.
Last Sunday, Ladlad members reacted to news reports saying that bar owners were complaining to the local government officials of Puerto Galera for disallowing gay talents to perform in a show due to lewdness. The owners reportedly were alarmed because their coffers will surely get affected because their patrons are always looking for the gay performers.
"This is a clear violation of their right to work," Benedito said. "Ladlad will oppose the approval of this measure," she added.
On the same report, the chairman of one of the towns of Puerto Galera already refuted the claims of the bar owners, saying that they were only reprimanding the gay performers to tone down the language they are using on stage.
Ladlad further said, the remedy is an ordinance to prohibit children and an age cap on who to allow in entering such comedy bars. Prejudice must not set in this case especially to gay performers.
"In a comedy bar, children should not be allowed because of the sensitivity of the language being used in this kind of entertainment. Besides you cannot control the performers on what to say and do on stage," Benedito stressed. "In television, you have an agency that reviews and classifies programs that suits the right age of its viewers," Benedito added.
Leading scientist deplores lax Philippine rules on GMO trials
French molecular biologist says the government's rubber stamp regulatory measures on GMOs akin to using "Filipino kids as guinea pigs"
By GREENPEACE
March 6, 2012
QUEZON CITY – Professor Gilles-Eric Seralini, one of the world's leading experts on genetically modified organisms (GMOs), Tuesday scored the Philippine government's policy of allowing open field trials of GMO crops despite the absence of prior testing in confined laboratory conditions, calling the practice dangerous and unscientific.
The French molecular biologist – who is also the President of the Scientific Council for Independent Research on Genetic Engineering (CRIIGEN) and a leading expert on GMO effects on the environment – is currently in Manila to support the campaign by local groups opposing government sanctioned environmental releases of GMOs in the country.
Despite the absence of scientific proof establishing their safety, more than 58 varieties of GMO crops have already been approved by the Department of Agriculture for importation and processing either as food or feed, including GMO food corn. The Philippines is the first and only country in Asia to have allowed a GMO food crop to be commercially planted. The Bureau of Plant Industry (BPI), the government agency tasked with regulating GMOs, has also approved 67 additional genetic modifications of plants, or "transformation events."
"At the most basic level, science requires that experiments adhere to the Precautionary Principle, which means that whenever scientific consensus is not reached regarding possible harmful effects of an action or policy, those taking the action or implementing the policy are required to protect the public and have the burden of proof to eliminate plausible harm," said Seralini. "Unfortunately, existing Philippine regulatory policies do not really require GMO proponents to produce thorough and convincing scientific proof that GMOs pose no hazards on human health and the environment." With numerous peer-reviewed research studies on this topic published in international scientific journals, Seralini presented and discussed his findings in a forum held at the Sulo Hotel today.
Seralini's analyses of GMO experimental data, on the other hand, reveal evidence of their increasing negative impacts on animal health. For example, he cites a ninety day test on rats conducted by the GMO developers themselves, which shows signs of toxicity in the livers and kidneys of mammals eating commercialized or pre-commercialized GMOs, such as soya, corn or eggplant filled with herbicides or insecticides (mostly Roundup Ready or Bt plants).
With other scientists, Seralini has been calling on proponents to first eliminate harmful effects of GMOs, like hepatorenal toxicity (rapid deterioration of kidney functions), through confined and sustained laboratory testing first, before attempting to introduce GMO varieties into the environment via field trials.
"It is dangerous and irresponsible policy to allow the environmental releases of GMOs, especially when their long-term safety has yet to be scientifically established. Releasing these risky crops into our environment and into our diets could have far reaching and irreversible consequences on human health, ecological integrity and food security," said Daniel Ocampo, Greenpeace Southeast Asia's Sustainable Agriculture Campaigner.
Professor Seralini added that the government's reckless policy on GMO approvals will inevitably lead to "using Filipino kids as guinea pigs!"
Both Seralini and Greenpeace point out that the government's lax policies on GMOs undermine the r Philippine Organic Agriculture Act, a flagship program of the Department of Agriculture under the Aquino administration.
"Co-existence between GMOs and organic crops is a myth propagated by GMO proponents," added Ocampo. "Time and again, studies have shown that GMO varieties eventually contaminate and overpower conventional and organic crops," he added.