A year after illegal arrest
Groups clamor for detained poet's release
NUPL files motion for immediate resolution of Ericson Acosta case before DOJ
Press Release
February 13, 2012
A year after the illegal arrest of poet and former UP Collegian editor Ericson Acosta, his family, colleagues, human rights advocates and supporters "demand nothing less than his immediate and unconditional release."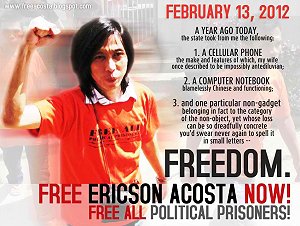 "Ericson's sense of responsibility as Iskolar ng Bayan has led him to work in the grassroots and create art with the people. (His) right to participate productively as a free citizen of this country is violated each day he remains in detention," read a statement released by the Free Ericson Acosta Campaign (FEAC) in a press conference and music jam at the University of the Philippines Palma Hall lobby last Friday, February 10.
The event was organized by the All-UP Academic Employees Union and Acosta's former colleagues at the university, and was attended by prominent Filipino cultural icons – US-based cultural critic and thinker Prof. Epifanio San Juan, Jr.; women's studies author Delia Aguilar; award-winning scriptwriter and author Ricky Lee; actress, screen writer and UP Regent Bibeth Orteza; UP College of Mass Communications Dean and popular culture critic Roland Tolentino; and protest songwriter and poet Jess Santiago, among others.
"The illegal arrest and continued unjust detention of cultural worker Ericson Acosta is concrete proof of the existence of political prisoners. There is nothing righteous with having our artists like Acosta suffer in incarceration," Samahan ng Ex-Detainees Laban sa Detensyon at Aresto (SELDA) Secretary-General Angie Ipong said in a news release.
Acosta was arrested without warrant by the military on February 13, 2011, in Brgy. Bay-ang, San Jorge, Samar just because the laptop he carried roused the suspicion of soldiers. Due to serious irregularities and rights abuses in the conduct of his arrest, his counsel led by Atty. Jun Oliva of the National Union of Peoples' Lawyers (NUPL), filed a Petition for Review before the DOJ in September 2011, and moved to defer court proceeding spending resolution of the said petition. Ideally, a review petition should be resolved within 60 days.
"It is important for us to bear witness to the truth of the injustice done to Acosta," Prof. E. San Juan, Jr. said.
Exactly a year after Acosta's illegal arrest, the NUPL will today file a motion for the immediate resolution of the Review Petition. Aside from difficulties faced by his family after Acosta's detention in Samar, they also protest continued military harassment and intimidation by troopers from the 8th ID deployed within the jail facility.
"Instead of settling for a stable, well-paying job, or going abroad like his brothers, our son Ericson chose to teach literacy and work for the oppressed in far-flung provinces. Something is terribly wrong when he is made to suffer a year in prison for doing what he thinks is right," lamented Acosta's father Isaias, who is now in his late '70s.
Acosta was named finalist of the 2011 Imprisoned Artist Prize at the Freedom to Create Awards Festival in Cape Town South Africa last November, along with imprisoned artists from Burma and Tibet. Various human rights groups and cultural institutions, including the Amnesty International, Campaign for Human Rights in the Philippines-United Kingdom, University Council of UP Diliman, National Commission for Culture and the Arts (NCCA) and the Philippine Center of the International PEN (Poets, Essayists, Novelists) support the call for his release.
"Even if it has become dangerous to integrate with the masses, the scholars of the nation know it has to be done," Dean Roland Tolentino said in his speech at the UP. Acosta's songs and writings from prison is posted by the Free Ericson Acosta Campaign in his JAILHOUSE BLOG (http://www.acostaprisondiary.blogspot.com). Pictures can be downloaded from the Free Ericson Acosta Facebook page and campaign blog (http://www.freeacosta.blogspot.com).
PNP PRO 8 scored again in arresting wanted persons
By RPCRD, Police Regional Office 8
February 13, 2012
CAMP RUPERTO KANGLEON, Palo, Leyte – PNP PRO 8 stands firm on the Chief PNP's marching order to sustain the accounting of wanted persons giving due attention of the service of warrants.
"We will continue to hunt down these wanted personalities and let them answer for their crimes in the courts of law", PNP Chief PDG Nicanor A. Bartolome declared. "At the end of the day, they must pay for the crimes they committed and allow justice be accorded to the victims", he added.
That is why, on February 10, 2012 at about 10:30AM, operatives of Naval Police Station led by PO1 Wilfredo B Matugas arrested one Henry Gore Matugas, of legal age, married and a resident of Sitio Eden, Barangay Capińahan, Naval, Biliran by virtue of warrant of arrest issued by Honorable Pepe P Domael, Acting presiding Judge of RTC Branch 16, Naval, Biliran for the crime of Frustrated Murder with recommended bail of Two Hundred Thousand Pesos (P200,000)
Another wanted person was collared at about 11:45AM on February 9, 2012, a certain Wilfredo Balodoy Bacolod, 53 years old, laborer from Sitio Bliss, Barangay Calumpang, Naval, Biliran was arrested by elements of Maripipi Police Station led by SPO1 Cleo A Cairo by virtue of warrant of arrest issued by Honorable Bienvenido M. Montalla, Presiding Judge of RTC Branch 16, Naval, Biliran for the crime of Rape with recommended bail of One Hundred Twenty Thousand Pesos (P120,000).
On same date, another suspect was arrested by Naval Police led by PO2 Jenrio A. Sarmiento identified as Rommel Razo Sanosa, 37 years old, single and a resident of Vicentillo Street, Barangay P Garcia, Naval, Biliran, by virtue of Warrant of Arrest issued by Honorable Prospero T Rapada, Presiding Judge of MCTC, Naval, Biliran for the crime of Oral Defamation.
On the campaign against illegal gambling, on February 8, 2012, elements of Culaba Police Station led by PInsp Jayson P. Balbarona arrested one Jesus Rosarion, of legal age and a resident of Barangay Marvel, Culaba, Biliran for violation of RA 9287 - An Act Increasing the Penalties for Illegal Numbers Games, Amending Certain Provisions of Presidential Decree No. 1602.
Suspects were brought to respective Police Stations for disposition prior turn-over to issuing courts.
ESAMELCO seeks ERC's OK on P750M loan; consumers fear power hike
By MEDORA NB QUIRANTE
February 12, 2012
BORONGAN CITY – To improve the services it renders to its consumer-members, the Eastern Samar Electric Cooperative (ESAMELCO) is seeking authority from the Energy Regulation Commission (ERC) to secure a P750M loan.
ESAMELCO's ten-page application addressed to ERC, schedules projects that, it says, will "contribute to the improvement of the [cooperative's] distribution network".
But the provincial government of Eastern Samar under Gov. Conrado B. Nicart, Jr, also a member-consumer of the cooperative, fears that the approval of the loan would affect consumers' bills so that it filed a petition for intervention on February 7, 2012.
"The prevailing economic condition here in the country and the province tells us that now is not the right time for an increase in power bills," Provincial Legal Officer Atty. Christopher R. Coles said.
According to ESAMELCO's application, an additional "P0.7169 per kilowatt-hour" will be passed on to its member-consumers once its Capital Expenditures Program, anchored on the multi-million peso loan, is approved.
As of press time, residential connections pay P0.4004 per kilowatt-hour for the Reinvestment Fund for Sustainable Capital Expenditures and debt servicing for ESAMELCO's current loans, shown as "RFSF" on a consumer's bill.
"I'm not convinced that consumers should be made to bear the brunt of paying for loans," Reinier Ampong, a resident of Borongan City said.
For this reason, Ampong, whose household consumed 143 kilowatt-hours last month and paid P57.26 for the RFSC last month, signed a petition for intervention filed by other member-consumers in Borongan City.
In an interview with ESAMELCO Officer-in-charge Marilyn Reyes, this writer learned that the City Government of Borongan and the Municipal Government of Guiuan also filed separate petitions.
If ESAMELCO gets the approval it needs for the loan, with the same usage, Ampong will have to pay P159.7739 for RFSC and will thus result to a P102.5139 increase in his electric bill (assuming all other charges remain the same).
Whether this will happen or not, Ampong could only wait for the result of the first ERC hearing on the application this February 17 at ESAMELCO's main office in Borongan City.
Chiz presses bill on waiver on bank deposits for gov't officials
By Office of Senator Chiz Escudero
February 12, 2012
PASAY CITY – Had Senate Bill No. (SBN) 107 been passed into law, the current debate on the examination of bank deposits – whether local or foreign currency accounts – would have been averted, Senator Chiz Escudero said.
SBN 107, or the Submission of Written Waiver or Permission in Favor of the Ombudsman to Look into All Deposits, has been put forward by Escudero since 2010 to ensure accountability and transparency of officials and employees already in government and those who plan to join government service.
The bill proposes that all public officials and employees, except those who serve in honorary capacity, shall consent to opening their financial assets to government audit through a written waiver submitted to the Office of the Ombudsman.
"Our law on bank secrecy prohibits disclosure of information relating to a customer's bank account, unless under extreme circumstances as what the current impeachment proceeding has shown. But foreign currency deposit is an elusive and tricky matter, which is now a hotly contested issue transcending institutions," Escudero explained.
The senator reiterated the importance of passing the legislation as a due diligence on the part of the government to ensure that civil servants do not use their positions to enrich themselves while in office.
"Any public official who fails to submit themselves to such shall not be allowed to enter upon or continue exercising the functions of his office," he added. "Consent is tantamount to good faith effort and compliance."
For the protection of the civil servant, however, the bill stipulates that only the Office of the Ombudsman may obtain or use the written permission or any other information gathered from it.
"It shall be for the exclusive use of the Sandiganbayan, which is investigating a duly signed and verified complaint. It cannot be used for fishing expedition and witch-hunting," Escudero stressed.
Any person found violating the provisions shall be punished with a fine not exceeding the equivalent of one year salary or suspension not exceeding one year, or removal from office or disqualification to hold public office.
"We want to put in place a mechanism that promotes openness and transparency in the public sector. The signing of a waiver in favor of the government will allow the examination of the civil servant's bank accounts and investments in government bonds," Escudero said.
And those who would refuse to sign, Escudero said, they are "free to go to the private sector because working in the government is a privilege and not a right."
Ex-Sen. Herrera in hot water for misuse of TUCP funds
Press Release
By TUCP
February 10, 2012
QUEZON CITY – The disgraced former Trade Union Congress of the Philippines (TUCP) Secretary-General Ernesto Herrera will be charged with a string of criminal charges once the external audit of TUCP projects is completed.
"Mr. Herrera will have a day of reckoning where he will be held accountable for serious allegations of siphoning funds allegedly into his personal bank account when he was still a leader of TUCP," said Alan Tanjusay, TUCP Advocacy Officer adding: "if proven, this is an embarrassing fall and disgraceful way to end his political career."
Based on reports by the external auditors who are conducting the audit of TUCP projects, Herrera had committed acts which are against accounting rules and standards by using his position and authority as the former General Secretary.
Former TUCP Finance Officer Eve Legion had signed an affidavit stating the former two-time senator instructed her to prepare vouchers, withdrawal slips, checks and/or orders of payment payable to him as cash advance.
"These cash advances sometimes were never liquidated or no reports made as to how these monies were spent," explained Legion.
"Worse, while certain checks were payable to (former) Sen. Ernesto Herrera, he signed the checks himself as signatory which is not a sound policy on accounting, auditing and internal control system, considering that he is the payee," Legion added.
Legion maintained that Atty. Democrito T. Mendoza, the TUCP President, was never consulted and was kept in the dark by Herrera on various expenditures and transactions. "They were carried without prior clearance and approval of the President," emphasize Legion.
In an audit report prepared by an external auditor, Herrera made unliquidated cash advances amounting to 2.5 million pesos intended for a TUCP project.
The report showed the first check with an amount of 300,000 pesos Herrera signed and issued to himself was made on February 24, 2010. This check was deposited in his personal bank account a day later.
The second and third checks dated March 9, 2010 with an amount of 2 million and on March 26, 2010 with an amount of 250,000 pesos were signed by him and issued to his name. These were, again, deposited in his personal bank account hours after he issued the checks.
Brief backgrounder
October 12, 2011 - TUCP President Democrito Mendoza confronted then TUCP Secretary-General Ernesto Herrera with the external audited discovery of siphoning of TUCP funds allegedly into his personal bank account.
October 19, 2011 - Mendoza tendered his resignation to the TUCP General Council to bring up major discussions on transparency and accountability issues within the TUCP. The Council pleaded Mendoza to stay on and made him retract his resignation.
November 11, 2011 - Herrera took an oath of office before a municipal mayor in the Visayas assuming presidency of TUCP.
January 24, 2012 - Citing Herrera's illegal and disloyalty inimical to the TUCP, the TUCP General Council removed Herrera as Secretary-General and replaced him with Victorino Balais, president of the Philippine Trade and General Workers Organization (PTGWO), a long-time affiliate of TUCP.
January 25, 2012 - Herrera and henchmen attempted to takeover TUCP compound and offices but was prevented by Quezon City police. Reports said he allegedly attempted to seize the damning financial documents and dossiers which will prove his complicity.
Leyte IDOL semifinals heat up
By Provincial Media Relations Center
February 9, 2012
TACLOBAN CITY – As the pitch gets high in the ongoing singing talent search Leyte IDOL, 24 provincial semi-finalists have now been trimmed down to 19 during last Sunday's show, from which the Final 8 for Season 7 will be determined.
Saying goodbye in last week's race were April Angela Primer of Tanauan, Leyte and Christien Leigh P. Sebidos of Ormoc City.
The remaining 19 contestants will again take center stage on February 12 at the Capitol Gymnasium, which has now become home to the Leyte IDOL search.
The remaining contenders are Chelka Mae R. Sebuguero, Shanice Kae O. Suarez and Nancy J. Pical of Ormoc City; Jessa L. Vilbar of Hilongos, Leyte; Jezlee-Ann M. Pacio, Richard Rey C. Bajar, Ermina Meg R. Magallanes, Vanessa Grace A. Tiempo and Claudine Matias of Tacloban City; Carla Mae S. Emfirmo and Mark Dave N. Lebria of Tanauan, Leyte; Czaren S. Artoza of Jaro, Leyte; Verna Varron, Christian A. Villacura of Baybay City, Leyte; Wenie G. Lloren of Inopacan, Leyte; Shintara Rose T. Crisostomo of Sogod, So. Leyte; Ma. Carmel Gen D. Mercado of Palo, Leyte; Justin Charles Batican of Albuera, Leyte; and, Ruffa Mae A. De Mesa of Babatngon, Leyte.
Leyte Idol Season 7 has been opened to all singing talents from cities and municipalities in the entire Eastern Visayas region.
The search held auditions in other towns and cities in the region such as Naval in Biliran, Ormoc City, Borongan City, Calbayog City, Catbalogan City, Catarman in Northern Samar, and Sogod and Maasin City in Southern Leyte.
Male and female singers, from 15-25 years old, with excellent vocal quality and possessing a star appeal auditioned for the search. A number of them have now reached the provincial semi-finals.
Those who reached the semi-final round in this search are given proper music training, exposure and opportunities that will help widen their singing talent and performance.
The Leyte Idol takes a grueling minimum of eight months in the making for each season before the Magic 8 grand finalists are chosen. During the Leyte Idol Season 6, which capped last April this year, some 500 hopefuls from different towns of the province were screened.
Use of the terrorist NPA to scare Palparan hit
By ANAD Partylist
February 9, 2012
QUEZON CITY – "Malacańang's call for retired Gen. Jovito Palparan to surrender rather than get caught by Maoist terrorist NPAs smacks of impropriety and against the moral fibers and sensibilities of peace and freedom loving Filipinos as it vividly shows the undeclared working relation between government and the Maoist terrorist CPP-NPA-NDF, a violent and inhuman enemy of the state!"
ANAD Rep. Jun Alcover issued this statement in reaction to media reports quoting Presidential deputy spokesperson Abigail Valte saying ". . . surrendering to authorities would be Palparan's better option rather than be tried by the NPA's Peoples Court." (pp 6, Manila Bulletin, 2/08/12)
"In effect, government has abrogated its responsibility and legitimate function, to enforce the law on Palparan, to this particular enemy of the state when it used the NPA's to frighten so as to force Palparan to surface," said Rep. Alcover.
"What is the legal basis of Ms. Valte's statement? Has government already extended the mantle of legitimacy on the Maoist terrorist CPP-NPA-NDF?" he asked.
Rep. Alcover expressed dismay on the temerity of some Palace officials, particularly the alter egos of the President, to issue statements that tend to put government in bad light. "Using the terrorist NPA to scare Palparan is Malacańang's admission that indeed they're helpless and have miserably failed in hunting down Gen. Palparan," he pointed out.
Reminiscing the fact that the Maoist terrorist NPA in the Visayas issued a shoot-to-kill order against him, Rep. Alcover said that the communist's 'Kangaroo' Peoples Court tried him in absentia immediately handed down their death sentence in 1986 amidst the peace negotiations then between the government and the Maoist communist terrorists.
"Until now the very same NPA order still holds and they're still vigorously pursuing to kill me! But my faith in the Almighty and our free and democratic government remains supreme. The communists, particularly the NPAs, cannot do anything for as long government stands fully committed to uphold the rule of law. In this case and like Palparan, the government should be hunting the NPAs down for despicable crimes committed against humanity and government. However, it would be another story and totally different if government chooses to dance the tango with the enemies of the state! This is what we should be guarding against," said Rep. Alcover.
"Absurd and unthinkable is the manner in which government is using the enemy of the state against her own people, more so against Gen. Palparan who has offered more than half of his life in the service of our country through the highly regarded profession of arms," the sole pro-democracy solon emphasized.
"Again, I hope that President Aquino III shall whip up his team of spin masters so as not to further embarrass the government," he added.
Leyte provincial government offices declared as plastic and styrofor-free zones
By Philippine Information Agency (PIA 8)
February 9, 2012
TACLOBAN CITY – Starting March 1, 2012, plastic and styrofor food containers will already be banned at the Leyte Provincial Government buildings and offices.
This after the Sangguniang Panlalawigan of Leyte passed a resolution prohibiting the entry of plastic and Styrofoam/styrofor receptacles used as food containers in the offices and buildings of the provincial government of Leyte and henceforth declaring all such offices and buildings as plastic and Styrofoam/styrofor-free zones effective March 1, 2012.
The resolution which was authored by First District of Leyte Board Member Roque A. Tiu, chairman of the Environment and Natural Resources, further resolved to encourage other government offices and agencies as well as the local government units to also declare their offices and buildings as plastic and styrofor-free zones.
In passing the resolution, the Provincial Board took cognizance of the fact that it has earlier passed SP Ordinance No. 2011-01 known as the Anti-Plastic Ordinance of 2011 of the Province of Leyte.
Pursuant to the said ordinance, the Provincial Board deemed it imperative for the Provincial Government to initiate a good example of sharing with the national government the responsibility in the management and maintenance of ecological balance hence encouraging its employees to use non-disposable or reusable containers in taking out food from the canteen or food stalls or in bringing food from home to the office.
Before passing the resolution, the author consulted the officers of the Provincial Association of Government Employees representing the employees of the provincial government and it was unanimously agreed to implement the no plastic and no styrofor policy.
Board Member Tiu cited the PAGE officers for adopting the No Plastic, No Styrofor Policy as its project by helping ensure that every division or office in the Provincial Government will abide by the policy.
The concerted action of the provincial government, other government offices and local government units to stop the harmful effects of the use of plastic bags, styrofor and other similar receptacles, will contribute to the protection of the environment and make the province a safer place to live in, Board Member Tiu said.
5 East Visayas engineering districts top DPWH IEC program implementation in 2011
By Philippine Information Agency (PIA 8)
February 8, 2012
TACLOBAN CITY – The Department of Public Works and Highways Central Office commended five Engineering Districts in Eastern Visayas for topping the implementation of Information, Education and Communication program for the whole year of 2011.
DPWH Region 8 Director Rolando Asis informed that on January 13, 2012, at the DPWH Head Office, Undersecretary Romeo S. Momo officially announced and congratulated the top five district engineering district offices in Region 8 for their consistent efforts in complying with the required number of reports as part of their IEC program implementation.
Among the 182 district engineering offices in the entire country, DPWH Region 8 bagged the top 5 achievers.
Director Asis identified the five top achievers as the Catarman, Northern Samar 1st Engineering District under the leadership of District Engineer Sandy Pua as the number 1 Top Achiever; Catarman, Northern Samar 2nd Engineering District under the leadership of District Engineer David Adongay as the 2nd Top Achiever; and Leyte 4th Engineering District led by District Engineer Lino Francisco Gonzales was proclaimed as the 3rd Top Achiever.
Also among the top 5 achievers is the Biliran District Engineering Office led by District Engineer Virginia Sarabusing which was proclaimed as the 4th Top Achiever while the 5th Top Achiever was the Leyte 2nd Engineering District led by District Engineer Margarita Junia.
Ms. Antonietta Lim, DPWH Information Officer said that the criteria for evaluation included consistency in submitting the required number of reports such as newsletters, news clippings, media monitoring/action reports, flyers, briefing materials, lobby board display, annual accomplishment report, documentation of project inspection report, other important information materials, and the successful implementation of the information, education and communication program of the department for the year 2011.
The certificates of recognition to the five achievers will be presented by DPWH 8 Regional Director Rolando Asis and Assistant Regional Director Edgar Tabacon on February 21 at the DPWH Multi-Purpose Hall, Ms. Lim informed.