Escudero-Trillanes bill banning sex change angers transgenders
By PROGAY Philippines
February 8, 2012
MANILA – LGBT advocates are seething with rage after discovering that a bill filed in Senate was going to block the efforts of transgendered Filipinos to achieve the right to legally change their genders according to their true identity and expression.
Senators Francis Escudero and Antonio Trillanes IV filed Senate Bill 3133 (download a copy at http://www.senate.gov.ph/lisdata/1272410734!.pdf) that amends RA 9048 or the law that regulates the change of clerical errors in civil registry papers. The benefits of the bill, according to its proponents, include making it easier to correct errors in spelling, dates of birth and gender without having to go through expensive court proceedings.
However, lesbian, gay, bisexual and transgender (LGBT) activists are worried and angry that certain provisions could be tantamount to making it even more difficult for transgendered persons to legally change their genders. They are also incensed that Escudero, who was publicly campaigning for LGBT equality in his electoral campaigns, drafted the bill.
Section 3 of the SB 3133 states: "Nor shall any entry involving change of gender corrected except if the petition is accompanied by a certification issued by an accredited government physician attesting to the fact that the petitioner has not undergone sex change or sex transplant."
"This is a truly disgusting slap on us transgenders by the government and especially Senator Escudero who we mistook for being a champion of the marginalized sectors like the LGBT!" said Goya Candelario, spokesperson of the militant gay movement Progressive Organization of Gays (ProGay Philippines).
According to ProGay, the bill now grants the medical establishment and the civil registry bureacracy almost absolute powers to determine if transgenders applying for a gender change can ever get to practice their rights to their own gender. The court system, including the Supreme Court, have made harsh rulings in the last ten years dismissing legal applications by transgenders to change their birth certificates, passports and all other IDs.
ProGay said that it was doubly ironic that the bill was filed with the Committee on Justice and Human Rights, because according to the group, the measure violates human rights on several levels.
"These transphobic medics perform unethical medical procedures on LGBT. So now people, whether transexual or not, can be exposed to even more invasive and costly medical exams that are not scientific anyway. Testing will impose more financial burdens and open the door to more opportunities for corruption and unethical practices. And soon all government agencies will want to have gender testing for their services and documents. The horrors will never stop," Candelario added.
The group said gender testing counters the recommendations it submitted to the United Nations Human Rights Council in Geneva for the second Universal Periodic Review of the Philippine republic's human rights violations in May this year. Another LGBT human rights group, the Rainbow Rights Project, has recommended in another human rights report to the Council that the government remove all legal impediments to providing transgenders fast, legal and effective means to change their genders in identity documents.
ProGay said that the bill goes against international human rights instruments, such as the Yogyakarta Principle No. 19 that protects the rights of transexuals to full expression of identity or personhood. It wants the provision changed to make it easier for transgenders to apply for gender identity change.
ProGay demanded the Senate to scrap SB 3133 and instead immediately pass the Antidiscrimination Bill protecting sexual orientation and gender identity in time for the International Women's Day on March 8. Advocates have been pushing for a counterpart bill in the House of Representatives, House Bill 1483 penned by Bayan Muna Rep. Teddy Casino since 2010 but the impeachment proceedings and opposition by the Roman Catholic bishops has slowed down the progress of the bill.
"We are advising Senator Chiz to be true to his grandstanding that he is for LGBT rights by junking anti-transgender provisions and instead champion the Antidiscrimination Bill, or he loses our support," Candelario said.
Pambujan village chief killed by CTs
By RPCRD, Police Regional Office 8
February 7, 2012
CAMP RUPERTO KANGLEON, Palo, Leyte – PNP PRO8 supports the government's ruling for an "all-out war" against the CTs (Communist Terrorists) and all other lawless elements responsible for their criminal acts and to serve justice to their victims.
In this connection, on February 5, 2012 at about 10:15AM, a certain Rowena Sosing appeared at Pambujan Police Station averring that her father Norberto Sosing, Punong Barangay of Busak, Pambujan, Northern Samar was shot to death by unidentified perpetrators while on his way to attend the Barangay Council Meeting in his barangay.
Upon receipt of the information, PO3 Leo Mejos, Duty Investigator together with other Pambujan PNP Personnel have proceeded to the area on board two (2) motorcycles to verify and investigate the veracity of the report. Subsequently, they coordinated and asked for augmentation. Then, a team of 8RPSB Personnel led by PI Felix Beril, Jr. on board the PNP patrol vehicle followed immediately to Barangay Busak.
Soon, the group of PO3 Mejos arrived ahead and conducted investigation of the incident. Minutes later, Pambujan Mayor Rogelio Tan and Vice-Mayor Tirso Tan III with some civilian escorts also arrived at the area for verification.
Reportedly, on same date at 11:20AM, while the augmentation team was approximately 600 meters from the barangay proper, an Improvised Explosive Device (IED) exploded from behind the PNP patrol vehicle that prompted the augmentation team to immediately alight from the vehicle to take defensive positions. Then, another IED exploded followed by sporadic gunfire from undetermined number of CTs believed to be responsible in the killing of Sosing.
The firefight lasted for about 15 minutes. Upon sensing the arrival of reinforcing troops, the CTs then withdrew to the forested area of Barangay Busak heading towards Barangay Canjumandal. RPSB8 Team then secured the ambush area while waiting for the reinforcement troop.
No casualty was reported from the PNP side but undetermined on the enemy side.
At about 2:30PM, same date, reinforcing troops from the 63rd IB arrived and thereafter, composite troops of the AFP and PNP pursued the CTs in their route of withdrawal.
Eventually, the dead body of Punong Barangay Norberto Sosing was recovered from the scene and was brought to Pambujan Municipal health Office for the conduct of Post Mortem Examination.
Both the PNP and AFP are coordinating closely and are committed to apply the full force of the law against the CTs and lawless elements so that justice will be served.
The public is also assured that the PNP will aggressively pursue its mandate of enforcing the law, preserving peace and order and protecting lives and properties. The public is further encouraged to help their police by way of giving vital information essential in the solution of crimes.
Leyte guv lauds Leyte athletes for EVRAA 2012 win
By Provincial Media Relations Center
February 6, 2012
TACLOBAN CITY – Leyte Governor Carlos Jericho Petilla lauds the latest feat earned by athlete-scholars of the Leyte Sports Academy at the concluded Eastern Visayas Regional Athletics Association Meet 2012 held in Maasin City in Southern Leyte.
The Leyte delegation hauled most of the gold medals in the 17 sporting events while LSA athletes lorded over in swimming, athletics, boxing and badminton.
According to Dr. Lucrecio Calo, the sports consultant of the Leyte Sports Academy, the LSA-bred athletes in track and field earned a total of 34 medals out of the 49 medals up for grabs in this sport.
Meanwhile, in swimming, out of 64 participation in various swimming heats, the LSA tanks garnered a total of 47 medals out of the 56 medals in contention.
In boxing, LSA athletes hauled in four medals while in badminton, six medals were taken home.
Gov. Petilla said the EVRAA has been a good venue for the LSA athletes to test the skills and discipline they have learned at the academy.
"I would like them to regularly compete so their skills can be tested. And we are quite happy with the result," Gov. Petilla said.
He added that the goal now is for them to have a good exposure and performance at the Palarong Pambansa to open more doors of opportunities for them.
With the medals earned, the LSA athletes will again receive additional incentives from the provincial government at the end of the year.
Out of 10 competing teams, Leyte garnered a total of 730.5 points – 369 points from the elementary level, 361.5 points from the secondary level – to grab the glory of being awarded the EVRAA 2012 champion in the closing ceremonies at the Southern Leyte Sports Complex recently.
More than 6,000 players, officials, and school personnel from the Department of Education (DepEd) family participated in the week-long EVRAA games games from January 29 - February 3, consisting of seven provinces and three cities around Region 8 clashing it out in a friendly sports competition.
2 nabbed for illegal drugs
By RPCRD, Police Regional Office 8
February 6, 2012
CAMP RUPERTO KANGLEON, Palo, Leyte – PNP PRO8 in its incessant anti-illegal drugs campaign arrested two individuals for violation of the Republic Act 9165, otherwise known as "Dangerous Drugs Act of 2002".
At about 10:50AM on February 3, 2012 at Poblacion Zone II, Capoocan, Leyte, two informants identified as Amalia Bico Mahawan and Robel Cabanada Icil, cashier and private security guard respectively of Best Value Mart Grocery in Hagonoy, Bulacan, personally appeared and reported to Capoocan Police Station.
Report disclosed that a certain Jimboy Bansuli Mansalay, a robbery incident suspect that transpired on January 31, 2012 at said grocery. Mansalay is reported to be hiding at the house of a certain Julio Masuela Cabias in Poblacion Zone II, Capoocan, Leyte.
A joint team from Intelligence Section of Leyte Police Provincial Office led by PCI Jesus N Son and operatives of Capoocan Police conducted immediately a follow-up operation and consequently arrested said Jimboy Mansalay, 23 years old, a laborer from Barangay Maraska, Oriental, Mindoro.
After a thorough investigation, the team recovered in direct possession from the suspect, four (4) teabags of suspected dried marijuana leaves contained in a cellophane. Afterwhich, the suspect voluntarily turned-over cash amounting to P295,380.
Mansalay together with confiscated items were brought to Capoocan Police for documentation and proper disposition. A case for violation of Section 11, Article 2 of RA 9165 is now filed in court.
Again, on same date at the vicinity of Barangay Tangnan, Carigara, Leyte, joint elements of LPPO and Carigara Police conducted an operation based on a report of an illegal drugs transaction.
Thereafter, the team arrested Bella Cabalijo Toriano, 28 years old, jobless and a resident of Barangay 6, San Vicente, Ormoc City. They were able to confiscate from her possession and control, a medium size heat sealed plastic cellophane containing suspected shabu.
During the arrest, suspect was apprised of her rights in a language known to her and subsequently was brought to Carigara Police Station together with the confiscated item for documentation. A case for violation of RA 9165 has been filed in court against Toriano.
PRO8 Regional Director, PCSupt Arnold Rayala Revilla remains firm on his stand against illegal drugs directing all law enforcers to keep watch of drug violators in order to eradicate and maintain a drug-free community.
Don't believe in hoax messages
All official warnings from Phivolcs are coursed through DRRMCs, Dir. Solidom says
By Philippine Information Agency (PIA 8)
February 5, 2012
TACLOBAN CITY – The Philippine Institute of Volcanology and Seismology has not issued any warning about volcanic eruption and tsunami occurrence in Eastern Samar, Phivolcs Director Renato Solidom, Jr. said.
Director Solidom, in a text message in answer to the query of the Philippine Information Agency, said that all official warnings from Phivolcs are coursed through the DRRMCs.
"Not true at all. There is no truth that a Phivolcs personnel issued such warning by Phivolcs as all official warnings are coursed through DRRMCs," Dr. Solidom said.
The Phivolcs chief said that the series of earthquakes beginning the third week of January 2012, the latest significant tremor with magnitude of 5.9 kilometers which occurred at 9:09 in the evening of February 4, 2012 with epicenters offshore of Eastern Samar and felt in Samar and Leyte islands, are the result of movement of the Philippine Sea Plate diving down under Eastern Philippine Trench.
"These are not caused by volcanic activity," Dr. Solidom added, saying that there are no underwater volcanoes east of the Samar Island and it is not possible to have volcanoes there.
The pronouncement sprang from a hoax text message which circulated in Eastern Visayas after an earthquake with a magnitude of 5.9 rocked Eastern Samar at 9:09 in the evening of February 4. The hoax message headlined "NOTICE" stated that at 5:00 o'clock in the morning of February 5, the underwater volcano in Matarinao, Salcedo, East Samar will explode with a magnitude intensity of higher than 12 kilometers. It also warned people to evacuate "as early as now" to open space and higher grounds.
Dr. Solidom said that aftershocks may still happen, although the exact timing cannot be predicted. Most aftershocks are not significant in sizes but stronger ones cannot be discounted, the Phivolcs chief added.
Dr. Solidom called on the public not panic and not to believe in text rumors, more so, spread rumors.
However, Dr. Solidom said that the public should always be reminded that strong earthquakes have happened in the area in the past.
Therefore, it is always important that earthquake and tsunami preparedness be conducted by the local governments and the public, Dr. Solidom concluded.
Geothermal production field, power subsidiary in Leyte get DENR PEPP Seal of Approval
By Philippine Information Agency (PIA 8)
February 4, 2012
ORMOC CITY, Leyte – In recognition of their green initiatives, the Leyte project site and power subsidiary of geothermal leader Energy Development Corporation (EDC) were each recently given the Philippine Environment Partnership Program (PEPP) Seal of Approval by the Department of Environment and Natural Resources (DENR).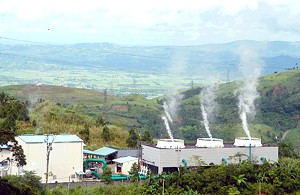 The Leyte Geothermal Production Field (LGPF) and Green Core Geothermal, Inc. (GCGI) were recognized for the implementation of various programs on pollution prevention and control, and environmental protection and management.
In particular, DENR recognized the green initiatives of LGPF and GCGI such as toxicity reduction of cooling tower sludge, use of vertical discharge diffusers, BINHI reforestation program, and enhancement of monitoring and environmental management systems.
The DENR observed that EDC management made significant improvements to the sludge recovery procedures of the Unified Leyte power plants after it took over operations from CalEnergy in 2007. The concentration of impurities in the sludge have been so greatly reduced that the facility now meets or falls below the limits set by the DENR.
The vertical discharge diffuser is pollution control equipment designed and piloted in LGPF in 2008. By trapping the steam released from geothermal wells for condensation and re-injection, this innovation has reduced and, in some cases, eliminated the release of fluids to the atmosphere, defoliation, community disturbance and environmental damage.
BINHI is the enhanced reforestation program started by EDC Chairman Emeritus Oscar M. Lopez in December 2008 as a commitment to the Clinton Global Initiative. The program calls for the reforestation of 10,000 hectares of land in 10 years. BINHI covers four modules – Tree for Food, Tree for Life, Tree for the Future and Tree for Leisure. Tree for Life aims to reforest gaps in major forest ecosystems to promote the country's unique biodiversity. Tree for Food promotes the conversion of denuded lands into agro-forests or plantations for soil protection and to serve as livelihood options for forest dwellers and communities near EDC's geothermal project sites. Tree for the Future establishes tree parks for indigenous and rare premium species throughout the Philippines to preserve the gene pool of important tree species. Tree for Leisure will preserve the natural beauty and ambience of forests by designating them as ecotourism sites.
The PEPP is the joint effort of government, industry and civil society to promote improved environmental management and performance of businesses. This cooperation involves the provision of Program of Support to industry by PEPP partner agencies and institutions to encourage the proper and sustained implementation of environmental management systems and pollution prevention.
EDC and GCGI were awarded under the "Track 1" category for proven or demonstrated superior environmental performance which requires sustained implementation of environmental management systems for at least three years.
The award of a Seal of Approval under this category entitles EDC and GCGI to regulatory assistance, financial and fiscal incentives.
DOT commissions EDSA architect to build First Mass Shrine
By BONG PEDALINO, PIA Southern Leyte
February 3, 2012
LIMASAWA ISLAND, Southern Leyte – A well-known architect who created the famous People Power monument at Epifanio De Los Santos Avenue (EDSA) in Manila has been commissioned by the Department of Tourism (DOT) to build a sculpture depicting the First Mass in this island-municipality.
This was learned from Limasawa Mayor Melchor Petracorta in a recent interview with the Philippine Information Agency (PIA).
According to Petracorta, renowned Architech Nene Miranda was tasked by the tourism department to make the First Mass image with a height of 32 feet at the public plaza in barangay Magallanes near the public stage.
The perspective of the upcoming artwork was already finished in the last quarter last year, Petracorta said, adding that this was due for implementation this year, hopefully in time for the annual observance of the First Mass celebration on March 31.
The DOT set aside a budget of P7 million for this undertaking, the Mayor also said.
Based on historical accounts, the group of Ferdinand Magellan, a Portugeese navigator under the services of Spain, sighted the island while they were on their long, uncharted voyage to look for spices in the East.
It was a Holy Thursday when they landed in Limasawa island, and on the succeeding Sunday, an Easter Sunday, March 31, 1521, they celebrated the Holy Eucharist in the shore of what is now barangay Magallanes, and afterwards planted a Cross on top of the highest hill.
Last year, during the 490th First Mass celebration, Bishop Precioso Cantillas of the Diocese of Maasin launched the "Decade of Evangelization" that will culminate on March 31, 2021, the 500th year anniversary of the historic event.
MOA between NFA and Leyte provincial government ensures increase in palay procurement
By Philippine Information Agency (PIA 8)
February 3, 2012
PAWING, PALO, Leyte – The signing recently, of a memorandum of agreement between the National Food Authority and the provincial government of Leyte, will ensure an increase in palay procurement accomplishment this year.
Signed by NFA 8 Regional Manager Alan Borja and Leyte Governor Carlos Jericho L. Petilla, said MOA allows the NFA to procure the palay deliveries collected by LGU-Leyte from farmers who have availed of the Increased Crop Output thru Rural Infrastructure and Community Empowerment, otherwise known as the ICOT-RICE project.
NFA 8 Regional Manager Alan B. Borja said that the increase in palay procurement will ensure the availability of cheaper NFA rice for the disadvantage sector of society. With more buffer rice stock in the country, there will be lesser need to import rice.
This also assures the replication of the 124% palay procurement accomplishment of the NFA Regional Office. For 2012, the Agency expects to surpass last year's procurement accomplishment of 23,573 bags translated to P19,591,065 including incentives.
This mode of procurement is a novel idea because nowhere in the country, with the exception of Leyte, has the Agency been allowed to procure palay from any LGU, according to Director Borja.
He informed that last year, the Provincial Government sought the assistance of NFA for the procurement of the palay proceeds from the ICOT-RICE Project which provides soft loans to poor farmers who pay the same in the form of palay after harvest.
"At the outset, this would seem to be a mission impossible considering that the Agency is not allowed to buy palay from any LGU," Manager Borja said.
"We underwent through the nitty-gritty process until we finally got the approval of Administrator Banayo and the perfection of the MOA," Manager Borja added.
The Regional Manager said the signing of the memorandum of agreement between NFA and the Province of Leyte became a landmark conclusion to an otherwise not feasible proposition.
Ms. Agnes Militante, NFA-8 information manager, said that under NFA's palay procurement program, the Agency buys palay at the current government support price of P17.00 per kilogram, clean and dry or those with fourteen percent (14%) moisture content and "Purity A" level.
Palay deliveries falling below this specification can also be accommodated subject to buying price adjustments computed in accordance with the current NFA Equivalent Net Weight (ENW) table for standard palay specifications.
Based on the MOA, in cases when LGU-Leyte shall avail of NFA's drying facilities for its collected palay stocks from its farmers-beneficiaries, the latter shall charge the corresponding drying fees of twenty centavos (P0.20) per kilogram, if stocks are sold to NFA.
On the other hand, if the palay after drying fails the NFA standard specifications and cannot be procured, LGU-Leyte shall be charged with the drying fees based on commercial rates.
The MOA further provides that the LGU can also avail of the twenty centavos (P0.20) delivery incentive if palay stocks are delivered to the NFA warehouse.