MCA-P and VF sign agreement to combat Trafficking in Persons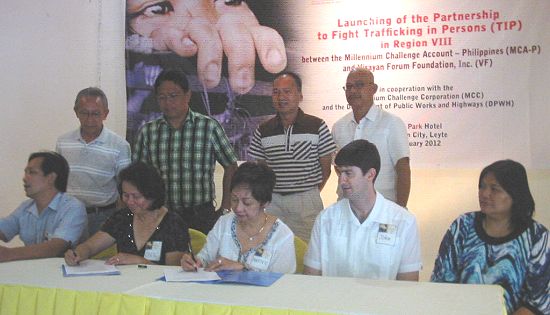 By CATHERINE T. BALDELOBAR, Samar News.com
February 2, 2012
TACLOBAN CITY – A Memorandum of Agreement (MOA) to combat Trafficking in Persons (TIP) was signed and launched on January 31, 2012 at Leyte Park Hotel, Tacloban City.
The MOA is between the Millennium Challenge Account - Philippines (MCA-P) and Visayan Forum Foundation, Inc. (VF). Ma. Victoria E. Añonuevo, Managing Director and Chief Executive Officer (CEO) of MCA-P and Ma Cecilia Flores-Oebanda, President of VF were the representatives of each parties.
Añonuevo averred that the rationale of the MOA is the answer to government's call to fight human trafficking per Republic Act No. 9208, known as the Anti-Trafficking in Persons Act of 2003. The commitment of the MCA-P to this partnership is to ensure that no officer, employee, contractor, or worker will be involved in or tolerate human trafficking in and around MCA-P project sites of the Samar Road Project.
Meanwhile, Flores-Oebanda emphasized that this partnership will have a lasting impact not only on the communities covered by MCA-P Samar Road Project but also will serves as a model for private sector innovation in the fight against human trafficking.
Under the agreement, the VF will facilitate learning, information-sharing and skills among MCA-P staff and stakeholders; educate and ensure commitment of bidders, suppliers, contractors, sub-contractors, and consultants in the prevention of Trafficking in Person's (TIP) cases in all MCA-P project; and help bring about reforms in programs and services to prevent TIP.
Among the initial plan of the group is the conduct of joint planning, training of local stakeholders in Eastern Samar and Samar and mobilize communities, one way or the other, with the campaign against TIP.
At present, through collaboration with the Department of Public Works and Highways (DPWH), MCA-P is implementing the Secondary National Roads Development Project (SNRDP) that will rehabilitate a 222-kilometer road network in Samar and Eastern Samar. The first phase of the project is expected to start at the end of the third quarter of 2012.
Gov. Daza appointed as RPOC-8 Chairman
By MYLES JOSEPH E. COLASITO
February 2, 2012
TACLOBAN CITY – President Benigno S. Aquino III has named Governor Paul R. Daza of Northern Samar as Chairman of the Regional Peace and Order Council in Eastern Visayas (RPOC-8).
It was learned from Regional Director Pedro A. Noval Jr. of the Department of the Interior and Local Government (DILG-8) that Executive Secretary Paquito Ochoa had informed Local Government Secretary Jesse M. Robredo in a letter dated Nov. 15, 2011 about President Aquino's approval of the nomination of Daza and other chairpersons of RPOCs in the country.
Secretary Robredo, on the other hand as chair of the National Peace and Order Council, issued Daza's appointment papers on Nov. 28, 2011. Upon receiving these papers on January 12, 2012 the DILG-8 regional office immediately transmitted these to Gov. Daza, said Dir. Noval. He plans to confer with Gov. Daza as to when the latter would formally assume the post or take his oath before Sec. Robredo.
Governor Daza and Leyte Governor Carlos Jericho L. Petilla were elected unopposed as the vice-chairman and chairman, respectively of the RPOC in its reorganization meeting at the DepEd Conference Room on September 24, 2010. The nominations of Petilla and Daza were subject to the confirmation of President Aquino.
Aside from Daza, the other appointed RPOC chairpersons in their respective regions were Mayor Michael Fariñas of Laoag City for Region 1; Gov. Junie Cua of Province of Quirino for Region 2; Zamboanga Mayor Celso S. Lobregat of Region 9; Gov. Oscar Moreno of the Province of Misamis Oriental of Region 10 and Mayor Ferdinand Amante, Jr. of Butuan City of Region 13.
The RPOC is a forum for dialogue and deliberation of major issues and problems affecting peace and order, including insurgency; recommend measures which will improve or enhance peace and order and public safety in their respective areas of responsibility, including anti-insurgency measures; and other measures leading to the achievement of peace and order.
Among the highlights of the RPOC in 2011 was the conduct of a crisis management seminar for RPOC members and Provincial POC members of Leyte on May 26, 2011 hosted by the provincial government of Leyte; and the passage of a resolution endorsing to the Regional Development Council (RDC), which is headed by Gov. Petilla, the allocation of funds for construction of a Samar Island Access Road at the boundaries of the three provinces of Samar Island.
New PNP building shines in Zumarraga (Samar) coast
By NINFA B QUIRANTE, PIA Samar
February 2, 2012
CATBALOGAN CITY – The new Philippine National Police (PNP) building, now a blue landmark in the coast of Zumarraga (Samar) town welcomes travelers to this quaint island.
"It is the first building to greet you, as it is near the port," said PNP Samar Provincial Director Nolasco Bathan in an interview after its inauguration yesterday, February 2, 2012.
PSSupt Pepito Pacada from the PNP Regional Office 08 sailed to Zumarraga to witness the inauguration and turn-over of the P5 million Zumarraga Municipal Police Station led by PSInsp. Julio Pagtabunan.
"This is part of the PNP's Integrated Transformation Program-upgrading our police stations," said Bathan.
He added that the national headquarters may purchase two patrol boats for this island town battling with illegal fishing.
Meanwhile, Mayor Myrna Tan expressed her appreciation for the new PNP building that was accomplished while she was the chief executive.
PD Bathan said that Tan is one of the police's best supporters with her Zumarraga community. "A good feeling is drawn when a client enters a presentable office," added Bathan.
The police director said that very soon, they will also be inaugurating Pinabacdao's municipal police station.
"In the island municipalities, this is the first in Zumarraga," Bathan informed.
Samar has five island municipalities of Daram, Zumarraga, Almagro, Tagapul-an and Sto. Niño.
Zumarraga is one peaceful island town, Bathan said, attributing the good peace and order situation not only to the PNP force, the LCE but also the community.
Carnapped FX recovered
By RPCRD, Police Regional Office 8
February 2, 2012
CAMP RUPERTO KANGLEON, Palo, Leyte – PNP PRO8 Regional Director Arnold Rayala Revilla focuses not only on preventing carnapping incidents, but is also exerting effort to recover stolen vehicles and even proposes stiffer penalties for it to address its increasing incidence not just in the region but in the country.
On February 1, 2012 at about 11:20AM, joint team from Highway Patrol Group led by PSSupt Romeo Pajares Campomanes and elements of Ormoc City Police led by PSInsp Shevert Alvin Ligutan Machete were able to recover the reported carnapped Gray Toyota Tamaraw FX with plate number HAU 299.
Said vehicle was abandoned at Barangay San Vicente, Alangalang, Leyte as reported by the owner to have been carnapped on January 29, 2012 while parked near his house at Mabini Street, District 17, Ormoc City.
Initial investigation conducted by the responding team disclosed that at about 7:00 o'clock in the morning of January 30, 2012, said vehicle stopped at the middle of the highway on said place due to overheating. One malefactor identified to be aging between 16 to 18 years old hurriedly alighted and left the vehicle.
The team then showed pictures taken from Ormoc City Police office rouge gallery to the witnesses, same person was identified as Jason Iburan Labiste alias "Dodong Gamay" of Barangay Tugbong, Kananga, Leyte.
The vehicle was brought to the Highway Patrol headquarters, Tacloban City for recording and subsequently released to the owner upon presentation of proof of ownership of the vehicle.
Ormoc Police operatives are still conducting follow-up investigation for the possible arrest and filing of appropriate charges in court against the suspects.
First-ever RH Bill Forum: LIKE!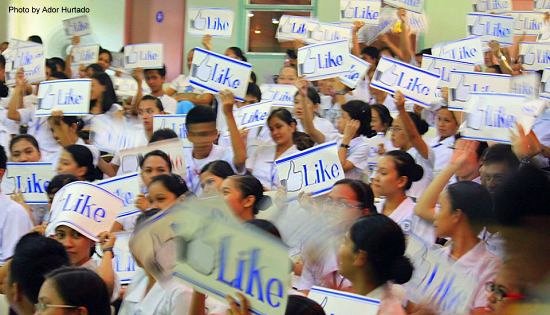 By ADOR LEANDA HURTADO
January 31, 2012
CATBALOGAN CITY – As the Senate today, January 31 deliberates Senate Bill No 2865 more popularly known as The Reproductive Health (RH) Bill Act sponsored by Senator Pia Cayetano as it was included as the final item (Agenda VI, Item 3), an equally important initiative to shed light on this controversial legislation has been conducted yesterday (January 30) at one of the premiere university in Samar Province, the Samar State University (SSU), formerly known as the Samar State Polytechnic University (SSPC) in Catbalogan City.
More than 400 students attended the First Reproductive Health Bill Forum at SSU Audio Visual Room that afternoon, which initiative was organized and facilitated by the College of Nursing. Students from different colleges such as the College of Education, College of Fisheries and Marine Sciences, College of Industrial Technology and others gave their "Like" and "Dislike" rating on the different topics and issues discussed by the speakers patterned from the popular social networking Facebook.
Taking the Government Side or in support of Reproductive Health Bill, Ms. Lady Nancy Lisondra, a Registered Nurse representing the Family Planning Organization of the Philippines (FPOP) discussed the salient points about Reproductive Health with stress on the Medical and Bioethical side of the issue since majority of the audience were Nursing Students. Taking the Opposition Side of the issue, Mr. Herminigildo "Hermie" Sanchez from the Couples for Christ (CFC) discussed on the moral and social side of the legislation.
After the two speakers gave their thoughts and expertise, the open forum started with the questioning from the audience, which majority were addressed to Ms. Lisondra covering issues on the carcinogenic-effect of contraceptives, the mandatory age-appropriate sexuality education, the most debate issue on abortion among others. The forum ended with much enthusiasm when Ms. Lisondra gave a short impromptu and informal Disensitization Workshop addressing the taboo-ness of Adolescent Reproductive Health most importantly because it is essential to human beings especially to young people.
The activity was supported by WARAYA or Waray-Waray Youth Advocates, the leading youth organization in Samar that advocates for Adolescent Sexual and Reproductive Health and Rights (ASRHR).
3 captured NPAs were accorded human rights midst encounter in Samar
By CMO Battalion, 8ID PA
January 30, 2012
CAMP LUKBAN, Catbalogan City – In adherence to Human Rights and International Humanitarian Law, the Rule of Law prevailed amidst the fierce encounter between the troops of 87IB and the group of NPA in the vicinity of Brgy Guinbanga, Calbiga, Samar on January 23, 2012 that resulted to the seizure of an NPA Camp and recovery of voluminous subversive documents and equipment including a laptop computer.

Three suspected NPAs were also captured when they were left by their withdrawing comrades and their group out manuevered by the government forces. Despite the soldiers desire to revenge the loss of life of their companion who was killed during the encounter, their sense of professionalism and respect for HR prevailed. They were treated humanely and were apprised of their constitutional rights.
Gen Chan commended the soldiers of 87IB for their professionalism and observance to HR and rule of law. "This is a good development to our soldiers. The respect of human rights they displayed at the height of the encounter showed their sincere commitment to the rule of law. This is a result of our continuing efforts to educate our soldiers in order to be disciplined and true advocates of human rights".
The suspects who were identified as Maita Abadidano y Mabini alias "Mytha/Jenny", Jerry Sablan y Macanas alias "Jerry", and Delmar Dacdac y Llantada alias "Archie". They (suspects) were charged by the police authorities for violation of Presidential Decree 1866, as amended by Republic Act 8294 (illegal possession of firearms) and Republic Act 9516 (illegal possession of explosives).
The SOCO Team from Crime Laboratory, Samar Provincial Police Office was also quick to conduct examination at the scene of encounter to ensure the preservation of evidences and truthfulness to the incident. The troops recovered in the possession of the three captured NPAs four (4) M26 fragmentation hand grenades, one (1) M1911 calibre 45 pistol, one (1) calibre 9mm berretta and fifteen (15) rounds of ammunitions.
A separate case will be filed by the Police authorities against the NPA group including the three suspects for the killing of CAA Luis C Gacuma, a member of the Civilian Armed Forces Geographical Unit (CAFGU) Active Auxiliary who was killed during the encounter. Additionally, another case will be filed against the suspects as witness identified them as part of the NPA group who attacked the Hinabangan Police Station on September 12, 2011.
The successful encounter sent a strong message to the NPAs that there is no safe haven for them (NPAs) in Samar. There will be no let-up in our peace and development operations and the 8ID soldiers will be more responsible, determined and focused towards the accomplishment of promoting peace, security and development in this part of the country.
DILG, DBM to release P170.6-M to 35 East Visayas LGSF recipients
By Philippine Information Agency (PIA 8)
January 30, 2012
TACLOBAN CITY – The Department of Interior and Local Government and the Department of Budget and Management will release the amount of P170.6 million to 35 local government units in Eastern Visayas that are recipients of the Local Government Support Fund.
DILG Region 8 Director Pedro Noval Jr. informed that the Local Government Support Fund is intended to defray part of the decrease in the local government's Internal Revenue Allotment for the year 2012.
This would be released only to provinces, cities and municipalities which have passed the DILG's Seal of Good Housekeeping, Director Noval said.
In Eastern Visayas four provinces, three cities and 28 municipalities have been stamped the Seal of Good Housekeeping. They are the recipients of the P170.6 LGS fund.
These are the provinces of Leyte which will receive P25 million, Biliran which will receive P5 million, Eastern Samar which will receive P15 million and Northern Samar which will receive P15 million.
The cities are Ormoc City which will receive P45 million, Tacloban which will receive P25 million and Maasin City in Southern Leyte which will receive P20 million.
The 28 municipalities include six from the province of Biliran namely, Almeria with P500,000, Biliran with P500,000, Naval with P900,000, Cabucgayan with P500,000, Kawayan with P500,000 and Maripipi which will receive P400,000.
From the province of Eastern Samar, seven municipalities are included namely, Guiuan with P1 million, Balangiga with P600,000, Dolores with P1 million, Hernani with P400,000, Maydolong with P900,000, San Julian with P600,000 and Sulat with P700,000.
The eight recipient municipalities from the province of Leyte include Alangalang with P900,000, Burauen with P1million, Jaro with P900,000, Babatngon with P700,000, Calubian with P700,000, Dagami with P800,000, Palo with P1 million and Tanauan with P900,000.
The three recipients from Southern Leyte are Hinunangan which will receive P800,000, Hinundayan with P500,00 and Macrohon with P700,000.
From Northern Samar, the two recipients are Laoang with P1 million and San Isidro with P800, 000.
Finally, the two recipients from Samar province are the municipalities of Calbiga with P800,000 and Marabut with P600, 000.
Meanwhile, Mr. Myles Colasito, DILG-8 information officer, said that the recipients LGUs would be granted not more than 50% of their corresponding decrease in IRA after DILG has reviewed and approved their one-page project proposals which should be submitted along the projects to be funded by the LGSF.
Once the Regional Office has determined the soundness of the project, it shall endorse the same to the DBM for funding, Colasito said.
The funds shall be utilized as capital expenditure and shall be used to augment the approved 2012 annual investment plan for implementation of any or combination of the following projects like rural electrification, local roads connection national roads, arterial farm-to-market roads and bridges, local economic enterprises, flood control and drainage and to support priority projects of the National Government such as Millennium Development Goals, Philippine Disaster Risk Reduction and Management Act of 2010 and Solid Waste Management Act of 2000.