Chan: "We are more than ready!"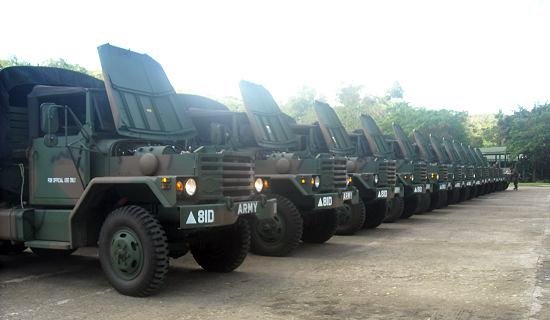 By CMO Battalion, 8ID PA
May 18, 2011
CAMP LUKBAN, Catbalogan City – 14 brand new military vehicles were handed over to seven (7) Army battalions deployed in different areas of the Army's 8th Infantry Division in a ceremony during the Monday flag raising at the Division Headquarters' ground around 8:00 o'clock in the morning, May 16.
No less than Major General Mario Chan himself, the 8ID's commander, entrusted the keys to the supply officers of the recipient units who will serve as the vehicles custodians.
These brand new vehicles mean better, faster and enhanced performance of 8ID in serving the people of Eastern Visayas particularly in disaster, relief and rescue operations in times of calamity and natural or man-made environmental disturbances.
Further, Major General Chan emphasized that these vehicles are just part of the efforts of the Philippine Army in its continuing capability upgrade program (CUP). Accordingly, Philippine Army will provide not only new military equipment, weapon system but also on and off base facilities and medical services for soldiers.
"With these new equipment and tools, the 8ID is more than ready to serve the people and will maintain the faster delivery of services in winning peace and for immediate response to natural and man-made disaster that are very much essential in the pursuit of development in the region," Chan adds.
After the traditional blessing of vehicles in front of the 8ID grandstand, the said vehicles were moved in convoy and presented to the people in the immediate and nearby communities to show how sincere the 8ID is in bringing up to date and faster delivery of services in "winning the peace" in this part of the country.
Said vehicles are now in the custody of 14th, 19th, 20th, 34th, 63rd and 87th infantry battalions and Service Support Battalion, respectively and expected to do better in the furtherance of their efforts in supporting the mission of 8ID to win peace and bring stability and sustain development in Region 8.
Philippine Star news correspondent arrested
Press Release
By RPCRD, Police Regional Office 8
May 18, 2011
CAMP RUPERTO K KANGLEON, Palo, Leyte – A Philippine Star News Correspondent and Eastern Visayas News Reporter was arrested yesterday, May 17, 2011 at around 10:00 in the morning.
Miriam Garcia Desacada, a freelance writer, residing at LMWD Subdivision, Nula-Tula, Tacloban City was arrested by the PNP personnel of 8th Regional Public Safety Battalion Company led by PInsp Noel Esquivel, Duty Officer of the Day.
According to Esquivel, she was nabbed when his men conducted checkpoint along the National Highway of Brgy Pinamopoan, Capoocan, Leyte fronting the 8RPSB Headquarters wherein they flagged down a public utility vehicle named JD Bus Line. Desacada, was on board of said passenger vehicle.
Desacada has an existing Warrant of Arrest issued by Hon. Crisologo S. Bitas, Presiding Judge of RTC Branch 7, Tacloban City docketed under Criminal Case Number 2010-11-647 for violation of Section 7 of RA 7610 or known as Child Trafficking / An act providing for stronger deterrence and special protection against child abuse, exploitation and discrimination.
Meanwhile, PCSupt Arnold Rayala Revilla discloses that he do recognize having a harmonious working relationship between the PNP and the media but he does not and will not tolerate any wrong doing of the media. The police are always ready to protect innocent people without having to go beyond the boundaries of the law. Justice must be served.
Right now, Desacada is temporary detained at 8RPSB HQS for documentation prior turn-over to the court of origin.
Again, Revilla is encouraging anybody to report immediately to the police for any police assistance.
Chiz endorses bill penalizing perpetrators of involuntary disappearance
By Office of Senator Chiz Escudero
May 18, 2011
PASAY CITY – A measure that would penalize enforced and involuntary disappearance and send to jail its perpetrators for life has been endorsed to the plenary by the Senate committee on justice and human rights.
Committee Report No. 36, or the Enforced or Involuntary Disappearance Act, has been sponsored for deliberation and approval by committee chairman Senator Chiz Escudero.
The bill adopts the definition of involuntary disappearance under the International Convention for the Protection of All Persons from Enforced Disappearance as "the arrest, detention, abduction or any other form of deprivation of liberty committed by agents of the State or by persons or groups of persons acting with the authorization, support or acquiescence of the State."
It also covers their "refusal to acknowledge the deprivation of liberty or by concealment of the fate or whereabouts of the disappeared person, which places such person outside the protection of the law."
"The crime of involuntary disappearance is not yet considered a crime under our laws so we are endorsing this bill to institute mechanisms and strengthen existing policies in favor of human rights. This measure, in tandem with the recently approved Anti-Torture Law, will provide strong muscles against abuse of state power," Escudero said.
Once passed, the perpetrator of involuntary disappearances will be slapped with a maximum penalty of reclusion perpetua, which is equivalent to 20 years and one day to 40 years of imprisonment.
"This measure seeks to put further into operation Section 11, Article 11 of the Constitution, which declares as a State policy the value of human dignity and the guarantee of full respect to human rights," Escudero explained.
The measure also prohibits the issuances of "orders of battle" – official or otherwise – by the military, police or any law enforcement agency to justify an enforced or involuntary disappearance.
Escudero said the bill also provides that prosecution of persons responsible for the commission of enforced disappearance shall not be prescribed unless the victim surfaces alive, in which case the prescription period shall be 25 years starting from the date of reappearance.
It also mandates expeditious disposition of habeas corpus and amparo proceedings and immediate compliance with any release order by virtue of such proceedings.
"Let us not just bear witness to cases of involuntary and forced disappearances. These have caused our country big black eyes and have placed us under tight watch of both local and international rights groups and even foreign governments. We need to put this measure in place," Escudero said.
He added that there must be no compromise for a strong legislation with effective corrective penal measures if it is apparent that individual rights and human dignity is violated by the agents of the state in the exercise of their powers and authority.
BAYAN-EV seeks justice for Uy and remembers him as true people's servant
Press Release
May 16, 2011
TACLOBAN CITY – Bagong Alyansang Makabayan-Eastern Visayas (BAYAN-EV), an alliance of various progressive and patriotic organizations in the region, is "deeply saddened over the killing of Calbayog City Mayor Reynaldo Uy, a true people's servant and recognized front-liner for the people's agenda," said Mr. Flor "Pong" Acbo, Regional Chairperson of BAYAN-EV. In behalf of its organizations and members, BAYAN EV extends its "most sincere condolences to the bereaved family of Mayor Uy and unites with them in the call for justice."
"We cannot agree less that his untimely demise is indeed a loss to the people of Samar," said Acbo. His killing is viewed by BAYAN as the "persistence of the decade-long culture of impunity, thus BAYAN calls on the people to break this culture and continue Uy's advocacy for staunch defense of people's rights." Acbo also urged the people to "follow his example in choosing to side with the people's interest and supporting their struggle for human rights promotion, social justice and long-lasting peace."
Acbo said in his account that Mayor Uy started out as a physician who mainly served the peasants of Samar in the 1980's. He actively resisted Martial Rule under Marcos and immediately after the dictator's ouster, Uy served as the officer-in-charge Vice Mayor of Calbayog. He later joined the progressive party Partido ng Bayan and won for his first seat in Samar. According to Acbo, "one of the notable acts which BAYAN would always remember him for is when he, himself, led the expulsion of then Major General Jovito Palparan from the Eastern Visayas region amidst successive killings and violations of human rights. It happened when Palparan was Commanding Officer of the 8th Infantry Division."
Acbo recalls that "Mayor Uy, a congressman then, saw how the number of extrajudicial killings in the region rose drastically and how the people of Samar, his constituents, were threatened by the terror spread by "the butcher." At the peak of anti-Palparan actions launched in the region, Uy allied together with BAYAN and other concerned personalities for the immediate eviction of Palparan. "He was not scared for the possible threat that going against the military will risk even his life. What was important for Uy and notable of him was, despite the widespread killings and abductions then, he listened and acted on the call of the people of Samar," said Acbo.
"Just a few days before his body is laid to final rest, BAYAN EV calls on the authorities for the immediate tendering of justice for Uy, his family, friends, and constituents who have lost not only a Mayor, but a Father," ended Acbo.
Gen. Chan recommends construction of road nets in Samar Islands to address insurgency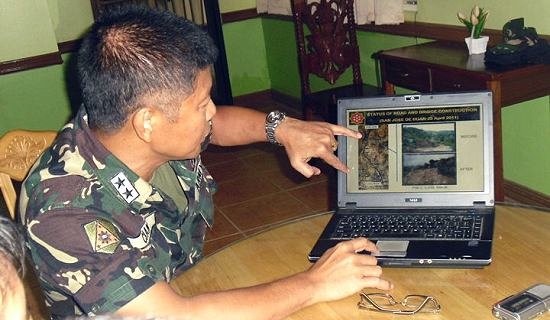 MGen. Mario Chan sharing to the media a presentation on the status of the ongoing roads/bridges construction in San Jose de Buan, Matuguinao, Samar and other areas in Leyte as well as a map of the proposed circumferential/radial roads which he intends to present to the RDC for approval. (By Emy C. Bonifacio)
By EMY C. BONIFACIO, Samar News.com
May 16, 2011
CATBALOGAN CITY – On various gatherings, MGen Mario F. Chan of the 8ID, Philippine Army based in Catbalogan City, Samar, has been heard to have mentioned that the 'military solution' is not the primary solution to the insurgency problem in Samar.
In a letter to Hon. Carlos Jericho Petilla, Leyte Governor and the present Chair of the Regional Peace and Order Council of Region 8 (RPOC8), Chan elaborated on the need to undertake road constructions and rehabilitations in specific areas of the Samar Island.
Chan cited as basis for his request, the prevailing threat or security situation in the Eastern Visayas Region. Particularly, he mentioned about the recent armed encounters in the tri-boundaries of Samar and the recent attempted attack on the rig of the Energy Development Corporation in Kananga, Leyte which has confirmed his apprehension that the local terrorists in Region 8 are trying to escalate its armed struggle.
The Commanding General further confirmed that the CPP-NPA-NDF have laid out plans and considers Region 8, particularly Samar Island, as its national priority.
A geographical analysis would show that the establishment of strongholds in the tri-boundaries of Samar Island is possible because of its inaccessibility and remoteness, aside from its thick vegetation and rugged terrain.
"As such, there is total lack of developmental activities and absence of government personalities that provide an ideal place for local terrorists to grow, unhampered, unchecked and be significant and relevant to the people living in nearby areas", Chan's letter continues.
An amount of 4.6 billion pesos that would cover 240.8 kms of road opening, repair and rehabilitation was estimated by the DPWH.
Specifically, the road openings for Gandara-Matuguinao and San Jose de Buan-Matuguinao Roads and epair and rehabilitation of Matuguinao-Las Navas Logging Road were included.
It also included in its estimates the construction of Silvino Lobos-Las Navas Road; Happy Valley, San Isidro-Bonifacio, Lope de Vega Road; Torjillo-E. Duran, Bobon Road; Trangue-Mabini, Catarman Road; the repair and rehabilitation of Cagpanit-an, Silvino Lobos- Silvino Lobos Road; Simora-Palapag Road and Polangi-Trangue, Catarman Road and a road opening for Las Navas-Jipapad Road.
As attachments to the letter-request, were concrete maps, charts and pictures which were gathered through an actual inspection made by Gen. Chan and party.
Gen. Chan firmly believes that with the rehabilitation of circumferential and radial road nets, the delivery of basic services from the local and national government can be facilitated. This will provide mobility corridors for security operations, disaster and calamity response. Moreover, this is expected to alleviate the peace and order concerns and will also spur developmental activities in the area.
Meanwhile, it was also learned that the 8ID commander have requested the Central Command for the realignment of the twelve (12) remaining KBP projects in Region 8 amounting to P90 million pesos to be used instead for the repair and rehabilitation of the old municipal logging roads along the tri-boundaries of Samar Island to be undertaken by the Army Engineers.
The same letter has been forwarded to Samar Gov. Sharee Ann Tan-delos Santos, Northern Samar Gov. Paul R. Daza and Eastern Samar Gov. Conrado Nicart Jr. requesting for possible endorsement to the RPOC.
Greenpeace backs proposed bill to scrap nuclear from PH energy plans
Says government should have already learned its lessons from Fukushima
By GREENPEACE
May 16, 2011
QUEZON CITY – Greenpeace today called on the country's lawmakers to fast-track the passage of a Congress Bill that, once signed into law, will strike out nuclear energy from Philippine energy plans once and for all.
The Nuclear-free Pilipinas Bill is authored by Akbayan Representatives Walden F. Bello and Kaka J. Bag-ao, and was filed today at the House of Representatives. The proposed legislation directs the Department of Energy (DOE), the Department of Science and Technology (DOST) and the National Economic Development Authority (NEDA) to remove all options for nuclear in the Energy Reform Agenda, the Philippine Energy Plan for 2009-2030, and the Philippine Development Plan (PDP) for 2010-2016.
"The government must put all so-called 'nuclear options' in the dustbin where they belong. Greenpeace applauds Representatives Bello and Bag-ao for heeding the aspirations of the Filipino people to live in a safe and secure environment free from catastrophic nuclear risks. Nuclear power is extremely dangerous and prohibitively expensive. Keeping it in the country's energy plans is akin to laying a fatal curse on present and future generations of Filipinos," said Amalie Obusan, Climate and Energy Campaigner of Greenpeace Southeast Asia.
"Greenpeace believes that the passage of this legislation will be the necessary counter that would effectively silence parties that are aggressively promoting their misguided nuclear ambitions. Although it has been silent in their quarters because of the ongoing Fukushima nuclear disaster, Filipinos sometimes have very short memories. It is highly probable that we have not yet seen the end of pro-nuclear legislative proposals. We need this law so that Filipinos can rest easy, confident that there will never be a Fukushima in our country," she added.
No nuclear proposals are currently tabled in Philippine Congress. However, the Philippine Energy Plan still has provisions for nuclear energy. Meanwhile the Energy Reform Agenda directs the DOE to conduct researches and studies in aid of legislative and executive action for the operation of a 2,000-megawatt nuclear power plant by 2025. These seem to indicate that President Aquino is effectively supportive of laying the foundations for the entry of nuclear, despite his public declaration that nuclear will not be an option under his administration.
Greenpeace maintains that the government must ensure sustainable development with a future powered by clean and safe renewable energy, rather than dangerous nuclear, as well as dirty coal power. The group is advocating an 'Energy Revolution,' a sustainable energy pathway which shows how renewable energy, coupled with energy efficiency technologies, can be the country's energy backbone. Greenpeace is calling on the Philippine government to commit to a target of 50% renewables in the country's energy mix by 2020.
"Sustainability and economic development go hand in hand – and nuclear power is not part of this equation. It's time for the government to stop fantasizing about dubious nuclear plans and focus their attentions on the enormous – and real – promise of renewables. The Philippines could be the world's leading example of development powered by sustainable energy sources. Rep. Bello's bill will point us properly in this direction," Obusan concluded.
Greenpeace today launched an exhibit featuring images from the Chernobyl and Fukushima tragedies, alongside photos of local campaigns to stop the revival of the mothballed Bataan Nuclear Power Plant (BNPP). The exhibit is open for public viewing at the lobby of the Congress building in Quezon City.
Chiz sponsors bill to grant CHR prosecutorial powers
By Office of Senator Chiz Escudero
May 16, 2011
PASAY CITY – The Commission on Human Rights (CHR) will exercise concurrent prosecutorial powers and functions once Senator Chiz Escudero's bill seeking to strengthen the functional and structural organization of the agency is approved.
Escudero, chairman of the Senate committee on justice and human rights, has sponsored Committee Report No. 37, which seeks further amendment to the CHR's current charter and equip it prosecutorial powers similar to that of the Department of Justice (DOJ) over cases involving human rights violation.
"Under its present mandate, CHR is neither a judicial nor a quasi-judicial body. Its jurisdiction is limited only to civil and political rights. We want to equip it with significant power to include economic, social and cultural rights," Escudero pointed out.
At present, CHR is restricted by the Constitution to preventive measures only such as initiating applications in court for judicial writs and orders, conduct investigation and receive evidence of violations of human rights, among others.
The senator said the commission will be more empowered, thus rendering it more effective and authoritative if its jurisdiction includes quasi-judicial power.
"The mandate of the CHR is vital in ensuring that it enacts the state policy to secure, protect and guarantee the dignity of its citizens and to ensure the fulfillment of such citizens' human rights. Therefore CHR could no longer be regarded as a toothless tiger," said Escudero.
The same bill also grants CHR visitorial powers to all detention cells all over the country to monitor the state of the facilities and detainees.
In addition to the CHR's empowerment, any arrests made by any of the law enforcement agencies should be reported to the CHR within 48 hours. At present, police and military can keep under their custody arrested persons as long as they want.
Professors discuss humanitarian law in first IHL convention
By ICRC
May 16, 2011
MANILA – Law professors from across the Philippines will discuss the latest in international humanitarian law at the first IHL Professors' Convention in Davao City on 17 and 18 May.
The conference will provide updates on such issues as the passage of legislation making genocide, crimes against humanity and breaches of IHL offenses under Philippine law. The 30 participants include professors of law, political science and public administration from key Philippine universities.
"We hope this convention will encourage academics to devote more time to IHL in their teaching. It is very important for students, especially those taking up law, to learn about the law of armed conflict and how it applies to the Philippine context," explained ICRC legal adviser Evecar Cruz-Ferrer.
All law schools in the Philippines teach IHL as part of international law, while seven universities offer IHL as a separate subject.
Prominent IHL professors and lawyers speaking at the convention will include Dean Raul Pangalangan, Dean Sedfrey Candelaria, Prof. Harry Roque Jr., Fr. Ranhilio Callangan Aquino and Dr. Hilton Aguja.
ICRC regional legal adviser Richard Desgagne will present a new ICRC study on non-international armed conflict and explain how the organization supports the implementation of IHL, while Cruz-Ferrer will talk about the ICRC's role in teaching IHL and getting it incorporated into national legislation and practice.
As Evecar Cruz-Ferrer pointed out, "The convention demonstrates that academics are committed to strengthening compliance with IHL, in a country affected by decades of armed conflict."
The ICRC is a humanitarian, neutral and impartial organization that strives to assist and protect victims of armed conflict and other situations of violence. As guardian of IHL, the ICRC reminds parties to the conflict of their obligations under this branch of law, and participates in the development of IHL.