Sec. Robredo offers P200K for identity and P1M for the arrest of mayor Uy's killer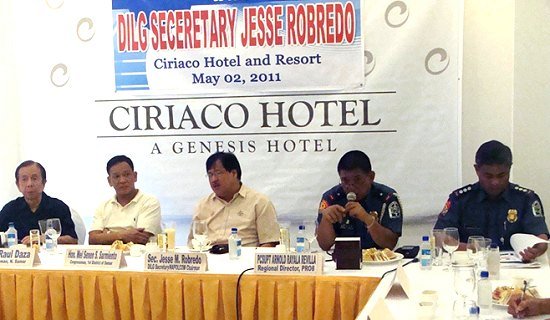 Press Release
By PRO8
May 3, 2010
CAMP RUPERTO K. KANGLEON, Palo, Leyte – DILG Secretary Jesse Robredo announced the P1M reward for the arrest of the killer of Calbayog City mayor Reynaldo Uy who was shot while attending town fiesta at Hinabangan, Samar last April 30, 2011 at around 9:30 pm and later on died while undergoing treatment at St. Paul's Hospital, Tacloban City the following day.
The announcement was made in a press conference at Ciriaco Hotel, Calbayog City yesterday, May 2, 2011. Also present during the press conference were Samar congressman Mel Senen Sarmiento of the 1st district of samar; congressman Raul Daza, 1st district of Northern Samar; PCSupt Arnold R Revilla, RD PRO8; PSSupt Edgar O Basbas, Deputy Regional Director For Operations, head of the Special Investigation Task Group "Uy"; PSSupt Ronald Macapagal, provincial director, Samar Provincial Police Office and director Francisco C. Jose, regional director, DILG 8.
Sec. Robredo also condemned the killing of Mayor Uy and ordered the PNP to have a speedy investigation and identification of the perpetrator so that justice will be served.
PCSupt Revilla said, the PNP has immediately activated "SITG Uy" to spearhead and facilitate the expeditious investigation aimed towards the immediate solution of the case and brining the perpetrators to the bar of justice.
He further condemns the bestial and dastardly killing of a local chief executive and will leave no stone unturned on its probe. However, the regional director added, the PNP needs the support of the community for any information for the identification of the suspects.
All PNP commanders were advise to review their policy guidelines in providing VIP security protection to government officials and high risk private individuals.
Palace sets soldiers' incentive and combat duty pay
Press Release
May 3, 2011
MANILA – Malacañang has established the combat duty pay and incentive pay for officers and enlisted personnel of the Armed Forces of the Philippines (AFP) to clarify the various executive issuances related to compensation of men in uniform.
Executive Secretary Paquito N. Ochoa Jr. said on Tuesday that Executive Order No. 38, which President Benigno Aquino III signed on April 28, set the amount of combat pay at P500 and the combat incentive pay at P150 per day and will be applied retroactively as of January 1, 2011.
"President Aquino approved EO 38 to put in effect the intention of his administration to improve the conveyed allotment of benefits and entitlements to the members of the AFP, especially those engaged in combat operations and recognizing the vital role they play in nation building," Ochoa said.
The Executive Secretary also explained that the directive was issued to "consolidate, clarify and integrate all executive issuances" in order to "realize the objective of providing maximum benefits allowable for qualified members of the AFP."
The President's order consolidated all presidential directives relating to combat duty pay and incentive pay of AFP officers and enlisted personnel and superseded EO Nos. 1017, 15 and 658.
Under EO 38, officers and enlisted personnel of the AFP performing combat duties/activities are entitled to receive a combat duty pay of P500 per month. An additional combat incentive pay of P150 per day will be given to AFP members who are actually engaged in combat operation against members of various insurgent, terrorist and lawless groups.
The EO, however, stipulates that the total additional combat incentive pay shall not exceed P1, 500 per Operations Order (OPORD) or Fragmentary Order (FRAG-O).
The directive states that the combat operation must be for a specific mission duly covered by an OPORD or FRAG-O and that the personnel involved in combat must be in the published task organization of the combat operation.
"This combat incentive pay shall be supplementary to the P500 per month combat duty pay that AFP members assigned in the field units are entitled to receive," Ochoa explained.
The initial funding requirement to implement EO 38 will be drawn from the Personal Services (PS) savings of the AFP during Fiscal Year 2010-2011. Succeeding budget for this presidential directive will be included in the General Appropriations Act.
EO 1017, which was issued on March 22, 1985, had set the combat duty pay of soldiers from P120 to P240 per month. Subsequently, EO 658, which was issued on September 6, 2007, granted an additional combat incentive pay of P150 per day to soldiers in recognition of their sacrifices being directly involved in actual combat operations.
On December 20, 2010, President Aquino issued EO 15, which provided for an additional combat allowance of P260 per month to increase it to P500 per month but removed the P150 per day incentive of the men in uniform in the field for combat operations.
With the issuance of EO 38, Ochoa said, soldiers taking part in actual combat operations can now receive their daily incentive pay on top of the monthly combat allowance.
"The intent of the administration is to improve the conditions of our soldiers, especially those in combat who risk their lives," Ochoa said. "We are taking measures to extend to them adequate compensation that is also commensurate to the services they render to contribute to nation building."
DILG to distribute P150M fuel subsidy for tricycle drivers
By DILG Office of Public Affairs
May 3, 2011
The Department of the Interior and Local Government is finalizing the list of tricycle franchisees nationwide to benefit from the P150 million earmarked by the government for its Pantawid Pasada program aimed to subsidize a portion of their average fuel consumption.
"We hope that through this program, we will somehow be able to help tricycle owners in bearing the brunt of the oil price increases," said Secretary Jesse M. Robredo of the Department of the Interior and Local Government (DILG).
The DILG chief said that of the about 990,514 tricycle franchise owners who stand to benefit from the program, 27% or 268,949 are from Calabarzon (Cavite, Laguna, Batangas, Rizal and Quezon) 22% or 221,392 are from Central Luzon, and 10.5% or 103,986 are from Metro Manila.
Under the program, each tricycle franchise owner shall receive a one-time gasoline subsidy of P150 per tricycle unit. The DILG on Friday released the implementing guidelines of the "Pantawid Pasada" program under the Public Transport Assistance Program (PTAP) of President Benigno S. Aquino III.
The guidelines were contained in a memorandum circular issued by the DILG Secretary to provincial governors, city and municipal mayors and the concerned officers of local legislative councils.
PTAP, which was created under Executive Order No. 32, s. 2011 issued by the Office of the President, is an urgent intervention aimed at cushioning the impact of high fuel prices on the marginalized sectors of society.
Under the guidelines, the concerned DILG regional office shall forge a memorandum of agreement with the concerned local chief executives who shall in turn cause the preparation and certification of the list of tricycle franchisees, addresses and number of operating tricycles.
The list shall serve as reference document in the computation of the subsidy by the DILG regional and field offices.
The guidelines also provide that the mayors shall set-up a PTAP Assistance and Complaint Desk to receive feedback and address the complaints of the beneficiaries, Robredo said.
Prior to the release of the subsidy, the mayors, in coordination with DILG field officials, are expected to conduct a local government-wide information drive, devise a system to effect an organized and orderly distribution of tricycle transport financial subsidy to the beneficiary-tricycle franchisees and ensure that only those included in the certified list shall benefit from the subsidy.
The DILG chief pointed out that it shall be the responsibility of the LGU concerned to strictly implement the provisions of the Executive Order, rules and regulations relative to the tricycle subsidy program.
"In case of any violation, the official authorizing the same shall be held responsible for whatever expenses the government incurred for not strictly following said issuances," he stressed.
Robredo directed all DILG regional directors to cause the immediate and widest dissemination of the directive to LGUs within their areas and provide them with necessary administrative advice and support to ensure the successful implementation of PTAP.
Who will win the first Red Cross Award for Humanitarian Reporting?
By ICRC Manila
April 29, 2011
MANILA – The winners of the Red Cross Award for Humanitarian Reporting – the first journalism contest organized by the International Committee of the Red Cross and the Philippine Red Cross – will finally be revealed on May 7, 2011.
The winners will be announced in the awarding ceremony slated at 1:30 p.m. in Richmonde Hotel, Ortigas, Pasig City. Around 23 finalists from the print, online and TV/radio media from different regions will attend the event, and officials from ICRC and PRC.
Profiles of the finalists, which include veteran mainstream and community journalists, may be viewed through www.redcross.org.ph/feature/humanitarianreportingaward2011
The competition launched on 12 August 2010 aims to promote responsible reporting of conflict situations by highlighting the plight of those affected by it.
"Journalists and humanitarian organizations have a common responsibility to ensure that those who are not fighting will be spared, and have a chance to lead normal life. The Red Cross Award is given to journalists who try to build a better future for people often forgotten or dismissed as 'collateral damage' of war," said Anastasia Isyuk, ICRC's communication coordinator.
Aside from ICRC and PRC, the judges hail from the contest's partner-organizations: International News Safety Institute, Peace and Conflict Journalism Network, Philippine Association of Communication Educators, and Rotary Club of Manila.
Guest judges include veteran journalists Vergel Santos of the Center for Media Freedom and Responsibility; and Rey Hulog, executive director of the Kapisanan ng mga Brodkaster ng Pilipinas.
The entries were screened on focus and date of coverage, after which 15 judges from partner-organizations and guest judges critiqued the finalists based on: evidence of research (30 percent); sourcing (20 percent); coherence/ organization (20 percent); style and presentation (15 percent); and conflict-sensitive reporting (15 percent).
Apart from the awarding ceremony, a program starting at 9 a.m. will delve into challenges on conflict reporting, and how best to address them.
Invited speakers are Prof. Miriam Coronel Ferrer, on the current situation of Philippine media coverage of conflict situations; Antonio Cruz, president of Bloggers' Association, on the role of new media in contemporary conflicts; and Agence France Presse correspondent Jason Gutierrez, on his experience in covering war and other situations of violence.
8ID calls on sectors to respect court processes on Acosta's case
By EMY C. BONIFACIO, Samar News.com
April 26, 2011
CATBALOGAN CITY – While the 8ID command acknowledges the right of everyone to express their opinions, they did not fail to show their disappointment over the misleading stories and twisted facts that brings about the brewing sympathy of a few sectors over the arrest of Ericson Acosta.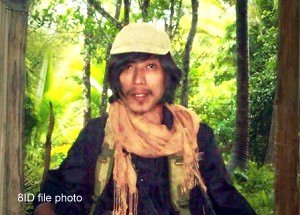 Ericson Acosta, 37 years of age, is presently detained at the Calbayog sub-provincial jail for a criminal charge on illegally possessing explosives docketed as Criminal Case # 11-050 filed at RTC Branch 41 in Gandara, Samar.
"It is anticipated that the legal front of the CPP and its allied organizations will stage propaganda activities in order to deny affiliation of Acosta in their mother organization", the 8ID spokesperson commented.
Major General Mario Chan, 8ID's commander, reiterates to the public that the rights of Acosta were respected during and after his apprehension.
"Acosta was accorded with respect by the apprehending troops. As we've done so in the past, we continue assuring our people that we will always be observant of human rights," the good general adds.
"In fact, his right to counsel and defend himself in court has been duly respected, a clear manifestation of our cognizance for a due process of law. A case has already been filed in court, so let's just wait for the case to take its due course. We submitted the case to the proper courts for resolution." Chan clarifies.
The statements came after reading reports that certain groups are calling for Acosta's immediate release from detention in a recently launched "Free Ericson Acosta Campaign", spearheaded by Acosta's former colleagues from the UP Philippine Collegian, UP Alay Sining and UP Amnesty International, as well as his former schoolmates from St. Mary's College, UST High School, his family and friends. (read Artists, journalists, academe call for release of detained cultural worker)
The Free Ericson Acosta Campaign has been calling on all concerned artists, freedom-fighters and human rights advocates to unite against political repression and attacks on human rights and civil liberties.
The campaign organizers claim that Acosta was illegally arrested last February 13 in San Jorge, Samar by members of the AFP's 34th IB on mere suspicion that he is a member of the New People's Army (NPA). "Moreover, he was in the company of a local barangay official when he was arrested and held for three days without charges and was subjected to continuous tactical interrogation by the military. He has been charged with illegal possession of explosives", Acosta's allies insist.
The 8ID leadership made it clear that they are not contesting Acosta's gift of intelligence and artistic skills as evidenced by the educational records, his past literary works and accomplishments in his chosen field as well as his alliances with other prominent personalities who have been working for the country's development.
"It was commendable of him to have those past accomplishments, as presented by his colleagues. We do not question that. Indeed, there are a lot of cultural workers who are openly advocating for reforms and they are given their freedom to exercise their expertise. However, on Acosta's case it seems that these groups have failed to establish the fact that he was arrested in the hinterlands of Samar. Did anyone of his colleagues wonder why he was in Samar, whom he was working with and what his project was before and during the time of his arrest? It is not even true that he was unarmed because documents/personal belongings retrieved showed pictures of him armed with an M16 rifle. If he's a plain media or cultural worker, why is he armed?" explains MGen. Chan while showing pictures of Acosta to the media.
Initially, the Commanding General refuses to offer more information regarding this case as this has already been forwarded to the court for resolution, but was forced to shed light on queries from the local media.
Reports on the case revealed that Ericson Acosta was arrested in the vicinity of Brgy. Bay-ang in San Jorge, Samar while about to board on a motor boat. When intercepted, he allegedly attempted to draw out from his pocket a hand grenade.
An informant positively identified Ericson Acosta, alias August Lim, to be working under the Instruction Bureau of the National Education Department of the CPP-NPA-NDF's Central Committee. Some other local villagers voluntarily offered testimonies on the alleged activities of Acosta.
Furthermore, it was learned that Acosta was sent by the CPP to facilitate the production of various propaganda materials such as "Ang Bayan", an underground movement newsletter. Troops also recovered from Acosta one (1) laptop notebook with complete accessories and spare battery, an external hard drive, Globe tattoo (USB globe broadband), one (1) unit Nokia 3530, 6 pcs SIM cards, a cash amounting to Four Thousand Eight Hundred pesos (P4,800.00) only and his personal belonging.
As of this writing, www.samarnews.com published at its discussion board, Acosta's press statement, dated April 15, 2011. (read Acosta's writing)
It was learned that Acosta personally drafted his own counter-affidavit and had it sent to his defense lawyers which is being handled by a legal team from the National Union of People's Lawyers (NUPL), led by Atty. Jun Oliva and Atty. Rey Cortez.
Particularly, he mentioned that he has completed draft of a regional human rights situationer that focused on the cases of human rights violations in Barangay Bay-ang in San Jorge, Samar.
"I was in Bay-ang at the time of my arrest precisely to follow-up on these cases", adds Acosta.
"The heat inside the cell is simply oppressive – there is no ceiling here, the lone window is less than a square foot, and my tarima is just beside two charcoal stoves that burn non-stop. The noise outside and the frenzied – sometimes juvenile, sometimes zombie-like goings on among my 12 kakosas inside a stifling, cramped-up space are just too distracting, disorienting", was Acosta's description of the Calbayog jail while trying to apologize for his rambled writing.
He calls on human rights advocates to amplify his case in order to put on pressure to the government that would ultimately free all political prisoners. He explained that while he is the principal subject of the Free Ercison Acosta Campaign, he is enlisting himself to be its principal mass leader and propagandist as well.
Greenpeace calls on Philippine government to abandon nukes on Chernobyl anniversary
Press Release
April 26, 2011
MANILA – Greenpeace today marked the 25th anniversary of the Chernobyl nuclear disaster with a call to governments of Southeast Asia to abandon all plans of developing nuclear power plants in the region to ensure the safety of its citizens. Greenpeace is calling on Philippine President Noynoy Aquino to invest heavily in energy efficiency and harness clean, safe renewable energies to meet the country's energy requirements instead of dirty coal and dangerous nuclear energy.
In Metro Manila, Greenpeace activists in black cloaks and masks took the message to the doorsteps of the Department of Energy, as they held a grim procession highlighting 25 of the world's worst nuclear disasters to challenge Energy Secretary Jose Almendras to strike out all nuclear options in Philippine energy plans.
"Chernobyl is to date the world's worst civilian nuclear accident, but the unfolding disaster in Fukushima, Japan, demonstrates that no amount of technological sophistication or safety culture can prepare any country or its people for the inherent dangers of nuclear energy. Like in Chernobyl, the Fukushima incident has shown that we cannot control or manage nuclear energy and its fallout," said Amalie Obusan, Greenpeace Southeast Asia Climate and Energy Campaigner.
A quarter of a century after Chernobyl, the situation in the area surrounding the Chernobyl reactor shows few signs of improvement. Widespread contamination, constant resettlements and long-term health impacts still pose threats to communities. And, despite 'modernizations', the root causes of nuclear technology's vulnerability to accidents remain the same: unexpected technological failures, operator errors, poor safety standards due to political and economic pressures, lack of transparency in the industry as a whole, and natural disasters.
However, the Philippine Energy Plan for 2009-2030 still contains options for the adoption of nuclear power in the country. Under the Energy Reform Agenda of the current administration, part of the DOE's thrusts for 2013-2016 is to strengthen policy researches and studies in aid of executive and legislative action that will facilitate the operation of a 2,000-megawatt nuclear power plant in 2025.
Strong public resistance in 2008 derailed plans to revive the mothballed Bataan Nuclear Power Plant. But the Philippines, as with rest of the ASEAN countries, despite their vulnerability to natural disasters in the Pacific "ring of fire" and their general lack of disaster preparedness, have not yet ruled out nuclear power and the great costs and risks it entails.
Costs to manage the Chernobyl disaster which up to now continues to drain Ukraine and Europe millions of Euro annually, is estimated to cost more than 13 times the Philippine government's budget for 2011. The disaster also severely contaminated between 125,000 and 150,000 square kilometres (equivalent to around half the Philippines' total land area) in Belarus, Russia and the Ukraine. A Greenpeace-commissioned study based on Belarus national cancer statistics estimated that approximately 270,000 cancers and 93,000 fatal cancer cases will be caused by Chernobyl.
Greenpeace believes that to secure a safe and better future, countries must choose renewable energy over nuclear power. Greenpeace has long argued that renewable energy has the potential to meet a substantial share of our future energy demand. The Energy [R]evolution scenario details how – combined with energy efficiency and a transformed electricity grid – renewable energy could produce 95% of electricity worldwide by 2050. Other studies have made predictions for different time frames or regions. PricewaterhouseCoopers, for example, predicts that Europe and North Africa could run on 100% renewable energy by 2050.