NDF-EV criticizes MSQRT as a palliative measure and a platform for absolving human rights violators
By NDF-EV
May 14, 2011
The National Democratic Front-Eastern Visayas said today that extra-legal killings and enforced disappearances will not be solved by the Multi-Sectoral Quick Reaction Team (MSQRT) called "Kasugbong" in Western Samar and involving the military, police and other government agencies and non-governmental organizations. The initiative is backed by the Euro-Phil Justice Support Program, The Asia Foundation, and the Ateneo Human Rights Center. "Does it not bother the proponents of this MSQRT that it campaigns against extra-legal killings and enforced disappearances but enlists the military and police, who have often been accused as the very perpetrators of such crimes?" asked Fr. Santiago Salas, NDF-EV spokesperson. "Moreover, the MSQRT appears to address only the mechanics of trying to solve such human rights violations, while ignoring such essential issues as the impunity of state security forces and the larger social context of the civil war. The MSQRT seems no different than previous forums and dialogues where human rights violations are discussed but nothing substantial achieved. (see related story)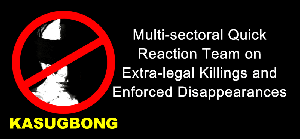 "If the state security forces remain unaccountable for their crimes, and if the roots of the civil war are not addressed, the MSQRT will be nothing more than a palliative measure as more victims will be claimed."
Likewise, Fr. Salas noted that the MSQRT initiative also obscures the responsibility of the Philippine government for human rights violations and the continued denial of justice for the victims. "The military went amok during Gloria Arroyo's in implementing Oplan Bantay Laya and going on a killing spree of political activists as well as alleged supporters of the revolutionary movement. Today, such crimes remain unsolved after the Aquino regime took over. Worse, the Aquino regime is continuing the climate of impunity with extra-legal and other human rights violations under its own "counterinsurgency" program, Oplan Bayanihan. There is nothing in the MSQRT to show that participating military and civilian officials will not take advantage of it to proclaim their innocence rather than genuinely render justice. "
The NDF-EV spokesperson added that the 8th Infantry Division chief, Gen. Mario Chan, had pushed the military's agenda in joining the MSQRT. "For example, Gen. Chan made the MSQRT a platform for absolving the military's abuses in claiming that the rights of cultural worker Ericson Acosta were respected when he was arrested last February. But Acosta has exposed through the internet that he was threatened with extra-legal killing, continuously interrogated for almost 48 hours, planted with evidence (a grenade), and continues to be harassed by the military while currently detained in Calbayog City. Gen. Chan also called Acosta a member of a "local terrorist group" – an arrogant contradiction to the admission by government chief peace negotiator Alexander Padilla that the CPP-NPA-NDFP is not a terrorist group."
Fr. Salas also said that the 8th ID only intends to use the MSQRT to deodorize its "counterinsurgency" operations. "In the meeting to form the MSQRT – supposedly a human rights project – Gen. Chan ridiculously promoted the Millenium Road Project, which is funded by the US and backed by the military. The fascist general claims this will solve "lawlessness" and deliver basic services. In fact, Gen. Chan is pushing the project to justify widespread military operations and to hasten on large-scale logging and mining opposed by the people."
The NDF-EV spokesperson cautioned the people on the MSQRT and concluded that the people can only attain justice for human rights violations through their revolutionary and militant struggles. "The people must continue to broaden the opposition to political repression, demand justice for the victims of human rights violations, and bring to account Gloria Arroyo and other human rights violators. The people must call on the Aquino regime to end the impunity of state security forces and stop Oplan Bayanihan. The people must continue to support the peace talks between the Philippine government and the NDFP, as well as the implementation of the Comprehensive Agreement on Respect for Human Rights and International Humanitarian Law and other standing peace agreements. The people must continue to struggle for a just and lasting peace, to finally end the vicious cycle of fascist state terrorism."
AHRC congratulates KASUGBONG's successful launch
By EMY C. BONIFACIO, Samar News.com
May 14, 2011
CATBALOGAN CITY – The Ateneo Human Rights Center (AHRC) extended its warmest congratulations to KASUGBONG Samar for its very successful and meaningful launch activity held at Cocina de Cabral, Catbalogan City on May 9.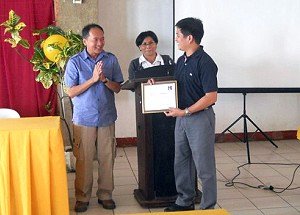 Acting Executive Director Atty. Ray Paolo Santiago (right) of the Ateneo Human Rights Center receives plaque of appreciation from Kasugbong convenors Fr. Cesar Aculan & Emy Bonifacio.
KASUGBONG Samar is a Multi-sectoral Quick Reaction Team on Extra-legal Killings (ELKs) and Enforced Disappearances (EDs).
The setting up of the MSQRT in Samar is an offshoot of a series of exploratory meetings held in Catbalogan City which were spearheaded by the AHRC, particularly, Atty. Patricia Cervantes and Atty. Ma. Krizna Gomez.
The Samar MSQRT was organized as a general commitment from member-institutions to address the growing concern on human rights violations. Through KASUGBONG, a mechanism involving government agencies and civil society groups that would facilitate an immediate response, including psycho-social assistance, investigation, prosecution and appropriate measures, to families and victims of ELKs and EDs will be made available.
The launch was very well attended by highly respected heads of the various institutions that have signified to enter into a collaborative effort with other stakeholders. Each member-institution will be contributing within the context of their mandates to promote KASUGBONG and the enhancement of services to address the needs of target beneficiaries.
The signing of the Memorandum of Understanding and Pledge of Commitment highlighted the launch activity.
The signatories of the MOU were MGen. Mario F. Chan, 8ID Commanding Officer; P/Sr. Supt. Ronald Macapagal, PNP Provincial Director; Ms. Luz Tacal, PSWDO; P/CInsp. Joseph Pensotes, Catbalogan Police Station; Lt Col. Niceforo Diaz, CMO Bn, 8ID; Mr. Roque Limse, Alliance of Concerned Employees (ACES); Atty. Neddejohn Mabute, Commission on Human Rights (CHR); Engr. Ray P.Gaspay, Samar News.com; Mr. Antonio Pueblos, Radyo ng Bayan (DYOG); Ms. Cleta Omega, TESDA; SI Geovel Aperio, NBI; Ms. Christine Caidic, MATA-Samar; Ms. Myra M. Tambor, KSFI; Mr. Jody Ocenar, BEC; Ms. Annie Mustacisa, CSWDO; Gina D. Ragudo, Media; Atty. Medino Acuba, IBP; Fr. Cesar Aculan, Social Action Center, Diocese of Calbayog and Mr. Dominador Cabanganan, Samar Chamber of Commerce and Industry (SCCI).
The MOU signing made by the various sector-representatives was done in the presence of AHRC's Acting Executive Director, Atty. Ray Paolo Santiago. Santiago congratulated the group for its successful launch. He assured the group for more capacity building activities through the AHRC with the hope that the commitments be transformed into actions.
The various groups committed to adopt measures for the promotion and protection of human rights; to document human rights violations; to serve as "pressure group" in the eradication of human rights violations and to recognize and uphold collective responsibilities in the effective management and furtherance of the objectives of KASUGBONG.
The 8ID Commander, MGen Mario F. Chan assures KASUGBONG partners and the Samarnons that they will always be accorded with the highest respect and that the promotion of human rights will always be a leadership priority.
"The AFP would want to be a catalyst to Samar's development. We don't want to be here as simple protectors of the citizens. We will always be responsive to the development needs of the community. In fact, I have made an extra mile in visiting remote areas to assess road infrastructure needs and submit the same report to the RPOC for its funding requirements. I am glad that I already have the assurances of the governors and the congressmen who would be directly involved in interconnecting the tri-boundaries of Samar Island. The interconnection of the Samar provinces through these road nets will surely expedite solution to the insurgency problem" Chan elaborates.
The successful launch of KASUGBONG was credited by the AHRC to the efforts of Ms. Emy C. Bonifacio who worked on a very tight schedule and budget and the untiring support of Fr. Cesar Aculan. Bonifacio and Aculan are also active advocates on anti-corruption in the province.
"We are very grateful for the positive response from the stakeholders. It wasn't easy to have those big personalities in one room in just a short notice. It simply means that Samar is ready for a positive change. We should strive harder to address human rights violations and corruption hand-in-hand since these are two main concerns that have been plaguing Samar ever since. I just hope that the passion for developing Samar continues." Bonifacio was head explaining.
Immediately after its launch, KASUGBONG facilitated a three-day Forensic Training Workshop for Police Investigators and Municipal Health Officers with Dr. Raquel Fortun as the Resource Speaker.
President Aquino streamlines gov't procurement process
Press Release
May 12, 2011
MALACAÑANG – President Benigno Aquino III has expanded the government procurement process by increasing the limit of advance payments on purchase contracts in a bid to give equal opportunities to local suppliers while making sure tax coffers stay protected in case of a bad deal.
Executive Secretary Paquito N. Ochoa Jr. said on Thursday that under Memorandum Order (MO) No. 15 signed by the Chief Executive on May 9, government agencies are now allowed to make advance payments of up to 15 percent of the contract price of goods, supplies and materials purchased locally or from abroad, provided that these transactions are secured by an irrevocable letter of credit or bank guarantee.
Ochoa said MO 15 amended a provision in the Implementing Rules and Regulations (IRR) of Republic Act (RA) 9184 or the Government Procurement Reform Act, which allows a 10 percent advance payment for goods supplied from overseas.
RA 9184 provided a specific and limited exceptions to the rule against advance payment as prescribed in Section 88 of the Presidential Decree (PD) No. 1445, or the Government Auditing Code. The Code generally prohibits advance payment for services not yet rendered or for supplies and materials not yet delivered under any government contract unless prior approval of the President is obtained.
"The purpose of the prohibition against advance payment is to protect the government from the possibility of not receiving goods, supplies and materials for which it has already paid. However, this problem is squarely addressed by the requirement of prior submission of an irrevocable letter of credit or bank guarantee from which the government may seek reimbursement when necessary and without complication," Ochoa pointed out.
Ochoa said the presidential directive was based on the recommendation of the National Economic Development Authority (NEDA) to raise the allowable amount of advance payment to 15 percent from 10 percent of the contract amount.
He said the NEDA also proposed that the rule be expanded to include procurement of goods, regardless of their source, consistent with the Aquino Administration's policy of giving equal opportunities to local businessmen.
"The limitation, which applies only to goods supplied from abroad, runs counter to the policy towards giving equal opportunities to local suppliers," Ochoa said.
But in order to provide sufficient safeguards for the government, Ochoa said MO 15 included a provision authorizing advance payment only upon submission of an irrevocable letter of credit as an alternative to a bank guarantee.
This would mean that government agencies are given the "blanket authority" in the procurement of goods, supplies and materials as long as the supplier submits the prescribed security.
"Nonetheless, the proposed revision still fulfills the legislative purpose of protecting the government since the advance payment is secured by an irrevocable letter of credit or bank guarantee," Ochoa said.
An irrevocable letter of credit ensures the beneficiary that if the required documents are presented and the terms and conditions in the contract are complied with, payment will be made.
8ID supports the PNP and the community in the fight against ELK-ED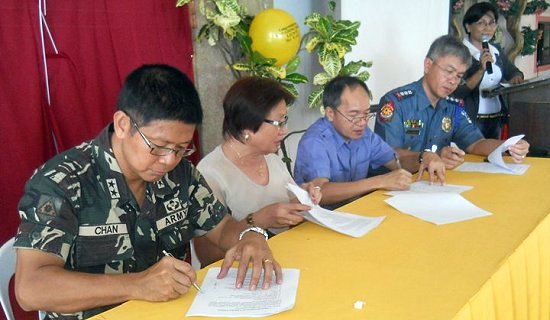 (L-R) 8ID commander MGen Mario Chan, Samar PSWDO Luz Tacal, Social Action Center head of the Diocese of Calbayog Fr. Cesar Aculan and Samar Police director PSSupt Ronal Macapagal, during signing of the Memorandum of Understanding at Cocina de Cabral, Catbalogan City, May 9, 2011.
By CMO Battalion, 8ID PA
May 10, 2010
CAMP LUKBAN, Catbalogan, Samar – The 8ID joined the Provincial PNP leadership and other government and non-government representatives in the launching of Multi-Sectoral Quick Reaction Team (MSQRT) dubbed as "Kasugbong" on Monday at the Cocina de Cabral, Catbalogan City. This move hopes to address Extra-Legal Killings and Enforced Disappearances (ELK-ED).
Spearheaded by Kasugbong and supported by the Euro-Phil Justice Support Program (EPJUST), The Asia Foundation and the Ateneo Human Rights Center, a Memorandum of Understanding (MOU) and Pledge of Commitment were signed by all stakeholders on the same occasion.
In his message, 8ID Commander Major General F. Mario Chan AFP expressed his commitment of support and cooperation to the ideals of the group. He cited his standing policy to all soldiers to observe respect of human rights and the exercise of the rule of law during the conduct of ISO. As such, these are now being implemented as evident in the capture and arrest of a certain Erickson Acosta, who was identified to be a member of a local terrorist group (LTG) in Samar Island. The rights of the suspect were respected when he was accosted last February, 2011.
General Chan encouraged the stakeholders to put up a collective fight against extra legal killings and terrorism to promote a safe environment. Being a member of the Regional Development Council himself, he mentioned current efforts to push through with road development projects that are expected to curb lawlessness by way of faster delivery of basic services and response to natural and manmade disaster.
First Red Cross Award honors outstanding humanitarian reports
By ICRC
May 10, 2011
MANILA – Human-touch stories about civilian deaths and children's rights in armed conflict won the judges' nod in the first Red Cross Award for Humanitarian Reporting.
Inquirer Mindanao bureau correspondent Frinston Lim took the top spot in the print category for his article "Women grieve over landmine deaths" while Marya Salamat of Bulatlat.com won first place in the online category for "Child rights advocates bewail distortion of child protection principles for counter-insurgency."
The winners of the Red Cross Award for Humanitarian Reporting – the first media contest held by the International Committee of the Red Cross (ICRC) and Philippine Red Cross (PRC) – were revealed in an awarding ceremony on May 7 at Richmonde Hotel, Ortigas, Pasig City.
Red Cross officials Christoph Sutter, ICRC deputy head of delegation to the Philippines; Richard Gordon, PRC chairman; and Gwendolyn Pang, PRC secretary general, handed trophies to the winners who include:
For print: Stella Estremera of Sun.Star Davao (second place) for "New legs, new life"; Fernando del Mundo of Philippine Daily Inquirer (third place) for the three-part series "New Centurions"; for online: Ina Alleco Silverio of Bulatlat.com (second place) for "Child soldiers or victims?"; and Andreo Calonzo of Gmanews.tv (third place) for "A year after Ampatuan massacre, local journalists struggle to stay safe."
Special awards were also given to Ed Lingao of Philippine Center for Investigative Journalism, for "Maguindanao, isang taon" (TV documentary); Marga Ortigas of Al Jazeera for "Splinter group seen as threat to peace" (TV news); and Malu Manar of DXND-NDBC for "The armed conflict in Kabacan, North Cotabato" (radio).
"Lim's story provided a deeper look into the deaths of three civilians through a landmine explosion in Compostela Valley, while Salamat's article delved into the protection of children, especially those accused of being combatants. Both stories gave analysis and a human face to the armed conflict situation in the Philippines," said Anastasia Isyuk, ICRC's communication coordinator.
Around 23 finalists competed in the Red Cross Award, which was launched on 12 August 2010 in celebration of International Humanitarian Law (IHL) day. The competition aims to promote responsible reporting of conflict situations by highlighting the plight of those affected by it.
A panel of 15 judges (five per category) hail from the ICRC, PRC, and partner-organizations International News Safety Institute, Peace and Conflict Journalism Network, Philippine Association of Communication Educators, and Rotary Club of Manila.
Guest judges include veteran journalists Vergel Santos of the Center for Media Freedom and Responsibility; and Rey Hulog, executive director of the Kapisanan ng mga Brodkaster ng Pilipinas.
Entries were screened on focus and date of coverage, after which the finalists were adjudged based on: evidence of research (30 percent); sourcing (20 percent); coherence/ organization (20 percent); style and presentation (15 percent); and conflict-sensitive reporting (15 percent).
Aside from the awards ceremony, a program starting at 9 a.m. focused on the challenges of conflict reporting, and how best to address them.
Invited speakers were Prof. Miriam Coronel Ferrer, on the current situation of Philippine media coverage of conflict situations; Antonio Cruz, president of Bloggers' Association, on the role of new media in contemporary conflicts; and Agence France Presse correspondent Jason Gutierrez, on his experience in covering war and other situations of violence.
"The media's voice should be heard in favour of proper and responsible behaviour in wars. We hope that the number journalists who are interested in humanitarian analysis of conflicts continue to grow, and that the second award will receive more entries and support across the Philippines," said Anastasia Isyuk, ICRC's communication coordinator.
Knockdown was a mistake, admits Bayless
By ALEX P. VIDAL / PNS
May 9, 2011
LAS VEGAS, Nevada -- It was the way he saw it but Kenny Bayless admitted he made a mistake when he credited Sugar Shane Mosley with a knockdown in the 10th round during the WBO welterweight fight May 7 at the MGM Grand.
"It was a call I missed," Bayless, 61, told this writer several minutes after Manny Pacquiao was declared winner by unanimous decision in 12 rounds.
"I already whispered it to Pacquiao."
Bayless was booed when he rendered a mandatory 8-count in the 10th round after Pacquiao fell while Mosley was on attack. A replay showed Pacquiao fell from a push.
The referee hesitated for a few seconds before giving the mandatory count that would have given Mosley the round for an automatic 10-8 had it not been for refusal of the judges to count it as knockdown.
Pacquiao was a little bit embarrassed after that controversial call and decided to step up the gas in an effort to knock out Mosley who kept Pacquiao at bay with repeated embrace and back-pedalling.
"Pacquiao was fast and very unpredictable," observed Mosley, 39, who impaired to 46 wins, seven losses, one draw with 39 stoppages.
Despite the setback, Mosley said he would not quit and would continue his boxing career. He was haunted by age issue from start to finish and became an 8-1 underdog.
The American four-time world champion in three weight divisions though was "satisfied" that he finished the fight despite brickbats about his age.
Pacquiao claimed "I did my best" (to stop Mosley) and admitted he could not hit Mosley in later rounds because of his defense and refusal to mix up.
Bob Arum said he might tap Juan Manuel Marquez to be Pacquiao's next opponent to complete the trilogy in November this year.
Dionisia, the boxer's mother who stayed in the Philippines, reiterated her appeal for her 32-year-old son, an elected congressman, to quit boxing.
She first goaded Pacquiao to end his boxing career after Pacquiao flattened Ricky Hatton in two rounds also in Las Vegas in 2009.
The son ignored her.
RD PRO8 orders suspension of permit to carry firearms outside residence in Western Samar
Press Release
By PRO8
May 4, 2010
CAMP RUPERTO K. KANGLEON, Palo, Leyte – PCSupt Arnold R. Revilla, RD PRO8 has issued directive on the suspension of permit to carry firearms outside residence (ptcfor) in Western Samar following the shooting of Calbayog City mayor Reynaldo Uy that resulted to his death while undergoing treatment at St. Paul's Hospital last april 30, 2011 during the fiesta celebration of Hinabangan, Samar.
Memorandum from Police Director General Raul M. Bacalzo, Chief PNP, revealed that the continuing commission of incidents involving the use of firearms in Western Samar is greatly affecting the overall peace and order condition in the province. To end the perceived "culture of violence" and improve the peace and security in the province, there is a need to limit the number of firearms proliferating in the streets, both the registered and loose firearms.
In this regard, all permits to carry firearms outside of residence are hereby suspended effective May 1, 2011 in the province of Western Samar. Only members of the PNP, AFP and other law enforcement agencies who are performing official duties will be allowed to carry firearms in the province.
The regional director said, the implementation of the directive will be through the police integrated patrol system and other police operations in coordination with the AFP and other law enforcement agencies.