DENR 8 intensifies forest protection efforts
By PURIFICACION S. DALOOS
April 6, 2010
TACLOBAN CITY – "We will not leave any stone unturned and we will unite our forces to combat the timber poachers and other forest law violators in the region. These were the stern words of Regional Executive Director Primitivo C. Galinato, Jr. before all the Forest Rangers of the Department of Environment and Natural Resources, Region 8.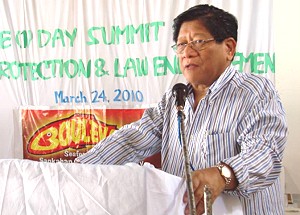 RED Galinato addressing the Forest Officers in Region 8 to intensify their efforts in combating illegal logging activities.
The first in the history of the DENR 8's forest management, RED Galinato recently called on the 121 Forest Protection Officers in the region to a one day summit on forest protection and law enforcement at a restaurant in Sagkahan, Tacloban City. The summit came in the heels of various reports and complaints reaching the DENR to control reported illegal logging activities going on in some parts of the region.
Said summit provides an avenue for the exchange of experiences and strategies in forest protection which worked well in an area worth replicating in other areas specially those identified as hot spots for illegal logging. During the summit, the forest rangers' collective strengths in enforcing forestry laws and regulation were also assessed, their operational problems and needs were collated for DENR management to address.
Regional Technical Director Felipe S. Calub of the Forest Management Service committed that all concerns gathered from the forest rangers during the summit will be considered in the regional forest protection plan which shall address the problem confronting forest management in region 8.
RED Galinato, upon his assumption as the DENR Regional Chief on November 10, 2009, vowed to strengthen forest protection and law enforcement in his management direction, "from the ridges to the reefs". This means that a well protected forest will result to well managed lowland and coastal areas. Forest is the mother of all ecosystems. If the forest is destroyed all the other ecosystems will be adversely affected, he said.
Galinato expressed that forest conservation is a very tough job. It needs the cooperation of every citizen. Strengthening forest protection and natural resources conservation has to start from within the Department specifically through the forest rangers. They have to be organized and capacitated in terms of logistical support, equipments and enhancement of their knowledge on law enforcement.
However, we also need the support of other partners of the DENR like the military, police, other law enforcement agencies as well as the entire citizenry, in combating the illegal activities in the forests. We shall also take a look at the operation of the lumber dealers in the region because some of them are only used as front in the illegal transport of forest products.
The efforts on environmental protection and natural resources conservation are all directed to address the clamor of various sectors to halt all illegal activities in the forests. "All illegal activities must be stopped. Instead, we should all plant trees in order to sustainably address our lumber needs in the future. Trees are renewable resources. Plant trees so that we can have something to be harvested tomorrow. Maintaining an adequate forest cover can also help in solving the problem of global warming and climate change," Galinato quipped.
NPA claim of killing three soldiers in Comval, proof of communist bloodlust and ploy to deceive people
By DPAO, 10th Infantry Division, PA
April 6, 2010
CAMP APOLINARIO, Panacan, Davao City – In yet another ploy to deceive the people, New People's Army (NPA) terrorists claim that they killed three soldiers in a gunbattle in the village of Malinawon in Mawab town Compostela Valley Province noon of April 4, Sunday.
The 10th Infantry Division pays tribute to the soldier who heeded the call of duty and paid the supreme sacrifice in service to the country, the flag and the people. Private First Class Bimbo Ulsa of Baler Aurora was killed in action while he and his team were responding to reports of residents regarding armed individuals who were accompanying people doing house to house political campaign in the village. One slightly wounded soldier is currently recuperating at Panacan station hospital.
Improvised explosive devices were recovered by troops which show the communists' malevolent intent in the use of such explosives which pose danger even to non-combatants.
Consistent with their policy of bloodlust, the Maoist communists were ever happy and rejoiced the death of a soldier and even spread lies and maliciously hiked-up the death toll as they did with the Baganga encounter a week ago when in an arrogantly joyful mood, the Local Terrorist Front-15 (LTF-15) of the NPA claimed that they killed six soldiers.
This time Local Terrorist Front-33 (LTF-33) did the same by spinning make believe stories of victories while they continually hid their casualties from the eyes of the people when in fact they have repeatedly abandoned their comrades in the heat of battles and those who were lucky to be brought by their comrades were buried in shallow graves in the mountains. Such claim is in line with their aim of projecting strength and to sow fear in the locality in furtherance of their systematic extortion activities which include their so called "Permit to Campaign fee."
The NPAs have suffered considerable losses in terms of lives in the two encounters that happened in Baganga, Davao Oriental and in Mawab Compostella Valley province as revealed by residents in villages were they passed-by but have constantly denied the deaths of their own men in line with their policy of complete denial to the detriment of the families of those who perished.
We express sadness on the death of those NPAs who have been lured into believing a lost cause only to be denied proper burial by their communist bosses hence we call on people who might have knowledge of their burial sites to inform their families and the authorities so that they may be accorded funeral with the dignity of a human being.
It is our prayer that those who perished rest in peace.
RP joins other countries in observance of World Health Day on April 7
By Philippine Information Agency (PIA 8)
April 5, 2010
TACLOBAN CITY – The country joins other nations of the world in the observance of World Health Day of April 7, the day when the World Health Organization was founded in 1948.
This year's World Health Day activities will center on the theme "Urbanization and Health" which was selected for World Health Day in recognition of the effect urbanization has on the collective health globally and individually.
In 2007, the world's population living in cities surpassed 50% for the first time in history and this proportion is growing. By 2030, six out of ten people will be city dwellers rising to seven out of every ten people by 2050.
The world is at a clear turning point, moving towards an increasingly urbanized world and with it, the need to embrace the consequences this can have for health, both the benefits and the challenges. There is a need to ensure that growing cities are healthy cities.
Urbanization is associated with many health challenges related to water, environment, violence and injury, non-communicable diseases (NCDs) and their risk factors like tobacco use, unhealthy diets, physical inactivity, harmful use of alcohol as well as the risks associated with disease outbreaks.
With the Department of Health as the lead agency, the Philippines will join in the 1000 cities 1000 lives campaign which encourages cities and individuals to work across multiple agencies with a wide range of partners to have the most lasting impact on health. The global goal is for 1000 cities to participate in the World Health Day campaign.
The campaign calls upon cities to close off portions of streets to motorized traffic and open them up for health activities for one day during the week of April 7 through Sunday, April 11.
Activities such as town hall meetings with mayors, clean up-campaigns, and promoting social solidarity by encouraging citizens to visit neighbors, orphanages, patients in hospitals, and underprivileged communities to extend a helping hand are also welcomed.
One of the overarching goals for World Health Day is to integrate the Day within a sustained public health strategy as demonstrated through a series of regular activities, either at the street, neighborhood, local, national or regional level. The Day should serve as a start or a symbol of a sustained commitment to incorporate health more broadly in urban public policy.
The Day can trigger the long-term commitment to approach health from a social determinants point of view addressing the factors and conditions that can determine health outcomes across multiple sectors, engaging a wide array of partners including civil society and individual citizens.
The Philippines through the Department of Health is committed to help in the achievement of the objectives of the World Health Day, to draw worldwide attention to the theme of urbanization and health; and to engage governments, international organizations, business and civil society in a shared effort to put health at the heart of urban policy.
Schools must pay P15 documentary stamp tax for each diploma, official transcript given to students, BIR says
By Philippine Information Agency (PIA 8)
April 4, 2010
TACLOBAN CITY – As the time for students to enroll to higher institutions or to transfer in other school comes, the Bureau of Internal Revenue is reminding all schools to pay the documentary stamps.
Each diploma and official transcript of records given to students must have documentary stamp which costs P15, the BIR said.
Furthermore, all documentation issued by these schools including certifications, transcripts and other records, are subject to the DST pursuant to Section 188 of the Tax Code.
Documentary Stamp Tax is defined as a tax on documents, instruments, loan agreements and papers evidencing the acceptance, assignment, sale or transfer of an obligation, right or property incident thereto.
The untaxed document will not be recorded, nor will it or any copy thereof or any record of transfer of the same be admitted or used in evidence in court until the requisite stamp or stamps have been affixed thereto and cancelled.
No notary public or other officer authorized to administer oaths will add his jurat or acknowledgment to any document subject to Documentary Stamp Tax unless the proper documentary stamps are affixed thereto and cancelled.
In line with its tax information campaign under "Making the Public Know" initiative, BIR Commissioner Joel Tan-Torres is appealing to all primary, secondary and tertiary schools to comply with this tax obligation.
The students requesting for certifications, transcript of records and other official documents must see to it that they pay the documentary stamp tax.
PGMA makes RP as 1st Asian country to adopt UN decree on women in armed conflict
By Philippine Information Agency (PIA 8)
April 3, 2010
TACLOBAN CITY – President Gloria Macapagal-Arroyo has made the Philippines the first country in Asia to adopt the United Nations Security Councils Resolutions, when she recently signed Executive Order No. 865 creating a National Steering Committee on Women, Peace and Security to implement said UN decree.
The Philippines has scored another first in Asia, this time as the first country in the continent to adopt a national action plan ensuring human rights of women in armed conflict.
An article on the Office of the Presidential Adviser on the Peace Process (OPAPP) website said this is in compliance with the UN Security Council Resolutions 1325 and 1820 for member countries to implement a National Action Plan on Women, Peace and Security.
President Arroyo also provided an initial funding of P5 million taken from her contingency fund for the steering committee. Succeeding funding will be from the OPAPP.
The Philippine National Action Plan on Women, Peace and Security has four goals.
The first is Protection and Prevention, to ensure the protection and prevention of violations of women's human rights in armed conflict and post conflict situations.
The second is Empowerment and Participation, to empower women and ensure their active and ensure their active and meaningful participation in areas of peace building, peacekeeping, conflict prevention, conflict resolution and post-conflict reconstruction.
The third is Promotion and Mainstreaming, to promote and mainstream gender perspective in all aspects of conflict prevention, conflict resolution, and peace building.
Last but not the least is Capacity Development and Monitoring and Reporting, to institutionalize a monitoring and reporting system to monitor, evaluate and report to enhance accountability for the successful implementation of the NAP and achievement of its goals.
OPAPP head Annabelle Abaya, who led the formal launching ceremony in partnership with the Philippine Commission on Women (PCW) and Sulong CARHRIL (Comprehensive Agreement on Respect for Human Rights and International Humanitarian Law) in Quezon City, cited the crucial role of women in putting an end to armed conflict because they are basically compassionate, kind and understanding.
She also said she will propose an establishment of an advisory group composed of representatives from civil society that will help monitor and evaluate reports of the NAP.
PGMA's SIP benefits 15 East Samar former rebels
By Philippine Information Agency (PIA 8)
April 1, 2010
TACLOBAN CITY – No less than fifteen (15) former members of the New People's Army from the different areas of Eastern Samar are the newest beneficiaries of President Gloria Macapagal-Arroyo's Social Integration Program for rebel returnees which is being implemented by the Office of the Presidential Adviser on the Peace Process.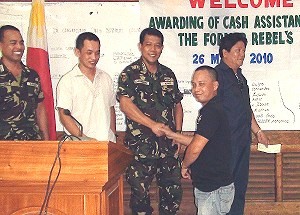 (L-R) Cpt. Sergio Sabiano, Jr., CMO officer of 801Bde, Mr. Florentino Somera, Jr., Regional 8 Coordinator of OPAPP, Col. Jaime Ferdinand Hidalgo, Commanding Officer of 14IB, and Mr. Rebamontan Gil, PSWD officer of Eastern Samar during the awarding of cash assistance to the former rebels under Social Integration Program (SIP), March 26, 2010.
First Lieutenant Jeffrex G. Molina, the assistant Chief of the Public Affairs Office of the 8th Infantry Division, informed that the awarding of an initial cash benefit of P20,000 to each of the former rebels was done on March 26, 2010, at the conference Room of the Eastern Samar Provincial Capitol in Borongan City.
The checks were personally handed over to the beneficiaries by Mr. Florentino Somera, Jr., Regional Coordinator of OPAPP in Region VIII, Mr. Rebamontan Gil, Provincial Social Works and Development Officer of Eastern Samar, Captain Sergio Sabiano, Jr., Commanding Officer of 801st Brigade, and Col. Jaime Ferdinand Hidalgo of the 141 Battalion.
Mr. Somera said that the government will continue to review the said program in order to address the much needed support for the former rebels who returned to the folds of the law.
This will encourage more rebels who are still in the underground movement to avail of the program, Mr. Somera said.
Mr. Somera informed that the beneficiaries will also be receiving livelihood benefits that will be awarded as soon as the validation for their papers has been completed.
This was the second time last week that the OPAPP awarded such benefits to former rebels who voluntarily came back into the folds of law.
It would be recalled that a similar activity was conducted in Provincial Social Welfare and Development Office in Catarman, Northern Samar on March 25, where four (4) former rebels were also awarded with the same amount.
The activity was withnessed by the commanding officers of 803Bde, 20IB and 63IB together with Mrs. Carmen Mejia the Provincial Social Welfare and Development Officer of Northern Samar, who handed over the cash benefits to the former rebels.
Both Provincial Social Welfare and Development officers of the two provinces assured the Army units and the OPAPP representatives that they will continuously assist the former rebels until they are totally re-integrated in the society.
Meanwhile, Maj. Gen. Arthur I. Tabaquero, commanding general of the 8th Infantry Division of the Philippine Army, conveyed his heartfelt gratitude to all the stakeholders who shared their part and support to increase the numbers of rebels who turned their backs against the sole reason why peace and development of the country is hard to achieve.
MGen. Tabaquero is also expressed his optimism that with the increasing number of rebels who are showing interest to follow the track of their former comrades in going back to the womb of the government.
Sooner or later, Samar and Leyte provinces will also be declared as insurgency free areas just like Bohol and Cebu which will further boost up their economic condition.
In closing, General Tabaquero once again called upon the brothers and sisters whom he considered as victims of the communist terrorists' deception, to lay down their arms, and return to the main stream society so that genuine peace and democracy will prevail and will bring forth development in Region 8.
Region 8 launches National Economic Research and Business Action Center
By Philippine Information Agency (PIA 8)
April 1, 2010
TACLOBAN CITY – Regional Officer in Charge Desiderio Belas Jr. of the Department of Trade and Industry Regional Office 8, informed that the National Economic Research and Business Action Center or NERBAC 8 is scheduled to be blessed on April 6, 2010.
NERBAC 8, Director Belas said, is located at the DTI 8 Regional Office Building at Pawing, Palo, Leyte.
The blessing is set at 1:00 o'clock in the afternoon. The program which will follow after the Mass will be highlighted by the signing of the NERBAC Memorandum of Agreement and the presentation of the updates from R)DG Usec Merly M. Cruz, Director Belas added.
The National Economic Research and Business Action Center (NERBAC) in Eastern Visayas hopes to accelerate entry of investment and to improve the business environment of the region.
NERBAC is expected to answer the call of the business sector in the region for a coordinated and facilitative government support for investment promotion and for businesses to operate and grow by providing them timely and relevant business information.
A one-stop action center envisioned to reduce the processing time and cost of acquiring business permits and licenses by pooling all the government agencies' representatives involved in licensing and registration under one roof, NERBAC will collect and disseminate economic, technical and industry information useful for business enterprises and investors.
It also aims to identify and promote investment opportunities in accordance with the investment priorities of the government for possible business match-up and improve the business environment through policy and regulation reforms advocacy.
Specifically, NERBAC will include the following services: Investment Promotion and Business Information Management to handle investment promotion and provide assistance on the preparation of business plans and maintain information database of all the concerned sectors.
One Stop Business Registration and Licensing will process mandatory permits and licenses for start-up business with participating agencies, such as the local government unit (LGU) of Cagayan de Oro, DTI, BIR, SSS, DOLE, PHIC, HDMF, CDA, IPO and PCAB.
Export Documentation will streamline processing of the required export permits, through the facilitation of member agency representatives and other export-related agencies, such as Philexport-10 and the Bureau of Customs (BOC).
Incentives Facilitation will enable investors to avail of the Bureau of Investments (BOI) and local investment incentives including the processing of investor visa and other BOI registration.
Economic Research will also be conducted to actively gather and provide research information and materials to both potential and existing businessmen and maintain an inventory of financing facilities available for business expansion.
Civilian support leads encounters against local rebel groups
By DPAO, 8th Infantry Division, PA
March 31, 2010
CAMP LUKBAN, Catbalogan City, Samar – Three more encounters of the Army's 8th Infantry Division against the New People's Army (NPA) was recorded for the past few days because of the relentless support from the local folks.
In the boundary of Brgys Magsaysay and Siljagon of Mapanas, Northern Samar elements of 63rd Infantry Battalion under 2nd Lieutenant Rey Acasio sparred against some ten (10) armed members of the terrorist NPA around 12:00 NN of March 27.
2nd Lieutenant Acasio said that they were conducting a routine security patrol in the area when a certain folk from Brgy. Siljagon secretly informed them on the presence of armed men who passed along their barangay.
Without losing time, they went through the given direction where they encountered the reported armed group.
Meanwhile, around 9:50 A.M. of March 28, elements of 82nd Division Reconnaissance Company under 1st Lieutenant Bernie Jay Guerra encountered some 30 members of NPA in the boundary of Brgy. E. Duran, Bobon, Northern Samar and Brgy. Macatingog, Oquendo District of Calbayog City also following the tip from a civilian.
Moreover, around 4:20 in the afternoon of March 29, elements of 63IB under 1st Lieutenant Ariel Rosuelo once again crossed their path against the NPA group in the outskirt of Brgy. Inaguingayan, Pambujan, Northern Samar when information was received that the terrorist are conducting extortion activity in the said barangay.
Troops of Rosuelo managed to ran after the rebels that were about to proceed towards the next barangay after extorting money in the previously mentioned barangay.
It ensued to a firefight for about 20 minutes before the rebels fled away dragging their wounded comrades.
One (1) rebel was killed and one (1) caliber .45 pistol with loaded magazine assembly and volume of subversive document and campaign paraphernalia were recovered and undetermined numbers of wounded as evident of bloodstains left in the area while no reported hurt on the side of the government during the processes.
Major General Arthur I. Tabaquero, commander of 8th Infantry Division once again commended his troops for the successful feats.
He then gave emphasis on the importance of collaboration between the civilians and the soldiers.
"As I have mentioned in the past, these successes can be attributed to our people. As for they are the reason why we exist, our services can be fully carried out if our people also show concern, first for the country and second for themselves," he adds.
Although saddened that somebody's life has once again sacrificed, Major General Tabaquero reminded everyone that as mandated by the constitution as the protector of the people and the state and to secure the sovereignty of the state and integrity of national territory, the 8ID is continuously conducting its traditional roles against local terrorist groups to prevent the continuance of their violent, destructive and terrorist activities being inflicted on the people.
"To our barangay folks, should some wounded NPA's were brought to your attention for medication, please feel free to inform the immediate Army unit's in your area for us to attend any medical support to them. We will not be hesitant to help them for they also have the right to receive medical services we give to our wounded soldiers," Major General Tabaquero's message to the civilian.
"And of course to our brothers and sisters whom I always considered as victims of Communist's deceptive ploy, we can prevent worthless losing of lives if we will embrace the government's means to re-integrate to our mainstream society. We can work hand a hand for a true and meaningful endeavor towards peace and development of Region 8," he concluded.
Southern Leyte PARO gets appointment from PGMA
By JOSE ALSMITH SORIA (PIA Southern Leyte)
March 31, 2010
TACLOBAN CITY – After performing the task of a Provincial Agrarian Reform Officer (PARO-II) in an officer in-charge capacity for seven years, Mr. Venerio Yap finally got his appointment from President Gloria Macapagal-Arroyo.
Yap, PARO-II of Southern Leyte, was surprised when Agrarian Reform Secretary Nasser Pangandaman announced the new presidential appointees from the Department of Agrarian Reform (DAR) during an agency assessment in Cebu City on March 11.
Pangandaman in the same occasion officiated the taking of oath of office of the newly appointed DAR officials.
PARO Yap, 62, joined DAR on January 5, 1973 as a Junior Statistician assigned in St. Bernard, Southern Leyte. He was promoted to Examiner-I, then later to Budget Officer-1.
During the DAR re-organization in 1989, Yap was appointed Chief Agrarian Reform Program Officer (CARPO) for the Administrative Division at the DAR Provincial Office of Leyte.
In 2003, he was designated as PARO-II for Biliran. Then, in July 2009 he was transferred to Southern Leyte and was instrumental in this province accomplishment of 478 percent of its target in land acquisition and distribution last year.
According to Yap, his most memorable experience in his 37 years in DAR was when he and several other co-employees were imprisoned in 1973 when a landowner complained after they covered the latter's property under the operation land transfer (OLT) program during the Marcos regime.
His recent appointment will inspire him more to complete the liberation of agricultural tenants and farm workers in this province from the bondage of the soil under R.A. 9700 or the amended Comprehensive Agrarian Reform Program (CARP) and fulfill the promise of a better quality of life.