GAB boxing chief credits U.S. docs for Gorres' immediate recovery

By ALEX P. VIDAL / PNS
November 16, 2009
LAS VEGAS, Nevada – The fast transport of fallen Cebuano boxer Z Gorres from boxing ring to the hospital and his immediate operation to remove the blood clot in his brain were the main factors for his quick recovery, said Games and Amusement Board (GAB) boxing division chief Nasser Cruz.
Cruz, who is also a doctor, credited the "excellent" response made by medical officials of the Nevada State Athletic Commission (NSAC) and the doctors who attended to Gorres when he was fighting for his life at the University Medical Center hospital, here.
Cruz said the 27-year-old number two bantamweight contender in the world survived the 24-hour time line given by Dr. Michael Seiss, a neurosurgeon, who performed the operation on his brain to remove the blood clot.
Gorres fell in his corner after winning a 10-round non-title fight against Luis Melendez of Columbia at the Mandalay Bay House of Blues on November 13. Doctors immediately performed the surgery and opened his skull after he suffered subdural hematoma.
"We are in the city famous for its high standard medical facilities," said Cruz, who is here together with his bosses, chairman Eric Buhain and commissioners Angel Bautista and Ramon Guanzon, to watch the "Firepower" WBO title tussle between Manny Pacquiao and Miguel Angel Cotto.
Cruz said a blood clot is not difficult if the patient has been attended to immediately.
"Blood clot happens in any sports event. It happens even in hockey and amateur boxing," he explained. "It's only a matter of how you protect yourself that's why we have a third man in the ring cautioning the participants to protect themselves at all times," Cruz added.
Cruz stressed that Gorres, nicknamed "Butchoy", may undergo a series of rehabilitation and might stay for a while in the United States "but it won't be too long. The longest may be one month."
He said Gorres' medical bills are covered by insurance being a licensed professional boxer under the NSAC.
Gorres' family in Cebu, however, is expected to receive some cash from social fund of the Philippine government, Cruz confirmed. The GAB board will have to meet to discuss the matter, he said.
Cruz also ruled out the possibility for Gorres not to be able to go back to boxing again.
"Well, he can be a boxing trainer after he recovers," he quipped.
Noted boxing historian Hermie Rivera, meanwhile, said he was monitoring Gorres' progress regularly saying he expected the Cebuano fighter to recover soon.
"I like that man," Rivera, first manager of former WBA bantamweight champion Luisito Espinosa, said. "He is one of the best boxers we have today."
Samar PNP lights 30-foot blue star as a sign of peace and friendship
By NINFA B. QUIRANTE (PIA Samar)
November 15, 2009
CATBALOGAN, Samar – The Philippine National Police (PNP) Samar last Thursday night lighted a 30-foot blue star as a sign of peace and friendship.
At six in the evening, Samar mayors, Girl Scouts, PNP personnel donning Santa Claus hats, and other guests joined PSSupt Pancho Hubilla, Samar's PNP Provincial Director in the switch on, accompanied by singing of Christmas songs from PNP's "Santa Claus".
In his message, Director Hubilla said that it is colored blue because it is PNPs color.
"I asked my men, how we could extend our greetings of peace and friendship not only to Samareńos but to all travellers passing by the highway."
"This is the answer", he mused.
The PNP camp in Samar is along Daang Maharlika where motorists to and from Luzon and Mindanao pass through day and night.
The PNP official also vowed to "do better" than last year in their commitment of service.
Meanwhile, PSSupt Gil Hitosis who represented PNP Regional Director Mario San Diego praised the PNP in this part for being the first group to initiate such gesture of peace and friendship.
"This is first of its kind in the Samar island", he commented.
The regional PNP official also talked of reforms that are being done in the whole PNP hierarchy for the better.
Officers from the adjacent 8th Infantry Division, Philippine Army, barangay officials of barangay Maulong and the media also graced the memorable Christmas offering of the men in uniform.
APAC plans expansion at Leyte ICT Park
By Provincial Media Relations Center
November 14, 2009
TACLOBAN CITY – APAC Customer Services Inc., the call center locator at the Leyte ICT Park has recently asked the provincial government of Leyte for another 2,500 square meter office space for its expansion plans.
This was revealed by Leyte Governor Carlos Jericho Petilla during the recent Provincial Development Council Meeting which he chairs held at the Governor's Hall with majority of local chief executives in attendance together with municipal and local planners.
The governor said plans are currently being laid on the table as the provincial government is set provide more space for APAC's expansion to ensure that job generation would still cascade here in the province and in the region.
"APAC approached me two weeks ago for more office space for their expansion and if not they would expand in another province," Gov. Petilla said.
The governor disclosed the province immediately has to go straight to the drawing board for the ICT Park's growth to ensure that the job market APAC's expansion would create would still benefit jobseekers from Leyte and Eastern Visayas provinces.
APAC presently occupies the former Leyte Academic center (LAC) Gymnasium that sits on a 3,000-square meter site and was turned into a high-end call center facility when APAC located and finally opened early this year.
APAC officials have earlier revealed that their Leyte site would only be the start of the company's five-year expansion in the country where 80% of its growth will be in the provinces.
With the 2,500 square meters additional office space APAC is asking could house at least 600 more call center agents, Gov. Petilla revealed.
The governor added his talks with some top officials of the business process outsourcing in the country reveals that BPO and ICT business would still be brisk this year despite the global economic slowdown.
"We see the need to capitalize on the bigger growth of the ICT industry in the province," Gov. Petilla told local chief executives.
Leyte, he said, has become an alternative hub for provincial expansion of BPO and ICT players because of its existing fiber optic connections, a good education system with 5,000 to 8,000 graduates every year, and incentives from the local government.
The BPO and ICT Industry is known as the "Sunrise Industry" of the country, due to the fact that this industry has brought in millions of dollars in investment from foreign companies, while creating several thousand jobs in the process.
The governor likewise said with ICT coming in expansion of both upstream and downstream industries are seen like telecommunications, food, real estate, construction, electronics, transportation, entertainment and lifestyle businesses.
Pacquiao now calls Roach 'My boxing master'
By ALEX P. VIDAL / PNS
November 13, 2009
LAS VEGAS, Nevada – Manny Pacquiao flashed a smile most of the time during the final press conference of the "Pacquiao vs Cotto: Firepower" at the Hollywood Theater in MGM Grand, here, November 11 , as he announced a change in the way he addresses his adopted father and coach, Freddie Roach.

WBC Junior Welterweight Champion Manny Pacquiao and WBO Welterweight Champion Miguel Angel Cotto shows off their form to the crowd gathered at the MGM Grand Arena in Las Vegas, Nevada, USA, during their official weigh in where Pacquiao weighed 144 lbs and Cotto weighing 145 lbs. (CHRIS FERNANDEZ / PNS)
"He is now my boxing master," Pacquiao, 30, declared. "I used to call him coach Freddie, but now I am calling him my boxing master."
Pacquiao acknowledged the support of his training staff that included conditioning adviser Alex Ariza and friend Buboy Fernandez for his preparations to snatch Miguel Angel Cotto's WBO welterweight bauble and the chance to pocket seven world boxing titles in different divisions.
After arriving by land from a five-hour trip from Hollywood to Las Vegas on November 9, Pacquiao, who is expected to relinquish his International Boxing Organization (IBO) light welterweight crown for a chance to dethrone Cotto, continued to engage in light workouts at the IBA Gym in Tropicana where he was followed by a horde of fans carrying all sorts of souvenir items for his signature.
Pacquiao was the last to leave the Hollywood Theater en route to IBA Gym after the media forum where he was swarmed by mostly Hispanic-speaking journalists from Puerto Rico and Mexico.
When asked why Time magazine, which featured him in its most recent issue, considered him more than just a world champion, he quipped, "it is my great pleasure to help my countrymen who are in need."
He was referring to victims of super typhoons in the Philippines that killed hundreds of fellow Filipinos and rendered thousands of them homeless. Pacquiao, who was training in Baguio City when the typhoon slammed, donated goods to the victims and personally led a special team to distribute them.
His gesture generated a big publicity and was monitored by international media.
"I wish to remain humble and I only want to provide happiness and entertainment to my countrymen and my family," Pacquiao explained.
Before going to bed at 8 o'clock in the evening, Pacquiao gathers a selected group of family members and friends for a prayer inside his posh hotel room on the 60th floor of The Hotel, Mandalay Bay's adjacent building.
On Saturday, history will be made in boxing, Paquiao vowed.
DENR-8 has a new Regional Executive Director
By PURIFICACION S. DALOOS
November 12, 2009
TACLOBAN CITY – The Department of Environment and Natural Resources (DENR), Region has a new Regional Executive Director (RED).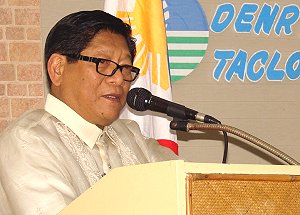 Regional Executive Director Primitivo C. Galinato, Jr.
Forester Primitivo C. Galinato, Jr. assumed his post as the new RED of DENR, Region 8. RED Galinato swapped post with RED Regidor M. De Leon who was reassigned as RED for the DENR Cordillera Administrative Region in Northern Luzon with Regional Office in Baguio City.
In simple turn over rites held at the Leyte Park Hotel on November 10, 2009, RED Galinato asked the support of all DENR employees in the Region for the fulfilment of the mandate of the DENR like what the employees did during the administration of RED De Leon. "Let me borrow your strengths and powers so that together we can accomplish the targets expected from us", RED Galinato exhorted the DENR employees.
As he vowed to lead the DENR 8, the best he can, RED Galinato also set the direction of his leadership. Generally, he said, "All of us should work for a purpose. People or investment and development of human resources must be given importance to effectively carry out the plans and programs of the Department. Also, competence and credibility of the DENR human resources are needed to serve best the targeted clientele and communities. Good governance must be observed for the whole DENR family to fulfil the DENR's mandate on environmental protection and natural resources conservation".
DENR Secretary Jose L. Atienza issued DENR Special Order No. 2009-814 dated October 19, 2009 to effect the swapping of the two DENR officials as part of the DENR's continuing organizational development.
Gov't Center groomed to become Leyte's next central business district
By Provincial Media Relations Center
November 10, 2009
TACLOBAN CITY – New infrastructure development are now underway at the Government Center in Palo, Leyte as the provincial government grooms the area to be the next central business district for the province of Leyte.
Leyte Governor Carlos Jericho disclosed projects currently being undertaken at the Government Center include a mini-terminal and a convention center, both facilities seen to augment the economic growth and business opportunities rising along the area.
The mini-terminal, he said, will be constructed at the vacant lot in between the regional office of the National Food Authority (NFA-8) and the fastfood franchise Andoks, which lot is still part of the Government Center of the provincial government.
"The mini-terminal would basically function as a parking space for passenger vehicles plying along the Palo route going to the south and west of Leyte," the governor said.
Members of the Palo Police, as well as gasoline station owners along the junction and highway of the government center have long complained that the lanes along these areas are being used as parking space for passenger vehicles.
Meanwhile, Gov. Petilla likewise disclosed the planned convention center would be located at the back of the former Leyte Academic Center Gymnasium which, to recall, has been leased out to a call center company which opened full operation early this year and the first call center locator inside the Leyte ICT Park.
The convention center is seen to replace the former LAC Gymnasium that could become a venue for big gatherings and even national conventions.
The governor disclosed the ongoing rehabilitation of the MacArthur Park Resort Hotel being undertaken by a private conglomerate would complement the tourist promotion efforts of the province together.
Works at the MacArthur Park Resort Hotel, also located at the Government Center, is paced to meet its soft opening deadline on April 30 next year and become fully operational before the next Leyte Gulf Landing Commemoration in the month of October.
To recall, the said hotel had an original target date of opening last October 20, however, rehabilitation works have been delayed.
The province has also recently opened a Police Assistance Center at the Government Center, located just beside the Leyte ICT Park, that provide peace, order, security and other police assistance to the area.
The Police Assistance Center would be manned by police officers from the Leyte Norte Police Provincial Office.
Gov. Petilla likewise mentioned these developments have been part of his long term goals when he first assumed in office in 2004.
"They never believed me then that these are possible and we can make these new developments in the area but look at what we have now. We have increased activity here and little by little, people start noticing all there," Gov. Petilla said.
Gov. Evardone appoints 200 youths as Junior Ambassadors of Environment
By BRYAN MONTES AZURA
November 9, 2009
BORONGAN, Eastern Samar – Eastern Samar Governor Ben P. Evardone appointed some 200 young people from various schools in the province as Junior Ambassadors of Environment as part of the province's effort to convey the message of the importance of preserving the environment during the Youth Congress on Climate Change held at the Provincial Capitol on Wednesday, this municipality.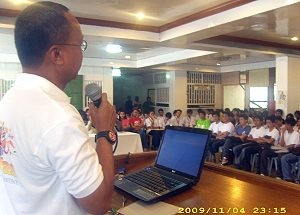 Gov. Ben P. Evardone shares some encouraging words to some 200 Eastern Samareńo youths who partook on the 1st Provincial Youth Congress on Climate Change held during the celebration of the 44th Founding Anniversary of the Province of Eastern Samar.
In his message to the youth participants, the governor stressed that evidences of changes on climate due to the degradation of the environment not only in the country but the whole planet are already obvious. "We need to preserve our environment," the governor said.
He further stressed that the issue on climate change is encompassing as it affects everyone from all walks of life. "This issue is close to my heart, your heart and everybody's heart as this affects us all," he said.
The governor continued that his administration did not just initiate the said forum for the young people "not just to protect the environment but to secure the future." "If you don't do something today, you might have no future to look forward to," Evardone said.
The congress, a highlight of the 44th Founding Anniversary of the Province of Eastern Samar, was attended by around 200 secondary and tertiary students from different schools in the province. According to Dorinda Labro of Provincial Environment and Natural Resources Office (PENRO-Eastern Samar), an environment advocate and one of the resource persons during the youth gathering, the planet is running against time. "If there is a time to act to fight climate change, is should be now," Labro said.
Analiz Solis of Philippine Atmospheric Geophysical and Astronomical Administration (PAG-ASA) main office, also a resource person of the said event, said that the weather bureau has already recorded more frequent and bigger weather disturbances. Temperature has already slowly increased as per record compared to previous years.
Though weather authorities vary in their interpretation whether the change of climate are results of the so-called global warming, the governor said that everybody should get involve in preserving the environment.
"Your appointment will be on voluntary basis but this will serve as an opportunity for you to share your talent, time, resources and heart," Gov. Evardone challenged the newly appointed ambassadors.
Sentay Quiorio, Provincial Tourism Officer and facilitator of the said gathering, said that while there's no definite description yet as to the function of the junior ambassadors, but what's definite is they should serve as advocates of the environment. "Even in little ways such as starting discussions on climate change among their peers and being conscious especially in garbage disposals can already be a meaningful contribution as far their appointments are concerned," Quitorio said.
The governor said that the group will be an added force to the advocates from the media, academe, Church, NGOs, GOs and Pos in the battle against climate change.
Anjettes Capada, Student Council President of Dolores National High School, said that her appointment as environment ambassador will give her the chance to prove that even young people as her can do something for the environment. "I should be a model to my fellow students and youth," she said. "With the availability of new technologies such as internet and cellular phones, I'll inform my friends to be more caring to our planet so that we will still have a future to see," Capada said.
Chiz backs passage of Freedom of Info Bill
By Office of Sen. Chiz Escudero
November 9, 2009
PASAY CITY – Opposition Sen. Chiz Escudero yesterday expressed his support for the passage of the Freedom of Information bill before the Senate adjourns for the 2010 elections.
"This is a measure that will go a long way in our people's fight against graft and corruption in high places and boost transparency in government. It's time has come," he said.
Escudero also asked the Senate to act on a bill requiring all public officials and employees to waive the exemption of their deposit accounts from the bank secrecy law. Senate Bill No. 1476 was one of the first bills he filed during his first year as senator in 2007.
The waiver will be made in favor of the Office of the Ombudsman and the Anti-Money Laundering Council (AMLC) that would enable them to compel financial institutions here and abroad to provide information and documents on financial assets, deposits, investments in bonds and securities of those in the public service.
The proposed freedom on information act seeks to implement the right of the people to information on matters of public concern and the state policy of full disclosure of all its transactions involving public interest.
Escudero proposed amendments to the bill seeking to ensure that official records related to loans obtained or guaranteed by government; government contracts; statements of asset, liabilities, and net worth of government officials; and those pertaining to official investigations on graft and corrupt practices of public officers "should not be destroyed."
He also asked for the creation of a records management program that will allow easy identification, retrieval and communication of information to the public.
The 40-year old lawmaker also sought the creation of a database, in digital and online form, of all laws, presidential issuances, and appointments, and opinions of the Secretary of Justice.
"This will aid us all in maintaining institutional memory. Rascals and malefactors have always found comfort in the fact that we seem to have very short memory as a people," he said.
Escudero was among several senators who signed the committee report on Senate Bill 3308 last June 3. The measure was jointly sponsored by the committees on public information and mass media and on civil service and government reorganization.
Big grocery chain eyeing to expand at Leyte Gov't Center
By Provincial Media Relations Center
November 7, 2009
TACLOBAN CITY – Not another mall but a big national grocery chain is eyeing to open a new branch at the Government Center area.
Leyte Governor Carlos Jericho Petilla disclosed this amid talks of a possible new mall player to come in after the successful opening of the first ever mall in the city of Tacloban.
"I don't think another mall would be viable at the moment. The first mall has just opened this year. We have to give them a chance to grow first on its own," Gov. Petilla said.
A period of three to five years, the governor added, would be sufficient time for the current mall owner to grow and development before a new player in this business could come in and flourish in the same way.
Gov. Petilla however disclosed that not a mall, rather a "big grocery chain" is eyeing a site at the Government Center as expansion of its branch. He otherwise did not disclose yet the name of the possible locator.
The number of employees working at the various government offices located at the Government Center, workers inside the Leyte ICT Park and schools located nearby are seen to provide a big market for a grocery chain to open in the area, the governoir said.
He likewise added that drawing these kind of companies and businesses to the Government Center is part of the long-term plan of the province charted when he first assumed office in 2004.
The long-term development project for the Government Center is seen to draw together the principal elements of shopping, business and recreation within a single spot with the rehabilitation of a five-star hotel, an accessible IT facility, government offices, commercial areas and a public transport terminal which is already underway.
Gov. Petilla said that if the unutilized portion of the vast land at the Government Center will be turned into an intensive commercial and tourism hub, thousands of jobs will be created for the Leyteńos. Creation of even a grocery chain would mean jobs for the unemployed in the area and nearby towns he said.
"This will also stir the economy not only of the province of Leyte but of the entire Eastern Visayas," Governor Petilla told local media in an interview.
As the infrastructure and other facilities are being put into place by the provincial government, the governor said, the next big step in the coming years would be for "more investors to come in to invest and expand their business operations here in the province."