US Embassy supports safe coverage of journalists for the Philippines' 1st Automated Elections
By MYRA M. TAMBOR
March 29, 2010
CATBALOGAN CITY – US Embassy Manila Press Attaché Rebecca B. Thompson welcomed the participation of top journalists of Visayas and Mindanao Regions in a two day program held at Marco Polo Hotel in Cebu City. "This is in support of the strengthening democratic institution and press freedom in the Philippines", according to the Press Attaché.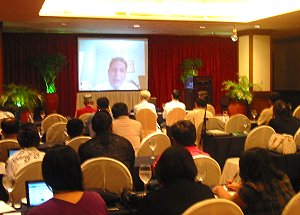 Seminar participants making an online video conference with Jamie Dettmer (on screen), Communications Counsel of Qatar Foundation International, who is in Annapolis, Maryland, USA.
The seminar which brought selected journalists together last March 25 and 26, addressed the issues and challenges in covering the Philippines' first Automated National and Local Elections. The media along side with the NGO leaders, and the Commission on Elections discussed several issues on the coverage of the elections.
The Embassy expressed their concern on the coverage of the elections in terms of the safety of the journalists especially those covering areas of the country that have experienced recent violence and unrest.
Eileen Mangubat, publisher of Cebu Daily News said that many of the journalists in the country have not been able to see the PCOS machine that will be used in the coming elections neither was able to tried a mock elections using the said machine and a new designed ballot. Comelec does not conduct a briefing or some sort of a kind exclusively for media practitioners who will be, among others, front liners come May 10. Mangubat presented the "then and now" scenarios of the elections. She advised the media to take precautionary measures because "no story is worth a life of a journalist", according to her.
It will be recalled that the country have been tagged as one of the most dangerous country for journalist considering the high incident of media killings, the recent was the Ampatuan Massacre.
MindaNews headed by Carolyn Arguillas, editor, cited some incidents that happened in Autonomous Region of Muslim Mindanao when it first implemented automated elections in 2008. "Automated elections does not guarantee peaceful and honest election", she said. "In ARMM for the 2008 elections, young voters, meaning those that are not qualified to vote yet because of age limits can be seen casting their votes", she added. Vote buying were rampant, lose fire arms at hand, and "hakot system" among others, according to Arguillas.
Sighs and deep breaths were the obvious response of the media participants as they gather strength from each other knowing how difficult it is to work in a country especially at the provinces to pursue story that leads to a possible anomalous actions from the different political groups and later on could cost a life of a journalist.
It is a sad note according to Ms. Thompson but nevertheless with this kind of seminar we will be able to equipped Filipino journalists with added information and actions for a safe coverage especially those that are coming from the remote provinces of the country. "Its good to see that journalists and its partners in non-government organizations as well as the Comelec and others, were able to exchange views about the role of media in an electoral process, the environment of this year's elections, relevant laws governing the automated polls, voters education, polls and surveys and experiences of other countries with automated elections, I know this will be able to help them in a lot of ways as they perform their duties", Thompson said.
In an interview, the press attaché personally expressed gratitude to the Eastern Visayas media who were able to attend the seminar. Samar media participants were Samar News.com publisher Engr. Ray Gaspay and Freelance Journalist Myra Tambor, with a lone Leyte broadcast journalist Louie Quebec of DYVL. Ms. Thompson was in Samar early last year to attend to a Balikatan Medical Mission held in Calbayog City.
PNP Eastern Samar leads stakeholders in "Unity Turn"
By ALICE NICART (PIA Eastern Samar)
March 29, 2010
BORONGAN CITY, Eastern Samar – The Eastern Samar Provincial Philippine National Police Office (PNP) recently led the province's stakeholders in the call to help the Commission on Elections (COMELEC) in holding an honest, orderly and peaceful elections come May 10.
The "Unity Turn" cum Covenant Signing went more inspiring with the attendance of His Excellency, Bishop Crispin Varquez of the Borongan Archdriocese with Rev. Fr. Juderick Calumpiano, and a few more young priests with their seminarians.
The dark of dawn with the participants all in sports get ups, partly blinded many spectators so as to fully recognize who was who. In particular, Bishop Varquez was mistaken for a high ranking military officer, that he was greeted, "good morning, Sir!", and his graciousness, the "Sir" returned the warm greetings just as well; also, education supervisors looked like high schoolers and the army engineers as though they were young boy scouts. In general, the ambience was very casual, ordinary and very relaxing.
But more than the physical appearances, what was more interesting was every ones' aspiration for an effective and efficient first time ever automated polls.
After invoking for God's presence and blessings in a short prayer which was led by Fr. Calumpiano, a 10-minute warm up was executed by all the participants with SPO2 Edwin Docena who exercised like a diligent P.E. teacher, and despite the cracking joints as evidence of age, majority of the participants enjoyed as they breathed deeply the morning air until they perspire.
With the religious men in their midst, the policemen, soldiers of the Philippine Army, Army engineers, employees of DepEd, DILG, BJMP, Bureau of Fire, COMELEC, NAPOLCOM, PIA, DYES and Kurbada Riders went out the PNP Camp and joined the "Unity Turn" around Borongan City which ended at the Borongan Plaza where a short program and covenant signing took place.
In his message, PNP-08, Deputy Director/PCSUPT Drusillo Bolodo informed the participants that the "Unity Turn" emanated in Camp Crame with PNP Chief Jesus Verzosa who led the game, "to showcase their vision for a peaceful elections". Bolodo urged the stakeholders to help COMELEC for the success of an upcoming political process.
"We might come from different places and we might speak different dialects but we only have one prayer, and that is for a peaceful and credible election. Unta dili mausik ang ato mga paningkamot (hopefully our efforts won't go in vain) and we can do this by teamwork", Drusillo added.
Bishop Varquez likewise told the stakeholders that as Christians they are also committed to help the COMELEC as he also encouraged one and all to not only being "maka-Diyos, makakalikasan but also being makabayan (pro-God, pro-environment and pro-people).
Provincial COMELEC Officer, Atty. Butch Bautista was glad at the turn out of participants for the peace covenant signing.
For his part, PSSupt Felixberto Castillo was all smiles at the success of his initiated peace effort in the province…he thanked most especially Bishop Varquez and company, DRDA Bolodo and the other local stakeholders.
He enjoined everybody present to affix their signatures in the tarpaulined agreement. The ff. chiefs of office joined in the signing: Mrs. Judith Boco, DepEd Assistant Supt.; Mrs. Lydia Loyola, DILG; JSI Benben Catudio; FSI Rodrigo Almaden; Atty. Lorenzo Reago, NAPOLCOM; Col. Jaime Hidalgo, 14th IB Cmmdr; COP Rose Mambulao of Borongan City and SPO3 Perfecto Mambulao, HPG.
Women's month celebrations pursued amidst political fever at the countryside
By TWINKLE JAPZON
March 28, 2010
CATBALOGAN CITY – Two municipality in the province of Samar successfully marked the Women's month celebration this year with different activities despite political fever in the countryside.
In Pinabacdao, Mayor Mario Quijano addressed women's organizations and individuals who were present in a forum conducted last March 23, 2010. The Mayor was with his Municipal Councilors and other local government officials who graced the women's forum along side with the different national agencies.
"Dako gud it akon pagpa-id hit mga kababayin-an, salit tikang paglinkod ko komo Mayor permi na kita mayda mga aktibidades para ha iyo. Gintikangan hin mga trainings basi magkamay-ada kamo skills nga magamit hin pagpakabuhi," Mayor Quijano said. The Mayor also cited that he was brought up in a family where his mother has a regular work and contributes to the finances of the family above her household chores. In the occasion, Mayor Quijano paid tribute to her mother and every mother whom he attributed as the key of success to each family. He likewise enumerated different programs which he calls interventions of his governance to the different issues of women. Such are; training center and other facilities that would be used for additional trainings and capability building activities as well as livelihood assistance in way of a soft loan to start up small businesses.
Meanwhile in Daram, approximately 750 individuals and women organizations came together to attend the Women's Month Celebration. The island town is a recipient of the "Anti-trafficking of Women Project" which is being implemented by Plan Phils, a non-government organizations whose aim is to uplift the condition of women and children in the Philippines as well as in other countries.
Speaking before the large crowd dominated by women, Mayor Lucia Latorre-Astorga beamed with pride and honor to address this sector that braved rough seas and long travel just to be present. Daram is an island municipality where barangays can only be reached by boat ride.
In an inspirational message, Daram Mayor Lucia Latorre-Astorga encouraged women sector to come out and claim their rights as it is provided by our constitutional and relevant laws. She likewise made an emphasis on the crucial role of women towards development especially in her town. She took the opportunity to discuss the objectives of Mobile Kusina or MK Project being undertaken by her administration. The project she said is a way to strengthen the advocacy on women's rights as well as programs that are intended for women's economic empowerment and the initiatives of her administration. Mobile Kusina ni Mayor Lo is one way of strengthening the capacity of Daram women as farmers and fisherfolks. She said she has a lot of plan of action for women that hopefully will be implemented as soon as possible. The Mayor has created a MK team specifically for this project.
Mayor Astorga also expressed her gratitude for the interventions of non-government organizations such as PLAN Phils and International Justice Mission in her town. "An bulig han PLAN Phils ngan han IJM in dugang nga nakaka-agda ha aton ha paniguro para han kaupayan han mga kababayin-an", the Mayor said.
The celebration in Daram on March 24, was also attended by Engr. Meilou C. Macabare, the Provincial Director of Department of Trade and Industry as the keynote speaker. She focused her message on the theme: Babae, Tagumpay ka ng Bayan! She enumerated several programs of DTI that has an impact to the society and being lead by women organizations. Highlight of the event was the signing of Memorandum of Agreement on the campaign against trafficking of persons lead by Plan Phils.
Some women individuals who attended the event in an interview said, that they will go home with added information and inspiration from the speakers especially from their Mayors who took time out of their busy schedules to be with them.
The celebration of the women's month came in at the time where the local candidates are on the starting line of the campaign period on March 26 and as Catholics prepare also for the Holy Week activities.
Systematic deception by the military on the eve of the NPA's anniversary
Press Release
By NDF-EV
March 27, 2010
The National Democratic Front-Eastern Visayas said today that the 8th Infantry Division is systematically deceiving the people in denigrating the New People's Army, which will be celebrating its 41st anniversary on March 29. "The 8th ID has been stepping up its psywar attacks prior to the NPA anniversary this month, most prominently in claiming the discovery of "mass graves" of "NPA victims" in Northern Samar," said Fr. Santiago Salas, NDF-EV spokesperson. "These slanders attempt to belittle the NPA's steady advance, as well as to cover up the military's abuses under Oplan Bantay Laya. This is also the second time that the 8th ID has attempted to attribute so-called "mass graves" to the NPA in Eastern Visayas, the first being that in Inopacan, Leyte in 2006."
Fr. Salas explained that the historical backgrounds and forensic evidence go against the military's allegations of "mass graves" in Eastern Visayas. "There has never been any mass grave by the NPA in Eastern Visayas whether in Leyte or Samar. For one, the Mt. Amandewin Command investigated the allegation of a "mass grave" in Inopacan, Leyte in 2006 and found it to be a big lie. The alleged area is adjacent to an abandoned cemetery of Brgy. Monterico, from where it is believed the military took the skeletons to use in the alleged "mass graves". Moreover, the scientific data belie the seriousness of the military's claim – the alleged forensic evidence found such as recognizable clothing was highly improbable because more than 20 years had passed and any such material should have been decayed long ago. The forensic evidence were also seriously compromised to the point of being unacceptable in any court, by careless handling and because the military had contaminated the spot by turning it into a circus for the media and other people for their real intention: anti-communist propaganda.
"Meanwhile, the military inflated their data for psywar purposes by turning a few scattered graves in Mondragon, Northern Samar into an even more improbable claim of "NPA mass graves". These alleged "mass graves" were claimed to have been made in 1980, even earlier than the ones in Inopacan. And yet the military is boasting that it has credible forensic evidence and even witnesses, who give crystal-clear testimonies of events that occurred 30 years ago as if they just saw these during breakfast. "
Fr. Salas also said that the alleged "mass graves" in Northern Samar may in fact be victims of the military. "The site in Brgy. Cahicsan, Mondragon is close to what is colloquially known as "Crystal Mountain" – a place where there are armed fanatical cults established during the Aquino regime for use in "low-intensity conflict" or proxy war against the revolutionary movement. These groups are similar to the notorious "Tadtad" which was widely condemned for gross human rights violations during the Aquino regime. The armed fanatical cults in "Crystal Mountain" are notorious for rapes, killing, and other crimes against outsiders who stray into the area, and many incidents of killings have already been reported to the NPA. These groups are known to be close to, if not directly controlled, by the military."
The NDF-EV spokesperson concluded that the military is trying to slander the NPA on its anniversary, as well as to cover up the real human rights abuses under Oplan Bantay Laya. "While the war intensifies, the military also steps up its psywar in a desperate attempt to isolate the NPA from the people. But it is increasingly difficult for the military to deny that the NPA is indeed growing stronger and intends to reach the strategic stalemate in the people's war within five years. Meanwhile, human rights violations by the military have been escalating in Northern Samar and elsewhere especially as the election nears and the Arroyo regime fights to remain in power. The unresolved human rights violations by the regime, as well as its other accountabilities for immiserizing and oppressing the people, are the real issues and not the psywar inventions of "mass graves."
Reference:
Roy Santos, NDF-EV Media Liaison Officer
Related story: Army troopers exhume victims of NPA's "Oplan Ahos-Zombie"
First star falls on two 8th ID army generals
By NINFA B. QUIRANTE (PIA Samar)
March 26, 2010
CATBALOGAN CITY, Samar – Their first ever star fell on the shoulders of two army generals from the 8th Infantry Division (8th ID) Philippine Army today.
BGen. Alan Luga, commander of the 802nd Brigade and BGen. Joel Ibañez, commander of the Army Reserve Command got their hard earned 'first star' today.
Luga whose brigade is based in Carmen, Bohol turned up here today and was welcomed with arrival honors by the 8th ID (Storm Troopers), Ibañez also received the same honors.
Luga in his message offered his promotion to his family.
"For the past 29 years, I was an absentee-father and husband, so that I offer this to my family who offered so much sacrifice," Luga addressed the hundereds of government troops who afforded him honors.
"Don't forget your families, as they will be the ones to welcome you, after you have retired."
Meanwhile, Ibañez said his assignment to 8th ID in Samar made him 'cleanse' his tarnished name and prove his detractors false in their accusations in his former post in Davao.
Though the new general did not explicitly pronounce the hounding issue, the spectators felt it was a big deal for him not to forget that easily.
His promotion, he said proves that he is a man who is decisive and will execute a difficult and unpopular decision.
"I have proven that 'hindi utak pulbura si Ibañez," he added.
Assistant Division Commander Alex Cabales affirmed Ibañez claim by mentioning the merits, Ibañez earned at 8th ID.
The series of successful encounters and operations against the rebels has been implemented through the supervision of Ibañes as AdCom, Cabales added.
For his part, 8th ID Commanding General Arthur Tabaquero praised the two generals for the hard-earned and well deserved stars. He also reminded them to share the honors to those who have contributed to their 'star'.
To those with lower ranks he advised:
"Don't be so fixated with promotions, just do your job and your hard work will be noticed and will be like a key that will open endless doors for career advancement" Tabaquero inspired his troops.
NSU Board of Regents confer honorary degree in Doctor of Humanities to Congressman Chong, former Biliran Governor Gonzales
By RODRIGO S. VICTORIA (PIA Biliran)
March 26, 2010
NAVAL, Biliran – The Board of Regents of Naval State University (NSU) conferred the honorary degree of Doctor in Humanities (Honoris Causa) to Congressman Glenn A. Chong of the Lone District of Biliran and former Biliran Governor Jose C. Gonzales during the 1st University Commencement Exercises held on March 23, 2010 at the NSU Gymnasium.
The conferment of the degree to Congressman Chong and former Biliran Governor Gonzales was granted based on NSU Board Resolution No 35 series of 2009, upon recommendation of the Academic Council and by virtue of the authority vested under Republic Act No. 9718, Republic Act No. 8292 and University Code approved per Board Resolution No. 29 series of 2009.
The members of the NSU Board of Regents are Dr. Nona S. Ricafort, Commissioner, Commission on Higher Education as Chairman and Presiding Officer; Dr. Edita S. Genson, NSU University President III, Vice-Chairman; Sen. Manuel "Mar" A. Roxas, Chairperson, Senate Committee on Education, Arts and Culture, member; Rep Cynthia A. Villar, Chairperson, House Committee on Higher and Technical Education, member; Director Buenaventura C. Go-Soco, Jr. Regional Director-NEDA, Region No. VIII, member; Director Edgardo M. Esperancilla, Regional Director-DOST, Region No. VIII, member; Felizardo C. Aguilon, Private Sector Representative, member; Cedrick Allan Van M. Garcia, Private Sector Representative, member; Rosana V. Solite, President, NSU-Federation of Alumni Associations, member; Arthur L. Calomadre, President-Federation of Faculty Associations, member and Voltaire B. Dagalea, President, NSU-Federation of Student Councils, member.
Congressman Chong was conferred the honorary degree in Doctor in Humanities (Honoris Causa) because of his unequivocal commitment to serve the Filipino people and for his very exceptional accomplishments as the principal sponsor of Republic Act No. 9718 or an Act Converting the Naval Institute of Technology (NIT) into Naval State University (NSU) Integrating therewith the Biliran National Agricultural College (BNAC), Republic Act No. 9872 or the establishment of Biliran Science High School, Republic Act No. 10004 or the establishment of the Western Biliran High School for the Arts and Culture, Republic Act No. 10005 or the establishment of Information and Communication Technology (ICT) High School of Eastern Biliran and other significant laws in education.
Likewise, the 34-year old Biliran solon was cited the degree because of his continuing scholarship grants to poor but deserving students through congressional initiatives and from other sources which are beneficial to the constituents for sustainable development and progress of Biliran province within his first term as congressman of the Fourteenth Congress of the Philippines.
The NSU Board of Regents also presented to Congressman Chong Resolution No 07-A series of 2009 expressing the most profound gratitude and sincerest appreciation as the principal sponsor of House Bill No. 1972 substituted by House Bill No. 4414 which became a law as Republic Act No. 9718 converting NIT into NSU.
On the other hand, Atty. Gonzales was given the honorary degree in Doctor of Humanities (Honoris Causa) for his unequivocal commitment to serve the Filipino people for his very exceptional accomplishments manifested by his vital contributions in the enactment of the provincehood law of Biliran province and for his philanthropic activity through the donation of prime lots to the Naval Institute of Technology (NIT) now Naval State University (NSU), Pro Infante Et Familia Sisters, Diocese of Naval and Mother Ezperansa Orejola of the Franciscan Sisters Order which are beneficial to the constituents for sustainable development and progress of Biliran province.
During the conferment rites, the honorees was presented by Atty. Buenaventura C. Go-Soco, Jr.; the reading of the Board of Regents Resolution was done by Matias B. Bentor, University Board Secretary; the reading of authority by Dr. Nona S. Ricafort, Commissioner, Commission on Higher Education (CHED); the hooding, capping of degree of Doctor in Humanities to Congressman Glenn A. Chong and former Biliran Governor Jose C. Gonzales was done by Dr. Edita S. Genson, NSU President and she was assisted by Cedrick Allan Van M. Garcia, Private Sector Representative.
100 days countdown towards Southern Leyte's golden anniversary kicks off
By R.G. CADAVOS (PIA Southern Leyte)
March 25, 2010
MAASIN CITY, Southern Leyte – The 100 days countdown just before the 50th Founding Anniversary celebration of the province of Southern Leyte this coming July 1st kicked off Tuesday, March 23, with a motorcade around the city proper.
The afternoon motorcade participated by local government officials and employees and some concerned citizens was followed by a Holy Mass celebrated by Bishop Precioso D. Cantillas at the provincial capitol grounds, after which a launching program was conducted to signify the start of the 100 days countdown towards the province' golden anniversary celebration.
Vice-Gov. Mike Maamo who welcomed the participants expressed his support for the 100 days preparation before July 1st and expected a 100% attendance throughout the province. While, inspirational messages were given accordingly by ABC Provincial Federation President Nikko V. Mercado, Provincial Councilors' League President Florentino Lubang, and League of Municipalities President Mayor Pete Fustanes, who showed support to the activities prepared for the celebration.
On the other hand, Maasin City Mayor Maloney Samaco who just came from his state-of-the-city-address joined the provincial officials and confirmed his all out support to the countdown. "It is my privilege to be part of this once in a lifetime activity and we're lucky enough to have joined this seldom occasion of the province."
The city government committed to use all channels that can help realize for the success of the 50th anniversary of the province. "We will utilize our resources, vehicles, manpower and all activities will be participated by the city government," Samaco continued.
Meanwhile, Provincial Governor Damian G. Mercado and District Congressman Roger G. Mercado similarly joined hands to unite for the development of the province. The brothers have seen the real unity throughout Southern Leyte and were grateful for the support of the government officials, especially mentioned was Mayor Samaco for the good leadership he has showed for Maasin City.
The incumbent governor urged everyone to participate in the celebration from day 1 until the province' natal day, July 1. He was thankful for ASI, UST and MASAM (ASI for Action, Solusyon, Isisyatibo, UST for Unity, Solidarity and Teamwork, MASAM for Maasin City Atong Syudad Atong Mahalon), the battle cries of Gov. Mercado, Cong. Mercado and Mayor Samaco, respectively, for the continued support given.
The opening salvo also unveiled the golden anniversary logo performed by the governor, congressman, city and provincial officials, while the countdown was officially started by the same officials with Fr. Felix Paloma who represented Bishop Cantillas.
NPA massacres a family, 2 killed, wounding another
By DPAO, 8th Infantry Division, PA
March 24, 2010
CAMP LUKBAN, Catbalogan City, Samar – Two lives were vehemently taken as another one in a critical condition after the terrorist New People's Army (NPA) massacred a family in Brgy. Bag-otan, Matuguinao, Samar Sunday morning.

Mylene dela Cruz, 20, who suffered gunshot wound at her left leg during the massacre, is now confined at the Samar Provincial Hospital.
The victims were reportedly identified as Doming and Junie dela Cruz, 50 and 22 years old respectively who suffered gunshots all over their body that caused their instant death while Mylene dela Cruz who were rushed to Poblacion Matuguinao for medication.
Based on the initial investigation, the victims while sleeping in their rest hut somewhere in their farm were perturbed by the successive fires from high caliber fire arms of four (4) unidentified members of notorious NPA led by Artemio dela Cruz alias Ato who were wearing bonnet.
The 83rd Division Reconnaissance Company of the Army's 8th Infantry Division immediately sent out troops to augment the PNP in pursuing the perpetrators.
Major General Arthur I. Tabaquero, 8ID's commander said that the act can only be done by the Godless and evil people and should pay not only to the people's law but more so to the Divine Law of God.
The 8ID strongly condemns in the strongest possible terms this newest inhumane act of the terrorist NPA.
Different sector of localities that legitimately look after the respect for human rights also condemn such evil works.
It can be recalled that in early February, an innocent farmer known as Arman Diaz of Brgy. Madoroto of same municipality was also mercilessly slain by the terrorist in front of his children and wife and afterwards dragged and exhibited at the center of barangay plaza.
On March 15, a certain Luis Durico, Chairman of brgy. Genaronagan, Lope de Vega in Northern Samar was also brutally slaughtered by the terrorist with his body also dragged and brought at the center of barangay and beheaded in front of family and constituents.
These animalistic acts of NPA in terrorizing the civilian to solicit support are already well known tricks that are being used long before time.
History speaks that countless violation of human rights were recorded but as if the progressive party-lists and cause oriented groups who are shouting for a genuine human rights were voiceless and effortless.
This is a serious matter that Karapatan, Katungod-SB, Sagupa-SB, Bayan Muna, Gabriela, Anakbayan and allies must look into. Where are they now? Aren't they going to condemn this unpardonable act that the NPA has recently committed?
The victim's families are crying for justice, that if ever such justice will prevail, the lives that were taken by the terrorists can no longer be retrieved.
Maasin City receives green banner award in nutrition
By R. G. CADAVOS (PIA Southern Leyte)
March 23, 2010
MAASIN CITY, Southern Leyte – The City of Maasin has received a Green Banner Award in the field of Nutrition, March 12 in Tacloban City through the National Nutrition Council Regional Office 8 headed by Nutrition Program Coordinator Carina Z. Santiago.
In a monthly newsletter, the City of Maasin reported that the City Nutrition Council has showed exemplary practices and outstanding performance in implementing its nutrition programs with the able leadership of City Mayor Maloney Samaco as the council chairman.
In an acceptance speech delivered by City Executive Assistant Bethany Gado, in behalf of Mayor Samaco, he stressed that 'the award received was an indication that the city implemented well the nutrition program and this is a challenge for the city government to continuously support the nutrition programs."
The award were presented by Department of Health Regional Director Edgardo Gonzaga, Department of Agriculture RD Leo Caneda, National Food Authority Director Ben Marta and Ms. Carina Santiago.
On the other hand, Outstanding Barangay was also awarded to Barangay Captain Brigida Blasabas of Brgy Acasia, Maasin City who was chosen as the best barangay implementer in nutrition programs throughout the region. While Cecilia Mitra, was chosen as the Outstanding Barangay Nutrition Scholar, still from the same barangay.
Along with Gado during the awarding ceremony were Maasin City Rural Health Physicians Dr. Francisllisa Tan, Dr. Teodulo Salas, Dr. Jocelyn Orito and City Social Welfare and Development Officer Febe Maria Sta. Cruz, City Nutritionist Jasmin Genegobis, Midwife Angelita Orais, Public Health Nurse Anachita Cabatingan and Medical Technologist Jocelyn Jamo.
Mamanwa tribe yearn inclusion in government's 4Ps
By NINFA B. QUIRANTE (PIA Samar)
March 23, 2010
CATBALOGAN CITY – Some 20 Mamanwa households in Barangay Babaclayon, San Jose de Buan are yearning for inclusion in PGMA's Pantawid Pamilyang Pilipino Program (4Ps).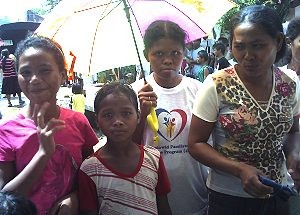 Some of the Mamanwa tribesmen in San Jose de Buan join the throngs of welcomers to PGMA who came on March 19, 2010 to turn-over Kalayaan Barangay Projects.
Lorna Obiena, 42, said she is lucky to be included but pleads that others like them be also included.
Talking in Waray-waray the rain-drenched Mamanwa begged this writer to relay her pleadings to the agency concerned.
"Amo la iton amon trabaho, mag uma hin humay, kamote, mais, gawani ngan saging." (All we can do is farm, grow upland rice, camote, corn and other root crops.)
"There is hardly any money left for our children's school needs," she added in the dialect.
The money coming from 4Ps have helped them and Lorna wanted her other neighbours to also enjoy 4PS.
The Mamanwas are believed to have come from Las Navas, Northern Samar but Alfredo Obiena, Lorna's husband told PIA that they were living in Barangay Gusa (farther east to the mountains) then.
When their children reached school age, they relocated to Barangay Babaclayon.
"Waray kami makaeskoyla, diri kami ma aram magbasa, amo nga karuyag namom, iba naman an amon mga anak" (We are unschooled, can't read nor write, we want our children to be educated, not like us). Alfredo said adding he and his tribesmen walked for an hour to see the President.
PGMA was here on March 19 for a visit and turn-over of Kalayaan Barangay projects.
The Mamanwas look like the Aeta as they have sun-kissed complexions, with curly hair.
Of the 26 Mamanwa families only six have been lucky to be given 4Ps cash grants.
In a talk with DSWD Regional Director Leticia Corrilo, she said the others may not have been surveyed. She promised to look for a special program for the Indigenous tribe of the Mamanwa.
As the PIA staff moved to its homeward journey, with the convoy of PMS and PSG, the lot saw the dwellings of the Mamanwa on top of a hill called Babaclayon, with bamboo slats as walls and cogon grass as roofings.
The writer offered a simple prayer, for Lorna's wish to come true.