3LPHED Congress in Eastern Samar held
By BRYAN MONTES AZURA
November 5, 2009
BORONGAN, Eastern Samar – Provincial and local officials from various municipalities gathered to discuss critical issues on environment and maternal health as the Local Legislators' League on Population, Health and Development (3LPHED) Congress takes off Wednesday as one of the highlights of the 44th Founding Anniversary Celebration of the province of Eastern Samar.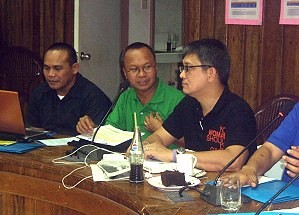 Eastern Samar governor Ben P. Evardone discusses some important issues concerning maternal health and environmental situation of his province with PLCPD Executive Director, Mr. Ramon San Pascual (right). Also in photo is PLAN Philippines Country Programme Director, Mr. Baltazar Tribunalo, Jr. (left), who also served as one of the speakers of the recently concluded congress.
Governor Ben P. Evardone said Executive Committee, during the planning period of the foundation celebration activities made an inclusion of the forum on environment particularly on climate change and maternal health as these are critical issues that need to be addressed especially now that the province is geared toward progress.
"When we talk about climate change, we also talk about development, health and population," the provincial chief said in his message to the participants of the congress.
The congress, attended by people from Philippine Legislators' Committee on Population (PLCPD) and PLAN Philippines, was also attended by Sanguniang Panlalawigan members, Municipal Mayors, Vice Mayors and Councilors.
Ramon San Pascual, Executive Director of PLCPD and an advocate of maternal health, said that the province should give attention to this issue as most maternal and even infant deaths occur on poor families. "Those who have no means are the least attended in terms of health services," San Pascual revealed.
According to San Pascual, of the 3 million pregnancies, 1.4 million are unwanted or unintended while 473,000 end up in abortion. Statistics also reveal that 11 mothers die every day due to pregnancy. Gov. Evardone reiterated that pregnancy is not sickness and therefore no mother should die giving birth.
Meanwhile, Baltazar Tribunalo of Plan Philippines, conversant on climate change, challenged the participants to ensure environment preservation. He elaborated that the globe's environment situation is degrading fast. "LGUs should have a foresight on environmental effects before plunging onto development programs," he said. He stressed that the government should always include in its plans a disaster risk reduction analysis.
Tribunalo said that the series of disasters that hit the country recently are just implications of a worsening environment condition of the planet.
PLCPD challenged the local chief executives to rapidly mobilize resources and address financial barriers especially among the poorest to improve maternal health condition in the province. "We have substantially lowered maternal deaths but infant mortality is still high in the province," Ruel Andag, UNFPA Provincial Programme Coordinator.
It also recommended for LGUs to scale up quality health services, address urgent need for skilled health workers, tackle root causes of maternal mortality and morbidity and strengthen monitoring and evaluation.
Governor Evardone, in response, said that despite the meager resources the provincial government is making steps to address the immediate needs of the provincial health workers. Recently, the governor ordered the release of cash allowances to more than 3,000 barangay health workers pegged at P1,200 each.
The province is also fastracking health services upgrading including hospital development projects out of the P500 million-grant from European Commission, Department of Health (DOH) and other national government agencies.
Local legislators meanwhile are asked to enact legislations that support women to make their own family planning options and healthcare decisions for themselves.
SP Member Jovi Opinion, in an interview, said that the provincial board has already passed on its first reading an ordinance on safe motherhood and neonatal care authored by SP Member Editha Sepulvida. "We are looking forward to passing the said ordinance on its second and third reading soon," Opinion said.
SP Member Enerio Sabulao, 3LPHED national president, revealed that the environmental code of Eastern Samar has already been approved by the Sangunian.
DENR-MGB alerts LGUs and communities on disaster
By PURIFICACION S. DALOOS
November 3, 2009
TACLOBAN CITY – In the heels of the recent environmental disasters which resulted in the loss of lives and properties in various parts of the country, the Department of Environment and Natural Resources under the leadership of Secretary Jose L. Atienza ordered its regional offices to coordinate with the local disaster coordinating centers nationwide and help in the preparation and implementation of disaster management plans in their respective areas of responsibilities.
In Region 8, Mines and Geosciences Regional Director Danilo Uykieng said that they are almost complete in the geohazard assessments in most of the municipalities in the region. RD Uykieng said they are conducting on going assessment in Samar province specifically, in the City of Calbayog and municipalities of Gandara and San Jorge.
RD Uykieng further disclosed that the results of the geohazard assessment were forwarded to the concerned local government units and the regional, different provincial, municipality and barangay development coordinating councils.
The LGUs and the disaster coordinating councils help the DENR in disseminating the result of the geohazard assessment to targeted communities. The PDCCs and THE MDCCs conduct training on what to do during and after occurrence of disasters even in the barangay level.
DENR Regional Executive Director Regidor M. De Leon disclosed that the DENR is concerned on the provision of information to the LGUs and the RDCC, PDCC, MDCC and BDCC on the specific barangay which has high, low or medium susceptibility to flooding, landslides and other forms of geologic hazards. The LGUs and the Disaster Coordinating Councils are the ones in charge of mobilizing and giving advisories to the communities on what to do in times of calamities.
Region 8 has a total of 4,390 barangays. Of these total, 442 are located in high risk, 763 in medium risk, and 754 in low risk areas to landslide. The MGB is currently doing map interpretation process of the Flood Hazard Maps to categorize barangays into low risk, medium risk, and high risk flood prone areas.
RP's top BPO firms post $2 billion in revenues
Press Release
By Office of Rep. Joseph A. Santiago
November 2, 2009
QUEZON CITY – The 29 largest business process outsourcing (BPO) providers in the Philippines, mostly engaged in contact center activities, reported P94.4 billion in combined revenues in 2008, up 21 percent or P16.1 billion from the P78.3 billion they posted in 2007, Catanduanes Rep. Joseph Santiago, chairman of the House information and communications technology committee, disclosed Sunday.
"The Philippines has definitely secured its position as a leading player in the global BPO market, judging from the sustained double-digit revenue growth of the local branches of mostly multinational BPO providers," Santiago said.
Santiago cited the need to further build up the BPO industry through ample infrastructure support, proper human resource development, sound policy environment, adequate fiscal incentives and effective business development.
He said the P94.4 billion in combined revenues reported by the top 29 BPO providers alone translate to almost $2 billion at the current exchange rate of $1:P47.63. Overseas clients pay BPO firms in dollars.
"What is remarkable about the BPO industry is that it is highly labor-intensive. Since the industry employs a growing number of Filipinos, it also supports an increasing number of families," Santiago said.
The top 29 BPO providers and their corresponding 2008 revenues are: TeleTech Customer Care Management Philippines Inc. (P8.1 billion); Convergys Philippines Services Corp. (P8 billion); eTelecare Global Solutions Inc. (P7.9 billion); Sykes Asia Inc. (P7.5 billion); Aegis PeopleSupport Inc. (P5.7 billion); ICT Marketing Services Inc. (P4.3 billion);
Telus International Philippines Inc. (P4.2 billion); HSBC Electronic Data Processing Philippines Inc. (P4.1 billion); Sitel Philippines Corp. (P3.7 billion); Telephilippines Inc. (P3.6 billion); Deutsche Knowledge Services Pte. Ltd. (P3.2 billion); IBM Daksh Business Process Services Philippines Inc. (P3.2 billion); IBM Business Services Inc. (P2.9 billion);
Sutherland Global Services Philippines Inc. (P2.5 billion); JP Morgan Chase Bank N.A. Philippine Customer Care Center (P2.4 billion); Dell International Services Philippines Inc. (P2.4 billion); SPI Technologies Inc. (P2.3 billion); Advanced Contact Solutions Inc. (P2.2 billion); ePLDT Inc. (P2.1 billion); APAC Customer Services Inc. (P2.1 billion);
Cyber City Teleservices Philippines Inc. (P1.8 billion); Sitel Customer Care Philippines Inc. (P1.8 billion); Parlance Systems Inc. (P1.7 billion); ePerformax Contact Centers Corp. (P1.6 billion); Synnex-Concentrix Corp. (P1.4 billion); West Contact Services Inc. (P1.2 billion); Vision-X Philippines Inc. (P1.1 billion); Genpact Services LLC (P1 billion); and ePLDT Ventus Inc. (P1 billion).
The 2008 revenues of the local units of the following large BPO providers were not readily available: Accenture Ltd., Affiliated Computer Services Inc., Citigroup Business Process Solutions Pte. Ltd., INFONXX Philippines Inc., Hinduja TMT Ltd., and Vocativ Systems Inc.
Santiago pointed out that the country has more than 400 other BPO providers that generate annual revenues of anywhere from a few million pesos to just under P1 billion.
Voter-registrants swarm Samar Comelec offices
By NINFA B. QUIRANTE
October 30, 2009
CATBALOGAN, Samar – Like other COMELEC offices nationwide, Samar Municipal Comelec offices are swarmed by last wave of voter-registrants since last week.
In a personal visit to Catbalogan COMELEC, Election Officer, Edgar delos Reyes said that the hordes of last wave registrants started on October 21.
Since then, their office clients spill over to the hallways of the municipal hall.
Gilbert La Torre from barangay Cagutsan, Sierra Island just turned 18 on October 11 that is why it took him until this time to register.
Another Comelec client, Tessie La Torre, 28, from the same barangay wanted to transfer from Manila.
"We started doing overtime registration on October 22, 2009, as mandated," shared de Los Reyes.
For that day alone they had 320 persons registered in contrast to the lighter days earlier when but a handful visit their office.
The election officer said that there are some 4,306 total registrants to date.
In Calbayog City, Comelec officer Salvador Cruz also said that on October 26 just for a day, they were able to register more than 300 clients.
For a small town like Pagsanghan, Samar it is not that much though, said election officer Rene Gaditano.
"We are receiving only some 40 new registrants a day, which is very manageable. "
Also, the high tech biometrics capturing machine in his office has bogged down so that he returned to the traditional method of registration.
"As election officers, we are trained to handle registration through high tech or the traditional way," stressed Gaditano.
Samar provincial Comelec said that the last day for registration is on October 31, 2009 until 12:00 midnight.
Meanwhile, validation registration will be done from November 3 to 30, 2009.
Army engineers to hand-over five more KBP projects
By 1Lt. ANABELLE R. PARAAN (CE) PA, 546 Engineer Construction Battalion
October 29, 2009
BORONGAN, Eastern Samar – The steadfast and swift efforts of 546 Engineer Construction Battalion (ECB) to implement infrastructure projects under Kalayaan Barangays Program continue to progress as another four projects come about to be handed over to its end users on October 30 & 31, 2009.
Residents of Brgy Waso, Llorente will also be benefited by another exceptional craft of 546ECB, the water system project. It is scheduled to be handed over on October 30 at 10am with Hon. Tito B. Codoy Jr., Vice Mayor of Llorente as the Keynote Speaker.
Likewise, hand over of four (4) infra projects in Brgy Balacdas, Borongan, the construction of a Day Care Center; repair of school building and installation of five(5) deep wells and barangay street lights are scheduled to be handed over on October 31 at 10am. The end users, residents of the barangay together with their Mayor and Vice-Mayor, Hon. Fidel V Anacta Jr. and Hon. Fe R. Abunda are looking forward to accept and use the said facilities.
Of the total 59 various projects worth P74M, which consist of construction of all weather access roads or farm to market roads, school buildings, water system facilities, health centers, installation of sanitary toilets and barangay electric power facilities in 18 different barangays of Llorente, Balangkayan, Maydolong, Borongan, Catbalogan, Jiabong and Calbiga, the 546ECB had so far completed 16, while another 20 projects are just about to finish and the remaining 23 will be started soon.
Your Army Engineers are doing the best effort to deliver these vital projects the soonest time possible in order to make the basic facilities available to the Warays in remote barangays.
As Comelec ignores calls to extend voter reg
Youth solon to question legality of shortened voter registration before High Court
Press Release
By Kabataan Party-list
October 28, 2009
QUEZON CITY – As youths and fans from around the world endure long lines today to watch Michael Jackson's final movie, "This Is It," so are first-time-voters and new registrants in the Philippines as the deadline of voter registration nears this November 1.
Deadline was originally shortened and set to fall on October 31 but the Commission on Elections (Comelec) recently extended the deadline to November 1 as complaints of terribly long lines and queues continue to hound the agency.
"Still, this is not enough. A one-day extension would not make much of a difference as long as numerous factors hinder our youth and first-time-voters from registering," Palatino said.
Palatino said that he would lead first-time voters and youth groups in filing a Petition for Certiorari and Mandamus with Application for Preliminary Mandatoy Injuction on Friday, October 30, before the Supreme Court.
"This is it. After the Comelec stubbornly ignored our appeals and valid complaints, we are left with no choice but to take them to task," he said.
The Petition, he said, will question the legality of the Comelec's shortening of the period for continuing registration.
Under RA 8189, or the "Voter's Registration Act of 1996," the pertinent provision on the period of registration states (Sec. 8 System of Continuing Registration of voters), "No registration shall…be conducted during the period starting one hundred twenty (120) days before a regular election and ninety (90) days before a special election."
"The Comelec, therefore, in its issuances, and despite appeals by several sectors to extend voter registration, has shortened the period CONTRARY TO what is mandated by law," Palatino said.
He also added that calls to extend voter registration are more reasonable, practical and justifiable in light of the recent onslaught of typhoons Ondoy and Pepeng, as well as the limited number of biometric machines and unavailability of Comelec satellite registration sites, among others.
Palatino earlier filed House Resolutions 1162, directing the Comelec to return the deadline for voter registration to its original deadline of December 2009; HR 1443, calling to extend voter registration for those affected by typhoons Ondoy and Pepeng; and, HR 1336, calling for a one-day leave with pay for employees' voter registration.
Karapatan's "Military Intelligence Report": A Mere Fabrication
By Maj. MELECIO Y. CASTILLO, 803rd Brigade
October 26, 2009
CATARMAN, Northern Samar – The recent exposition of the alleged military intelligence report that was mentioned in the eleven-page National Fact-Finding Report of the allied CPP's legal front on the killing of Fr. Cecilio Lucero is purely fabricated [read article].
Accordingly, the fabricated report was handed over to them by an "unidentified state forces asset" that up to this press time remained to be doubtful.
In this alleged "military intelligence report", names mentioned in its first part are persons who happened to be close to the military authorities and are team partners of the Army units in the area in the pursuit of peace and development.
On the other, when these names were verified, those concern persons denied their active involvement in any leftist organization; some even does not exist while some of them are already living in Luzon or other parts of the country and even abroad.
Though some are former militant activists, most of them vehemently denied any current affiliation with any leftist organizations and are now partners in shaping a peaceful Northern Samar, some are even members of the Northern Samar Peace and Development Forum (NSPDF), and affiliated school-based teams of our units helping University of Eastern Philippines (UEP) create a more conducive learning environment and peaceful community.
Mid last year, the creation of Northern Samar Peace and Development Forum (NSPDF) was sponsored by the clergy particularly the DCC to help out in improving the economic stability of the province thru the pursuit of peace and order, good governance and development.
It was partnered by AFP, PNP, Provincial and Local Government Units and other concerned agencies and became very active in peace and development programs within the province.
This forum created another wall that blocks the fault-finding leftist organization to reach out and poison the minds of the local folks.
Karapatan even casually reported that all officers of the University Student Council of the UEP with Luke Jansen Detera as President are also the leaders of the League of Filipino Students. However, most of these students categorically denied this previously in a symposium with the military which was attended by all officers of school-based organizations and some school administrators led by Atty. Mar De Asis, UEP President at the UEP Kapihan last August 20, 2009. What then is Karapatan implying with this statement?
These are but some of the usual tactics of the CPP-NPA-NDF in an area where they are already loosing their grip, to create a wedge between the supportive stakeholders and the military units.
This is a clear manifestation that the leftist/militant organizations in the province are desperately crafting issues and stories to destroy accord and harmony within the society.
The relentless massive information drive jointly conducted by the Army units in the area and other concerned agencies, the legal front of the CPP-NPA-NDF in the province is indeed losing their grip within the urban areas as the local folks are becoming aware of their deceptive schemes.
This situation prompted the KARAPATAN and other allies to craft a propaganda issue finger-pointing to the military all atrocities in the province but have not undertaken any fact finding activity on atrocities done by the NPAs! Likewise, they have not even included in their investigation the murder of Manolo Daza, Mayor Cesar Sasi Vicencio, among others.
Ex-Congressman Wilmar Lucero, brother of assailed Fr. Lucero even expressed his heartfelt appreciation to the efforts of the Army units in the area helping the on-going investigation for the immediate resolution of the aforesaid case.
This baseless issue is no longer new to this organizations particularly the fact-finding turn fault-finding mission usually conducted by KARAPATAN to evade the truth to the public.
This is the primary task of NDF, the branch of CPP in terms of legal struggle to support the armed struggle being staged by the NPA in the countryside.
Conspicuously denied by the KARAPATAN to be linked with the CPP-NPA-NDF, the alleged "results" of the fact-finding mission is a mere propaganda aiding the armed movement to continuously flow in the far areas. Why not conduct fact-finding mission in against the brutal killings perpetrated by the NPAs in the area? The answer is obvious.
Meanwhile, the Army units in the area remain steadfast in their mandated mission and continuously upholding the programs left unfinished by Fr. Lucero.
We are appealing to the public to work hand-in-hand with the authorities to include media entities and various religious and people's organization to take account our moral obligations to maintain harmony in the province.
Army official lauds Leyte's support to SIP
By Provincial Media Relations Center
October 25, 2009
TACLOBAN CITY – The provincial government of Leyte was admired by a top military official in the region for its support to the Social Integration Program (SIP) of the government.
Maj. Gen. Arthur Tabaquero, commanding general of the 8thInfantry Division, said Leyte province is very responsive as far as the SIP is concerned and is particularly supportive by means of providing financial assistance to former rebels voluntarily surrendering to start a new life in mainstream society.
The provincial government of Leyte has been providing counterpart basic assistance to rebel returnees here in Leyte in the amount of P7,000.
This amount is the province's counterpart to the P20,000 immediate assistance, P50,000 in kind like farm implements and fertilizer under the Social Integration Program started by the Office of the Presidential Adviser on the Peace Process (OPAPP).
Following a study conducted in 2007, results showed the need for involvement of the local government unit in the monitoring as well as interventions, with a program on healing and reconciliation also required.
Thus, President Arroyo issued Administrative Order 172 creating the National Committee on Social Integration. The social integration committee was created to train rebel returnees and give them the opportunities available.
Before receiving the P20,000 economic assistance, the rebel returnees were trained to do small time businesses through the Department of Trade and Industry, Technical Education and Skills Development Authority, provincial agriculture office, provincial veterinary office, and the technology livelihood and development center. Values formation also forms part of the training.
On top of this, a rebel returnee will get additional cash if he or she surrenders with a firearm, P50,000 for high-powered firearms and P20,000 for short firearms under the government's Balik Baril Program.
Meanwhile, in the recent Peace and Order Council Meeting for Leyte province, Leyte Governor Carlos Jericho Petilla through the Provincial Social Welfare and Development Office (PSWDO) asked for fasttracking of documents of rebel returnees so they can immediately be released of their financial assistance.
For this year, the PSWDO reports that 28 rebel returnees have already received their financial assistance from the provincial government following completion of documents with the Joint AFP-PNP Intelligence Committee (JAPIC).
NPA resurgence observed in Leyte
By Provincial Media Relations Center
October 23, 2009
TACLOBAN CITY – The army battalion based here in Leyte has noticed a resurgence of communist activities in a number of barangays in the province as revealed during the recently held Peace and Order Council Meeting of Leyte province.
The 19th Infantry Battalion based in Brgy. Agiting, Kananga, Leyte through its commanding officer Lt. Col. Roberto Capulong however clarified the newly monitored communist activities is not in the form of ambuscades, attacks and firefights but done in the form of teach-ins, patrols and talking with the local populace.
Lt. Col. Capulong said this new resurgence of communist activities is accounted to the upcoming elections where the rebels reportedly want to "make their presence felt and get across the message that they are still a force to reckon with."
Reportedly, the Communist Party of the Philippines (CPP) and its armed wing, the New People's Army (NPA), are setting aside their "permit to campaign" election fundraising scheme for the more lucrative "permit to win" in their bid to amass money from politicians seeking national and local posts in the next year's elections.
In past elections, the Armed Forces of the Philippines (AFP) have validated that the CPP-NPA issued permits to campaign for a certain fee in so-called rebel-influenced or controlled territories.
While it was not indicated how much the NPA rebels would charge national and local candidates to ensure that they would win in areas they claim to have a strong influence, the military intelligence community said the figures would be exorbitant.
Under the new "permit to win" scheme, the rebels will mobilize their political machinery in the countryside to ensure victory for certain candidates who pay their fees.
"This is the new scheme they would be conducting as per reports reaching us. That is why we see this as the reason in their resurgence," Lt. Col. Capulong said.
The army however assured that government security forces in the area remain more vigilant and put in place more stringent security measures to avert any of these special operations.
Meantime, Leyte Governor Carlos Jericho Petilla urged the local army authorities to maintain the "insurgent free" status the province has achieved in the past year as resolving insurgency fosters a climate conducive to economic growth and national development.
"Only in a secured atmosphere can we convince businesses and companies to invest in our province which would mean more economic opportunities for our people. They want to be assured that their investments cannot be hampered by outside forces. Peace and stability is part and parcel of of our economic growth," Gov. Petilla said.
Leyte, together with other provinces in the Eastern Visayas region has been declared as "insurgency-free" by the military officials in the region under the command of Major General Arthur Tabaquero of the army's 8th Infantry Division.
The military has vowed to crush the insurgency in the region to its insignificant level by 2010 as no less than President Macapagal-Arroyo identified the presence of the rebels as among the reasons why the region continue to lag behind in terms of economic development.
Army in denial, afraid to sign MOA
Press Release
By KATUNGOD-SB
October 22, 2009
TACLOBAN CITY – Katungod-Sinirangan Bisayas lambasts 8th Infantry Division's denial that Army's 14th Infantry Battalion committed human rights violations in interior barangays of Gen. Mc Arthur, Eastern Samar, as claimed by farmers from the said town in a dialogue between the army and farmers last October 5, 2009.
"Farmers will not go through all the efforts in initiating a dialogue between them and the military and mobilizing 600 farmers if their rights were not violated and if they were not in the right reason," said Flor Chantal Eco, Katungod-Sinirangan Bisayas' Secretary General in a statement today. "Farmers are far more credible than the armed forces."
She furthered that the military has repeatedly called that if there are abuses done by the military, the people should not be afraid to report it to them, but now that the farmers themselves made the move to expose the issue, they're denying the allegations and refuses to take action.
"The army repeatedly denied the farmers' allegations that the 14th IB committed violations saying that the violations were committed by the 62nd IB who formerly operated in the area. Now they're admitting that there were indeed violations committed by the army, but have they addressed the issue?" added Eco.
During the dialogue, farmers testified that the 14th IB harasses residents in the barangays and refuses to follow the barangays rules that they should sign in the barangay's log book so they will be able to identify the soldiers whenever they operate in barangays. The farmers also accused the soldiers of posing as members of the New People's Army (NPA).
Moreover, the army kept insisting that the Mayor of the town doesn't know the farmers who initiated the dialogue. "Common sense tells us that the Mayor knows the people who initiated the dialogue because he facilitated it, why would he facilitate it if he doesn't know them? The farmers, including barangay officials of the said town consulted him several times before the dialogue," said Eco.
"Now, if they're really promoting human rights, follows protocols, why didn't they sign the Memorandum of Agreement (MOA) presented by the farmers? The farmers just wanted a written agreement that the army that operating in their town will not commit any human rights violations, what are they afraid of? Easier prosecution thru the MOA because there is a big possibility that they will not comply?" Eco ended.