Figueroa, Redaja still lead in poll survey in Samar
By CHITO DELA TORRE
March 11, 2010
CATBALOGAN CITY – Samar Second District ex-congressman Catalino Figueroa of the island town of Daram stretched further his already big lead in the continuing internet poll survey participated in voluntarily by those who access Piniliay 2010 in www.samarnews.com [ link ]. As of 3 p.m. of March 8 (Monday), Cata got more than half (52 per cent) of the 636 votes. He amassed 328 votes. That shows he is as of this time the favourite choice among six candidates for Member of the House of Representatives for Samar's 2nd District.
| | |
| --- | --- |
| Redaja | Figueroa |
The poll survey showed incumbent Catbalogan City vice-mayor Van Torrevillas only 64 votes (10%) and incumbent Basey mayor Wilfredo Estorninos 58 (9%). Outgoing Samar governor Mila Tan nested on a poor fourth berth with only 43 (7%) to her credit, while new names Urbano Alli and Alvin Abejuela took the poorer and the poorest slots, respectively, with 19 and 16 (both with a 3% percentage equivalence) votes to their credits.
Cata's votes even went much higher by 94 votes than that polled for the leading gubernatorial candidate, incumbent vice-governor and once 90-day governor Jesus B. Redaja. Jess got only 234 (37%) but still he is the top choice among six hopefuls for the position of governor. He is followed by non-government organization leader Pilar Bolok who seized 68 votes (11% and incumbent sangguniang panlalawigan member Casilda Lim who got 59 (9%). Sharee Ann, incumbent 2nd Dist. Congresswoman and daughter of Mila Tan, snatched the poor fourth place with 49 (8%) to her credit. Pedro Labid, a lawyer with a religious group's backing, collected 24 votes (4%), while political new-face Darwin Tan kept his miserable tail-end of 3 votes only (0%).
In the vice-gubernatorial informal polls, ex-San Jorge mayor Joseph Grey managed to lead with 135 votes (21%). Rosenaida Rosales reaped 104 (16%) to keep her self on second place. The third and last place belongs to Stephen James Tan who scored 37 (6%) only.
In the congressional rivalry for the First District of Samar, Mario Roño (who had a poor showing in the gubernatorial race to which he was catapulted for a first try at politics by a mammoth gathering of town and barrio officials) coveted the top berth with 80 votes (13%). Incumbent Calbayog City mayor Mel Sarmiento came in closest with 73 votes (11%) while ex-congressman, lawyer Rodolfo Tuazon kept his third place with 63 (10%). New faces Rodrigo and Alex, both surnamed Tuazon, are miserable tail-enders with 4 and 3 votes (1% and 0%) respectively.
Those who want to cast their votes may just go to Piniliay 2010 of this website and click the join the poll survey tab.
Based on these latest results, some of those who participated in the survey remarked that the Tans may not probably be aware of their unconvincing performance in the survey, but even if they were so, they are probably still comfortable with the current show of support for them.
However, that show of support is fast being eaten up by the groundswell of favouring votes for Cata and if it is erosive, Mila may lose a big chunk in the actual cast. Yet, Mila's supporters may not have anything to worry if they are keeping up their sleeves aces that can overturn the current indications.
Mila has since January this year been known to be supporting the presidential candidacy of senator Manny Villar, and Manny is believed to be providing campaign funds for Mila. To some of her supporters, that is enough for her to gain an edge come balloting day.
Didi, who is believed to have the full backing of the Noynoy-Mar banner of the Liberal Party, may yet prove he could get the lead. Electoral pulsation in Samar showed lately that Manny's Nacionalista Party is also ahead in "pamulso" as in other parts of the country, that after playing second fiddle to Noynoy in the early surveys. Yet, Didi has yet to outrank Van first. Van is fast getting ahead past Didi. Some electors believe the youth group in Catbalogan could be behind this lead of Van who openly supported the youth's undertakings since he ran for his reelection in 2004 to the post of vice-mayor.
This late, though, other sectors are awaiting for surprise gambits and brilliancy moves from all those who are lagging behind. Perhaps next week's results will not yet proclaim a reversal of performance.
Pinay In Action All-Women's Run 2010
1,000 women to run for empowerment, rights
Press Release
By Office of Sen. Pia S. Cayetano
March 9, 2010
PASAY CITY – At least 1,000 women from Metro Manila and neighboring provinces are expected to run at this year's staging of Pinay In Action, an all-women's run to be held on March 13, Sunday, at the SM Mall of Asia Grounds in Pasay City.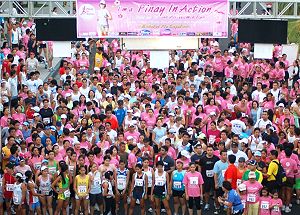 The first and only all-women's running competition in the country, Pinay In Action promotes women's rights, health, and empowerment in observance of the International Women's Month of March. This year's event will benefit indigent patients with ovarian, cervical and breast cancer.
Spearheaded by Senator Pia S. Cayetano, this year's staging will feature 10-kilometer and 5-kilometer open individual run events, and a 1.6-kilometer team run, which will pit adult-and-child tandems.
The three events will start in sequence at 6:00 am for 10K, 6:05 am for 5K and 6:10 am for the 1.6K team run. Awards and special prizes will be given to the top ten finishers in each event.
"Pinay In Action gives women a venue to express themselves, keep healthy and fit, and simply have fun. Running is a symbol of empowerment and freedom. Thus, a running woman is a symbol of an empowered and independent woman," explained Cayetano, a running enthusiast and principal author of the recently passed Magna Carta of Women (RA 9710).
"The event is not exclusive for female runners," she clarified. "Men may also join on the condition that they register with a female participant and run behind the women at the starting line. It is also understood they will not be eligible for the prizes in the individual running events. In fact, men are encouraged to participate to express their support to women's causes."
Race details and registration forms are available online on www.pinayinaction.com. Pre-registration fee is at P350, while race day registration fee is at P450. The race packet includes the participant's race number, race shirt, route map and PIA fact sheet. Race day registration starts at 5:00 AM at the venue.
As in its previous stagings, Pinay In Action 2010 will feature a Women's Expo which will be put up at the Seaside Boulevard facing Manila Bay. The Expo will showcase wellness products and host information booths on women's concerns such as breast, cervical and ovarian cancer, and violence against women and children. Entrance to the Women's Expo is free to the public.
Part of the proceeds of this year's event will go to the full radiation treatment of 20 indigent cervical cancer patients and the screening for cervical cancer of 1,000 indigent patients at the Dr. Jose Reyes Memorial Medical Center, in cooperation with Carewell Foundation. One full radiation treatment is P20,000, while screening is at P130 per patient.
The event will also benefit breast cancer patients. Pinay In Action will donate funds to the I Can Serve Foundation for the purchase of DVD players and instructional videos, which will be distributed to different barangays all over the country to raise awareness on breast cancer. Each P1,000 donation by race participants to I Can Serve will be matched with the same amount of donation by Pinay In Action.
Women occupy only 19 percent of world's parliament seats
PIA: "Men still make the laws of the world"
By Office of Senator Pia S. Cayetano
March 7, 2010
PASAY CITY – Men continue to dominate membership in national parliaments all over the world despite significant gains in women's empowerment and participation in governance in recent years.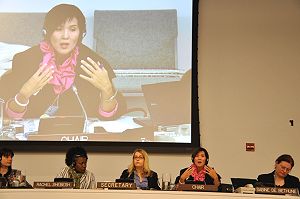 FILIPINA CHAIRS UN MEETING. Senator Pia S. Cayetano (2nd from R) of the Philippines presides over the 54th session of the United Nations Commission on the Status of Women held at the UN Headquarters in New York.
This was the finding of the latest study on women membership in national parliaments by the Inter-Parliamentary Union (IPU), according to Senator Pia S. Cayetano of the Philippines.
Cayetano, President of the IPU committee of women parliamentarians, said that barely just one out of every five lawmakers (18.8 percent) in the world today is a woman.
"Even in these modern times where women have become more politically aware and socially empowered, the hard and sad fact is that men continue to write the laws of our world," Cayetano stressed.
The Filipino senator chaired the 54th session of the United Nations Commission on the Status of Women, an annual conference of parliamentarians jointly organized by the IPU and United Nations Division for the Advancement of Women.
More than 140 representatives from 150 countries attended the main conference and side meetings held at the UN Headquarters in New York from March 2-4.
Cayetano noted that as of January 31, the IPU found out that men made up 36,330 (81.2 percent) while women occupied only 8,767 (18.8 percent) of the 44,767 seats of parliaments (combined upper and lower houses) all over the world.
This figure represents a marginal improvement from 18.3 percent in 2009, and still a far cry from the target set by the UN Economic and Social Council of having a minimum of 30 percent women lawmakers in all parliaments. In 1995, women occupied only 11.3 percent of the world's combined parliamentary seats.
She added that the IPU has been at the forefront of promoting the election of female legislators among its member-parliaments. Among the schemes the world body has introduced is the setting of "gender quotas" to encourage more women to enter politics.
Compared by regional averages, Nordic countries and the Americas registered the highest ratio of women parliamentarians at 42.1 percent and 22.2 percent, respectively. They are followed by Europe (19.9 to 21.8 percent), Asia (18.9 percent) and Sub-Saharan Africa (18.4 percent). The regions with the lowest ratio of women parliamentarians are the Pacific (13.2 percent) and Arab countries (10.1 percent).
In the Philippines, she noted that women comprise only four of the current 23 members of the Senate (17.4 percent) and occupy 51 out of 240 seats in the House of Representatives (21.3 percent).
Cayetano concluded: "The active participation of women and the integration of their perspective in all levels of governance are crucial in pursing social equity, genuine development and peace in any country."
"True democracy presupposes that men and women are able to work as partners and as equals, and able to learn from each other's differences."
Aquino pushes for expansion of geothermal production
Press Release
March 6, 2010
TACLOBAN CITY – Liberal Party standard bearer Noynoy Aquino on Tuesday pushed for the expansion of renewable energy sources, saying that the country should aim to become the world's largest producer of geothermal energy.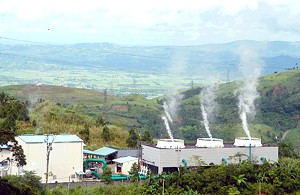 He also decried the failure of the Arroyo administration to properly manage the country's existing power generation capacities resulting in the current power shortages.
"She has been in power for almost nine years, and yet here we are facing brownouts during a crucial election season," the 50-year old senator from Tarlac said in press conference here.
"This is criminal negligence. We know that El Niño was going to visit the country. They knew that Mindanao was going to have a power supply problem. They should have mapped out a plan earlier on," Aquino said.
He pointed out it would take two to three years to build a power plant. But he acknowledged that there are large-capacity generators which government can buy to address the lack of supply.
"Mahal patakbuhin, mahal bilhin (generators). At sa last 2 minutes, masyadong midnight deal na di natin matiyak ano ang pakay," Aquino said.
He also said that while he is open to a special session of Congress to discuss a possible grant of emergency powers to President Arroyo, Malacañang must first answer questions on the current power crisis.
The LP bet said he prefers developing clean, renewable energy because it is less polluting than fossil fuels.
With more than 1,900 MW of installed geothermal capacity, the Philippines is the second-largest producer of geothermal energy.
The government has set a goal of increasing this figure to 3,100 MW within a decade, which would make the Philippines the largest geothermal energy producer, surpassing the United States.
NICUA Mining Corp. insists on misleading destructive effects of mining in Brgy. Pongon, MacArthur, Leyte
Press Release
By SAGUPA-SB
March 5, 2010
TACLOBAN CITY – Through their Safety Manager, Mr. Ver Abrugar, NICUA Mining Corporation is trying to deceive the people, particularly the farmers of Brgy. Pongon, MacArthur, Leyte by saying that mining 4 meters deep of soil will not destroy the environment especially on the quality of the land.
With mining, they will dig out some minerals like iron but will also include the vegetation, bacteria, worms and other micro organisms living on the earth, which have the big role of maintaining the fertility of the soil. Such is contrary to Mr. Abrugar's statement that mining will not affect the quality of the land since they will return the soil from where they excavated it.
"Any million worth of money would never replace the damage brought by mining the 523 hectares of land" said Jose Tico, Spokesperson of SAGUPA-SB
40 million tons of magnetite ore is estimated to be extracted from the said land within almost more than 30 years. This will allegedly amount millions to the social progress of the affected community.
"NICUA Mining's declaration that there will be rehabilitation of the land, is impossible, especially because they will apply chemical fertilizer on the land. Also, they are mistaken to say that this place is not productive to farmers considering that for decades, they have been living in MacArthur, Leyte," Tico clarifies.
"There is no responsible mining and social progress when, you deprive bounty from the people, you destroy the environment and drive away farmers from their fields. Rather, those are irresponsible steps for the interests of foreign capitalists," added Tico.
In retrospect, on February 15, farmers of Brgy. Pongon held a protest led by Fr. Arnold Aurelio, parish priest of MacArthur, Leyte. And on March 3, they had a meeting on mining in MacArthur, with Archbishop Jose Palma of the Archdioceses of Palo.
Print Edition of Samar News.com is born
By NINFA B. QUIRANTE
March 4, 2010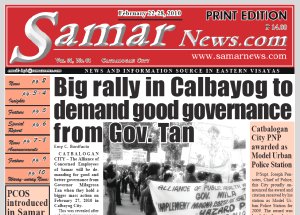 CATBALOGAN CITY, Samar – The Samar News.com Print Edition will soon be out in circulation.
In its launch yesterday, attended by government officials, NGOs and fellow media personalities at the Cocina de Cabral in Catbalogan City, Samarnews.com the printed edition took center stage along with 'publisher parents' Engr. Ray Gaspay and local media personality Imelda Bonifacio.
In her speech, Bonifacio vowed to perpetuate the paper as most community papers have not sustained the test of time.
Samar News.com is an on-line publication maintained by Engr. Ray Gaspay.
"The hard copy of Samar News.com is an offering to barangay folks who do not have access to the internet," added Bonifacio in her speech.
The maiden printed issue is an 8-page tabloid size with a red background color in its front page.
The newcomer community newspaper has also some Waray news intended for the masses, the publisher said.
This newspaper will now join the ranks of weekly community papers circulating in Samar province like Samar Weekly Express, The Samar Monitor and the Samar Sunday Star.
Like all other press entities, Samar News.com vows to furnish Samarnons with the truth! (PIA-Samar)
Maza dismayed at SC ruling on VFA, challenges next administration to abrogate VFA
Press Release
By MAKABAYAN
March 3, 2010
MANILA – Nacionalista-Makabayan senatorial candidate Rep. Liza Maza of Gabriela expressed dismay over the latest decision of the Supreme Court affirming the constitutionality of the US-RP Visiting Forces Agreement (VFA).
"The Supreme Court decision shows the Philippine government's continued subservience to the interests of the United States government," Maza said.
Maza is a co-petitioner in the joint motion with former senator Jovito Salonga, together with Evalyn Ursua, the lawyer of alleged rape victim Suzette Nicolas, and lawyer Neri Colmenares representing militant groups Bagong Alyansang Makabayan (Bayan).
The three-term representative of Gabriela challenged the next administration to uphold Philippine sovereignty by working for the abrogation of the US-RP VFA.
In its motion for reconsideration, the group argued that "the US soldiers are circumventing the Constitution as well as the sovereignty of the Philippines by visiting the country under the pretext of conducting training exercises, but are actually setting up military positions under long-term plans."
Named respondents in the suit were US Marine Lance Cpl. Daniel Smith, President Gloria Macapagal-Arroyo, Executive Secretary Eduardo Ermita, Foreign Affairs Secretary Alberto Romulo, then Justice Secretary Raul Gonzalez, Interior Secretary Ronaldo Puno, and then Chief Presidential Legal Counsel Sergio Apostol.
Assistant Solicitor General Luis Simon said that the constitutionality of the VFA has been deemed "final and valid" when the Court of Appeals in April 2009 acquitted Smith of raping Nicolas in November 2005.
Smith flew out of the Philippines less than 24 hours after the CA ruling was announced.
Leyte guv assures rice farmers province ready against El Niño effects
By Provincial Media Relations Center
March 1, 2010
TACLOBAN CITY – Even as their farmlands remain unaffected by the El Niño phenomenon, farmer in Julita, Leyte has already requested for water pumps for their rice fields as mitigation measure and to brace for the long dry spell this year.
In a meeting with Leyte Governor Carlos Jericho Petilla, farmers from Brgy. Dita, Julita, Leyte expressed alarm over the longer dry days over the past weeks would affect their production during this cropping season.
However, Gov. Petilla said he is confident that Leyte's irrigation system can well sustain the effects of El Niño and still provide adequate yield for rice farmers in the province.
According to the Department of Agriculture, Leyte is more or less 97% irrigated and has other water sources that can be tapped to bring water to the rice fields.
The governor assured the rice farmers that the provincial government can provide for the necessary equipment to supply the needed amount of water for rice fields not to dry out.
The province through the Provincial Agriculturist Office has already readied mitigation plans to aid farmers in bracing against El Niño.
Gov. Petilla otherwise informed the farmers that aside from the El Nino, the agriculture sector has also to contend with the changing climate, effect of which is already being felt all over the world.
He said that the expected long dry season is part of the effects of climate change that there is a need to adapt to the new environmental condition.
It was learned that through the agriculture department varieties of rice have been developed in such a way that they could adapt to different kinds of climate condition
Earlier, the DA-8e urged farmers to be prepared for the worst as some 14 provinces have been adversely affected by the El Niño phenomenon.
Although the region as a whole is considered to be moderately affected, the Philippine Atmospheric, Geophysical and Astronomical Services Administration (PAGASA) warns farmers that El Niño is a real occurrence expected to last until the month of July and that serious mitigation measures must be implemented.
Pinoy sailors' remittances up $366M
Press Release
By TUCP
February 27, 2010
MANILA – Filipino sailors aboard foreign ocean-going vessels wired home a total of $3.4 billion in 2009, up $366 million or 12.06 percent from $3.034 billion in 2008, the Trade Union Congress of the Philippines (TUCP) reported over the weekend.
TUCP secretary-general and former Senator Ernesto Herrera said Filipino sailors based in Europe remitted $1.156 billion last year, up $509.594 million or 78.82 percent from $646.406 million in 2008.
Herrera said the cash sent home by Filipino sailors based in Asia also increased $180.343 million or 55.07 percent year-on-year, to $507.801 million from $327.458 million.
The hefty increases outweighed the $325-million or 16 percent year-on-year drop in remittances from Filipino sailors based in America, to $1.706 billion from $2.031 billion, said Herrera, former chairman of the Senate committee on labor, employment and human resources development.
TUCP's revelation came shortly after the Philippine government bared a plan to sell $500 million of dollar- and euro-denominated bonds to overseas Filipino workers (OFWs), to partly bridge the projected P293 billion budget deficit this year.
Last year's 12.06 percent growth in remittances from sea-based OFWs was three times faster than the 4.15 percent or $555 million year-on-year increase in the cash sent home by land-based OFWs.
Aggregate remittances coursed through banks by all land- and sea-based OFWs increased $921-million or 5.61 percent, to $17.348 billion in 2009 from $16.427 billion in 2008, according to the Bangko Sentral ng Pilipinas.
Of the $921-million increase, land-based OFWs contributed 60 percent, while those at sea covered the rest.
Sailors now contribute 20 cents out of every dollar sent home by all OFWs, according to Herrera, whose labor center includes the Philippine Seafarers' Union.
Herrera said remittances from Filipino sailors should continue to grow at a double-digit rate this year, especially once the American economy regains strength.
Last week, a group of 44 Filipino crewmembers ended their lockdown over unpaid wages aboard the bankrupt casino cruise ship Palm Beach Princess at Florida's Riviera Beach City.
One out of four workers aboard international cruise ships is a Filipino.