PGMA, dignitaries attend 65th Leyte Gulf Landing, 10 oldest war veterans honored
By Provincial Media Relations Center
October 21, 2009
PALO, Leyte – The 65th Leyte Gulf Landing Commemoration was made more meaningful with the recognition given to the 10 Oldest Living World War II veterans during the commemorative program held at the Macarthur Landing Memorial in Candahug, Palo, Leyte and graced by no less than President Gloria Macapagal-Arroyo.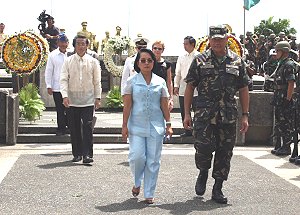 President Arroyo at the 65th Leyte Gulf Landing in Palo, Leyte. (photo by JERRY CARUAL / PCPO / PNS)
Leyte Governor Carlos Jericho Petilla said in his short commemorative message that with the passage of time Leyteños and the Filipino people "are filled with a sense of urgency of honoring the legacy of our last living heroes who have survived the big war and are now in the twilight of their years".
"More than any other reason, you are why we still remember what happened 65 years ago, you are why we keep coming back. You remind us that humanities must support one another. To those who achieved victory 65 years ago we thank you for your service," Gov. Petilla said in his message.
Isabelo C. Figueroa, 95 year old, was the oldest living World War II veteran and was awarded through the effort of the Department of Tourism in coordination with the Leyte provincial government during yesterday's commemorative program of 65th Leyte Gulf Landings.
Other veterans who were awarded were Felicisimo Negro, 91, of Tacloban City; Catalino Vivero, 91, Barangay Capangijan, Tolosa; Teofisto Demapiles, 92, Palo, Leyte; Pedro Echaves, 92, of Basey, Samar; Calixto Real, 93, Tacloban City; Felicisimo Gonzaga, 93, of Palo, Leyte; Jesus P. Majay, 93, of Baybay district, Basey; Forperio Saño, 94, of Dulag; and Francisco R. Diaz, 94, of Tacloban City.
Meanwhile, Captain Vic Jones, Defense Attache' of the Embassy of Australia said in his message that attending the commemorative celebration was both an honor and privilege for him and that despite the sacrifices of war, bonds of friendships have been forged despite geographic differences and close relationships are being shared by Australia with the province and the Philippines.
Japan ambassador to the Philippines Makoto Katsura in his message in behalf of the Japanese government once again apologized not only to the World War II veterans but the entire Filipino nation for the military atrocities the Japanese soldiers had committed during World War II, a battle he said that was widely considered to have unnecessarily cost the lives of thousand of Filipino soldiers and civilians.
US Ambassador Kristie Kenney said that many children in America has a vision of Leyte and that as a child growing up, she never imagined that she would have the honor someday of coming and personally thanking the veteran for their sacrifices and for the freedom they have given the people.
President Gloria Macapagal-Arroyo, on the other hand, was not able to give her commemorative speech as heavy rains poured down during the program, said during her media interaction that the national government has ordered to fast track the processing of the release of equity compensation for World War II Filipino veterans.
9,000 have already received the benefits it was learned and over 200 of them were from Leyte.
The Philippine Veterans Affairs Office (PVAO) is now working with the US Department of Veterans Affairs (USDVA) in receiving and processing the applications for the World War II Filipino Veterans Equity Fund after US President Barack Obama signed the American Recovery and Reinvestment Act of 2009 into law last February this year. Claims must be received no later than February 16, 2010.
Job bridging event in Samar kicks off
By NINFA B. QUIRANTE (PIA Samar)
October 20, 2009
CATBALOGAN, Samar – TESDA's job bridging event in Samar province kicked off with some 457 job applicants trying their luck at the Samar State University (SSU) Gym on October 14, 2009.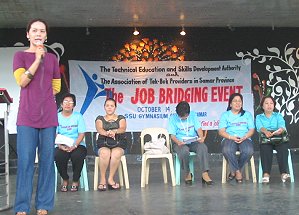 Governor's daughter Angel Tan-Dela Cruz (left) delivering the message in behalf of her sister Cong. Sharee Ann Tan during the Job Bridging Event of TESDA at the SSU Gym in Catbalogan, Samar.
The job bridging event is like a job fair where technical-vocational graduates 'shop' for available jobs as employers and recruitment agencies were invited by TESDA and tech-voc providers.
The tech-voc providers are schools and institutions offering TESDA courses.
As a result of the program, four qualified for the second screening with APAC, the call center agency in Tacloban City.
Bayantel bared that they are considering 38 applicants for submission of additional documents.
Jollibee Catbalogan also accepted 20 applicants for written exam.
As to another local employer, Honeyben's Flaming Hat Resto Inc. seven qualified for the second screening.
Mayong's Bakery hired one worker on the spot.
People2Outsorce another call center agency also hired one applicant on the spot.
According to TESDA Provincial Director Cleta Omega, the event aims to assist tech-voc graduates in finding employment through company referrals.
TESDA also invited NGOs and Cooperatives with micro-lending facility that can be accessed by tech-voc graduates interested in self-employment or entrepreneurial endeavors; these are Ormoc Community Cooperative Incorporated (OCCI), Samar Micro-Credit Cooperative (SAMICO) and Taytay sa Kauswagan (TSKI). They had 86 clients subject to credit investigation.
Some three recruitment agencies were also invited with job orders for Japan, Kuwait, Cyprus, Dubai, Bahrain and Africa.
Out of the 181 job applicants for overseas, some 67 applicants were scheduled for medical exam and required additional documents.
Aside from the job applications, demonstrations on programs and services also took place as in bar tending, table skirting, computer clinic, free blood pressure taking and other programs and services.
Tech-voc providers in Samar that assisted TESDA included Basey Manpower Training Center, St Mary's College of Catbalogan, Samar College, Samar State College of Forestry and Agriculture (SSCAF), Innovate, Eastern Visayas Training Center (Basey), Tiburcio Tancinco Memorial Institute of Science and Technology (TTMIST), STI (Calbayog) POSTC, Christ the King College, RTC and Holy Rosary. (wiith report from Shiela Marie Taon-TESDA)
Project BEN sails to Homonhon, Manicani, Tubabaw islands despite weather disturbance
By BRYAN MONTES AZURA
October 19, 2009
HOMONHON ISLAND, Guiuan – Governor Ben P. Evardone and the entire Barangay Empowerment Program (Project BEN) Team, sailed through rough waters to Homonhon from Guiuan to bring basic services through its Community Outreach Development Program (CODP) for the 7 barangays of the island situated at the edge of the province.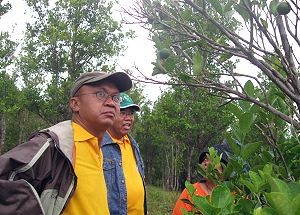 Gov. Ben P. Evardone along with SP Member Enerio Sabulao inspects a Lemon Tree in Bgy. Bitaugan, Homonhon, Guiuan. This barangay is dubbed as the biggest producer of lemons in the whole province of Eastern Samar.
The governor, in a statement, said that he pushed through with the scheduled outreach as the people of Homonhon had already been waiting for the various services coming from the province. Among those that the governor brought with him for distribution are packs of rice, toothbrushes, toothpastes, sports equipment and Philhealth cards.
Also highlighting the project is the turn-over of the provincial financial aid to every barangay worth P20,000.
When the group took off at Guiuan port for Homonhon Island, Philippine Atmospheric Geographical and Astronomical Services (Pag-asa) reported that a Low Pressure Area (LPA) was entering the Philippine Area of Responsibility and its path was going towards Guiuan. Sea condition between the island and mainland Guiuan, a 2-hour boat ride, is unpredictable especially during tide changes. Boat travel even becomes more dangerous when there are weather disturbances as waves reach to as high as a 3-storey building.
"I am happy the governor visited our barangay despite the difficulty in coming here," Inapulangan Barangay Captain Arlene Yaquit, said in vernacular during her message. "Aside from the assistance he brought here, the people of my barangay are thankful that we have been visited by the highest official of the province," she continued.
Inapulangan was also committed an additional P50,000 on top of the provincial aid for a water system project. Sangguniang Panlalawigan Members Jovi Opinion, Colon Yu, Karen Alvarez, Enerio Sabulao, Betty Reyes and the governor each pledged financial assistance for the project.
The governor and the Project BEN team also visited barangays Betaogan, Canawayon and Kasuguran.
In Betaogan, the governor made an inspection on the lemon plantations on the barangay. The said barangay is the largest lemon-producing village in the entire province. Evardone said he will ask the Office of the Provincial Agricultural Services (OPAS) to make necessary interventions especially on its fertilizer problem. Jodi Paano of OPAS said that his office will provide necessary assistance to lemon producers especially in developing an organic fertilizer instead of using commercial fertilizers to cut their plantation cost.
The Project BEN team also visited the islands of Manicani, Tubabaw and Victory, all of Guiuan town. In Manicani, Governor Evardone revealed that he already asked the electric cooperative to study about the possibility of putting electric posts from Tubabaw Island to energize the whole island.
"This might not be realized soon but I intend to have the island energized," the governor said to the islanders. The 4 barangays of Manicani are only reliant on generators for electricity during night time.
Meanwhile, residents of Tubabaw Island have raised their hopes after the governor announced that he is asking Provincial Engineer Dindo Picardal to start explore the possibility of constructing a bridge that will connect the island to mainland. "Once it is realized, we can bring our heavy equipment here and start road projects to connect the 5 barangays of the island.
Punong Barangay Evelyn Lanzaderas of San Pedro said that she is thankful the governor has provided her barangay's public school funds for constructing a new building. "We really need the building as children are having a hard time in the limited classrooms the school has," Lanzaderas said. The provincial government has allocated some P150,000 for the said project.
The project BEN, which will stay in Guiuan for 4 days, will also bring its services to some 50 more barangays in the mainland in 5 different locations. Guiuan is the 10th town visited by the project aimed at bringing the government closer to the people.
TTMIST DOST scholar tops provincial Statistics Quiz in Samar
By NINFA B. QUIRANTE (PIA Samar)
October 18, 2009
CATBALOGAN, Samar – Rodney Manalo, a Department of Science and Technology (DOST) scholar and a first year Bachelor of Science in Electronics and Communication Engineering (ECE) student topped the 18th Samar Provincial Quiz at the GSP Headquarters, Catbalogan, Samar.
The statistics quiz held Friday, October 16, 2009 serves as the highlight in the NSO celebration of National Statistics Month.
Manalo enrolled at Tiburcio Tancinco Memorial Institute of Science and Technology (TTMIST) topped contestants coming from schools all over Samar.
Second placer was from the Samar State University (SSU) Arvie Jay Castillo a Bachelor of Science in Statistics college freshman.
Garnering third was another lad from TTMIST named Kevin Collin Colitoy, a civil engineering student.
In a phone interview with TTMIST President, Dr. Socorro Bohol, she said she is happy and honoured that TTMIST students are being recognized for their exemplary performance in academics and other activities showing their abilities.
Both Manalo and Colitoy received accolades for their consistency in entering rounds two and three of the statistics quiz.
Their coach Mr. Teodoro Amatosa, Jr was all praises for the duo who reaped honors for TTMIST.
All three winners will represent Samar province in the regional statistics quiz that will be held in November according to NSO Assistant Provincial Director Romeo Gabatbat.
WBC sells Pacquiao-Cotto key-rings to raise funds for RP typhoon victims
By ALEX P. VIDAL / PNS
October 17, 2009
LOS ANGELES, California – The World Boxing Council (WBC) has offered its "modest support to the great people of this extraordinary boxing country (Philippines)", which was recently slammed by deadly typhoon "Ketsana" that killed hundreds of people and rendered thousands of families homeless, by selling commemorative key-rings of the first WBC Diamond Belt fight ever between Manny Pacquiao and Miguel Angel Cotto on Nov. 14 in Las Vegas, Nevada.
The project dubbed "WBC Asia Relief fund – Philippine Disaster", offers circle keyring model double face key-ring: one face with Pacquiao, the back face with Cotto 1 ¾ inches diameter, glove model big (3 inches tall by 2 ¼ wide) shiny finish and old metal matt finish for the following prices: 5 assorted key-rings = $50 US plus shipping; 10 assorted key-rings = $95 US plus shipping; 15 assorted key-rings = $140 US plus shipping; 20 assorted key-ring = $185 US plus shipping; and 50 assorted key-rings = $450 US plus shipping.
Charity
According to the WBC News released from the office of president Jose Sulaiman Chagnon in Mexico City dated October 12, 2009, "all the money raised will be sent for charity to the Philippines through the Games and Amusement Board chaired by WBC vice president Eric Buhain.
"The WBC joins the world helping force just like we did in 2005 in the Asian Tsunami disaster. Extra donations will be really appreciated by our Philippine brothers," said the WBC News.
Associated Press has reported that authorities sent more than 200 coffins recently to the typhoon-battered northern Philippines for the grim task of burying the storm's victims, including a family of eight whose house was buried under a torrent of mud.
Death Toll
The nationwide death toll from landslides and flooding reportedly stood at more than 600 since back-to-back storms started pounding the northern Philippines on Sept. 26.
Hundreds of thousands are still displaced, and the damage from the worst flooding in 40 years has run into hundreds of millions of dollars.
The death toll was so high that some areas ran out of coffins. More than 200 wooden caskets assembled in neighboring provinces were expected in Baguio, where more funerals were planned, said regional disaster-relief director Olive Luces.
Baguio city, in the heart of the Cordillera mountain range where at least 277 people died, organized a burial for a family of eight, including six children, whose house along Marcos Highway was pinned down by other houses that tumbled down a mountainside late the other week.

In the face of the man-made disaster of killings and human rights violations
KARAPATAN, church groups launch Fact-finding Mission for slain rights advocate Fr. Cecilio Lucero
By KARAPATAN
October 15, 2009
QUEZON CITY – While the nation is still reeling on the aftermath of the natural calamity, Ondoy, the human rights alliance, Karapatan, with Katungod-Sinirangang Bisayas-Northen Samar and the Promotion of Church People's Response (PCPR), on October 7, embarked on a National Fact-Finding Mission (NFFM) to Northern Samar to look into the man-made disaster of killings and other human rights violations in the province. The mission will look into the killing of human rights advocate and Roman Catholic Priest Fr. Cecilio Lucero. Members of the NFFM will work closely with the Diocese of Catarman and other people's organizations in the province.
Fr. Lucero, 48, was ambushed on September 6, 2009, by a group of armed men near the village of Layuhan, San Jose, Northern Samar. He died instantly while his companions were seriously injured. Fr. Lucero, a member of the PCPR, was a priest of St. Joseph Parish Church in Catubig and was the Chairperson of the human rights desk of the Social Action Center of the Diocese of Catarman.
The NFFM for Fr. Lucero, themed "A Journey for the Truth," aims to document and gather information relevant to the case.
Karapatan National Council Member, Fr. Dionito Cabillas, noted that more than a month has passed after Fr. Lucero's ambush but police authorities have yet to identify the perpetrators and the motive of the killing. Fr. Cabillas also said that police should also look into the military's harassment of Fr. Lucero. "For a long time, Fr. Lucero, had been receiving death threats from the military for his criticisms of government policies and human rights abuses in Northern Samar. And yet, the police have come up with nothing in their investigations," wondered Fr.Cabillas
The mission also aims to document the other cases of human rights violations in Northern Samar which may be related to the killing of Fr. Lucero. Fr. Cabillas said that according to initial data gathered by Katungod-SB-NS, other victims of extrajudicial killings in the region were individuals directly assisted by Fr. Lucero. It can be noted that leaders, residents and organizations in the province have expressed alarm and worry on the unsolved killings in the province.
Other cases of killings and other human rights violations in the province remained undocumented and unreported so that the mission will try to look into these cases, too. "This situation becomes more alarming considering the fact that Samar and Leyte are in the priority areas of the government's counter-insurgency program, Oplan Bantay Laya; and the President has repeatedly announced that the government must end the insurgency by 2010. This counter-insurgency program is one of the reasons for the extrajudicial killings, disappearances and other human rights violations, as reported by Prof. Philip Alston, the UN Special Rapporteur on extrajudicial, summary or arbitrary executions, in his visit to the Philippines in 2007, " Fr. Cabillas said.
The mission, shall report their findings on October 16, the 40th day of Fr. Lucero's death, and shall submit their findings to pertinent government agencies and other organizations.
Samar barangay chairman dies in a shooting incident
By NINFA B QUIRANTE (PIA Samar)
October 15, 2009
CATBALOGAN, Samar – A barangay chairman from Villahermosa, Pagsanghan died yesterday, October 14, 2009 in a shooting incident in the vicinity of Barangay Canlapwas, Pagsanghan, Samar as he was en route to his barangay on board a motorcycle for hire.
In a spot report provided by Samar Police Provincial Office (SPPO), it said that Barangay Chairman Rene Tabianan y Dante, 46 years old sustained neck injuries from a .45 caliber pistol used by the three unidentified assailants.
The victim died on the spot. Witnesses said that suspects fled towards the hilly portion of the barangay.
PNP Pagsanghan dispatched a team to pursue fleeing suspects but were unable to effect any arrest
The case is now under investigation.
It will be recalled that in May of this year, a Pagsanghan SB member named Florencio Ripol was also riddled with bullets by unidentified suspects in Barangay Concepcion, Gandara while the victim was alighting from a motorboat from Pagsanghan. It was not clear what happened to the case.
Japanese US$4.5 Million grant provides needed food, keeps WFP's newly-arrived choppers in the air
By NPPA / PNS
October 13, 2009
MANILA – The United Nations World Food Programme (WFP) on Sunday welcomed a US$4.5 million donation from the Government of Japan that will feed hundreds of thousands of flood victims in the Philippines as well as providing much-needed financial support for WFP's newly-arrived helicopters.
The contribution, the largest to date in support of WFP's flood relief efforts, will be used to buy 6,700 metric tons of rice – enough to assist the efforts to provide food assistance to 670,000 people for one month. It will also help to ensure that WFP's three emergency relief helicopters remain airborne over the course of the next month to facilitate a swift and coordinated response by the Government of the Philippines and other humanitarian agencies.
"This contribution from the Government and the people of Japan could not have been more generous, nor more timely," said Stephen Anderson, WFP Country Director in the Philippines. "It allows us, working in close collaboration with the Department of Social Welfare and Development, to provide urgently needed food assistance to hundreds of thousands of people in real need. It also comes at the very moment when our new helicopters arrived, which will vastly expand the relief capacity of Government and humanitarian agencies as long as we have the necessary funding to keep them flying. We are extremely grateful."
Two of the planned three helicopters arrived in Manila on Saturday, flown in onboard a cargo aircraft from Turkey. The third, en route from duty in Laos, is expected within the next few days. The newly-arrived helicopters, Russian-built MI 171s capable of transporting 2.5 metric tons of cargo or 22 passengers, will strengthen the ability of the Government and humanitarian agencies to reach thousands who are cut off and isolated by the floods.
Close to four million people were affected by severe floods provoked by Tropical Storm Ketsana (Ondoy) that struck the country on September 26. WFP urgently needs US$26 million to provide food assistance, air services, logistical support, and emergency telecommunications to one million of the worst-affected.
In addition to the helicopters, WFP has been airlifting other urgently needed supplies and equipment into the country in recent days. More than 105 metric tons of high energy biscuits have arrived in recent days. Seven inflatable boats with outboard engines, the first of 30 requested by the Government, have arrived to improve access to inundated areas. Four large generators have also been shipped in to provide power for field hospitals and other critical government facilities, including the headquarters of the National Disaster Coordinating Council.
Besides Japan, other donors who have so far contributed to WFP's flood relief effort in the Philippines include UN CERF (US$3 million); Spain (US$2 million); Australia (US$1.7 million) and ECHO (US$600,000).
UN climate negotiators in Bangkok turn deaf ear to Ondoy and Pepeng onslaught
Press Release
By GREENPEACE
October 10, 2009
BANGKOK – As the climate talks in Bangkok limped to a close, Greenpeace called on the leaders of the rich world to make the political decisions needed to save the climate.
The United Nations Framework Convention on Climate Change (UNFCCC) intercessional meeting in Bangkok made progress on the negotiating text, but without emission cuts or finance on the table for developing countries, which is being promised by the industrialised world, this process cannot make the progress it needs to get to a strong deal for the climate.
Greenpeace is demanding industrialized nations, which have gotten rich at the expense of the earth's atmosphere, to cut their carbon emissions by at least 40% of 1990 levels by 2020. Carbon dioxide emissions are largely responsible for the phenomenon of climate change. Greenpeace is also telling the industrialized world that it should put up an annual US$140 billion fund for climate change adaptation, mitigation and forest protection in countries that are suffering as a consequence of the industrialized world's long-history of carbon emissions. These commitments should finally be made at the UN Summit on Climate Change in Copenhagen this December, the finalé in a series of climate negotiations in a year identified as a turning point for the earth.
Current severe weather events in Luzon are dramatically illustrating how countries like the Philippines are most vulnerable and least prepared to deal with the devastating impacts of climate change. "While the world's leaders were beating around the bush talking semantics in Bangkok rather than content and commitment, hundreds of people are dying and nearly a million Filipinos are displaced by floods and landslides caused by typhoons Ondoy (Ketsana) and Pepeng (Parma)," said Amalie Obusan, climate and energy campaigner of Greenpeace Southeast Asia. "Who is going to pay for the rebuilding of lives and property? Where will the money that is needed to help countries like the Philippines adapt and prepare for future severe weather events and other catastrophic impacts of climate change come from?"
The atmosphere in Manila politics is currently charged with finger-pointing as to which agency and what entities should have been responsible preparing for such calamities brought on by climate change. "Arguments on issues such as dependability of dams and road structures, water resource protection, urban planning and disaster response, are being thrown back and forth among local government agencies. But this is only identifying the problems when calamities have already happened. We need to also address the source and the solutions. The truth is countries like the Philippines cannot handle the impacts of climate change themselves unless historical emitters of carbon dioxide around the world commit to deep emissions reduction and funding for developing nations," added Obusan.
In particular, all eyes are on President Obama's administration to make the shift to the deep emissions cuts that the world has been wanting for decades.
"The US is trying to impose its own domestic limitations on the international community - limitations driven largely by the fossil fuel lobby. It is climate science and the needs of the most vulnerable that should determine the Copenhagen outcome, not the US fossil fuel lobby and the most wealthy," said Martin Kaiser, Greenpeace International climate policy advisor. "It's time for President Obama to be the climate leader that he says he is."
Greenpeace said the EU must also take responsibility. "The EU is all over the place. Its lack of a strong target, its lack of finance on the table, and its inconsistent internal policy on what a Copenhagen outcome might look like has only increased developing country mistrust in the process. The EU has a big week of decision-making coming up and we expect the leaders Brown, Merkel, Sarkozy in particular - to resolve those issues, to step up and to follow Norway," Kaiser added.
"At the end of the day, we can't change the science – so we have to change the politics – and that means strong leadership – now. Dangerous climate change waits for nobody."