PGMA visit to boost tourism in Sohoton, Basey
By NINFA B. QUIRANTE (PIA Samar)
August 10, 2009
CATBALOGAN, Samar – The visit of President Gloria Macapagal-Arroyo to Sohoton cave in Basey, Samar may boost the town's eco-tourism industry.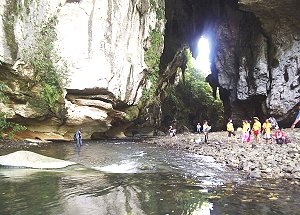 This was the impression shared by Mayor Estorninos of Basey when PGMA said that her visit to Sohoton, Basey will show the world how beautiful the Sohoton caves are.
PGMA came to Barangay Inuntan, Basey Sunday afternoon, to affect the off-site distribution of cash grants to Basaynons who waited the whole morning for the rare visit.
The President herself said that she will leave for Sohoton after Inuntan to make sure that the world will see the grand Sohoton caves.
Barangay Inuntan is located some 12 kilometers from Basey town proper, where PGMA and Political Adviser Gabby Claudio and DPWH Sec. Hermogenes Ebdane joined the President.
It was learned that a group of Inuntan rural folks rushed the preparation of a bamboo ramp where PGMA and party stepped and hopped in the river boat for the river cruise up to the caves in Sohoton.
The cruise lasted for fifteen minutes and PGMA and company devoured the natural beauty of the caves of Sohoton.
To recall, Ace Durano Tourism Secretary launched the river cruise and caving in Sohoton in May whose event landed in the front pages of leading dailies with nationwide circulation.
Mayor Estorninos smiles at the thought, he feels that the influx of tourists will also help Basey's populace including the registered Basey Tourism Services Association (BATOSAN) which has been conducting group tours from Binungtuan to the natural caving wonders of Sohoton.
Earlier, PGMA also inaugurated the grand Agas-agas bridge in Sogod, Southern, Leyte which is considered as one of the considered engineering feats in the country.
The Agas-Agas Bridge has the potential of becoming a tourist destination in Eastern Visayas Secretary Ebdane said in an interview by PIA Southern Leyte.
Common folks share common views on importance of new Agas-agas Bridge
By BONG PEDALINO (PIA Southern Leyte)
August 10, 2009
BARANGAY KAHUPIAN, Sogod, Southern Leyte – The imposing Agas-Agas bridge project, which President Gloria Macapagal-Arroyo personally graced its inauguration ceremony Sunday morning, was no doubt an awesome engineering feat, combining aesthetic beauty and practical transportation needs of passing passengers and motorists away from perils of constant landslides.
Its importance, however, cannot be overemphasized for the very people living in the area who will be the direct beneficiaries of this great public works undertaking.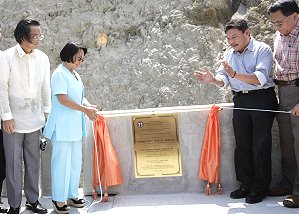 President Gloria Macapagal-Arroyo unveils the marker of the country's tallest bridge—the 85-meter tall Agas-Agas Bridge during the inauguration Sunday (August 9) in Sogod, Southern Leyte. (Marcelino Pascua/OPS/NIB-Photo)
This sentiment can be felt emanating from the faces of the many people who trooped to the bridge, braving the noonday sun, to cherish the marvelous view, enjoy the sceneries, and be one with the special guest, the President herself, in celebrating yet another achievement under her "Super-Regions" program.
But at least three persons from the crowd were destined to talk with the President on this memorable and historic day, sharing their insights on the impact the new bridge promises to bring – it has not already brought, in fact – to their ordinary lives.
Analee Maramara told the President it brought her comfort in going to and from her work, she being an autocad operator, one who makes designs using the computer, no longer the conventional paper and pencil drafts.
Alejandro Cabardo, a senior citizen from barangay Olisihan, Sogod, revealed his candid feelings when he said: "Daku kaayo kog pasalamat niining tulay kay mas sayon paghatod sa akong tinda nga isda ngadto sa tiyangge." (Thanks very much for this bridge because I will have an easy way in bringing the fishes that I would sell in the market.)
Hearing this, President Arroyo recapped some technical changes in the process of designing the bridge, saying "we changed the old route" by traversing the road directly across a deep mountain ravine 1,000 feet below.
Another "sharer" named Hector, a construction worker from nearby barangay of Polahongon, Mahaplag, also expressed how the bridge made his daily grind safe and convenient.
Having heard the statements of the three residents who were interviewed by the President herself, President Arroyo likewise appreciated the project's contractor, Sumitomo Mitsui Construction Co, Ltd, saying the company has also invested in other concerns in the country aside from infrastructure.
The structure will also add glitter for tourism in Southern Leyte, the President added.
Regional Cave Committee, set to classify caves in Region 8
By PURIFICACION S. DALOOS
August 10, 2009
TACLOBAN CITY – The Regional Cave Committee (RCC) created under the provisions of Republic Act No. 9072 and its implementing rules and guidelines is set to classify the caves in Region 8 including its cave resources, this coming September 2009.
The purpose of classification of the caves is: to ascertain its ecological, archeological, historical, cultural and socio-economic values; determine its appropriate sustainable use; and determine the appropriate strategies for conservation and use of the caves.
Department of Environment and Natural Resources (DENR) Regional Executive Director Regidor M. De Leon disclosed that, "like Palawan and other provinces in the country, Region 8 boasts of over a hundred beautiful and pristine caves. Some of these caves are already popular ecotourism destinations while some caves maybe subjected to some activities like guano extraction, bio prospecting or even treasure hunting. While we promote the caves for ecotourism, we should also look at the other appropriate and sustainable use and management of the other caves in the region. Cave assessment and classification activity is necessary to determine appropriate sustainable use and conservation of caves, with due consideration to biodiversity, archeological, historical and socio-economic values", De Leon stressed.
Per R.A. 9072, the RCC, which was created in October 2008, compose of: the Regional Technical Director of the DENR's Protected Areas Wildlife and Coastal Zone Management Service as Chairman and the DENR's Mines and Geosciences Bureau as Co-Chairman. The committee members are representatives from the concerned local government units where the caves are located, Department of Tourism, Department of Interior and Local Government, Department of Education, National Museum, National Historical Institute, the DENR, Philippine National Police and the non-government organization Bukid Outdoor Club.
For an effective and efficient classification activity, the RCC formed a special team to carry out the procedures in cave identification and assessment. Findings of the special team shall be reviewed by the RCC in determining the proper classes of caves as follows: Class I - Caves with delicate and fragile geological and paleontological values and extremely hazardous conditions. Allowable use or activity in such classification of caves is: mapping, photography, educational and scientific purposes. Class II - Areas or portions which have sections that are under hazardous conditions and contain sensitive geological, biological, archeological, cultural values. Class III - Generally safe to inexperienced visitor. This cave has no known threatened species, archeological, geological, natural historical and cultural values. This cave may also be utilized for economic purposes.
The PAWCZMS conducted rapid assessment of the Candonicot Cave in Isabel, Leyte; RM Tan Cave in Ormoc City, Mag-aso Cave in Palompon, Leyte and the Cathedral Cave in Hindang, Leyte.
Meanwhile, a detailed assessment was made on the Gahoy Cave in Guiuan, Eastern Samar and Management Plan is being made for the Mag-aso Cave in Palompon, Leyte. Classification of these caves will be determined by the RCC.
Per R.A. 9072, caves are natural subterranean runway void or chamber or, series of chambers commonly produced by solution activity in limestone or dolomite formations. Underground openings in volcanic areas caused by lava flows are also classified as caves. In sedimentary rock areas, natural tunnels produced by pounding and washing away of waves in coastal areas or enlarged cracks brought by movements in rock masses are categorized as caves.
Chiz to push for approval of Anti-Torture Bill in bicam deliberations
By Office of Senator Chiz Escudero
August 9, 2009
PASAY CITY, Philippines – Opposition Senator Chiz Escudero on Wednesday said he will push for the approval of a bill penalizing torture when it is taken up by the Senate-House bicameral conference committee next week.
"The passage of this bill is especially important in light of the cases of Rebelyn Pitao and Melissa Roxas. I urge my colleagues in Congress to expedite the enactment of this piece of legislation as another way of honoring and preserving the legacy of former President Corazon Aquino," Escudero said.
Pitao, a daughter of a communist rebel commander, was abducted by unidentified armed men while on her way home from St. Peter's College in Toril District in Davao. She was later found dead in a ditch, her body showing signs of torture, strangulation, rape and stabbing.
Roxas, on the other hand, is a Filipino-American activist who claims she had been abducted and tortured by soldiers in Tarlac last May. The Commission on Human Rights is currently investigating her allegations.
Escudero said that Senate Bill 1978 or the Anti-Torture Bill penalizes torturers and their superiors. In some cases, it imposes a sentence of reclusion perpetua, or life imprisonment, when torture results in death; when there is commission of sexual abuse, as in the case of Pitao, and when committed against children.
Other penalties range from a minimum of 6 months to a maximum of 12 years depending on the gravity of the offense.
Escudero, who chairs the Senate Committee on Justice and Human Rights, said the present Senate version is a consolidation of torture bills which he authored along with Senators Jinggoy Estrada, Miriam Defensor-Santiago, Juan Ponce Enrile and Rodolfo Biazon.
Other salient provisions of the bill include a provision for the protection of complainants and witnesses and persons involved in the prosecution, and the establishment of a rehabilitation program for victims.
Under the bill, no justification can be offered to justify torture and other inhuman punishments, which will be declared as criminal acts. Persons who participate in acts of torture will be penalized as principals, as well as their superiors in the military, police or law enforcement establishments who ordered the infliction of physical harm to any victim.
The measure penalizes all forms of torture, be it physical, mental, psychological and pharmacological, which is done through the administration of drugs.
UEP is no training ground for NPA says school head
By RICKY J. BAUTISTA
August 8, 2009
CATARMAN Northern Samar – The president of the University of Eastern Philippines (UEP) categorically denied the "sweeping" and "unverified" reports that the school is a training ground for activism and communism before becoming a full-pledged member of the New People's Army.
"I beg to disagree for that sweeping report that our school is a haven of those people who are fighting against the government," UEP president Atty. Mar De Asis said in reaction to the question posed by a radio reporter during a media conference for campus journalists last July 20, this year.
"(You know), since I assume office here, I never thought about that because this university is a highly respected entity and a government-owned institution. We always abide to the government laws… and we do not tolerate such acts (that) contradict to laws of the land," Atty. De Asis said.
The university has been observed as having sloppiness in implementing security measures to protect their students and residents because the entire campus has no yard fences, no police visibility, no security or check points that will look and check the different kinds of people that freely roam around the area.
The school head said "it is very hard for us to do that because it is legally impossible for us to close the highways that run through our campus, or set up check points for this is not our sole responsibility here. And in view of this, we are appealing again to the authorities to help us solve this kind of problem."
It can be recalled that an army official attending his schooling at the university was shot to death in front of his classmates inside the university. The family of the victim is still looking for justice up to now. Lack of police and security visibility has been blamed for the incident.
Meanwhile, military officials who has jurisdiction over the whole Northern Samar province including the UEP campus has earlier reported that according to their intelligence reports, the enemy is continuing its recruitment activities in the university, the reason why they marked the campus as "red spot."
And because of its being "red spots," many students including professors has been a subject of surveillance and thorough questioning. Late last year, a professor coming from this university, while taking outdoor vacation to the Calbiga Caves has been subjected to thorough questioning including his companion from Northern Samar.
Aside from the two, their other companions coming from cities of Cebu and Tacloban were also brought to the army camp in Calbiga, but were softly treated unlike to them. The duo said they were asked about many things about the rebels and the university activities. The group, however, were released after hours in custody.
School suspends classes and to prevent spread of A(H1N1) virus in Maasin City
By BONG PEDALINO
August 8, 2009
MAASIN CITY, Southern Leyte – A private learning institution here, citing a recommendation from the Department of Health (DOH), suspended its classes after two of its students – a high school and a college student – were found positive of the now widely circulated swine flu virus.
In a letter dated August 4 and addressed to all parents, Crispin Arong, Executive Vice-President of Saint Joseph College (SJC) said the move was meant as a precautionary measure.
"In compliance with the recommendation of the Department of Health and, as a precautionary measure, the Administration is constrained to suspend classes and all activities from Tuesday, August 4 up to Friday, August 14. Classes will resume on August 17, 2009," Arong said in his two-paragraph letter, a copy of which was obtained by PIA.
Classed from all levels, from elementary to college, are suspended by virtue of the letter which was considered the school's official declaration.
It was evident Arong did not mention the infection of the virus to two of its students as the cause of the suspension, saying only the action was in compliance with the call from DOH.
PIA called the office of Arong for more details, but was told he was in Ormoc.
A source inside the school said personnel from the DOH were going the rounds, conducting information drive, and students started going home upon learning of the suspension of classes.
Asked on the present whereabouts of the two victims, the source said they are now in their homes receiving treatment, although no particular address was mentioned.
The source also said the college student was a female, but the high school student's gender was not ascertained.
Another pupil, from San Rafael Elementary School, whose gender was not known, was also infected with the virus, bringing to three the reported cases for Maasin City, and seven for the province.
Classes at San Rafael Elementary School are also suspended for two weeks beginning August 4.
PNP strictly conducts aggressive interdiction operations to account for all firearms in East Visayas
By Philippine Information Agency (PIA 8)
August 7, 2009
TACLOBAN CITY – The Philippine National Police in Region 8 under the leadership of Regional Director Mario Sandiego, shall conduct aggressive interdiction operations to confiscate loose firearms in the habitats of threat groups, criminal elements, civilian gun holders, and delinquent licensed firearms owners.
This is in line with the directive issued by Chief PNP Director General Jesus A. Verzosa regarding the implementation of the National Firearms Control Program pursuant to Executive Order No. 817 of President Gloria Macapagal-Arroyo.
Among other objectives, the National Firearms Control Program seeks to account for all firearms in the possession of the general population including those covered by expired licenses; for all captured, confiscated, surrendered, deposited, abandoned and forfeited firearms in the custody of the AFP, PNP and other law enforcement agencies; for all firearms under custodia legis or firearms submitted as evidence in court; and for loose firearms in the possession of threat groups and criminal elements.
Police operations against unregistered firearms will continue with random weapons check operations in crime-prone areas; mobile checkpoint and chokepoint operations; Intelligence build-up; internal security operations; application of Search Warrants; and dismantling of private armed groups, the official statement of Chief PNP Director General indicated.
Effective October 1, 2009, the Philippine National Police is offering a Final General Firearms Amnesty for loose firearms under the National Firearms Control Program. However, as early as August 1, 2009, the PNP will start processing applications for registration of loose firearms and renewal of expired licenses.
"We are starting early in anticipation of the heavy volume of applications when the month-long general firearms amnesty comes into effect in October. By that time, we hope to be able to process all applications and issue the updated firearms license cards," General Verzosa explained.
Moreover, he said that from August 1 until October 31, 2009, all holders of firearms with expired licenses will be given the chance to renew their expired licenses without penalties and surcharges.
All holders of undocumented firearms are given the chance to peacefully surrender these illegal weapons during the last and final amnesty period 1-31 Oct to avoid criminal prosecution.
At the same time, PNP is giving holders of loose firearms the opportunity to legalize their ownership of these unregistered guns to become duly licensed firearms.
To ensure effective implementation of the Amnesty program for loose firearms and expired licenses, the PNP is streamlining systems and procedures to facilitate convenient and simplified processing of all firearms license applications.
General Verzosa stressed that this is ultimate amnesty the PNP is offering for holders of loose firearms. After this, aggressive police operations will commence against firearms law violators, and there will be no let-up in the campaign to rid the society of the tools of criminality.
Graduated actions against those who will fail to register their guns or renew their licenses include confiscation of firearms; legal action such as application for Search Warrant; and the prospect of facing non-bailable offense of illegal possession of firearms as legislated.
The certainty of punishment is fully provided under our justice system that prescribes 1 to 12 years imprisonment for firearms law violators.
To encourage greater citizen participation in the campaign against loose firearms, the PNP is offering monetary reward for information leading to the confiscation of stashes or cache of loose firearms.
All City and Municipal Police Stations as well as Police Provincial and Regional Offices will be available to accommodate and assist applicants. (with data from PNP 8)
Land Bank holds off-site release of cash grant for 4Ps beneficiaries
By NINFA B. QUIRANTE (PIA Samar)
August 7, 2009
BASEY, Samar – The Land Bank of the Philippines, Tacloban Branch held an off-site release of cash grant to some 330 beneficiaries belonging to the poblacion barangays of Basey, recently.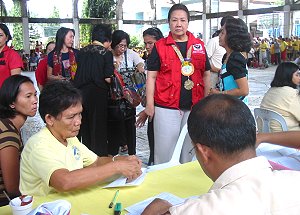 DSWD Secretary Esperanza Cabral observed the off-site release of cash grant to 4Ps beneficiaries in Basey, Samar.
Basey Municipal Gym spilled over quite a number of beneficiaries who listened to a short program where the Department of Social Welfare and Development (DSWD) Secretary Esperanza Cabral spoke about Pantawid Pamilyang Pilipino Program or 4Ps.
Most beneficiaries were women of the families.
One such beneficiary, Elma Llantos of Barangay Mercado said the amount, P1,600 is a great help to their poor family. She weaves mats while her husband is a pedicab driver.
Rosemarie Amante, an illiterate mom, who 'signed' her withdrawal slip by a thumb mark said her desire to send her kids to school is a must. She realizes the need for education. After getting the amount, with her kid in tow she said she will be buying additional school supplies for her three kids and some kilos of rice.
Cierlita Verven of Sitio Bugho, Tingib was also a beneficiary, she has to wait for the next batch to claim her 'budget', she has four children and the two elder ones were honor students, thus her enthusiasm to join the 4Ps to ensure that the kids will always stay in school till they finish high school at least.
DSWD-8 Director Leticia Corillo and Regional Focal Person of 4Ps Yvone Abunales joined Cabral.
Basey Mayor Wilfredo Estorninos hosted a breakfast for the secretary and other guests who came in from Tacloban City.
Estorninos urged Land Bank to install an ATM machine in his municipality not only for the 4Ps beneficiaries but for others who also transact at Land Bank.
The program is set to benefit some 72,476 households in the entire province of Samar.
4Ps is a program of President Gloria Macapagal-Arroyo for poverty reduction, a strategy that provides grants to extremely poor households to improve their health, nutrition and education of children aged 0-14 years old.
3 confirmed cases of A(H1N1) found in Maasin City
By BONG PEDALINO (PIA Southern Leyte)
August 6, 2009
MAASIN CITY, Southern Leyte – The swine flu virus A(H1N1) has reached this city.
In the radio program "Maasin City in Action" over DYDM on Tuesday, City Mayor Maloney Samaco officially announced the presence in the city of the ailment, saying three students were infected and confirmed positive.
Samaco disclosed that a pupil at the San Rafael Elementary School, a high school student of Saint Joseph College (SJC), and a college student, also from SJC, were the first three cases thus far reported.
The City Health Unit has dispatched all necessary mitigating measures to prevent the further spread of the virus like disinfecting the schools involved, spraying rooms, doorknobs, among others, Samaco said.
He himself led in the distribution of disinfectant alcohol on Monday at Maasin Central School (MCS) and in other public schools, and those with flu-like symptoms such as fever, coughs, and colds were given masks as part of the mitigating measures undertaken.
He said he cannot speak in behalf of SJC being a private school, but for the San Rafael public school classes are suspended for two weeks starting Tuesday, to resume on August 17.
PIA has to contact SJC for updates as of this writing.
This was the city's first-ever contact with the dreaded flu virus since the Department of Health (DOH) announced the very first case in the country last May 20.
But the city's three cases brought to seven the total persons infected for Southern Leyte province, three from San Roque Elementary School in Liloan, and a government employee from Hinunangan, although these four were already healed and were back to their daily routine.
Samaco allayed fears about the virus, saying that those with no pre-existing medical conditions have nothing to worry, even as he urged schools to continue washing hands of pupils and students with alcohol or soap and water.
Buyogan Festival given incentive anew
By Provincial Media Relations Center
August 6, 2009
TACLOBAN CITY – For winning three times in national festival competitions and for being elevated to the Hall of Fame by the Department of Tourism in the region, Abuyog, Leyte's famed Buyogan Festival received another incentive from the provincial government of Leyte.
Leyte Governor Carlos Jericho Petilla said dancers and members of the Buyogan Festival would be treated to an all-expense paid trip to the Enchanted Kingdom as was his pledge when the group competed in the Sinulog in Cebu in January this year. The province gave P300,000 for the said free treat.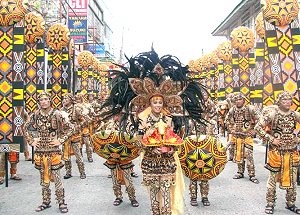 The incentive did not stop there, however, as the province pledged again to provide additional financial assistance to the local government unit of Abuyog, if they would bag the top prize in the Aliwan Fiesta in Manila last April. The catch was, the financial assistance would go to a project chosen by the LGU itself.
As it won in both competitions, Mayor Traya chose the financial assistance to be provided for better facilities at the Abuyog Community College, a local college that has reportedly steadily grown in population in the past years.
For this, the provincial government shelled out P2 million pesos which was personally given by the governor to Mayor Traya during the former's recent visit to Abuyog's far flung villages.
Mayor Traya said he has chosen for the provincial incentive to be poured to facility improvement at the local college as the municipal government places more emphasis in providing for better education for its constituents.
It was learned that the Abuyog Community College, which offers courses in Education, Commerce and Hotel and Restaurant Management, still houses the same school facilities originally built in the late 70's when the school was founded.
Gov. Petilla said he has decided to give the incentive to encourage more the youth to participate with this cultural activity as their own contribution for the promotion of local tourism.
"The festival has brought honor and pride not only to the town of Abuyog but to the province of Leyte and the people of the whole Eastern Visayas region, so it is just but fitting that we give back a little for them to inspire them more and for others to follow what they have achieved," Gov. Petilla said.
To recall, in an unprecedented sweep of three festivals in a span of less than a year, the Buyogan Festival of Abuyog, Leyte was declared the Grand Champion of the Aliwan Fiesta 2009 Festival of Festivals. It was the Grand Champion in the 2008 Leyte Pintados- Kasadyaan Festival in 2008, went on to win the grand prize in the Free Interpretation Category of the Sinulog Festival in Cebu in January and three months after that conquered the national festival competition at the Aliwan Fiesta and hailed as the Grand Champion.
The Buyogan Festival has been elevated to the Hall of Fame by the DOT-8 last June during the 2009 Leyte Pintados Kasadyaan Festival of Festivals and was awarded P100,000 cash incentive by the tourism department.
Human organ smugglers preying on poor Cotabato women – solon
By Office of Rep. Emmylou "Lala" Taliño-Mendoza
August 5, 2009
QUEZON CITY – Cotabato Rep. Emmylou Taliño-Mendoza has urged the Inter-Agency Council Against Trafficking (IACAT) to run after human organ smugglers preying on impoverished women in her province.
The Cotabato town of M'lang alone, human organ traffickers have already illicitly procured kidneys from at least a dozen women, each lured with P200,000, according to Taliño-Mendoza.
"No effort should be spared in apprehending these predatory traffickers and their go-betweens. Their nefarious activities should be nipped in the bud before they victimize more women in Cotabato and other provinces in Mindanao," she said.
She said the medical practitioners who illegally removed the kidneys of the women "should likewise be held to account for their contemptible acts."
"Sadly, the women who were tempted into giving up a kidney are just as poverty-stricken as before, only they are now potentially unhealthier," Taliño-Mendoza said.
"This is definitely one of the most horrible forms of exploitation of women," she added.
Taliño-Mendoza stressed that the new implementing rules and regulations (IRR) of the Anti-Trafficking in Persons Act "categorically prohibit the buying and selling of human organs."
Under the law, those found guilty of engaging in the buying and selling of human organs face 20 years in prison plus a fine of up to P2 million.
While the Anti-Trafficking in Persons Act was passed in 2003, its IRR with respect to the trading of human organs took effect only on June 29, 2009.
The IACAT oversees the enforcement of the new IRR versus human organ trading.
The council is composed of the heads of the departments of justice, social welfare and development, foreign affairs, labor and employment, and interior and local government; as well as the chiefs of the Bureau of Immigration, National Bureau of Investigation, the National Police, and the Philippine Overseas Employment Administration.
Groups representing women, children and migrant workers also sit in the council, along with the heads of the National Commission on the Role of Filipino Women and the Philippine Center for Transnational Crime.
Search for Leyte's most outstanding barangay council now ongoing
By Philippine Information Agency (PIA 8)
August 5, 2009
TACLOBAN CITY – The search for the most outstanding barangay council, the first ever in the entire country, is now on-going in the whole province of Leyte, Board Member Carlo Loreto informed.

Leyte BM Carlo Loreto
Tagged as "Gawad Galing Sangguniang Barangay 2009," the project is being spearheaded by the National Movement of Young Legislators (NMYL), Department of Interior and Local Government (DILG), and the Philippine Councilors League (PCL), Board Member Loreto who is the NMYL Secretary General, said.
Board Member Loreto together with several Leyte Board Members, was in the towns of Kananga, Villaba, Leyte-Leyte, Merida, and Tabango last week to orient the different barangay chairmen and barangay councilors about the relevant details of this particular search for the most outstanding barangay councils which is being piloted in Leyte province.
He added that his team has already met with the barangay officials in the towns of Hilongos, Abuyog, Carigara, Dagami, Matalom, Bato, Hindang, Inopacan, Pastrana, Jaro, Baybay, Mahaplag, Javier, Alangalang, and the City of Ormoc, relative to this concern. The team is now completing the rounds in the other towns of Leyte.
The "Gawad Galing Sangguniang Barangay 2009," was designed to give due recognition to the punong barangay and his council members who have shown "exemplary leadership in the field of good governance and efficiency and effectiveness in the delivery of basic services to their constituents," BM Loretto stressed.
According to Board Member Loreto, the organizers are aware of the vital role of various barangay councils in terms of providing legislative support such as the passage of resolutions and enactment of ordinances for the welfare and interest of their constituents.
"It is high time that we bestow proper recognition to the outstanding barangay legislative bodies which have shown exemplary performance in the exercise of their functions and responsibilities as mandated by their constituents," the young legislator said.
In his response during the ABC meeting at Barangay Lonoy, in the municipality of Kananga, Mayor Elmer Codilla said that this is a good program of government because this will "motivate our barangay officials to strive for excellence in their doing mandated duties and responsibilities pursuant to the Local Government Code."
"A disease has to be cured. We take Neozep to cure fevers and flu, or Tamiflu for that matter to cure A (H1N1). Since we sometimes forget our mandated duties under the law, we should find a cure for forgetfulness. This Gawad Galing Sangguniang Barangay 2009 is the cure for our forgetfulness. Mao ni ang tambal sa kalimot," explained Board Member Antonio Jabilles during the same meeting.
For her part, Board Member Deborah Berturfo underscored that the barangays would be adjudged based on the following criteria: (1) efficiency in performance which include number of ordinance approved or enacted; number of resolution approved; regular conduct of sessions and complete attendance of council members during regular sessions; (2) legislative documents which include minutes of the sessions; internal rules and procedures signed by the members; notice of meetings for special sessions; legislative agenda; compilation of barangay resolutions and ordinances; (3) physical facilities and office requirements which include session hall; tables and chairs; filing cabinet; bulletin board and comfort rooms.
Board Member Rolando Piamonte also explained the same during separate ABC meetings in Villaba, Leyte-Leyte, and Tabango. The Leyte legislator further explained his secret to staying as young as young legislators like Sec-Gen. Loreto.
"All 1500 barangays in the province are automatic entries/contestants to this search. They will be evaluated based on the aforementioned criteria," added Board Member Piamonte.
Meanwhile, Tabango Mayor Bernard Jonathan Remandaban commented via text messaging that "this is a laudable undertaking. It will inspire the barangays to perform better and come up with programs beneficial to their respective communities."
The panel that will decide the winners will be composed of a representative each from the NMYL, PCL, and the DILG.
The awarding of winners is tentatively scheduled in November of this year. Winners will receive cash prizes and plaques, Board Member Loreto said.
PGMA visits Maasin City August 9, says mayor Samaco
By BONG PEDALINO (PIA Southern Leyte)
August 3, 2009
MAASIN CITY, Southern Leyte – President Gloria Macapagal-Arroyo has scheduled to come to this city on August 9 for the inauguration of the new wet market and the ground breaking of a soon-to-be-constructed dry market.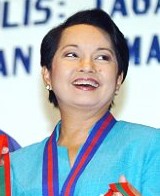 This was revealed on Thursday by City Mayor Maloney Samaco in a press conference with local media held at the PIA office and aired live over radio station DYDM during the time slot for the city-paid block time program "Maasin City in Action."
Samaco disclosed that the President would have been the guest of honor for the 9th Charter Day celebration on August 10, but she already has a commitment on that date so her presence was set the day before.
Barring any last-minute hitches in the schedule, the President will arrive in the morning then proceed to her next engagement which, most probably, would be a site visit at the newly-completed Agas-Agas Bridge in Sogod, Samaco said.
The President's supposed visit in this city and the province this month was postponed for several times already because of conflicts in her schedule, it was learned.
The guest speaker during the Charter Day ceremonies on August 10 will be Department of Interior and Local Government (DILG) Secretary Ronaldo Puno, Samaco said.
Meanwhile, Mayor Samaco also bared the complete line-up of activities for the twin celebration on Charter Day and Fiesta for the city on August 15, with sports competition and cultural presentation in the evening.
July 31 was the opening salvo of the activities with an opening Mass and opening program in the afternoon in the city gym and city hall grounds.