Leyte province mulls for an exclusive Leyte grid for power consumption
By Provincial Media Relations Center
August 3, 2009
TACLOBAN CITY – Leyte Governor Carlos Jericho Petilla said there is a study being made presently on the possibility of having an exclusive Leyte Grid for its power supply and consumption.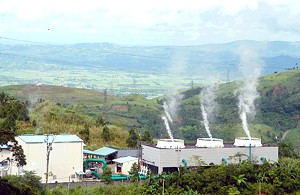 This the governor said amid continuous call to lower power rates in Leyte province and even neighboring provinces within the Eastern Visayas region considering that the biggest electricity source is located here in Leyte.
"As of now it is just a plan while a study is being made if this idea is possible and if it could prove viable," Gov. Petilla said in an interview with the local media.
He said, with Leyte locked with the Visayas grid, expenses for power supplied to other regions are also passed to local power consumers.
"We would only then be paying for our own generation charges, our own transmission charges and not carry the burden for costs of transmission to other regions," the governor said.
That is why, he added, the province together with big company locators in Leyte pleaded with the Energy Regulatory Commission to provide the province with a preferential rate since the source of power is located here.
Instituting an exclusive Leyte Grid, the governor disclosed, may prove even more beneficial to local power consumers in the long run.
"However, this is a long-term plan which still many aspects to be studied. In case, it would prove viable, we can then set a time frame for its institutionalization," Gov. Petilla said.
The 107,625-hectare Leyte Geothermal Production Field (LGPF), which straddles Ormoc and Kananga, generates 708 megawatts to supply the power needs of Visayas and Luzon.
Among its facilities are the 231-MW Malitbog plant and the 130-MW Upper Mahiao plant, both in Kananga, and the 180-MW Mahanagdong A & B plants in Ormoc.
Earlier, the governor together with officials of the Philippine Associated Smelting and Refining Corporation and Philippine Phosphate Corporation personally appealed to ERC Chair Zenaida Ducut to provide the province a preferential rate and be spared from the power rate hike being sought for by the National Power Corporation.
These two big businesses located in Leyte expressed fear of mass lay-offs, and much worse, closure, if power rates in the province would continue to increase saying they would not be able to sustain millions more for their power bills.
Panganiban, Cabral, others visit far flung KALAHI-CIDSS sites
By ALICE NICART (PIA Eastern Samar)
August 3, 2009
BORONGAN, Eastern Samar – Not the heavy rains, high terrain, rough roads even the possible threat of NPA warriors watching from mountain tops deterred DSWD Secretary Esperanza Cabral and NAPC Chairman Domingo Panganiban in visiting Thursday, far distant KALAHI CIDSS sites of Balangiga, Eastern Samar.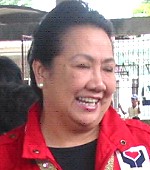 DSWD Secretary Cabral
Boarded on rented vans, Cabral and Panganiban risked the 10-kilometer bumpy drive to barangay Cag-olango, an upstream barangay of historic Balangiga town.
However, the caravan of about 15 vans, was worth the effort and energy of top government officials as they discovered for themselves how the government investment as in KALAHI-CIDSS have impacted in the lives of poor people.
The word "Cag-olango" from which was derived the name of barangay Cag-olango is a name of a firewood which abounds their river, barangay secretary Imelda Naputo shared. It was aplenty that they would block the normal flow of the river until it swells so often; nonetheless, it was somehow beneficial because they did not have to go deep into the forest to gather firewood, she added.
Naputo believes, God endowed them with their river because it turned out to be their source of living; from food to firewood, to water for drinking, for laundry, for bathing and later on to relieve their heavy stomachs every morning. Simply put, it became not only their source of drinking water but also their big wide toilet. But it also built a health problem because oftentimes diarrhea occured among the children and adults as well.
Comes now the KALAHI-CIDSS project of the Department of Social Welfare and Development.
Tessie Ilacion, Chairman of Barangay Sub-Project Management Committee (BSMPC) proudly informed PIA that they now have level-2 water system with 12 communals, drainage canals and all 60 households have their own toilets.
"Waray na nagkakasakit hit am kabataan, kay mayda namon malinis nga irinmon nga tubig ngan mayda na namon mga toilet nga ginagamit", Ilacion testified. (Nobody now among our children gets sick because we already have a safe drinking water and also we have toilets to use). "Thanks to DSWD, thanks to the KALAHI-CIDSS and Makamasang Tugon", she concluded.
For her part, Secretary Cabral as short a speaker that she is, expressed likewise her thanks for the people for their active participation and involvement for the project to get through.
"Despite the meticulous process, I know you did your part so that the series of fund releases were still delivered and this important projects for you were achieved, congratulations!", Cabral said with all smiles of content for a successful project implementation.
Search for oldest living veteran in region 8 to be given recognition during 65th Leyte Landing Anniversary
By JONNIE H. BUENAVENTURA (PIA 8)
August 3, 2009
TACLOBAN CITY – In response to the call of Leyte Governor Jericho "Icot" Petilla to convene the different technical working group to discuss the programs and activities and prepare a budget for the incoming 65th Leyte Landing Anniversary come October 20, 2009.
The Committee Chairperson had heed to the call of the governor and met the different technical working group on Thursday to discuss programs and activities that would be highlighted during the 65th Leyte Landing Celebration.
It was agreed by the body that a search for the oldest living veteran in region 8 should be given preferential attention due to the dwindling number of veterans because of old age.
According to Antonio "Toto" Cinco, Jr., Chairman Technical Working Group, Provincial Tourism Council, the Leyte Landing Celebration is intended to the war veterans who participated together with the allied forces in the World War II (WWII) which plays a vital role in defeating the enemy against invasion perpetrated by the Japanese forces 65 years ago.
It is of common knowledge to all that living heroes in the WWII is the main reason why the celebration is still important and we should give it to them specially the living veterans, said Cinco.
Cinco said that the oldest living veteran in Region 8 will be chosen based on the records of the Veterans Federation of the Philippines (VFP) and Philippine Veterans Affairs Office (PVAO) who served during the WWII in Region 8 and is an inhabitant of such area and who served during WWII but of roots from Leyte.
The chosen old living veteran in Region 8 will be given commemorative recognition during the 65th Leyte Landing Anniversary in October 20, 2009 at Mac Arthur Park, he said.
According to Vincent L. Emnas, Provincial Administrator, Province of Leyte this 65th Leyte Landing Anniversary is different from the previous celebration because the Fiesta Leyteña which honors the delegates of foreign embassies and visitors will be termed Fiesta Leyteña and Samar as suggested by Director Sol F. Matugas of the Department of Education during the recent meeting and will honors the living veterans and their surviving spouse and families to let them feel that the celebration is intended for them for the valor and bravery they initiated which results to the liberation of the entire archipelago against invasion by foreign forces.
We should remember in every bricks, walls, tablets and in the history that Leyte Landing Celebration is celebrated because we won form foreign invasion thru the help of allied forces 65 years ago.
PHO confirms 4 positive cases of A(H1N1) in Southern Leyte
By REBECCA G. CADAVOS (PIA Southern Leyte)
August 2, 2009
MAASIN CITY, Southern Leyte – Provincial Health Officer Joselito Trumata of the Salvacio Oppus Yñiguez Memorial Provincial Hospital (SOYMPH) confirmed four positive cases of A(H1N1) flu in the province, in an interview live over radio station DYDM, Wednesday, July 29.
Trumata said that the three positive cases were found out to be in San Roque Elementary School at Liloan town while the other one was in Hinunangan. "Though, the infected individuals are now contained. The one from Hinunangan can now go back to work, and the three pupils from Liloan are being treated," Trumata disclosed in his report during the "Pamahaw Balita" interview portion.
In the case of San Roque Elementary School, a kilometer away from Liloan proper, they directed the school officials to suspend classes on Wednesday and gave vitamin C to the pupils for protection. A team of health personnel is scheduled to clean the surroundings of the school through spraying to assure that the virus will not spread out.
"Actually H1N1 can be treated, unless complications come in, such as heart failure, kidney failure or if the infected has other illnesses," Traumata said. The reported cases her in Southern Leyte are still manageable since the affected school-children had no other complications, the doctor added.
Health personnel throughout the province are ready to determine the H1N1 virus, Trumata revealed. They had sent health personnel at the Eastern Visayas Regional Medical Center to train how to get a specimen of a suspected case, he informed.
They have already conducted random sampling throughout the province last Monday, July 27, particularly in schools and there's no reported cases yet in other municipalities and in the City of Maasin, Trumata noted.
In Southern Leyte patients complaining to have coughs and colds with fever, which is one of the symptoms of the virus was reported to be almost 200 cases since last month but as of this writing the problem went down to 30 cases, Traumata further reported.
Slain journalist in N. Samar still unsolved; assassins still scot-free
By RICKY J. BAUTISTA
August 2, 2009
CATARMAN N. Samar – A top official of the local press group here said that police investigators here is still "empty-handed" of a possible lead that will resolve to the killing of a broadcaster here and the perpetrators are still off the hook.
Elad Perfecto, president of the Union of Northern Samar Journalist (UNSJ) and vice-president of the Samar Island Press Club (SIPC) revealed this sad fact before his audiences that composed mostly campus journalists from the University of Eastern Philippines (UEP) in a press forum held the other week.
Perfecto is referring to Leo Mila, 35, a hard-hitting broadcaster of Radyo Natin who was "silenced" and shot to death last December 2, 2008 in front of his station in Brgy. Poblacion, San Roque town, Northern Samar.
The murder of Mila is the seventh journalist killed in the Philippines as of December 2008, and the number 62 of slain journalists under President Gloria Macapagal-Arroyo's watch.
"We feel disappointed that none of our government authorities seems to give us good news as to the case of our fallen comrades who were killed in the line of duty," Perfecto stressed.
Perfecto further said that his fellow workers in the media industry also felt the same way as he was. "Given the fact that, despite of very low income, we are still working very hard to keep the public inform and more knowledgeable on the current happenings in the present administration, we are still being deprived of justice," he added.
Rev. Fr. Eleno Delizon, chairperson of the Social Action Commission of the Diocese of Catarman, who was with him during an interview, also told this writer that "(these killing of journalists) should not be taken lightly; every person working in the media should take extra precautions to avoid these incidents."
While showing his sympathy to the flight of the media sector, the priest advised the media practitioners not to take "standard" or "habitual" routes on their way home as this will make the assassin easy to follow.
Fr. Delizon advised the group of Perfecto to ask the government or request an "inter-agency coordination" to fasten the investigations of the unsolved case.
Publishers Association of the Philippines Inc., President Johnny "Juan" P. Dayang, who was the guest speaker of the 1st Provincial Media Conference here said, "The media plays a vital and pivotal partner of our government in achieving the country's development agenda, therefore the government should protect us at any cost."
Meantime, in the said press forum, there were no police officers present to give their sides of the status of the case. Military officials in the forum did not commented on the issue.
On the other hand, the campus journalists who were a bit surprised of the sudden deaths happenings in the members of the Fourth State just ignored the possible threats they will be facing once they will become a full pledge media practitioners and ended the forum with commitment to continue the struggle of the Philippine free press.
Calbayog mayor partners with PNP and army for security
By NINFA B. QUIRANTE (PIA Samar)
August 1, 2009
CALBAYOG CITY, Samar – Calbayog Mayor Mel Senen Sarmiento met with the so called Security Cluster Tuesday for the update on the investigations being made by the PNP on the reported shooting incidents in Calbayog City.
Also discussed was the coordination to be made between the PNP and the Philippine Army and their respective tasks to maintain peace and order in the city.
As reported earlier, the police troops from the Police Regional Mobile Group (PRMG) will be conducting checkpoints in Calbayog.
The Philippine Army through the 34th Infantry Battalion (34th IB) will conduct propelactic patrols in some barangays in Calbayog District particularly in the Upper and Lower Happy Valley areas, while the 20th IB will go on with its operations in the Tinambacan and Oquendo Districts.
As per report made by Calbayog PNP Chief PSupt Lito Bigoy, (as of July 22, 2009) the number of shooting incidents reported was at 27; and most of these incidents are results of personal grudges.
As of the meeting on Tuesday, nine cases have been filed in court; one case was reportedly settled amicably, another case found one suspect dead, 12 cases are being investigated while four cases are due for filing.
In an earlier interview dated July 14, 2009 Samar Provincial Director PSSupt Pancho Hubilla said that Samar is 'very peaceful'. Although the PNP chief admitted he was concerned with the killings in Calbayog City and other areas in the first district.
Two days after the interview, Matuginao Mayor Carlos dela Cruz was gunned down and killed by unidentified assailants in his very home in Catbalogan. Matuginao is a municipality that belonged to the first district.
Dela Cruz, along with a cousin named Joel Adel were gunned down in the mayor's house in Catbalogan, Adel however survived but could not identify the assassins. Police are now pursuing all angles in this killing and have identified a suspect based on witnesses accounts, the suspect though remains elusive.
Hubilla meanwhile said his PNP force is addressing the problem. In addition, new batch of SWAT graduates have been deployed to problematic areas in Samar.
Peace and order is a high priority of the administration of President Gloria Macapagal-Arroyo. In her final SONA delivered on July 27, PGMA mentioned her concern for security and peace and order. "High on our agenda will be peace and security issues. Terrorism: how to meet it, how to end it, how to address its roots in injustice or prejudice – and first and always how to protect lives", PGMA cited.
She urged congress to: fund more policemen on the streets. (with Ron Ricafort)
San Ricardo PNP rescues capsized RORO passenger off Panaon Island in South Leyte
By Philippine Information Agency (PIA 8)
July 30, 2009
TACLOBAN CITY – The members of the San Ricardo Philippine National Police together with the Philippine Coast Guard and the San Ricardo Emergency Rescue Team successfully rescued all the passengers and crew of the MV Ocean King 2 which accidentally capsized noontime of Tuesday, July 28, off the coastal waters of San Ricardo, Southern Leyte at the southern tip of Panaon Island.
A report coming from the PNP Region 8 office stated that all the 121 passengers consisting of 119 adults, two children and crew, are all safe. Although all of the rescued were wet, no body was reported injured, the PRO 8 report stated.
PSSupt Manuel E. Cubillo, Police Regional Office 8 spokesperson, said that the vessel tipped heavily 45 degree to the right side due to big waves which struck it, as a result of a low pressure area on July 28.
MV Ocean King 2 which has a gross tonnage of 112.01, loaded with 13 rolling cargoes and estimated to have 25 crew members including the vessel captain Zaldy Anggot, was able to reach Benit Port in San Ricardo before it grounded.
It was good that the ship's captain managed to maneuver towards the shore as the boat slowly submerged due to huge and strong waves, the same report said.
The San Ricardo Police, together with the Southern Leyte Coast Guard are now currently exploring the possibilities for what happened to the vessel. A formal investigation is also being conducted in order to determine the accountability as to damage to property.
Meanwhile, Police Chief Superintendent Mario R. Sandiego, immediately gave a directive for the investigation of the case for possible violation of vessel safety rules and regulations. (with report from Rochelle Febria, PNP)
Church leaders to 'fight' all attempts to change Constitution by force
By RICKY J. BAUTISTA
July 30, 2009
CATBALOGAN, Samar – Church leaders coming from this country's third largest island have renewed its vow to "fight till the end" the regime's repeated attempts to change the Constitution "by force".
Saying that it is "a trap that will necessitate Martial Law again," the 11th Samar Island Partnership for Peace and Development (SIPPAD) together with the Catholic bishops of three provinces of this island has issued again a strong and unified stand to oppose the plan of the government to change the Philippine Constitution.
The "no to con-ass" papers, some of which, distributed by the church groups during the 1st Provincial Media Conference held in UEP Campus last July 20 stated that around 128 participants from the church, government, academe and civil society strongly oppose the recent move of the Congressmen to "railroad constitutional reform through constitutional assembly (Con-Ass).
"The social teachings of the Church directly remind those with political responsibilities that they must not forget the moral dimension of political representation. This consists in the commitment to seek the common good and not just the advantage of some persons," the paper dated June 18, 2009 stated.
In an interview, Rev. Fr. Eleno Delizon, chairperson of the Social Actions Commission (SAC) for the Diocese of Catarman said that "charter change is a real threat especially to the forthcoming 2010 elections."
Fr. Delizon said, quoting the 1997 CBCP statement on Cha-cha "let it be done with widespread participation and unity of vision, with total transparency and serenity, with reasons unarguably directed to the common good rather than to the self-serving interests of politicians."
Fr. Delizon and his co-signatories of the "peace protest" namely Borongan bishop Most Rev. Crispin Varquez, Calbayog bishop Most Rev. Isabelo Abarquez, Catarman bishop Most Rev. Emmanuel Trance, Borongan SAC chairperson Ian Mosquiza and Calbayog SAC chair Fr. Cesar Aculan called other religious, civic and political leaders and the people to be vigilant in protecting the nation from abuse of power.
"Let us heed the call of the President of the CBCP to express our objection in a peaceful non-violent way in order that we may not fall into a trap that will necessitate Martial Law again. Learn the lesson from the past," the church leaders said in their signed statement.
Gov. Petilla appeals vs power hike to retain big Leyte industries, locators
By Provincial Media Relations Center
July 30, 2009
TACLOBAN CITY – The provincial government of Leyte together with two of the province biggest business locators recently made a personal appeal to the Energy Regulatory Commission to altogether deny the petition made by the National Power Corporation (NPC) and Power Sector Assets and Liabilities Management Corporation (PSALM) to increase by a total of P1.1460 per kWh the power rate for the Visayas Grid.
The ERC, to recall, granted provisional authority to NPC and PSALM earlier this year, modifying the provisional increase from PhP1.1460 per kWh to P0.8376 per kWh for the Visayas Grid.
Leyte Governor Carlos Jericho Petilla said a full increase as petitioned by Napocor and PSALM may spell a big problem for big companies operating in Leyte with the grimmer picture lying ahead that of companies closing and thousand of employees being displaced.
The governor, together with officials from Philippine Associated Smelting & Refining Corporation (PASAR) and Philippine Phosphate Fertilizer Corporation (PhilPhos) as well as representatives from the local government unit of Isabel, Leyte, personally appeared before ERC Chairman Zenaida Cruz Ducut to appeal, among others, that Leyte consumers at least be given a preferential rate in the proposed hike.
"We noted to the ERC chair that Leyte be given a bit of favor since the power comes from Leyte," Gov. Petilla said.
All five geothermal power plants in barangay Tongonan in Kananga, Leyte, is the main source of electricity for the Visayas grid. The Tongonan-generated electricity is sold to power companies and cooperatives in the three Visayan regions and to Luzon.
The governor also contended by jacking up the power rates would burden these industries more even as they are already reeling from the collapse of overseas markets.
"Power hike would overly burden households and industries at this extremely harsh time," the governor said.
"We have to remember that these companies (PASAR & PhilPhos) are competing globally and burdening them more in their local operations may force them to lay off some of its employees, or worse close altogether and displace hundreds of workers. That's what we fear and that's what we cannot allow to happen," Gov. Petilla added.
Reportedly, the power increase petitioned by Napocor with the ERC would balloon the power bill to at least P45 million a month for PASAR alone. PhilPhos and other big companies here in Leyte would be having the same plight too, the governor said.
"Magmahal ngani dinhi bangin mangagsara ito hira and I'm afraid ano it mahitabo hit aton mga trabahante," Gov. Petilla lamented.
These two big companies, located at the Leyte Industrial Development Estate (LIDE) in Isabel, Leyte, are employing at least 2,000 workers from all over Leyte and nearby regions.
So far, Gov. Petilla disclosed the commission through ERC Chair Ducut appears to be sympathetic on this issue and that it would take into consideration the points on the appeal they made while adding it would really impact much on the economic capacity of the province and its existing business locators.
Samar political pot now starts boiling
By RICKY J. BAUTISTA
July 29, 2009
CATBALOGAN, Samar – With government offices and coffee shops clients talking about who is running for what positions and against whom, no doubts the political pot in this province, like in Manila, started to boil.
And shortly after the Commission on Elections (Comelec) announced the deadline of filing for Certificate of Candidacy on November 30 this year, national and local political players has also publicly announced their interests to clutch their targeted major and minor posts, at the same time, set up their machineries and source of logistics.
And of course, the "vote-buying," mudslinging and character assassinations will be some of the usual route of most politicians this year.
In a phone-patch interview over Radyo ng Bayan Calbayog last Thursday, former San Jorge mayor Joseph V. Grey, who ran for congressman but lost against veteran Cong. Reynaldo Uy of the 1st district has announced to throw his hat again come 2010 synchronized elections.
Grey said he is thinking of three options in joining again the political race in Samar, "either to run for Governor, Vice-Governor or even for Congressman in the first district."
"This (plan of mine) is not yet definite as this will depend to the party decisions… If (Mila) Tan and (Rudy) Tuazon will get me as their partymate, I will decide what position I will run depending on their suggestions," Grey said.
It was learned that Grey has just received a membership application for Nacionalista Party (NP) sent to him by former Congressman Rodolfo "Rudy" Tuazon. To date, Grey is running under the banner of Sec. Norberto Gonzales' PDSP and Kampi.
A political analyst, a university professor, who asked not to be named, shared to this writer his analysis of the possible political rivalries in the two districts of this province.
If Grey will run as Samar Governor, he will face a tough fight for blocking the political ambition of Vice-Governor Jesus B. Redaja and 2nd district Congresswoman Sharre Ann Tan who apparently showed interest to grab the post of her mother who is now in her third term.
For Vice-Governorship post, Provincial Board Members Nancy Rosales (1st district) will fight against Tommy Bolastig (2nd district) and possibly Grey if he decided to join the game.
For Congressman in the 1st district, it will be Calbayog City Mayor Mel Senen Sarmiento, Ex. Cong. Tuazon and possible Grey, while in the 2nd district, Governor Milagrosa Tan and the come-backing Ex. Cong. Catalino V. Figueroa. Both Sarmiento and Tan are in their last term in their current posts.
For mayoralty posts, third-termed Congressman Reynaldo S. Uy (Liberal Party) will run for Calbayog City and possibly against the son of Governor Mila Tan, Jimboy. While in Catbalogan, it is SB member Jay Yulo against reelectionist Mayor Coefredo "Tekwa" Uy.
"Let me clarify that this scenario is not 100% sure, we cannot just yet predict who really run and against whom as these political players played strategically. I mean, anybody can divert plans in favor of their interests or for the interest of their party affiliations," the political analyst disclosed.
Malobago village receives newly built river landing, Evardone pledge more support
By BRYAN M. AZURA
July 29, 2009
MAYDOLONG, Eastern Samar – The entire village of Malobago was in elation as the villagers accepted the P170,000 newly built river landing from Governor Ben P. Evardone recently during the turn-over rites of the said project and switch-on ceremonies held in this upstream barangay of this town.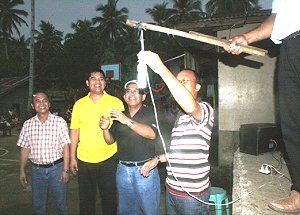 Gov. Ben Evardone lead the ceremonial switch-on in Brgy. Malobago, the newly "energized" barangay in the Province of Eastern Samar. Assisting the Governor are (l-r) Maydolong Mayor Daniel Baldono, SP Members Jose Vicente Opinion and Enerio Sabulao. (photo Celestino V. Pinangay)
Barangay Captain Ernesto Bajado, in a message, said that the new river landing will bring relief to his people as the barangay can only be reached by boat through the Suribao River. The village is an hour travel by boat from Brgy. Camada, also of this town.
The project, facilitated by Provincial Planning and Development Officer Henry Afabne and funded by the provincial government, was tagged at P200,000 but its actual implementation cost reached only P170,000. The barangay chief said they are able to implement other project with the remaining amount.
The village chief also expressed appreciation to Gov. Evardone for facilitating the electrification project in their barangay. "We never thought that in our lifetime, we will experience the benefit of electricity," Bajado noted.
Governor Evardone, for his part, said that he admits the difficulty of mobilizing resources for Malobago's electrification project as the Department of Energy already declared the area 'energized' due to the solar powers installed in the village. "I personally have to convince the people at DOE that this barangay is still without electricity and should be erased in the energized barangays," Evardone revealed.
As of press time, almost 90 percent of 597 barangays of the province is already with electricity. "We are working doubly hard for the rest to be connected with electricity," the governor expressed.
Meanwhile, Evardone said that the P20,000 provincial aid for the barangay is already up for release. "It's prepared already and should be turned over any time soon," the governor said. "I'm happy that your village chief chose comfort rooms as the barangay's priority project," he continued. According to the data sourced from Community Based Monitoring System (CBMS), almost 90 percent of the homes in the area do not have CRs. The provincial aid, as a matter of policy, will only be released to barangays with projects based on CBMS.
Sangguniang Panlalawigan Members Enerio Sabulao, Jovi Opinion and Generoso Yu pledged to add P5,000 each on top of provincial aid for the implementation of barangay's priority project.
In his message, Mayor Daniel Baldono said that he still has remaining funds of P300,000 for Malobago. Initially, he is thinking of using the fund to open an access road from Brgy. Guindalitan to the village. "We have our own heavy equipment and we can start the project anytime upon the signal of the barangay officials," he said.
A(H1N1) cases in Region 8 continue to rise
By Philippine Information Agency (PIA 8)
July 28, 2009
TACLOBAN CITY – Department of Health Region 8 Director Edgardo Gonzaga informed that as of July 24, 2009, the total number of A(H1N1) cases under observation is 411; the confirmed positive cases counts 196 while the negative cases numbers 154 and the result of about 50 cases is still pending.
Director Gonzaga said that there are already 27 schools in Region 8 with positive cases of A(H1N1) with the number of cases tested positive totals 160. Several schools remain suspended and others just like the Rizal Community School with about 2,700 population, have just decided to declare the suspension of classes.
Earlier, Mayor Alden Avestruz informed that he will declare a state of calamity in his municipality where there are positive cases and clustering in several schools. In Baybay, Leyte, one village, Guadalupe, was declared to be under a state of calamity when 9 school children were found positive with A(H1N1).
The local government of Tacloban City under the leadership of Mayor Alfred Romualdez donated ten thermal scanners to the City Schools Division in order to mitigate the incidence of A(H1N1) cases in Tacloban City.
The Provincial Government of Leyte under the leadership of Governor Carlos Jericho Petilla said that although the incidence of A(H1n1) is very minimal in the province, has called for sustained information dissemination on the mitigation and control of the novel virus.
Earlier, the Provincial Health Office has been tasked by Governor Petilla to conduct a sustained public information campaign in order to mitigate and slow down the spread of the dreaded virus.
The Leyte Provincial government that although the Region is already in the Mitigation Response Level and no longer in the containment level, still, there is a need for dissemination of information on the measures of mitigation and control of the A(H1N1) infection.
These include reminding the public on the symptoms of Influenza-like illnesses, proper hand washing techniques; coughing and lung clearance etiquettes; social distancing; and voluntary isolation.
Social distancing means that the public should be at least one meter away from other people and must not frequent crowded places. This also calls for refraining from hand contacts like hand-shaking.
The public should also know the symptoms of influenza-like illnesses and what they should do in case the symptoms manifest on them.
Among the six provinces in Eastern Visayas, only Biliran and Southern Leyte have no confirmed positive cases of A(H1N1) infection.
The wearing of masks is not recommended as this will only be additional expense to the public. What is important is for the positive cases or those exhibiting the symptoms of influenza-like illnesses to undergo a 10 day self-quarantine so that he or she will not spread the virus.
DENR ASec. Calderon bats for compliance on solid waste management program among LGUs
By BONG PEDALINO (PIA Southern Leyte)
July 28, 2009
ORMOC CITY, Leyte – Assistant Secretary Gerardo Calderon of the Department of Environment and Natural Resources (DENR) on Thursday virtually lectured the municipal Mayors attending the Luzon Island Cluster conference of the League of Municipalities of the Philippines (LMP) held at Sabin Resort Hotel here on the virtues of keeping their dumpsites clean and livable.
Calderon, who also sits as the Executive Director of the National Solid Waste Management Commission, discussed in great detail on what he called the doable ten commandments in transforming the messy and foul-smelling garbage heap of municipalities into sites worthy to be considered as ecological parks.
The move has been integrated into the government's overall campaign on climate change and "zero basura" interconnectivity caravan held recently, Calderon said.
He stressed that many environment-oriented non-government organizations (NGOs) have been monitoring DENR's action regarding compliance by various LGUs on the provisions of Republic Act 9003, the National Solid Waste Management Program-Ecological Solid Waste Management Act of 2000.
Top ranking officials of the DENR had been hailed to Courts, including Calderon himself, he disclosed, for perceived inaction on the key provision of the law, hence the need to strengthen coordination efforts and working ties with the LMP to show to one and all that both the concerned national agency and the local counterparts have been actively involved in giving life to the letter and intent of RA 9003.
He cited several models from Luzon, Visayas, and Mindanao areas who complied strictly to the waste management program, and whose effective practices can be replicated by other LGUs, under pain of administrative sanctions once they fail to follow.
Among the reference model LGUs for compliance with RA 9003 are Los Baños, Laguna and Teresa, Rizal for Luzon; San Carlos City, Negros Occidental and Tabon-Tabon, Leyte for Visayas; and Linamon, Lanao Del Norte and Sto. Tomas, Davao del Norte for Mindanao.
"You can organize Lakbay-Aral to any of these places so you can see for your own eyes how they do it and put it into practice in your respective municipalities," Calderon advised local chief executives numbering over one hundred listening him speak.
Among those who listened in the audience was Defense Secretary Gilberto Teodoro, the guest and next speaker on the second day of the two-day conference.
DENR Secretary Jose Atienza had defined Ecological Solid Waste Management as the empowerment of LGUs down to the barangay level "to engineer strategies to manage and reduce waste at source, for a better environmental governance."
"As we go towards a greener society, we have model barangays – responsible and committed LGUs who have successfully implemented R.A. 9003 – who have set a high environmental standard that has been proven attainable, and that others must follow," Sec. Atienza had said.
4 persons die in road mishap in Biliran
By FLOR JACKSON (PIA Biliran)
July 26, 2009
NAVAL, Biliran – Four persons died here when a dumptruck that followed vehicle-riding groups of some 500 persons who were on their way to bury a friend and relative from Barangay Capinahan in Naval town to a Catholic cemetery in the poblacion lost break hitting some of the motorcycle-riding sympathizers at about 8:45 this morning.
According to a police report released by the Naval Police Station headed by PSupt Anastacio Agullo, the dumptruck that figured in the accident was owned by Tuscan Structures with Plate Number GKV-475 and was driven by Bernard Villarin, 30 yeas old from Brgy. Pinamihagan in Culaba, one of the towns in Biliran province.
The report further disclosed that the driver of the dumptruck allegedly lost control of the brakes while travelling on a slopy road down, hitting the Honda TMX motorcycle with Plate Number G7801 owned and driven by Wilfredo Casanares Bernal of Sitio Eden, Brgy. Capinahan, Naval.
Casanares was brought to the Biliran Provincial Hospital (BPH) where he was declared dead on arrival by doctors.
The report declared that Marcial Baco Payos, 52 years old and a resident of Sitio Agsim, Brgy. Capinahan and brother of the late Juliano Payos, 57 years old and a lay minister whom they would bring to his final resting place at the catholic cemetery here Thursday morning died instantly at the site of the accident. His passengers in the single motorcycle, Cleofe Matugas Narrido, 54 years old, also a resident of Sitio Agsim was pronounced dead on arrival at the BPH, while her companion, Donya Payos Boncayo, 37 years old of Sitio Eden, Brgy. Capinahan is now undergoing treatment at the BPH for wounds, bruises and broken arm and shoulder.
Reynaldo Navarro, 32 years old of Sitio Agsim who was driving a separate single motorcycle died on the spot while his wife, Emma Delda Navarro, 31 years old is presently undergoing treatment at the BPH.
"I heard shouts of warning to go to a safe side of the road, but things happened so fast that when I looked back, I saw two of our motorcycle-riding companions dead and their motorcycles torn to pieces," said Laura Bueno, midwife of the RHU of Naval town and one of the relatives who joined the funeral procession.
As of press time, PSupt, Anastacio Agullo informed that the driver of the dumptruck involved in the accident is now at the Naval lock-up cell.
The owner of the dumptruck, he said, promised to shoulder the expenses of the fatalities and medicines and other medical supplies that the victims may need while undergoing treatment at the hospital.
Provl govt calls for sustained info dissemination on A(H1N1) mitigation
By Provincial Media Relations Center
July 26, 2009
TACLOBAN CITY – With Eastern Visayas having one of the highest A(H1N1) cases in the country, the provincial government of Leyte called for a sustained information dissemination efforts for the wide public to contain the virus spread.
This as it was earlier reported, the level of contamination in the region is now classified as Mitigation Level 3 which means there is now a sustained and wide coverage of cases of A(H1N1) in the region.
Leyte Provincial Administrator Vincent Emnas said, though the number of cases has yet to be considered alarming as far as Leyte province is concerned, the province's call now is to sustain the public information dissemination on mitigation and control of the A(H1N1) virus.
According to Mr. Emnas, the Provincial Health Office has likewise been tasked by the Governor's Office to inform the public on the symptoms of Influenza-Like Illnesses, proper hand washing techniques; coughing and lung clearance etiquettes; social distancing; and voluntary isolation.
Social distancing means that the public should be at least one meter away from other people and must not frequent crowded places. This also calls for refraining from hand contacts like hand-shaking.
"Even before the A(H1N1) cases were finally confirmed, the province had devised an action plan particularly in the prevention of the spread of the virus. We have continuously reminded the people through our Provincial Health Office to heed the proper hygiene and coughing and sneezing etiquettes," Emnas said.
The public should be made very aware, he said, of the symptoms of this influenza like illness and what to do in case similar symptoms manifests on them.
"We have always advised for self-quarantine but more importantly to submit themselves for medical check-up to verify if they really are affected with the virus and proper medication can be given to them," Emnas added.
The DOH in the region has earlier emphasized the importance for individuals experiencing flu-like symptoms to immediately subject themselves to treatment which are being offered for free by the government.
Also, the DOH does not recommend the wearing of masks especially if one is not experiencing symptoms of the virus as they may otherwise pose health hazards if improperly used. For positive cases or those exhibiting the symptoms of influenza-like illnesses, health authorities advise for individuals to undergo a 10 day self-quarantine so that he or she will not spread the virus.
Among the six provinces in Eastern Visayas, only Biliran and Southern Leyte have no confirmed positive cases of A(H1N1) infection.
The local government units have also been advised to facilitate the reactivation of the barangay health emergency team in order to mitigate the impact of the A(H1N1) in the region.