87th Infantry Battalion encounters New Peoples Army, recovers 2 high powered firearms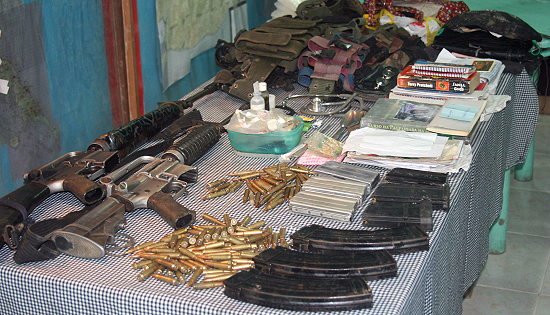 By DPAO, 8ID PA
June 21, 2013
CAMP LUKBAN, Catbalogan City – On 21 June 2013, at 5:50 in the morning, the 87th Infantry Battalion under the command of Lieutenant Colonel Cerilo Balaoro encountered around 10 New People's Army under Section Committee, Southern Samar 1, Samar Provincial Party Committee in Barangay Bugho, Pinabacdao, Samar.
Acting upon an information given by a concerned citizen living in Barangay Bugho about NPA presence in the vicinity of their barangay, Captain Tuguinay Agoy, the Commanding Officer of Alpha Company, 87th Infantry Battalion formed a combat platoon to verify the information. When Captain Agoy and his troops arrived in the area where the NPAs were reported to be harbouring, they were fired upon and an encounter ensued for about 15 minutes until the NPAs withdrew.
The encounter resulted to the recovery of the following enemy materiel: one (1) M16 Armalite Rifle, one (1) M653 Baby Armalite Rifle as well as three (3) loaded magazines of AK 47 Rifle with 100 extra live ammunition, seven (7) empty magazines for M16 Rifle and NPA documents. No casualty was reported to have incurred by both sides.
Major General Gerardo T. Layug, Commander of 8th Infantry Division, Philippine Army in his message said, "I congratulate the troops who conducted the successful combat operation and for risking their lives in doing their mandate to protect the people from the NPAs. I assure the people that we will continue in clearing the interior barangays in the region from NPA influence so that LGUs can implement their programs and be able to provide basic services for the people."
"The chief executives of Leyte, Southern Leyte, Biliran and Eastern Samar already declared their respective provinces as manageable conflict affected areas and ready for development and are now focusing on economic programs that will alleviate their people from poverty. On the same token, the local chief executives of the provinces of Samar and Northern Samar are currently working with other peace stakeholders for their provinces to be declared as manageable conflict affected areas and ready for development so that they can also focus on development programs they have crafted for their people. On our part, we assure the chief executives of these provinces that we will provide security for their programs for to be implemented without interruption," Major General Layug added."