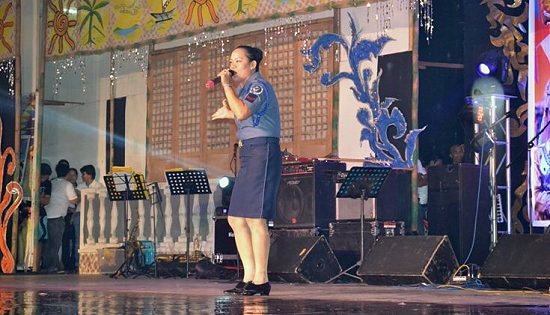 PO2 Venus Abrigo in her winning performance during the Police Got Talent show Wednesday night.
Biliran policewoman, RPSB dancers wins "Pulis Got Talent"
By RPCRD, Police Regional Office 8
June 14, 2013
CAMP KANGLEON, Palo, Leyte – A 28-year Biliran policewoman was hailed as the first ever "Pulis Got Talent" Singing Contest division winner, besting 11 other contestants during the show's talent night at the RTR Festival Parks in Tacloban City on Wednesday.
"I was surprised when my name was called. It was totally unexpected," said PO2 Venus Abrigo, the Police-Community Relations Non-Commissioned Officer of Naval Municipal Police Station in Biliran province.
With her subtle rendition of Joey Albert's 1990 hit "Iisa Pa lamang", Abrigo got the judges' nod and went home with the coveted title and P5,000.00 prize which was personally awarded by PCSupt. Elmer Ragadio Soria, director of Police Regional Office 8 (PRO8).
Abrigo, who joined the police service in 2007, said that aside from personally relating with the song's lyrics, she selected the piece because of it low note since she lacked time to rehearse.
She added that it has been a while since she last joined a singing contest, dating back to her college days at the University of San Carlos in Cebu City where she took up her Political Science degree.
Abrigo has been joining barangay fiesta and school singing competitions since her elementary grade, winning most of them.
The policewoman will use the cash prize to buy school supplies for her two kids – ages 7 and 3 – who will be reporting to their classes next week.
Taking home P4,000.00 as 1st runner-up is PO2 Gil Alvin Sanico from Northern Samar Police Provincial Office, who rendered Joe Lamont's powerful ballad "Victims of Love" while PO2 Ronelo Palito from Samar PPO received P3,000.00 for his interpretation of Basil Valdez original "Ngayon at Kailanman".
Other contestants received consolation prize of P1,000.00 each.
But what brought the house down were the Regional Public Safety Battalion (RPSB8) dancers who went back to their headquarters with the P10,000.00 prize for winning the show's dance contest division.
Looking more like a hip-hop group than members of PRO8's maneuver unit, the 11-member crew wowed the audience who braved the heavy rains just to see them dance to the groove of re-mix hits of Psy's "Gentleman", Zedd's "Clarity", Baauer's "Harlem Shake" and other hit dance tunes.
Dancers from the PRO8 regional headquarters and Southern Leyte PPO Kasaligan X-Force took home P8,000.00 and P5,000.00 for being adjudged as first and second runner-ups, respectively.
The five dance groups from other police offices were given P2,000.00 consolation prizes.
"We are happy with the audience' reception, this is really for them to appreciate the talents of our men" said PRO8 chief PCSupt. Elmer Ragadio Soria, who was visibly happy with the audience turn-out despite of heavy rains.
Soria assured that this will not be the last time that PRO8 will showcase their talent in the month-long festivities, which for this year is the 27th Pintados and 18th Kasadyaan joint celebration, as organizers have already set every June 12, the nation's Independence Day, as the "Pulis Got Talent" night.
Hosted by PSupt. Eufronio Obong, PO3 Zendah Sudio, PO1 Lalaine Castro and NUP Fe Talacay, the show's judging panel was composed of Department of Tourism director Karina Rosa Tiopes, Napolcom Regional Director Nicomedez Jose, Dr. Stephen Lagarde, Mr. Roland Calleja and SPO4 Justo Luaton.