'Sex-for-repatriation' scheme
Sen. Pia: Unmask, jail gov't personnel preying on distressed OFW women
By Office of Senator Pia S. Cayetano
June 19, 2013
PASAY CITY – Senator Pia S. Cayetano today said the government should leave no stone unturned in its investigation of the reported sexual abuse of distressed women overseas Filipino workers (OFWs) in Philippine overseas offices.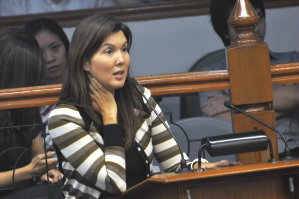 At the same time, the senator called on concerned agencies to hold the alleged perpetrators accountable for the so-called 'sex-for-repatriation' scheme.
"If in fact the allegation of 'sex for repatriation' is true, then this is one of the worst cases of exploitation that have befallen our OFW women," said Cayetano, Chairperson of the Senate Committee on Youth, Women and Family Relations.
"When those who are tasked to protect our women are the very ones who perpetuate such a ghastly and disturbing act, then these predators should be charged, jailed and banned from holding public office."
She added: "It is incumbent upon concerned government agencies, primarily DFA and DOLE to take immediate and decisive action while observing due process of law."
"They should unmask the identities of these alleged perpetrators within their ranks, as well as their accomplices. They should also urge all victims to come forward and provide them assistance so that they would be able to file charges in court."
She said the abuses would be mitigated if government could find ways to hasten the repatriation of OFWs staying in government shelters abroad. "The government must step up its efforts to hasten the repatriation of distressed OFWs in order to shield them from hardship and further abuse."