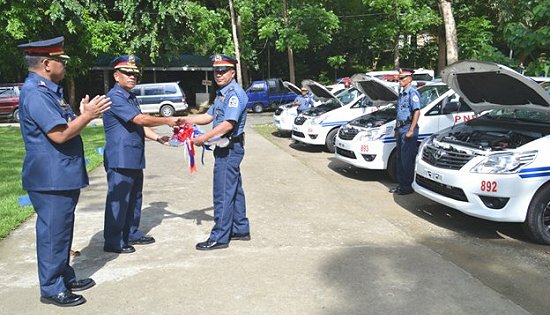 Police Regional Office 8 director PCSupt. Elmer R. Soria (center) hands the sybolic car key to PSInsp. Julio Pagtabunan, Villareal police chief, during Monday's turn-over of new patrol vehicles at PRO8 headquarters.
PRO8 turns over new patrol cars to 3 stations
By RPCRD, Police Regional Office 8
June 12, 2013
Camp Kangleon, Palo, Leyte – Aiming of decreased crime rate in the region, the Police Regional Office 8 (PRO8) has turned-over brand new mobile police vehicles to three police stations and one to public safety company to boost police visibility and mobility and for use in various anti-crime operations.
The vehicles were turned over by PCSupt. Elmer Ragadio Soria, PRO8 Director, to representatives of three police stations and the Northern Samar Provincial Public Safety Company (NSPPSC) in a simple yet fitting ceremony right after the Monday flag raising ceremony at PRO8 grandstand.
"The newly issued patrol vehicles are meant to improve police mobility, visibility, prompt response to emergencies and enhance the response time to call for police assistance by the recipient police stations," Soria said.
The regional police chief added that aside from immediate response to any crime incidents and continued maintenance of the peace and order, patrol vehicles are also used to ferry victims to the hospitals in times of emergencies and other disaster-response efforts.
Recipients of the Toyota Innova Wagon patrol cars were Maripipi Municipal Police Station in Biliran, Villareal MPS in Samar and Catubig MPS in Northern Samar while the Northern Samar PPSC received one Toyota Hilux patrol vehicle. Meanwhile, one brand new Toyota Hi-Ace van will be used in various command activities in the regional headquarters.
The distribution of new patrol car is part of the continued effort of the Philippine National Police to upgrade the facilities and equipments of the local police forces to support field operations under the Capability Enhancement Program (CEP) of the PNP Integrated Transformation Program - Performance Governance System (ITP-PGS), otherwise known as Peace and Order Agenda for Transformation and Upholding the Rule of Law or PNP Patrol Plan 2030.
Soria encouraged the recipients to make good use and maintain the newly-issued vehicles to enable them to better serve the community.
The police official further said that this effort in equipping the police force with the ability to fight criminality through the acquisition of these vehicles and other police equipment showed that the PNP organization is sincere in transforming the police organization into a more credible police force as envisioned in the Patrol Plan 2030, its roadmap towards achieving this vision.
Rev. Fr. Amadeo Alvero, Social Communication chief of the Archdiocese of Palo, officiated the rites of blessing of the new vehicles.