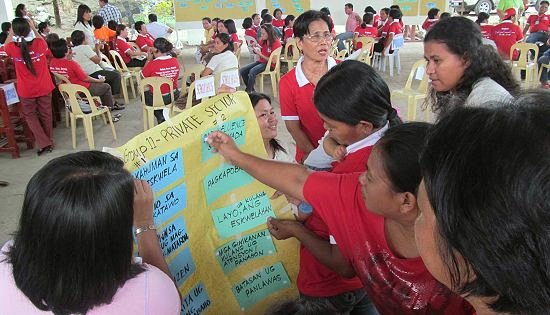 Change starts with awareness as participants of the education summit in Liloan assessed the present status of their locality's education, identifying the factors that affect the teaching-learning process and governance in schools. (inset) Students from Liloan schools are now engaged movers towards achieving their schools' goals and their own dreams.
"It takes a village to educate a child"
By CHRISLEY ANN HINAYAS / Ramon Aboitiz Foundation Inc.
September 19, 2012
CEBU CITY – With the promise of good quality education, the dream of an eleven-year-old girl of becoming a lawyer may be realized.
"We make our own dreams, but it takes a village to make it come true," Mary Shane Angtud, Supreme Student Government president at Hubag Elementary School in Liloan, Cebu said.
Angtud, together with other students, shared their hearts' desires during a recent education summit in Liloan that gathered stakeholders, including parents, for one purpose – to mobilize the community to help students like Angtud achieve their dreams for a good quality education.
The summit featured best practices in good school governance among teachers, school administrators, purok leaders, government officials, private sector, and students.
"School governance is the active engagement of all values-driven stakeholders working together for a shared vision to achieve excellence in education. The community is the co-designer and co-owner of education. It is time to reclaim this ownership and get involved," Anthony Dignadice, executive director of the Education Development Unit of the Ramon Aboitiz Foundation Inc. (RAFI), said.
Dignadice added that as proactive members in the community, the community can draw out the flaws in the education system, thus, giving sustainable solutions to address these challenges.
School governance, he pointed out, establishes a relationship among stakeholders to be responsible in setting a new direction for investing resources and support in education. It develops a transition to effectively delivering the inputs and outputs of quality education.
"Learning will only be effective through community participation in systemic reforms of quality education. People who are involved in school operation are the best people to improve the quality of education," Dignadice said.
Angtud said that the scarcity of physical resources like books and classrooms are highly important, but community engagement can do a lot more to address this.
"I believe that teachers and the students are not enough to run the school. Without the support from the community especially from our parents, students will not be able to get full good quality education they deserve," she said.
The story of an 18-year-old teenager who left school with no definite reason inspired the purok leaders in Lataban, Liloan to take continuous actions to be involved in encouraging out of school youth to go back to school.
"We went to his house and asked him for the reason behind leaving the school. It took us how many tries to convince him to go back. In the end, he went back to school," Virgilio Monterola, purok president of Sitio Tambis, Lataban, Liloan recalled in Cebuano.
Monterola added that children need encouragement and guidance from the people around them.
"We saved the boy from becoming a drop-out all his life. If we want the best for our children, we also need to give them our best. The value of cooperation among the teachers and the community can make a lot of difference in the education system," he explained.
Low participation of parents during school assemblies was one of the concerns of the teachers and administrators. The presence of the Parent Teachers Association (PTA) members answered the concerns of the teachers regarding the matter.
"If parents are called to have school meetings, they turn our invitations down. They have this notion that PTA meetings are a time to collect contributions. School assemblies should have been the venue for parents to air their concerns on their children's education. This is one of the challenges of PTA, how to bring back the trust of the parents," Victor Libot-libot, PTA president of Integrated Calero Liloan School, said.
Parents, as first educators of their children, are responsible for knowing what their children's problems and needs in school. Libot-libot said that as parents, they need to address these problems firsthand.
"It is not about money. This goes back to the attitude of our parents to coordinate with the association. If parents cannot do it alone, then the whole association is ready to help," he added.
"We should encourage broader community participation. The mantra that says: 'It takes a village to educate a child' should always be our guide," Dignadice concluded.
The education summit is one of the activities of the Educational QUality ImProvement through Community Empowerment and Capacity Building (EQUIP-CEBU) program, an initiative of RAFI under its Education Development Unit, in partnership with the local government units and Department of Education.
EQUIP-Cebu seeks to empower teachers, parents, and communities to continuously improve their own schools and encourage them to be actively involved in the education of the children.