PRO8 nabs brgy chairman for rape
By RPCRD, Police Regional Office 8
September 19, 2012
CAMP SEC. RUPERTO K. KANGLEON, Palo, Leyte – The Regional Special Operations Group of Police Regional Office 8 arrested a barangay leader for a crime he committed more than a decade ago.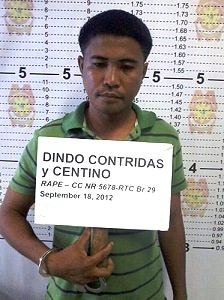 "The suspect went into hiding after the perpetration of the crime and returned only to his hometown after almost 10 years and was even elected as barangay chairman", PRO8 Director PCSupt Elmer Ragadio Soria informed.
Soria identified the suspect as Dindo Contridas y Centino, 33 years old, single with live-in partner and Barangay Chairman of Brgy Maputi, in Zumarraga, Samar, an island town situated southwest of the capital of Catbalogan City and is an hour motorboat ride from Samar's capital.
Centino was arrested while having a drinking spree with friends at Pier 1 site, Brgy 6, Catbalogan City at around 11:30 o'clock in the morning of September 18, 2012 by elements of Regional Special Operation Group 8 led by PInsp Constantino Jabonete, Jr.
He was nabbed by virtue of an arrest warrant issued by Hon. Judge Agerico A. Avila of the Regional Trial Court, 8th Judicial Region, Branch 29, Catbalogan City docketed under Criminal Case No. 5678 of the crime of Rape with no bail recommended for his temporary liberty and is now detained at the Samar Provincial Jail.
"Apparently, he thought that the long arms of the law will not catch him, considering that he committed the offense many years ago", the top police official said, further noting that Contridas even had an active account in the social network site, Facebook.
The rape incident transpired sometime in year 2001 at Pier 2 Site in Catbalogan City when the suspect allegedly raped his drinking buddy who was unconscious at the time. He went into hiding after the incident and returned in 2010. In the October 25, 2010 barangay elections, he was elected as village chairman of Brgy. Maputi, also in Zumarraga, Samar.
Under RA 8353 or The Anti-Rape Law of 1997, rape is committed by a man who shall have a carnal knowledge of a woman through force, threat or intimidation; when the offended party is deprived of reason or otherwise unconscious; by means of fraudulent machination or grave abuse of authority and when the offended party is under 12 years of age or is demented, even though none of the circumstances already mentioned are present.
With the abolition of the death penalty, it carries a sentence of reclusion perpetua or 20 years and one day to 40 years imprisonment.
"It is not enough that cases are filed against criminal suspects. Arrest of wanted persons plays a vital role in the performance of the PNP's core functions. It is with this context the PRO8 had intensified the implementation of LOI Manhunt: CHARLIE, the PNP's campaign for the neutralization of wanted persons', PCSupt. Soria ended.