Baybay City, 5 other LGUs sign MOA on co-management of natural resources
By MYLES JOSEPH E. COLASITO
April 11, 2011
TACLOBAN CITY – The City of Baybay and five other municipalities signed a Memorandum of Agreement (MOA) on April 7, 2011 with the Department of Environment and Natural Resources (DENR), Department of the Interior and Local Government (DILG) to firm up their roles on co-management of natural resources in the area.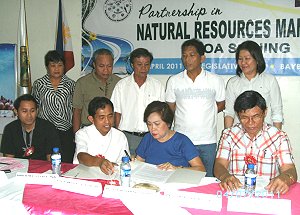 From left Leyte Board Member Hon. Cayunda, Vice President Guarte of VSU, Mayor Cari of Baybay City, Reg. Dir. Jose of DILG signing the MOA on Co-Management of Mangrove and Foreshore Area of the 5th District of Leyte (Baybay, Inopacan, Hindang, Hilongos, Bato and Matalom) as witnessed by City Agriculturist Elena Siddiqui and Sangguniang Panglungsod of Baybay City.
Mayor Carman Cari of Baybay headed the mayors of six local government units – Baybay City, and the towns of Bato, Hilongos, Hindang, Inopacan and Matalom in forming an Integrated Municipal Fisheries and Aquatic Resources Management Council (IMFARMC) to help administer laws in proper management of natural resources within their boundaries.
The MOA signing was held at the city Legislative Building which saw the mayors of the concerned municipalities, and the representatives of the Visayas State University, DENR, BFAR, PNP and other offies declare their pledges of commitment for the undertaking. DILG -8 Regional Director Francisco Jose was also on hand to lend his support.
The MOA sought to harness support from the above-mentioned offices in order to fully implement the provisions of joint memorandum circular 98-01 of DENR and DILG, as well as DENR Department Order No 92-30 which provided guidelines on transfer and Implementation of DENR functions devolved to LGUs as mandated in the Local Government Code. LGUs now share with the DENR the responsibility in sustainable management and development of the environment and natural resources within their territories.
Among those present in the event were BFAR Reg. Dir. Juan Albaladejo; Dr. Roberto Guarte, VSU Vice President; PNP Provincial Director PSSupt. Pio Manito, PENRO Robin Tumolva, Atty. Dan Suarez, OIC-CMMD of DENR; Board Member Florante Cayunda, Mayor Silvestre Lumarda of Inopacan, and Mayor Nathaniel Gertos of Bato.
The MOA signing is expected to spur efforts of LGUs and the national government to protect natural resources even while allowing for sustainable development in these areas.