Mosley: I will never drink my own urine
By ALEX P. VIDAL / PNS
March 30, 2011
Two-time world welterweight champion Sugar Shane Mosley told the ESPN Sports Nation recently while it is true that there have been reports in the past that Mexico's Juan Manuel Marquez "drinks his own urine" reportedly as secret of his ring success, he won't do the same even as he prepares to fight seven-time world champion Manny Pacquiao on May 7 at the MGM Grand in Las Vegas, Nevada.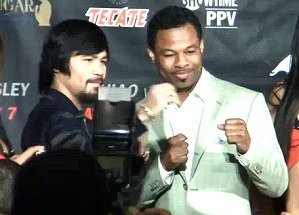 "No," swore the 39-year-old Mosley, who was studio guest in the one-hour popular TV sports show in the United States. "I will never drink my own urine. I will rely on my natural talent."
Now training in a high-altitude camp in Big Bear, California, Mosley (46-6, 39 KO's) had bolted from the management of the Golden Boy Promotion to sign a rich deal with Top Rank to fight the 32-year-old Pacquiao (52-3-2, 38 KO's).
He had served notice as a serious customer by personally lobbying to face Pacquiao since 2009 and was always visible in the press conferences of Pacquiao's three previous fights in Nevada and Texas.
'True competitor'
"Manny's a great guy and when I look at him I look at him as a true competitor. I look at him as someone who really wants to win. He loves the sport of boxing and he loves to fight," Mosley said.
Mosley mangled Antonio Margarito in the 9th round for the WBA weltereight belt on January 24, 2009. Margarito, on the other hand, lost to Pacquiao by unanimous decision in Arlington, Texas last November 13, 2010.
Mosley lost by 12-round split decision on Nov. 10, 2007 to Puerto Rico's Miguel Cotto (36-2, 29 KO's), who was stopped in the 12th stanza by Pacquiao on Nov. 14, 2009 for the WBO welterweight title.
He will fight Pacquiao for the WBO 147-lb championship in a pay-per-view card to be co-promoted by the MP Promotion and HBO in the same arena where Margarito tortured and tore to shreds Cotto for the WBO welterweight bauble on July 26, 2008.
Marquez (52-5, 38 KO's) fought Pacquiao twice, splitting the first and losing in the rematch by a hairline decision.
In their first duel for the WBA/IBF featherweight titles on May 8, 2004, Pacquiao dropped Marquez three times in the opening round but could not finish of the hard-hitting Mexican warrior known as "Dinamita" or dynamite.
Bloody brawl
Marquez, 37, one of the most effective counter-punchers in the world, turned the rest of the rounds into a bloody brawl and salvaged a draw after 12 rounds.
In their rematch on March 15, 2008, Pacquiao scored the only knockdown in the 12-round WBC superfeatherweight title bout and once more failed to put away Marquez, but hammered away with a controversial 12-round split decision.
Pacquiao suffered the ugliest cuts in his ring career.
Ring expert Freddie Dawson of Las Vegas said Marquez, the reigning WBA/WBO lightweight champion, will forever be a nightmare for Pacquiao, who has reportedly nixed a third meeting with Marquez. Pacquiao's camp has been egging Floyd Mayweather (41-0, 25 KO's) to face the Filipino lefty but has closed the curtains for a third match with Marquez.
"Even Muhammad Ali had a hard time each time he fought Joe Frazer. The style of Marquez is difficult for Pacquiao to handle," Dawson, 63, said.
Dawson, however, didn't comment that it is because of Marquez's alleged propensity to drink his urine why he has become durable and packs extra ordinary power in both fists.
'We're ecstatic'
Meanwhile, Bob Halloran, MGM Grand Sports Entertainment director, quipped during a recent press conference to kick off the Pacquiao-Mosley setto: "We're not happy you're (Pacquiao) back, we're ecstatic. We know that when you get the best promoter you ultimately get the best fighter and that's what we have in Congressman Pacquiao and Shane Mosley. Globally, the most popular fighter in the world today is Manny. We got the best."
Halloran added: "Every time this guy fights, we open the ticket office and then they all go home in an hour. We've got about 580 tickets left for this fight and we'll have about 30,000 closed circuit tickets available at our different properties around Las Vegas.
"You may not have this many cameras at the Grammy's on Sunday night. They'll be lucky if they have this many."
Pacquiao, a congressman representing Saranggani province in Mindanao, is now on the final stage of his two-month long training in Baguio City supervised by his foster father and trainer Freddie Roach.
He and wife Jinkee will fly to Hollywood, California for his final preparations at the Wild Card gym two weeks before the showdown with Mosley.