Workers group urges SSS to transparent investigation, suspend SSS officials involve in controversy
By ALU-TUCP
October 31, 2017
QUEZON CITY – Expressing grave concern over the controversy, workers' group the Associated Labor Unions-Trade Union Congress of the Philippines (ALU-TUCP) is calling for a credible and transparent investigation into the investment controversy involving some top executives in the Social Security System (SSS).
The concern raised by ALU-TUCP stem from a complaint filed by SSS Commissioner Jose Gabriel "Pompei" La Vina against four SSS top executives for alleged illegal profiteering from position by trading stocks for their personal accounts using the same stockbrokers who manage the investment portfolio of SSS.
"We are calling for a transparent and credible investigation into the controversy. Kung hindi pa nagkaroon ng news expose, hindi napag-alaman ng mga members. Kung kaya't nangangamba kami na baka na-compromiso na ang pera ng mga miembro at may collusion ang karamihan ng mga officials ng SSS," said ALU-TUCP spokesperson Alan Tanjusay.
The group lauded La Vina for protecting the funds from wrongdoing but called the SSS Commission and the SSS management executive officials to task.
"Nadiskubre na pala ito more than two weeks ago pero bakit hindi kaagad ipinaalam ng commission and management sa mga miembro ang insidente. This controversy is causing undue fear and doubt among the members. The SSS administrators and managers should initiate culture of transparency, what's going in the system and how their blood money is being spent," Tanjusay said.
"We also urged the SSS administrators to temporarily suspend all its officials involve to safeguard the documents and prevent them from influencing the internal investigation process being conducted on the controversy," Tanjusay said.
To safeguard SSS funds from misuse and similar questionable use, there must be set of rules and regulations that prohibit all SSS officers and staffs from making personal investments using the influence and auspices of SSS.
SFDEO pledge support to Regional Federation of Employees Union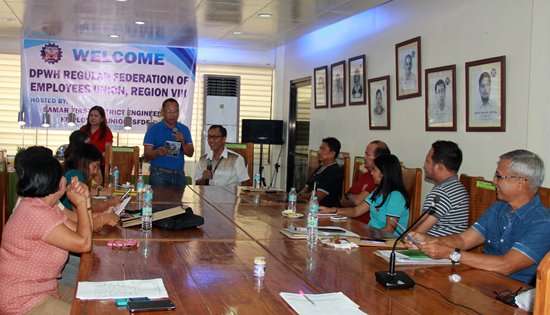 By APRIL FATIMA D. VILLANUEVA
October 27, 2017
CALBAYOG CITY – SFDEO hosted the Regional Federation of Employees Union Officers and Board of Directors Meeting, spearheaded by Engr. Enrico Cobacha on October 06, 2017, 1:00 pm at DPWH - SFDEO Conference Hall.
District Engineer Alvin A. Ignacio extends his warm welcome and commitment to support any activities that will boost the cause of helping the rank and file employees in investment and financial management. He shares his endeavors as a previous President in Northern Samar, and he introduces the Bulig Program that enables the employee to borrow funds at a lower interest rate and canteen, which enable members of the association to generate income through dividends.
RFEU consists of 13 Districts namely Biliran, ESED, Leyte I, Leyte II, Leyte II, Leyte IV, Leyte V, SLED, Northern Samar I, Northern Samar II, Samar I, Samar II and Tacloban City.
The agenda of the meeting are the reporting of the financial status of RFEU, submission of financial status report of DEO RAFEA, synchronize election of RAFEA Officers, planning of activities and approval of proposed budget for the next board meeting. The Union addressed the benefits of their members and how to uphold the status of promotion of rank and file employees.
Stamp out Marcos rehabilitation
CARMMA denounces PhilPost-issued Marcos centennial stamps
By CARMMA
October 27, 2017
QUEZON CITY – "Another stolen credit, another stamping of Marcos rehabilitation and revision of history," was how CARMMA described the issuance of a commemorative stamp on the birth centennial of the late dictator Ferdinand Marcos.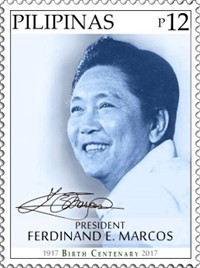 "Not in our mails," said CARMMA spokesperson Bonifacio Ilagan, in reaction to the stamp, issued by the Philippine Postal Corporation which featured Marcos' portrait and signature. "The Duterte regime's political rehabilitation of the Marcos goes on and on. One day, shall we see images of Marcos all over the country? Posters, action figures? We can only express extreme disgust," he said.
As to the non-announcement of the release of 50,000 stamps, Ilagan said the PhilPost knew there will be reactions and protests with these actions. "However, they sadly chose to be part of the continuing sanitization of history, stamping out the sins and accountabilities of the Marcoses, as if he is the one who should be given high regard. Philippine heroes are definitely rolling in their graves, with their faces on stamps alongside a dictator who wronged the people!" Ilagan said.
"Whether PhilPost management is ignorant of the crimes of the Marcoses against the people and the nations's history of anti-dictatorship struggle or is engaged in the deliberate moves to rehabilitate the dead dictator, the issuance of a commemorative stamp to pay tribute to a murderer and plunderer is an affront to our morality and sensibility as a nation. It deserved our strong rebuke," said the group.
The group said with this, CARMMA is preparing for actions towards the one year of the infamous hero's burial of Marcos at the Libingan ng mga Bayani.
"The Marcoses, with Duterte as their most reliable patron, are not stopping at changing what has been stamped in the past, consciously trampling upon not just history but the hard-fought battles of the people against tyranny and dictatorship. As for Duterte, his actions and decisions are all copycats of his idol Marcos. Before he thinks of being put in a stamp, or becoming an action figure, he should worry of the people's verdict to him as one president who won through popular support, but gave failed change and resulted to anti-people policies, and creeping towards a tyrannical rule," Ilagan said.
Turn-over of new school building in Brgy. Larrazabal, Naval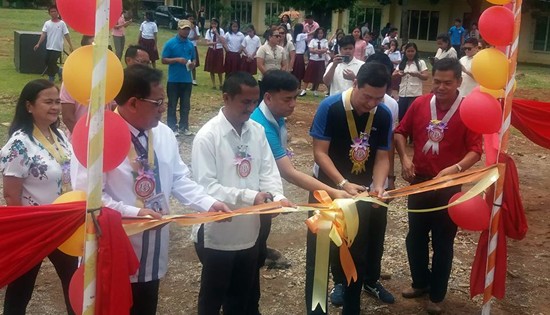 By CARL MARK D. PEDRERA
October 26, 2017
NAVAL, Biliran – The Department of Public Works and Highways - Biliran District Engineering Office (DPWH-BDEO) partakes in the turn-over ceremony of the newly constructed P2.945-million school building project under the Department of Education Basic Educational Facilities Fund (DepEd BEFF) of CY 2016 on September 28, 2017 at the Naval National Highs School (NNHS) in Brgy. Larrazabal, Naval, Biliran.
Congressman Rogelio J. Espina (Lone District of Biliran) led the turn-over of the new 1-storey, 3-classroom structure to Naval National High School in Brgy. Larrazabl, Naval, Biliran. The event was also attended by District Engineer David P. Adongay (Biliran DEO), Rev. Fr. Kenneth Hendricks, Schools Division Superintendent (SDS) Pedro T. Escobarte, Jr., Assistant District Engineer Alfredo L. Bollido, School Principal Dr. Armando Laude, School Governance Office Division (SGOD) Chief Lucille Roa, Board Member Justin Roa, Engr. Warlito Alagao (WB Alagao Construction), teachers, DepEd and LGU Officials.
Part of the program was the ribbon cutting and blessing of the building followed by the messages of support from Congressman Espina and District Engineer Adongay and the ceremonial turning over of the responsibility to the school. The school gladly accepted the symbolic key and the Principal, Dr. Laude extended his gratitude to DPWH and its partners for their continued support and assistance.
All the students and teachers were very grateful for the new school building granted to them as they witnessed the turn-over of the symbolic key.
The new school building has sufficient lighting and is well ventilated making it conducive for learning. This will accommodate the current and future enrollees of the school.
DTI cites winners of Startup World Cup Philippines regional finals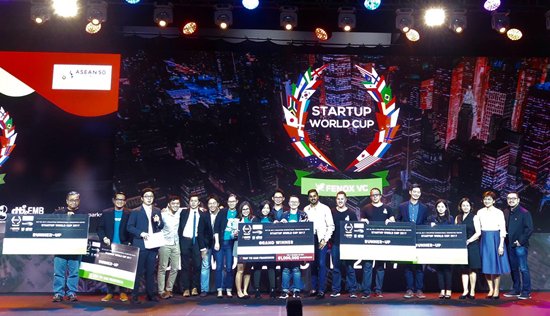 By DTI-TIPG
October 26, 2017
MAKATI CITY – In the recently concluded Slingshot ASEAN led by the Department of Trade and Industry (DTI), winners for the Startup World Cup - Philippines Regional were announced to represent the Philippines and compete with the rest of the world in the upcoming Startup World Cup Grand Finale in Silicon Valley on May 2018.
Storm Technologies topped the ten finalists as it bagged the grand prize, which includes an all-expense paid trip to San Francisco and a chance to win $1,000,000 by competing in the Startup World Cup Global Finale. Storm Technologies is the largest flexible benefits and incentives firm in the Philippines. It serves over 100,000 employees across different industries.
Meanwhile, runners-up include Beam and Go as 4th runner-up; Zennya, 3rd runner-up; Qwikwire, 2nd runner-up; and Ayannah, 1st runner-up. All runners-up will be attending Startup World Cup Finale in Silicon Valley.
Startup World Cup Philippines Regional grand finals is a collaboration between DTI, Department of Science and Technology - Philippine Council for Industry, Energy and Emerging Technology Research and Development (DOST-PCIEERD), DENTSU X Philippines, Fenox Venture Capital Southeast Asia and Brainsparks. Startup World Cup on the other hand, is a global conference and competition that brings together the top startups, venture capitalists (VCs), entrepreneurs and world-class technology executives.
Organized by the Department of Trade and Industry, Slingshot ASEAN is one of the official events lined up by the ASEAN Committee on Business and Investment Promotion (ASEAN-CBIP) being chaired by DTI Undersecretary for Trade and Investments Promotion Group Nora K. Terrado.
DPWH-BDEO: 2016 project status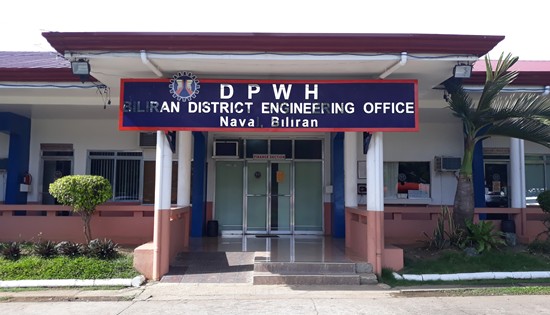 By CARL MARK D. PEDRERA
October 25, 2017
NAVAL, Biliran – As we are approaching halfway of the 4th quarter of the year 2017, the Department of Public Works and Highways - Biliran District Engineering Office (DPWH-BDEO) expedites its remaining projects for the year 2016.
The Department of Education with its Basic Educational Facilities Fund, twenty-two (22) projects on school buildings was implemented having a total programmed amount of P172.6M.
Fifteen (15) of these projects having an actual accomplishment of 100%. Six (6) school project in Naval, Biliran, Caibiran, Kawayan and Maripipi is still on-going but is already more than halfway from completion. One (1) school project in Biliran has not been started yet due to the project being temporarily suspended due to weather condition and unforeseen source of water within the project site which affects the foundation works. Thousands of students have benefited from these newly built school and more will be upon full completion of the remaining projects.
For the Health Facilities Project with a programmed amount of P10M, the Rehabilitation of the Biliran Provincial Hospital (BPH) is 100% completed and more patients will be accommodated.
The Department of Agriculture's P42M projects for its construction of seven (7) farm to market roads is 100% completed. The project was purposely implemented for residents and merchants to have a short and easy access to towns especially to those who lived on remote sitios.
With a programmed amount of P3.2M for the Rain Water Collector, it has an accomplishment of 100%. This greatly help in reducing the consumption water by distributing the collected rainwater to supply to toilets, washroom and utilities that needed water.
Having a total actual accomplishment of 98.997% of the Infrastructure Program, the DPWH-BDEO has completed sixty-five (65) out of sixty-six (66) projects. The remaining project that has yet to be completed is the Construction of Biliran Diversion Road including Slope Protection and Right-of-Way having an actual accomplishment of 87.2%.
Issues concerning the delay is the obstruction of three (3) electrical posts. Construction is still on-going. Completion of the project will mean that more road users can lessen their travel time and be able to avoid traffic congestion within the streets of Biliran.
The BDEO have completed substantial number of projects as of September 30, 2017 and will continue to finish the remaining projects on time if problem/issues should not rise to hindrance the operation.
PH to be a regional automotive hub – trade chief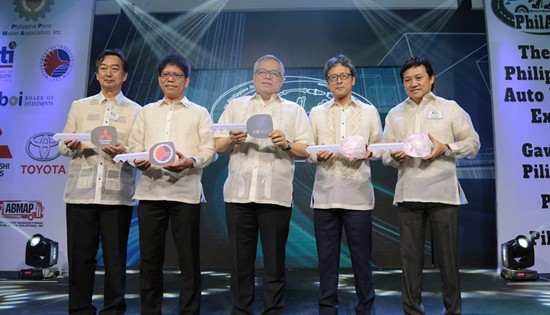 By DTI-OSEC-PRU
October 23, 2017
MAKATI CITY – At the first ever Philippine Auto Parts Expo (PhilApEx) in Pasay on 12 October, Department of Trade and Industry (DTI) Secretary Ramon Lopez urged local auto parts manufacturers to take part in the automotive industry revitalization initiative of DTI that will also complement the thrust of President Rodrigo Duterte and the Department of Transportation (DOTr) to realize Philippine made modern Public Utility Vehicles (PUVs).
PhilApEx was convened to showcase and promote the gains of the Comprehensive Automotive Resurgence Strategy (CARS) Program, which will hopefully assist the local industry to level up against importation into the country, reaching 700,000 units by 2022.
"The overall goal of the program is in line with the 10 point socio-economic agenda of President Duterte, developing the Philippines into a regional automotive hub, assisting MSMEs to grow, and eventually generate more job opportunities for those at the bottom of the Pyramid," said Sec. Lopez.
To further push the automotive industry's resurgence, DTI decided to shift the unsubscribed third slot budget under the program to support the local manufacturing of replacement vehicles for DOTr's PUV Modernization Program, wherein local content and auto-parts to be manufactured domestically could generate 65,000 additional local employments, thus improving industry capacity across time.
"We are looking forward for the Philippines to be a trade surplus country in the coming years, with seven to eight percent growth in the manufacturing sector from the former one percent, positive six percent from agriculture industry development and not to mention the robust growth in the service sector," he added.
Sec. Lopez mentioned that DTI vows to champion the event's slogan "Gawang Pilipino, para sa Pilipino," wherein the government would be providing subsidies for local car parts manufacturers, who qualify as suppliers for the Eco-jeepneys for the PUV modernization program.
He also shared that DTI with DOTr are working hand in hand to monitor developments as manufacturers are submitting prototypes to be used for the nationwide PUV modernization scheme.
Also at the event were Land Transportation Franchising and Regulatory Board (LTFRB) Chairman Martin Delgra III (2nd from L), Philippine Parts Maker Association (PPMA), Inc. President Engr. Ferdi Raquel Santos (rightmost) with two participating car-maker executives: Mitsubishi Motors President Mutsuhiro Oshikiri (leftmost) and Toyota Motors Corporation President Satoru Suzuki (2nd from R).
Samar I extends support to future artists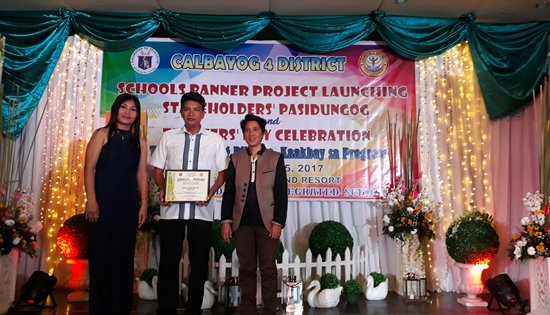 By APRIL FATIMA DIRA VILLANUEVA
October 20, 2017
CALBAYOG CITY – Samar First District Engineering Office is given a recognition as the Most Outstanding Education Stakeholder, for actively engaging and sharing responsibility for developing life-long learners through lending the DPWH Heavy Equipment for Construction of Calbayog Arts and Design School of Eastern Visayas (CADSEV) access road for school year 2016-2017.
The Department of Education, Region VIII-Eastern Visayas headed by Ms. Teresa D. Villa, Public Schools District Supervisor, during their Schools Banner Project Launching, Stakeholders' Pasidungog and Teachers' Day Celebration on September 25, 2017 at Ciriaco Hotel and Resort, handed the award to DPWH representative Engr. Hendrix Ortega.
Calbayog Arts and Design School of Eastern Visayas is the only school in Region VIII that caters to students who love to express their creativity and passion in Arts and Design Track. Established in October 13, 2015, during their first year of operation in June 13, 2016 they had an enrollees of 34 students in 1st Semester and 28 students in 2nd Semester.
For this year, 96 students for 1st Semester coming from Leyte, Eastern Samar, Samar, Northern Samar and Calbayog City flocks to CADSEV for learning.
A showcase of their learnings can be seen from various awards garnered by students from the school in almost all competitions such as: Champion - Raul Isisdro Body Painting Competition 2016, Best Model - Raul Isidro Body Painting Competition 2016, 2nd Place - Hadang Dance Festival 2016, 3rd Runner-up - Miss Hadang 2016, 1st Place - Kuratsa Dance Competition, 1st Place - Ballroom Dance Competition, 1st Place - Pop Dance Competition, 1st Place - Cheer Dance Competition, 1st Place - Vocal Duet Competition, 1st Place - Vocal Solo Competition, Miss Siglakas 2016 and 1st Runner-up Mr. Siglakas 2016.
Mr. Aris Ventures, school teacher in CADSEV extends his grateful appreciation to DPWH for their continued support to their school in providing the equipment and everyday maintenance of their area.
They are looking forward for the extension and construction of their buildings in the future to cater to more talented and future artists in the likes of the renowned Raul Isidro, Ombok, and Florence Cinco.
DPWH Samar I constructs the first arts and design track school building in Eastern Visayas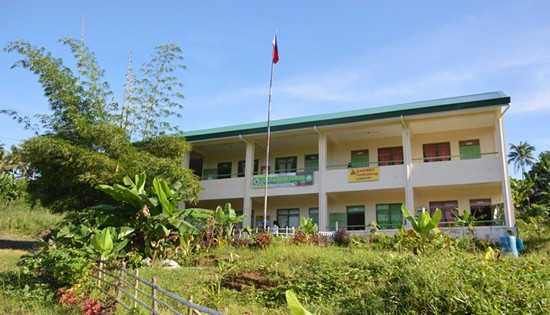 By JASON T. DE LOS ANGELES
October 20, 2017
CALBAYOG CITY – Samar First District Engineering Office completes the construction of two (2) storey with eight (8) classroom school building for Calbayog Arts and Design School of Eastern Visayas (CADSEV), located at Brgy. Gadgaran Diversion Road. It is accessible by a 15 to 25 minutes Multi-cab and or Jeep service ride from the city proper.
The project is implemented by SFDEO and is under contract with B. Vicencio Construction costing P11 million, from the 2016 basic educational facilities fund (BEFF).
CADSEV is the only Regional Senior High school in the entire Eastern Visayas offering arts and design track. The students come from all over the Eastern Samar region, Northern Samar region, Leyte, and are even from the capital city of Manila. This new school building will directly benefit around 96 students who are currently enrolled in the school and will encourage locally artistic inclined residents to hone their skills in various forms of art.
Mr. Aris Ventures, one of the teacher-in-charge said students will be exposed to the various forms of art such as visual arts, media arts, performing arts and literary arts, to improve their knowledge, innate skills in arts and design. He expects an influx of enrollees for the next school year from adjacent cities and municipalities.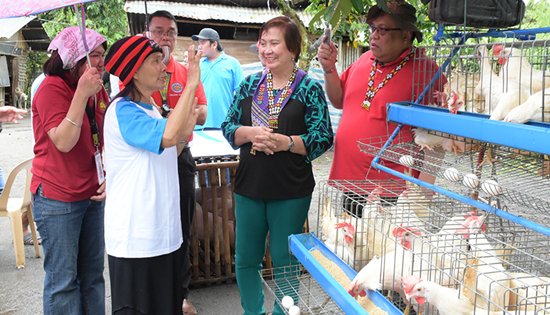 DAR Secretary Rosalina Bistoyong listened as ARB member Gloria Aguilar explained the strategies she will employ to sustain and expand the egg-laying chickens with egg dispersal machines project she received during the turnover ceremony on October 18 in Barangay Centrala, Surallah, South Cotabato. Secretary Bistoyong was joined by DAR-12 Director Nasser M. Musali (right) and other top officials of DAR in the region.
DAR beneficiaries told to sustain, expand livelihood projects
Press Release
October 19, 2017
SURALLAH, South Cotabato – Beneficiaries of the government's agrarian reform program were encouraged to develop, sustain and expand the livelihood projects that are part of the comprehensive support services they receive from the Department of Agrarian Reform (DAR).
DAR OIC Secretary Rosalina Bistoyong spearheaded the distribution of various livelihood projects to Agrarian Reform Beneficiaries (ARBs) in Barangay Centrala, Surallah, South Cotabato on Wednesday, October 18.
Bistoyong urged the beneficiaries to take care of the projects, make them sustainable to benefit the other ARBs in the area.
The distribution of livelihood projects was made possible through the joint efforts made by DAR, Pilmico Foods Corporation, a subsidiary of Aboitiz Equity Ventures and Aboitiz Foundation.
Bistoyong said the livelihood projects is the first Public Private Partnership (PPP) endeavor that DAR entered into to help ARBs augment their income.
A total of nine selected ARBs from three barangays in Surallah received egg-laying chickens with egg dispersal machines and hog dispersal kits.
"Our responsibilities do not end upon receipt of these livelihood projects. We need to ensure their sustainability to benefit the other ARBs," she pointed out.
An increase of household income of ARBs through livelihood projects will also help end cases where awarded lands are leased or sold, Bistoyong emphasized.
The turnover ceremony was also joined by Apol B. Castro, vice president for corporate strategy and business development of Pilmico; Surallah Mayor Antonio Bendita; Director Leomides Villareal of the Public Affairs and Media Relations Service of DAR Central Office; DAR Region 12 Director Nasser M. Musali and other top DAR officials in the region.
In her message, Castro said the aim of the project is to develop and build a purpose-driven community through sustainable livelihood.
She also emphasized that support to ARBs in the area is part of the corporate social responsibility of Pilmico and Aboitiz Equity Ventures under the project "Mahalin Pagkaing Atin" which aims to support home-grown products and backyard farmers who aspire to become farmer-entrepreneurs.
Among the recipients present was Gloria Aguilar who expressed gratitude in lieu of her fellow beneficiaries.
Aguilar assured they will take care the projects, sustain and expand to elevate their way of life.
Mayor Bendita also thanked DAR and Pilmico for choosing the ARBs of Surallah as recipients of the project.
He also expressed full support to the thrusts and programs DAR to help farmers uplift their lives.
Cuy: DILG is open to suggestions on MASA MASID drop box
By DILG
October 15, 2017
QUEZON CITY – Interior and Local Government Officer-in-Charge Catalino S. Cuy said today that the DILG is "open to suggestions" regarding the drop boxes for the Mamamayang Ayaw sa Anomalya, Mamamayang Ayaw sa Iligal na Droga (MASA MASID) and that there is no need to scrap the budget allocated for the purpose altogether.
Cuy made the pronouncement after the MASA MASID, along with the "drop box mechanism", was grilled in the Senate plenary debate for DILG's budget and was deemed as "prone to malice and abuse which can possibly lead to unnecessary deaths".
"We can do away with the MASA MASID drop box but not the whole budget earmarked for the mechanism," he says.
MASA MASID is a barangay-based anti-criminality, anti-corruption, and anti-illegal drugs program which encourages multi-sectoral partnership to intensify the spirit of volunteerism at the community level.
Cuy acknowledges the adverse reactions from various sectors on the drop box scheme but maintained that it is meant as a feedback mechanism that will encourage the people to take an active role in ensuring peace and order in communities.
"The drop box is not meant for 'Tokhang' as claimed by different groups. We just want the people to be on board in the government's efforts for peaceful and progressive communities," he says.
He also clarifies that contrary to reports of the alleged cost for each of the MASA MASID drop boxes, there was no finality as to how much will be spent to purchase the controversial drop boxes, though proposals were lobbied for consideration.
"Even prior to the issue becoming public, there was no tag price for the drop boxes," he says.
According to Cuy, instead of wiping out the budget for the drop box, it is better that some of the funds be allocated to other DILG programs with similar functions in monitoring peace and order, data-gathering, and surveillance.
He says that the Department currently has existing programs where the concept of the 'drop box' can be utilized. He said that these programs are "cut from the same cloth" as the MASA MASID program.
"The possibility of realigning the MASA MASID budget as an augmentation for programs like peace and order councils (POCs) and barangay anti-drug abuse committees (BADAC) will help in the continued efforts for peace and order down to the grassroots level," he adds.
POCs are reorganized in the national, regional, provincial, city and municipal levels of the government to counter threats posed by criminality, insurgency, violent extremism and other issues on peace and order.
On the other hand, BADAC is the grassroots program of the DILG aimed at organizing barangay officials and other stakeholders as first line of defense at countering drug-related crimes in barangays.
Former DSWD Sec. Judy Taguiwalo on Pork Barrel
By Bagong Alyansang Makabayan (BAYAN)
October 13, 2017
QUEZON CITY – Former Department of Social Welfare and Development (DSWD) and retired University of the Philippines (UP) professor Judy M. Taguiwalo today reacted to the declaration of House Committee on Appropriations chairman Karlos Nograles that the P3.767 trillion budget for 2018 is "pork barrel free," saying that while no pork allocation is apparent in how the budget is presented or written, the only way that a no pork assertion can be true is if lawmakers refrain from demanding from national government agency heads for "their money" and the agency heads stand firm in resisting the pressure of these lawmakers.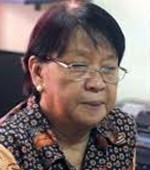 After all, what was declared by the Supreme Court as illegal pork is the post-enactment hand of the lawmakers in the implementation of the budget. A number of lawmakers sanitize the pork by asserting that they are merely fighting for the money that they worked so hard for their constituents when they know that such intervention post-enactment is illegal, not to mention, that irregularities, including corruption occur.
Taguiwalo said that when she assumed office in DSWD, her commitment was to provide a leadership that gives no room for corruption by ensuring that fund allocation is guided by the General Appropriations Act (GAA) and by shielding DSWD funds from external forces that sought to influence how the department disbursed its funds and implemented its programs beyond or outside the specifications in the national budget.
With the declaration of the Supreme Court that any form of direct allocation to legislators in the budget is unconstitutional, the former practice of specific amount allocated to a legislator in the approved budget was officially removed from the GAA. But it appears that some legislators have not internalized this ruling or are finding ways to circumvent it.
"I am not a lawyer, but I know that the disbursement of funds is not among the functions of legislators. Their function is primarily and strictly legislative, not executive, but they choose to ignore this and continue to engage in patronage politics. They use pork barrel funds to wield influence over their constituents. There was even one lawmaker who in an effort to talk me out of my opposition to specific allocation to individual legislators assured me that it is not about corruption but about patronage or 'in aid of re-election', making it sound as if there is nothing wrong at all with patronage, not to mention that I did not buy the idea that it's just all about patronage," she shared.
"I believe there is a need for us to continue the fight against pork. It did not end when cases were filed against Napoles and her cohorts. It still exists and its evils are staring us in the face.
Local Government Code's 26th anniversary celebration highlights LGU best practices
By DILG
October 11, 2017
QUEZON CITY – In line with the 26th anniversary of the Local Government Code (LGC), the Department of the Interior and Local Government (DILG) opened today a two-day event that will highlight the best practices of local government units (LGUs) that are worthy of emulation.
Dubbed as the "Festival of Best Practices", the market-place and fiesta-themed event, which is ongoing at the Novotel Manila in Quezon City, aims to showcase the remarkable initiatives and programs of LGUs that they have implemented using the powers and authority granted to them under the LGC.
Signed in 1991, Republic Act 7160 or the Local Government Code, which is considered as the bible of local governance, provides for a more responsive and accountable local government structure whereby LGUs are given more powers, authority, responsibilities and resources instituted through a system of decentralization.
The best local government practices that will be showcased revolve around the following themes: Environment-Protective, Climate Change Adaptive and Disaster Resilient LGUs; Business-Friendly and Competitive LGUs; Socially Protective and Safe LGUs; and Accountable, Transparent, Participative, and Effective Local Governance.
Among the local chief executives who will present their respective programs are: Batanes Gov. Marilou H. Cayco on The Epitome of Disaster Resiliency; Cauayan City Mayor Bernard Faustino Dy on Public-Private Partnership in Localizing the Sustainable Development Goals; Piddig, Ilocos Norte Mayor Georgina Salazar on Organic Coffee Plantation and Farm Consolidation; Dumingag, Zamboanga del Sur Mayor Mark Pacalioga on Organic Agriculture and Governance; and Quezon City Vice-Mayor Josefina Belmonte-Alimurung on Tahanan Drug Rehabilitation Program.
Other presenters are Iloilo City CDRRMO Donna Magno on Disaster Risk Resiliency Hub; City of San Fernando's Regulator Simplification: Agaplikar, Agbayad, Alaen; and Carmona, Cavite MPDO Mildred Purificacion on Your Embrace, My Hope: Transforming the Lives of PWDs.
Organized by the DILG's Local Government Academy (LGA), in partnership with the Galing Pook Foundation (GPF), the event also includes the presentation and awarding of the 2017 Galingpook Outstanding Local Governance Programs, and a Forum on Renewable Energy for LGUs.
"The Festival of Best Practices is a festivity wherein the LGUs can learn and further push good local governance in their respective communities. We hope to promote, encourage and bring forth considerable harvests of best practices in local governments which were significantly brought about by the passage of the Local Government Code," says DILG OIC-Secretary Catalino S. Cuy.
Cuy says the event is also a platform for the DILG to promote their program, the Local Governance Innovative Solutions Bank, a web-based application that enables LGUs to access or "withdraw" the best practices that exemplar LGUs have "deposited".
P19 million multi-purpose building projects near completion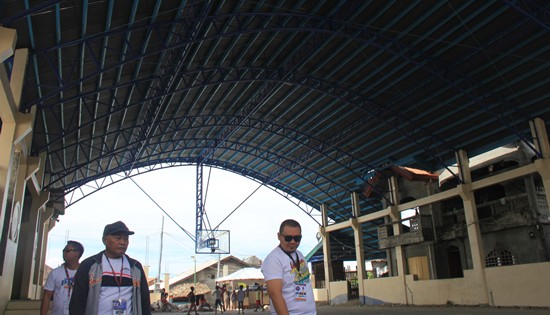 By JASON T. DE LOS ANGELES
October 10, 2017
CALBAYOG CITY – Samar First District Engineering Office is aspiringly and in progression of providing each barangay with multi-purpose halls. The construction of multi-purpose building projects in 5 Barangays and one (1) municipal has a total appropriation of P19 million. These projects are located in Brgy. Anislag, Brgy. Bagacay, Brgy. Binaliw, Brgy. Central, Brgy. Cagboborac and Brgy. Poblacion 2, San Jorge, Samar.
The projects are beneficial to the residents of said barangays as well as students that used it as venue for school activities. The project can also be used by all Barangay residents including its neighboring barangay in whatever activities they will have. This project will have a great impact to the community for it will provide a decent venue for their community-based, socio-cultural and economic activities. On the otherhand, it will serve as temporary shelter to the affected families during times of man-made and natural calamities.
As of this writing, out of six (6) multi-purpose building projects, three (3) projects are completed while three (3) projects are still ongoing.
P21 wage hike for 5 million NCR workers effective October 5
By ALU-TUCP
October 5, 2017
QUEZON CITY – Starting today October 5, the minimum wage in the National Capital Region is now P512 a day after a P21 salary increase into the basic pay announced by the wage board two weeks ago.
Under the wage order No. 21 issued September 14 by the seven man members of the Regional Tripartite Wages and Productivity Board-National Capital Region, the minimum wage for non-agriculture workers will now be P512.
Stated in the same wage order, those workers in the agriculture plantation and non-plantation and those in the retail, service and manufacturing sectors employing less than 10 workers will be receiving P475 a day.
More than 5 million minimum-waged workers from Metro Manila and workers from Bulacan, Cavite, Laguna and Batangas working in the metropolis are bound to benefit from the wage hike.
Inspite of the increase, however, wage petitioner Associated Labor Unions-Trade Union Congress of the Philippines (ALU-TUCP) who filed in June a P184 additional increase said the P21 increase will not trickle down the economic wealth the workers help created and is inadequate to meet the daily nutritional and survival needs of the standard family of five amid rising the cost services and surging prices of basic commodities.
"The P21 increase will not lift workers and their families from living below poverty. This 4 per cent increase is very small compared to the recent increases in prices of electricity, water, LPG used in cooking and in the price of gasoline. This increase will not definitely close the widening gap between the rich and the poor. There is no shared prosperity here," said Alan Tanjusay ALU-TUCP spokesperson.
Citing the Bangko Sentral ng Pilipinas (BSP) and the National Wages and Productivity Commission (NWPC), Tanjusay said the buying power of the new P512 daily minimum wage is only P362 a day.
Because of this, the ALU-TUCP is seeking additional P500 monthly of P16 a day subsidy from President Rodrigo Duterte utilizing the unspent and unused budget from different government departments and agencies to help minimum-waged earners cope with the rising inflation.
"It is important for workers to cope with the rising cost of living and meet the basic daily food needs of workers and their families because they are essential partner of employers and capitalists to helping and sustaining the country's economic growth at a competitive level. Yet the wealth created remains at the top and it's not trickling down," Tanjusay said.
Climate justice activists slam coal financiers, call for divestment from 'dirty, costly, deadly coal'
By PIGLAS Pilipinas
October 5, 2017
MAKATI CITY – Climate justice activists, composed of civil society groups and people's organizations, held a concerted action today at the Bank of the Philippine Islands (BPI) Ayala Triangle to protest the Ayala-controlled bank's planned financing of a new coal-fired power plant in Atimonan, Quezon. The said bank – housed by the Philippine Stock Exchange building where many other commercial banks are listed as coal project investors – was also slammed by climate justice activists for its continued financing of other coal projects.
The protesters brought tall, inflatable, "dirty, costly, and deadly coal demons", which served as a backdrop to a huge image of Ayala Group CEO Jaime Zobel de Ayala, to highlight the temptations of an obsolete fossil fuel to private banks such as BPI.
The protest action is part of Piglas Pilipinas, a nationwide campaign for the Philippines to break free from fossil fuels. Its main call stressed on the importance and urgency of divesting from coal and other fossil fuels.
Coal: Not Clean, Not Cheap
"Coal is not the answer to our country's energy needs," said Philippine Movement for Climate Justice Coordinator Ian Rivera.
"Contrary to the coal industry's persisting propaganda, coal is neither cheap nor clean. In fact, it has time and again been proven to be dirty, costly, and deadly," said Rivera.
According to Rivera, coal is the culprit for the health problems suffered by communities that host coal-fired power plants. He cited a Harvard study conducted in the Philippines which found an annual estimate of 2,410 deaths as a consequence to exposure to pollution emitted by coal plants. Rivera stated that residents of communities that host these coal plants often suffer from lung, cardiovascular, and skin diseases. He also added that due to soil and water contamination from coal plant chemicals, the residents' livelihood is often left destroyed.
"Coal is also deadly not just for local communities but for the rest of the world," continued Rivera.
"The burning of fossil fuels, coal being the worst of them, is the lead contributor to carbon emissions that aggravate global warming, which we know to be the primary cause of stronger typhoons, longer droughts all over the planet, and other forms of ecological disasters," he said.
"Coal is, most of all, expensive – with most of its costs externalized and paid for by society at large," said Rivera, citing huge economic losses from the environmental, health and livelihood destruction caused by the extraction and utilization of coal for power generation, and the establishment and maintenance of coal facilities.
Rivera stated that the coal industry is now being outstripped by new technologies that make cheaper solar and wind power, citing a renewable energy sector that continues to drive down its prices.
"Clean and sustainable energy sources are steadily making the continued usage of coal not only an obsolete choice, but also an inexpedient one," said Rivera.
Reputational Risks and Stranded Assets
"Investors and depositors of BPI should be advised against coal financing for its reputational risks. Most alarming of all, however, are the investment risks that continued coal financing poses. As our country, along with the rest of the world, moves towards renewable energy sources, coal assets will be nothing more than stranded assets in the future," warned Rivera.
According to research conducted by the climate justice activists, BPI is invested in presently operating coal plants, such as the SEM Calaca in Batangas, Team Energy Pagbilao in Quezon, Cebu Energy Development Corporation and Toledo Power Corporation in Cebu, and GNPower Mariveles in Bataan.
The group of climate justice activists stated that BPI also has plans to invest in the coal pipeline, particularly in the Masinloc Expansion Project in Zambales, in the Pagbilao Energy Corporation in Quezon, the GNPower Dinginin in Bataan, and GNPower Kauswagan in Lanao del Norte.
Other coal-fired power plants have not disclosed their investors.
Reclaim Power 2017: Global Wave of Actions for Just Energy Transformation
The protest at the Makati central business district is part of the Reclaim Power Global Wave of Actions for a just energy transformation for the entire month of October.
"The science of climate change is unequivocal, it's undeniable, and so now, action to transform our energy system is urgent and must be done immediately," said Asian Peoples' Movement of Debt and Development (APMDD) Coordinator Lidy Nacpil.
"The energy sector produces over 35% of all climate pollution caused by humans each year, mainly from the extraction and burning of fossil fuels like coal, oil and gas. According to the latest numbers from the UN, over 80% of all remaining fossil fuels like coal, oil and gas will have to remain unburned if the world is to avoid extremely dangerous climate change," emphasized Nacpil.
"Reclaim Power is about demonstrating that while the current energy system fails on so many levels, including its failure to resolve the energy poverty of 1.2 billion people in the world who continue to have no access to any electricity, we have solutions using renewable energy technology that can decentralize power production and actually get it to all people in a democratic, people-controlled way," explained Nacpil.
"We need to ensure community and public control of our energy systems, to ensure that people's access is prioritized over profit," concurred 350.org Digital Communications Campaigner and Coordinator Chuck Baclagon.
"The technology to provide energy to all of humanity without burning the planet already exists. Instead of continuously giving handouts to dirty energy companies, what we need now is to direct public – and private – finance and subsidies to encourage 100% renewable and clean energy," Baclagon concluded.
Eastern Visayas, Bicol's best, finest products at SM Mega Trade Halls
By DTI-ROG
October 4, 2017
MAKATI CITY – The Department of Trade and Industry (DTI) is set to showcase an annual display of micro, small and medium enterprise (MSME) excellence by bringing the best and finest products from Eastern Visayas and Bicol Regions for the Bahandi Eastern Visayas and OKB-Gayon Bicol Regional Trade Fairs on October 4 and 5, respectively, at the SM Mega Trade Halls 1 and 2, SM Megamall.
As part of Marketing, one of the seven-point strategy (7Ms strategy) advocated by the Department, DTI is helping MSMEs penetrate the mainstream marketing through trade fairs.
"With MSMEs being the backbone of the Philippine economy, it is important that we find ways to integrate the sector to bigger value chains, either in the public or the private sectors. Empowering MSMEs can only mean significant growth that is powered by ever smarter Filipino entrepreneurs, ready to participate in local, regional and global marketplace," said DTI Secretary Ramon Lopez.
DTI-Regional Operations Group Supervising Undersecretary Zenaida Maglaya explained that providing platforms for MSMEs to market their products in events such as trade fairs will test its marketability for bigger markets.
"Participation in Trade Fairs provide MSMEs an opportunity to test their products for bigger markets and beyond," Maglaya said.
These MSMEs, according to Maglaya, have been assisted by DTI through Negosyo Centers, Shared Service Facilities (SSF), One Town, One Product, Kapatid Mentor ME Project, SME Roving Academy, among others.
"By enhancing MSME products through DTI assistance, we are confident that their products would be market-acceptable, and supported locally and globally," she said.
The Bahandi Trade Fair, through the DTI-Region 8, will be celebrating its 20th year and will open the annual 5-day exhibit and selling fair of the best products from the six provinces of Eastern Visayas on October 4-8, 2017 at the Megatrade Hall 1, Mega B, SM Megamall.
Under the theme, "Breaking Grounds for Borderless Markets," the trade fair is aligned line with the Philippines' hosting of the ASEAN Summit, promoting participation of MSMEs in the global value chain.
The Eastern Visayas trade fair will also feature products of MSMEs who were victims of Typhoon Yolanda in November 2013. MSMEs were assisted by the Department to get back in operation, supporting them through learning, marketing assistance, product designs and innovations.
A total of 132 MSMEs – 48 are from Leyte, 18 from Southern Leyte, 8 from Biliran, 28 from Samar, 10 from Eastern Samar, 20 from Northern Samar – from the processed food, and homestyle and wearables sector, and other products are expected to join the fair.
The trade fair is in coordination with Regional Development Council - Region 8, Department of Tourism, Tacloban Entrepreneurs Associated Marketing Cooperative (TEAM-COOP), GREAT Women Project 2, and Negosyo Center.
On the other hand, OKB-Gayon Bicol, now on its 21st year, is expected to banner Bicol Region's fine products and tourism potentials ranging from wearables and homestyle products, processed foods, ceramics, furniture/ furnishing, fine jewelry, and other products. The trade fair will run on October 5-8, 2017 at the Megatrade Hall 2, SM Megamall.
Joining this year's OKB-Gayon Bicol fair are 141 MSME exhibitors from all over the region – forty (40) from Albay, 15 from Camarines Norte, 22 from Camarines Sur, 25 from Catanduanes, 11 from Masbate, and 28 from Sorsogon. It will feature 32 new entrepreneurs that are provided full marketing assistance and 255 new products resulting from DTI-Region 5's product development activities.
The longest running DTI-organized regional trade fair is a convergence activity of OKB Association, Inc. in partnership with DTI-Region 5, DOT-Region 5, Air 21 and Bicol Harvest/Bicol Artist.
127 graduates as new breed of soldiers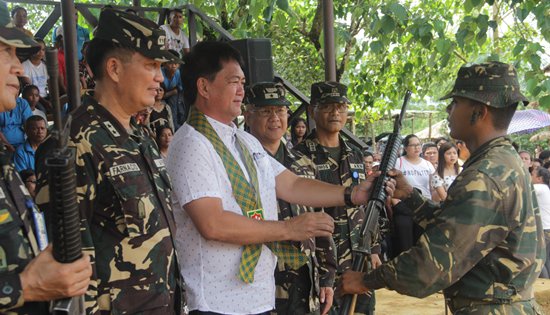 By DPAO, 8ID PA
October 2, 2017
CAMP LUKBAN, Catbalogan City – The 8th Infantry (Stormtroopers) Division, Philippine Army led by Maj. Gen Raul M. Farnacio AFP, Commander 8ID conducted the Closing Ceremony of the Philippine Army Candidate Soldier Course Class 462-2017 consisting of 127 soldiers at the 8ID Jungle Base, Barangay Fatima, Hinabangan, Samar today.
Out of 135 candidate soldiers who entered on June 1, 2017, only 127 brave and dashing Candidate Soldiers graduated and graced by Hon. Marcelo Ferdinand A. Picardal, the Acting Governor, Province of Eastern Samar as the Guest of Honor and Speaker who further led the ceremonial entrustment of firearms, distribution of certificates and individual achievements.
The majority or 81 new privates came from Samar; 21 from Leyte; 8 from Luzon; and 17 from Mindanao. On their educational profile, 23 of them are college graduates; 45 are college level and 59 are high school graduates with skills training from TESDA.
In his message, Hon. Picardal said, "As workers in the government, our greater mission is to provide protection and security to the Filipino people and our country. Today, we face the challenges more than ever and the issues of peace and security are being tested not only by internal conflicts but by external threats as well. Thus, our vision to develop into a progressive nation is getting harder to realize. We see therefore the urgent need to get the real and concrete peace development initiatives into action."
Likewise, Maj. Gen. Farnacio said, "The soldier above all other men is required to practice the greatest act of rigorous and rigid training. Put emphasis on the sacrifices you have made and love your profession. What you are, inside or outside the camp, even if you are not in uniform, is the extension of you being a soldier. To the 127 new soldiers, focus on your job. Help the national government in their effort in Mindanao and make us proud", Farnacio added.
Maj. Gen. Farnacio extends his warm appreciation to the stakeholders who untiringly committed and supported the attainment of a just and lasting peace in the region. The 8ID is still accepting applicants for Candidate Soldier Course for CY 2017.
Bangon Marawi Store launched in Makati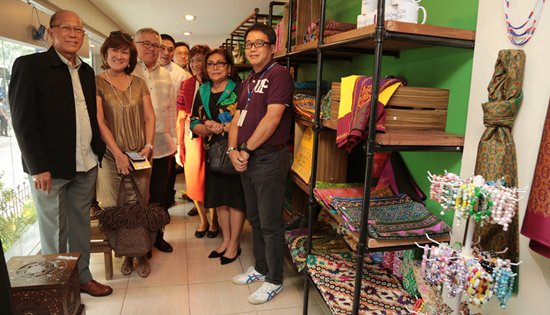 By DTI-OSEC-PRU
September 29, 2017
MAKATI CITY – The Department of Trade and Industry (DTI) launched the Bangon Marawi Product Store today (29 September) at the Ground Floor of the DTI Bldg. along Sen. Gil Puyat Ave. in Makati to introduce Maranao products to the public as well as provide livelihood assistance to internally displaced persons (IDPs) from Marawi City.
This follows Administrative Order No. 03 of President Rodrigo Roa Duterte mandating the creation of an inter-agency task force that would implement the recovery, reconstruction, and rehabilitation of Marawi City and other affected localities.
"While our government is working tirelessly to give them respite in the wake of the tragedy afflicting their city, DTI has come up with its own way to help our Mindanao countrymen" Trade Secretary Ramon Lopez said.
"Given that the Maranaos are inherently traders, we thought it appropriate to find a way to help them showcase their products and bring them to the mainstream market," Lopez added.
Products on sale include brasswares, wooden furniture, wearables, Maranao woven products, jewelry, fashion accessories, and Maranao native delicacies. The sales and proceeds of the Bangon Marawi products will go to help the Maranaos and others displaced by the conflict in Marawi.
This project is done in partnership with the Bangsa Moro Federal Business Council, the Tugaya Local Government, the Muntinlupa Local Government, and Magsaysay Shipping and Logistics.
Also at the launch were Defense Secretary Delfin Lorenzana (leftmost) with wife Edith Lorenzana (2nd from L), Undersecretary Rowel Barba (rightmost), Undersecretary Nora Terrado (3rd from R) with other DTI and other officials.
DTI will carry the Bangon Marawi products in all Go Lokal! stores nationwide.
Samar I braces for Road Rating Inspection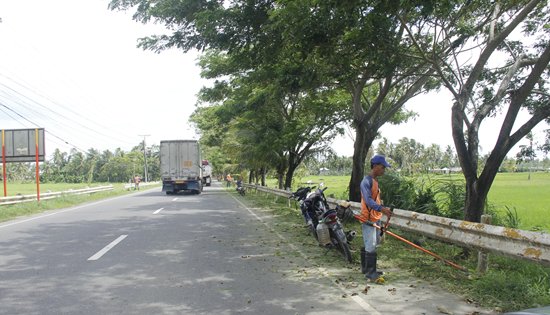 By APRIL FATIMA DIRA VILLANUEVA
September 29, 2017
CALBAYOG CITY – Samar First District Engineering Office will undergo a "Walk-the-Line" Inspection of the road sections covered by the district with a total length of 741.609 kilometers conducted by the Inspectorate Team lead by Engr. Roy P. Mate from the Bureau of Maintenance, Road Condition Monitoring and Evaluation Division (RCMED) on September 22, 2017 to October 15, 2017 to assess compliance of the District Office to the provisions of Department Order 41, series of 2016 regarding the Amended Policy Guidelines on the Maintenance of National Roads and Bridges.
DPWH in accordance with its mandate to maintain national roads and bridges being a paramount priority issued a Department Order to improve the maintenance service delivery to the public, the Regional and District Engineers shall strengthen their maintenance unit to keep all national roads and bridges safe and convenient to the travelling public at all times. In this regard, the Inspectorate Division of the Bureau of Maintenance, this department will conduct assessment, the physical condition of national roads and bridges per semester.
SFDEO under the leadership of District Engineer Alvin A. Ignacio and supervision of Maintenance Head Engr. Ramon Calagos make sure that all the relevant documents for the Inspectorate Team's reference are ready and updated. Maintenance field workers do their regular routine of cleaning the area, cutting grasses and vegetation, canal declogging, patching path holes, cracks resealling, issuing notice of obstruction and no parking signs maintained.
Maintenance Point Persons Engr. Ronale Pelotos (Caglanipao-Carayman Area), Engr. Jeremias Lim (Calbayog-Catbalogan Area) and Engr. Mario Balane (Calbayog-Catarman Diversion Road) monitor their respective areas for activities and implementation of immediate action of road defects and obstructions. The passing rate for the assessment of roads by the team is pegged at 75%.
Energy research institution backs CCC pronouncements on national energy policy shift to RE, stresses need for just transition programs
Press Release
September 29, 2017
QUEZON CITY – Center for Energy, Ecology, and Development (CEED), an independent, non-profit, non-stock, think-do institution engaged in issues of the environment, energy, and development in the Philippines, expressed its support for the pronouncements on an energy policy shift as stated by the Climate Change Commission (CCC) during the commission-spearheaded National Energy Policy Review program held on September 28, 2017.
"The Commission's strong emphasis on the need to make key shifts in the nation's energy policy is a much needed tone in our government given the pressing climate realities we face today," said CEED Legal Research and Policy Officer Avril De Torres.
"Without proactive policies on shifting current destructive trends in the energy and environment, the country cannot hope to see better environmental conditions for itself and achieve its Nationally Determined Contribution on emission reductions that it committed to as party to the Paris Agreement," said De Torres.
"One such proactive policy direction is that which targets the fossil fuel industry, especially the coal industry. Policies such as the imposition of taxes on coal usage and on carbon emissions helps address the issue of high greenhouse gas (GHG) emissions and climate change in general," added De Torres.
De Torres cited numerous data that hold the combustion of fossil fuels, especially of coal, responsible for being the largest human source of carbon dioxide emissions. Quoting a 2016 study made by the Joint Research Centre of the European Commission, De Torres stated that coal combustion was responsible for about 46% of carbon dioxide emissions from fossil fuel combustion, with 31% of which is emitted from coal-fired power plants.
"The fossil fuel industry is a major contributor to the global GHG emissions. Imposing an excise tax on coal and other such tax mechanisms on fossil fuel products would discourage dependence on fossil fuel," said De Torres.
CEED Research Policy and Advocacy Officer Arvin Buenaagua claimed that a shift away from carbon-intensive energy sources not only reduces GHG emissions, but also helps reduce the costs of coal that burden a number of sectors, spanning from coal-affected communities to regular electricity consumers.
"Although not reflected in the price by which coal sells, coal comes with financial costs that are externalized and paid for by society at large. These costs could take many forms, such as rehabilitation costs and lost revenue from communities whose environmental resources and sources of income have been destroyed by the establishment of coal-fired power plants," explained Buenaagua.
"This makes a proactive shift to cleaner and more sustainable energy sources imperative – especially as the Philippine renewable energy sector has been making great strides in driving down its costs and improving its technologies," said Buenaagua.
Aside from the reduction of carbon emissions and prevention of further environmental destruction as caused by tapping into renewable energy sources, Buenaagua also cited significantly lowered electricity prices offered by a sprouting renewable energy market – prices that are projected to hit as low as below P5 per kWh.
While expressing concurrence with the Commission's projected energy policy shift from fossil fuels to renewable energy, CEED highlighted the importance of further developing a just transition program.
"A global transition to renewable energy is happening, at any rate," said Buenaagua, citing countries like Sweden, Germany, and China where shifts from carbon-intensive energy are transpiring, "but it must be made conscientiously so as not to leave anyone behind."
De Torres pointed out the lack of program that centered on groups most heavily affected by a shift away from the fossil fuel industry.
"The nascent Philippine just transition program, which includes RA 10771 or the Philippine Green Jobs Act of 2016, although enthusiastic in setting a landscape for a greener economy, overlooks workers and coal-affected communities who have served as the backbone of the fossil fuel industry and who are situated to be the backbone of this new, green economy," said De Torres.
De Torres cited the growing, global movement of workers, situated in energy-shifting economies, demanding for a just transition program. If the government is serious in its shift away from the fossil fuel industry, it should heed transition concerns of workers.
"Just transition proponents have said this a number of times: a sustainable energy transition is a just transition," said De Torres.
"We cannot hope to build a future ran by clean energy if we leave behind the very people who have been powering our economy," concluded De Torres.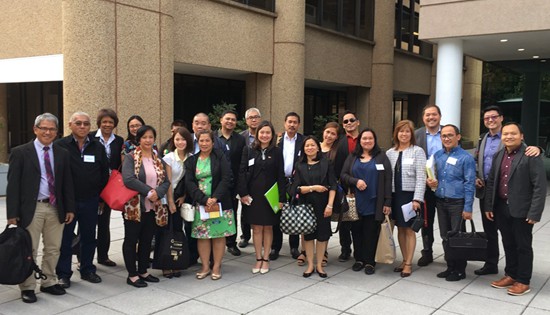 Philippine delegation for the 2017 Philippine Coconut Roadshow to the United States.
DTI leads coconut roadshow to US
By DTI-TIPG
September 26, 2017
MAKATI CITY – Department of Trade and Industry through its Export Marketing Bureau (EMB) and Philippine Trade and Investment Centers (PTICs) in the United States recently concluded the 2017 Philippine Coconut Roadshow held from 6 to 24 September 2017 in key cities including Los Angeles, Colorado, San Francisco, Maryland, and Washington, D.C.
"We see the increasing healthy, non-GMO, and gluten- free lifestyle of the American market as a window of opportunity for our exporters to promote their products as well as showcase the Philippines as an ideal source for coconut-based products," said DTI Trade and Investments Promotion Group Undersecretary Nora K. Terrado.
DTI supported 17 Philippine exporters enrolled in its Regional Interactive Platform for Philippine Exporters Plus (RIPPLES) program to extensively promote coconut oil and coconut-based products, including food, cosmetics, and personal care items to the huge US market.
Together with key officials from the United Coconut Association of the Philippines (UCAP) and Virgin Coconut Oil Philippines (VCOP), the Philippine Trade and Investment Centers in the United States (Washington, D.C. and San Francisco) assisted and organized business meetings between American and Philippine companies for potential partnerships that seek to enhance and expand exports of Philippine coconut-based products to the United States. The group also met with US doctors and scientists that have in-depth knowledge on the benefits of coconut oil.
The group participated in the 50th ASEAN Anniversary Forum organized by the ASEAN Trade Commissioners in partnership with the Port of Los Angeles. The meetings with leading importers and retail chains in Los Angeles and San Francisco generated market leads and market access platforms for the participants.
For the Washington, D.C. leg, the Philippine Companies met with the US Department of Agriculture, the Organic Trade Association, the US–Philippines Society, Foodshowcase, the USA Halal Chamber of Commerce, and Registrar Corporation.
Participating exporters and Philippine officials were also briefed on the US Generalized System of Preferences (GSP) Program, including identifying coconut products that could benefit from GSP treatment. Meetings held in Washington, D.C. highlighted the importance of trade policy issues when exporting to the United States, including compliance to US food safety regulations, labelling, and other non-tariff measures.
From 14 to 16 September, the delegation held a dialogue with several US companies during the Natural Product Expo East held in Baltimore, Maryland, considered as the East Coast's leading trade show in the natural, organic, and healthy products industry. The delegation had a chance to exchange views on how to further promote and increase awareness to American consumers on the health benefits of coconut oil.
Participating companies include Amazing Foods Corp, Chemrez Technologies, Inc., Coco Plus, Coco Veda, Coconut Cures, Dignity, Eau de Coco, Franklin Baker Company of the Philippines, Galo Organic and Naturals, Greenlife Coconut Products Philippines, Inc., Hancole Corp., Marinduque Land Corporation, Pasciolco Agri Ventures, Nuco/ProSource International, Inc., Wellness Care International Inc., and Tongsan Industrial Development Corporation.
DTI's Coconut Roadshow to the United States is in partnership with the Philippine Coconut Authority (PCA), an agency committed to promote the growth of the coconut industry.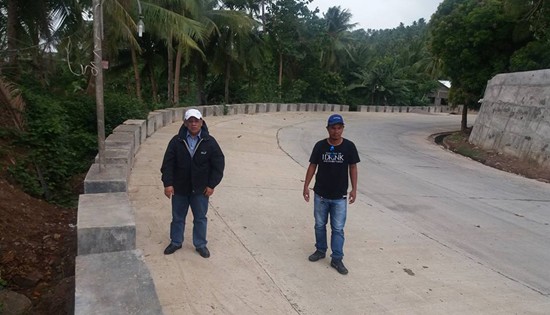 David P. Adongay Jr., (wearing black jacket) District Engineer inspects the on-going widening along Naval-Caibiran Cross Country Road (NCCR) with a construction budget of P37,418,424.94. Adongay reported that the project is being fast-tracked to finish the project on or before October 8, 2017. As of August 30, 2017, it has an accomplishment of 58%.
DE Adongay monitors on-going and completed FY 2017 projects
By CHELSEA QUIJANO-SALLOMAN
September 24, 2017
NAVAL, Biliran – Engr. David P. Adongay Jr., District Engineer of Biliran District Engineering Office (BDEO) conducts inspection around the district on August 16, 2017 together with Engr. Ginisar M. Romero, Engineer II.
The first project inspected by DE Adongay is the substantially completed Asphalt overlay along Naval-Caibiran Cross Country Road with a construction cost of P33.322M.
The project entails the application of asphalt overlay on existing concrete pavement with minor corrections with a width of 6.10 m. and a thickness of 50 mm covering an area of 7.316 lane km.
According to Adongay, application of a Reflective Thermoplastic Stripping Materials will be the last activity of the project. The completion of this project will provide a smooth riding surface for the traveling public as well as provide convenience in transporting agricultural and aquatic products to market centers.
Construction of Drainage along Biliran Circumferential Road is another project inspected by DE Adongay. The project is still on-going upon DE's inspection. Major scope of work of the project is the construction of both open drainage on some sections and covered drainage on another section with a total length of 1,860 ln.m. It is to be constructed after a 3.05 m. widened shoulder.
Adongay reported that the project has already 58% accomplishment as of August 30, 2017 and is target to be completed on October 1, 2017. The completion of this project will provide a drainage structure that will contain runoff water from the mountain sides during rainy days which will prevent flooding along the National Road thereby preventing its deterioration.
The district engineer also took time to inspect the on-going Rehabilitation of Damaged Paved National Road along Naval-Caibiran Cross Country road (NCCR). Adongay said that the major scope of work of the project is the replacement of damaged concrete pavement to new concrete with a construction budget of P1.457M.
"The project was prioritized because of the significant cracking along the above section which when left unattended might cause vehicular accident," said Adongay.
Adongay reported that as of August 30, 2017, the project is already completed.
The last project inspected by DE Adongay is the Widening along Naval-Caibiran Cross Country Road (NCCR) with a construction budget of P37.218M The project involves the construction of additional lanes on both sides of the existing paved road with a width of 3.35 m., a thickness of 0.28 m. and a length of 1.30 Kms. on one (1) section along Naval-Caibiran Cross Country Road. It includes also construction of drainage and installation of road safety features. Adongay reported that the project is being fast-tracked to finish the project on or before October 8, 2017.
As of August 30, 2017, it has an accomplishment of 58%.
"I will be consistently monitoring the projects in an alternate schedule without the knowledge of the contractor so as to see if they are doing their job," said Adongay.
DTI strengthens Luzon coffee industry
By DTI-ROG
September 22, 2017
MAKATI CITY – Following President Rodrigo Duterte's directive to bridge various gaps in the supply chain to make the local coffee industry more competitive, the Department of Trade and Industry recently gathered coffee farmers, processors, manufacturers, Regional Council Chairs, national government agencies, and members of the academe from the Island of Luzon for the Luzon Island Coffee Cluster Assembly.
The assembly aimed to present the national and localized version roadmap of each region, establish an institutional mechanism of roadmap localization and implementation, and learn about coffee quality standards and market opportunities.
National Coffee Coordinator and DTI Cordillera Administrative Region Regional Director Myrna Pablo explained the current situation of the industry, especially the gap between demand and production.
"The Philippine coffee production is far from serving coffee consumption of the country. Currently, 90% of the demand is imported for about P12 billion. The demand is still increasing with expanding consumption based among younger generation and night shift workers. Likewise, coffee shops are increasing, and specialty coffee market is expanding," Pablo said, adding that while coffee production is almost all over the country, the country's production is very far from sufficiency.
In March, DTI Secretary Ramon Lopez and Department of Agriculture Secretary Emmanuel Piñol signed the Philippine Coffee Industry Roadmap 2017-2022 to bridge the gap between the steady high demand for coffee and the slow decline in production, and to provide aid to coffee farmers.
Pablo said that the Coffee Roadmap is focused on optimizing income for Filipino farmers and the micro, small, and medium enterprises (MSMEs) in the industry.
The activity also discussed the Philippine Coffee Market vs. World Market Behaviors, Consumer Demand Innovation, Coffee Science Researches, Coffee Development Programs of the Department of Environment and Natural Resources and the Department of Science and Technology, and the High Value Crops Development Program of the Department of Agriculture.
Coffee is among the priority industry clusters that DTI is targeting to develop in the next five years, given its high potential to accelerate the region's economic growth. While the sector has so much to offer, development remains slow.
In 2016, DTI has assisted 2,695 coffee MSMEs while providing 19,232 jobs to Filipinos.
The Philippines envisions a coffee industry that is cost-competitive, aligned with global quality standards, reliable and environment-friendly, and provides sustainable benefits to farmers, processors, traders, and exporters.
Some of the proposed strategies to achieve the target are to improve quality and availability of planting material, enhance farm efficiency and investments, and improve competitiveness, market price, and coffee standards.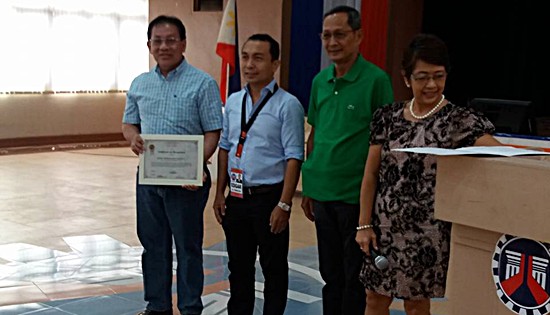 DPWH Regional Director Edgar B. Tabacon (wearing i.d) awards District Engineer David P. Adongay Jr. (wearing light blue checkered polo) of Biliran District Engineering Office (BDEO) the Recognition Certificate citing his leadership of BDEO a factor in achieving the agency's Developmental Communication (DevComm) goals and placing his district office in the second place. The awarding of certificate is assisted by Assistant Regional Director, Armando G. Estrella (wearing green polo shirt), and Regional Public Information Officer II, Antonieta R. Lim (wearing dress) held at DPWH Regional Office, Baras, Palo, Leyte on August 11, 2017.
DPWH-Biliran DEO awarded as one of the top achieving district in region 8
By CHELSEA QUIJANO-SALLOMAN
September 22, 2017
NAVAL, Biliran – The Department of Public Works and Highways (DPWH)- Biliran District Engineering Office (DEO) was awarded as one of the top achieving district in Region VIII under the leadership of David P. Adongay Jr. District Engineer.
In a simple ceremony conducted on August 11 at DPWH Regional Office, Baras, Palo, Leyte, Edgar B. Tabacon, Regional Director cited the district engineering offices which have topped achievement in terms of construction, maintenance, and finance thereby contributing to the attainment of the agency's targets.
In terms of Financial Accomplishment, Biliran DEO ranked no. four of the top 10 DEOs recognized by the Regional Director to have attained or surpassed the 73% Absorptive Capacity target set by the Central Office, having 82.90% absorptive capacity as of July, 2017.
Top Five district engineers were also named for exemplary leadership that have contributed to the successful implementation of DPWH's Development Communication Program.
First Place was awarded to District Engineer Alvin A. Ignacio of Samar First District Engineering Office; Second Place - District Engineer David P. Adongay Jr. of Biliran District Engineering Office; Third Place - District Engineer Ma. Margarita C. Junia of Southern Leyte District Engineering Office; Fourth Place - District Engineer Ferdinand A. Briones, and Fifth Place awarded both to District Engineers Lino Francisco C. Gonzalez and Eusebio T. Culas of Leyte 4th District Engineering Office and Leyte 5th District Engineering Office respectively.
RD Tabacon awarded DE Adongay Jr. the Recognition Certificate citing his leadership of BDEO a factor in achieving the agency's Developmental Communication (DevComm) goals in placing his district office in the second place.
The awarding of certificate was assisted by Armando G. Estrella, Assistant Regional Director and Mrs. Antonieta R. Lim, Regional Public Information Officer II, at DPWH Regional Office, Baras, Palo, Leyte on August 11, 2017. The DPWH's Developmental Communication Program aims to promote transparency, advocate its programs, and encourage the citizenry to participate in governance.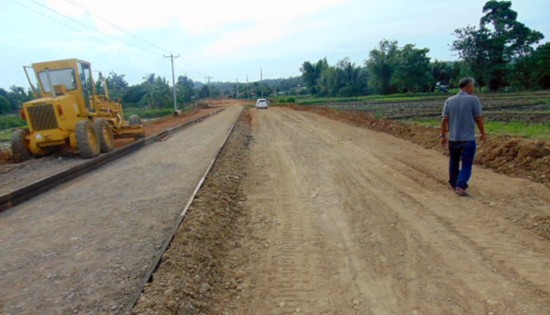 Road Concreting/ Opening of Biliran Diversion Road is on-going with base preparation and installation of forms on one lane in preparation for concrete pouring and embankment on the other lanes and riprapping. As of August 30, 2017, the project has 85% accomplishment under contract with Chu Construction.
Biliran diversion road project 85% completed as of August, this year
By CHELSEA QUIJANO-SALLOMAN
September 22, 2017
NAVAL, Biliran – Travelers are looking forward for the completion of the P43M Biliran Diversion Road project here in this province with expected to reduced travel time of about 20 minutes.
Over the local radio program Kapihan: Pulong-pulong ng Bayan segment hosted by Mrs. Flordelis E. Jackson, PIA Station Manager and Mrs. Lailanie Tupaz, PIA Staff on August 10, Biliran District Engineering Office (DEO) representative, Supremo Victor Sabitsana, Engineer II informed the public that the project is already 85% completed as of August 30, 2017.
"The work was continuous before but suddenly stops its activities because of the problem on permit to enter. Just recently, the problem was solved hence project implementation is resumed", said Sabitsana.
Sabitsana also informed the listeners of the program that Biliran DEO encountered new problem in the implementation of the project due to existing electrical post of the Biliran Electric Cooperatives Inc. (BILECO).
When asked on the 100% completion date of the project, Sabitsana explained that the accomplishment is not yet foreseen because DPWH will depend on when the BILECO will removed the blocking electrical post.
"The office already requests BILECO to transfer the electrical post to fast-track the completion of the by-pass project," explained Sabitsana.
According to Sabitsana, completion of the project will save a lot of time say more or less 20 minutes compared to the old route because the diversion road is a 4-lane structure which can accommodate big volume of passing vehicles.
The population to be served by the road ranges from 120,000 to 135,000, 7 Municipalities and 50 Barangays. It will provide the traveling public coming from Tacloban City, Ormoc City, Baybay City and from other neighboring municipalities going to the northern and eastern part of Biliran Province and vice versa a much safer and faster transport of goods.
Peace Buzz: Call for unity towards peace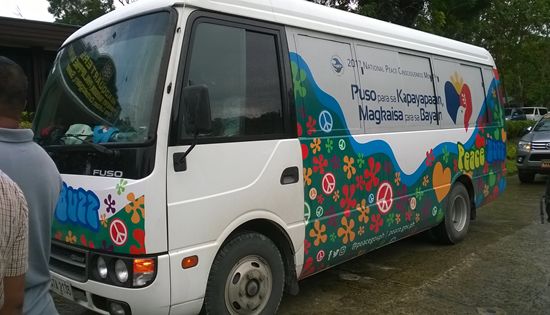 By DPAO, 8ID PA
September 22, 2017
CAMP LUKBAN, Catbalogan City – The Office of the Presidential Adviser on the Peace Process (OPAPP) will launch a Peace Buzz that will kick-off in Baguio City on September 21 and culminates in Marawi City on October 3, 2017 in line with the celebration of National Peace Consciousness Month.
Peace Buzz is an actual bus ferrying resource speakers, cultural group, various stakeholders and OPAPP personnel to conduct People's Conversations, Serbisyo Caravans and other peace-related activities in multiple strategic stopovers.
Catbalogan is the third stopover of the Peace Buzz which is anticipated to arrive on September 25, 2017. Secretary Jesus G. Dureza, Presidential Adviser on the Peace Process is also expected to arrive via chopper in 8ID Headquarters after having an aerial monitoring of OPAPP PAyapa at MAsaganang PamayaNAn or PAMANA Projects in the municipalities of Silvino Lubos, Matuguinao and San Jose de Buan.
Through collaboration of the 8ID, OPAPP, government officials and other key stakeholders, a series of activities will be conducted like Peace Building Conversations involving youth, women and indigenous people, Motorcade/Torch Parade, Solidarity Dinner, Candle-lighting and launching of Peace and Prosperity Roadmap and Peace Caravans in selected conflict-affected areas in Eastern Visayas.
Maj. Gen. Raul M. Farnacio, 8ID Commander once said in his solidarity message, "I encourage all of you as stakeholders to bridge the gap between the government and the issues set forth by the communist rebels. We shall serve as bridging leaders, ready to forge a common understanding and a collaborative response to end the roots of insurgency," he stated.
These major event calls the participation not only the government officials and people of different provinces of Samar and Leyte but also the whole nation to stand as one who would take their part in achieving a just and lasting peace in a conducive developing country.
At the UN Review on PH rights compliance in Geneva
Karapatan calls on UN rights council for independent investigation on attacks vs rights defenders, EJKs
By KARAPATAN
September 22, 2017
QUEZON CITY – At the 36th United Nations Human Rights Council session in Geneva, Switzerland, Karapatan, speaking on behalf of international human rights organizations Civicus and International Service for Human Rights (ISHR), called on the member States of the UN HRC to support the call for "a halt to all forms of attacks on human rights defenders in the Philippines, the enactment of a law for their protection, and the acceptance of a full, independent visit to the Philippines by UN Special Rapporteurs, including on the situation of HRDs."
Since the previous session on the Universal Periodic Review of the Philippines last May 2017, the Philippine government received 257 recommendations, of which 103 are supported and 154 noted by the Duterte administration.
Karapatan Deputy Secretary General Roneo Clamor, who delivered the said statement at the UN HRC, said that in the first year of the Duterte regime, at least fifty human rights defenders, many who were leaders of peasant and indigenous communities, have been killed under the cover of counter-insurgency programs. This was worsened by President Duterte's 'war on drugs', which has also resulted in thousands more casualties of regular Filipino citizens, Clamor said.
"Since the May review, human rights activists have seen no reprieve in the harassment and threats by State security forces. This includes the Secretary General of people's organisation Karapatan, Cristina Palabay. Duterte's pronouncements endanger the lives of HRDs who speak out against his repressive policies, including the drug war and martial law declarations, as well as for respect of rights, such as to a safe and healthy environment. The filing of trumped-up charges to criminalize HRDs has been normalized by the government, hampering us from doing our work and violating our freedom of association," he further stated.
Karapatan also raised concerns on the "ominous signs of a nationwide martial law under Pres. Duterte" that, the organization said, "hover like a sword of Damocles over HRDs and the Filipino people."
"Our history shows that such a decision will worsen the current state of human rights in the country," he added.
Meanwhile, Karapatan Secretary General Cristina Palabay criticized the Duterte regime's continuing denial of the occurrence of extrajudicial killings and other rights violations in the Philippines before the international human rights body, referring to the recent statement of Ambassador Evan Garcia before the said UN HRC session.
"The truth about the worsening human rights situation in the Philippines and the rising protest of Filipino people against Duterte's tyrannical rule, as shown by yesterday's protest actions in Luneta, Manila and other cities and countries, trumps all their lies, fake news and misinformation," she concluded.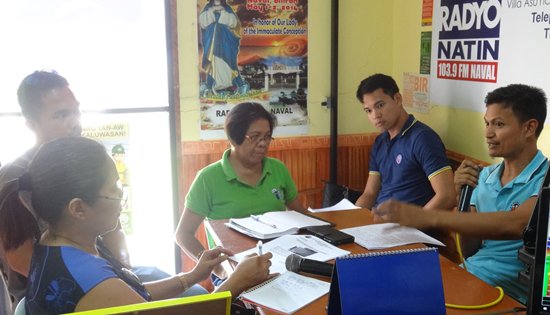 Biliran District Engineering Office (BDEO) representatives headed by Supremo Victor Sabistsana (wearing light blue polo shirt), Engineer II together with Neo Jay Cagabhion, (wearing dark blue polo shirt) Engineer II, and Ginisar M. Romero, Engineer II discuss the updates and accomplishments of 2017 BDEO projects in the district over a radio program Kapihan: Pulong-pulong nga Bayan at Radyo Natin FM hosted by Mrs. Florelis E. Jackson, (wearing green polo shirt) PIA Station Manager and Mrs. Lailanie Tupaz, PIA Staff on August 10, 2017.
DPWH-Biliran DEO delivered project accomplishment ahead of the planned target as of August, this year
By CHELSEA QUIJANO-SALLOMAN
September 22, 2017
NAVAL, Biliran – David P. Adongay Jr., District Engineer of Biliran District Engineering Office has sticked to his promise of fast-tracking the CY 2017 Infrastructure Projects as the district delivered 40.41% accomplishment ahead from the planned target accomplishment of only 31.33% as of August, this year.
The district engineer recently conducted various project inspections within the district for the month of August to make sure projects are implemented properly and in accordance with quality standards.
Adongay revealed that he doesn't have a definite time schedule when conducting project inspections.
"I will be consistently monitoring the projects in an alternate schedule without the knowledge of the contractor in order to evaluate if they are doing their job," said Adongay.
As of August 30, 2017 monitoring report, out of the 57 CY 2017 listed projects based on General Appropriation Act (GAA), Biliran DEO has completed 45 projects with 9 on-going and three Not-Yet-Started (NYS) projects.
According to Engr. Rosario B. Rosete, Chief of Planning and Design Section, one project which is the Rehabilitation of Access Road leading to Naval Port including Right-of-Way (ROW) at Naval, Biliran is now on the 3rd Revision for the Program of Work (POW), Detailed Unit Price Analysis (DUPA) and Plans.
For the Rehabilitation of Maripipi Circumferential Road, Rosete revealed that contract for the project was already forwarded to the Regional Office last August 18, 2017 for signature by the Regional Director.
Meanwhile, the Rehabilitation of National Road Slips, Soil Collapse and Landslide along Naval- Caibiran Cross Country Road is up for implementation soon. Once these projects will be approved, implementation of these projects will be monitored for fast completion.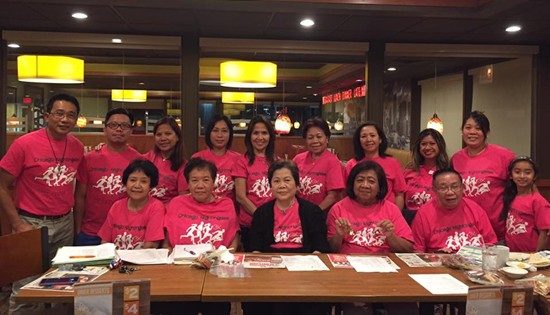 The Chicago Nightingales. (Photo by Rex Viejon, RN)
Chicago Nightingales keeps memory of Church Bells ringing after 116 years during Balangiga Remembrance
By ROSE SAN DIEGO
September 19, 2017
CHICAGO – The Chicago Nightingales (CN), a nurses organization commemorated a vigil when they assembled at their regular board meeting in observance of an occurrence in the Samar Region, nearly 116 years ago next week on September 28, 1901 in the town of Balangiga during the Philippine American War 1899-1902.
During the event, the names of forty-eight soldiers who lost their lives in action from the roster of the US Army 9th Infantry Regiment of Company "C" were read by four Chicago Nightingale nurses following an impromptu strike of a miniature bell each time twelve names were called. The bells chime echoing out to the group of nurses leaving goosebump sensations. A separate blank paper was folded in quarters with a lone chime representing in memoriam the twenty-eight villagers killed also that day, who either resided in the town or nearby barangays. The memorial program reading of the names for the nurses organizations was led by its CN President Phoebe Doruelo, RN.
In an asserted effort the Chicago Nightingales stands along with Philippine President Duterte in requesting the assistance of US President Donald Trump to safely secure the immediate release of the three church bells removed from the Town of Balangiga, Samar. Our mission is to help remind the sacrifices made then and to keep the bells ringing for the fallen until their return.
The healing process must begin somewhere, from someone and thus far it has taken our nations heroes of 1942, to include the Forgotten War of Korea and Vietnam to know first-hand the ugly face of war. The Philippine American War was unavoidable under its existing colonial conditions that ended tragically on both sides 116 years ago.
Chicago Nightingales is a 501 c (3) status founded in 2013. A voluntary, impartial, neutral and independent humanitarian organization whose mission is to promote health and wellness in the community and provide assistance to communities stricken by human-induced disaster or calamities locally and in third world countries, principally the Philippines.
DPWH: Heal Mother Nature

By APRIL FATIMA DIRA VILLANUEVA
September 19, 2017
CALBAYOG CITY – Samar First District Engineering Office takes part in saving Mother Nature thru its compliance to Department Order 57, Series of 2009 "DPWH Solid Waste Management Policy".
The following guidelines and procedures are hereby issued, pursuant to the provision of the Implementing Rules and Regulations of the RA 9003 series of 2000 which prescribes that "All Government Offices at the national and local levels, within the executive, legislative and judicial branches, and government owned and controlled corporations shall ensure information, education and actual implementation of waste management program at the workplaces and work premises, including the pursuit of the environment-friendly purchasing policies for their respective offices."
The Department of Public Works and Highways is committed to safeguard the environment through proper waste segregation to reduce the solid waste generated in all its Offices.
Raising awareness on something that really matter means our job is more noble. Recycling helps us save the earth. It limits the amount of harm we do to our environment on daily basis. It reduces the amount of natural resources need to produce different products. It lessen impact on environment. It saves and preserves our planet.
Advisory Committee (AC) and The Technical Working Group (TWG) work hand in hand to oversee and monitor the four methods of implementation which are source reduction, reuse of materials, recycling, and purchase of recycled content materials. Every month they submit reports of their accomplishments and receipts of the sale of recyclable materials, the beneficiary of the proceeds is the DPWH Employees Union members, which will be used for environmental projects.
DPWH-SFDEO is doing a proactive participation in Saving Mother Earth and let's continue to dare the world to save the planet.
National minorities file cases at the GRP-NDFP CARHRIHL monitoring committee; hit Duterte's failure to push talks forward
By SANDUGO
September 18, 2017
QUEZON CITY – On the second week of the Lakbayan 2017, representatives of National Minorities are filing complaints against the Armed Forces of the Philippines (AFP) for violations of the Comprehensive Agreement on Respect for Human Rights and International Humanitarian Law (CARHRIHL). The delegation trooped to the Philippine government section of the GRP-NDFP Joint Monitoring Committee on CARHRIHL.
SANDUGO criticized Pres. Duterte for the failure to stand by its commitment to implement CARHRIHL and has, instead, waged an all-out war and declared martial law, which violates the 1998 agreement.
"Pres. Duterte has driven the peace talks down the drain by insisting on a ceasefire ahead of the agreement on social and economic reforms and in total disregard of the CARHRIHL," said Jerome Aba, co-chairperson of Sandugo.
Among the cases to be filed are violations committed in relation to the Marawi siege and the government's implementation of all-out war/martial law:
- The killing of the Lumad youth Obillo Bay-ao who was killed by members of the paramilitary group Alamara and CAFGU on September 5, 2017. Bay-ao is a student of a Lumad school, Salugpungan Learning Center, in Talaingod, Davao del Norte.
- The case of a 74 year-old Marcos Aggalao of Kalinga province who died while in detention on Sept. 12, 2017. A veteran of the anti-Chico dam struggle, Aggalao was arrested on September 2016 and suffered stroke thrice while in jail. At the time of hisarrest, Aggalao has dementia, pneumonia and hypertension.
- Extrajudicial killings (EJK), illegal arrests and detention, harassment and threat and divestment of properties among the Maranao in Marawi.
Also included are 14 cases of EJKs, 10 cases of illegal arrest and detention, harassment, threat and intimidation, and cases of violation of domicile, physical and mental torture. Also included are violations committed in the Caraga and Negros regions and those incurred by Consunji mining in the South Cotabato-Sultan Kudarat area.
Duterte's allout war/martial law and failure to push peace talks forward
"Duterte's war against the national minorities and the poor majority of the people does not address the root causes of the armed conflict but only adds fuel to the ongoing people's war," said Aba.
Thousands of national minorities are suffering the brunt of the social and economic crisis sweeping the country. They are further burdened by the entry of foreign monopoly capitalist corporations, endorsed by government and a fascist military, encroaching on their territories and ancestral lands.
Pres. Duterte has dashed all hoped that a Joint Agreement on Social and Economic Reforms can be signed. The agreement could have addressed the reforms needed by the Filipino People, including the demands of the national minorities for rights and right to self-determination, and for the protection of their territories and ancestral lands against plunder.
"As the fight for their economic and political rights continues, so is the pressure by a fascist military defending landlords, companies and foreign monopoly corporations getting bigger," Aba added.
Sandugo calls on the people to raise the call for the resumption of the peace talks even as they advance their struggle, with the rest of the Filipino people, for a just and meaningful peace in the country.
Stronger PH-Russia relations bank on complementarity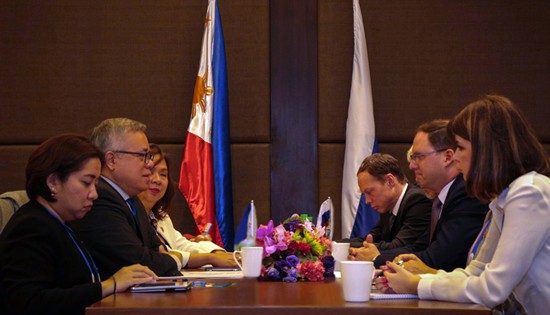 By DTI-OSEC-PRU
September 15, 2017
MAKATI CITY – The Philippine and Russia expressed intention to work closely to enhance trade and investments relations, as well as to explore cooperation areas of mutual interest, as both sides take advantage of the complementarity in each other's industrial strengths.
At the sidelines of the Philippine hosting of the 49th ASEAN Economic Ministers' (AEM) Meeting and Related Meetings, Department of Trade and Industry (DTI) Secretary Ramon Lopez, who also serves as the 2017 AEM chair, convened a bilateral meeting with Russian Deputy Minister for Economic Development Alexey Gruzdev on 11 September in Pasay City.
Both sides discussed measures for enhancing bilateral economic relations arising from the successful visit of President Rodrigo Duterte to Russia and the inaugural meeting of the Philippine-Russia Joint Committee for Trade and Economic Cooperation (JCTEC).
Sec. Lopez conveyed that the Philippine initiative to engage Russia through the JCTEC is in line with the present administration's pursuit for an independent foreign policy, securing collaboration with non-traditional partners. Both sides agreed to conduct more business missions and roundtable discussions with the private sector of both sides to know more about each other's business environment.
The Philippines reiterated the commitment of Russian President Putin to source USD 2.5 billion worth of agricultural products from the country.
Both sides affirmed the importance of complying with respective sanitary and phytosanitary (SPS) requirements for improved market access, as well as agreed to pursue increased agricultural trade in line with the Memorandum of Understanding (MOU) on Agriculture Cooperation signed during the Presidential Visit to Russia in May 2017.
PH encouraged Russia to explore the opportunities from PH industries particularly in production and manufacturing, iron and steel, pharmaceuticals, agriculture, oil and gas, energy, transport and infrastructure.
Graduating class of Escuela Taller of Bohol ready to help restore earthquake-damaged built heritage
Press Release
September 15, 2017
MANILA – On September 15, Escuela Taller -Bohol holds the graduation of its first batch of trainees. Among the special guests gracing this momentous event is Cabinet Secretary Leoncio Evasco Jr., who is the former Mayor of Maribojoc, the Spanish Ambassador to the Philippines, H.E. Luis Antonio Calvo, and the Bishop of the Diocese of Tagbilaran, Most Rev. Alberto S. Uy.
A total of 48 young men and women completes the one-year training program in traditional construction and conservation techniques for masonry, carpentry and wall finishing. This group of young people are now part of a unique pool of specialists and skilled workers in conservation aptly called Heritage Protectors. They can now be tapped to help conserve and restore the historical structures of Bohol that were ravaged by the 7.2 magnitude quake in 2013 and other heritage structures in the region that consistently demand conservation works through preventive maintenance. They will be soon be part of the rehabilitation efforts within the Santa Cruz Parish Complex in Maribojoc. The restoration of the church's retablo, the repairs of the stone steps leading to the rear side of the church and the restoration of the old convent are among the many projects included in their list of future undertakings.
According to ET Executive Director Carmen Bettina Bulaong, "Escuela Taller's mission in Bohol is to equip the local youth with skills related to the conservation of built heritage. This new skill set is not simply a means of livelihood for these young men and women. It is their opportunity, as members of a community, to actively participate in safeguarding the legacy of a culture that they are so much a part of. This is our shared mission with other Escuelas Taller in Spain, North Africa and Latin America." In fact to ensure the quality of their training, ET has sent its finest graduates from Manila to become instructors in the various trades and workshop areas that were established as a response to massive damage due to the earthquake in October 2013.
Escuela Taller in Intramuros was among the first organized groups who conducted emergency response by conducting the assessment and documentation of the damage caused by the earthquake. Eventually, ET's first satellite training program, which was participated in by 28 young Boholanos, was organized through the support of the Ayala Foundation. The training involved the restoration of the Dauis Watch Tower as the "learn-by-doing" project of the trainees. The Dauis church complex, where the watchtower stands, is a declared National Cultural Treasure by the National Museum and a National Historical Landmark by the National Historical Commission of the Philippines. After the satellite training program in Dauis and the completion of the Dauis Watch Tower, Escuela Taller established its center for training in Maribojoc Church Complex through the support of Senator Loren Legarda and the National Commission for Culture and the Arts.
About Escuela Taller
Escuela Taller de Filipinas Foundation, Inc. was organIzed in 2009 as a project by the Philippine and Spanish governments through the National Commission for Culture and the Arts (NCCA) and the Agencia Española de Cooperación Internacional para el Desarrollo (AECID), the international aid agency of the Spanish government. Today it is an independent Filipino foundation and ET Bohol is its second training center in the country after the pilot training center in Intramuros.
Women human rights defenders in Asia and the Pacific say:
Stop the killings in the Philippines now!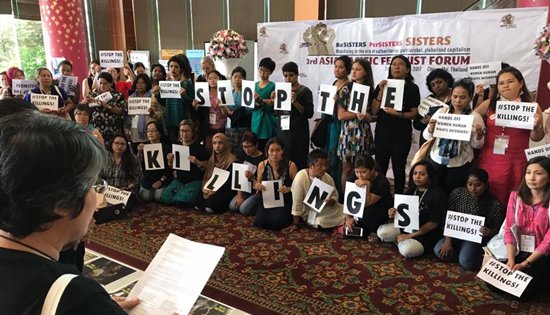 By KARAPATAN
September 10, 2017
QUEZON CITY – More than a hundred women from different countries in Asia and the Pacific joined the #BlackFriday protest against extrajudicial killings in the Philippines held last September 8, 2017, in Chiangmai, Thailand, in the sidelines of the 3rd Asia Pacific Feminist Forum (APFF) organized by the Asia Pacific Forum on Women, Law and Development (APWLD).
"We, participants from the Philippines at the third Asia-Pacific Feminist Forum, joined by our sisters in the Asia-Pacific region, condemn in the strongest sense, the unabated killings in the Philippines in the context of President Rodrigo Duterte's war against drugs and Oplan Kapayapaan," they said in a statement.
The women added "State-sponsored killings in the Philippines have become relentlessly horrendously, victimizing the poor and marginalized. State-sponsored killings in the Philippines have become relentlessly horrendously, victimizing the poor and marginalized. The latest victims are: Kian Delos Santos, Carl Angelo Arnaiz, Reynaldo de Guzman, Obillo Bay-Ao, Vaugh Carl M. Dicang, Luardo Yac, Oscar Asildo Jr. and Jezreel and Dalia Arrabis."
Shirley Tagi, artist and member of the DIVA for Equality in Fiji, offered songs in solidarity with the Philippines. Women human rights defenders from at least twenty countries (Thailand, Hong Kong, Malaysia, Nepal, Indonesia, Timor Leste, Pakistan, India, Sri Lanka, Kyrgyzstan, Myanmar, Fiji, Cambodia, Kazakhstan, South Korea, Bangladesh, Vietnam, Solomon Islands, Papua New Guinea, and Laos) participated in the said protest action.
"Thousands of poor people have been killed since President Rodrigo Duterte came into power last year. Peasants and indigenous peoples have been killed as Duterte continues to implement the State's dirty war against its perceived enemies. His war on drugs has resulted to killings and gross violations on the right to due process in urban poor communities. The climate of impunity has worsened, with Duterte's war on drugs and counter-insurgency program Oplan Kapayapaan, promoting further unpeace," they added in the statement.
"We demand an immediate end to the killings. We demand a transparent and sift investigation on the killings! We demand that perpetrators be held fully accountable!" they concluded.
On the last night of the APFF, Pres. Rodrigo Duterte won the Insulting Intelligence award in the What The…Mock Poll by the APWLD among the more than 350 participants of the forum. On the poll with the question "Who displayed the most misogyny, sexism, homophobia or transphobia and made a public statement that was illogical, irrational or blatantly false?," majority of the participants answered Duterte, citing his authorised killing of 13,000 in the war against drugs, declared martial law in Mindanao, ending peace talks and encouraging the military to rape women amid the conflict.
Duterte "bested" other sexist government leaders in the Asia Pacific region nominated such as Fiji Prime Minister Frank Bainimarama, Indian State Minister Abu Azmi and Malaysian Parliamentarian Shabudin Yahaya.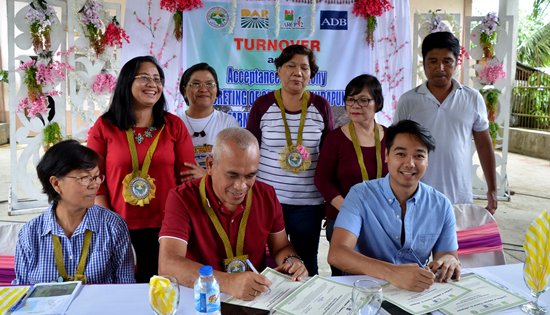 Leyte Provincial Agrarian Reform Program Officer Renato Badilla (seated, center) and Javier Vice Mayor Michael Dragon Javier (seated, right) signs the turnover and acceptance documents for the 2.64-kilometer concreted Odiong-Guindapunan road implemented under the second phase of the Agrarian Reform Communities Project (ARCP-II).
DAR concretes road, opens opportunities
By JOSE ALSMITH L. SORIA
September 6, 2017
JAVIER, Leyte – With the road leading to Barangay Guindapunan now concreted, residents here can already eat fresh fish and avail of the various government services.
This was the testimony of Barangay Councilor Elizabeth Mendoza as she thanked the Department of Agrarian Reform (DAR) and Mayor Leonardo Javier Jr. for concreting the Odiong-Guindapunan road.
Guindapunan is situated on top of Mount Mairig, some seven kilometers away from the town proper in this fourth class municipality. Residents here used to ride in a horse as their mode of transportation in the past as the place has steep slopes, sharp curves and dangerous for other kinds of vehicles especially on rainy days.
But with the said road now concreted, this village is already accessible to all kinds of vehicles. Hauling of farmers' products is easier now and a lot of opportunities were opened to residents here, said Simplicio Bahinti.
ARCP-II National Project Manager Jean Fornoles disclosed that in 2010 Mayor Javier was among the first and very few mayors who invested in the second phase of the Agrarian Reform Communities Project (ARCP-II) when DAR introduced it.
According to her, many mayors turned down the offer for they found the share of the LGU in the total project cost too big that they cannot afford to finance. But Mayor Javier thought otherwise, Fornoles added.
Under ARCP-II, for a fourth class municipality, the national government will provide only 40 percent of the project cost through a loan from the Asian Development Bank (ADB), while the LGU will shoulder the remaining 60 percent.
Fornoles further disclosed that Javier did not only commit to provide equity to one farm-to market road but wanted six road projects, a road opening and five road concreting, with an aggregate project cost of P84.5-million.
The concreting of the 2.64-kilometer Odiong-Guindapunan road was the second project completed and was turned over recently by DAR Assistant Regional Director Ma. Fe Malinao representing Regional Director Atty. Sheila Enciso who was then out of the region.
The remaining four other road projects are expected to be completed before the year ends.
During the said occasion Malinao reminded the LGU and the recipient villages to maintain the road in good condition within 10 years otherwise they will also be shouldering the 40 percent share of the national government thereby converting the grant into a loan.
In acceptance, Vice Mayor Michael Dragon Javier in behalf of the mayor, as the latter was recuperating after undergoing a kidney transplant, thanked DAR for the assistance and assured "we will take care of this wonderful gift".
In his message, he confirmed the stories of Mendoza and Bahinti as he himself witnessed how hard life was in this area which resulted to the mayor (his father) seeking the assistance of DAR through its Program Beneficiaries Development (PBD) as there are 1,437 agrarian reform beneficiaries (ARBs) here.
Meanwhile, Chief of the PBD Division Melecia Ong explained that the six road projects are also part of DAR's commitment to the Regional Convergence Initiative (RCI) with the Departments of Agriculture, Environment and Natural Resources, and Interior and Local Government wherein this town was chosen as the pilot area in Eastern Visayas.
Blood of slain Lumad youth by CAFGU is on Duterte's hand
By SANDUGO
September 6, 2017
QUEZON CITY – Lumad youth Obillo Bay-ao, 19, died 9:26 p.m. September 5, after eight hours of fighting for his life at the Davao Regional Hospital in Tagum City. Bay-ao was shot dead by a certain Ben Salangani, a member of the Citizen Armed Force Geographical Unit (CAFGU), a paramilitary group. He was a grade six pupil of Salugpongan Ta 'Tanu Igkanogon Community Learning Center (STTICLC) in Sitio Dulyan, Brgy. Palma Gil, Talaingod, Davao Del Norte.
"We mark Obillo Bay-ao's death with rage! It is another testimony to the mounting crimes of the US-Duterte regime against the national minorities," said Datu Jerome Succor Aba, chairperson of Suara Bangsamoro and co-chairperson of Sandugo.
Sandugo called for the punishment of Bay-ao's killer and the disbandment of the notorious paramilitary group even as it holds the US-Duterte regime accountable for the escalation of attacks against the national minorities as part of its all-out war and counterinsurgency policies and martial law declaration.
The national minorities – the Moro and indigenous peoples – are the hardest hit by Duterte's martial law and all-out war. "Our people are being killed, harassed, and almost wiped out by state attacks." There are at least 29 documented victims of extrajudicial killings among the national minorities from June 2016 to June 2017, excluding those killed in the Marawi siege.
Yesterday, the Sandugo second assembly indicted the US-Duterte for the intensifying fascist attacks against the national minorities and the worsening landgrab and plunder of resources in ancestral lands and territories, which may now lead to ethnocide.
"The President – who earlier recognized and promised to correct the hundreds of years of injustice against the national minorities – now embodies national oppression, which has caused the injustices to and oppression of the national minorities," the declaration stated.
The indictment came after hearing the regional reports of various national minorities all over the country. Some 2,500 national minorities from the Cordilleras, Cagayan Valley, Central Luzon, Mindoro, Quezon,Tanay, Palawan, Panay and the island of Mindanao are in Metro Manila for the assembly and Lakbayan 2017.
Return ALL ill-gotten wealth of the Marcoses, hold them accountable - Karapatan
Press Release
September 1, 2017
QUEZON CITY – "The Marcoses have become legends among thieves and they used public funds for their political and personal gains. All their ill-gotten wealth should be returned to the people. We should be vigilant against any compromise agreement of the Duterte administration with the Marcoses that enables their getting a free pass for all their crimes and their continuing political rehabilitation. This will only perpetuate the injustices they committed against the Filipino people," said Karapatan Deputy Secretary General Roneo Clamor, on statements of Pres. Rodrigo Duterte and Justice Secretary Vitaliano Aguirre that the Marcoses will return some of their ill-gotten wealth and that a compromise agreement is being arranged.
The Basel Institute of Governance/International Center for Asset Recovery (ICAR) estimated that around $5-$10 billion of Marcos ill-gotten wealth needs to be recovered from Switzerland and the US. As of 2009, only $658 million have been recovered.
Several compromise agreements have been initiated by previous administrations. In 1993, the Ramos government through then Presidential Commission on Good Government (PCGG) Chair Magtanggol Gunigundo, entered into a 75%-25% sharing agreement with the Marcoses. The Samahan ng Ex-Detainees Laban sa Detensyon at Aresto (SELDA), a group of Marcos' martial law victims that led the filing of the class action suit against the Marcoses in Hawaii, rejected the said arrangement as anomalous.
On September 13, 1995, while Imelda Marcos was appealing and contesting the US Federal Court decision before the US Court of Appeals in the class suit of human rights victims, Atty. Robert Swift, the court-appointed counsel of victims, and Gunigundo hatched a compromise agreement accepting a $150 million monetary settlement, in exchange for the dropping of the entire class suit. According to SELDA, Swift made this unilateral move, without adequate, thorough and genuine consultation with the victims. The martial law victims protested and Pres. Ramos was then forced not to sign the agreement.
On December 9, 1998, under the Estrada administration, the Philippine Supreme Court declared the December 28, 1993 agreement invalid, under which the PCGG had agreed with the Marcoses on a 75%-25% (75% for the PH government, 25% for the HR victims) split in the $150 million settlement. In February 1999, after SELDA's opposition before the US Hawaii Court Judge Manuel Real on the said settlement, Real finally nullified the $150 million compromise settlement agreement.
Under the Gloria Macapagal Arroyo administration, in 2004, P544 million were used by Arroyo and the Department of Agriculture, in the DA's fertilizer program, which was exposed as a scam, and serious allegations were made on the Arroyo's diversion of said funds to her presidential campaign.
"Almost all administrations have worked in cahoots with the Marcoses to absolve them of their grave crimes against the people, and to line up their pockets with a few millions. With Duterte's facilitation of the political rehabilitation of the Marcoses, through the hero's burial of dictator Ferdinand Marcos and political horsetrading with the Marcos family, it is very important that the Filipino people, especially the martial law victims and their families, keep a close watch on what transpires between the Duterte administration and the Marcoses," Clamor concluded.
"Return every centavo of it, but plunderers and criminals they remain," SELDA says of reported Marcoses' return of ill-gotten wealth
Press Release
August 30, 2017
QUEZON CITY – "The Marcoses should return all ill-gotten wealth, every centavo of it, but plunderers and criminals they remain."
Thus said Danilo dela Fuente, Marcos' martial law victim and spokesperson of SELDA (Samahan ng Ex-detainees Laban sa Detensyon at Aresto), reacting to statements by Pres. Rodrigo Duterte that the Marcoses will return some of their ill-gotten wealth.
"But for us, martial law victims, this does not mean absolution from their crimes of plunder, human rights violations and massive corruption. We see this as a token and deceptive gesture of a family seeking to complete their political rehabilitation," said dela Fuente.
Dela Fuente is one of the named plaintiffs in the class action suit filed against the Marcoses in Hawaii in 1986. US Federal Courts upheld that the Marcoses are accountable for grave human rights abuses under the Marcos 21-year reign.
"The Marcoses should be in jail for their crimes against the Filipino people and for the destruction and plunder of the economy they have committed for 21 years. They should not go scot-free. The political accommodation and rehabilitation by the Duterte government is unacceptable," added dela Fuente.
Selda said the fact that the Marcoses continue to weave a string of lies means this alleged plan to return ill-gotten wealth is part of their unfinished scheme to return to power in Malacanang, through the dictator's son Bongbong Marcos.
"This seemingly new development is, in fact, hideous and doublespeak. They continue to deny that this amassed wealth is ill-gotten, and even have the gall to make up stories again and again. They plundered the country and made the economy worse as ever before. Their continuous denial of the plunderous reign of the Marcoses is the reason why we shouldn't be plainly accepting these statements," said Dela Fuente.
The group urged Pres. Duterte to disclose details of what seemed like "negotiations" with the Marcoses.
"The president should stop speaking on behalf of the Marcoses and disclose to the people whatever has transpired in these talks. Duterte should not think the people have forgotten how he and the Supreme Court have allowed a hero's burial for Marcos. He should be wary of the people's protest," dela Fuente.
In the end, the Marcoses should be made accountable for their crimes of plunder. This development will in no way exonerate the Marcoses' crime against the people.
"It seems like a fix designed to fool the martial law victims and the people to make the plunderous and murderous Marcoses look like benevolent family to complete their rehabilitation and revision of history," said dela Fuente.
SELDA rejects the alleged settlement by Duterte and the Marcos family and their justifications as to why they hid the loot.
"Not in the name of the victims of martial law, not in the name of the people who demand justice for the Marcoses crimes against the people that Pres. Duterte is acting like a stooge of the dictator's family. Never again," said dela Fuente.
Marawi's missing: Red Cross website helps reunite families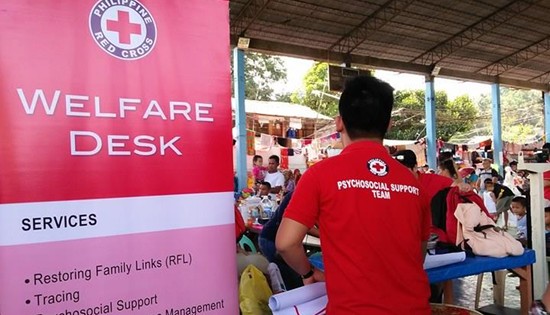 By ICRC
August 30, 2017
MANILA – It has been more than three months since fighting broke out in Marawi City, in Lanao del Sur province, but for families whose loved ones are still missing, the wait seems never-ending. In an effort to reunite these families, the Philippine Red Cross (PRC) and the International Committee of the Red Cross (ICRC) recently launched an online page (https://familylinks.icrc.org/Philippines) that helps trace missing persons. On the occasion of the International Day of the Disappeared (30 August), the ICRC wishes to draws attention to the plight of these families and stresses that people have a right to know what happened to their missing relatives.
Camilla Matteucci, head of the ICRC team working with the PRC to reunite families in the Philippines, said there are many possible causes of separation during a conflict situation. "People could be trapped by the fighting, detained or even killed. They could be in an evacuation centre but not have the means to contact their kin. At the end of the day, it's important to remember that families have a right to know what has happened to their loved ones, and wherever possible, be reunited with them. Our tracing website offers a platform for people to share information about their missing relatives and request our help in tracing them."
The website supplements existing tracing services such as the 12 PRC welfare desks in evacuation centres in Marawi and Iligan cities. The information shared by families with the Red Cross remains confidential. Since the beginning of the Marawi conflict, the Red Cross has received 402 tracing requests, 179 of which are still being looked into.
Aisha (not her real name), whose husband went missing in Marawi, said: "With each day that the fighting continues, our hope diminishes. We praise Allah if my husband is still alive. But if he is dead, then we need to recover his remains so that we can bury him according to our religion and traditions. Every Maranao family looking for a loved one wishes for this."
Reuniting families in times of conflict or disaster is a key service that is always provided by the International Red Cross and Red Crescent Movement. In Marawi, the ICRC and the PRC have been providing technical and material support to help the authorities manage dead bodies. Besides this, the PRC has provided psychosocial support to more than 10,400 people, including children, affected by the conflict.
The ICRC is a neutral, impartial and independent humanitarian organization whose exclusively humanitarian mission is to protect the lives and dignity of victims of armed conflict and other situations of violence and to provide them with assistance. The ICRC also endeavours to prevent suffering by promoting and strengthening humanitarian law and universal humanitarian principles.