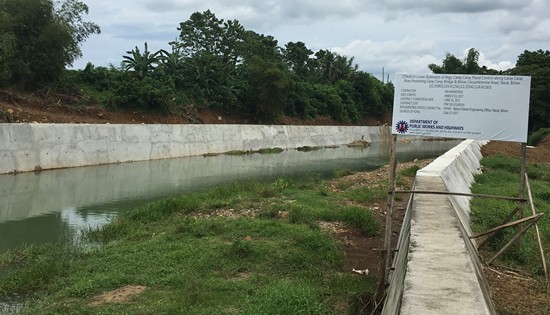 Newly completed Construction of Flood Control along Caray-caray River Protecting Caray-caray Bridge and Biliran Circumferential Road, Naval, Biliran. The project was completed on July 10, 2017 with a contract cost of P20M under BM Marketing. The project was prioritized because of its necessity to mitigate flooding along Caraycaray River and to minimize flood related casualties and damage to properties crops and surrounding environment.
DPWH-BDEO fast-tracks the construction of on-going projects
Press Release
August 25, 2017
NAVAL, Biliran – The Department of Public Works and Highways (DPWH) - Biliran District Engineering Office (BDEO) has completed 36 out of 57 lined-up projects under FY 2017 with a total allotment budget of P940.730M.
Engr. Salvador G. Regis,Jr. , Chief of Construction Section said that they are fast-tracking the completion of 18 on-going projects to attain the target date of completion of each projects.
Biliran DEO's FY 2017 Infra Program consists of twenty (20) projects under the National Road Network Services; five (5) under the Flood Management Services, one (1) project under the Maintenance and Construction Services of other Infrastructure; and thirty-one (31) projects under the Local Infrastructure Program with a total of 57 projects based on GAA.
As of July 31, 2017, DPWH-BDEO posts 35.30% with only three projects Not-Yet-Started (NYS). According to Engr. Regis these NYS projects have just bid out and undergoing post qualification while one is for revision and approval under the District Engineer's authority.
BDEO's major projects for 2017 includes the P128.667M Concrete/ Reconstruction of Maripipi Circumferential Road, P61M Slope protection project along Naval-Caibiran Cross Country Road, and P54.939M Rehabilitation including drainage and Right-Of-Way(ROW) Acquisition of Access Road Leading to Naval Port, Naval, Biliran.
Another major project prioritized for FY 2017 is the road widening including drainage of Biliran Circumferential Road of road sections in Brgy. Tucdao, Kawayan, Brgy. Virginia, Culaba, Brgy. Bool, Culaba, Sto.Riverside to Sto. Sagrada, Naval, Brgy. Burabod, Biliran and Brgy. BalaquidCabucgayan, Biliran costing P172.192M with total length of 5.940km and another P125.588M road widening project of road sections in Brgy. Lumbia, Biliran, Brgy. Burabod, Kawayan, Brgy. Mapuyo, Kawayan, Brgy.Tucdao, Kawayan, and Brgy. Kaulangohan,Caibiran, Biliran with a total length of 4.281km.
Engr. Regis said that the P172.192M and P125.588M widening project along BCR have just started in the month of July and now being closely monitored along with other on-going projects.
The big amount projects were started late due to late approval of the "request to bid and implement" at the Central Office, Manila.
2017 Online Journalism Awards finalists and James Foley recipient announced
Via MARKETWIRE
August 25, 2017
WASHINGTON, DC – Finalists for the 2017 Online Journalism Awards, representing a wide range of nonprofit, public, academic, major media and emerging technology organizations from around the globe, were announced today by the Online News Association.
Thirteen of the awards now come with $58,500 in prize money, courtesy of John S. and James L. Knight Foundation, the Gannett Foundation, the University of Florida College of Journalism and Communications and Journalism 360. These awards honor data journalism, visual digital storytelling, investigative journalism, immersive storytelling, public service, technical innovation, student journalism and general excellence.
In 2017, two new categories have been added to honor evolving forms of journalism, both of which received a number of impressive entries: Excellence in Audio Digital Storytelling, which honors exceptional efforts in telling stories through digitally-focused audio, including podcasts, audio-centric online works and other emerging media; and Excellence in Immersive Storytelling, which honors exceptional efforts in telling stories through digital, immersive media: virtual reality, augmented reality, mixed reality, 360 video and other emerging media.
A special selection committee also granted the James Foley Award for Conflict Reporting to photojournalist and multimedia producer Tara Todras-Whitehill. She is the third recipient of the award, which honors journalists reporting under the most challenging conditions. Todras-Whitehill has been documenting stories of vulnerable populations – especially women and refugees – in the Middle East region for over a decade.
"The selection committee felt Tara's work sets a sky-high bar for digital journalism that's practiced in challenging conditions and takes on critical stories and issues," said Eric Carvin, Social Media Editor at The Associated Press and chair of the committee. "She's exhibited a rare combination of bravery, digital savvy and eye-catching visual skills, and her work as co-founder of Vignette Interactive has driven storytelling in exciting new directions across the Middle East."
The winners will be announced at the 2017 Online News Association Conference and Online Journalism Awards Banquet on Saturday, Oct. 7, in Washington, D.C. Joshua Johnson, host of WAMU and NPR's 1A, will emcee the awards ceremony.
A group of 119 industry-leading journalists and new media professionals teamed up to screen 1,166 entries and select semi-finalists. Thirty judges representing a diverse cross-section of the industry then conferred to determine finalists and winners.
The finalists, many of whom push the envelope of innovation and excellence in digital storytelling and distribution, are:

Breaking News, Medium Newsroom
The Dallas Shootings, KERA
Tragedy in Dallas, NBCDFW.com
Gatlinburg Fire, The Knoxville News Sentinel / USA TODAY NETWORK - TENNESSEE

Breaking News, Large Newsroom
Dallas Police Ambush, Dallas Morning News / DallasNews.com
Orlando, The New York Times
Terror Attack in Nice, France, The New York Times

Breaking News, Small Newsroom
No finalists

Planned News/Events, Small Newsroom
The Colorado Voter's Guide to the 2016 Election, Colorado Public Radio News
CrossCheck France, First Draft

Planned News/Events, Medium Newsroom
OPB Election 2016, OPB, Oregon Public Broadcasting
Election 2016, WBUR

Planned News/Events, Large Newsroom
NPR's Coverage of Election Night 2016, NPR
Electionland, ProPublica and the Electionland Coalition
WSJ: Election Graphics, The Wall Street Journal

Explanatory Reporting, Small Newsroom
Middle East Lobbying: The Influence Game, Al-Monitor
The Refugee Archipelago: The Inside Story of What Went Wrong in Greece, Refugees Deeply / News Deeply
Game of Genomes, STAT
Sold Out, The Texas Tribune

Explanatory Reporting, Medium Newsroom
Trans in Iowa: Fighting for Visibility, Des Moines Register
What Happened to Us?, Milwaukee Journal Sentinel
Draining Oregon, The Oregonian / OregonLive
Under Our Skin, The Seattle Times

Explanatory Reporting, Large Newsroom
The Voters Who Gave Trump the White House, Bloomberg News
Vanishing, CNN Digital
Weigh Anchor, The Globe and Mail
Mobile Power, Human Toll, The Washington Post

Topical Reporting, Small Newsroom
Truckbeat, Localore: Finding America at WUOT
Opioid Coverage, STAT
Sold Out, The Texas Tribune

Topical Reporting, Medium Newsroom
Who Is Steve Bannon?, NowThis
Breaking the Black Box, ProPublica
Standing Rock and Beyond, Reveal from The Center for Investigative Reporting and Inside Energy
Bridging the Divide, The Baltimore Sun

Topical Reporting, Large Newsroom
ISIS from All Angles, CNN Digital
Guardian US: Outside in America, Guardian News & Media
Bullied By the Badge, HuffPost and the Hechinger Report
Trump Charities, The Washington Post

Online Commentary
Honoring Those Lost to the Oakland Warehouse Fire, KQED
Make It Stop, The Boston Globe
Race/Related, The New York Times
Vox First Person, Vox Media

Sports, Small/Medium Newsrooms
Berlin Marathon 2016 - How Fast Your City Runs, Berliner Morgenpost
The Gravity-Defying Physics of Simone Biles, Quartz

Sports, Large Newsroom
The Art of Letting Go, ESPN The Magazine
Francesco Totti King of Rome, La Repubblica
Rio Olympics, The New York Times
Marc Spears Sports, The Undefeated

Feature, Small Newsroom
Dope Sick, STAT
AMERICA RELOADED: The Bizarre Story Behind the FBI's Fake Documentary About the Bundy Family, The Intercept | First Look Media
The Accusation, The Marshall Project
Wear and Tear, Undark

Feature, Medium Newsroom
A Year At Encina, Capital Public Radio
The Business of Inequality, Harvard Business Review
My Four Months as a Private Prison Guard, Mother Jones
A Search for Life on Roads of Death, San Antonio Express-News

Feature, Large Newsroom
Inside the Massive Tunnel 60 Feet Below L.A., Los Angeles Times
Central African Republic, National Geographic
The Fine Line, The New York Times
Understanding Hillary Clinton, Vox Media

The David Teeuwen Student Journalism Award, Small
City of Smoke: Air Pollution in the Land of the Eternal Blue Sky, UC Berkeley Graduate School of Journalism
A Town Divided, UC Berkeley Graduate School of Journalism

The David Teeuwen Student Journalism Award, Large
Death Denied, The Medill Justice Project
Cuba's New Wave, The University of North Carolina at Chapel Hill's School of Media and Journalism

Pro-Am Student Award
Surviving the City, International Reporting Program, University of British Columbia, The Guardian, BBC News, Toronto Star
Turning Tides: The Story of the Salton Sea, USC/JOVRNALISM and The Desert Sun staff

The University of Florida Award for Investigative Data Journalism, Small/Medium Newsrooms
Boomtown, Flood Town, ProPublica and The Texas Tribune
Shoot to Kill, The Baltimore Sun
Trial and Terror, The Intercept | First Look Media

The University of Florida Award for Investigative Data Journalism, Large Newsroom
Big Money, Unlikely Donors, Los Angeles Times
Bias on the Bench, Sarasota Herald Tribune
Why Cops Shoot, Tampa Bay Times / tampabay.com
Unfounded, The Globe and Mail
Unnatural Causes, The Washington Post

Excellence and Innovation in Visual Digital Storytelling, Small Newsroom
Future Cities, Future Cities
TruckBeat, Localore: Finding America at WUOT

Excellence and Innovation in Visual Digital Storytelling, Medium
Titletown, TX, McClatchy
Boomtown, Flood Town, ProPublica and The Texas Tribune

Excellence and Innovation in Visual Digital Storytelling, Large Newsroom
Bound. Tortured. Killed., Toronto Star
Fragments of a Life: A Curbside Mystery, The New York Times
A New Age of Walls, The Washington Post

Excellence in Audio Digital Storytelling, Small
Frontier of Change, Independent | Producing Station: KNBA
The Long Shot, Science Friday
Signal Podcast, STAT

Excellence in Audio Digital Storytelling, Medium/Large Newsroom
Containers, Fusion Media Group
The Wall, Reveal from The Center for Investigative Reporting
Stand at the Edge of Geologic Time, NPR

Excellence in Immersive Storytelling
Cash Cow, Al Jazeera English
After Solitary, FRONTLINE
Fight for Falluja, The New York Times

Gannett Foundation Award for Technical Innovation in the Service of Digital Journalism
BBC News Labs: Stitch, BBC
APIs and Data from ProPublica's Represent, ProPublica
Live Notifications, The Guardian US Mobile Innovation Lab

The Al Neuharth Innovation in Investigative Journalism Award, Small Newsroom
Drinks, Dinners, Junkets and Jobs: How the Insurance Industry Courts State Commissioners, The Center for Public Integrity
Code of Silence, The Intercept | First Look Media
Jay Peak's Path to Fraud, VTDigger.org

The Al Neuharth Innovation in Investigative Journalism Award, Medium Newsroom
The Rent Racket, ProPublica
Against Their Will: Sexual Exploitation in Pot Country, Reveal from The Center for Investigative Reporting
Lax Safety at the Shipyards, Reveal from The Center for Investigative Reporting
Toxic Armories, The Oregonian / OregonLive
Quantity of Care, The Seattle Times

The Al Neuharth Innovation in Investigative Journalism Award, Large Newsroom
Car Insurance, ProPublica and Consumer Reports
Maternal Mortality, ProPublica and NPR
Doctors & Sex Abuse, The Atlanta Journal-Constitution
Unfounded, The Globe and Mail
Unlawful Coercion in Psychiatric Wards, VG

Knight Award for Public Service
Death Behind Bars, Reno Gazette-Journal
Doctors & Sex Abuse, The Atlanta Journal-Constitution
Toxic Armories, The Oregonian / OregonLive
Fire and Death in Canada's First Nations, Toronto Star

General Excellence in Online Journalism, Small Newsroom
Nexo Jornal, nexojornal.com.br
PublicSource, publicsource.org
STAT, statnews.com
The Marshall Project, themarshallproject.org
The Texas Tribune, texastribune.org

General Excellence in Online Journalism, Medium Newsroom
Le Temps, letemps.ch
ProPublica, propublica.org
San Antonio Express-News, expressnews.com

General Excellence in Online Journalism, Large Newsroom
PolitiFact, politifact.com
The Globe and Mail, theglobeandmail.com
The New York Times, nytimes.com

The judges for finalists were:
Chris Amico, Interactive Editor, FRONTLINE
Ted Anthony, Director of Asia-Pacific News, The Associated Press
Trushar Barot, Digital Launch Editor, BBC Indian Languages
Heather Bryant, Director, Project Facet
Matt Carroll, Professor, Northeastern University
Flor Coelho, New Media Research and Training Manager, LA NACION
Jenn Crandall, Artist-in-Residence, Alabama Media Group
Meghann Farnsworth, Engagement Editor, Recode
Kim Fox, Managing Editor, Audience, Philadelphia Inquirer/Philly.com
Joshua Hatch, Assistant Managing Editor, Data and Interactives, The Chronicle of Higher Education
Karin Hedensjo Pettersson, Political Editor-in-Chief, Aftonbladet
Robert Hernandez, Associate Professor of Professional Practice, USC Annenberg School of Journalism
Liz Heron, Independent Digital Strategist
Elise Hu, International Correspondent, NPR
Rich Jaroslovsky, Vice President for Content & Chief Journalist, SmartNews Inc.
S. Mitra Kalita, VP, Programming, CNN Digital
Scott Klein, Deputy Managing Editor, ProPublica
Martin Kotynek, Deputy Editor-in-Chief, ZEIT ONLINE, Berlin
Jacqui Maher, Head of Interactives, Vogue International
Rebekah Monson, Co-founder, VP product, WhereBy.Us
Miguel Paz, Professor, Graduate School of Journalism, City University of New York (CUNY)
Andy Pergam, Vice President, Video and New Ventures, McClatchy
Rhyne Piggott Editor, Data and Interactive Journalism @ WNYC
Mariana Santos, Founder, Chicas Poderosas
Michelle Srbinovich, General Manager, WDET, Detroit's public radio station
Nabil Wakim, Director of Editorial Innovation, Le Monde, Paris
Aaron Williams, Graphics Reporter, Washington Post
Hannah Wise, Engagement Editor, The Dallas Morning News
Tim Wong, Sr. Director, UX & Design
Jenny Ye, Data Director, WNYC
Judges were recused from discussing categories in which their own organizations were entered.
Launched in 2000, the OJAs are the only comprehensive set of journalism prizes honoring excellence in digital journalism.
PH registers strong first semester performance – Lopez; total exports up by 14%, reaches USD 31 billion
By DTI-OSEC-PRU
August 24, 2017
MAKATI CITY — Philippine (PH) exports weathered a slowdown in external demand in June to register a strong first semester performance, the country's trade chief said.
"We always ensure that exports are both resilient and diversified in terms of products and markets," Department of Trade and Industry (DTI) Secretary Ramon Lopez said.
Total merchandise exports for the period January to June 2017 stood at USD 31.04 billion, expanding by 14% over the USD 27.33 billion posted during the same period in 2016.
Said expansion is seen almost among all the country's major export markets, with the People's Republic of China (including Hongkong SAR) as the country's top export destination, followed by Japan and the United States (US), according to him.
Electronics, non-electronics show off
Preliminary data from the Philippine Statistics Authority showed that the 15% growth of Non-electronics exports outpaced the 12.05% rise in Electronics, accounting for almost equally at 50.1% and 49.9%, respectively, of total merchandise exports.
"The stronger performance of Non-Electronics products vis-à-vis Electronics reflects DTI's efforts to diversify merchandise exports and improve market mix," Sec. Lopez added.
For the first semester of 2017, receipts of the following non-electronics increased: Mineral products (81%), Chemicals (11%), Coconut (78%), Footwear (70%), Furniture & Fixtures (43%), Processed Food & Beverages (29%), Machinery & Transport Equipment (24%), Garments (23%), Travel Goods and Handbags (8%), and Iron and Steel (4%).
DTI Undersecretary and Board of Investments (BOI) Managing Head Ceferino Rodolfo confirmed that non-electronics have been accounting for a bigger share of total exports from an average of 40% in 2006-2010 to a 54% average in 2011-2016.
"DTI has been partnering with relevant agencies, industry associations as well as specific exporters in improving PH leadership in certain sectors such as in activated carbon, oleochemicals, bananas, pineapples, tuna, and carrageenan/seaweeds and other algae, where assistance to improve quality and quantity of supply is top-most of the agenda," said Usec. Rodolfo.
DTI also creates more conducive exporting environment for sectors that have crossed or is close to crossing the USD 1 billion value of exports such as travel goods, handbags, footwear and apparel, aircraft parts, coconut, transport services, construction materials such as builders' joinery and carpentry of wood including wood panels.
Expanding exports, shifting markets
In terms of PH markets, PH's expansion in exports can be seen in almost all of PH's export partners, with PROC (including Hongkong SAR) being top export destination, followed by Japan, the United States (US), Singapore, Korea, Thailand, Germany, The Netherlands and Taiwan. PH shipments to almost all these country destinations increased.
According to Usec. Rodolfo, it is worth noting that currently, ASEAN and East Asian neighbors accounted for about 63% of total PH exports, while the US and the European Union (EU) accounted almost equally for 14.7% and 14.9%, respectively, as a result of our pursuit of active trade relations due to opportunities resulting from ASEAN's free trade agreements with China, Korea, Australia and India.
"We have been seeing in recent years the gradual shift in market distribution leading to a balance in market diversity," said Sec. Lopez.
While the US continues to be one of PH's top export destinations, its share to PH total exports has declined from 8% in 2006-2010 to 6% in 2011-2016. Stronger relations with PH neighbors made ASEAN a consistent market for bulk of our products.
China, in recent years, has also emerged as a consistent top market for PH export products, validating PH's pursuit of an independent foreign policy as the country opens up to new trade partners and finds new markets and new value chain linkages for trade and investments. China accounted for the fastest growth rate at 34%.
"Recent data also showed exports to EU posted strong growth at about 36% due to greater number of utilization of Generalized Scheme of Preferences Plus (GSP+) trade privileges where over 6,000 product lines have 0% tariff duty," said Sec. Lopez.
The trade chief added that the immense goodwill shown by President Rodrigo Duterte to other nations has resulted to re-strengthened ties not only with China but also with the Middle East. The benefits of special trade arrangements with EU also led to faster export growth in many countries.
Semiconductors drive electronic growth
Semiconductors, which accounted for 72% share of total electronics exports and 36% share of total PH exports, expanded by 12%, driving the growth in electronics. The share of electronics sector to total merchandise exports has been reduced from an average high of 60% in 2006-2010 to 46% average for 2011-2016.
The strong global growth in 2017, particularly the surge of global electronics demand, augurs well with the implementation of the regional industrialization plan of the CALABARZON area, which will diversify electronics exports especially in the production of auto electronics parts and components and business expansion towards merging manufacturing with IT through engineering services outsourcing and other areas.
Electronics exports are concentrated in the CALABARZON area, specifically in Laguna, where sales reached almost USD 7 billion for a remarkable growth rate of 146%, and in Cavite, with exports valued at USD 3 billion for a 72% growth. Together, Laguna and Cavite accounted for almost 60% of total electronics exports.
"We are off to a good first semester. The second semester should see us further raising our game to boost PH exports for a bigger share of the global market," Sec. Lopez concluded.
Army troops encounter with NPA in Burauen, Leyte
By DPAO, 8ID PA
August 15, 2017
CAMP LUKBAN, Catbalogan City – A 20-minute fire fight ensued between the Scout Platoon from 78th Infantry (Warrior) Battalion and the communist terrorists at Barangay Roxas, Burauen, Leyte on August 15, 2017 at 10:00 o' clock in the morning.
This resulted to the troops' recovery of one (1) back pack, one (1) sack of rice, and subversive documents from the communist terrorists. No casualty was reported on the government side and undetermined number of casualties on the enemy side.
The successful seizure of the enemy encampment is the result of the mutual cooperation of the villagers in the said barangay about the presence of the NPA rebels that continue to extort, recruit and harm the less fortunate.
Maj. Gen. Raul M Farnacio, Commander, 8ID commended the people of Burauen for their untiring cooperation with government forces against the presence of the NPA terrorists. Rest assured that the 8ID remains steadfast in its unending commitment to serve the people and to become one of the catalysts for peace and development in Eastern Visayas.
Duterte regime's 2018 budget is war chest vs. Filipino people
By KARAPATAN
August 13, 2017
QUEZON CITY – In time for the budget hearings of the Department of National Defense at the Committee on Appropriations at the House of Representatives, Karapatan joined the Save Our Schools (SOS) network and various people's organizations in a protest action against the proposed 2018 budget, particularly items in furtherance of fascist and anti-people policies of the Duterte administration.
Cristina Palabay, Secretary General of Karapatan, said that, according to the alliance's initial study of the 2018 proposed budget, "more than P300 billion is being proposed to fund the Duterte administration's three wars that heavily impact on the Filipino people, particularly the poor - the war on drugs, war on terror and war against the New People's Army."
Marked increase is noted in the proposed budget allocation for the Office of the Presidential Adviser on the Peace Process, which pursues the disarmament, demobilization and reintegration (DDR) approach of the United Nations, as adopted by the Duterte administration on its so-called peace processes. Such approach, Karapatan said, is criticized by progressive human rights and peace advocates worldwide as a palliative and ineffective way to address the root causes of armed conflicts. "The DDR strategy plays right into the whole counter-insurgency objectives of the Duterte regime, using combat operations and deceptive schemes to pacify the people and revolutionary movements, instead of genuinely addressing poverty, inequality and transgressions on national sovereignty," Palabay said.
Proposed 2018 intelligence and confidential funds also increased from 200% to 400%, as compared to the 2016 actual budget. Moreover, out of the proposed 2018 proposed budget of the PNP, at least PhP94 billion is allocated for conduct of operations against so-called dissidents, subversives, lawless elements, and organised crime syndicates.
"These funds will be used by AFP Chief Eduardo Año and PNP Director General Ronald dela Rosa to operate on perceived and make-believe enemies of the Duterte regime – from small-time drug users/peddlers tagged by Duterte as anathema to public security, to imaginary terrorists and revolutionary groups tagged as enemies of the State. The State's limited and deficient understanding of the roots of the social ills prevalent in Philippine society has allowed for the funding and continuation of deceptive and dubious policies meant to mask intelligence and other military and police operations.
The State's security machinery, led by Año, Esperon, Lorenzana and Dela Rosa, are clearly uninterested in solving the roots of the conflict. Instead, they seem perfectly content in their ignorance and mindless targeting of civilians and progressive organizations. As in the Aquino III administration, these funds will not only be used to justify the killing of civilians, but these will be used to further the money-making schemes of the soldiers and police who are just out for the bounties," Palabay added.
Karapatan said that "instead of funding such bloody campaigns that result in the increased violation of people's rights, the Duterte regime should reallocate public funds to key economic and social reforms that will genuinely address the root causes of societal problems.
| | |
| --- | --- |
| FUND | 2018 (Proposed) |
| DND | 144,963,297,000 |
| DILG - PNP | 131,529,141,000 |
| DILG – Office of the Secretary | 6,980,301,000 |
| DILG - Bureau of Jail Management and Penology | 14,294,897,000 |
| DILG - Local Government Academy | 251,994,000 |
| DILG - National Police Commission | 1,707,303,000 |
| DILG - Philippine Public Safety College | 1,800,826,000 |
| NICA | 788,472,000 |
| OPAPP | 7,677,005,000 |
| NSC | 186,331,000 |
| Budget for PAMANA | 7,000,000,000 |
| INTELLIGENCE FUNDS (except PNP-DILG, DND and NICA allocations, which are included in their agency budgets) | 3,117,010,000 |
| CONFIDENTIAL FUNDS | 1,892,488,000 |
| TOTAL | 322,189,065,000 |
Party-list system rich in contradiction – Kontra Daya
By Kontra Daya
August 12, 2017
QUEZON CITY – Latest data on the net worth of the members of the House of Representatives (HOR) show that the party-list system is rich in contradiction and poor in execution.
Given that three party-list representatives are among the 10 richest legislators, it is clear traditional politicians and political dynasties have benefited most from a Supreme Court decision four years ago. It may be recalled that on April 5, 2013, the SC, voting 10-2-1, said that "National parties or organizations and regional parties or organizations do not need to organize along sectoral lines and do not need to represent 'any marginalized and underrepresented' sector."
In a statement last year prior to the 2016 elections, Kontra Daya already stressed that this SC decision "makes it even harder for grassroots based party-list groups to gain entry into Congress as they face further marginalization."
That the richest legislator is currently Rep. Michael Odylon Romero (1-PACMAN) with a staggering net worth of ₱7.01 billion makes a mockery of the Party-list System Act (Republic Act No. 7941) enacted in 1995. The law, after all, is supposed to "enable Filipino citizens belonging to the marginalized and underrepresented sectors, organizations and parties, and who lack well-defined political constituencies but who could contribute to the formulation and enactment of appropriate legislation that will benefit the nation as a whole, to become members of the House of Representatives (Sec. 2, Declaration of Principles)."
Even if Kontra Daya also observes that nine out of the 10 poorest legislators are also party-list representatives, it is imperative for the SC to review its 2013 decision and reaffirm what then Justice Artemio Panganiban wrote as regards Bagong Bayani v. Comelec in 2001.
Sixteen years ago, Panganiban stressed that the Party-list System Act which was "crafted to address the peculiar disadvantages of Payatas hovel dwellers cannot be appropriated by the mansion owners of Forbes Park."
The ruling elite, especially the political dynasties, should not appropriate the party-list system to add more seats among themselves, paying lip service to representing the marginalized and underrepresented. The party-list system belongs not to them but to those they claim to represent but continue to exploit.
CARMUDI launches Road Safety Program in Cebu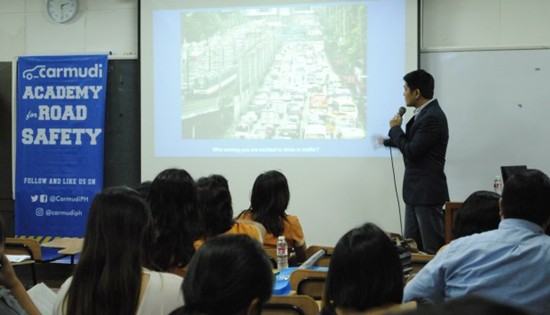 Press Release
August 11, 2017
TAGUIG – Global Online Car Platform Carmudi has officially launched its CSR initiative, which aims to uplift and educate young drivers on road safety.
Held at Cebu Doctors' University in Mandaue, Cebu, the Carmudi Academy for Road Safety (CARS) program is designed to create awareness and help students (particularly in Universities and Colleges) elevate their basic understanding of road safety.
During the event, Kris Lim, Head of PR and Marketing of Carmudi Philippines said that the CARS program is focused on three basic aspects, which every students need to have-right knowledge, right skills and right attitude.
Lim shared insights about the stunning figures of road accidents in the country. He explained that there's a huge number of the motoring public (composed of drivers, pedestrians and commuters) lack the basic understanding on road signs, markings, traffic rules and regulations, has seemingly insufficient skills on defensive driving road scenarios, as well as unruly behavior while on the road.
"These three components are very significant on what we will be teaching from the students. This is not a one-time seminar and workshop for schools, we are serious to continue and spread road safety awareness, said Lim.
According to him, while waiting for the pending proposal to include road safety education as curriculum in schools and universities, they have started the program to provide a refresher course and additional knowledge to their target areas to beef up drivers at an early age.
Last 2014, Representatives from the Lower Congress filed house Bill 4160 (of Representatives Rufus and Maximo Rodriguez) to include road safety curriculum at the elementary and secondary learning institutions. On the other hand, Senate has received a similar proposal (Senate Bill 1231 filed by Senator Grace Poe) in November 2016.
Further, the Automobile Association Philippines (AAP) – a constant partner of Carmudi Philippines in their road safety efforts – took part in the inauguration of the CARS program.
Through AAP Advocacies Manager Cynthia Reyes, the national auto club provided the participants an overview of the Republic Act 4136 – also known as the Land Transportation and Traffic Code – and showed scenarios which yield to road crashes.
Reyes said that they are looking forward to future collaborations with Carmudi, who has shared their commitment in making roads safer.
"The AAP is truly honored to have been invited to Carmudi's Academy for Road Safety. We are happy with the partnership that we have established with Carmudi who has been continuously making efforts to teach the public about traffic discipline and road safety. We hope to continue this proactive collaboration with Carmudi as we share a firm commitment to safer roads throughout the country," Reyes said.
Carmudi forged partnership with AAP that also led to assisting the club in the reproduction of copies of the RA 4136, which was also given to the participants.
Aside from AAP, Carmudi Philippines also invited Cebu Road Heroes (CRH) as road safety partner to present the latest road crash scenarios that is happening in their area.
Prior to CARS, Carmudi Philippines has been advocating road safety efforts in the country. Late last year, Carmudi made their debut CSR program in Taguig, successfully made in partnership with Turbo Zone. The event was concluded with hundreds of students in attendance.
Meanwhile, Carmudi Philippines Chief Operating Officer Cholo Syquia expressed optimism on their current efforts, saying that they are looking forward to safer roads sooner than they expect.
"We hope that this is a good start and will continue to have a longing effect, not just to the students but to everyone that they will interact with," Syquia noted.
Aid reaches 7,000 home-based evacuees of Marawi fighting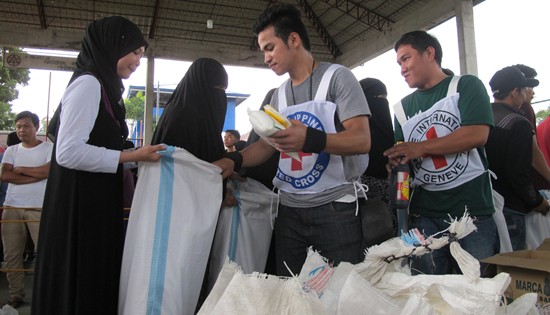 By ICRC
August 11. 2017
MANILA – The ongoing conflict in Marawi City in Lanao del Sur province has displaced thousands of people, with more than 77,000 fleeing to hard-to-reach areas along the eastern shore of Lake Lanao. The International Committee of the Red Cross (ICRC), in partnership with the Philippine Red Cross, has just completed from August 9-10 an aid distribution among 7,000 displaced people in Tamparan municipality.
Though aid has started to arrive, much more is required to meet the needs of people who have fled to this area when the fighting erupted on 23 May. Unlike those who fled towards the north or west of Marawi, displaced families along the eastern shore of Lake Lanao have not received regular help owing to access, logistical and security issues.
"Displaced families on this side of the lake continue to struggle with very limited food supplies," said Tomoko Matsuzawa, head of the ICRC office in Cotabato City. "Many of them have been staying with relatives for nearly three months. They have hardly any income, and their host families' resources are also running low."
Complementing the aid delivered by the authorities, the ICRC focused its distribution on evacuees staying with their relatives, who have been underserved till now. The organization distributed a half-month food ration and household essentials, i.e. 25 kg of rice, 12 cans of sardines, 1 litre of cooking oil, 1 litre of soy sauce, 1 kg of sugar, 500 g of salt, two jerry cans to store water, one blanket and one mosquito net per family.
Among the thousands who have received ICRC help is Asliya Casanali, a young mother of three from Marawi City who now sells spices in Tamparan market to try to make ends meet. Her husband was a tricycle driver in the city until the fighting broke out. "Minsan kapag walang ulam, kanin na lang. Hindi namin naranasan yun dati (When there is nothing else available, we make do with rice. We had never faced such a situation before)," she said.
In Tamparan, the ICRC has also been providing the public hospital with essential medical supplies to handle the sudden influx of people in need of medical attention. Its engineers have also set up a mobile water-purification system to improve the supply of drinking water in the hospital compound.
In the coming weeks, the ICRC will continue its efforts to help the thousands of displaced people along the eastern shore of Lake Lanao.
The ICRC is a neutral, impartial and independent humanitarian organization whose exclusively humanitarian mission is to protect the lives and dignity of victims of armed conflict and other situations of violence and to provide them with assistance. The ICRC also endeavours to prevent suffering by promoting and strengthening humanitarian law and universal humanitarian principles.
DTI, TESDA ink MOA to offer entrepreneurship trainings for TESDA grads
By DTI-ROG
August 11, 2017
MAKATI CITY – As part of the agency's thrust to increase awareness on the positive gains of entrepreneurship, the Department of Trade and Industry (DTI) and Technical Education and Skills Development Authority (TESDA) link up to provide TESDA graduates with access to trainings on entrepreneurship to help generate to equip them with the necessary skills on entrepreneurship and employment.
According to DTI Sec. Ramon Lopez, acquired business skills by TESDA trainees from the Skills Training for Employment/Entrepreneurship Program (STEEP) can be used in effectively running their businesses in the future.
"This partnership not only complements our objective to equip our people with the right mindset and basic skills, it also contributes to our national goal to realize inclusive growth towards shared prosperity, powered by smarter Filipino entrepreneurs," Sec. Lopez said.
STEEP aims provide interventions through skills development by providing access to training on entrepreneurship to graduates of TESDA program for self or wage employment to uplift their economic status.
"Through this partnership, we are glad to help TESDA graduates acquire more skills and development which can give them more opportunities to improve their lives by engaging in vibrant entrepreneurial activities," said DTI Regional Operations Group Undersecretary Zenaida Maglaya.
Under the agreement, TESDA will provide its list of graduates to DTI from the Special Training for Employment Program (STEP) and other similar scholarship program, assist in the conduct of the entrepreneurship training, and monitor and evaluate the implementation of the project.
Upon assessment and selection of TESDA's certified STEP graduates, DTI, in turn, will provide entrepreneurship training, assist in availment of the microfinancing facilities, provide them access to start-up capital for micro enterprises, and even facilitate business registration of those who wish to engage in business/sole proprietorship.
"This is the service that we will provide to them," Maglaya explained, adding that "from giving them the right mindset, to ensuring that they will have assistance until they decided to put up their own business, we will make sure that we are with them every step of their entrepreneurial journey."
The STEEP agreement with TESDA is one of the Department's initiatives to sustainably generate employment and further promote entrepreneurship in the country as DTI pushes for its "Trabaho at Negosyo" agenda.
Sun Life, Jolibee, Smart, Shell, SM Supermarket and Vita Milk Scoop 1st Place in ICERTIAS Best Buy Award Survey in the Philippines
The newest ICERTIAS Best Buy Award survey bodes well for global and home grown brands in the Philippines
Press Release
August 10, 2017
MANILA – The ICERTIAS Best Buy Award 2017/2018 survey has shown that citizens of the Philippines recognise the companies and brands that offer the best price-quality ratio, with the likes of Sun Life, Jolibee, Smart, Shell, SM, Vita Milk, BDO and Samsung coming first place in their respective categories.
Through open-ended questions the ICERTIAS Best Buy Award survey polled respondents in the Philippines to state the products and services they believed represented the best value for their money. Citizens of the Philippines were surveyed on approximately 50 different economic and non-economic categories where their personal experience of specific products and service categories on the Philippine market were addressed.
These categories spanned sectors including retail, food, cosmetics, home appliances, telecommunications and finances.
The ICERTIAS Best Buy Award proved to be very revealing as Filipinos selected a variety of both international and domestic brands as their top choices for best price-quality ratio.
Amongst the winners of the Best Buy Award 2017/2018 independent market survey were SM Supermarket in the supermarket chain category, Lucky me! in the instant noodles category, Selecta in the ice cream category, Toyota in the family car category, San Miguel in the beer category, Lipton in the tea category, Vita Milk in soy milk category and Wilkins in the spring bottled water category.
Some of the other category winners included Uratex (mattress producer), Samsung (smartphone), BDO (banking financial institution), Sun Life (insurance company), Acer (laptop), Colgate (toothpaste), Globe (Broadband Internet service provider), Smart (mobile network operator), Sky Cable (digital television service provider), Maxx (candy), Silver Swan (soy sauce), Jolibee (restaurant chain), Shell (petrol station chain), Del Monte (soft drink), and MX3 (dietary supplements).
The 2017/2018 Best Buy Award survey has confirmed that Filipinos acknowledged, and rewarded with their vote, the brands and services that offered them the best value for their money.
These findings have come from the newest Best Buy Award research survey conducted in the Philippines in May 2017 by the Swiss organisation ICERTIAS.
ICERTIAS measures the experience and level of satisfaction with the price-quality ratio of marketed products and services expressed by surveyed participants.
It should be noted that the ICERTIAS Best Buy Award survey does not measure brand equity or market share. This research provides insight into the customer's personal experience, opinion, satisfaction and perception, which are used exclusively to gauge the price-quality ratio of goods and services on the market.
Methodology and Sampling
The 2017/2018 ICERTIAS Best Buy Award research survey in the Philippines was conducted by the Swiss organisation ICERTIAS - International Certification Association GmbH.
The survey was conducted in May 2017 using a web questionnaire on a sample of 1,200 Filipino Internet users older than 15, following the Computer Assisted Web Interviewing - Deep Mind Awareness (CAWI - DEEPMA) method.
This is only an overview of the full research conducted by ICERTIAS. Should you wish to acquire more in-depth details of the survey please do not hesitate to contact us.
About the ICERTIAS Best Buy Award Project
More than ever, buyers have become more savvy and selective, seeking out better value for their money. When making final purchasing decisions the price and quality of each product is taken into consideration. The ratio between good price and the best possible quality (the so-called best buy) is extremely important to customers.
The ICERTIAS Best Buy Award is a project of ICERTIAS - International Certification Association GmbH, based in Zurich, Switzerland.
The mission of the ICERTIAS Best Buy Award research is to gain insight into user experience and perception of products and services that customers consider to provide the best price and quality ratio (the so-called best buy).
The ICERTIAS Best Buy Award project and certificate aim to simplify the search for the best goods and services at the most favourable price. It is intended to benefit buyers in local and international markets.
The ICERTIAS Best Buy Award research study is conducted according to the provisions of the International Codex for the Implementation of Market and Social Research, which were adopted by the International Chamber of Commerce (ICC) and the European Association of Research Experts (ESOMAR).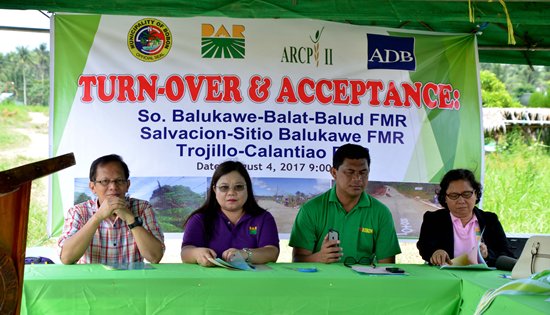 DAR Regional Director Sheila Enciso (2nd from L) and Bobon, Northern Samar Mayor Rene Celespara (3rd from L) lead in the turnover and acceptance rites of three farm-to-market road projects implemented in this town under the second phase of the Agrarian Reform Communities Project (ARCP-II). Others in photo are Romy Maningas (extreme L), who represented DAR Undersecretary Sylvia Mallari, and Provincial Agrarian Reform Program Officer Nida Abelido (extreme R).
DAR turns over 3 'dream roads' in N. Samar
By JOSE ALSMITH L. SORIA
August 10, 2017
BOBON, Northern Samar – Many did not believe these roads were going to be realized.
This was the common story shared by residents here as the Department of Agrarian Reform (DAR) turned over last Friday three farm-to-market roads coinciding with this town's 154th founding anniversary.
DAR Regional Director Sheila Enciso formally turned over to the local government unit (LGU) and to the recipient barangays the 1.5-kilometer all-weather Balukawe-Balat Balud road, the 1.7-kilometer concreted Salvacion-Balukawe road and the 1.1 km. concreted Trojillo-Calantiao road.
The three road projects with a total cost of P28.2-million were implemented under the second phase of the Agrarian Reform Communities Project (ARCP-II) through a loan by the national government from the Asian Development Bank (ADB).
Though 40 percent of the total amount was shouldered by the LGU as equity, Mayor Rene Celespara thanked DAR for helping them realize build the roads, a long cherished dream especially for the residents of Barangay Balat Balud.
Barangay Balat Balud Chairman Jimmy Baldestoy disclosed that they used to pass by Barangay Quezon in reaching their village as there was no access road in going straight to their place from the national highway.
Baldestoy narrated that from the town proper, one rides a single motorcycle in going to Barangay Quezon. Upon reaching the river, he/she will ride a banca in crossing, and then walk several meters more to reach their village, he added.
But now, with the presence of a road, the more than three kilometers trip was cut short by one kilometer, more convenient and less expensive, Baldestoy stressed.
According to him, the P60 total fare was reduced to P20.
Residents of the four affected barangays by the three road projects narrated that many lost hope that a road will be constructed in their area as promises remained promises.
Provincial Agrarian Reform Program Officer (PARPO) Nida Abelido reminisced how residents in these barangays identified access road as among their priority needs during a consultation dialogue in the past. According to her, she cannot also forget the reaction of some who did not believe this will be realized.
Meanwhile, Enciso reminded the recipients to maintain the said roads in good condition for the next 10 years. Otherwise they will be shouldering also the 60 percent share of the national government thereby converting the grant into a loan.
In the same occasion, Enciso also distributed 26 certificates of land ownership award (CLOAs) covering 45.7 hectares of agricultural lands situated in the barangays of Magsaysay, J.P. Laurel, Trojillo and Calantiao to 25 agrarian reform beneficiaries (ARBs).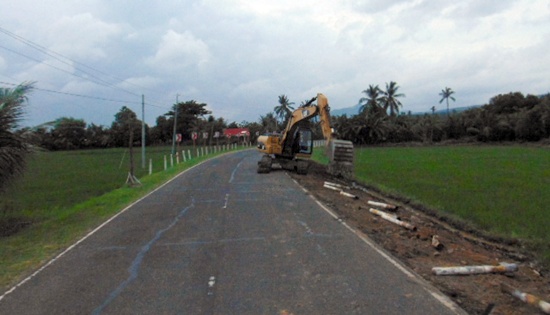 On-going roadway excavation and embankment along Biliran-Naval: Burabod Section, one section of the P172.192M widening project along Biliran Circumferential Road. As of July 30, 2017, it has an accomplishment of 18% under contract with Yakal Construction.
DPWH-Biliran DEO starts construction for the P172.192M widening project
By DPWH-BDEO
August 7, 2017
NAVAL, Biliran – The Department of Public Works and Highways- Biliran District Engineering Office (BDEO) has started its construction for the P172.192M widening project along Biliran Circumferential Road as of July, 2017.
Engr. Rosario B. Rosete, Chief of Planning and Design Section revealed that this is the biggest project allocated to BDEO funded under the General Appropriation Act (GAA) of FY 2017. Engr. Rosete added that the said project involves the construction of additional lanes on both sides of the existing paved road with a width of 3.35 m., a thickness of 0.28 m. and a length of 5.88 Kms. on six (6) sections along Biliran Circumferential Road: Balaquid section, Caray-caray section, Burabod section, Bool section, Tucdao section and Virginia section. It also includes the construction of drainage and installation of road safety features.
According to Engr. Albert V. Cañete, Project Engineer, as of July 30, 2017, the above P172.192M widening project along Biliran Circumferential Road has an accomplishment of 18% from its start date on July 6, 2017.
"The project is now on-going with roadway excavation and embankment along Burabod section and soon will start at Balaquid section and Tucdao Section," said Engr. Cañete.
The P172.192M widening project along Biliran Circumferential Road were prioritized because of its potential for development with the vision to accommodate huge number of road users.
Completion of this project will increase the capacity of the existing roads and improves the safety aspect of said sections. This road also leads to the only Provincial Hospital and Port of the Province serving more or less 15,000 travelers.
The said widening project has a duration of 300 calendar days and is target to be completed on May 1, 2018.
Meanwhile, DPWH-BDEO have also started constructing the P125.588M widening along Biliran Circumferential Road with road sections: Sabang section, Burabod and Brgy. Mapuyo section Kaulanguhan section, and Lumbia -San Roque section of Biliran, Biliran.
DOLE urged to ban in Philippines the mandatory wearing of high heel shoes at workplace
By ALU-TUCP
August 7, 2017
QUEZON CITY – The country's biggest workers' group the Associated Labor Unions-Trade Union Congress of the Philippines (ALU-TUCP) is urging the government's Department of Labor and Employment (DOLE) to draft a regulation forbidding employers nationwide from requiring women employees to wear high heel shoes at work because it poses danger to their safety and health.
"We received many persistent complaints from salesladies working in department stores and malls that they are in pain walking and standing for long hours performing their jobs in high heel shoes. They also worry that it might have long-term damaged on them. This is a grave concern to their health and safety and so we are asking the DOLE to prohibit employers from requiring their employees to wear high heel shoes in doing their work," said Gerard Seno, ALU national executive vice president.
The DOLE's future prohibition policy should cover not only salesladies but promodizers in supermarkets, waitresses, hotel and restaurant receptionists and flight attendants as well, Seno said.
"Apart from the pain, working women also complain of injury after slipping, falling and tripping with high heel shoes on. This must be stopped. Women workers should not be compelled to put on high heel shoes against their will. They should not be exposed to any harm and danger at all times," Seno said.
The government have no existing regulation that govern the wearing of high-heel shoes in the workplace and gave the discretion to employers. Thus, women working under the company policy have choice but to comply and endure the agony for long periods.
"For fear of censure from supervisors and lack of genuine grievance mechanism in the workplace amid numerous anecdotal accidents involving high heel shoes, women in the circumstances are powerless – most of which are contractualized workers and have no union to represent them. They just endure the pain for the entire duration of their shift and have no choice but to comply with company policy for the entire duration of their contracts against their will," Seno said.
Seno said they also urge the Commission on Higher Education (CHED) to create a regulation outlawing schools from requiring female students to wear high heel shoes particularly those taking up hospitality and guest relations courses and training.
Researchers from the University of Aberdeen in the United Kingdom found out that high-heeled wearing skeletally immature adolescents are most likely to suffer postural disorders affecting head positioning, the back, pelvis and knee.
Duterte urged to raise wages of workers; last big one was P25 in 1989
By ALU-TUCP
August 6, 2017
QUEZON CITY – Labor group Associated Labor Unions-Trade Union Congress of the Philippines (ALU-TUCP) is urging President Rodrigo Duterte declare a nationwide across-the-board wage hike to raise the wages of workers amid falling purchasing power of daily pay and rising cost of living.
The call was made as the wage board is about to meet in this week to deliberate on a final new wage increase for minimum wage workers in Metro Manila, labor group and wage hike petitioner Associated Labor Unions-Trade Union Congress of the Philippines (ALU-TUCP) said yesterday.
"President Duterte can text or call the wage board and prod them the amount of wage increase that he desires and it will be done. The President can also issue a presidential executive order mandating a wage increase amount needed by workers and their families to cope and survive with the increasing prices of goods and service. The President has the variety of options to make a significant wage hike," said ALU-TUCP spokesperson Alan Tanjusay.
Tanjusay said the workers had been desperate for a significant across-the-board wage increase for many years because the wage board have always been granting meager and pittance wage increases despite an improving economy.
"The last time the workers experienced a significant wage hike was in 1989 or 28 years ago when the late Pres. Cory Aquino gave a P25 daily across-the-board wage increase nationwide. After which, the wage board has been issuing pittance wage orders as if workers are beggars," Tanjusay said.
The ALU-TUCP said workers' wage should be P675 a day instead the current P491 daily pay for workers in the National Capital Region. The real value of P491 has eroded to P375 a day.
In a position paper they submitted Friday last week in the light of their petition for wage hike, the ALU-TUCP filed an across-the-board P184 daily wage increase petition for workers in the cities and municipalities of the National Capital Region on top of the existing legislated P491 daily minimum wage in a bid to uplift them from poverty caused by rising cost of living and eroding purchasing power of their daily wage.
The Board last year issued Wage Order No. NCR-20 effective June 2, 2016 granting a Ten Pesos (P10.00) COLA per day. Before this, on 6 September 2013 granting Ten Pesos (P10) per day increase in basic wage effective 4 October 2013 and the integration of the Fifteen Pesos (P15.00) of the Thirty Pesos (P30.00) cost-of-living allowance (COLA) under W.O. No. NCR-17 effective 1 January 2014; (2) W.O. No. NCR – 19 on 16 March 2015, or more than a year ago, that granted Fifteen Pesos (P15) daily increase in the existing basic wage effective 4 April 2015.
However, the said increases, small and inadequate as they were, have been overtaken by increases in electricity and water rates, health and education costs, the prices of oil and its products, LPG, and basic goods and services.
And that despite the gains in the economy and productivity, workers and their families have not been granted a single peso in real wage increase since 1989, the petition said.
According to government official figures, as of April 2017, the purchasing power of the legislated P491 daily minimum wage in NCR is only P357.09, eroded by 27.3%.
Stormtroopers marks its 29th founding anniversary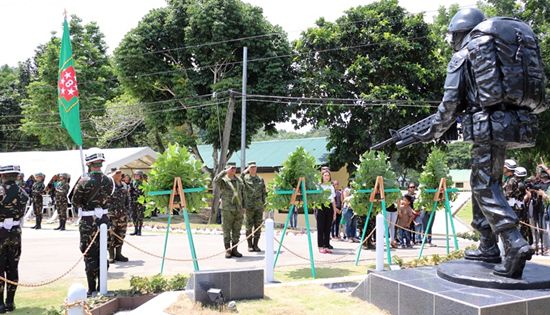 By DPAO, 8ID PA
August 2, 2017
CAMP LUKBAN, Catbalogan City – The 8th Infantry (Stormtroopers) Division, Philippine Army, marked its 29th Founding Anniversary with the theme, "Disiplinadong Hukbong Katihan sa Silangang Bisayas, Kasangga ng Pamayanan sa Pagsulong ng Katiwasyan at Kaunlaran" at its Headquarters in Camp General Vicente Lukban, Barangay Maulong, Catbalogan City, Samar on August 1, 2017.
The event was highlighted by a wreath-laying ceremony led by Maj. Gen. Harold N. Cabreros, Vice Commander, Philippine Army, in honour of the fallen comrade-in-arms and in recognition of the soldiers' heroism and ultimate sacrifice in pursuit of peace in Eastern Visayas and in Mindanao. The ceremony was attended and witnessed by the soldiers and their loved ones, officers, and civilian employees of the Command.
Another highlight of the activities was the awarding of deserving personnel who have shown meritorious achievement in both combat and non-combat role that significantly contributed to the overall success of the Command's mission.
In addition, civilian stakeholders, who contributed to the accomplishments of the Command mission, such as: PCSupt. Elmer C. Beltejar, Regional Director, PNP Regional Office 8 who was represented by PSSupt. Nicerio D. Obaob, Regional Chief Directorial Staff; Hon. Sharee Ann T. Delos Santos, Regional Peace and Order Chairperson; Hon. Edgar Mary Sarmiento; Mr. Leonardo R. Sibbaluca, Regional Director, Department of Environment and Natural Resources (DENR) Region 8; Hon. Vivian P. Alvarez, Municipal Mayor, Oras, Eastern Samar; Mrs. Imelda Ty Tipay, Principal, Las Navas National High School, Las Navas, Northern Samar; Mr. Rod Laurean D. Suan, former municipal mayor of Allen, Northern Samar; Ms. Imelda C. Bonifacio, Regional PAMANA Program Manager, OPAPP; and Ms. Christine C. Caidic, President 8ID MSAB were also awarded with plaques of recognition during the said occasion.
Maj. Gen. Harold N. Cabreros was thankful to the men and women of 8ID for its three decades of steadfast commitment as the protector and servant of the people not only in Eastern Visayas but to the Filipino as a whole.
"May your celebration today motivate you more, continue to serve with excellence, remain a witness in giving public service, with the same high standards you have set upon yourselves for the past 29 years," Cabreros added.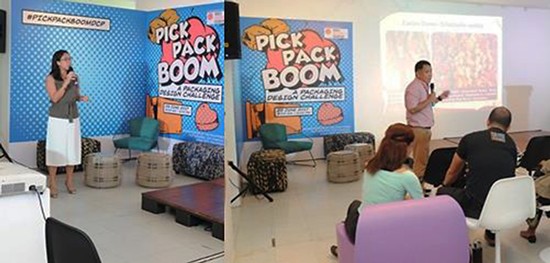 In photo (L-R): Anna Meloto-Wilk of Gandang Kalikasan, Inc. and Rex Puentespina of Malagos Chocolates discussing the design and packaging challenge before the participants of the Pick Pack Boom Design Challenge.
DTI intensifies design and packaging campaign for PH brands
By DTI-TIPG-DCP
July 31, 2017
MAKATI CITY – In its effort to further support Philippine brands in accessing the global market, the Department of Trade and Industry's (DTI) Design Center of the Philippines recently held a design challenge for young design professionals dubbed as "Pick Pack Boom" at the exhibition hall of Design Center in Pasay City.
The one-day packaging design challenge urged young design professionals to develop and recreate sustainable and locally-sourced recycled and sustainable packaging materials for the two world-renowned Philippine brands namely, Human Nature and Malagos Chocolates.
Participants developed a prototype for Human Nature's bath soap bar and Malagos' Chocolates' gift bag that took into consideration the concept of sustainable design. With the celebration of the World Industrial Design Day, the event also served as a support of the Design Center in this year's theme and focus on United Nations Sustainable Development Goal #12 of "Responsible Consumption and Production."
The design challenge featured Anna Meloto-Wilk from Gandang Kalikasan Inc., which produces Human Nature and Rex Puentespina of the Malagos Chocolates. Wilk and Puentespina both shared their respective brands, social entrepreneurship thrusts, and their local to global business narratives.
The event included design sprint sessions, which tested participants' ideation and design skills for the prototyping competition. The best prototypes included an origami concept, integrating konyaku as a material to protect and reinforce the packaging for Human Nature's bar bath soap; and the graphic storytelling of Malagos' tree-to-bar single origin cacao, incorporating the terroir elements for the Malagos Chocolates gift pack. All prototypes developed during the session will be turned over to Human Nature and Malagos for further development.
The Design Center of the Philippines is a member of the World Design Organization (WDO), and is committed to the use of design as a tool for improving the quality and competitiveness of Philippine products.
The WDO, formerly known as the International Council of Societies of Industrial Design (ICSID), is an international non-governmental organization that promotes the profession of industrial design and its ability to generate better products, systems, services, and experiences; better business and industry; and ultimately a better environment and society.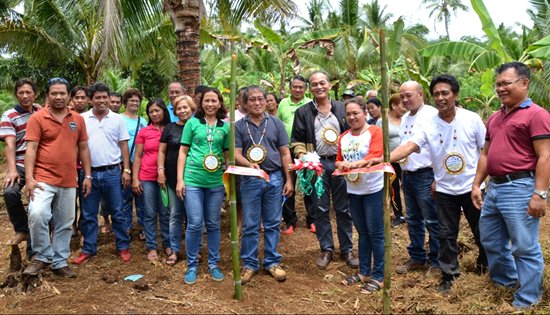 Chief Agrarian Reform Program Officer Francisco Diloy (center), Provincial Agriculturist Jaime Casas (to his right) and Daisy Monreal (to his left) cut the ceremonial ribbon at the proposed demo farm to signify the launching of the Farm Business School in Caibiran, Biliran.
Farm Business School launched in Biliran
By JOSE ALSMITH L. SORIA
July 28, 2017
CAIBIRAN, Biliran – Not even a bad weather nor a 6.5 magnitude earthquake, could stop the more than 30 farmer-members of three agrarian reform beneficiary organizations (ARBOs) from attending the launching of the first farm business school (FBS) established by the Department of Agrarian Reform (DAR) in this province, a day after a strong tremor was felt in Eastern Visayas.
Chief Agrarian Reform Program Office Engr. Francisco Diloy explained that FBS is a season-long training with emphasis on marketing of farmers' products. For this training, a demo farm will be established at the NAMACA Farm in Barangay Maurang in this town for the application of what the participants will learn, Diloy said.
Participants, according to him, will be obliged to attend 25 sessions that may last for six months. It's just like attending a regular school. But in this case, DAR brings the school near to the farmers, he added.
FBS is in collaboration with the provincial and municipal agriculture offices, the local government unit and the interested ARBOs.
Provincial Agriculturist Jaime Casas disclosed that among the topics he will discuss in one of the sessions is "Good Agricultural Practices".
Though farmers here are already producers of various crops, DAR still invited the East-West Seed Philippines to provide input on vegetable production to enhance farming methods in the area.
Thelma Verutiao and Norma Verunque, both members of the Nagkakaisang Magsasaka ng Caibiran (NAMACA) Multi-Purpose Cooperative just brought with them their pre-school daughters to the said occasion as they were interested to learn how they could increase their income.
Verutiao disclosed that they are already producing okra and onions in their yard, but stressed that for their own consumption only. She added that she is interested to learn how they could earn from their garden for additional household income.
Other participants are members of the Bunga Agrarian Reform Cooperative and the Kapatagan Agrarian Reform Cooperative, based in adjacent towns, Cabucgayan and Culaba, respectively.
Lecturers from the DAR, provincial and municipal agriculture offices, East-West Seed Philippines and the farmer-participants agreed to meet every Friday for the sessions.
Municipal Agrarian Reform Program Officer (MARPO) Noel Salloman said they are expecting more participants when they start the first session, as according to those present, some failed to attend due to the strong quake experienced throughout the region.
Lumad students and teachers file complaint on attacks vs. schools
By KARAPATAN
July 28, 2017
QUEZON CITY – On July 28, Lumad students and their volunteer teachers from Mindanao filed their complaints on attacks against schools at the GRP-NDFP Joint Monitoring Committee on the Comprehensive Agreement on Respect for Human Rights and International Humanitarian Law (CARHRIHL). They also raised concerns following Pres. Rodrigo Duterte's remarks after his State of the Nation Address that he would bomb Lumad schools based on reports that the school are allegedly operating "illegally".
The Joint Monitoring Committee is comprised of the joint secretariats of the Government of the Republic Philippines (GRP) and the National Democratic Front of the Philippines (NDFP) who are tasked to receive, notify and probe reports of human rights and IHL violations.
Rius Valle, spokesperson of Save Our Schools Mindanao, a network assisting the Lumad students and teachers in filing complaints, said "it is lamentable that the Duterte administration continues to encourage such brazen violation of the Lumad children's right to education, instead of supporting the indigenous people's initiatives to provide free and progressive education to their communities."
One of the complaints filed at the JMC is the indiscriminate firing of the paramilitary Alamara on teachers and students of the Salugpongan 'Ta Tanu Igkanogon Community Learning Center in Talaingod, Davao del Norte. This took place on June 20 when Alamara member Rodel "Ang-angoy" Butanlog fired indiscriminately at the Salugpongan school in Sitio Nasilaban, Brgy. Palma Gil. Butanlog was angry that teachers and students reported his threat to burn all Salugpongan schools. One student was slightly grazed by a bullet, when Butanlog fired at the school thrice, while 60 students and three teachers were left traumatized.
On July 25, four Alamara members repeated the same threats of burning Salugpongan schools this time in schools in Sitio Dulyan, Brgy. Palma Gil, still in Talaingod. The Alamara members were demanding the whereabouts of Parents-Teachers and Community Association (PTCA) Benacio Dalin, Benjo Bay-go and Nonoy Dawsay and one student Lando Lalin. The Alamara said they intend to kill at least of these persons. This forced teachers to suspend the classes.
Valle called on the GRP Negotiating Panel and Pres. Duterte to stop the attacks against schools and respect the right to education of the Lumad children. "We call on them to pursue the formal peace talks with the NDFP to address the growing number of CARHRIHL violations and the substantial agenda on social and economic reforms, which should consider the indigenous people's right to free education and to self-determination.
Human rights group Karapatan also assisted in the filing of said complaints. Karapatan Deputy Secretary General Jigs Clamor said that "militarization in schools is being justified by the Department of Education memorandum 221 series of 2013 which allows military occupation and operations in schools."
"This is already bad enough. We are more worried that with martial law in Mindanao, State security forces will be emboldened to commit further human rights violations and war crimes," Clamor said.
Full launch of PNTR set on August 1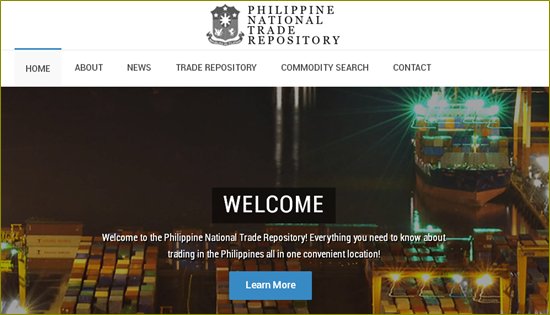 By DTI-IDTPG-BIS
July 28, 2017
MAKATI CITY – The Philippine National Trade Repository (PNTR) which is a web-based portal that provides a single source of comprehensive, accurate and updated trade information will finally be launched on August 1, 2017. Its establishment is an important component of the government's trade facilitation strategy. A more transparent trade environment will allow business easier access to information and facilitate their compliance with prescribed regulations. The ultimate effect will be to reduce the amount of time and costs in trade transactions.
The launching will be participated in by the Trade Regulatory Government Agencies (TRGAs), representatives from the private sector and selected importers accredited by the Department of Agriculture.
Expected to grace the event are the EXECOM Members of the Department of Trade and Industry, headed by the Undersecretary of the Industry Development and Trade Policy Group, Dr. Ceferino S. Rodolfo who will provide the keynote speech on behalf of DTI Secretary Ramon M. Lopez.
Dr. Cielito F. Habito, Chief of Party of the USAID- Trade Project is among the guest speakers, together with Mr. Walter Van Hattum, Head of Economic and Trade Section, EU Delegation to the Philippines.
One of the highlights of the event is the MOA signing between the Tariff Commission and the Department of Trade and Industry- Bureau of Import Services. The PNTR's seamless commodity search function became possible because of the wholehearted cooperation of Chairperson Marilou P. Mendoza of the Tariff Commission. The first three elements of the PNTR, the Tariff Nomenclature, the MFN tariffs and the Rules of Origin are linked to the Enhanced Philippine Tariff Finder (EPTF) of the Tariff Commission.
The formal launching of the PNTR portal will be presented by Mr. Roberto Galang of the International Finance Corporation, the World Bank's private sector arm. Through support from the Government of Canada, the project team led by Mr. Terence Chapman provided significant enhancements to the portal, in particular on the element of the Non-Tariff Measures and commodity search function.
Atty. Luis M. Catibayan, the PNTR Secretariat Head enjoins everyone to visit the PNTR portal at www.pntr.gov.ph. The PNTR is expected to benefit our stakeholders primarily Micro Small and Medium Enterprises (MSMEs) as the regulations and procedures administered and enforced by various government agencies are made readily accessible thru the internet.
Atty. Catibayan further stressed that the PNTR makes the regulations transparent and contributes to the ease of doing business. The PNTR's link to the ASEAN Trade Repository will allow MSMEs who are into exports to have accurate and updated information, including regulatory requirements for the movement of goods to and among ASEAN member states, thereby facilitating greater access to the ASEAN market.
For inquiries about the PNTR portal, please send email at info@pntr.gov.ph or visit: www.pntr.gov.ph/ www.dti.gov.ph.
FMR provides access to nearby markets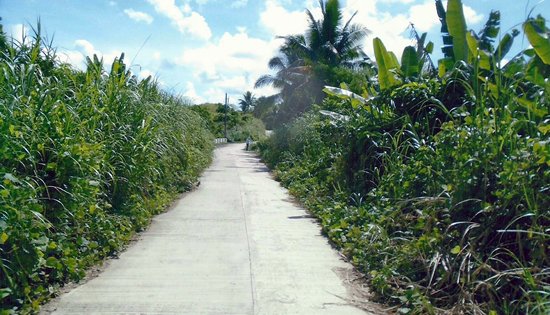 By Ma. NENITA Y. GOMEZ
July 27, 2017
CALBAYOG CITY – The concreting of the Farm to Market Road (FMR) of Brgy. Gajo to Brgy. Cinco helps villages to get their produce to the market faster and cheaper.
The 4.00 kilometers stretch of concrete pavement with an appropriation of P50 million starts in Brgy. Gajo, Sta. Margarita, Samar located southwest from the poblacion. The road project passes two barangays in between Brgys. Gajo and Cinco.
In these communities where the primary source of livelihood is farming, the concrete road is a welcome respite from the inconvenience of traveling to the poblacion and back. Not so long ago, farmers had to travel to and from the nearest town by foot or "habalhabal" (a single motorcycle transporting people and goods.) They spend P50 to P100 per sack of goods they needed to transport.
"We had to walk or travel for three and a half hours along slippery and muddy dirt road" explains Benny Moñal, a farmer from Brgy. Cinco. The poor road access had been a problem of the residents for a long time. Now that the FMR is completed, he is proud to showcase the new road in their barangay.
The project is funded by the Department of Agriculture and implemented by DPWH Samar First District Engineering Office under the government convergence program.
Farmers have better opportunities ahead of them now. The hauling cost of agricultural products and other goods has been reduced by thirty percent (30%). Families in these barangay also have more access to health centers and schools.
DPWH Samar I allocates P50M road project for farmer's benefit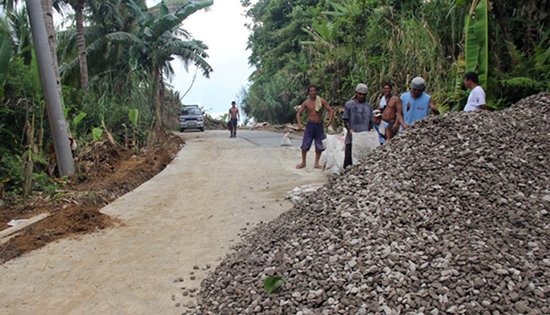 By BON JOSEPH N. ASTILLA
July 27, 2017
CALBAYOG CITY – Samar First District Engineering programmed P50 million under GAA CY 2017 for the realization of road construction from Brgy. Curry to Brgy. Avelino which promises a livelier economic activity to localities that produce abaca, various root crops and coconut products.
Located in the hinterlands of the Municipality of Sta. Margarita, Samar, the project covers concreting of 2.2 kilometers of road which also includes installation of drainage and slope protection and grouted riprap. From a three (3) hours travel time from Brgy. Curry to Brgy. Avelino, it is anticipated to be significantly reduced to less than an hour. This will surely benefit almost a hundred of families traversing the route and boost the farm-to-market productivity.
It is under contract with Victoria Development and Supply Corporation and as of June 25, 2017 it has already reach an accomplishment of 35%. The dirt road which used to be hiked by the farmers and residents going to and fro the said barangays will soon be fully concreted and is expected to offer easier, faster and more convenient travel and transport of agricultural products.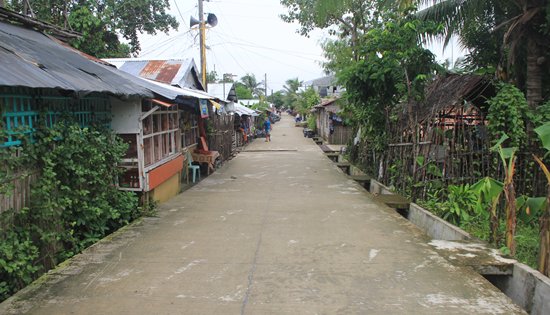 Construction of Road and Drainage in Brgy. Lambao, Sta. Margarita, Samar.
SFDEO hastens road and drainage project in 7 barangays
By Ma. NENITA Y. GOMEZ
July 27, 2017
CALBAYOG CITY – DPWH Samar First District Engineering Office, Calbayog fast tracks its construction/rehabilitation of roads and drainage projects in seven barangays within the Municipality of Sta. Margarita amounting to P150 million. These projects are funded under GAA 2016.
Constructed ahead of the rainy season, the projects located in Brgys. Lambao, Palale, Cagsumje, Monbon, Balud, Cautod and Napuro are measures undertaken to remove water from the road and its surroundings and control the rise of water table whenever heavy rainfall occurs.
Scope of works includes PCC pavement and one (1) single barrel RCBC with apron and wingwall, drainage, grouted riprap and one flood control structure.
According to the Project Engineers, the focus is on the low-lying areas in Sta. Margarita that have been experiencing damages due to flooding. This has been the usual scenario during continuous downpour since rainwater easily accumulates in these low-lying sections in the barangays.
The 6.08 kilometers stretch of road with drainage structures will solve flooding as more than thousands of residents affected by the sudden rise of water cannot contain their gratitude especially now that rainy season has set in.
A certain Jun Caberte in Brgy. Palale, intimated that the widened drainage structure can hold volume of garbage to declog the water channel. He expressed concern for the other barangays experiencing flooding and even recommended to the DPWH to construct the same.
As of this writing out of seven (7) road and drainage projects, four (4) projects are completed while three (3) projects are ongoing with a revised expiry date of August 16, 2017.
District Engineer Alvin A. Ignacio intends to fast track these projects as soon as possible to minimize the impact of heavy rainfall experienced by the locality every now and then.

From L-R: Brittany Odes, Cora Silva-Odes, PhilConGen Deputy Consul Romulo V.M. Israel Jr., Rose San Diego, Vietnamese Naval & Army veterans, Stacy Baca WLS-7 News Anchor/Reporter (back), Kieugiang Do, Elan Dinh, Nguyet Ly Bich, Tam Nguyen.
Filipino Community helps honor Korean War veterans
By ROSE SAN DIEGO
July 27, 2017
Chicago, IL. – On Saturday, July 22, 2017, an event to honor Korean War veterans, acknowledging the 64th year since the signing of the Armistice agreement of July 27, 1953 was about to convene. Of approximately twenty-one countries came to the direct support of the Republic of Korea, only sixteen countries contributed combat troops.
The Republic of Korea Consulate Chicago, Consul General Jong-Kook Lee was presented a ceremonial gift of the Republic of Korea flag on behalf of the entire Filipino Community, this small token represented our ongoing support and unification not just in Chicago, but worldwide.
Presenting was Deputy Consul Romulo V.M. Israel, Jr of the Philippine Consulate General Chicago and members of the Chicago Nightingales organization. The Republic of Korea flag was then hoisted up the flagstaff and flown to honor all foreign countries who had answered the call of the United Nations in 1950, during the three year conflict.
Keynote speaker was ROK ConGen Lee, who expressed his countries appreciation to all who had come to the aid of the ROK during the conflict that began June 25, 1950.
Deputy Consul Israel elaborated on some important facts during that era included the late Senator Benigno "Ninoy" Aquino Jr as being a very young teenage correspondent, reporting news on the Korean conflict to include covering our Philippine troops on the battlefield.
Also mentioned was of another young Filipino, Fidel Ramos, a recent graduate of the US Army's West Point Academy, he was commissioned a rank of junior grade Lieutenant. After serving in the Korean War and retiring with the rank of General, then later elected President of the Philippines.
The Chicago Nightingales lead in the singing of the National Anthem and closed the event program with the singing of "God Bless America." As members of the Filipino community and nurses' organization, we felt privileged and honored to share our proud culture to the friendly smiles and many handshakes by the veterans, and by both the Korean and Vietnamese communities.
Today, July 27, we continue our long standing friendship with the Republic of Korea on this 64th Commemoration of the Armistice signing.
Cuy to LGUs: Enact ordinances declaring danger areas as "no build zones"
Press Release
July 26, 2017
QUEZON CITY – To ensure that danger areas previously cleared of illegal occupants will not be retaken by informal settlers, Interior and Local Government Secretary Officer-in-Charge Catalino S. Cuy is urging local government units (LGUs) to enact ordinances declaring said areas as "no build zones".
No build zones refer to easement areas defined under existing laws and policies that are not recommended for human habitation by virtue of the danger it poses to human life and/or property.
Cuy made the call as he noted there had been inaction or complacency among certain LGUs despite numerous guidelines issued by the Department on matters of informal settler families and the LGUs role.
"Unless LGUs declare no build zones, ISFs will always be a huge concern and this will be an unending cycle of demolition, clearing, and relocation," he says.
In the DILG's recently issued directive, Cuy called on cities and municipalities to ensure that cleared territories remain uninhabited and unoccupied by enacting ordinances barring any construction of residential establishments in said areas.
All barangays were also directed to adopt the city or municipal ordinances regarding danger areas or enact their own barangay ordinance considering that most informal residences live in the barangays.
"Allowing or tolerating informal settlers to build along 'no build zones' is a violation of the people's right to a balanced and healthful ecology," he stresses.
According to Cuy, "to allow informal settlements along railroad tracks, sidewalks or roads, or in garbage dumps, landfills, public cemeteries, or in parks and playgrounds is an utter disregard to public safety and an affront to human decency."
To further protect and monitor these areas, he says, cities and municipalities should work with their component barangays in protecting and regularly monitoring said areas by putting up outposts, fences, signage, and/or CCTV cameras.
Section 30 of the Urban Development and Housing Act (UDHA) specifically states that LGUs must prevent the construction of any kind of illegal dwelling units or structures within their respective areas of jurisdiction or face administrative and penal sanctions.
In the case of new ISFs occupying danger areas, the barangay shall issue a notice to be signed by the punong barangay enjoining them to vacate the property within 24 hours.
After the lapse of the period to vacate, the barangay, with the assistance of the police, shall dismantle the structure whether or not the ISF has voluntarily vacated the area.
The Department encourages the concerned city or municipality to use its power to prosecute professional squatters or members of squatting syndicates, and any individual or group who will occupy or cause any other person to occupy cleared areas.
Calbayog-Allen road section closed to traffic due to landslide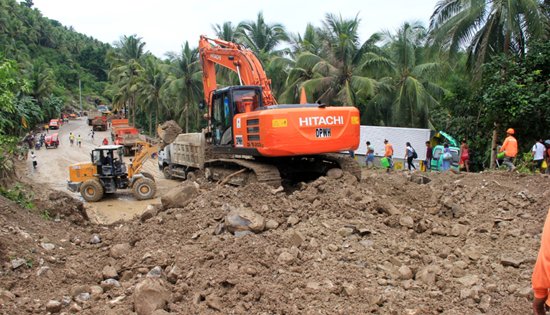 By MARIANETTE Y. GOMEZ
July 26, 2017
CALBAYOG CITY – Continuous heavy rains over the weekend weaken the soil surface on the mountainous sides along national road in the Calbayog-Allen Road Section, causing landslide including a rockslide as well. The road stretch from k0691+200-k0691+320 and k0691+130-k0691+200 all in Brgy. Caglanipao approximately 138 meters long was covered with almost 15,000 cubic meters of soil and rocks rendering the road unpassable.
The landslide happened on the evening of July 23, 2017, Sunday covering the road in Brgy. Caglanipao with a passing truck pushed to the other side of the highway as mounds of dirt, rocks and mud came rushing through.
Ongoing clearing operations are already undertaken in the vicinity since the very next day the disaster occurred. Meanwhile, DPWH Samar I installed barricades, warning signs and traffic advisory to warn the public of the condition of the road. Assisting DPWH Samar I in the area are DPWH Northern Samar I, bringing dump truck and backhoe, and contractors who lent their equipments like Aremar, ECI, Acme and B. Vicencio Constructions.
The hardwork of the group paid off when at around 9:00 in the evening of July 25, 2017, Tuesday, vehicles were already allowed to pass through. But even so, the work is not done yet as the other lane of the road is still covered with debris of dirt and the mountainous side is still unstable. To compromise with the traveler's plea but not lessen the progress of clearing out the highway, Engr. Romy M. Gumban, Chief of Equipment Management Division of Region VIII, suggested that vehicles would be allowed to pass through for an hour every 2 hours. At least this way, the community's day to day life will not be hampered that much.
It is good to note moreover that fieldworkers vow to restore traffic fully on the two lanes this week since good weather conditions prevails in the locality. However, District Engineer Alvin A. Ignacio warns the public of the danger of falling rocks and soil anytime. Motorists should be cautious as they pass along the landslide/ rockslide prone areas.
Davao entrepreneur finds his dream car online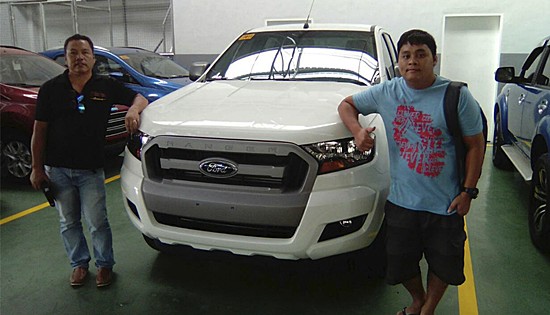 Press Release
July 26, 2017
TAGUIG CITY – Forty-nine-years old businessman Reinario Polinar shares his experience in buying his vehicle of choice through an online car platform Carmudi.
Polinar, who lives in Tagum City, recently purchased a brand-new Ford Ranger 4x2 XLS Manual Transmission at Ford Tagum dealership in Davao, which is under Autohub Group of Companies.
According to Polinar, he was browsing in the internet to buy a very famous Japanese SUV when he bumped into Carmudi site.
"I found Carmudi through their social media site. I saw the Ford Ranger posted and immediately sent an inquiry because the dealer's location is in Tagum City," he said.
What made him decide to pursue his transaction through Carmudi is their customer service support. "I'm happy that my inquiry got answered. Within 24-hours, I received a call from their customer service agent," explained Polinar.
Today, the leading car portal aimed to continuously provide users with the best car shopping experience in the country. In addition, the company also prides strong customer relationships, which can only be established through trust.
"Carmudi makes the car shopping experience a whole lot easier for its users. Buyers no longer have to worry about randomly picking dealers, as Carmudi has ensured that the dealers are trustworthy," said Kris Lim, Carmudi Philippines Marketing and PR Head.
"The ease, speed, and convenience is what makes Carmudi stand out from buying car the old-fashioned way. With Carmudi, less confusion yields more productivity in the shortest time," adds Lim.
Despite the countless scams and dubious offers over the internet, Carmudi makes it a top priority to make sure that consumers will not fall prey on getting shady dealings. From the transparent and trusted listings, to price negotiation options with sellers, to prompt notifications via e-mail and SMS, Carmudi platform serves as a 24/7 salesperson, ensuring the best communication between buyers and sellers.
Carmudi ensures that buyers are given more notable information rather than just the car brand and price. The website offers information wherein they could base their search on lifestyle preference.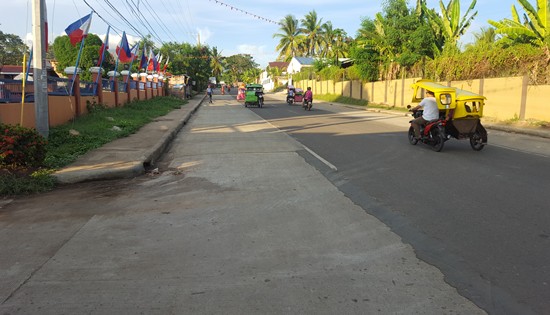 Completed P8M Off-carriageway Improvement along Naval-Caibiran Cross Country Road (NCCR). The completed project will provide a smooth riding surface for the traveling public as well as provide convenience in transporting agricultural and aquatic products to market centers. This road also leads to the only Provincial Hospital and Port of the Province. The project will benefit more or less 5,000 inhabitants of Barangay Calumpang and employees from Government Units working within the vicinity of the said Barangay.
Status of DPWH-Biliran DEO's projects, midyear of 2017
Press Release
July 24, 2017
NAVAL, Biliran – Construction is on-going for the 30 of the 57 total listing projects of the Department of Public Works and Highways (DPWH)- Biliran District Engineering office under the FY 2017 projects.
Engr. David P. Adongay, Jr. District Engineer reported that BDEO has already completed 21 projects as of June 30, 2017 with an accomplishment of 25.16% with a positive slippage of 5.76%.
Just newly completed projects are the P10M Repair of Catmon Bridge along Biliran Circumferential Road (BCR), Naval, Biliran, P8M Off-carriageway Improvement along Naval-Caibiran Cross Country Road (NCCR), P2.5M Road Concreting in Brgy. Sagrada Familia, P.I. Garcia, Naval, Biliran, P1M Construction of Multipurpose Building (Barangay Hall) in Brgy. Acaban, Culaba, Biliran, P1M Construction of Seawall at Marvel, Culaba, Biliran and P1M Construction of Seawall, Sitio Marasbaras, Looc, Caibiran, Biliran.
However, six projects under the FY 2017 Regular Infrastructure Program are Not Yet Started (NYS) and still up for implementation.
Adongay revealed that these Not Yet Started Projects are just bid out while one project is for approval at the Regional Office and the other one is still on the process of preparation of Program of Work (POW), Detailed Unit Price Analysis (DUPA) and Plans. According to Adongay, once Notice to Proceed (NTP) is received, BDEO will fast track these projects to finish it on the target dates.
Moreover, Adongay reported that for 2016 Carry-over projects, BDEO has already accomplished 96.048% as of June 30, 2017 with three remaining projects on-going and being fast-tracked. These are the P45M Construction of Slope Protection along BCR with 91% accomplishment, P8.7M Replacement of Banlas Bridge along Maripipi Circumferential Road with 95% accomplishment and Road Opening and Concreting of Biliran Diversion Road with already P75% accomplishment after problem on permit to enter has been settled.
SFDEO foresees flood-protected areas in Calbayog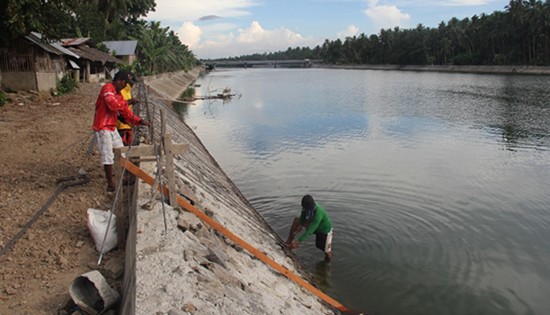 By ELENOR A. ANOLLADO
July 23, 2017
CALBAYOG CITY – The Samar First District Engineering Office (SFDEO) of the Department of Public Works and Highways (DPWH) is eyeing on the ongoing construction of the flood control structure along Jibatang River at Brgy. Lonoy, Calbayog City which is appropriated P100m under the DPWH 2017 regular infrastructure fund.
Jibatang River is a stream and is located in Calbayog City, province of Samar. The estimate terrain elevation above sea level is 45 meters knowing that excessive heavy rains cause flooding, Jibatang River is described as one of the low-lying areas of the Calbayog District where in nearby Barangays particularly Brgy. Lonoy is greatly affected when water level rises. With this, safety and health conditions in here are jeopardized that is the reason behind the construction of flood control structure along Jibatang River (upstream) is highly recommended.
The construction covers the drainage and slope protection structure with a project duration of 180 calendar days. The project is under GAA 2017 with 701.25 linear meters reinforced concrete river protection works on steel sheet piles foundation. It is under contract with B. Vicencio construction.
This project is beneficial to the residents of Brgy. Lonoy and the other occupants who live near Jibatang River. It prevent flooding caused by heavy rains and changes of weather and it provides a safe living for the residents.
One of local even said, "Malaki ang maitutulong ng proyektong ito para sa amin, kundi dahil dito palagi kaming inaabot ng mataas na baha tuwing may mga kalamidad na dumarating".
The project intends to prevent flooding along the river side of the area especially during rainy seasons and high tide. This will surely provide safety towards the residents of Brgy. Lonoy.
Bombardier delivers the first dual-class, 86-seat Q400 aircraft to Philippine Airlines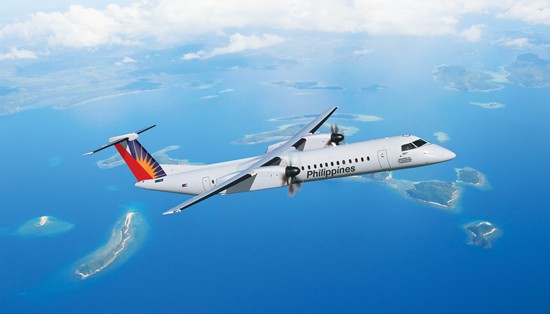 Via MARKETWIRE
July 21, 2017
TORONTO, Ontario – Bombardier Commercial Aircraft delivered the world's first dual-class, 86 seat turboprop aircraft to Philippine Airlines at its facility in Toronto, Canada, where the aircraft is manufactured.
"We congratulate Philippine Airlines for taking delivery of the world's first dual-class, 86-seat Q400 aircraft, and are confident that the airline will continue to benefit from the outstanding performance of Bombardier turboprops," said Fred Cromer, President, Bombardier Commercial Aircraft. "This delivery is an example of how Bombardier's Q400 is an ideal solution for airlines that require higher-performance and larger turboprops as they develop regional routes to meet increasing passenger demand. Bombardier is proud to have the only commercial turboprop available today to offer up to 90 seats."
"With its superior performance capabilities, unmatched profitability advantages and exceptional passenger experience, the new Q400 aircraft will enable Philippine Airlines to increase its competitiveness and set a new standard for turboprops in the region," said Jaime J. Bautista, President and Chief Operating Officer, Philippine Airlines. "We are excited to bring this new aircraft back to the Philippines, and are confident that the Q400 aircraft will continue to play a significant role in positioning Philippine Airlines as a five-star airline and in regaining its dominance in the domestic market."
Philippine Airlines' new Q400 aircraft is configured with 86 seats in economy and premium economy classes with a 29-inch and 33-inch seat pitch respectively. The aircraft delivered today is scheduled to enter into service in two weeks.
This milestone aircraft is part of Philippine Airlines' purchase agreement announced on December 8, 2016 - which included a firm order for five Q400 aircraft and purchase rights for an additional seven. Following the exercise of the purchase rights announced at the 2017 International Paris Air Show, Philippine Airlines now has firm orders for 12 Q400 aircraft.
About Philippine Airlines
Philippine Airlines (PAL) is the flag carrier of the Philippines. Headquartered in Manila, PAL celebrates its 76th anniversary this year as the first commercial airline in Asia. Operating out of its hubs at Ninoy Aquino International Airport of Manila and Mactan-Cebu International Airport of Cebu with a fleet of 81 aircraft, PAL serves 30 destinations in the Philippines and over 45 destinations internationally.
About Bombardier
Bombardier is the world's leading manufacturer of both planes and trains. Looking far ahead while delivering today, Bombardier is evolving mobility worldwide by answering the call for more efficient, sustainable and enjoyable transportation everywhere. Our vehicles, services and, most of all, our employees are what make us a global leader in transportation.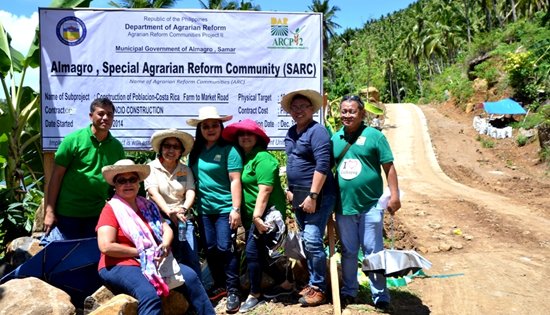 DAR officials from the central, regional, provincial and municipal offices pose near the billboard of the newly-inaugurated 12-kilometer farm-to-market road implemented under the second phase of the Agrarian Reform Communities Project in the island-municipality of Almagro, Samar. In the photo are (right to left) Engr. Cresencio Misagal, Rosario Regalado, Undersecretary Sylvia Mallari, Regional Director Sheila Enciso, Assistant Regional Directors Ma. Fe Malinao and Ismael Aya-ay, and Municipal Agrarian Reform Program Officer Pedrito Dejarlo.
DAR-8 turns over most expensive project
By JOSE ALSMITH L. SORIA
July 20, 2017
ALMAGRO, Samar – At P72-million, the 12.7-kilometer farm-to-market road turned over here recently by the Department of Agrarian Reform (DAR) makes it the most expensive single infrastructure project this agency has ever implemented in Eastern Visayas.
DAR Undersecretary Sylvia Mallari led the inauguration and turnover of the said project in this island-municipality to the local government unit (LGU), a day after she turned over a similar project in another island-municipality in this province.
Mayor Kathleen Prudenciado in her acceptance of the project implemented under the second phase of the Agrarian Reform Communities Project (ARCP-II) said "I believe development and progress (in this island paradise municipality) is so near for us to achieve".
According to her, the Almagrohanon had long been dreaming for a road that would cross this island.
Further, Association of Barangay Captains President Jenesa Tomamak said "mararating na natin mula puno hanggang dulo na hindi dumadaan sa karagatan", as villagers used to travel around the island through the sea that surrounds it using a motorboat.
With this more than 12-kilometer road passing through the barangays of Poblacion, Malobago, Roño, Tonga-Tonga, Lunang, Talahid, Costa Rica-I and Costa Rica-II, Tomamak disclosed that not only farmers and fishermen's products could be easily transported now, but these once remote areas could already be penetrated in the delivery of other government services as well.
About 8,000 residents in these areas with 450 agrarian reform beneficiaries (ARBs) are expected to benefit from this project.
To the unending thanks from the Almagrohanon, Mallari's response was "Salamat sa pagbibigay sa amin ng pagkakataon na kayo ay aming mapaglingkuran. Sa amin ang karangalan na makapaglingkod sa inyong lahat."
With this road, no place is isolated anymore, Mallari added, and hoped quality of life in this town, identified as a special agrarian reform community, would continue to improve.
Meanwhile, Regional Director Sheila Enciso explained the reason why the cost of the project was so high was because of the excavations that took place in the opening of the road.
The cost was shared by the LGU and the national government thru a loan from the Asian Development Bank.
Thus, Enciso reminded the recipients to maintain it in good condition for 10 years. Otherwise, the loan portion comprising 40 percent of the total cost will likewise be shouldered by the LGU.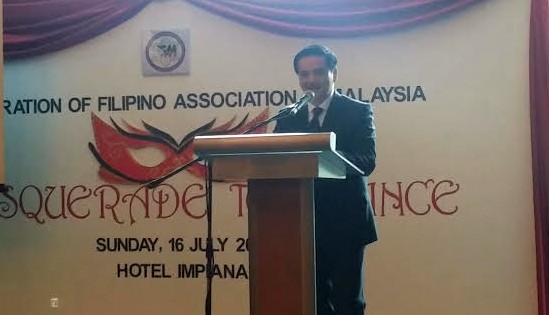 Ambassador Charles Jose delivers his remarks during the masquerade tea party, attended by Filipino community organization leaders and representatives.
PHL Embassy, Filipino community hold fundraising, letter writing for Marawi
Press Release
July 20, 2017
KUALA LUMPUR – The Philippine Embassy in Kuala Lumpur and the Federation of Filipino Associations in Malaysia (FFAM) mounted a fundraising and a letter-writing effort for those displaced and the soldiers in Marawi during the FFAM's Masquerade Tea Party held on July 16 at the Impiana Hotel in Kuala Lumpur.
Philippine Ambassador to Malaysia Charles C. Jose lauded the FFAM's initiative in helping out those affected by the conflict. "I commend FFAM for initiating this event to raise funds to help out our brothers and sisters in Marawi, as well as for your letters of support to boost the morale of our soldiers there," he said.
The tea party featured performances by Filipino-Malaysian singer Aloysius Cornelius Sisek and Malaysia-based Filipino band Harmony and Rhythm, raffle draws, a fashion show and auction featuring creations by Filipino accessories designer Gina Frias and a Best Dressed contest to award those who came to the party in their best attire.
During the event, the community raised RM5,500 (around PhP65,000) in raffle ticket sales alone, with the proceeds going to those displaced by the conflict. The Embassy will send the letters and postcards from the community to the Department of Foreign Affairs for onward transmittal to the frontlines.
Present during the event were FFAM officers led by its president Vergie Alvaro, members of the Filipino community and Embassy officers and staff.
The event is the first of a series of fundraising efforts to be undertaken by the Filipino community in Malaysia for those affected by the Marawi conflict.
19 Improvised Explosive Devices (IEDs) recovered in Basey, Samar
By DPAO, 8ID PA
July 19, 2017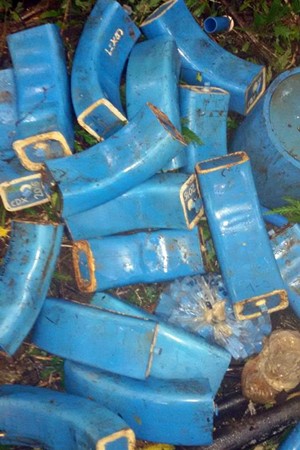 CAMP LUKBAN, Catbalogan City – Combined efforts from 801st Infantry (Bantay at Gabay) Brigade and 87th Infantry (Hinirang) Battalion with other intelligence units recovered 19 anti-personnel Improvised Explosive Devices (IEDs) technically known as CDX-2016 and other IED paraphernalia during a strike operation on Monday afternoon July 10, 2017, between km. 14 and km. 15 at Barangay Guirang, Basey, Samar.
Gathered information revealed that these IEDs will be used by the communist terrorists in launching their tactical offensives before and after the State of the Nation Address (SONA) of the President on July 24, 2017 to cause alarm and catch attention against the administration and use against military and PNP troops operating in area of Basey, Samar.
The successful recovery was the result of the community effort against these terrorists who were already tired from threats and extortions in their barangays.
Maj. Gen. Raul M. Farnacio, Commander 8ID said in his message: "We condemn the communist terrorists in their continuous manufacture and use of IEDs against humanities which is a clear violation on the provisions of the Comprehensive Agreement on Respect of Human Rights, International Humanitarian Law and rule of law. We commend the community of Basey for helping us recover these IEDs and we are looking forward for continuous partnership that could help us in preventing the evil activities of these terrorists towards the attainment of peace and development in whole Eastern Visayas," Farnacio added.
DPWH auditors assess Samar I's ISO compliance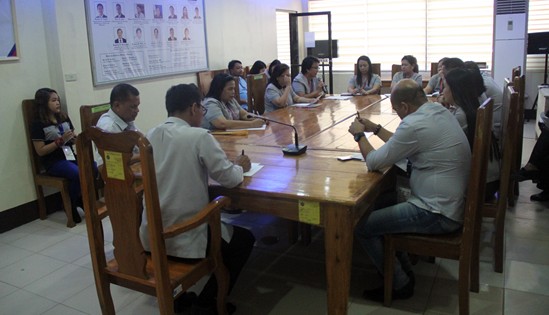 By ELENOR A. ANOLLADO
July 18, 2017
CALBAYOG CITY – In line with the department's thrust to standardized processes in the District Engineering Offices, the District Offices nationwide are directed to prepare for the ISO certification complying to the requirements of ISO 9001:2015.
After a series of ISO Awareness Activities starting with the benchmarking in the pilot district of the region, the launching of Samar I's ISO journey and various orientation and readings, the Samar First District Engineering is subjected to an Internal Quality Audit (IQA) by Auditors from DPWH-Central Office together with other district offices nationwide this July to August 2017.
The IQA will determine conformance to the DPWH documented quality management system and to the requirements of ISO 9001:2015; verify legal compliance, and determine area for improvements in all processes.
IQ Auditors do an extensive auditing of all processes and requirements in all sections and units of the district trying to point out conformities and present areas for improvement. The audit wind up with the discussion of the auditors and key officials of the recommendations made to fully conform to 2017-19 ISO 9001:2015 which will be conducted by the third party second semester of this year.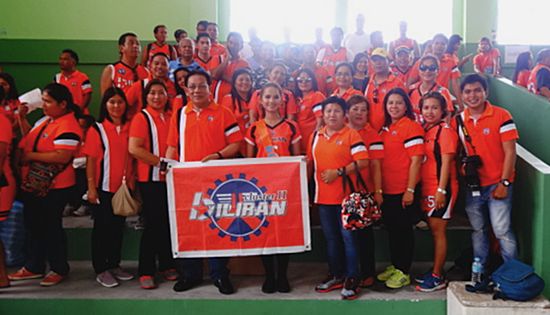 Participants of Biliran District Engineering Office (BDEO) together with Engr. David P. Adongay Jr. (3rd from L), District Engineer pose with BDEO Muse Representative, Ms. Malou A. Bernadas (4th from L) before the start of the sportsfest activities.
DPWH-Biliran joins 119th DPWH anniversary and sportsfest celebration
Press Release
July 17, 2017
NAVAL, Biliran – The employees of the Department of Public of Public Works and Highways (DPWH) – Biliran District Engineering Office (BDEO) actively participated on the DPWH Sportsfest activities in commemoration of the 119th DPWH Anniversary Celebration with this year's theme: "Kapayapaan ay Bigyan Daan, Upang Kaunlaran ay Makamtan".
Various activities were lined-up on a two-day event from June 22-23, 2017. It was kicked off with a grand parade from 13 District Engineering Offices including the Regional Office en route from DPWH RO passing through DepEd-DOH-Leyte Provincial Hospital – Pawing Elementary School and to DPWH Equipment Management Division (EMD) where a thanksgiving mass followed.
Director Edgar B. Tabacon, CESO IV formally opened the celebration as he warmly welcomes the delegates of the sportsfest activity.
Participating Engineering Offices were clustered into four categories. Cluster 1 were composed of Regional Office, Tacloban DEO, and Leyte 1st DEO; Cluster 2 were Biliran DEO, Leyte 2nd and 3rd DEO; Cluster 3 were composed of Southern Leyte, Leyte 4th and Leyte 5th DEO; while Cluster 4 were composed of the Northern Samar 1st and 2nd DEO, Eastern Samar, Samar 1st and Samar 2nd DEO.
The Presentation of Participants and Muses by each clusters sets the fun and excitements from all the participants followed by the Raising of Colors by cluster head and their muses which was won from Cluster II. The Oath of Sportsmanship followed led by Mr. Chito Nelson O. Eusores, President of Leyte 1st RFEA.
By Regional Directors Choice, Ms. Maria Efrason Pereña from Leyte 4th DEO bested other district contestants for the Best Muse.
The awarding of the Best Muse was done by the Regional Director followed with the ceremonial toss of the basketball at the covered court of Leyte 1st DEO by Director Tabacon together with Assistant Director Armando G. Estrella, CESO IV which signals the start of the sportsfest activities.
Among the games played on the opening day were basketball, volleyball (men and women), badminton, table tennis, dart and chess which were held from different venues.
On the same day, Photo Exhibit Booth Contest and Food Trade Fair open at the Multi-purpose hall of the Regional Office and a Laro ng Lahi Game Competition was played.
The second day of the celebration starts with the 4th Unity Run at 4:00 AM which directly followed with the awarding of prizes for the Fun Run activity.
Championship games also continue on the second day for the basketball, volleyball (men and women), badminton, table tennis, dart and chess until afternoon.
The Search for Ms. DPWH 2017 competition which is one of the highlight of the celebration started at 3:00 PM which holds until evening. Winners in the different competitions such as the photo exhibit contest and the overall sportsfest champion were also announced during the said pageant. Before the night ends, the muse from Southern Leyte District Engineering Office was hailed Ms. DPWH 2017.
The 119th Anniversary and Sportsfest Celebration ended with a fellow ship night and a Curatcha Dance Competition.