Rotary Club of Calbayog welcomes Rotary New Year with a blast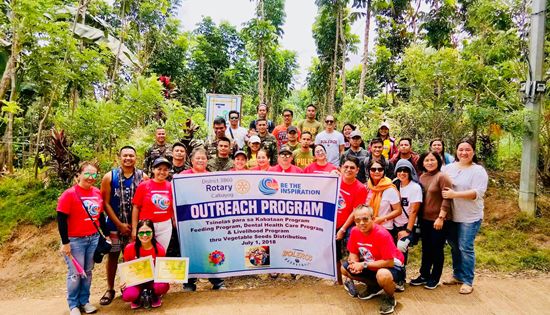 By LEVIRESA GETIGAN-BARNIZO
July 2, 2018
CALBAYOG CITY – The Rotary Club of Calbayog welcomes the district-wide celebration of the Rotary New Year 2018-2019 with a blast by celebrating it with the residents of five barangays namely San Jose, Langoyon, Canjumadac, Canjumadac, Tanval and Gelino, all located in the hinterland parts of Calbayog City, Samar on July 1, 2018. The farthest recipient village amongst is 30.5 kilometers away from Calbayog City proper.
With the Rotary International's Year 2018-2019 theme, Be the Inspiration, and RI District 3860's theme, One Rotary, One District, the Club initiated a "4-in-1" Outreach Program – Dental Health Care Services initiated by Rotarian Dentists, Dr. Ellery Daguman and Dr. Zandro Daguman, Educational Assistance through distribution of 431 pairs of slippers to recipient pupils of elementary schools of the said villages, Livelihood Program from which 400 packs of vegetable seeds (okra and eggplant) are distributed promoting backyard farming to the local farmers, Mother and Child Program headed by Rotarian Midwife Vivian Jumagdao by conducting check-up and providing vitamins to pregnant women and feeding activity to more or less 700 people on site.
RC Calbayog tapped the People's Outreach Program (POP), Kalipayan-Katitirok-Kasangkayan (KKK), and Boleros Basketball Club in implementing the aforementioned programs to promote involvement of other civic and non-profit organizations in the community, inspire people to become ambassadors of goodwill, and enliven the spirit of brotherhood. Present during the activity to provide safety to the partakers are the men in uniform of the Philippine Army (PA) and Philippine National Police (PNP), and some teachers and school heads of the Department of Education -Schools Division of Calbayog City.
Beneficiaries are converged at LSJ Farm and Puno ng Buhay Eco-Farm, Brgy. San Jose, Happy Valley, this city. San Jose is a 14 kilometer-village away from the town.
The activity concluded with the happy smiles of the children and parents as they bid goodbye to the Rotarians and volunteers before they are transported to the farthest concreted road at Sitio Tagungtong which is approximately 2 kilometers away from the venue.
Rotary Club of Calbayog facilitated the said activity to bring its services and programs to the people in the hinterlands of Calbayog City and to inspire them to get involved in the activities that will promote economic development to their respective barangays by transporting their farm produce to the city.
DPWH to complete access roads to Leyte tourism spots
Press Release
June 28, 2018
CARIGARA, Leyte – To preserve tourism activities in Leyte, the Department of Public Works and Highways (DPWH) -Leyte Second District Engineering Office poured out a total of P131 million to complete access roads to tourism spots.
These two major projects are the road leading to Villaconzoilo Agri and Eco Tourism Farm and Silawa Falls in Jaro town worth P85 million, and the road leading to Calabato Hot Spring in La Paz town worth P46 million.
"The road project is vitally important for the dispersal of tourists beyond major gateways and the facilitation of self-drive tourism," District Engineer Carlos G. Veloso said.
Moreover, these tourism spots would benefit tourists not just of their beauty but of the high-value crops of Villaconzoilo and the relaxing views and fresh waters of Silawa Falls and Calabato Hot Spring.
Veloso guarantees the public to implement more infrastructure projects towards tourism and livelihood for the development of the district.
The DPWH has secured to get support from the national government in funding programs on tourism, especially to help local communities, who are dependent on tourism, to promote their livelihood and earn more income.
The construction of these projects started last May 2018 and is expected to be completed later of the same year.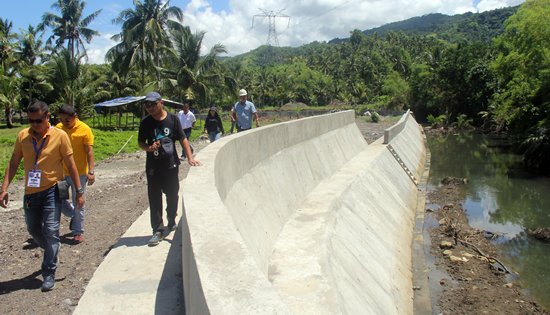 The DPWH-SFDEO Inspectorate Team conducts a final inspection of the flood control structures along Binaliw River, Brgy. Binaliw, Calbayog City.
DPWH constructs P20-M worth of flood control structures in Samar
By MAE ANGELICA R. COMOTA
June 28, 2018
CALBAYOG CITY – The Department of Public Works and Highways (DPWH) -Samar First District Engineering Office (SFDEO) completes two flood control projects in Brgy. Binaliw, Calbayog City and Brgy. Cautod, Sta. Margarita.
The Binaliw flood control project covers the construction of 96 meters of reinforced concrete river protection works on steel sheet piles foundation while the project in Brgy. Cautod covers the construction of 294 meter of flood mitigating structures.
Each have an appropriation of P10 million sourced out from the 2018 General Appropriations Act (GAA) Fund.
"I'd like to extend my warmest thanks to DPWH Calbayog for completing this flood control project. With the rainy season coming up, we no longer have to worry about the river overflowing. I am sure that my property and livestock will be safe during the typhoon season," said Mr. Ricky Calendatas, a chicken farmer living along Binaliw River.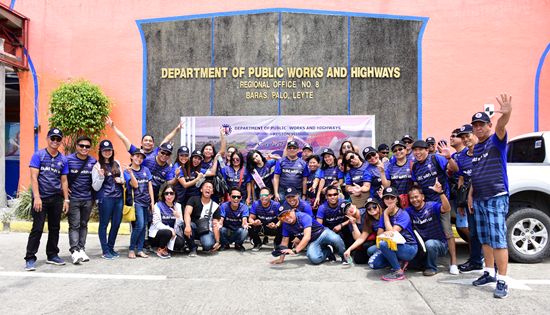 Participants from Biliran District Engineering Office (DEO) are all smile after the parade during the first day celebration of DPWH 120th Anniversary and Sportsfest on June 21, 2018.
Biliran DEO joins DPWH region 8 in celebration of 120th anniversary and sportsfest
Press Release
June 28, 2018
NAVAL, Biliran – The Department of Public Works and Highways (DPWH) Region VIII celebrates 120th anniversary and sportsfest in a two-day event on June 21-22, 2018 simultaneously with other DPWH Offices nationwide.
"For 365 days, let us give these two days for us to celebrate, giving thanks to God, giving thanks to our officials, to ourselves, to each one of us, thank you for your continuous support that is why we existed and it (DPWH) is getting stronger," Edgar B. Tabacon, Regional Director said during his welcome address.
Thirteen District Engineering Offices of the region including Biliran District Engineering Office (DEO) gather for the said occasion to have fun and develop camaraderie and sportsmanship through sports activities.
The activity started with a thanksgiving mass at the open field of the DPWH Regional Office, Baras, Palo, Leyte at 8:00 in the morning officiated by Fr. Norman Abolencia followed by a short parade around the Government Center of Palo.
The competition for the Best in Muse highlights the morning event of the first day of celebration. Photo exhibit contest also opens at the DPWH multipurpose hall displaying completed/proposed high impact projects of the 13 district engineering offices.
The start of the sports activities at 1:00 in the afternoon, signals the commencement of the sportsfest celebration. Sports competition includes basketball, volleyball, badminton, table tennis, dart and chess but the highlight of the celebration is the Search for Mr. DPWH Sportspoof 2018 in the evening. Fourteen straight men candidates representing their engineering offices came out as lovely ladies vying for the title. In the middle of the said competition, there was a Search for DPWH Curatcha King and Queen.
The second day of the celebration starts with the DPWH Unity Fun Run at 5:00 in the morning competing for the 3k, 5k and 10k run. Participants who are not playing any sports competition for this day are enjoying the parlor games prepared by each district offices. The sports championship games also continue on this day.
Due to unfinished game for the sport badminton, Atty. Neil N. Re-oma, President of Rank and File Employees Union (RFEU), Region VIII said that awarding ceremony for the winners of the different competitions will be held during the second Regional Quarters Meeting.
DPWH is celebrating 120 years anniversary with the theme "Bridging Modern Development". The department started as the Department of War and Public Works in 1898 during the revolutionary government under the time of President Emilio Aguinaldo. In 1987, after several revolutions, it became the Department of Public Works and Highways, as it is known today.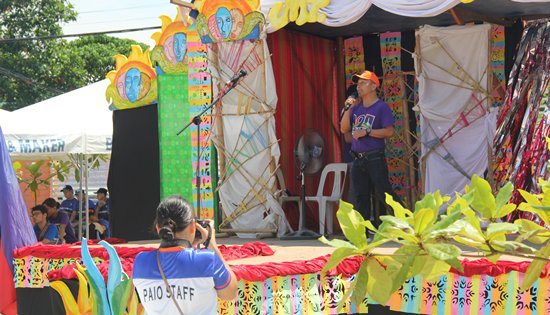 Regional Director Edgar B. Tabacon, CESO IV, officially opens the program for the 120th Anniversary of DPWH.
DPWH celebrates 120 years of bridging modern development
By BON JOSEPH N. ASTILLA
June 28, 2018
CALBAYOG CITY – Department of Public Works and Highways (DPWH) Region VIII kicks-off its 120th anniversary and sportsfest on June 21-22, 2018 at Baras, Palo, Leyte marking another milestone for the main engineering arm of the government.
The festivity gathers more than a hundred employees from different District Engineering Offices (DEOs) regionwide with a civic parade of participants with their muses opening the occasion on its first day.
DEOs are grouped into team clusters namely: Cluster I - Regional Office, Leyte I and Tacloban City DEO; Cluster II - Leyte II, Leyte III and Biliran DEO; Cluster III - Leyte IV, Leyte V and Southern Leyte DEO; Cluster IV - Samar I, Samar II, Northern Samar I, Northern Samar II and Eastern Samar DEO.
A showcase of the different talents and skills of DPWH employees are also evident during the two-day celebration through various ball games and parlor games. Meanwhile, selected male candidates entertain the crowd in the search for Miss DPWH Sports Spoof 2018.
Fierce competition can be seen here and there but as the event concludes and participants return to their respective DEOs, they are instilled with the significance of teamwork. Working together is more productive than working alone.
Palm Grass Hotel to mark Leon Kilat birthday and KKK founding with poetry nights
Press Release
June 28, 2018
CEBU CITY – This July 2018, the 126th anniversary of the founding of the Katipunan and Cebu Katipunan leader Leon Kilat's 145th birthday will be celebrated by Palm Grass, the Cebu Heritage Hotel with "BAYAN, BALAK, ALAK", a two-part poetry night.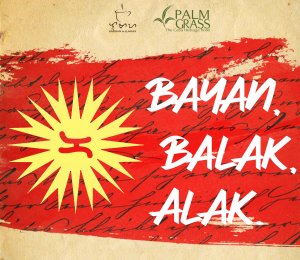 On July 7, from 6PM to 9PM, the founding of the KKK by hero Andres Bonifacio will be commemorated at the hotel's library restaurant, Kapihan ni Lumaya.
The second part of the event will happen on July 31, from 6PM to 9PM, 4 days after Tres de Abril hero Leon Kilat's birthday. It will be at Palm Grass' roofdeck bar Hardin Dagami.
"BAYAN, BALAK, ALAK" is open to both seasoned and contemporary Cebuano poets to share their Filipino or Bisaya poems about our country and society.
On these nights, beer will be 55% off for everyone at the venue, and those who will perform shall be given a free drink.
On the anniversary of the founding of KKK, all dishes and drinks named after Katipuneros will be discounted at 20% off.
Lumaya's most affordable combo meals, the "Kinabaratohang Kaon sa Kapihan" (KKK), offer well-known and loved Cebuano main dishes with side dishes and iced tea, which cost from P79.00 to P99.00 only for the whole year.
As the only heritage hotel in Cebu, Palm Grass pays tribute to the legacy and sacrifice of local heroes by naming floors, rooms, dishes and drinks after them.
The hotel also honors the descendants of Cebuano Katipunero heroes with the Kaliwat Ko'g Katipunero card (KKK) that gives special privileges and special room accommodation rates to members.
The Katipunero descendant must only present a valid ID or any supporting documents that connect the bearer to a Cebuano Katipunero and shall pay an amount of P200.00 for a lifetime membership.
Palm Grass aims to engage all Cebuanos, especially the youth, to learn and explore about Cebu's colorful and valiant heritage.
Battle rages between Army Soldiers and NPA rebels in Ormoc City, Leyte
By 802nd Infantry Brigade
June 27, 2018
ORMOC CITY, Leyte – An encounter with members of the lawless Communist Terrorist Group, locally known as the Front Committee Leyte, New People's Army and units under this command, took place in Brgy Mahayahay, Ormoc City, Leyte wounding one (1) soldier, during the firefight on Tuesday morning June 26, 2018.
First Lieutenant Sheenan D. Kub-Aron, Platoon Leader of the Alpha Company, 93rd Infantry Battalion, operationally under 802nd Brigade Philippine Army under the command of Brigadier General Lope C. Dagoy, Armed Forces of the Philippines.
During the encounter troops of Lieutenant Kub-Aron responded to an information regarding the presence of communist rebels in Brgy Mahayahay, Ormoc City, Leyte.
Around 7 a.m. the NPA members allegedly fired upon the approaching government troops. During the exchange of fire, the communist rebels allegedly detonated an improvised landmine wounding a soldier.
Following are the recovered items during the encounter: One (1) M16A1 Rifle with SN RPA 82287; Three (3) bandoleer; Twenty-eight (28) magazines with ammo; Thirty (30) rounds of Cal .9mm ammo; One (1) Air gun; Four (4) IEDs; Sixteen (16) blasting caps; One (1) laptop computer; Two (2) USB drive; Two (2) card reader; One (1) tablet phone; Fourteen (14) cellular phones; Two (2) transistor radios; One (1) solar charger; One (1) tear gas; One (1) flash light; Five (5) sword (bolo); Three (3) wrist watch; Subversive documents; Personal belongings; Assorted can goods and rice; Two (2) cocking pot.
Medical equipment: 1-stethoscope, 1-blood pressure kit, 14-assorted medicine, 2-dextrose, 1-acupuncture kit.
Discovered enemy encampment with the following description: Sixteen (16) bunkers, One (1) Kitchen, and One (1) Comfort Room.
Ammunition Expenditures: Two thousand six hundred six (2606) rounds caliber 5.56mm ball, Six hundred thirty-seven (637) rounds caliber 5.56mm linked, and Twelve (12) rounds .40mm grenade launcher.
Brigadier General Lope Cellona Dagoy, 802nd Brigade Commander, expressed his concern on the wounded soldier and vowed to continue to pursue the terrorist communist elements in the area, and promise that more intense operations will be conducted until the communist terrorist will vanish in the Leyte and Biliran Islands.
"Meanwhile, we will actively support the program of the government to peacefully resolve all armed conflicts against peace loving people of Leyte and Biliran Let us condemn those who advocate violence and use arms," he said.
Youth groups call PDutz "disengaged from social reality" with his recent anti-tambay crackdown
By Samahan ng Progresibong Kabataan
June 25, 2018
QUEZON CITY – Youth groups says that the verbal order of President Rodrigo Duterte to crackdown on 'tambays' showed that he "disturbingly disengaged from social reality" as he "continues to hallucinate of a vision of a middle-class Philippines" when many remain living below the poverty line.
The Samahan ng Progresibong Kabataan (SPARK) claimed that President Duterte's directive to arrest 'tambays' who are half-naked, loitering and drinking in the streets, "can only be explained by his delusions of grandeur and denial of widespread poverty in the country".
They claim that it is ironic for Duterte to give an arrest order that is blatantly anti-poor when in fact it is his administration and its policies the reason why many of our countrymen have remained poor and are on "stand-by" mode.
"His promise of change has been exposed as an electoral stunt and all he has done is preserve the status quo. No major economic policy reversals has been made to uplift the poor in the past three years. Similar to his predecessors, Duterte has condemned the poor to a neo-liberal economic policies, buried us in foreign debt and bolstered the export-oriented, import-dependent economic framework, explained Jade Mata, spokesperson of SPARK.
"The poor have no manicured gardens or club houses for rest and recreations. So why assail them if their shanties and communities have no air conditioning? The druglords, the gambling syndicates and human traffickers do not live in these places. The real criminals are those who underpay their employees, maintain their contractual work and expose them to the most inhumane working conditions. The vilest criminals wear suits," Mata added.
SPARK challenged Duterte to make his illusions of a middle-class Philippines a reality by repealing the TRAIN Law, instituting price control on all basic commodities, increase wages to measure up to the cost of living and abolish contractualization.
Meanwhile, youth group based in University of the Philippines-Diliman, KAISA UP, connected the issue to the violation of rights and civil liberties of people living in congested areas.
"The crackdown is another blow to our already failing democracy," Zaira Baniaga of KAISA UP said. "The youth and the poor are the most vulnerable with these kinds of attacks on civil liberties. We can't keep turning a blind eye to how this administration maltreats the poor. We call all freedom-loving citizens of the country and democratic groups to condemn this injustice and march as one to confront Duterte's authoritarianism."
KAISA UP fears that many more injustices will follow if the Oplan Tambay remains unscraped.
Last week, Genesis 'Tisoy' Argoncillo of Novaliches was found dead in jail, four days after being arrested half-naked in the streets. The Oplan Tambay started last June 13 and is reported to have arrested an estimate of 7,000 to 10,000 loiterers.
Both SPARK and KAISA UP together with other youth groups are scheduled to mount mass actions in the days to come.
Six cops perish in Sta. Rita, Samar skirmish
By DPAO, 8ID PA
June 25, 2018
CAMP LUKBAN, Catbalogan City – Elements of the 1st Platoon, 805th Company, Regional Mobile Force Battalion 8 of PNP and operating troops from 87th Infantry (Hinirang) Battalion incidentally engaged in a firefight in Sitio Lonoy, Barangay San Roque, Sta Rita, Samar around 09:20 this morning that resulted to the untimely demise of six policemen.
Reports reaching this headquarters said that one platoon minus led by 1Lt Casipit reported that they encountered an armed group at vicinity Sitio Lonoy and the firefight lasted for about 30 minutes. After the skirmishes, 1Lt Casipit and his troops discovered that the unit involved in the encounter belonged to the PNP unit under PCI Suspiñe who also operated on the same location.
Aside from the six fatalities there were nine (9) others Wounded In Action (WIA). There was no casualty reported from 87IB. The wounded PNP personnel were brought to the nearest hospital and dead bodies were recovered jointly by the AFP and PNP.
"A joint, thorough and impartial investigation is being conducted even as we assure the public that your AFP and PNP is fully cooperating to shed light on the incident" said MGen Raul M. Farnacio, Commander of 8ID who directed his ground Commanders to make appropriate actions.
"The whole 8ID family extend our condolences to the bereaved families of those who died in the armed engagement. Rest assured that this unfortunate incident will not hamper the working relation of your Army and PNP in the region." Farnacio added.
Proposed amendments to the Human Security Act of 2007 a license for human rights violations
By KARAPATAN
June 24, 2018
BANGKOK, Thailand – The proposed amendments to the Philippines' Human Security Act of 2007 (HSA) would, if adopted, give government authorities a license to commit human rights violations, said the International Commission of Jurists (ICJ) in its submission today to the House of Representatives. The ICJ strongly urged the House of Representatives to reconsider these proposed amendments and in the interim to allow more time for full consultation and debate on revisions of the law.
In its submission to the House of Representatives' joint Technical Working Group (TWG) of the Committees of Public Order and Safety and National Defense and Security, the ICJ stressed that certain proposed amendments to the HSA are clearly incompatible with international human rights laws and standards that prohibit unfettered surveillance power and arbitrary deprivation of the right to liberty and protect the rights to privacy, information, redress, and freedom of opinion and expression. The ICJ also expressed deep concern that the law also gives military personnel responsibility in countering terrorism, specifically to conduct surveillance on, arrest, and detain persons who are suspected of acts of terrorism.
"The proposed amendments do not address the existing flaws of the HSA. For instance, the definition of acts of terrorism under the HSA is vague and ambiguous and the proposed changes do not in any way remedy that," said Emerlynne Gil, a Senior International Legal Adviser of the ICJ.
The ICJ also pointed out that the proposed amendments are likely to lead to violations of the right to freedom of opinion and expression.
The proposed amendments would also impermissibly lengthen to thirty (30) days the period within which an individual may be detained without judicial warrant. "This is clearly incompatible with the Philippines international legal obligations and constitutes arbitrary deprivation of liberty," said Gil.
The ICJ proposes to reduce the detention period to forty-eight (48) hours or less, in compliance with international human rights laws and standards.
"The Philippine government has the undeniable duty to protect people from acts of terrorism committed by non-State actors, but it cannot use as a pretext the serious nature of terrorist acts to avoid its obligations under international human rights law," said Gil.
Download ICJ PROPOSED AMENDMENTS TO THE HUMAN SECURITY ACT 2007
1 NPA killed in Las Navas, Northern Samar
By DPAO, 8ID PA
June 23, 2018
LAS NAVAS, Northern Samar – One (1) unidentified Communist NPA Terrorist (CNTs) left dead by his comrades after a 10 minutes firefight between elements of 43rd Infantry (WE SEARCH) Battalion and Communist Terrorist Group (CTG) at Brgy McArthur, Las Navas, Northern Samar on June 23, 2018.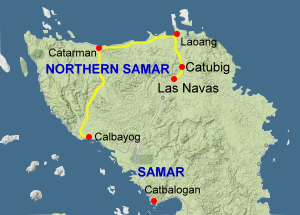 Earlier that morning, government forces responded to an anonymous tip from the residents in the area and immediately deployed 43IB elements to verify the veracity of the report. Few kilometers from the barangay proper, said troops were fired upon by undetermined number of CNTs forcing them to retaliate and firefight erupted. When fires subside, one (1) lifeless CNT armed with his M653 rifle (baby armalite) were found in the encounter site.
Col Ramil M. Bitong, Commander of 803rd Brigade, said that this incident could have been avoided if CNT heed to the call of the government to stop their extortion activity and avail the Enhance Comprehensive Integration Program (E-CLIP).
"This should serve as stern warning to other member of the lawless CTG that the arm of the law can reach you, no matter how long and far you can hide for evil never triumph as long as good men stands for what is right." Col. Bitong added.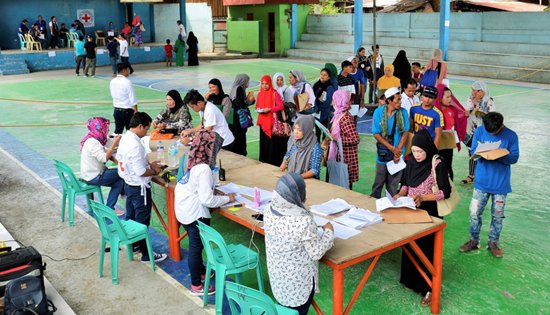 Around 1,000 of the most vulnerable displaced families in five municipalities located in the southeastern part of Lanao del Sur each received P8,000 from the ICRC as livelihood support. (ICRC/Lany dela Cruz)
Marawi: Livelihood support reaches 5,000 displaced people
By ICRC
June 22, 2018
MANILA – Displaced for more than a year since the start of the five-month conflict in Marawi City, many families in south-eastern parts of Lanao del Sur province continue to struggle due to lack of food and other necessities. The absence of a stable income and capital for small businesses has forced many who were traders before the start of the conflict to rely on farming and fishing.
To help 1,007 displaced families in Butig, Lumbayanague, Lumbatan, Masiu and Poona-Bayabao municipalities earn a livelihood, the International Committee of the Red Cross (ICRC) distributed multipurpose cash grants amounting to P8,000 per family from June 20 to June 22.
"Many displaced families gained access to farmlands and basic tools with the help of relatives. But insufficient funds to buy farm supplies forced them to take loans at a higher interest rate," said Dragana Rankovic, who heads the ICRC team on relief and livelihood assistance.
Grants amounting to P8 million were distributed during the three days, aiming to help the most vulnerable displaced families. These included people with no or low income, those in the evacuation centres, those with multiple dependents especially young children, pregnant women, the elderly and the sick.
One of the recipients, Noronsalam Nasser, a mother of six from Datu Sa Dansalan village in the most affected area in Marawi City, said, "When we fled to Lumbatan, we took up fishing to provide for our families but the income was barely enough to sustain us. With the cash grant, I will set up a small business selling shoes and slippers. This cash assistance will also allow us to send our children to school."
Ever since clashes broke out in May 2017, the ICRC, along with the Philippine Red Cross (PRC), has helped hundreds of thousands of people affected by the Marawi crisis. The focus has shifted to the remaining displaced families in Marawi and Lanao del Sur by improving their access to health care and clean water, along with livelihood recovery.
The ICRC, a neutral, impartial and independent humanitarian organization that assists and protects victims of armed conflicts, also financially supported the PRC's livelihood assistance for at least 1,500 conflict-affected families within Marawi City.
Teachers to PDEA Chief: Schools no playground for Tokhang
Press Release
June 21, 2018
QUEZON CITY – Enraged mentors under the Alliance of Concerned Teachers condemned PDEA Chief Aaron Aquino's proposal to subject pupils and teachers to mandatory drug testing, saying that the Duterte regime's drug war has no place in schools.
"The Duterte regime's bloody drug war has gone beyond insane to intimate that any 9-year-old kid could be a drug suspect. We should not permit this to happen. Schools are no playground for Tokhang," Raymond Basilio, ACT Philippines Secretary-General said in reaction to Dir. Gen. Aquino's statement that he would suggest to the Department of Education the mandatory drug-testing of pupils from Grade 4 and up, as well as teachers.
Basilio said the drug-testing will sow terror in schools, will disturbed the students and will destroy the sanctity of schools as safe places for learning. Mandatory drug testing is also a blatant violation of the rights of children and teachers, he explained.
"The cited survey is not enough justification to put the well-being and future of our children in peril," Basilio argued.
Basilio said that the government's line of thinking is very dangerous as apart from the drug test of nine-year-olds, a bill to decrease the age of criminal liability to the same level is pending in Congress.
"The State who has the responsibility to protect our youth apparently wants to make criminals out of them," said Basilio.
Basilio added that PDEA Chief's proposal is a great insult to teachers.
"This government does not run out of ideas to denigrate the integrity of the teaching profession. First it suggested that we are brats for asking for salary increase. Then they painted us as whiners for standing against overwork. Now, they insinuate that we are drug addicts," Basilio said.
"This government should disabuse itself of its belief that we are a nation of drug addicts. What we are is a nation deep in economic crisis. It is where they should focus." Basilio suggested.
Basilio that what the teachers and the people need are the jobs, wage increase, scrapping of regressive taxes and free and quality education and other social services.
"They will be wasting a lot of people's money to test some 20 million pupils and 700,000 teachers for drug use. It should be dedicated instead to uplifting the quality of education and upgrading teachers' salaries," Basilio concluded.
Work from home scheme maybe good to employees but endangers workers' rights to organize and bargain
By Associated Labor Unions
June 21, 2018
QUEZON CITY – The work from home flexible work arrangement may have good benefits to some employees but workers' group Associated Labor Unions-Trade Union Congress of the Philippines (ALU-TUCP) expressed concern that it also threatens to deprive workers' rights to organize and collective bargain for better wages and benefits.
Without diminution of wages and benefits, House Bill 7402 or Telecommuting Act otherwise known as the work from home proposal is attracting many young workers in urbanized cities and municipalities to adopt the arrangement due to the availability of the internet and the hazards caused by traffic congestion and inadequate mass transport infrastructure.
It has passed the third reading in the House of Representatives two weeks ago and now pending in the Senate for its counterpart measure.
"While the flexible work scheme may save urban workers from an average 2 to 4 hours daily agony and disease-causing stress caused by commuting through traffic jams and poor mass transport system, cut fuel, transport and parking expenses and improve work-life balance, the arrangement may also deprive workers of their right to organize themselves as a union and to collective bargain for better wages and benefits," said Gerard Seno, executive vice president of workers' group Associated Labor Unions (ALU).
"It is very important, therefore, for its tripartite-drafted implementing rules and regulation (IRR) to be crafted by the Department of Labor and Employment that guides employees and employers in the application of the scheme at the same time to promote the right to organize and to collectively bargain," Seno said.
Workers' social protection insurance and exposure to occupational safety and health hazard caused overwork and fatigue must also be addressed effectively in the preparation of the IRR, Seno stressed.
Those affected by the measure would be those enterprise-based workers who wanted to perform tasks off-site and those independent or freelance contractors who wanted to work at home.
Workers may also minimize exposure to pollution during commute and hazards caused by floods and typhoons while employers and business owners would be able to reduce overhead and production costs.
More employment opportunities for mothers, differently-abled and persons-with-disability are other positive benefits once the working at home bill is approved into law.
ALU spokesperson Alan Tanjusay, for his part, said the off-site arrangement is not applicable to some industries particularly those jobs that require operating machines, rendering frontline services and doing agricultural work.
However, work from home is applicable to IT, business process management, business process outsourcing, animation, journalist, writers, transcriber, social media management, data entry, customer service, project management, and web designer and developer, Tanjusay said.
Local terrorist dead, pistols recovered in Carigara, Leyte
By DPAO, 8ID PA
June 20, 2018
CAMP LUKBAN, Catbalogan City – A CPP-NPA Terrorist (CNT) cadre was killed in a firefight with troops from 78th Infantry (Warrior) Battalion on Saturday afternoon in Carigara, Leyte.
The end result of information sharing between the communities and authorities on the presence of the terrorists conducting extortion activities, the operation of 78IB led to the demise of the casualty known by his pseudonym, Santoy/Padi was a political instructor and squad leader of Baking Squad, Apoy Platoon of the Front Committee Leyte.
Recovered during the encounter were the following: one cal. 9mm pistol Caspian made loaded with four bullets and one cal. 9mm Colt MK IV cal. loaded with 8 bullets, one fragmentation grenade, subversive documents, medical paraphernalia, half sack of rice and personal belongings of the fleeing terrorists.
Also apprehended was Mrs. Cristita Q. Rendora, owner of the house which was occupied by the CNTs during the firefight. Found in her possession was a fragmentation grenade, thus, she was later turned over to the local PNP for proper disposition and filing of charges.
"We extend our deepest sympathy to the families and friends of the victim. It is tragic that they have taken-up arms against the Filipino nation when the Filipino people understand that only through peace we can achieve development and social justice be attained," Brig. Gen. Lope C. Dagoy, 802nd, Brigade Commander stated.
LGBTQ+ and allies gather for SC oral arguments on marriage equality
Press Release
June 20, 2018
QUEZON CITY – In an historic first, the right to marry of the LGBTQ+ community may finally be recognized by the State, just like all heterosexual couples. Their clamor has reached the chambers of the highest tribunal in the country.
Outside, dozens of gay couples and their supporters gathered and held program in solidarity with the petitioners who spoke in behalf of marriage equality advocates.
The Supreme Court (SC) held today its first oral arguments on the Petition for Certiorari filed by gay lawyer Jesus Falcis III and petitioner-intervenors Reverend Crescencio Agbayani Jr. and his partner, Marlon Felipe and Maria Arlyn Ibanez and partner.
The petition filed three years ago was only scheduled by the high court last March 6.
The petition seeks the SC to nullify Articles 1, and 2 of Executive Order 209 or the 1987 Family Code. Petitioners claim that it deprives homosexuals of their right to due process, equal protection, and the right to decisional and marital privacy.
Consequently, Falcis also petitioned the SC to invalidate portions of Article 46 (4) and 55 (6) of the same Code that cited lesbianism or homosexuality as grounds for annulment and legal separation.
They insists that these provisions of the Family Code as unconstitutional, for defining and limiting marriage as between man and woman contrary to Article XV of the 1987 Constitution.
#WeAreFamilyToo
With the Anti-Discrimination Bill, also known as the SOGIE Equality Bill's legislative status listed as pending for a second committee hearing since December 2016, leaving many among the LGBTQ+ community surprised that the petition has taken the driver seat over the proposed bill.
"This nonetheless strengthened our resolve to keep on pushing what is traditionally accepted and the legal obstacles that hinders us from being accorded the same rights and legal protections heterosexuals enjoy and be recognized as well for our societal contributions wherever the front lines the struggle for equality take us," declared gender activist and former UP student leader, Vince Liban of UP Babaylan.
Celebrities such as Boy Abunda, Sebastian Castro, and Juan Miguel Severo have openly endorsed the petition for marriage equality in their social media accounts.
The petition for marriage equality may have caught the LGBTQ+ community by surprise, leaving many skeptical on whether to support it. But for Liban, he asserted that "this should not hinder both organized and unorganized gays from rallying behind the petition, much more divide us. We are all in this because the community stands to benefit from the nullification of these backward and discriminating laws".
The program of the supporters was highlighted by a mass wedding and renewal of vows of LGBTQ+ couples. The ceremonies were officiated by Metropolitan Community Church.
Among the organizations present were LAGABLAB LGBT Network, Philippine Network of Metropolitan Community Church (other LGBT affirming churches), LGBT student organizations UP Babaylan, PUP Kasarianlan, BulSU Bahaghari, Samahan ng Progresibong Kabataan and Kaisa UP.
A candle-lighting ceremony of rainbow themed candles followed after their program wrapped up as they awaited the oral arguments to conclude by 8pm.
The #WeAreFamilyToo campaign was not only meant to rally support for the petition but to heighten public awareness on the discrimination and bigotry the gay community have endured in asserting their rights to equal protection of laws.
Wanted CNT arrested in Kananga, Leyte
By DPAO, 8ID PA
June 20, 2018
CAMP LUKBAN, Catbalogan City – A joint Law Enforcement Operation of 78th Infantry (Warrior) Battalion and the Kananga Municipal Police conducted on June 13, 2018 resulted in the arrest of a wanted member of the CPP-NPA Terrorist in Kananga, Leyte.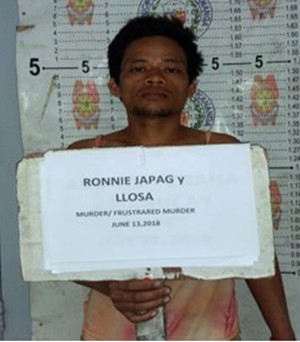 Lt. Col. Danilo I. Dupiag, Battalion Commander of 78IB identified the CNT as Ronnie Japag y Llosa, 30 yrs. old, a member of the Special Operations Group, Front Committee Leyte "LEVOX" operating in the areas of Carigara, Capoocan, Barugo, Tunga and Kananga all of Leyte Province. He was arrested inside his residence in Brgy. Mahawan, Kananga, Leyte. Llosa was responsible for the death of PFC Alvie F. Felix and SSg Aldie Pama. A warrant of arrest had been issued against the suspect for frustrated murder issued by the Regional Trial Court of Carigara.
The arrested CNT was turned over by the arresting team to the custody of Kananga Municipal Police Station for booking procedure and proper disposition.
Maj. Gen. Raul M. Farnacio, Commander, 8ID lauded the troops for a job well done and urged the CNTs to return to the fold of the law and take advantage of the Enhanced Comprehensive Local Integration Program of the government in order to live peacefully and to be of help again to the government for the development of Eastern Visayas.
GRP and NDFP representatives agree to continue peace negotiations and to overcome obstacles and impediments
By NDFP
June 20, 2018
UTRECHT, The Netherlands – Representatives of the NDFP Negotiating Panel headed by Chairman Fidel V. Agcaoili and representatives of the GRP headed by GRP Negotiating Panel Member Hernani A. Braganza met in Utrecht, The Netherlands on June 18-20, 2018. The GRP representatives sought to explain to the NDFP the decision of the GRP to postpone the mutually approved schedule of the formal meetings in the peace negotiations to take place in Oslo, Norway on June 28-30, 2018.
Representatives of the Royal Norwegian Government (RNG), including Special Envoy Idun Tvedt, sat in the meetings in their role as Third Party Facilitator (TPF).
The meeting could not start on time on June 18 because the GRP team had to seek clarification from its Principal of the statement made by GRP Presidential Spokesperson Harry Roque that the Third Party Facilitator had been dismissed. With the role of the TPF clarified, the meeting begun in the afternoon of the first day. The NDFP side assured the other side that the NDFP principal took note of the clarification. The role of the TPF is of key importance while there is need to hold formal peace negotiations in a foreign neutral venue in compliance with the pertinent provision in the Joint Agreement on Safety and Immunity Guarantees (JASIG).
The NDFP team listened to the explanation of the GRP team on the reasons for postponing the resumption of the formal talks and agreed that the peace negotiations continue despite the cancellation of the scheduled formal talks in Oslo on June 28 to 30. The agreements reached in the four rounds of informal talks in March, April, May and June 2018, remain valid and have the effect of continuing the peace negotiations under the direction of the principals and reaffirmation of previous agreements. In this regard, the two sides must comply with JASIG and its provision for a foreign neutral venue, consistent with the general practice of warring parties to negotiate peace outside of their country or their respective territories.
In the meantime, both sides expressed their intention to conduct separate unilateral consultations and in due course bilateral consultations according to their respective needs on the premise that the GRP and NDFP Negotiating Panels are mandated by their respective principals in accordance with existing agreements and that the GRP and NDFP are mutually determined to overcome obstacles and impediments to the peace negotiations.
The NDFP side will conduct consultations on the Comprehensive Agreement on Social and Economic Reforms (CASER) to review the remaining outstanding issues in the sections on Agrarian Reform and Rural Development (ARRD) and National Industrialization and Economic Development (NIED), as well as to polish its draft on Environmental Rehabilitation and Compensation and Upholding People's Rights in order to prepare for the continuation of negotiations on CASER. It will also hold unilateral consultations with its working group on Political and Constitutional Reforms (PCR).
Finally, the two sides expressed their commitment to protect and preserve the gains that had been achieved in the four rounds of informal talks that produced documents containing important agreements to move the process forward.
The NDFP delegation expressed its gratitude to the Royal Norwegian Government for their invaluable and unwavering support to the GRP-NDFP peace negotiations in their role as Third Party Facilitator.
Women's group launches campaign against Duterte admin 'economic violence' against women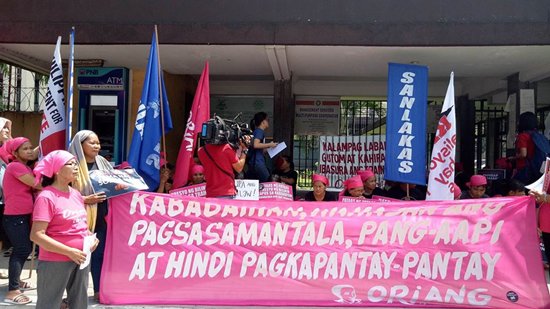 By ORIANG
June 20, 2018
QUEZON CITY – Hundreds of women held protest actions at the gates of executive department offices as the symbolic launch of a women's campaign against the supposed widespread 'economic violence' being committed by the Duterte administration against Filipinos and Filipino women.
The campaign followed what cross-sectoral women's group Oriang stated as a series of 'anti-poor' and 'anti-women' pronouncements and policies issued by the country's executive department and cabinet offices, with the most recent of them coming from the National Economic and Development Authority (NEDA) and the Department of Trade and Industry (DTI).
"The Duterte administration has unraveled itself to be both 'anti-women' and 'anti-masses' with its flagrant policies and patterns of behavior that undermine the dignity of women as persons and Filipinos' capacity to acquire basic necessities in order to live a decent life," said Oriang National President Flora Asiddao Santos.
She cited what she claimed to be the President's patterns of flagrant and very publicized misogyny coupled with the administration's series of policies, such as the TRAIN Law and its 'legitimization' of labor contractualization, which have not only targeted the poor while leaving rich corporations virtually untouched, but have also compounded on the increasing inaccessibility of basic goods and needs to Filipinos through 'promoting' insecure jobs, low wages, and rising prices of goods.
"Clearly, this administration is unapologetic in violating the basic rights of Filipino women and Filipino masses to live with decency and dignity," said Assidao Santos.
"We thus condemn it today for forcing every Filipino to suffer with 'empty pots and gnawing stomachs' (kalderong walang laman, sikmurang kumakalam) and fight back against its unbridled affront against the most marginalized in the country," she said.
The larger campaign of PALAG NA, a campaign against government policies on continuing high prices, joined the action through the participation of women from the member-organizations Freedom from Debt Coalition (FDC) and the Philippine Movement for Climate Justice (PMCJ), calling for an end to the misogyny and 'economic abuse' being propagated hand in hand by the administration.
"For years, the majority of Filipinos are suffering from hunger and poverty. But instead of alleviating the conditions of the people, this government enacted policies like the TRAIN Law, thereby making life more unbearable for them," said PMCJ Food, Land, Water, and Climate Change campaigner Jinky Esguerra.
According to Freedom from Debt Coalition Women's Committee Chairperson Malou Nuera, poor Filipino women, especially poor Filipino mothers, are at the intersection and stand to suffer most from rising prices and the rising affront of the administration against women.
"The negative effects of today's economic policies, such as increasing hunger and poverty, are experienced by Filipino mothers tenfold as the primary caretakers of the family and managers of domestic life," said Nuera.
"In addition to this, despite the very significant responsibilities they fulfill as women, Filipinas are belittled and demeaned by this administration through its tolerance and promotion of abusive deeds and language against women," she added.
Jointly, Oriang, FDC, and other organizations participating in the campaign demanded an end to the administration's 'targeting of the poor and the women.'
"The Duterte administration, with its 'anti-poor' policies and 'anti-women' behavior, has outright neglected the marginalized whom it had postured to serve. We march here today as Filipina masses to voice our outrage and to call on every Filipino to fight back against the continuing abuses of this government," said Oriang.
Highlights of Eastern Visayas' export and import statistics: March 2018
By PSA-8
June 19, 2018
TACLOBAN CITY – The region's total trade in goods in March 2018 amounted to $96.9 million, an increase of 21.6% over the value of $79.7 million registered in the same month last year. Total exports amounted to $77.2 million, which was 3.2% lower compared with the $79.7 million in March 2017. Total value of imports, meanwhile, was recorded at $19.8 million from zero imports posted in the same period last year.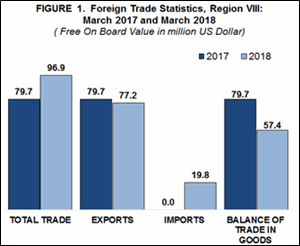 The region reflected a surplus in the total balance of trade in goods (BoT-G) amounting to $57.4 million in March 2018. This is 28.0% lower compared with the $79.7 million surplus recorded in the same period a year ago.
Exports
The region's total volume of exports in March 2018 was at 73.8 million kilograms.
Copper and Articles thereof was the major commodity group exported during the month with total revenue of $66.2 million, accounting for more than four-fifths or 85.8% of the region's total exports revenue in March 2018.
Animal or Vegetable Fats and Oils and their Cleavage Products; Prepared Edible Fats; Animal or Vegetable Waxes recorded $4.0 million export revenue, which accounted for 5.2% of the total export revenue. Fertilizers earned an export revenue of $3.3 million or 4.2% share of the total exports revenue. Ores, Slag and Ash exports amounted to $2.9 million, which shared 3.7% of the total exports. Inorganic Chemicals; Organic or Inorganic Compounds of Precious Metals, of Rare-Earth, of Radio-Active Elements or of Isotopes, meanwhile, recorded less than a million exports revenue ($0.8) or 1.1% of the total export revenue.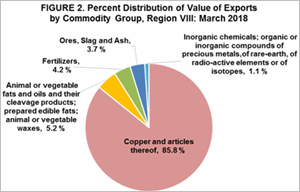 People's Republic of China was the top export market destination with recorded total exports revenue of $69.4 million or 89.9% of the region's total exports. United States of America ranked second with $4.0 million export revenue or 5.2% of the total exports in March 2018, followed by Vietnam with $3.3 million export receipts, accounting for 4.2% of the region's total exports. India recorded the least exports valued at $0.5millionor 0.7% of the total exports of the region.
Imports
The region's total imports amounted to $19.8 million in March 2018 with total gross weight of 136.4 million kilograms.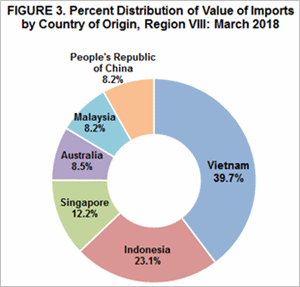 Inorganic Chemicals; Organic or Inorganic Compounds of Precious Metals, of Rare-Earth, of Radio-Active Elements or of Isotopes commodity group and Mineral Fuels, Mineral Oils and Products of their Distillation; Bituminous Substances; Mineral Waxes commodity group were the major imports during the month, both with total revenue of $5.7 million, each accounting for 28.7% of the region's total imports in March 2018.
The next largest imported commodity group was Salt, Sulphur, Earths and Stone; Plastering Materials, Lime and Cement, with imports value at $4.3 million, comprising 21.8% of the total imports in March 2018. It was followed by Miscellaneous Chemical Products with imports value of $2.6 million, 13.2% share to the total imports of the region.
The top import supplier of the region was Vietnam, which recorded a total imports bill of $7.8 million or almost two-fifths (39.7%) of the region's total imports. Indonesia ranked second with $4.6 million import bill or 23.1% of the total imports for March. Singapore ranked third with total imports valued at $2.4 million contributing 12.2% of the total regional imports.
Eastern Visayas registers 95.4% employment rate in April 2018
By PSA-8
June 18, 2018
TACLOBAN CITY – Employment Rate (ER) in Eastern Visayas in April 2018 was estimated at 95.4%, ranking fourth among the regions with high employment rate in the country (Table 1). This figure is lower than the 96.2% ER recorded in April 2017. Employment rate is the proportion of employed persons to total labor force.
Out of the estimated 3.2 million population 15 years old and over in April 2018, about 2.0 million were economically active or in the labor force. This number translates to a Labor Force Participation Rate (LFPR) of 63.2%. This figure is 1.0 percentage point lower compared with the 64.2% LFPR in the same period a year ago. Among the regions, Eastern Visayas registered the fourth highest LFPR.
The underemployed persons or those employed persons who express the desire to have additional hours of work in their present job or to have additional job, or to have a new job with longer working hours was estimated at 452 thousand. This is equal to an underemployment rate of 23.8%, lower than the 24.0% recorded in the same period last year. The region had the third highest underemployment rate in the country.
Meanwhile, about 92 thousand persons in the labor force were unemployed. This translates to an unemployment rate of 4.6%, higher than the 3.8% rate recorded in April 2017. Eastern Visayas ranked fourth among the regions with low employment rate.
Data were based on the preliminary estimates released by the Philippine Statistics Authority from the Labor Force Survey (LFS) conducted in April 2018.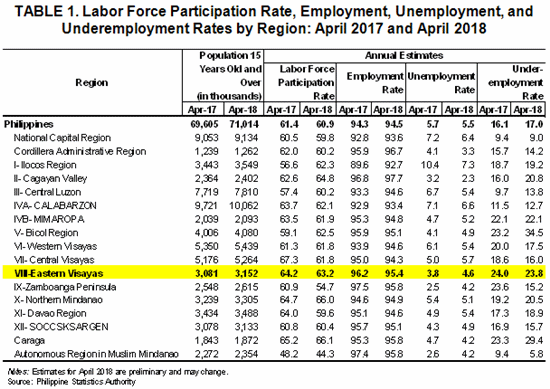 Eastern Visayas' inflation rate up by 5.8% in May
By PSA-8
June 18, 2018
TACLOBAN CITY – The annual Inflation Rate (IR) of Eastern Visayas went up by 5.8% in May 2018. This IR was 0.4 percentage point higher compared with the 5.4 percent IR a month ago, and 2.2 percentage points higher than the recorded 3.6 percent IR in the same period last year. The regional inflation rate was 1.2 percentage points higher than the 4.6 percent national average in May.
Four provinces in the region – Biliran, Leyte, Samar and Southern Leyte posted higher inflation rates in May with 1.2 percentage points, 0.1 percentage point, 0.5 percentage point, and 0.6 percentage point increases, respectively, compared with their figures in the previous month. On the other hand, Eastern Samar and Northern Samar registered 0.3 percentage point and 0.1 percentage point decreases in IR, respectively. Samar registered the highest IR at 7.5 percent, while Southern Leyte posted the lowest IR at 1.3 percent (Table 1).
By major commodity groups, Housing, Water, Electricity, Gas and Other Fuels posted the highest percent change in IR at 1.0 percentage point from April to May. Food and Non-Alcoholic Beverages followed at 0.4 percentage point.
Annual price changes in Transport, Alcoholic Beverages and Tobacco, Health and Education decreased from 3.6% in April to 3.5% in May.
Communication recorded zero inflation rate during the reference month, while Restaurant and Miscellaneous Goods and Services retained its previous month's rate of 1.6%.
The Purchasing Power of Peso (PPP) of the region was recorded at P0.81 in May 2018. This is weaker compared with the P0.82 PPP registered in the previous month. This PPP implies that goods and services worth 100 pesos in May 2018 only costs 81 pesos in 2012.
Biliran and Samar registered a 0.01 centavo decrease in the PPP compared with their figures in April. The rest of the provinces had sustained their PPP from last month. Leyte and Southern Leyte recorded the strongest PPP at P0.84. Biliran ranked second at P0.81, followed by Eastern Samar at P0.80 and Northern Samar at P0.77. Samar, meanwhile, posted the weakest PPP at P0.76. (Table 1).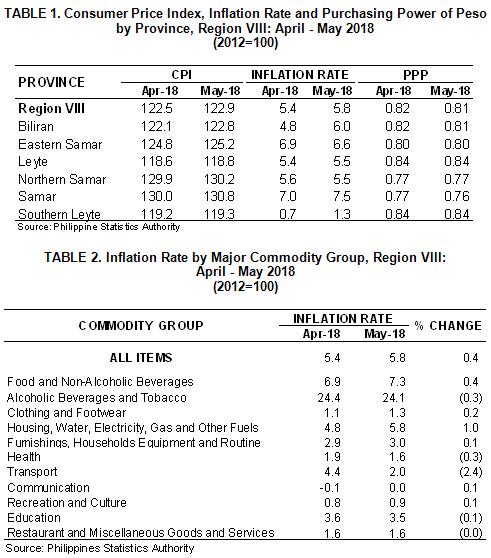 241 Candidate Soldiers took their oath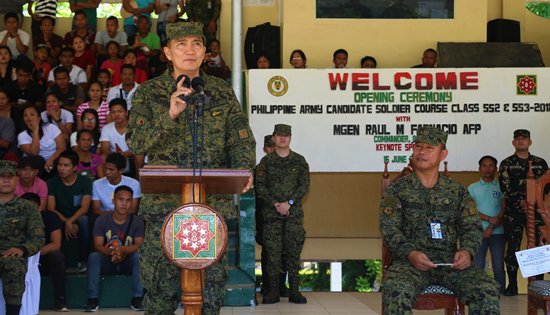 By DPAO, 8ID PA
June 16, 2018
CAMP LUKBAN, Catbalogan City – The Candidate Soldier Course Class 552 & 553-2018 composed of 241 new aspirants was officially opened at Headquarters 8th Infantry (Stormtroopers) Division, Philippine Army, Brgy Maulong, Catbalogan City, Samar with Maj. Gen. Raul M. Farnacio AFP, Commander as the Keynote Speaker, this morning.
The majority of the new selected batch of Candidate Soldiers came from Samar and Leyte provinces. On their educational profile, one is license professional; 51 of them are college graduates; 121 are college level and 68 are high school graduates with skills training from TESDA.
They will be honed for the duration of four months in basic military training and tactics and will serve as additional soldiers that will beef-up the personnel strength of the Stormtroopers Division.
Maj. Gen. Raul M Farnacio in his message, "To the 241 physically and mentally strong Candidate Soldiers, muli kong pinapaalala na ngayong araw ang hudyat at simula ng panibagong yugto ng inyong buhay. Sa inyong desisyon na pumasok sa pagsusundalo, gabayan nawa kayo palagi ng Poong Maykapal. Huwag ninyong bibiguin ang inyong mga magulang at lahat ng taong nagmamahal at nagtitiwala sa inyo at umaasa na mapagtatagumpayan ninyo ang hirap na ito. Kaya ninyong malagpasan ang lahat ng pagsubok. Tiwala sa sarili, positibong asal at pag-iisip ang inyong magiging puhunan at sandigan. Higit sa lahat, huwag na huwag ninyong kakalimutan ang pagtawag sa Panginoon para sa gabay at patnubay. 241 kayong nagsimula, hangad ko na 241 din kayong magtatapos at maging karapat dapat na tawaging STORMTROOPERS."
Immediately after the program Enlistment Clothing Allowance were distributed to our new recruits, the Army ensures that they have already their needed equipment upon the start of their training.
Soldier pays the ultimate sacrifice while on community service
By DPAO, 8ID PA
June 15, 2018
CAMP LUKBAN, Catbalogan City – The people of Northern Samar strongly condemns the terroristic attack of CPP-NPA at Brgy. Senonogan De Tubang, Silvino Lobos, Northern Samar on June 14, 2018 at 4:00 p.m. while the troops of 20th Infantry (We Lead) Battalion was conducting Community Support Program that resulted to the loss of life of Private Jay C. Aranzado (Inf) PA.
The fatality, Private Aranzado is 21 years old and is a resident of Brgy Molopolo, Macrohon, Southern Leyte who had a great passion to serve his fellow Visayans in Northern Samar. He just graduated from Candidate Soldier Class 463-2017. Sadly, because of blind ideologies of the said terrorists, his life ended.
Major General Raul M. Farnacio, Commander of the 8th Infantry Division, instructed the troops to be more cautious while on duty and he also directed Lt. Col. Noli F. Lapizar, Commanding Officer, 20IB in coordination with other military units in the area to press on the pursuit operations to put an end to the terroristic activities of CNTs against our people within our Area of Operations.
"We extend our deepest sympathies to the family and friends of Private Aranzado. He died protecting the people of Northern Samar in pursuit of peace and development." Farnacio added.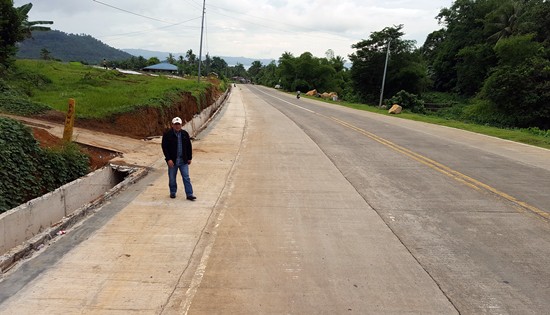 David P. Adongay Jr. District Engineer of Biliran District Engineering Office inspects on-going construction of drainage along Naval-Caibiran Cross Country Road (NCCCR), Naval, Biliran on May 31, 2018. This project is target to be completed on September 2, 2018.
DPWH-Biliran DEO's updates on 2018 project status
Press Release
June 13, 2018
NAVAL, Biliran – The Department of Public Works and Highways (DPWH) –Biliran District Engineering Office (DEO) continues progress for its 2018 project implementation. As of May 31, 2018, the office has a total actual accomplishment of 25.01% with a positive slippage of 0.39%.
P1.6B has been allotted to Biliran DEO for the implementation of 60 infrastructure projects based on the 2018 General Appropriation Act (GAA). Out of the 60 projects, 36 are on-going, six are completed and 18 are up for implementation.
David P. Adongay Jr., District Engineer accounted the delay of projects due to the damages caused by tropical storm Urduja on December, 2017 resulting inaccessibility to project sites.
Under preliminary and detailed engineering activities, Engr. Rosario B. Rosete, Chief of the Planning and Design Section reported that 57 were already completed while only three are on-going with an accomplishment 96.54% as of May 31, 2018.
The purpose of preliminary engineering is to gather the necessary data from the field as basis in the preparation of plans. Activities under this phase includes surveying, designing and programming.
For pre-construction phase, out of the 60 projects, 49 are completed, eight are on-going and three are Not-Yet-Started (NYS) with an accomplishment of 77.98% as of May 31, 2018.
The district had already advertised 57 and successfully bid out 56 out of 60 projects under FY 2018 GAA.
The office continues to monitor and fast tracks these projects in order to deliver a safe and quality assured infrastructures that will be beneficial to the end-users.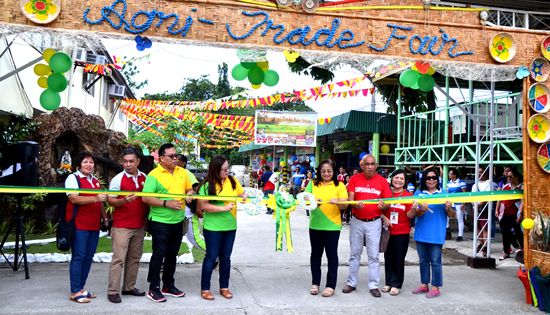 DAR-8 Regional Director Sheila Enciso (4th from left), Assistant Regional Directors Ma Fe Malinao (4th from right) and Ismael Aya-ay (3rd from left) cut the ceremonial ribbon to formally open the mini-agraryo trade fair at the DAR Regional Office compound. With them are DAR provincial officials (from left) Teresita Alde (PARPO-I, Eastern Samar), Gilberto Apilado (PARPO-II, Eastern Samar), Renato Badilla (PARPO-II, Leyte), Paulina Canales (PARPO-I, Leyte) and Elisea Orapa (PARPO-II, Southern Leyte.
DAR commemorates 30 years of CARP, opens agraryo-trade fair
By JOSE ALSMITH L. SORIA
June 13, 2018
TACLOBAN CITY – A mini-agraryo-trade fair was opened on Monday morning at the Department of Agrarian Reform Regional Office compound in this city as the said agency started a four-day celebration in commemoration of the 30 years of implementation of the Comprehensive Agrarian Reform Program (CARP) in the county.
The trade fair highlights the celebration showcasing the growth of the agrarian reform beneficiaries (ARBs) from ordinary tillers to enterprising ARB organizations (ARBOs).
All five DAR provincial offices in Eastern Visayas were provided a booth for ARBOs products ranging from agricultural to handicrafts and processed foods.
Regional Director Sheila Enciso disclosed that DAR has provided more than 219,000 ARBs throughout the region with certificates of land-ownership award (CLOAs), while more than 413 ARBOs were organized into associations or cooperatives during the 30 years of CARP implementation.
Meanwhile, Assistant Regional Director for Program Beneficiaries Development (PBD) Ismael Aya-ay likewise disclosed that DAR has provided ARBs through the years with various support services such as infrastructures, common service facilities, trainings and facilitate too in availing of credit assistance.
He further disclosed that four processed food products produced by ARBOs in Leyte, Samar and Eastern Samar can now be sold on a larger scale after obtaining recently a license to operate from the Food and Drug Administration (FDA).
These are: "Banana Chips" by Omaganhan Farmers Multi-Purpose Cooperative in Tabango, Leyte; "Imbotido" by LIBERCON Multi-Purpose Cooperative in Hilongos, Leyte; "Pancit Canton" (squash and malunggay flavors) produced by San Roque Farmers Association in Daram, Samar; and "Cassava Chips" (sweet blend and garlic flavors) by ESEP ARC Cooperative in Salcedo, Eastern Samar.
On June 10, 1988, then President Corazon Aquino signed Republic Act No. 6657, otherwise known as the Comprehensive Agrarian Reform Law (CARL) to look after the welfare of the landless farmers and farmworkers to receive the highest consideration to promote social justice and to move the nation towards sound rural development and industrialization.
To commemorate the 30 years of implementation, DAR-8 kicked-off the four-day celebration thru a motorcade around the city on Monday morning and will end on Thursday by recognizing the support and contribution of various government agencies and non-government organizations during the past three decades.
This year's celebration theme is "CARP@30: DARe2change Pagbabalik tanaw sa 3 dekada ng repormang agraryo patungo sa ikalawang yugto ng pagbabago".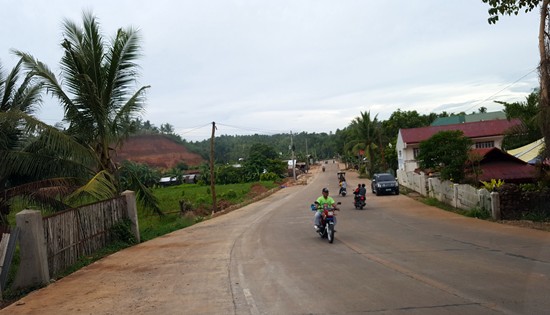 Widening of Biliran Circumferential Road (Brgy. Pulang Bato Section) is on-going with 70% accomplishment as of May 31, 2018 along with the other sections in Bilwang - Burabod, Mapuyo and Kaulanguhan. This project has a contract amount of P125M under 2017 implementation. It is target to be completed on June 30, 2018.
DPWH-Biliran DEO's 2017 projects is on-going with 74.16% accomplishment
Press Release
June 13, 2018
NAVAL, Biliran – David P. Adongay Jr., District Engineer of Biliran District Engineering Office is rushing for the completion of on-going 2017 projects.
As of May 31, 2018, the Department of Public Works and Highways (DPWH)- Biliran District Engineering Office has an accomplishment of 74.16% for 57 total projects under year 2017 infrastructure program.
Out of the 57 projects, 52 are completed while five projects with an allocation of P50M and above are still on-going.
Spilled-over projects of 2017 includes widening projects, rehabilitation of access road leading to Naval port, and Rehabilitations of Slope Protection Structures.
Having a negative slippage of 5.73% as of May 31, 2018, Adongay orders project engineers to closely monitor on the projects for fast completion.
"Hindi ibig sabihin na pag'pinabibilis natin ang trabaho ay dapat ma compromise ang quality ng project, dapat nandoon pa rin yung quality," Adongay said.
Meanwhile, Adongay informs that starting 2019, the department will be implementing a "cash-based appropriation" policy. This means that contractors' payment can only be done within a 15-month period.
"From the year the project was implemented and completed, contracts delivered at the end of the year can be paid during the 3-month Extended Payment Period (EPP) or from month of January to March only of the following year," Adongay said. This is in contrast from the present policy of the DPWH which is the "obligation-based appropriations" wherein the inspection, verification, and payment for contractors will run 24 months and beyond.
"This year 2018 is the transition period for contractors to be cognizant of the shift," he said.
According to Adongay, the shift will ensure that agencies will focus on executing the budget of the current year and not from prior years. This is part of President Rodrigo Dutere's Build, Build, and Build Program.
On the rehabilitation of Boracay
By NDFP RWC-SER
June 13, 2018
MANILA – The National Democratic Front of the Philippines Reciprocal Working Committee on Social and Economic Reforms (NDFP RWC-SER) said the Government of the Philippines (GRP) promise to carry out agrarian reform program in Boracay must start with free land distribution to farmers and indigenous people in the island.
The free land distribution component of a new agrarian reform program was agreed by both the NDFP and GRP at the RWCs-SER in the previous rounds of the peace talks.
After free land distribution, Boracay farmers should be given sufficient support services ranging from short to long-term assistance to aid them in developing and making the land productive for the local and national economy, the NDFP RWC-SER said, in response to President Duterte's remark that Boracay natives should sell their lands to big businesses.
Agrarian reform imbued with the spirit of social justice, indigenous peoples' rights, and working people's rights is the Filipino people's demand. We challenge the GRP to fast track the negotiations on CASER as when we resume formal talks this month, said Julie de Lima, chairperson of the NDFP RWC-SER.
Both parties must iron out the few remaining contentious issues and come out with a common draft for the Agrarian reform and Rural Development (ARRD) and National Industrialization and Economic Development (NIED) of the Comprehensive Agreement on Socio-Economic Reforms (CASER)," De Lima said.
She added that the Boracay case falls squarely within the ambit of agrarian reform and rural development because the GRP itself has classified a big bulk of lands at issue either as agricultural or suitable for agriculture.
A new and truly redistributive land reform program is necessary, as it would pave the way for a truly just and equitable agrarian reform to benefit the most qualified beneficiaries in Boracay "those who are actually tilling the land, or ready to till it, or to work the land in other productive ways such as agro-forestry, fishery, small-scale food processing, and the like. The Ati community, including those that have been displaced but willing to return, should be given priority. De Lima also stated that the issue of environmental justice must be served in implementing an agrarian reform program in Boracay.
In the last four decades, the environmental situation of Boracay has immensely deteriorated. The GRP agencies' aggressive and obsessive drive for tourist revenues has resulted in grievous human rights violations such as the displacement of its original occupants, the Ati community, including the killing of tribal leader Dexter Condez.
De Lima noted that there are various applicable provisions in the NDFP's CASER draft that the GRP may find enlightening. The rehabilitation of Boracay can, in fact, serve as a testing ground for the provisions of a signed agreement on agrarian reform and rural development.
NUSP: Limited slots, fees collection hound first year of free education
Press Release
June 13, 2018
QUEZON CITY – The National Union of Students of the Philippines (NUSP), a nationwide alliance of student councils, condemns the Duterte administration's maneuvers to limit the beneficiaries of free higher education.
Limited slots, facilities in public schools
"Not all Filipino youth will benefit from free education because government policy pushes state universities and colleges (SUCs) to limit the slots available for enrollees. Worse, the Duterte administration does not intend to improve campus facilities so that more students can be accommodated," said NUSP National Spokesperson Mark VIncent Lim.
In Bulacan State University, the country's third largest SUC, only 10,000 out of the 22,000 students who took the entrance exam will be accepted. Students and their parents have trooped into student council offices to seek for help regarding admission.
Last June 4, Cagayan State University (CSU) released the result of its college admission test held simultaneously in different campuses, and only about 4,750 out of 10,523 takers will be admitted by the school. Students took to the internet their grievances against the low passing rate in the said exam.
An official of CSU said that the "tough" entrance exam is required by law. "The government's reluctance to provide free education has led school administrators to impose stricter admission rules and reduce the number of beneficiaries of free education. Instead of pitting students against each other over the limited number of slots, the government must ensure access to free education by as many students as possible," said Lim.
Tuition, fees collection continue in several LUCs
NUSP also criticizes continued collection of fees amid the free education law. According to Lim, the collection of tuition and other school fees (OSF) from students of local universities and colleges (LUCs) persist as only 78 of the 107 LUCs nationwide are providing free higher education for A.Y. 2018-2019. "Many students still have to suffer from paying exorbitant and dubious fees amidst the clamor of the youth that the government immediately provide free education for all," said Lim.
In Metro Manila, students enrolled in only two (2) LUCs – Pamantasan ng Lungsod ng Maynila (PLM) and Pamantasan ng Lungsod ng Muntinlupa (PLMun) – out of 16 in the region will be granted free education. This means that thousands of students in LUCs still have to pay OSF this academic year. In the case of Pamantasan ng Lungsod ng Marikina (PLMar), students who live outside Marikina City are charged P17,000 upon enrollment.
Return Service System
Students who benefit from free higher education are required to undergo a Return Service System (RSS) wherein they are required to render pro bono service to the university through student assistantship or socio-civic activities.
"Free higher education is a right and a state obligation. It should be provided without preconditions. The government cannot understand that education must already be free and must not be paid anymore. The RSS serves as payment for the 'free education' that students are supposed to enjoy by this time," said Lim.
"As an income-generating scheme, RSS is compulsory such that students who will opt out of the RSS will be forced to pay full tuition and OSF. As a cost-cutting measure, RSS will give universities additional workforce from students who will render unpaid, forced labor. In several schools, free education beneficiaries must serve as student assistants in offices or libraries," added Lim.
Rise for education
"Apparently, the fight for free education for all continues. We call on the Duterte administration to backpedal on neoliberal policies on education that have kept millions of Filipinos out of school, and to fulfill its constitutional obligation to ensure that quality education is accessible at all levels," said Lim.
"On June 19, education advocates – students, parents, teachers, administrators, personalities, and public officials – will gather at the Rise for Education National Summit in UP Diliman to discuss the updates and prospects of our education campaign and to forge our plan of actions," he ended.
Copy-Paste: A bad practice in OPTs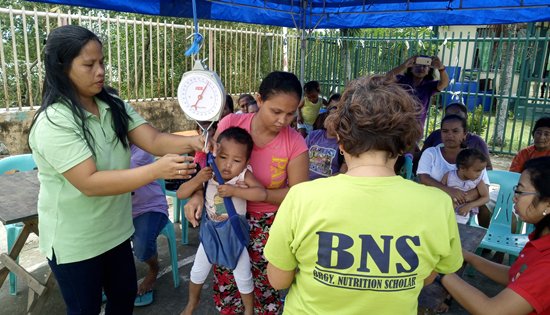 By RAY GASPAY
June 11, 2018
CATBALOGAN CITY – Copy-paste. This was the issue found and concern aired by the Municipal Nutrition Action Officers (MNAOs) of Babatngon and Capoocan, both of Leyte province, to media during the 2-day Media Caravan conducted on June 7-8, 2018 by the Harmonized Initiative of Media for the Spread of Good Nutrition in Region 8 (HIMSOG-8), a media arm of the National Nutrition Council 8.
"We do not believe that we are in the top rank of a municipality with a high prevalence of malnutrition in the region. We see the 'copy-paste' practice of some of our BNSs (Barangay Nutrition Scholars) as the culprit of this erroneous result in the OPT (Operation Timbang)", lamented the MNAOs during the open forum of the media visit.
The MNAOs argued that some of their BNSs, because of the urgency to submit their Barangay OPT result before the deadline, tend to copy the previous year's OPT result, consequently providing a wrong data entry with a higher rate of malnutrition.
When media asked that they should tell their BNS to conduct the weighing and growth monitoring activity with diligence, they claim that still some of their BNSs needs more training to perform the task well. Capoocan MNAO admitted that it is hard for her to demand better performance to her BNSs because they only received a minimal amount of P100-P300 a month honorarium from their barangay, and that her municipality cannot provide them additional pay.
In the 2017 Prevalence of Malnutrition result, Babatngon and Capoocan ranked 1 and 2 in the prevalence of stunting rate, ranked 29 and 92 in the prevalence of wasted and severely wasted, ranked 1 and 98 in the prevalence of underweight and severely underweight, and ranked 25 and 6 in the prevalence of overweight and obesity, all respectively from out of 134 municipalities in the region.
The HIMSOG-8 media caravan is an annual activity of the regional media group to visit selected municipalities in the region whose aim is to encourage LGUs to invest more and enhance its programs on nutrition. It is also a forum where issues of concern are discussed in detail, resolved or referred to the concerned office or officials for an immediate action.
This year's caravan centers more on eight (8) nutritionally depressed municipalities in the region.

Randy Columbres, PIO staff of DPWH-RO 8, discusses the new strategy for countering fake news.
DPWH PIOs combat fake news
By BON JOSEPH N. ASTILLA
June 11, 2018
CALBAYOG CITY – In response to the proliferation of fake news, DPWH Public Information Officers (PIOs) from all over Region VIII tackle countermeasures and new media during their 2nd quarterly meeting cum workshop in Borongan City, Eastern Samar on June 7-8, 2018.
Besides from the usual news prints and radio broadcasts, there's a new media that is changing the way people across the world are entertained and consume information. These are blogs, virtual reality, online newspapers, digital games and the most popular, social media.
With more than 4 billion people using the internet for an average of 6 hours per day, going digital has become an essential part of everyday life for most. Unfortunately, this is also how fake news easily spreads.
Two years ago, "fake news" was not a term many people used but as of today, is seen as a threat. "Fake news is actually disinformation wherein the information is false and the person who is disseminating it knows it is false" said Mr. Randy Columbres, PIO staff of DPWH-Regional Office. It is an intentional lie.
As part of the strategy, PIOs are tasked to curate content in the dissemination of information. Curated content is searchable, reader-friendly, and potentially engaging because it showcases variety of thoughts and ideas melded into a central platform.
In this way, misinformation and disinformation will be avoided and it will safeguard the truth.
Traffic survey: aid for better road design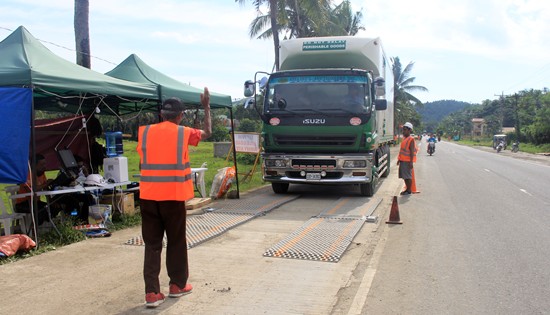 By MAE ANGELICA R. COMOTA
June 11, 2018
CALBAYOG CITY – The Department of Public Works and Highways -Samar First District Engineering Office with the Regional Office No. 8 - Road Traffic Information Applications (RTIA) Coordinator conducted the Annual Axle Load Survey along Daang Maharlika in Brgy. Cagsalaosao, Calbayog City. The survey period started from June 3 to 9, 2018.
Axle load is the total weight transmitted to the road by wheels connected to the axle of a vehicle. The axle load survey establishes load distribution and accurate forecast on traffic loading that a road will have to carry over its entire design life.
Traffic flow in the above-mentioned road section was normal as the load axle survey uses a new weighing motion scale allowing loaded trucks to be weighed without disrupting the motorists using the same road section.
A loaded truck rolls on the weighing scale while the attached monitor records the truck's gross weight and axle load. The survey team also takes note of the truck's plate number, number of seats, and load capacity.
The raw data collected will be submitted to the Regional Office for consolidation. Then, the consolidated data will be sent to the Central Office to determine the average axle load. If the average axle load is determined to be higher than established parameters, the thickness of the pavement will be revised to accommodate the change in axle load experience by the road.
Currently, the nationwide standard of thickness for pavement design is 28 centimeters.
"With Calbayog City's recent economic developments, the infrastructure needs to keep up. This survey comes at an opportune time as it will help us design and build better roads for the public," said District Engineer Alvin Ignacio.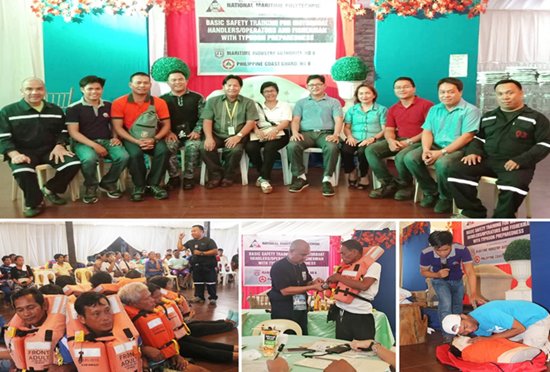 Motorboat handlers/operators and fisherfolks participate in the Basic Safety Training for MBHOF conducted by NMP in cooperation with PCG, MARINA and the LGU of Abuyog, Leyte.
156 motorboat handlers /operators /fisherfolks receive free training from NMP
Press Release
June 8, 2018
TACLOBAN CITY – The National Maritime Polytechnic (NMP), as part of its poverty-free zone program thrust, conducted for free, the Basic Safety Training for Motorboat Handlers /Operators /Fisher folks with Typhoon Preparedness (MBHOF) to one hundred fifty-six (156) motorboat handlers /operators /fisher folk's participants on 04-05 June 2018 at the Judgebar Restobar, Victory, Abuyog, Leyte. The training was held in partnership with the Philippine Coast Guard (PCG) and the Maritime Industry Authority (MARINA) Regional Office VIII.
The training was conducted taking in cognizant of the fact that maritime incidents and loss of lives are sometimes attributed to accidents involving marginalized vessels and motorboats, thus, the NMP, PCG, MARINA R.O VIII, and the local government of Abuyog realized the need to optimize its resources and harmonize its efforts to enhance the basic safety skills of the residents of Abuyog – motorboat handlers /operators and fisher folks to promote safety of life at sea.
The Basic Safety Training for MBHOF is aimed at improving the basic safety skills of local motorboat operators and fisher folks and expose them to new techniques in Personal Survival, Fire Prevention and Firefighting, Elementary First Aid and Personal Safety and Social Responsibility. Other salient topics are Rules of the Road, Typhoon Awareness and Marine Safety Requirements.
This was the first batch of graduates produced by NMP on MBHOF this year. Coordination with other LGUs in the region is currently being made for possible collaboration, thereby expanding the reach of beneficiaries for this program.
The MBHOF training is in conformity with the NMP Course Plan as approved by the Board of Trustees on 19 March 2007.
Meanwhile, NMP continues to upgrade its facilities and provide maritime trainings required pursuant to the Standards of Training, Certification, and Watchkeeping for Seafarers (STCW) Convention as amended in 2010 including value-adding courses towards improving the qualifications of Filipino seafarers for their employment acceptability and enhanced competitiveness.
Those interested to take NMP training programs may visit the NMP website (www.nm.gov.ph) and its facebook page (www.facebook.com/nmptrainingcenter) where all related information on NMP trainings are available.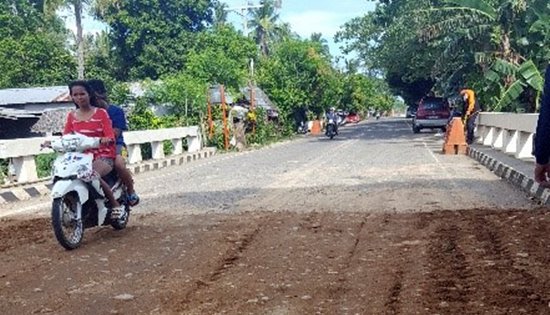 Santol Bridge along Biliran-Naval Road Section, Brgy. San Isidro, Biliran, DPWH Biliran District Engineering Office (DEO) is now preparing for the Program of Works (POW) for the restoration not only of the Santol Bridge Abutment but also of other bridges with damaged approaches and slope protection.
P64.9M fund allocated for the repair of damaged national roads and bridges in Biliran caused by typhoon Urduja
Press Release
June 6, 2018
NAVAL, Biliran – The Department of Public Works and Highways (DPWH)- Biliran District Engineering Office (DEO) received P64.9M to repair/restore damaged national roads and bridges in the province caused by typhoon Urduja.
David P. Adongay Jr., District Engineer said that the budget will be charged against the Disaster-Related and Emergency Rehabilitation Fund including National Bridges under the year 2018 General Appropriation Act (GAA), Republic Act (R.A) 10964.
"P49.1M is allocated for the repair/ restoration of 12 Bridge abutments and P15.8M for the repair/ restoration of six slope protections along the national road," said Adongay.
Biliran is one of the severely hit areas in Eastern Visayas Region during the onslaught of tropical storm Urduja on December 15-16, 2017 due to landslides and floods.
According to Adongay, preparation of Program of Works (POW) and Plans for the repair of said typhoon-damaged infrastructures is now on-going.
Slope Protection Structure subject for repair/ restoration are located at Sitio Cabradilla, Brgy. Bato, Biliran, Biliran along Biliran Circumferential Road (BCR); Slope protection along BCR, Brgy. Bato, Biliran, Biliran; Slope Protection along Naval-Caibiran Cross Country Road (NCCR) Cabadiangan Detour, Naval, Biliran; Slope Protection along NCCR, Macalpe, Brgy. Cabibihan, Caibiran, Biliran; and two Slope protections along BCR, Mokalbukal, Catmon, Naval, Biliran.
Subject for the repair/ restoration of bridge abutments are the Santol Bridge, Moog Bridge, and Busali Bridge at Biliran, Biliran; Mapuyo Bridge, Madao Bridge, Ungali Bridge and Tucdao Bridge at Kawayan, Biliran; Mapula Bridge and Mainit Bridge at Caibiran, Biliran, Talibong Bridge and Balaquid Bridge at Cabucgayan, Biliran and Bagongbong Bridge at Almeria, Biliran.
Adongay revealed that construction for the new CarayCaray Bridge and Catmon Bridge at Naval, Biliran will be included in the district's 2019 project implementation.
It can be recalled that said bridges were badly damaged during the onslaught of typhoon Urduja. These are among the major bridges that connects the province to mainland Leyte.
The Province of Biliran is one of the country's smallest provinces with a land area of 536 square kilometers and a population of 171,612 as of 2015. Formerly a sub-province of Leyte, it became an independent province in 1992.
Occupied housing units in EV reaches 975,625
By PSA-8
June 6, 2018
TACLOBAN CITY – Results of the 2015 Census of Population (POPCEN) showed that Eastern Visayas had a total occupied housing units of 975,625 as of August 1, 2015. This is an increase of 13.6% or 116,910 housing units over the 858,715 occupied housing units recorded during the 2010 Census of Population and Housing (CPH). This figure resulted to a ratio of 101 households for every 100 occupied housing units or 5 persons per occupied housing unit.
Leyte (excluding Tacloban City) recorded the highest number of occupied housing units among the provinces with 402,126 housing units or 41.2% of the total housing units in the region. Samar ranked second with 162,886 occupied housing units, followed by Northern Samar with 124,909, Eastern Samar with 105,653 and Southern Leyte with 92,405. Biliran recorded the least number of occupied housing units posted at 38,105 (Figure 1).

Tacloban City, the lone Highly Urbanized City (HUC) in the region, recorded a total of 49,541 occupied housing units.
Single-type house was the most common type of building/house in Eastern Visayas. Ninety-four percent of the total occupied housing unit in Eastern Visayas reported this type of building/house. About 4.1% were duplex while 1.7% were multi-unit residential.
Majority or 77.2% of the occupied housing units in the region had roofs made of galvanized iron/aluminum. Meanwhile, about three in ten (30.7%) of the occupied housing units in the region in 2015 had outer walls made of concrete/brick/stone.
Of the total 985,418 households in 2015, almost half (46.6%) owned or amortized the house and lots that they occupied in 2015. A little over one-third (38.2%) of the households occupied houses which they owned but not the lots, they were rent-free with consent of the owner; 6.5% owned the houses but rented the lots that they occupied; 4.8% lived in rent-free house and lots with consent of the owner; 2.3% lived in rented house and lot; 1.5% lived in own house and rent-free lot without consent of the owner; and 0.2% lived in rent-free house and lot without consent of the owner.
Majority or 83.9% of the 985,418 households in the region used electricity for lighting. Households that used kerosene for lighting accounted for 13.0. Solar lamps were used by about 1.6 percent of the households.
Of the total 985,418 households in 2015, 31.5% used shared faucet community water system as main source of drinking water. The second highest reported source of drinking water was own use faucet community water system which accounted for 18.2% of the total households. The rest of the households used the following sources: shared tubed/piped deep well (16.2%); bottled water (13.5%); dug well (5.7%); protected spring (5.0%); own use tubed/piped deep well (3.0%); tubed/piped shallow well (2.7%); peddler (2.0%); unprotected spring (1.4%); lake, river, rain (0.8%); and others (0.1%).
One-third or 33.1% of the households used shared faucet community water system as main source of water for cooking. The second highest reported source of water for cooking was own use faucet community water system which accounted for a quarter or 25.4% of the total households. The rest of the households used the following sources: shared tubed/piped deep well (17.9%); dug well (7.2%); own use tubed/piped deep well (4.5%); protected spring (4.4%); tubed/piped shallow well (3.2%); unprotected spring (1.3%); peddler (1.1%); bottled water (0.9%); and lake, river, rain (0.9%).
Workers condemn NEDA statement as insult and out of touch
NEDA's P127 a day food budget standard for Filipino family is an insult to workers; ALU-TUCP wants Edillon to retract statement and apologize
By ALU-TUCP
June 6, 2018
QUEZON CITY – For setting the living standard of Filipino family to the lowest level, labor group Associated Labor Unions-Trade Union Congress of the Philippines (ALU-TUCP) is demanding that the government's National Economic Development Authority (NEDA) retracts its statement and apologize in public for making out of touch declarations.
Speaking before reporters Tuesday, NEDA Undersecretary Rosemarie Edillon said the living standard for a Filipino family of five is only P10,000 a month. Out of which only P3,834 are needed food or P127 a day alone.
"We condemn this argument as inaccurate and a grave mistake. This is an affront to millions of poor Filipinos. We demand that the NEDA retract this out of touch statement and we are demanding that Undersecretary Edillon to apologize in public for insulting all of us with such a very low government standard of living and for taking the dignity of poor Filipino family to the lowest level," said Alan Tanjusay, spokesperson of ALU-TUCP.
The P127 a day for food expenses for a family of five is very low government standard, Tanjusay said adding: "This amount does not reflect the reality of majority of Filipinos who are poor. Why don't the NEDA officials including Ms. Edillon try to live with P127 a day, tingnan natin kung mabubuhay sila with this amount."
Tanjusay said government should set the standard at a modest and acceptable level after reflecting the realities on the ground.
"Government officials particularly the NEDA should immersed themselves in communities before they announce standards and policies. They should be immersed in public wet markets. They should often visit the talipapas and sari-sari stores not just depend on table studies if they want to know the real living conditions being experienced by Filipino families," Tanjusay said.
The living standard for a Filipino family of five should be P1,200 a day and P400-P600 a day of the amount should go to food expenses alone.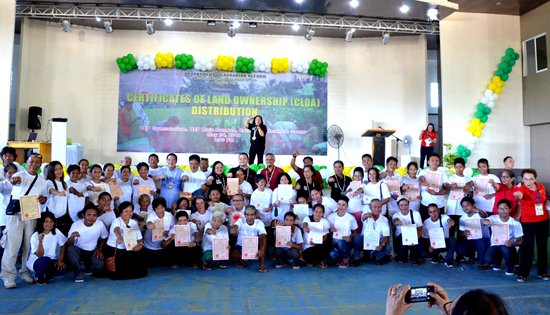 Recipients of the certificates of land ownership award (CLOAs) distributed in Catarman, Northern Samar recently pose during photo opportunity with DAR Undersecretary for Field Operations Office Karlo Bello and DAR-8 Regional Director Sheila Enciso.
226 Northern Samar farmers receive CLOAs from DAR
By JOSE ALSMITH L. SORIA
June 4, 2018
CATARMAN, Northern Samar – Two hundred twenty-six landless famers from three Northern Samar towns turned landowners as they received certificates of landownership award (CLOAs) from the Department of Agrarian Reform (DAR) on May 24.
DAR Undersecretary for Field Operations Office Karlo Bello handed the 226 individual CLOAs to the same number of farmer beneficiaries at the University of Eastern Philippines (UEP) gymnatorium.
The CLOAs covered an aggregate area of more than 435 hectares of both private and government-owned lands situated in the towns of Catarman, Bobon and Lope de Vega.
Bello in his message disclosed that he issued a memorandum directing DAR field offices to review its scope and look for more private and government owned lands that could still be covered under the Comprehensive Agrarian Reform Program's (CARP's) land distribution component per instruction from the president.
According to Bello, President Duterte is looking into the possibility of extending this program of the government so that more landless farmers could still benefit from it.
Meanwhile, Regional Director Atty. Sheila Enciso reminded the CLOA recipients of their obligation to pay the real property tax for they are the landowners now, and to pay the amortization for the beneficiaries of compensable lands.
Further, she encouraged the beneficiaries to join agrarian reform beneficiary organization (ARBO) in their area to be able to avail of the various support services extended under CARP.
Likewise, Governor Jose Ong, who graced the occasion, assured the agrarian reform beneficiaries (ARBs) of the support from the provincial government for it has also programs for the farmers, he stressed.
Due to excitement, couple Joel and Enelita Miano who are both CLOA recipients from Bobon were already at the venue as early as 10 o'clock in the morning though the distribution rite was to start at one o'clock in the afternoon, while Estela Bedeo, 79, thanked DAR for she was able to receive a title to the land she had been tilling for years. According to her, she was happy that they were deprived from paying the processing of the title, but stressed that she will pay the amortization and the real property tax.
Dolores Dato, of the Legal Division, explained to the ARBs their rights and obligations as well as prohibited acts emphasizing not to sell their awarded lands within 10 years.
In closing the program, DAR provincial chief Nida Abelido left a strong and clear message to the ARBs. She said "wag ninyo ibebenta ang lupa dahil ang pera pagdating ng panahon medaling maubos. Ngunit ang lupa ay magpapasalin-salin sa ating mga apo at anak na magbibigay ng pera. Bungkalin ninyo ang lupa. Pagyamanin ninyo para madami kayong ani na kikita at gaganda ang buhay."
Workers demands BIR return P20B pesos tax refund it owed to workers to mitigate rising inflation
By ALU-TUCP
June 4, 2018
QUEZON CITY – The Associated Labor Unions-Trade Union Congress of the Philippines (ALU-TUCP) is demanding that the Bureau of Internal Revenue (BIR) and Department of Finance (DOF) return in cash an estimated P20 billion, including interest, that the Bureau of Internal Revenue (BIR) unlawfully collected from millions of minimum-waged workers for seven months back in 2008.
The ALU-TUCP said there is an urgent need to return the workers their money to tide their families in the face of spiraling inflation.
In its 56-page January 24, 2017 ruling, the Supreme Court nullified two provisions of BIR Revenue Regulation 10-2008 that disqualify Minimum Waged Earners (MWEs) from tax exemptions on their wage, bonus, and other compensation benefits such overtime pay, hazard pay, holiday pay, and night shift differential pay including fringe benefits in excess of P30,000.
The Trade Union Congress of the Philippines (TUCP) filed a challenge before the Supreme Court questioning the BIR regulation and asked for its nullification.
The Supreme Court ruled in favor of the TUCP saying that the minimum wage earners (MWEs) should not be taxed because they are exempted from income tax by Republic Act 9502 – the law giving exemption to minimum waged workers from monthly salary tax deduction.
R.A 9502 became effective June 17, 2008. However, the BIR issued Revenue Regulation 10-2008 and have collected income tax from workers for 7 months before the agency suspended their collection.
Effectively, the BIR continued to collect taxes on the wage, bonuses and other benefits from millions of MWEs from June to December 2008 despite of effectivity of a law exempting minimum-waged workers from such taxes starting July 6, 2008.
"Minimum wage earners need these additional cash money which they rightfully own in order to cope with the current incredible rising prices of commodities and surging costs of utilities and services. It's workers' blood money. We urge the BIR and DOF to return the money including the legal interests now. Until now, the BIR and DOF have not complied with the high court order for them to make a cash refund," said ALU national president Michael Mendoza.
The ALU-TUCP calls for a cash refund including the annual legal interest the money earned from 2008 to 2017 which ALU-TUCP estimates at P20 billion covering the 10-year period.
"We cannot understand why the BIR and the DOF is quick to squeeze money from the workers but it takes forever for them to return what they illegally collected. Mahiya naman kayo! Those are workers' blood money. Pinaghirapan yan ng mga manggagawa, ibalik na ninyo! said Alan Tanjusay, ALU spokesperson.
Students, teachers, advocates bring together issues, gear up for June 19 National Education Summit
Press Release
June 1, 2018
QUEZON CITY – Students, teachers, and education advocates gathered and held a press conference to discuss the persistent issues and problems in the country's education system.
"Despite the passage of Republic Act 10931 or the Universal Access to Quality Tertiary Education Act, the fundamental problems in the country's system remain. Thus, the fight for free, accessible, and quality education continues," said Rise for Education National Convenor Mark Vincent Lim.
Rise for Education is a nationwide and multi-sectoral alliance of different student councils and publications from high schools and universities, youth organizations, members of the academe, parents, out-of-school youth, and citizens from all walks of life calling for quality education that is free and accessible to all.
Free education now
"Free education means not a single peso should be collected from students. A 'no collection policy' must be in place. However, obtaining funds from students in support of campus press and representation through their duly-elected councils, must continue," said Kabataan Party-list Deputy Secretary-General Angelica Reyes.
"Free education should also be implemented without delays and preconditions. Budgetary support for the immediate roll out of 'free education, no collection' in all public tertiary education institutions should be given without delay. In addition, the Return Service System, embedded in Republic Act 10931's implementing rules and regulations (IRR) as an additional requirement for free education, must be scrapped, as it undermines the right to education. Instead of 'forced labor' disguised as civic obligation, public tertiary schools should democratically create a blueprint to urge and empower students to serve the people and nation," said Reyes.
Tuition and other school fees hikes
"Another round of tuition and other school fees hikes is looming. This year, we are expecting that around 400 schools shall have tuition hikes at a rate of 6-10 percent. It is as if this has been the way of private schools in welcoming the youth back to school," said National Union of Students of the Philippines (NUSP) Deputy Secretary-General Kenji Muramatsu.
According to the Union, adding to the burden to the tuition and other schools fees (TOSF) increase is the increase in prices due to the implementation of the Tax Reform for Acceleration and Inclusion (TRAIN) Law.
"The TOSF hike is as alarming as how prices went up after the TRAIN Law has been implemented. From their tuition and other school fees, to their necessities in school such as school supplies, books, and food, the added cost of their education makes the burden even heavier. It is indeed a double-whammy towards the students and their parents," Muramatsu claimed.
The student union also lambasted the current administration's "apparent bias" towards private higher education institutions (HEIs). "CHED and Duterte fail miserably in protecting the rights of students to education. They are even the ones who push students to study in private HEIs, while they allow the non-stop increase in TOSF for the profits of capitalist-educators," Muramatsu ended.
Stop K-12 program
"The K-12 program is the worst neoliberal attack on Philippine education. Since its pilot implementation in year 2015, it has failed in its promise of employability and higher quality of education for the youth. The added two (2) years in basic education guarantee the capitalist-educators more profit from private high schools, and worsen the already substandard school facilities and equipment in public high schools. K-12 legitimizes contractualization among teachers and at the same time creates more mechanisms to breed students into labor exports or additions to the pool of cheap and docile laborers," said League of Filipino Students (LFS) National Spokesperson Kara Lenina Taggaoa.
"As this year marks the first batch of the K-12 graduates, there is no bright future that awaits them. Statistics from Philippine Chamber of Commerce and Industry (PCCI) and Philippine Business for Education (PBEd) have declared that K-12 has failed to train competent employees who are worthy of being hired in companies," ended Taggaoa.
Wage hike and rewarding benefits for teachers
"To uphold the public character of all government-funded tertiary education institutions, a substantial increase in state subsidy must be allotted to support capital improvement, and faculty development necessary to expand operations, and cater more students. Campus facilities and services must be adequate for quality and effective learning and teaching experience," said Alliance of Concerned Teachers (ACT) Philippines Chairperson Benjamin Valbuena.
"Teachers, academic personnel and workers, who have long suffered from low wages, contractualization and high prices of goods, should be given just, decent, and rewarding salaries and benefits," said Valbuena.
Uphold democratic rights and welfare
"Student councils, campus press, faculty union, and campus sectoral organizations serve a significant role in the pursuit of free education and the advancement of rights and welfare of the Filipino people. Their autonomy must be upheld and they must be free from any form of control and intervention so they can independently pursue principled positions, collaborative programs, and fruitful alliance work," said College Editors Guild of the Philippines (CEGP) National President Jose Mari Callueng.
"Militarization of indigenous peoples' schools should be stopped and their right to education, ancestral domain, and self-determination should be upheld," said PASAKA-SMR Chairperson Kerlan Fanagel.
Rise for education
"It is high time for the government to backpedal on these policies that have kept millions of Filipinos out of school, and fulfill its constitutional obligation to ensure that quality education is accessible at all levels," said Lim.
"On June 19, education advocates – students, parents, teachers, administrators, personalities, and public officials – will gather at the Rise for Education National Summit in UP Diliman to discuss the updates and prospects of our education campaign and to forge our plan of actions," said Lim.
"Together, we continue the struggle for an education that fosters patriotism and nationalism, and equips the students with the knowledge and skills needed to dedicatedly pursue a truly independent and prosperous Philippines," ended Lim.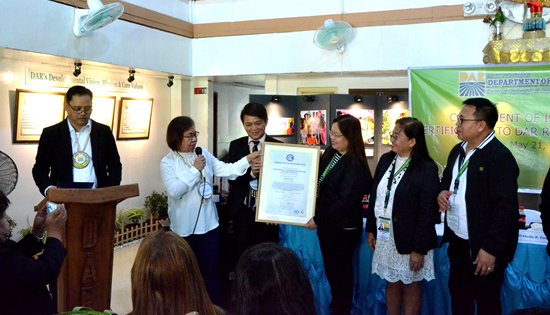 Guardian Independent Certification Ltd President Elsa Purificacion and Senior Auditor Jaime Ignacio (2nd and 3rd from left, respectively) hand over the giant ISO 9001:2015 certificate to DAR-8 Regional Director and ISO Champion Atty. Sheila Enciso (3rd from right) while Lead External Auditor Norlito Suelo (extreme left) and DAR Assistant Regional Directors Ma. Fe Malinao and Ismael Aya-ay (2nd from left and extreme left, respectively) look on.
DAR-8 makes history with ISO 9001:2015 certification
By JOSE ALSMITH L. SORIA
May 31, 2018
TACLOBAN CITY – The regional office of the Department of Agrarian Reform (DAR) in Eastern Visayas makes history as the first DAR Regional Office in the country conferred with the internationally recognized quality management certification based on ISO 9001:2015 standard.
On Monday, May 21, Guardian Independent Certification Ltd President Elsa Purificacion together with Senior Auditor Jaime Ignacio and Lead External Auditor Norlito Suelo handed the giant certificate to DAR-8 Regional Director and ISO champion Atty. Sheila Enciso.
The certificate states that this office "has been audited and found to conform to ISO 9001:2015 for the provision of government services (primarily for the agrarian reform beneficiaries and agricultural land owners), undertaking Land Tenure Services, Technical Advisory and Support Services, Agrarian Legal Services and Support to Operations, including technical assistance, administrative supervision and monitoring to DAR Provincial and Municipal Offices in accordance with the Comprehensive Agrarian Reform Program (CARP) as amended by R.A 9700 to all stakeholder of DAR Regional Office-8".
According to Suelo, "this office never cease to amaze me every time I visit here".
He shared that the first time he came here was two years ago, when DAR Central Office conducted the benchmarking and gap analysis, and every time he comes, he sees improvements.
In response, Enciso said the journey will not stop with the certification, what we have all to undertake with this quality management system documentation is our commitment to "never ending" continual improvement, specifically service excellence that will reap client satisfaction, while at the same time adhering to statutory and regulatory standards.
More than the certificate and recognition that we have received, what is more fulfilling was the change that had happened and has been implemented in our office, she added.
Aware of future surveillance audits, Enciso confidently declared "we can tackle them all because the principle of standard has already been implemented in our hearts and mind and is embraced by everyone".
To all DAR Regional Office-8 employees, she urged them not to consider this recognition as the end of what they had been working, but "as a beginning of a more meaningful and promising endeavor for the good and benefit of our stakeholders".
Meanwhile, DAR Central Office's Agrarian Reform Capacity Development Service Director Susana Serrano disclosed that DAR Regional Office-8 becomes the first DAR regional office to get quality management system certification. The pressure is within you, she added, as you will set the trend for other regional offices who want to be ISO certified.
Suelo further shared that this standard started in 1987 in response to global demand for quality products and services. While in the Philippines, he added that then President Gloria Arroyo issued Executive Order 605 directing all government agencies under the executive branch to adopt an ISO 9001 quality management system as part of the implementation of government-wide quality management program in order to promote and enhance public sector performance.
Govt. employees also calls for national minimum wage increase
Press Release
May 30, 2018
QUEZON CITY – The national center of government employees COURAGE today bewailed the present economic plight of government employees and called for a national minimum wage increase of P16,000/month from the current P10,510/month being received by an employee with salary grade 1.
Earlier, labor groups in the private sector called for a wage increase citing the inflationary impact of the tax reform law. Based from the Philippine Statistics Authority (PSA) announcement last May 4, 2018, prices of basic goods and services rose to a 5 year high of 4.5% this April higher than the January 2018 figures when the tax reform law was passed and higher than the government's inflation target range for 2018 of 2-4%.
"While we completely support the demand of private sector workers for a national minimum wage hike, we also call on government to give attention to the worsening economic condition of its workers especially lower ranked civilian employees at the local level," Mr. Ferdinand Gaite COURAGE President said.
Gaite cited that the lowest ranked government worker receives lower income of P477.20/day as compared to a minimum wage private sector worker in the National Capital Region who receives an income of P475 - P512 /day.
"The situation of local government workers is even worse. An SG1 employee of the local government of Cuenca, Batangas (4th class municipality), for example, receives 358.29/day as compared to a private sector minimum wage earner who receives P317 - 400/day as set by the regional wage board of Calabarzon," Mr. Gaite added.
This, he said, is among the many reasons COURAGE is calling for the implementation of a national minimum wage of P16,000/month for government workers to give justice to lower ranked and local government workers instead of the salary standardization law which shall implement its last tranche of increase next year.
"The recent snide remark of NEDA Secretary Ernesto Pernia in a press interview that only organized labor groups will benefit from a national minimum wage increase is uncalled for and only reflects his callousness to the plight of all workers including government workers in his office for whom the progressive realization of the constitutional right to a living wage is his duty to work on," Mr. Gaite concluded.
DTI's Philippine Trade Training Center: the Philippines' global MSME academy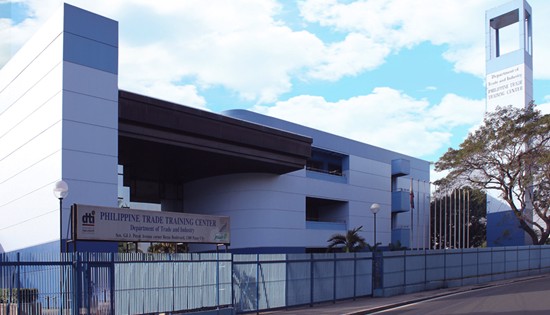 By DTI-TIPG-PTTC
May 29, 2018
MAKATI CITY – The Philippine Trade Training Center (PTTC) takes a leap as it embraces its new role as the Philippines' Global MSME Academy, by virtue of a Department Order (DO) issued and signed by Department of Trade and Industry (DTI) Secretary Ramon Lopez on April 18, 2018.
The order designates PTTC as a Center dedicated to the administration, development and conduct of trade-related training and management of facilities to support the requirements of globalizing industries and services most especially the micro, small and medium enterprises (MSMEs). Bureaus and offices within the DTI and all its attached agencies are enjoined to integrate their MSME-related training programs and projects with PTTC.
Fully dedicated to this commitment, PTTC created Strategic Business Units (SBUs) and customized its programs on three major industries – processed food, services, and consumer goods, and categorized by MSME levels - foundation, intermediate and advanced courses. From the foundation courses on business management, finance and marketing, and production management, each SBU has a focused training pathway with specialized course modules to address expansion in the domestic market and lead MSMEs to gain access to market compliance and internationalization.
PTTC also aligns its Entrepreneurship training programs for the youth, women and Overseas Filipino Workers (OFWs) in tandem with other institutions providing capacity-building programs for these focused sectors.
"MSMEs need to be inspired then nurtured to cope with the ever-changing environment, where survival somehow depends on knowledge, skills and attitude. Partnerships and collaboration with international content providers as well as homegrown experts shall be maximized to enable PTTC to address a wider range of training needs of MSMEs," said PTTC Executive Director Nestor P. Palabyab.
Local partners include The Philippine MICE Academy, The Philippine Center on Entrepreneurship Go Negosyo, Bank of the Philippine Islands (BPI) Foundation Inc., World Trade Center, and Center for Future Leadership while International partner institutions are Taipei Economic and Cultural Office (TECO), International Trade Center (ITC) Geneva, Switzerland, Association of Overseas Technical Scholarship (Japan), Leipzig University, Germany's Hinrich Foundation, and British Council of the Philippines.
Apart from these partnerships, PTTC also collaborates with e-learning institutions such as the ITC-SME Trade Academy, ASEAN SME Academy, and World Intellectual Property Organization (WIPO) Academy for online training courses in finance, human resource, marketing, trade and logistics, management, operations and technology.
New training programs, including regional programs, are also offered by the Center such as the recently launched Food Connect Program, designed to create an alternative environment for experiential learning for food manufacturers. Activities include:
a. Food Talks or briefings on International Labeling Requirements of Major Importing Countries such as USA, China, Japan and UAE;
b. Mentoring and consultative sessions by key industry practitioners providing practical, innovative tips on processes that can be adopted by MSMEs in food safety, shelf life, food processing technology and innovation, basic labeling requirements, process and product assessment;
c. Awareness on the regulatory compliance of Food and Drugs Administration -License to Operate/Certificate of Product Registration (FDA-LTO/CPR), HALAL, and International Food Standards.
Likewise, undergoing major improvements are the Center's training facilities. The Food Connect Hub is available for activities related to the Food Connect Program, with working spaces available for small group gathering, networking and negotiations. Food Lab, is dedicated for food testing such as Water Activity,
Water and pH Content and Metal Detector, intended for initial assessment of food properties for third party laboratory testing; and finally, the DigiFab Training Facility for product packaging prototyping, and the Creative Hub which gathers the young creative entrepreneurs to hone their skills and talents.
As the trade training arm of DTI, mandated under the Administrative Code of 1987 and Executive Order No. 133, Series of 1987, PTTC's mission is to provide stakeholders with high quality and relevant training programs at par with the best in the world, that transform Philippine MSMEs into global business entrepreneurs.