The Hingatungan Lupong Tagapamayapa (HILUTA)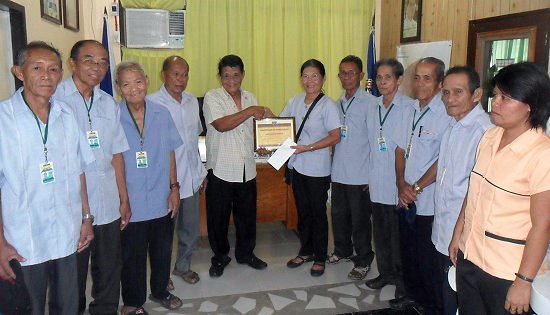 By LOREN A. ANICIETE, DILG Southern Leyte
March 12, 2013
SILAGO, Southern Leyte – "Hiluta ang panagbangi sa barangay pinaagi sa mga pulong nga malumo. Ang pagpakasala kalibutanon apan ang pagpasaylo langitnon." (Straighten out conflict in the barangay with soft words. To err is human, to forgive divine.)
This has been the guiding principle of the so-called Council of Elders or the Hingatungan Lupong Tagapamayapa (HILUTA), an all-senior citizen group of lupon members having their strong commitment and dedication to serve and help all the Hingatungganons resolve their conflicts amicably. Indeed, wisdom comes with old age.
According to the lupon elders, it has been their traditional settlement technique to conduct house visits, pre-hearing counselling, and the use of person in authority to influence conflicting parties to settle amicably. To them, their actions relative to KP are anchored on the main tenets and time-honored traditions of pakikisama (community-spirit), utang na loob (debt of gratitude) and kinship.
Through the institutionalization of the strategy called "Kasulbaran sa Panagbangi sa Barangay - Tinabangay mga Igsuon Approach (KPB-TIA)" more innovations and creative activities have been developed through the Lupong Tagapamayapa.
Continued advocacies in the promotion of KP have also been maintained such as conduct of "pulong-pulong sa purok" (where each lupon member is assigned in his/her designated purok to conduct public awareness), allocating time in every barangay assembly meetings for the "Lupon Time" (where Lupon members advocate and promote KP) and of course mentoring other Lupon members of other barangays and even other municipalities.
Moreover, with this kind of strategy, the partnership of the Hingatungan Lupong Tagapamayapa (HILUTA) with the Municipal Government of Silago, Provincial Government of Southern Leyte, National Government Agencies (NGAs), Non-government organizations (NGOs), People's Organizations (POs), Religious sector, academe, private sector and other CSOs has also been strengthened.
To date, the Lupong Tagapamayapa of Barangay Hingatungan, Silago has garnered three (3) top national honors in the Lupong Tagapamayapa Incentives Award (LTIA), i.e., national winner in the years 2001, 2007, and 2012.
The Hingatungan Lupon was also a national runner-up in 2000, 2006, 2008, and 2011. HiLuTa's winning streak had started during the nurturing years of former MLGOO Vicente Maraon then continued during the tenure of MLGOO Maria Fiona Duran-Merquita and now under OIC-MLGOO Jhonel Añavesa.
A consistent provincial and regional winner in the LTIA 4th-6th class municipality category, HILUTA lives on as Southern Leyte's popular and enduring best practice.
RAFI gets Anvil Award for Triennials book
By Ramon Aboitiz Foundation Inc.
March 12, 2013
CEBU CITY – The Ramon Aboitiz Foundation Inc. (RAFI) bagged an "Anvil Award of Merit for public relations tools - Publications, Special Publications" for the 5th RAFI Triennial Awards book.
RAFI was among the 142 private and public institutions and companies awarded during the 48th Anvil Awards at Makati Shangri-La last March 6.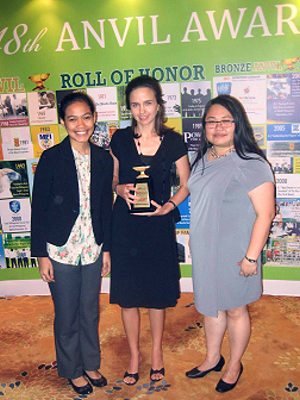 Amaya Aboitiz (center), deputy director for operations of RAFI, represented the Foundation together with (left) Hannah Marie Aranas, communications assistant for tri-media, and (right) Haidee Emmie Palapar, communications officer, during the 48th Anvil Awards.
The 5th RAFI Triennial Awards book is a compilation of stories featuring the top 10 – five for the Individual category and five for the Institutional category – finalist of the fifth run of the awards program.
The book is a documentation of inspiring stories of hope of people and institutions "going the extra mile" for positive change, as well as best practices in community development.
The articles written for the special publication provided an in-depth narration of the works of the finalists – what motivated them to undertake community development work, what they do for their communities and their impact, what strategies they implemented, what challenges they faced, and how they addressed them.
The publication of the book was also to acknowledge the finalists' efforts and affirm their contribution to create positive change in their respective localities in the Visayas and Mindanao.
The book also sought to show appreciation and continue inspiring people who were in many ways involved in the search process.
The RAFI Triennial Awards is conferred every three years to honor those men, women, and organizations, who, through their efforts and selfless commitment bring about change in the lives of the less-privileged in various groups and communities in the Philippines.
RAFI is now accepting nominations for the 6th RAFI Triennial Awards for the Ramon Aboitiz Award for Exemplary Individual and the Eduardo Aboitiz Award for Outstanding Institution.
On-line nomination forms can be accessed through RAFI's website at http://rafi.org.ph/event/nomination-form/.
Nominations are also accepted from government agencies, non-government organizations, people's organizations, civil society, academe, and the business sector. Self-nomination is discouraged.
The Anvil Awards is given yearly by the Public Relations Society of the Philippines in recognition of outstanding public relations programs and tools designed and implemented in the past year. In its 48th run, Anvil gathered 396 entries nationwide, surpassing last year's count of 283.
A new Tacloban rises in Eastern Visayas
By DAVID STA. MARIA
March 7, 2013
TACLOBAN CITY – This is not your grandfather's Tacloban. Since the plebiscite in December of 2008 firming it up as a Highly Urbanized City, the Leyte capital has been on a solid track to progress. The Region 8 hub city, led by its mayor Alfred Francis Romualdez, is aggressive in showing that Tacloban and its locals are ready and serious about business.
The city has been ranked 4th by the Banko Sentral ng Pilipinas (BSP) in terms of deposit, hitting the P42B mark, as of last year, with various commercial banks present in the locality and continuously expanding their operations. The construction industry noted a building boom in the city, especially in its key locations for the past four years. Mayor Romualdez further stated in his address to the city, that these constructions and renovations are indicative of a growing interest in opening businesses in Tacloban. The city government reported a steady 1000 new businesses being registered and started annually since 2009, as the locals cope with the transition from a quiet town to the bustling regional center of commerce it aims to be.
Three state universities (University of the Philippines, Leyte Normal University and Eastern Visayas State University) have established full-functioning facilities and campuses within the city, providing a capable and competent work force for emerging businesses and industries.
Daily flights in and out of Tacloban is up to 13 and rises to as much as 17 flights on peak season, with the local attention shifting from tourism to business and investments.
A testament to the vibrancy of local commerce, retail activity has picked up. Retail giants Gaisano Malls and Robinson's Malls have both seen the opportunities the city offers businesswise, and responded with the establishment of their own outlets in the City, Gaisano with 2 properties, and Robinson's gearing to expand to another facility.
Local business people and chambers of commerce attribute the boost in development and progress largely to the administration of Romualdez, under whose leadership, City Hall services were optimized. This involved streamlining processes involving business registration, revenue collection, and back office efficiency issues.
Romualdez has taken aggressive steps, pushing for the development of Tacloban, including advocating its transition to HUC. This gave the city autonomy to create policies for itself, positioning it now as the region's capital. Because of this, real estate has valuated after being pinned in its value for roughly 20 years.
Also uncommon, but key to the optimization of city services, is the city executive's decision to stop taking on consultants for essential services. The city now hires full time professionals, such as doctors, ensuring cost efficiency for the city, and also guaranteeing services for the people whenever it is needed.
With a more streamlined City Hall, massive bank deposits and a prospect of booming business, Tacloban is poised to take the forefront in new businesses for the next few years.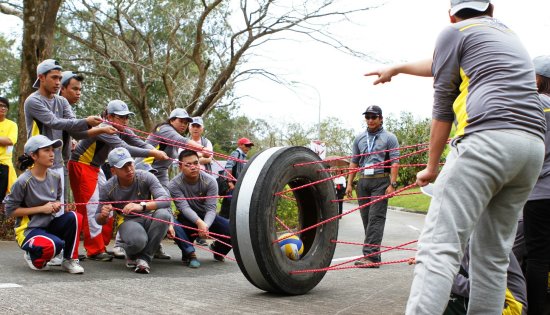 The teamwork of a group of youth leaders were put to test in Tire Ball, one of the initiative games introduced by KAC to this year's AYLC delegates.
RAFI-KAC inspires youth leaders
By Ramon Aboitiz Foundation Inc.
February 19, 2013
CEBU CITY – Eighty-one selected youth leaders from around the Philippines learned more about developing leadership skills and attitude and setting and achieving goals through the activities facilitated by the Kool Adventure Camp (KAC) of Ramon Aboitiz Foundation Inc. (RAFI) during the Ayala Young Leaders Congress (AYLC) 2013 on Feb. 5 to 8 in Alfonso, Cavite. The activities include trust activities, initiative games, and challenge course.
The activities facilitated by KAC promoted Playing to Win, Challenge by Choice, and Upheld Full Value Contract. Among these activities are Trust Lean, Willow in the Wind, Trust Run, Trust Reach, Human Pipeline, Archimedes Sponge, Tire Ball, A-Frame, and Initiative Wall.
"I really like the way KAC handled the outdoor challenges for the congress because it was not too physical and there was a longer time allotted for sharing, which I think is the most important part," Annie Fe Perez, a student leader from University of the Philippines Cebu College, shared.
"It was the processing that helped me learn because I got to hear different perspective on how they understood the activity. I like best the Initiative Wall because it inspired me to push my batchmates and the people in my own community and organizations to be the best that they can be," Perez added.
Together with Perez, Marmie Dyan Deniega of University of San Jose-Recoletos (USJ-R) and Rhyle Clifford Sayat of the University of San Carlos (USC) compose Cebu's delegation to AYLC.
"One has to use more than one leadership style to be able to successfully lead an organization because as a leader you not only lead but also manage your group, and to succeed as a manager, one has to be adaptive to different personalities and leadership styles of the people in your team," Sayat spoke of his insights on leadership.
With this year's congress theme, "The Leadership Imperative: Confronting and Adapting to Changing Realities," AYLC also marked its 15th year of putting together a national youth leadership conference.
AYLC is the Ayala Group's commitment to national development. It is the keystone of "Shaping Tomorrow's Leaders", the youth leadership development program launched in 1998 by the Ayala group of companies.
The four-day leadership congress featured outdoor activities facilitated by KAC, plenary sessions; workshop group discussions and talks moderated by Cheche Lazaro, editor-at-large of Rappler.com.
Speakers who tackled on overcoming challenges despite changing realities were Ramon del Rosario, president and CEO of Phinma Corporation; Christian Monsod, former chairman of the Commission on Elections; and Sister Eva Maamo SPC, president of the Foundation of our Lady of Peace Mission Inc.
The participants also had the chance to interact with well-known and highly respected leaders from the government, civil society, business, arts, media, and entertainment.
KAC has been offering adventure education programs on leadership and team development for youth and professionals for the last decade. It is currently building the Philippines' first fully dedicated adventure education center, which is set to open in early 2013. For more information on KAC and its services, contact 418-7234 local 407 and look for Althea Santillan, or visit www.rafi.org.ph/kac-professional or www.facebook.com/rafi.org.ph.
Leyte lady farmer is 2nd most outstanding farmer of PHL in 2012
By Philippine Information Agency (PIA 8)
February 19, 2013
PALO, Leyte – The Food and Agricultural Organization of the United Nations say that "If women farmers have same access to tools and opportunities as men, they will produce more food for their families, and the world."
This was proven true by Lady Farmer Ditas dela Peña of Barangay Anahaway, Palo, Leyte who was recently awarded as the second Outstanding Farmer of the Philippines (TOFARM) in 2012 besting 111 other farmers from the different parts of the country.
All these years, Ditas, 52 years old who is also a village chief, has fused hard work and innovative ideas to respond to her family circumstances and shifts in consumer demand and market conditions.
She received a silver plaque and P25,000 for her achievement last January 24 at the Raffles Hotel in Makati City from the TOFARM, a search undertaken by the Junior Chamber International Philippines (JCIP) in cooperation with Universal Harvester, Inc. to recognize the resilience, ingenuity, and strength of the Filipino farmers as backbones of the society.
For Barangay Chairperson Ditas, "Being one of the finalists was already a great honor for me considering the number of exceptional farmers we have in the country."
She expressed her gratitude to the Tacloban Jaycees through President Onie Balintong, the Leyte Provincial Agriculture Office through provincial agriculturist Rogelio Portula and the Municipal Government of Palo through Mayor Matin Petilla.
"Without their support, I would not be able to join the national search," she said.
Ditas was recognized for her efforts in preserving the bio-diversity through recycling farm and animal wastes into usable organic fertilizers, adoption of integrated farming system which provides good income and opportunities for expansion and replication, quality and market-driven farm products, benefit to community where neighbors earn their keep by working in her farm and impact to the agriculture sector which has inspired other farmers to join the farming industry.
She personally manages her 24-hectare farm grown and planted with rice, high value vegetables and fruit crops ranging from lettuce, pechay, eggplant, cucumber, kangkong, ampalaya, sweet and hot pepper, beans, alugbati, sweet corn, watermelon, rootcrops, sweet corn, papaya, among others.
Moreover, fruit trees such as jackfruit, pomelo, passion fruit, bananas, rambutan, calamansi, guyabano, coconut, red lady papaya and many others occupy a large portion of her farm with a nursery for asexually propagated plants.
Aside from these, she also tends to her poultry farm where she is a contract grower of the Genesis Broiler Chicken Farms, Inc, goat and swine production projects as well as her soon-to-be finished fishpond.
For Ditas, farming activities starting at 3:00 o'clock in the morning till night time occupy much of her time 24/7.
Her valuable insights and contributions within and outside her community are manifested by her numerous awards and recognitions received.
Her latest achievement included being the Valedictorian of the University on the Air High Value Crops Production, 2012 UGMAD award as Outstanding Farmer-Entrepreneur and Most Outstanding Irrigators Association as she is president of the Irrigators Association in her town.
Ditas is among the women farmers who are half of all farmers in the developing world; women farmers who can grow 30% more food if they have access to the same resources as men.
By helping women farmers just like Ditas, boost their production, as FAO observed, "we could reduce global hunger by 150 million people."
Convergence eyes Lake Danao as premier ecotourism destination
By Philippine Information Agency (PIA 8)
February 7, 2013
ORMOC CITY, Leyte – Lake Danao Natural Park in Ormoc City, in the province of Leyte is projected to soon become a premier ecotourism destination in Eastern Visayas.
The pronouncement was made during the launching of the updated protected are management plan of Lake Danao spearheaded by the Department of Environment and Natural Resources in convergence with fully supportive stakeholders.
DENR-8 Regional Executive Director Manolito Ragub said that the plan envisions Lake Danao Natural Park as "a climate change resilient center of biodiversity and a premier ecotourism destination in region 8, providing clean water and sustainable livelihood, and is managed by empowered stakeholders."
The Management Plan, RED Ragub said, which was crafted in 2009 was revisited to make it more responsive to current concerns and to include a wider participation of stakeholders in the planning process.
Noting that the previous plan promotes Lake Danao Natural Park as an iconic ecotourism destination in Eastern Visayas, inputs such as the Ecotourism Development Plan and the Lake Danao Site Development were included in the Updated Plan, RED Ragub said.
Among the updates are the current physical and biodiversity data of the park, definition of a management structure and the roles of stakeholders, and definition of a financing mechanism for park sustainability.
Moreover, the Plan ensures that climate change concerns are addressed and management standards and guidelines are set.
The Updated Management Plan has six (6) goals, namely, biodiversity conservation, improved quality of life, eco-tourism promotion, sustainability of the park, informed lake users and waste management.
Ms. Lilian Madjos who represented the Department of Interior and Local Government at the launching program, told the Lake Danao stakeholders, particularly the community residents that the Plan will remain a plan unless it is implemented. She committed the support of DILG to provide capability building and empowerment through training for the immediate stakeholders of the park.
Ormoc City Tourism Officer Ira Montehermoso informed that the local government unit of Ormoc City has an annual budget of 5 million pesos for infrastructure and other activities at Lake Danao Natural Park.
Facilities such as view deck and restrooms are already being completed onsite. She appealed to the village residents to help in the cleanliness and maintenance of these infrastructures.
Barangay Kagawad Eleazar Mistula in behalf of the residents, pledged continued support to protect the park and towards the successful implementation of the Updated Management Plan particularly in its provision of livelihood opportunities for stakeholders of the park.
Also present to pledge their support for the implementation of the Updated Management Plan were representatives of the Energy Development Corporation (EDC), Department of Tourism, the Local Government Unit of Ormoc City and its City Environment and Natural Resources Office, the Local Government Unit of Barangay Lake Danao, People's Organization Lake Danao Farmers Association (LADFA), and some residents of the village.
A Protected Area declared under the National Integrated Protected Areas System (NIPAS) of government, Lake Danao Natural Park is being managed by a multi-sectoral Protected Area Management Board chaired by the Department of Environment and Natural Resources.
It is managed on-site by a Protected Area Superintendent (PaSu) designated by the DENR Community Environment and Natural Resources Office (CENRO), Albuera, Leyte.
Lake Danao is a guitar-shaped lake on the island of Leyte, Philippines in the province of Leyte, covering an area of 148 hectares. It is situated in the 2,193 hectares (5,420 acres) Lake Danao National Park, which also includes the Amandiwin mountain range.
The lake is 18 kilometres northeast of Ormoc City, half an hour drive along the San Pablo - Tongonan and Milagro - Lake Danao roads.
It was originally named "Lake Imelda" and was declared a national park on June 2, 1972 by virtue of presidential memorandum issued by then President Ferdinand Marcos. Later it was renamed and declared as Lake Danao National Park on February 3, 1998 through Proclamation No. 1155 and is now protected by Republic Act No. 7586 otherwise known as the National Integrated Protected Area System (NIPAS) Act of 1992.
The lake supplies potable water to at least seven towns in Eastern Leyte including Tacloban City as well as the source of irrigation for ricelands in some municipalities like Dagami, Burauen, Pastrana and Tabon-tabon.
At 650 meters (2,130 ft) above sea level, Lake Danao lies on an altitude similar to Tagaytay, making the area cooler than the average Philippine temperature.
Lake Danao is one the best places to go boating here in Leyte. It is also known as "The Hunters Paradise" because many wild animals roam its forest. Birds that are mostly hunted are hornbills, doves, and pigeons. It is also believed that the lake is the habitat of the giant eel.