Every purok in the barangays of San Francisco, Camotes has a purok center that serves as a meeting hall of the purok officers and the residents, as well as a place where records of the purok's services and activities are kept.
Puroks drive town's success
By CHRISLEY ANN HINAYAS / Ramon Aboitiz Foundation Inc.
October 14, 2012
CEBU CITY – Think big, start small.
This is what Vice Mayor Alfredo Arquillano of San Francisco, Camotes Island, Cebu believes in when he established the purok system in the town.
During the recent expanded Green and Wholesome Environment that Nurtures (eGwen) Our Cebu Program Partners' Conference, he attributed the success and development of his town on their focused efforts on grassroot level of governance – the puroks.
A purok is the smallest unit of governance composed of a number of households with an average of 20 to 50 or more number of members, depending on a particular geographical location or cluster of houses. Given the mandate through local ordinances enacted by barangay or municipal/city sanggunian, a purok can perform government functions with the coordination and supervision of the local officials.
"Puroks are the basis for community-based governance and empowerment. If all people will cooperate and move towards a common aim, each one of us can make a big difference in our towns," Arquillano said.
He recalled how one incident had inspired him to revive the purok system in 2004.
"There was a group of black birds locally known as galansiang that caused a big branch of a pine tree to fall in front our hall. It was an incident that was impossible if only one bird made it. I know it was a message from above to take immediate actions," he recalled.
After the incident, the creation of a purok system came to life. It started with a few willing puroks in the town proper where the municipality office is located. Only when the first one started to work and showed results that others followed.
"Dream for your community but start with those who are willing to cooperate. The involvement of the community in local governance enables us to be organized and draw out plans for the municipality," he said.
Arquillano noted that the strengthening of puroks in the town enabled the people to be equipped with understanding and discipline on proper waste management and disaster preparedness.
"They are doing these things because they are acknowledging ownership of their projects and they feel proud. Now, we have cleaner and safer communities because people are doing something with a common vision," he shared.
The delivery of basic services and implementation of programs and projects in the areas of health, education, environment, social services, economic, and disaster management of the Municipality of San Francisco are cascaded down to the puroks.
He advised that the municipality or city should have a 'big picture' on what they want to achieve in their areas and what actions should be taken to realize them.
"Don't give dole-outs. The community should earn it. Development is not just about money. Community participation has a lot to offer than that," he said, pointing out that environment and socio-economic problems cannot be solved by one person alone. It is the community who runs and manages their own places.
"Never stop thinking of good things to happen. We can make our plans possible if we help one another. Think big, start small. That is the concept behind the purok system," he added.
Arquillano is glad that other municipalities in the province of Cebu have adapted the purok system in the barangays.
"Hopefully, local government units (LGUs) in Cebu will learn from our experience and be able to replicate our best practice. It is indeed that development starts from the smallest unit of governance. It is the community that builds the nation," he disclosed.
At present, San Francisco, Camotes has 15 barangays and 120 puroks.
San Francisco, Camotes Island, Cebu, a recipient of the 2011 United Nations Sasakawa Award for Disaster Risk Reduction, highlighted the establishment of purok systems in their town as their best approach to mitigate the destructive effects of natural calamities.
The town also ranked first for three straight consecutive years in the eGWEN Our Cebu Program, a joint development program of the Ramon Aboitiz Foundation Inc. (RAFI) and the Cebu Provincial Government to make Cebu a liveable place.
Fil-Am reporter with Leyte descent bags 2012 TOFA award for media in New York
By Philippine Information Agency (PIA 8)
October 8, 2012
TACLOBAN CITY – Filipino-American reporter Ryan Songalia, 25, won the media award for the prestigious Outstanding Filipino-Americans in New York (TOFA-NY).
Ryan, boxing reporter for RingTV who has Leyte descent, his father Jaime having come from Tanauan, Leyte, will receive his award on October 27 at the Weill Recital Hall of New York's Carnegie Hall.
"I've won the media award for the 2012 Outstanding Filipino Americans of NY! Thank you everyone who took the time to vote, then asked their cousins and moms to vote also. Without all of you I couldn't have done it," Ryan said acknowledging the Filipinos all over the world who rallied behind him.
"I greatly appreciate the help, given me here and promise to make my father's hometown proud," Songalia told the Philippine Information Agency.
To recall, the Philippine Information Agency made a feature story on Ryan on July 12, 2012, urging Filipinos all over the world to vote for him online.
Ryan is currently a feature writer for the boxing magazine Ring Magazine and have covered Manny Pacquiao, Nonito Donaire and Brian Viloria fights from ringside.
He also worked as a reporter for New York Daily News, one of the highest circulated newspapers in the United States. He was the first Filipino admitted into the Boxing Writers Association of America in the organization's 90 years of existence and became the group's youngest full member at 21. He also works as a freelance journalist for GMA News, covering a variety of topics.
He studied journalism at Bergen Community College, but left because he was offered a job at the New York Daily News. He is finishing up a course on Digital Marketing at New York University on Friday, then flying to Manila on Tuesday. He lives between Manila and New Jersey.
TOFA-NY is an awards event held annually in New York during Filipino American History Month celebration in October.
It was created to give recognition to individuals and organizations that have raised the profile of the Filipino-American community in a unique and positive way and to celebrate their achievements.
The organizers are a group of multimedia professionals well plugged into the community. While they know many of the personalities in traditional as well as grassroots advocacy organizations, they are not associated with any group in any way, which makes this recognition process very independent. Pre-selection was based entirely on merit.
To make this year's TOFA truly a people's award, voting will be conducted in all transparency via Facebook. The organizers are trying this novel idea for the first time. They believe social media is crucial in getting the word out about the many personalities and organizations that have made Filipinos one significant and dynamic community in this part of the US.
PRO8 equips men with SAR capabilities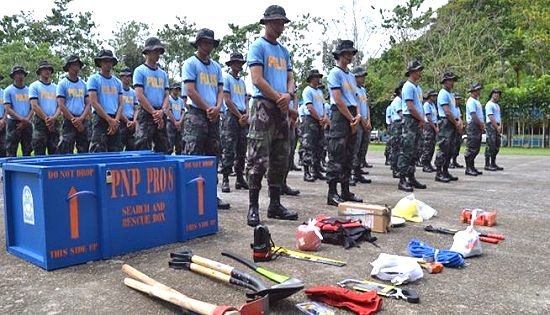 By RPCRD, Police Regional Office 8
October 2, 2012
CAMP SEC. RUPERTO K. KANGLEON, Palo, Leyte – Recognizing the need for better vigilance and the establishment of precautionary measures against impending disaster, not to mention the reputation of Eastern Visayas as disaster-prone region, Police Regional Office 8 initiated a search and rescue (SAR) training to its men aimed at equipping them with proper competence on disaster management.
"The PNP, being at the forefront in protecting and securing people against all forms of harm, must take some precautionary measures to ensure that disaster pass without undue loss of life, human suffering and damages to property", PCSupt Elmer Ragadio Soria, PRO8 Regional Director said during the opening ceremony of the Disaster Search and Rescue Management Training on Monday morning at PRO8 Grandstand.
"We cannot prevent or stop a flashflood or an earthquake from happening but we can be prepared for its onslaught and mitigate the damage", Soria said, adding that PRO8 as far as disaster management is concerned, will focus on disaster mitigation through training, simulation exercises, purchase of SAR equipment and identification of disaster risk areas.
Forty eight participants composed of 6 Police Commissioned Officers and 42 Police Non-Commissioned Officers from the Regional Public Safety Battalion 8 (RPSB 8) were the participants in the training being held at the Regional Special Training Unit 8 (RSTU 8) while two similar trainings were recently conducted in Samar PPO.
Soria stressed that the country is currently undergoing a shift from a rather reactive system of disaster management, to more proactive disaster risk reduction and management. Thus, this training will equip his men with better capability to be more effective and systematic in times of emergencies and calamity-related operations.
Lying on the northwestern fringes of the Pacific Ring of Fire, Eastern Visayas experiences frequent seismic and volcanic activities and is frequently visited by storms from the Pacific Ocean. The region receives heavy rainfall throughout the year with no pronounced dry season making it prone to landslides.
On September 1 this year, thousands of residents had been affected by the magnitude 7.6 earthquake that rattled Eastern Visayas and destroyed or damaged several houses with more than P12.8 million worth of damages to public infrastructure.
On February 17, 2006, a mudslide tragedy which pegged an official death toll of 1,126 transpired in Brgy. Ginsaugon, St. Bernard, Southern Leyte while on November 5, 1991, the Ormoc River overflowed, bringing with it numerous logs, resulting in a flashflood in the city's lower areas and took over 4,000 lives, 3,000 missing, 14,000 destroyed homes and more than P600 million worth of damaged property.
Soria is confident that the training will improve the disaster response capability of his men and ensure their readiness in responding to emergency and disaster situations that require swift response from public safety and emergency services.
The SAR course includes hypothetical and practical trainings on application of skills in first aid, basic life support, boat-handling, knot-tying, deployment of life-saving buoys and devices, and removal of debris in collapsed structures.
The Regional Director added that this kind of training is in line with the PNP's Letter of Instruction "Saklolo", an updated and enhanced plan of action of the PNP on disaster preparedness and response management in support to other concerned agencies. LOI "Saklolo" prescribes the support strategy, operational concept, and scheme of implementation to accomplish the PNP's support mission in times of disaster and calamity situations.
Soria added that the PRO8 initiative to improve its own disaster response capability is in line with Presidential Decree 1566 that calls for the strengthening of the Philippine Disaster Control Capability and Establishing the National Program on Community Disaster Preparedness; and Republic Act 10121 or the Philippine Disaster Risk Reduction and Management Act of 2010.
Philippine UPR Watch to the Philippine Government: Spreading Lies at the United Nations
By Philippine UPR Watch
September 20, 2012
GENEVA, Switzerland – The Philippine UPR Watch and other Human Rights NGO's slammed the glowing report and statement of the Philippine Government during the consideration of the working Group Report on the Philippines Universal Periodic Review at the 21st session of the United Nations Human Rights Council which runs September 10-28, 2012 in Geneva, Switzerland.
In her oral intervention, Marie Hilao Enriquez Chair of KARAPATAN and Co-Head of Delegation of the UPR Watch Philippines said that "extra-judicial executions, disappearances, other human rights violations and impunity persist under the so called democracy and even under the so called righteous path taken by the new President Noynoy Aquino." She said that under the two-year administration of Aquino, KARAPATAN has documented 99 victims of extra-judicial executions. Enriquez delivered her statement on behalf of the Civicus World Alliance for Citizen Participation.
"The Philippine Government has shamelessly spread lies here at the United Nations. Just last week, Genesis Ambason, a leader of the Matigsalog tribe in Agusan del Sur, was brutally killed by paramilitary groups under the command of the Philippine Military," Hilao-Enriquez's reaction to the statement of the Philippine government delegation head, H.E. Teofilo S. Pilando, Deputy Executive Secretary Vice Minister of the Office of the President, who said that the Aquino government remains committed to human rights and has, in fact, accepted 62 recommendations by the UN Member States, including an end to end extra-judicial executions.
In a separate oral intervention, Dr. Rommel Linatoc of the National Council of Churches in the Philippines (NCCP), a member of the Philippine UPR Watch delegation, said, "the Philippine Report was very selective in its presentation of data. It intentionally left out the essential issues such as the almost zero conviction rate of perpetrators of human rights abuses; the failure of the government to press charges and arrest suspects and the continuing effects of the the Oplan Bayanihan a counterinsurgency program against the Filipino people." Dr. Linatoc read a joint statement of the World Council of Churches - Churches Commission on International Affairs, the United Methodist Church Global Board Global Ministry and the Indian Council of South America (CISA).
On May 29, 2012, the Philippines was one of the first 16 countries examined under the Universal Periodic Review; at that time, 69 countries quizzed the Philippine Government on its human rights record and at least 22 countries expressed concern over the spate of extra-judicial killings in the country. The UPR is a mechanism of the United Nations Human Rights Council to review the human rights record of the UN Member States every four year.
Other human rights NGO's like the Human Rights Watch, Amnesty International, Save the Children International, Asian Legal Resource Center, Forum Asia and others also raised deep concern about the human rights situation in the Philippines.
The members of the Philippine UPR Watch for the 21st session of the Human Rights Council are: Ms. Marie Hilao Enriquez of Karapatan; Dr. Rommel Linatoc of the NCCP; Ms. Melona Daclan of Defend Job Philippines; Mr. Michael Yoshii of the United Methodist Church of California-Nevada, USA and Ms. Maribel Mapanao of the International Coordinating Committee for Human Rights in the Philippines (ICCHRP) in Europe.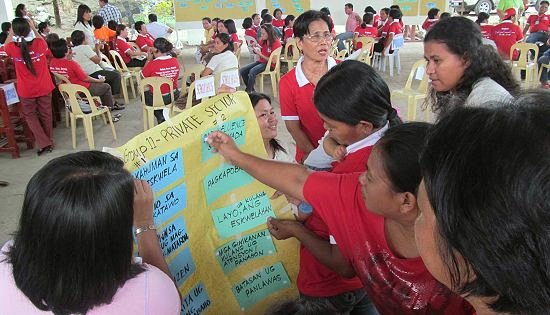 Change starts with awareness as participants of the education summit in Liloan assessed the present status of their locality's education, identifying the factors that affect the teaching-learning process and governance in schools. (inset) Students from Liloan schools are now engaged movers towards achieving their schools' goals and their own dreams.
"It takes a village to educate a child"
By CHRISLEY ANN HINAYAS / Ramon Aboitiz Foundation Inc.
September 19, 2012
CEBU CITY – With the promise of good quality education, the dream of an eleven-year-old girl of becoming a lawyer may be realized.
"We make our own dreams, but it takes a village to make it come true," Mary Shane Angtud, Supreme Student Government president at Hubag Elementary School in Liloan, Cebu said.
Angtud, together with other students, shared their hearts' desires during a recent education summit in Liloan that gathered stakeholders, including parents, for one purpose – to mobilize the community to help students like Angtud achieve their dreams for a good quality education.
The summit featured best practices in good school governance among teachers, school administrators, purok leaders, government officials, private sector, and students.
"School governance is the active engagement of all values-driven stakeholders working together for a shared vision to achieve excellence in education. The community is the co-designer and co-owner of education. It is time to reclaim this ownership and get involved," Anthony Dignadice, executive director of the Education Development Unit of the Ramon Aboitiz Foundation Inc. (RAFI), said.
Dignadice added that as proactive members in the community, the community can draw out the flaws in the education system, thus, giving sustainable solutions to address these challenges.
School governance, he pointed out, establishes a relationship among stakeholders to be responsible in setting a new direction for investing resources and support in education. It develops a transition to effectively delivering the inputs and outputs of quality education.
"Learning will only be effective through community participation in systemic reforms of quality education. People who are involved in school operation are the best people to improve the quality of education," Dignadice said.
Angtud said that the scarcity of physical resources like books and classrooms are highly important, but community engagement can do a lot more to address this.
"I believe that teachers and the students are not enough to run the school. Without the support from the community especially from our parents, students will not be able to get full good quality education they deserve," she said.
The story of an 18-year-old teenager who left school with no definite reason inspired the purok leaders in Lataban, Liloan to take continuous actions to be involved in encouraging out of school youth to go back to school.
"We went to his house and asked him for the reason behind leaving the school. It took us how many tries to convince him to go back. In the end, he went back to school," Virgilio Monterola, purok president of Sitio Tambis, Lataban, Liloan recalled in Cebuano.
Monterola added that children need encouragement and guidance from the people around them.
"We saved the boy from becoming a drop-out all his life. If we want the best for our children, we also need to give them our best. The value of cooperation among the teachers and the community can make a lot of difference in the education system," he explained.
Low participation of parents during school assemblies was one of the concerns of the teachers and administrators. The presence of the Parent Teachers Association (PTA) members answered the concerns of the teachers regarding the matter.
"If parents are called to have school meetings, they turn our invitations down. They have this notion that PTA meetings are a time to collect contributions. School assemblies should have been the venue for parents to air their concerns on their children's education. This is one of the challenges of PTA, how to bring back the trust of the parents," Victor Libot-libot, PTA president of Integrated Calero Liloan School, said.
Parents, as first educators of their children, are responsible for knowing what their children's problems and needs in school. Libot-libot said that as parents, they need to address these problems firsthand.
"It is not about money. This goes back to the attitude of our parents to coordinate with the association. If parents cannot do it alone, then the whole association is ready to help," he added.
"We should encourage broader community participation. The mantra that says: 'It takes a village to educate a child' should always be our guide," Dignadice concluded.
The education summit is one of the activities of the Educational QUality ImProvement through Community Empowerment and Capacity Building (EQUIP-CEBU) program, an initiative of RAFI under its Education Development Unit, in partnership with the local government units and Department of Education.
EQUIP-Cebu seeks to empower teachers, parents, and communities to continuously improve their own schools and encourage them to be actively involved in the education of the children.
Rehab of Leyte Sab-a Basin Peatlands, pilot site for ASEAN Peatland Forest Project, underway
By Philippine Information Agency (PIA 8)
September 19, 2012
TACLOBAN CITY – Now ongoing in the province of Leyte is the implementation of community-led demonstration projects on sustainable use and rehabilitation of the peatland areas within the Leyte Sab-a Basin, a pilot site for the ASEAN Peatland Forest Project in the Philippines.
Department of Environment and Natural Resources (DENR), Region 8 Regional Executive Director Manolito D. Ragub, recently, forged agreements with the Municipal Mayors of Alang-alang and Santa Fe, Leyte for the said project.
In said agreements, Mayor Loreto Yu of the municipality of Alang-alang mobilized the constituents of Barangays Divisoria, Langit and Tabangohay through the respective Barangay Chairmen, in establishing one hectare demonstration projects and rehabilitation of two hectares degraded peatland areas in their respective barangays.
On the other hand, Mayor Melchor Quemado of the municipality of Santa Fe caused the constituents of barangay San Isidro through its barangay chairman to implement the same demonstration project and rehabilitation area.
Ms. Purificacion Daloos, chief of the regional Public Affairs Office of DENR-8 informed that the community-led demonstration projects and rehabilitation areas will serve as learning sites for sustainable use and conservation of peatlands at the same time providing livelihood to the community.
Ms. Daloos said that this project also aims at creating awareness and instituting measures in the protection and sustainable use of areas surrounding the peatlands that allows cultivation for agricultural crops.
Each Barangay shall receive P175,000 for the development of the one hectare demonstration project and two hectares rehabilitation area.
This amount is part of the fund grant from the Global Environment Facility (GEF) through the International Fund for Agricultural Development (IFAD) which is helping the Philippines and other ASEAN Peatland Forest Projects undertake activities for rehabilitation and sustainable use of peatland forests in South East Asia.
The Leyte Sab-a Basin is one of the two pilot sites for the ASEAN Peatland Forest Project in the Philippines. The other project is in Agusan Del Sur.
The project is being implemented by the Government through the DENR's Protected Areas and Wildlife Bureau (PAWB) with funding from the IFAD and the GEF. It has two component activities for 2012: providing small community-led demonstration project on sustainable use of peatlands as well as rehabilitation of degraded peatlands for the hydrology and conservation of biodiversity.
The project may seem small but once the sites will become operational, it will create a multiplier effect especially on the proper use, rehabilitation and conservation of this still lesser known peatlands ecosystems, as important habitat of biodiversity and as carbon sinks," RED Ragub said.