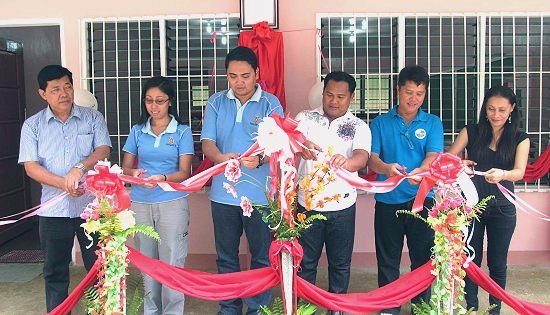 Romualdo Abella, DepEd Cebu Province Division Physical Facilities coordinator; Iris Mae Echavez, RAFI audit head; Anthony Dignadice, RAFI Education Development Unit executive director; Eliseo Leones, Agtugop Elementary School and Agbanga Primary School head; Etan Rallos, Asturias councilor; and Jovelyn Leones, Agtugop Elementary School head teacher lead the turnover ceremony of repaired classrooms of Agtugop Elementary School in Asturias, Cebu last Nov. 10.
New rooms for Asturias schools
By Ramon Aboitiz Foundation Inc.
December 21, 2012
CEBU CITY – The Ramon Aboitiz Foundation Inc. (RAFI) through its School Rehabilitation Program (SRP), turned over 15 classrooms to the teachers and school administrators of four public elementary schools in Asturias last Nov. 10.
Four school buildings of Asturias Central School, Agbanga Elementary School, Agtugop Elementary School, and Tag-amakan Elementary School were repaired, benefiting over 700 pupils.
While RAFI shouldered the material cost, the local government unit of Asturias and the Provincial Government of Cebu shouldered the labor cost. The teachers, parents, and the community served as custodians of the construction materials throughout the repair period.
Part of the repair is the installation of a two-piece concave-type blackboard and a toilet and lavatory in each classroom.
"RAFI is doing its best to help provide enabling conditions by improving physical structures," Anthony Dignadice, RAFI Education Development Unit executive director, said.
"We wish to emphasize the need for effective learning and this would require change in the culture of classroom management," Dignadice, added.
The completion of the 15 classrooms in the four schools of Asturias now brings the coverage of the School Rehabilitation Program to a total of 507 classrooms in 151 schools in 34 towns in Cebu since its inception in 2004.
"The most difficult part of the implementation was the transport of construction materials to schools in far-flung areas. Despite this challenge, what truly encouraged me was seeing the need for a better school for the community," Eliseo Leones Jr., school head of Agtugop and Agbanga Elementary Schools, said.
Asturias is one of the municipality-beneficiaries of RAFI's SRP.
"We've been dreaming to have a beautiful school building for so long, and now that we have it, we are so happy," Leones, added.
The SRP is a program under the Education focus area of RAFI, which creates conducive and engaging learning environment to nurture the love for learning. Its other focus areas are Integrated Development, Micro-finance & Entrepreneurship, Culture & Heritage, and Leadership & Citizenship.
For more information about the School Rehabilitation Program, please contact 418-7234 loc. 205 and look for Jicel Reve Gabriel, or visit www.rafi.org.ph or www.facebook.com/rafi.org.ph or http://schoolrehab.rafi.org.ph.
PLDT, PBSP build schools with used batteries
By Philippine Business for Social Progress
December 12, 2012
CEBU CITY – Used batteries can build classrooms, and Philippine Long Distance Telephone Company (PLDT) proves this to be true when it recently turned over classrooms in the far-off schools of Northern Samar, which were built through the donation of its used lead acid batteries (ULABs).
By donating their ULABs to Motolite, which buys them at a higher price, PLDT was able to generate P3.4 million for the construction of four classrooms, benefiting 513 pupils in Bangkerohan Elementary School and Nenita Central School.
This is the winning formula of the Balik-Baterya Program by Motolite and Philippine Business for Social Progress (PBSP), an initiative that has helped companies properly recycle their ULABs so they could be converted to useful materials. The funds raised from the donated ULABs are then used for various projects that help improve the state of education in the country.
"We in the private sector recognize the role of our children and youth in shaping the future of our country and our planet, hence we help our government reach its goal of providing better education by building classrooms and helping improve our public schools and communities," PLDT Community Relations Senior Manager Evelyn del Rosario shared during the turnover events with PBSP, Department of Education and the provincial government of Northern Samar.
Northern Samar Governor Paul Daza, on the other hand, urged the pupils and teachers to show their appreciation of PLDT's donation by making good use of the classrooms.
"You are lucky that out of 24 towns and 569 barangays, you were chosen to receive these classrooms because the barangay officials, teachers, principals and parents are active, which will assure our donors that the classrooms will be used properly," he said.
Early Christmas present
For sixth grader Steven Elad Francisco, PLDT's visit to their school is the best early Christmas present he has ever received.
His classroom, located to the farthest corner of Bangkerohan Elementary School, is the most affected when storms upset their regular classes. When flooding is really strong, he reveals, the water level reaches up to their upper knees, preventing them from even sitting on their desks.
"With the new classrooms, I know the pupils before me will not experience what we have to endure almost every month," Francisco shared, who is expected graduate this school year.
In Nenita Central School, teachers had to handle 21 classes in 17 classrooms, which them to conduct classes in makeshift rooms that are not conducive to learning.
"We are so grateful to have these classrooms that will help us reach our vision, which is to cater basic quality education to our pupils who will become productive citizens of our nation," Nenita Central School Principal Brenda Villadolid said.
The four classrooms donated to Northern Samar will be used by 383 first and second graders of Bangkerohan Elementary School and 139 grade three pupils of Nenita Central School. Each classroom is provided with arm chairs, teacher's tables and a comfort room. Aside from the classroom, the project also includes a training component to help build the capacities of the parents and teachers' associations so they could easily perform their roles and function.
"May your new classrooms encourage you to study harder so that someday you would become good citizens of Northern Samar and our country," del Rosario told the pupils.
"If we really wanted to help our people, especially those in the impoverished areas, the best way is through education. By giving them education, we help them easily uplift their lives," Governor Daza added.
Always on top
Launched in 2006, the Balik-Baterya Program aims to protect the environment through proper disposal and recycling of ULABs as well as improve the learning of pupils.
PLDT joined the program in 2008 and has then become its top donor with the company's donations comprising 77% of the program's total ULAB contributions. Through its donations, the company has already provided 22 mini-libraries and two computer laboratories to various schools in the Visayas.
PLDT is also the first company under the Balik-Baterya program that chose to use its funds to build classrooms.
"We in PLDT contribute to national development by strengthening our country's telecommunications as an important foundation for a progressive country. In line with our business of bridging people and communities here and abroad, we chose education as a major corporate social responsibility program because we acknowledge that more opportunities can be accessed by children and youth who have completed their basic education," del Rosario said.
She also hopes that the classrooms donated will help address the country's need for 66,800 new classrooms.
"With PBSP, we are able to build classrooms in far flung communities where help is most needed," del Rosario added.
"The classrooms that we are turning over today may be quite few if we look at the thousands of classrooms that need to be constructed for our public schools. However, this is already a big step here in your community and we in PBSP express our gratitude to PLDT, most especially to its chairman, Mr. Manuel V. Pangilinan and its community relations head, Ms. Evelyn del Rosario, for your continuing partnership with PBSP in your corporate social responsibility initiatives," PBSP Visayas Regional Center Director Jessie Cubijano stated.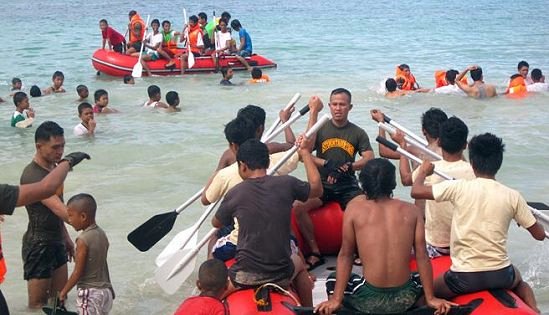 Army troops supervised the basic survival and search and rescue techniques during the Boy Scout Provincial Jamboree in Barangay Cabacungan, Allen, Northern Samar from 17-21 November 2012.
Army troops participate in the 16th provincial Boy Scout jamboree in Northern Samar
By 20th Infantry Battalion, 8ID PA
December 3, 2012
BRGY MAGSAYSAY, Lope de Vega, Northern Samar – The troops of 20th Infantry (We Lead) Battalion, together with personnel from 803rd Brigade and from 8th Infantry Division, Philippine Army, the PNP and Local Government of Allen, Northern Samar participated in the just concluded 16th BSP Council Scout Jamborette with a theme: "Be Prepared: Leadership for life" held from November 17-21, 2012 at Camp Talaboy, Sitio Imaga, Bgry. Cabacungan, Allen, Northern Samar.
The series of activities started with a parade on November 17, 2012 in which more or less one thousand two hundred (1200) scouts and scoutmasters from the 24 towns in 36 school districts all over the province paraded at Bgry. Cabacungan. Then a program was held at the Camp Site at Camp Talaboy.
During the Program, Hon. Rod Laurean Suan, welcomed the participants to the Camp and stressed how important the Boy Scout program is to the development of the students in honing their skills as future leaders and citizens of this country. The program was capped by the Boy Scout pledge of all Boy Scouts.
Among the highlights of the jamboree was the conduct of six training packages, aimed to develop among the Boy scouts the value of self-confidence, preparedness, service and team-work. The training packages include Back to Basic Skills in self reliance through the conduct of different rope courses in mountain climbing; first aid and Water rescue operations training wherein the troops taught the boy scouts about basic first aid and Water Rescue techniques utilizing rubber boats; Waste Management/community Service training to improve the scouts' community awareness; Self-confidence training wherein the Boy scouts underwent obstacle course around the camp; and Team building Games to develop the sense of cooperation and team-work among the scouts.
During the evening Affairs, the Boy Scout council also held special activities each night for the scouts such as the hip-hop and ethnic dance contests, the Choral singing Contest, and the "Combo Lata" contest. Hon. Mayor Rod Lauren Suan together with 2LT Joter M. Lobo II and other members of the Boy Scout Executive council served as judges for these activities.
Aside from the conduct of the training package, the Army troops also took the opportunity to inform the scouts about the current programs of the Philippine Army through film showings during the scouts' free time.
The series of activities was culminated by a Fancy drill and troop formations competition between the participating schools. Mayor Rod Suan together with the Philippine Army Personnel served as judges for the event.
According to LTC Noel Vestuir, 20IB's commanding officer, "the participation of Philippine Army personnel is a good opportunity to impart to these young men the necessary skills, knowledge and attitude as boy scouts that would mold them into responsible, service-oriented and productive citizens of our country in the future."
Mr. Joel Orendain, Provincial Council Scout Executive, expressed his deepest gratitude to the Philippine Army and its troops for their active involvement and participation, in providing security assistance, the conduct of training packages, information awareness activities and team building activities that contributed to the success of the entire event.
Dirty energy, dirty weather lead to disasters
Climate activists demand climate justice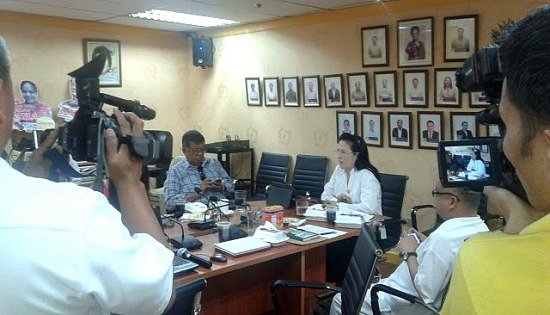 By The Climate Reality Project
November 19, 2012
MANILA – In a press briefing today, lawyer climate leaders and activists demand real path to genuine and serious climate change action framework towards climate and environmental justice.
Joining the week-long National Climate Change Consciousness Week initiated by the Climate Change Commission, the Public Attorney's Office partnered with Filipino members of The Climate Reality Project (TCRP), a global climate movement founded by Nobel laureate and former United States vice president Al Gore.
Together, they called for a system change towards a responsive global community addressing the challenges of climate crisis through a strategic switch from dirty sources of energy to a clean one.
"Last week, 16.2 million online viewers witnessed the 24 Hours of Reality: The Dirty Weather Report which exposed the realities of and solutions to the climate crisis through Internet broadcast by featuring news, voices, and multimedia content across all 24 time zones around the globe," said climate leader Rodne Galicha, Philippine district manager of TCRP and adaptation cluster member of Aksyon Klima Pilipinas.
The 24-hour global event declared that dirty energy has created a world of Dirty Weather, "Today, climate disruption affects us all and it will take all of us together to solve it – when together we will stand up and demand real solutions to the climate crisis."
"We must admit that we have been experiencing unusual and extreme weather conditions due to our careless and uncontrollable utilization of dirty energy like coal, oil and gas which in effect produces a lot of greenhouse gases trapping a lot of extra heat rising up the temperature of our planet," said human ecologist and TCRP climate leader Floro Francisco, former assistant general manager of the Laguna Lake Development Authority (LLDA).
Francisco explained that extreme heat accelerates evaporation and warm air holds more moisture increasing more water vapor in the atmosphere resulting to an increase of rainfall.
"Extreme weather conditions means longer and deeper droughts killing crops and livelihoods, even people; more intense typhoons, heavy rainfall resulting to flooding and mudslides," disaster risk reduction specialist and TCRP climate leader Miguel Magalang said in a previous statement. Magalang is executive director of Marinduque Council for Environmental Concerns (MACEC), affiliate of the Social Action Center of the Diocese of Boac.
"The solution for climate crisis should start from ourselves, however, leaders' political will is also a need - it is a moral imperative above all else," continued Magalang.
For Magalang, disaster risk reduction and climate change adaptation initiatives should not be standalone ones but should form integral part of an integrated and sustainable development framework.
Coming up with a convergent institutional framework in the local governments that would push for the whole sustainable development platform is necessary. Further, the challenge of choosing industries that induce climate-related disasters must be faced – prioritizing extractive industries such as mining must be thought first a thousand times.
"Filipinos cannot solve the climate crisis alone – it must be a global action, together. Countries with high-level carbon emissions like the United States must lead in this global change through deeper emission cuts and we hope that the newly elected US President Barack Obama would be able to take the strongest step to help solve the climate crisis," said lawyer and TCRP climate leader Persida Rueda-Acosta, chief of the Public Attorney's Office.
In behalf of the Filipino lawyer members of the global movement, Acosta made it clear that climate justice was sought in the 24-hour event: "Whatever adaptation and mitigation poor, developing or smaller states are doing if larger and overly-consuming countries continue to exploit the natural resources of the powerless using more dirty energy, continuously polluting our water and air, heating up our climate – this crisis will still continue until it becomes too late to save the only planet we have."
Following the directives of President Benigno Simeon C. Aquino III on the observance of the National Climate Change Consciousness Week, Acosta revealed the Public Attorney's Office environmental plan by walking the talk: "By next year, most of our transactions will be paperless. We have already started integrating climate and environment related issues in some of our employee capacity building and development programs."
"Dirty energy means dirty weather, and dirty weather leads to disasters. We need legally binding agreements which all of humanity is treated equally in the principles of climate justice – top emitters of greenhouse gases (GHG) like China, the United States, the European Union, India and Russia. We fully support the position of our national government in the upcoming COP-18 in Doha, Qatar," explained Acosta.
Lawyer members include Acosta herself, environmentalists Atty. Mario Maderazo and Atty. Christy Barroga.
Galicha said that the newly signed law called People's Survival Fund may not be enough to address the financial needs of the Philippines for adaptation and mitigation. Aids which may flow from the newly approved United Nations Green Climate Fund will not be able to address the present climate crisis unless greenhouse gas emission is cut.
While least GHG emitting nations such as the archipelagic Philippines do their best to adapt and mitigate, they are still exposed and vulnerable to hazards and disasters: "A legally binding treaty for deeper greenhouse gas emission cut must be agreed upon or else climate-smart aid like GCF is all but hypocrisy, so do with the Philippines – the way forward is to be serious in climate policies: stop implementing disaster-inducing industries and take a vital step towards clean energy."
The Climate Reality Project helps citizens around the world discover the truth about the climate crisis and take meaningful steps to bring about change. Our mission is to reveal the complete truth about the climate crisis in a way that ignites the moral courage in each of us.
The Climate Reality Project employs cutting-edge communications and grassroots engagement tools to break the dam of inaction and raise the profile of the climate crisis to its proper state of urgency. With a global movement more than 2 million strong and a grassroots network of Climate Leaders trained by Chairman Al Gore, we stand up to denial, press for solutions, and spread the truth about climate change to empower our leaders to solve the climate crisis.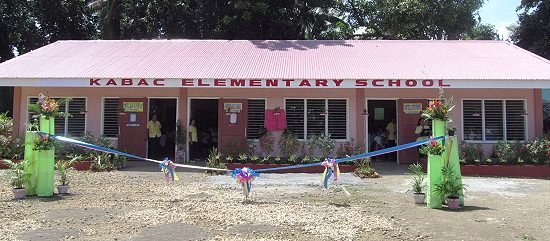 With improved building facilities, Bantayan's Kabac Elementary School now stands as a proud venue of knowledge and learning.
Better schools for Bantayan
By Ramon Aboitiz Foundation Inc.
November 13, 2012
CEBU CITY – From being old and dilapidated, nineteen classrooms in five public elementary schools in Bantayan are now good as new after the Ramon Aboitiz Foundation Inc. (RAFI), through its School Rehabilitation Program (SRP), and volunteers conducted school repairs and clean-ups.
Last Oct. 12, RAFI turned over these classrooms to Tamiao Elementary School, Vito Elementary School, Sillon Elementary School, Baod Elementary School, and Kabac Elementary School. A total of 896 pupils benefited from the program.
RAFI provided a total of P4.37 million to cover for the material cost of the repair and rehabilitation of the four Marcos-type and Bagong Lipunan school buildings while the local government unit of Bantayan shouldered the P1.5 million labor cost.
As beneficiaries and proponents of the project, the school administrators, teachers, parents, and the local community of the five schools mentioned ensured the safekeeping of the construction materials for the duration of the school repair.
The SRP of RAFI aims not just to improve the physical condition of public schools but also encourage participation among the stakeholders.
"We enjoin the parents, the school community, and the private sector to take on the responsibility of actively participating as owners of the public school system. Our children's future depends on the improvement of the public schools, and this improvement depends on our participation," Amaya Aboitiz, deputy director for operations of RAFI, said.
Bantayan Mayor Ian Christopher Escario expressed his appreciation to the community for their cooperation.
"I commend the teachers and parents for their active participation in the entire project as volunteers and property custodians. Together, we are opening more doors for our children to become successful individuals in the future," Escario said.
Bantayan has been one of the municipality beneficiaries of RAFI's SRP since 2009. So far, 39 classrooms in 11 schools were already turned over and completed through the program.
"The lack of funds has made it difficult for the town to address the classroom shortages, and other social services as well.
That is why we are very happy with the presence of non-government organizations like RAFI who are willing to help address our problems in education," Escario added.
Bantayan is still part of the program's second batch of schools, and has 14 classrooms in five schools that are presently undergoing major repair.
Since 2004, SRP has repaired a total of 498 classrooms in 148 schools in 34 towns in Cebu.
SRP is a program under the Education focus area of RAFI, creating a conducive and engaging learning environment to nurture the love for learning. RAFI's other focus areas are Integrated Development, Micro-finance & Entrepreneurship, Culture & Heritage, and Leadership & Citizenship.
For more information about the School Rehabilitation Program, please contact 418-7234 loc. 205 and look for Jicel Reve Gabriel, or visit www.rafi.org.ph or www.facebook.com/rafi.org.ph or http://schoolrehab.rafi.org.ph.
Two young Eastern Samarnons' encounter with Indonesian President, Queen
By Philippine Information Agency (PIA 8)
October 26, 2012
TACLOBAN CITY – Two children from Eastern Samar had the rare chance of discussing disaster risk reduction and climate change with the Indonesian President and Queen in Yogyakarta, Indonesia during the 5th Asian Ministerial Conference on Disaster Risk Reduction in Yogya Expo Center on October 23-25 at Yogyakarta, Indonesia.
The two children, Mark, 14-years old from Oras, Eastern Samar and Thania, 16 years old from Llorente, Eastern Samar were among the 18 children representatives from Indonesia, Cambodia, Philippines, Japan who attended the Conference and the Side Event on Children's Participation in Safe school and Inclusive Disaster Risk Reduction (DRR) on October 24.
Mark presented the Child-centred Disaster Risk Reduction activities he actively engaged in at their town with the help of Plan International, a development organization with programs for children.
The young Mark is the leader of the so called "texter clan." He maximizes the use of text messaging in sending disaster-related information and typhoon updates to his friends.
Indonesian President Susilo Bambang Yudhoyono asked Mark about his personal experiences during disasters and the activities undertaken by the community to increase their resilience.
Mark also underscored that disaster is aggravating the problem related to trafficking to the affected areas. He handed the president a copy of the Children's Charter for Disaster Risk Reduction.
The sharing took place after the President graced the formal opening of the Conference on October 23, at a booth set up by Plan International and other international NGOs.
At the Side Event on Children's Participation in Safe school and Inclusive Disaster Risk Reduction (DRR) on October 24, Mark emphasized to Margareta Walstrom, head of the Geneva-based United Nations International Strategy for Disaster Reduction (UNISDR), the principle of child protection in schools and that education must not be interrupted as a result of disasters.
"The important message I am hearing from you today is that you are ready to participate not just in planning disaster risk reduction activity but also in implementation and you have many concrete ideas. I thank you all for your contribution," Wahlstrom said.
Meanwhile, Thania, Mark and the other 16 other children from the Asia-Pacific countries who attended the conference were very happy to meet the Queen of Yogyakarta Gusti Kanjeng Ratu Hemas.
"It's important to change information and share knowledge among children and between children and adults so we as adult will continuously listen to and respect children's voice in DRR," GKR Hemas told the children.
Thania shared her experiences as a child leader to the Queen. Thania is actively involved in facilitating children' sessions in the barangays on DRR and climate change concepts.
"Children have the capacity and potential to adapt with their environment, to learn faster about information technology and to manage information and use it for their benefit to be more resilient in coping with disaster," GKR Hemas added.
Mark and Thania successfully blended with other Asian child leaders in order to get the attention of the conference delegates who were composed of ministers, government officials and representatives from the Asia-Pacific region.
The young Eastern Samarnons had an advantage as they are the only children participants who can speak English, Plan's Sandee Saavedra and Baltz Tribunalo disclosed.
The Children's Charter on DRR they handed to the guests is a five-point action agenda for DRR for children by children, and has been developed through consultations with more than 600 children in 21 countries in Africa, Asia and Latin America.
These five actions points are: Schools must be safe and education must not be interrupted; Child protection must be a priority before, during and after a disaster; Children have the right to participate and to access the information they need; Community infrastructure must be safe, and relief and reconstruction must help reduce future risk; and that Disaster risk reduction much reach the most vulnerable.
As of this writing, the children are still in Indonesia, Mr. Tootch dela Cruz of Plan Philippines in the Visayas, informed.
The travel of the children to Indonesia was made possible by Plan Philippines in the Visayas under the stewardship of Mr. Rodel Bontuyan. Plan is a development organization with programs for children and with programs being implemented in Eastern Samar.
With funding from Plan USA and technical support from the Technical Education and Skills Development Authority, Plan helped build the Llorente Training Centre in Llorente, Eastern Samar (where Thania came from) in 2006. The vocational and technical training centre is especially helpful to young people without a college education as it provides them with opportunities to acquire skills for gainful employment. To date, 300 students have graduated from the center.
Continuous rains for 4 days almost submerged the villages on the riverside in the districts of Oras in Eastern Samar (where Mark came from). The floods destroyed all the standing crops in the affected areas. Government estimates showed that the cost of damage was at least US$100,000, representing 220 hectares of rice fields.
Rampaging floodwaters also intruded into water wells and destroyed irrigation canals. Affected families sought temporary shelter in schools, churches and undamaged houses in elevated areas.
Plan responded by providing basic food items, water disinfectant, water treatment, school supplies and furniture. Plan engaged children and village council officials in discussions and planning to reduce the risk of future disasters. Children were also trained to produce videos on disasters in partnership with the Force of Nature Foundation.