Samar First DEO coordination meeting with PAMANA held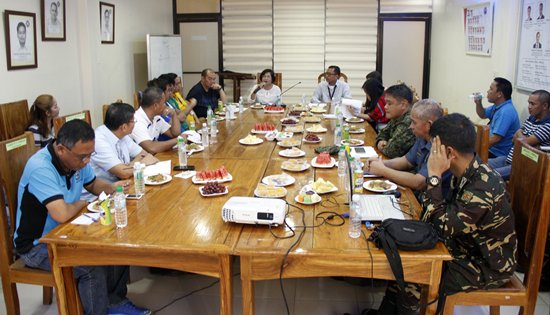 Emy Bonifacio, Regional Director of PAMANA-OPAPP, leads coordination meeting with DPWH–SFDEO representatives and Task Force Commanders.
By ELENOR A. ANOLLADO and APRIL FATIMA D. VILLANUEVA
August 30, 2017
CALBAYOG CITY – The Department of Public Works and Highways for this year undertakes first coordination meeting with the PAMANA-OPAPP, held at Samar First District Engineering Office's conference hall, San Policarpo, Calbayog City on August 3, 2017.
The meeting is spearheaded by the Regional Director of PAMANA-OPAPP Emy Bonifacio together with the District Engineer Alvin A. Ignacio, City Planning Officials and Task Force Commanders.
Payapa at Masaganang Pamayanan (PAMANA) is the national government's convergence program that extends development interventions to isolated, hard-to-reach and conflict-affected communities, ensuring that they are not left behind. With a number of national line agencies as implementing partners, PAMANA remains as the government's flagship program for conflict-vulnerable and –affected areas in the country – covering all existing developments and improvements.
The goal of the meeting is to organize and get feedback from all the planning sectors of DPWH districts as well as local government units and gather information as to what would be beneficial for the area/s. Projects are proposed that are mostly roads that will interlink different municipalities, cities, and barangays.
The vision of PAMANA is laying the foundation though policy reforms that establish the foundation of freedom from disorder, promotes the convergent delivery of services and goods focused on households and communities and connecting to other communities by linking conflict affected areas to markets and promote jobs generation in provincial or municipal government.
PH's manufacturing index, highest in ASEAN
By DTI-OSEC-PRU
August 29, 2017
MAKATI CITY – Following the double-digit expansion in Philippine (PH) export as reported by the Department of Trade and Industry (DTI), the country also sustained its leading position in terms of Purchasing Managers' Index (PMI) for the manufacturing sector at 53.9, the highest among ASEAN Member States.
"The 14% expansion in export was on the back of a robust PMI for manufacturing at 53.9, the highest among ASEAN countries," said DTI Secretary Ramon Lopez, who also serves as chair of the ASEAN Economic Ministers' (AEM) Meetings.
Vietnam's PMI is at 52.5, Thailand at 50.4, Singapore at 50.3, Indonesia at 49.5, Myanmar at 49.4 and Malaysia at 46.9.
"The PMI is an indicator of the manufacturing sector's health, with indices above 50 signaling improvement in business conditions while those below 50 show deterioration," explained Sec. Lopez.
"This favorable PMI is driven by robust domestic consumption and resurgent exports," he added.
DTI earlier reported that PH exports withstood a slowdown in external demand in June and finished a strong first semester performance, ensuring that exports are both resilient and diversified in terms of products and markets.
Total merchandise exports for the period January to June 2017 stood at USD 31.04 billion, expanding by 14% over the USD 27.33 billion posted during the same period in 2016.
Said expansion was mainly due to high growth rates of exports to newly revived markets of the People's Republic of China (including Hongkong SAR), as well as the European Union (EU), which gives the Philippines a Generalized Scheme of Preference Plus (GSP+) status, wherein more than 6,000 product lines enjoy duty free entry into the EU market.
Meanwhile, the depreciation of the peso against a backdrop of low inflation rate has also made PH export products more competitive in prices, thus contributing favorably to this surge in exports, according to DTI.
DTI continues to implement programs and projects to sustain robust exports growth. A centerpiece program is the revitalization of the manufacturing industry through the Manufacturing Resurgence Program (MRP) and, in partnership with the private sector, the crafting of currently 36 industry roadmaps geared to enhance the capacity and productivity of domestic industries to produce high value added commodities for both domestic and export markets.
"We remain committed to easing the cost of doing business in the country. We have been collaborating with other government agencies and the private sector in initiatives that will simplify doing business," the trade chief said.
DTI's presence can be felt nationwide through 17 Regional Offices that are ready to assist exporters all over the country, to facilitate a conducive environment for businesses and to ensure provision of technical assistance and the needed shared service facilities.
DTI is also assisting exporters with enhanced market intelligence through its 27 international posts.
DPWH-BDEO engineers attended 2017 REAP national convention
By MARK JOHN MORILLO
August 28, 2017
NAVAL, Biliran – DPWH-Biliran DEO Civil Engineers attended the 2017 Road Engineering Association of the Philippines (REAP) national convention held on July 19-21, 2017 at Marriott Grand Ballroom, Pasay City, Manila with the Theme: "Innovative Technologies For Safer Roads".
Biliran DEO delegation was headed by District Engineer David P. Adongay, Jr., together with Engr. Rosario B. Rosete -Planning & Design Section Chief, Engr. Dydina G. Velarde, Engr. Supremo Victor D. Sabitsana, Engr. Diolito S. Aberion, Engr. Jeorge S. Malaque and Engr. Mark John G. Morillo. The said convention was also participated by all road construction engineers nationwide.
2017 REAP gathering was started by a golf tournament at Villamor Golf Club, Villamor Air Base, Pasay City, followed by 12th Young Engineers Professional Meeting in the afternoon and a welcome dinner at Marriott Grand Ballroom A.
The formal opening of the REAP Convention happened on the second day by Engr. Willy T. Go, REAP National 1st Vice-President & Convention Chairman, acknowledgement of guests and participants, welcome remarks by the representative of Pasay City Mayor Antonino Calixto, and the opening remarks of Engr. Romeo S. Momo - REAP, National President.
DPWH Secretary Mark Villar, the Guest of Honor, expressed his gratitude to the dedication and contribution of road engineers in the realization of national development objectives of this administration in lined with the mission and vision of the department.
Technical session was conducted on the second day of the event. Relevant topics were discussed which is timely significant in the construction of modern road infrastructures. The first technical speaker was Engr. Medmier G. Malig, Director, DPWH-Bureau of Quality and Safety. She tackled the Road Safety Innovations of the DPWH by presenting the current state of Road Safety in terms of Population, Road Traffic Deaths & Registered Motorized Vehicles by Country Income Status and in the Philippines in present setting, and the DPWH Road Safety strategy in order to provide a safer road infrastructures.
Dr. Yutaka Nakamura, from the Institute of Technology, Shimizu Corporation discussed the "Recent Earthquake-Proof Building Design in Japan". He shared vibrant technologies and innovation in order to come up with a more earthquake resilient infrastructures such as bridges and high-rise buildings. He presented the recent earthquake proof building designs in Japan in terms of Earthquake Risks, Seismic Isolation Method, and Response Control Method and the creation of Business Continuity Plan that will help ensure that business processes can continue during a time of emergency or disaster.
Dr. Takashi Kawata - Director, Civil Engineering Technology Division, Shimizu Corporation shared the Japanese Tunneling Technology by discussing the Current status of road tunnels in Japan, rough benefit estimation for tunnel construction, and the different tunnels constructed by Shimizu Corporation in Japan and to other countries in Asia.
Mr. Albert K.L. Lim also tackled "Geo Tube Containment Dyke for Coastal Highway Land Reclamation & Flood Control Mitigation". He discussed the different construction of flood control and dams using geotextile technology. Mr. Dennis Alexander Gross also presented various technology innovations in the construction of slope protection structures.
Mr. Raymond A. Eugenio discussed "Polyvinyl Chloride (PVC) Sheet Piling". He explained the objectives of Pietrucha Manufacturing Philippines Inc. (PMPI), Parameters of PVC Profile GW 458/10.4 vs. Type II Steel Sheet Pile (SSP), Product Applications and Advantages, Installation Methodology and the completed projects using PVC sheet piles. A fellowship dinner ended the second day roll of activities.
A Business Forum was conducted on the last day at the same time the REAP National Election of Officers & Directors for CY 2017-2019 was held on another Hall of the venue. The convention was ended right after the 5TH REAAA Business Forum.
DPWH-Biliran DEO completes replacement of Banlas bridge at Maripipi, Biliran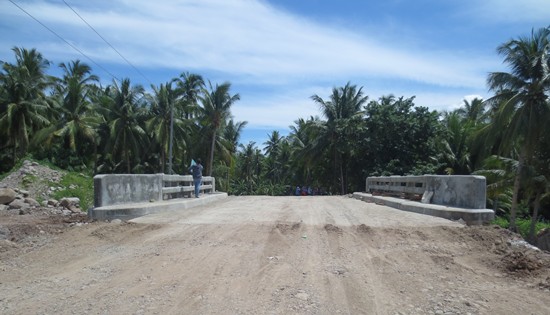 Press Release
August 28, 2017
NAVAL, Biliran – The Department of Public Works and Highways-Biliran District Engineering Office reports 100% completion of the P8.7M Replacement of Banlas Bridge (B00061BR) along Maripipi Circumferential Road under FY 2016.
According to Engr. Alberto V. Cañete, Project Engineer, the Replacement of Banlas Bridge was target to be completed on August 18, 2016 but was extended due to several changes in the variation order and request time extension from the contractor.
"The Banlas Bridge was delayed because the contractor finds difficulty in transporting construction materials to the project site," said Cañete.
The Municipality of Maripipi, is an island separated to the mainland of Naval, the capital town of the province and can only be reached through a small boat with an estimated time travel of one hour and thirty minutes to two hours from Naval.
Cañete revealed that the project was completed on July 30, 2017 under contract with LEDA Construction Inc.
The existing Banlas Bridge is a concrete Bridge with a length of 5.70 meters and a width of 4.0 meters which fall short of the National standards, hence it was proposed with replacement. The newly completed bridge is a Reinforced Concrete Deck Girder (RCDG) bridge with a width of 8.70 meters and a length of 9.0 meters located along Maripipi Circumferential Road.
The completed bridge will provide a standard Bridge (with two lanes) in replacement of the old one which is sub-standard (with one lane only) thereby providing safe passage to the travelling public. It will benefit more or less 6,000 residents of the Municipality of Maripipi.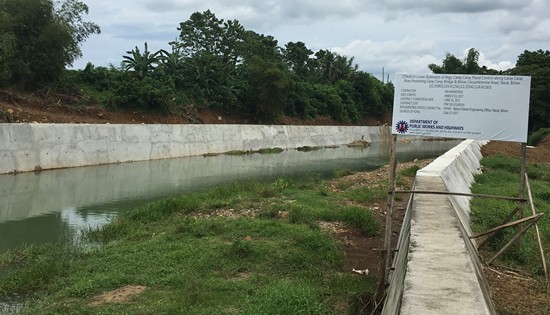 Newly completed Construction of Flood Control along Caray-caray River Protecting Caray-caray Bridge and Biliran Circumferential Road, Naval, Biliran. The project was completed on July 10, 2017 with a contract cost of P20M under BM Marketing. The project was prioritized because of its necessity to mitigate flooding along Caraycaray River and to minimize flood related casualties and damage to properties crops and surrounding environment.
DPWH-BDEO fast-tracks the construction of on-going projects
Press Release
August 25, 2017
NAVAL, Biliran – The Department of Public Works and Highways (DPWH) - Biliran District Engineering Office (BDEO) has completed 36 out of 57 lined-up projects under FY 2017 with a total allotment budget of P940.730M.
Engr. Salvador G. Regis,Jr. , Chief of Construction Section said that they are fast-tracking the completion of 18 on-going projects to attain the target date of completion of each projects.
Biliran DEO's FY 2017 Infra Program consists of twenty (20) projects under the National Road Network Services; five (5) under the Flood Management Services, one (1) project under the Maintenance and Construction Services of other Infrastructure; and thirty-one (31) projects under the Local Infrastructure Program with a total of 57 projects based on GAA.
As of July 31, 2017, DPWH-BDEO posts 35.30% with only three projects Not-Yet-Started (NYS). According to Engr. Regis these NYS projects have just bid out and undergoing post qualification while one is for revision and approval under the District Engineer's authority.
BDEO's major projects for 2017 includes the P128.667M Concrete/ Reconstruction of Maripipi Circumferential Road, P61M Slope protection project along Naval-Caibiran Cross Country Road, and P54.939M Rehabilitation including drainage and Right-Of-Way(ROW) Acquisition of Access Road Leading to Naval Port, Naval, Biliran.
Another major project prioritized for FY 2017 is the road widening including drainage of Biliran Circumferential Road of road sections in Brgy. Tucdao, Kawayan, Brgy. Virginia, Culaba, Brgy. Bool, Culaba, Sto.Riverside to Sto. Sagrada, Naval, Brgy. Burabod, Biliran and Brgy. BalaquidCabucgayan, Biliran costing P172.192M with total length of 5.940km and another P125.588M road widening project of road sections in Brgy. Lumbia, Biliran, Brgy. Burabod, Kawayan, Brgy. Mapuyo, Kawayan, Brgy.Tucdao, Kawayan, and Brgy. Kaulangohan,Caibiran, Biliran with a total length of 4.281km.
Engr. Regis said that the P172.192M and P125.588M widening project along BCR have just started in the month of July and now being closely monitored along with other on-going projects.
The big amount projects were started late due to late approval of the "request to bid and implement" at the Central Office, Manila.
2017 Online Journalism Awards finalists and James Foley recipient announced
Via MARKETWIRE
August 25, 2017
WASHINGTON, DC – Finalists for the 2017 Online Journalism Awards, representing a wide range of nonprofit, public, academic, major media and emerging technology organizations from around the globe, were announced today by the Online News Association.
Thirteen of the awards now come with $58,500 in prize money, courtesy of John S. and James L. Knight Foundation, the Gannett Foundation, the University of Florida College of Journalism and Communications and Journalism 360. These awards honor data journalism, visual digital storytelling, investigative journalism, immersive storytelling, public service, technical innovation, student journalism and general excellence.
In 2017, two new categories have been added to honor evolving forms of journalism, both of which received a number of impressive entries: Excellence in Audio Digital Storytelling, which honors exceptional efforts in telling stories through digitally-focused audio, including podcasts, audio-centric online works and other emerging media; and Excellence in Immersive Storytelling, which honors exceptional efforts in telling stories through digital, immersive media: virtual reality, augmented reality, mixed reality, 360 video and other emerging media.
A special selection committee also granted the James Foley Award for Conflict Reporting to photojournalist and multimedia producer Tara Todras-Whitehill. She is the third recipient of the award, which honors journalists reporting under the most challenging conditions. Todras-Whitehill has been documenting stories of vulnerable populations – especially women and refugees – in the Middle East region for over a decade.
"The selection committee felt Tara's work sets a sky-high bar for digital journalism that's practiced in challenging conditions and takes on critical stories and issues," said Eric Carvin, Social Media Editor at The Associated Press and chair of the committee. "She's exhibited a rare combination of bravery, digital savvy and eye-catching visual skills, and her work as co-founder of Vignette Interactive has driven storytelling in exciting new directions across the Middle East."
The winners will be announced at the 2017 Online News Association Conference and Online Journalism Awards Banquet on Saturday, Oct. 7, in Washington, D.C. Joshua Johnson, host of WAMU and NPR's 1A, will emcee the awards ceremony.
A group of 119 industry-leading journalists and new media professionals teamed up to screen 1,166 entries and select semi-finalists. Thirty judges representing a diverse cross-section of the industry then conferred to determine finalists and winners.
The finalists, many of whom push the envelope of innovation and excellence in digital storytelling and distribution, are:

Breaking News, Medium Newsroom
The Dallas Shootings, KERA
Tragedy in Dallas, NBCDFW.com
Gatlinburg Fire, The Knoxville News Sentinel / USA TODAY NETWORK - TENNESSEE

Breaking News, Large Newsroom
Dallas Police Ambush, Dallas Morning News / DallasNews.com
Orlando, The New York Times
Terror Attack in Nice, France, The New York Times

Breaking News, Small Newsroom
No finalists

Planned News/Events, Small Newsroom
The Colorado Voter's Guide to the 2016 Election, Colorado Public Radio News
CrossCheck France, First Draft

Planned News/Events, Medium Newsroom
OPB Election 2016, OPB, Oregon Public Broadcasting
Election 2016, WBUR

Planned News/Events, Large Newsroom
NPR's Coverage of Election Night 2016, NPR
Electionland, ProPublica and the Electionland Coalition
WSJ: Election Graphics, The Wall Street Journal

Explanatory Reporting, Small Newsroom
Middle East Lobbying: The Influence Game, Al-Monitor
The Refugee Archipelago: The Inside Story of What Went Wrong in Greece, Refugees Deeply / News Deeply
Game of Genomes, STAT
Sold Out, The Texas Tribune

Explanatory Reporting, Medium Newsroom
Trans in Iowa: Fighting for Visibility, Des Moines Register
What Happened to Us?, Milwaukee Journal Sentinel
Draining Oregon, The Oregonian / OregonLive
Under Our Skin, The Seattle Times

Explanatory Reporting, Large Newsroom
The Voters Who Gave Trump the White House, Bloomberg News
Vanishing, CNN Digital
Weigh Anchor, The Globe and Mail
Mobile Power, Human Toll, The Washington Post

Topical Reporting, Small Newsroom
Truckbeat, Localore: Finding America at WUOT
Opioid Coverage, STAT
Sold Out, The Texas Tribune

Topical Reporting, Medium Newsroom
Who Is Steve Bannon?, NowThis
Breaking the Black Box, ProPublica
Standing Rock and Beyond, Reveal from The Center for Investigative Reporting and Inside Energy
Bridging the Divide, The Baltimore Sun

Topical Reporting, Large Newsroom
ISIS from All Angles, CNN Digital
Guardian US: Outside in America, Guardian News & Media
Bullied By the Badge, HuffPost and the Hechinger Report
Trump Charities, The Washington Post

Online Commentary
Honoring Those Lost to the Oakland Warehouse Fire, KQED
Make It Stop, The Boston Globe
Race/Related, The New York Times
Vox First Person, Vox Media

Sports, Small/Medium Newsrooms
Berlin Marathon 2016 - How Fast Your City Runs, Berliner Morgenpost
The Gravity-Defying Physics of Simone Biles, Quartz

Sports, Large Newsroom
The Art of Letting Go, ESPN The Magazine
Francesco Totti King of Rome, La Repubblica
Rio Olympics, The New York Times
Marc Spears Sports, The Undefeated

Feature, Small Newsroom
Dope Sick, STAT
AMERICA RELOADED: The Bizarre Story Behind the FBI's Fake Documentary About the Bundy Family, The Intercept | First Look Media
The Accusation, The Marshall Project
Wear and Tear, Undark

Feature, Medium Newsroom
A Year At Encina, Capital Public Radio
The Business of Inequality, Harvard Business Review
My Four Months as a Private Prison Guard, Mother Jones
A Search for Life on Roads of Death, San Antonio Express-News

Feature, Large Newsroom
Inside the Massive Tunnel 60 Feet Below L.A., Los Angeles Times
Central African Republic, National Geographic
The Fine Line, The New York Times
Understanding Hillary Clinton, Vox Media

The David Teeuwen Student Journalism Award, Small
City of Smoke: Air Pollution in the Land of the Eternal Blue Sky, UC Berkeley Graduate School of Journalism
A Town Divided, UC Berkeley Graduate School of Journalism

The David Teeuwen Student Journalism Award, Large
Death Denied, The Medill Justice Project
Cuba's New Wave, The University of North Carolina at Chapel Hill's School of Media and Journalism

Pro-Am Student Award
Surviving the City, International Reporting Program, University of British Columbia, The Guardian, BBC News, Toronto Star
Turning Tides: The Story of the Salton Sea, USC/JOVRNALISM and The Desert Sun staff

The University of Florida Award for Investigative Data Journalism, Small/Medium Newsrooms
Boomtown, Flood Town, ProPublica and The Texas Tribune
Shoot to Kill, The Baltimore Sun
Trial and Terror, The Intercept | First Look Media

The University of Florida Award for Investigative Data Journalism, Large Newsroom
Big Money, Unlikely Donors, Los Angeles Times
Bias on the Bench, Sarasota Herald Tribune
Why Cops Shoot, Tampa Bay Times / tampabay.com
Unfounded, The Globe and Mail
Unnatural Causes, The Washington Post

Excellence and Innovation in Visual Digital Storytelling, Small Newsroom
Future Cities, Future Cities
TruckBeat, Localore: Finding America at WUOT

Excellence and Innovation in Visual Digital Storytelling, Medium
Titletown, TX, McClatchy
Boomtown, Flood Town, ProPublica and The Texas Tribune

Excellence and Innovation in Visual Digital Storytelling, Large Newsroom
Bound. Tortured. Killed., Toronto Star
Fragments of a Life: A Curbside Mystery, The New York Times
A New Age of Walls, The Washington Post

Excellence in Audio Digital Storytelling, Small
Frontier of Change, Independent | Producing Station: KNBA
The Long Shot, Science Friday
Signal Podcast, STAT

Excellence in Audio Digital Storytelling, Medium/Large Newsroom
Containers, Fusion Media Group
The Wall, Reveal from The Center for Investigative Reporting
Stand at the Edge of Geologic Time, NPR

Excellence in Immersive Storytelling
Cash Cow, Al Jazeera English
After Solitary, FRONTLINE
Fight for Falluja, The New York Times

Gannett Foundation Award for Technical Innovation in the Service of Digital Journalism
BBC News Labs: Stitch, BBC
APIs and Data from ProPublica's Represent, ProPublica
Live Notifications, The Guardian US Mobile Innovation Lab

The Al Neuharth Innovation in Investigative Journalism Award, Small Newsroom
Drinks, Dinners, Junkets and Jobs: How the Insurance Industry Courts State Commissioners, The Center for Public Integrity
Code of Silence, The Intercept | First Look Media
Jay Peak's Path to Fraud, VTDigger.org

The Al Neuharth Innovation in Investigative Journalism Award, Medium Newsroom
The Rent Racket, ProPublica
Against Their Will: Sexual Exploitation in Pot Country, Reveal from The Center for Investigative Reporting
Lax Safety at the Shipyards, Reveal from The Center for Investigative Reporting
Toxic Armories, The Oregonian / OregonLive
Quantity of Care, The Seattle Times

The Al Neuharth Innovation in Investigative Journalism Award, Large Newsroom
Car Insurance, ProPublica and Consumer Reports
Maternal Mortality, ProPublica and NPR
Doctors & Sex Abuse, The Atlanta Journal-Constitution
Unfounded, The Globe and Mail
Unlawful Coercion in Psychiatric Wards, VG

Knight Award for Public Service
Death Behind Bars, Reno Gazette-Journal
Doctors & Sex Abuse, The Atlanta Journal-Constitution
Toxic Armories, The Oregonian / OregonLive
Fire and Death in Canada's First Nations, Toronto Star

General Excellence in Online Journalism, Small Newsroom
Nexo Jornal, nexojornal.com.br
PublicSource, publicsource.org
STAT, statnews.com
The Marshall Project, themarshallproject.org
The Texas Tribune, texastribune.org

General Excellence in Online Journalism, Medium Newsroom
Le Temps, letemps.ch
ProPublica, propublica.org
San Antonio Express-News, expressnews.com

General Excellence in Online Journalism, Large Newsroom
PolitiFact, politifact.com
The Globe and Mail, theglobeandmail.com
The New York Times, nytimes.com

The judges for finalists were:
Chris Amico, Interactive Editor, FRONTLINE
Ted Anthony, Director of Asia-Pacific News, The Associated Press
Trushar Barot, Digital Launch Editor, BBC Indian Languages
Heather Bryant, Director, Project Facet
Matt Carroll, Professor, Northeastern University
Flor Coelho, New Media Research and Training Manager, LA NACION
Jenn Crandall, Artist-in-Residence, Alabama Media Group
Meghann Farnsworth, Engagement Editor, Recode
Kim Fox, Managing Editor, Audience, Philadelphia Inquirer/Philly.com
Joshua Hatch, Assistant Managing Editor, Data and Interactives, The Chronicle of Higher Education
Karin Hedensjo Pettersson, Political Editor-in-Chief, Aftonbladet
Robert Hernandez, Associate Professor of Professional Practice, USC Annenberg School of Journalism
Liz Heron, Independent Digital Strategist
Elise Hu, International Correspondent, NPR
Rich Jaroslovsky, Vice President for Content & Chief Journalist, SmartNews Inc.
S. Mitra Kalita, VP, Programming, CNN Digital
Scott Klein, Deputy Managing Editor, ProPublica
Martin Kotynek, Deputy Editor-in-Chief, ZEIT ONLINE, Berlin
Jacqui Maher, Head of Interactives, Vogue International
Rebekah Monson, Co-founder, VP product, WhereBy.Us
Miguel Paz, Professor, Graduate School of Journalism, City University of New York (CUNY)
Andy Pergam, Vice President, Video and New Ventures, McClatchy
Rhyne Piggott Editor, Data and Interactive Journalism @ WNYC
Mariana Santos, Founder, Chicas Poderosas
Michelle Srbinovich, General Manager, WDET, Detroit's public radio station
Nabil Wakim, Director of Editorial Innovation, Le Monde, Paris
Aaron Williams, Graphics Reporter, Washington Post
Hannah Wise, Engagement Editor, The Dallas Morning News
Tim Wong, Sr. Director, UX & Design
Jenny Ye, Data Director, WNYC
Judges were recused from discussing categories in which their own organizations were entered.
Launched in 2000, the OJAs are the only comprehensive set of journalism prizes honoring excellence in digital journalism.