Sun Life, Jolibee, Smart, Shell, SM Supermarket and Vita Milk Scoop 1st Place in ICERTIAS Best Buy Award Survey in the Philippines
The newest ICERTIAS Best Buy Award survey bodes well for global and home grown brands in the Philippines
Press Release
August 10, 2017
MANILA – The ICERTIAS Best Buy Award 2017/2018 survey has shown that citizens of the Philippines recognise the companies and brands that offer the best price-quality ratio, with the likes of Sun Life, Jolibee, Smart, Shell, SM, Vita Milk, BDO and Samsung coming first place in their respective categories.
Through open-ended questions the ICERTIAS Best Buy Award survey polled respondents in the Philippines to state the products and services they believed represented the best value for their money. Citizens of the Philippines were surveyed on approximately 50 different economic and non-economic categories where their personal experience of specific products and service categories on the Philippine market were addressed.
These categories spanned sectors including retail, food, cosmetics, home appliances, telecommunications and finances.
The ICERTIAS Best Buy Award proved to be very revealing as Filipinos selected a variety of both international and domestic brands as their top choices for best price-quality ratio.
Amongst the winners of the Best Buy Award 2017/2018 independent market survey were SM Supermarket in the supermarket chain category, Lucky me! in the instant noodles category, Selecta in the ice cream category, Toyota in the family car category, San Miguel in the beer category, Lipton in the tea category, Vita Milk in soy milk category and Wilkins in the spring bottled water category.
Some of the other category winners included Uratex (mattress producer), Samsung (smartphone), BDO (banking financial institution), Sun Life (insurance company), Acer (laptop), Colgate (toothpaste), Globe (Broadband Internet service provider), Smart (mobile network operator), Sky Cable (digital television service provider), Maxx (candy), Silver Swan (soy sauce), Jolibee (restaurant chain), Shell (petrol station chain), Del Monte (soft drink), and MX3 (dietary supplements).
The 2017/2018 Best Buy Award survey has confirmed that Filipinos acknowledged, and rewarded with their vote, the brands and services that offered them the best value for their money.
These findings have come from the newest Best Buy Award research survey conducted in the Philippines in May 2017 by the Swiss organisation ICERTIAS.
ICERTIAS measures the experience and level of satisfaction with the price-quality ratio of marketed products and services expressed by surveyed participants.
It should be noted that the ICERTIAS Best Buy Award survey does not measure brand equity or market share. This research provides insight into the customer's personal experience, opinion, satisfaction and perception, which are used exclusively to gauge the price-quality ratio of goods and services on the market.
Methodology and Sampling
The 2017/2018 ICERTIAS Best Buy Award research survey in the Philippines was conducted by the Swiss organisation ICERTIAS - International Certification Association GmbH.
The survey was conducted in May 2017 using a web questionnaire on a sample of 1,200 Filipino Internet users older than 15, following the Computer Assisted Web Interviewing - Deep Mind Awareness (CAWI - DEEPMA) method.
This is only an overview of the full research conducted by ICERTIAS. Should you wish to acquire more in-depth details of the survey please do not hesitate to contact us.
About the ICERTIAS Best Buy Award Project
More than ever, buyers have become more savvy and selective, seeking out better value for their money. When making final purchasing decisions the price and quality of each product is taken into consideration. The ratio between good price and the best possible quality (the so-called best buy) is extremely important to customers.
The ICERTIAS Best Buy Award is a project of ICERTIAS - International Certification Association GmbH, based in Zurich, Switzerland.
The mission of the ICERTIAS Best Buy Award research is to gain insight into user experience and perception of products and services that customers consider to provide the best price and quality ratio (the so-called best buy).
The ICERTIAS Best Buy Award project and certificate aim to simplify the search for the best goods and services at the most favourable price. It is intended to benefit buyers in local and international markets.
The ICERTIAS Best Buy Award research study is conducted according to the provisions of the International Codex for the Implementation of Market and Social Research, which were adopted by the International Chamber of Commerce (ICC) and the European Association of Research Experts (ESOMAR).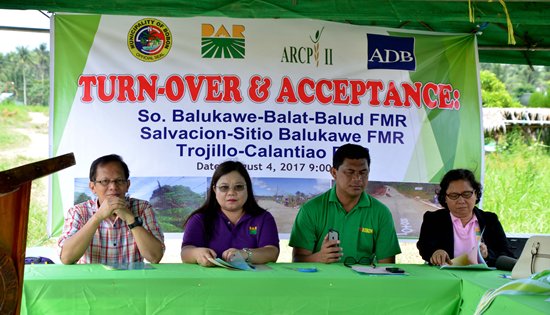 DAR Regional Director Sheila Enciso (2nd from L) and Bobon, Northern Samar Mayor Rene Celespara (3rd from L) lead in the turnover and acceptance rites of three farm-to-market road projects implemented in this town under the second phase of the Agrarian Reform Communities Project (ARCP-II). Others in photo are Romy Maningas (extreme L), who represented DAR Undersecretary Sylvia Mallari, and Provincial Agrarian Reform Program Officer Nida Abelido (extreme R).
DAR turns over 3 'dream roads' in N. Samar
By JOSE ALSMITH L. SORIA
August 10, 2017
BOBON, Northern Samar – Many did not believe these roads were going to be realized.
This was the common story shared by residents here as the Department of Agrarian Reform (DAR) turned over last Friday three farm-to-market roads coinciding with this town's 154th founding anniversary.
DAR Regional Director Sheila Enciso formally turned over to the local government unit (LGU) and to the recipient barangays the 1.5-kilometer all-weather Balukawe-Balat Balud road, the 1.7-kilometer concreted Salvacion-Balukawe road and the 1.1 km. concreted Trojillo-Calantiao road.
The three road projects with a total cost of P28.2-million were implemented under the second phase of the Agrarian Reform Communities Project (ARCP-II) through a loan by the national government from the Asian Development Bank (ADB).
Though 40 percent of the total amount was shouldered by the LGU as equity, Mayor Rene Celespara thanked DAR for helping them realize build the roads, a long cherished dream especially for the residents of Barangay Balat Balud.
Barangay Balat Balud Chairman Jimmy Baldestoy disclosed that they used to pass by Barangay Quezon in reaching their village as there was no access road in going straight to their place from the national highway.
Baldestoy narrated that from the town proper, one rides a single motorcycle in going to Barangay Quezon. Upon reaching the river, he/she will ride a banca in crossing, and then walk several meters more to reach their village, he added.
But now, with the presence of a road, the more than three kilometers trip was cut short by one kilometer, more convenient and less expensive, Baldestoy stressed.
According to him, the P60 total fare was reduced to P20.
Residents of the four affected barangays by the three road projects narrated that many lost hope that a road will be constructed in their area as promises remained promises.
Provincial Agrarian Reform Program Officer (PARPO) Nida Abelido reminisced how residents in these barangays identified access road as among their priority needs during a consultation dialogue in the past. According to her, she cannot also forget the reaction of some who did not believe this will be realized.
Meanwhile, Enciso reminded the recipients to maintain the said roads in good condition for the next 10 years. Otherwise they will be shouldering also the 60 percent share of the national government thereby converting the grant into a loan.
In the same occasion, Enciso also distributed 26 certificates of land ownership award (CLOAs) covering 45.7 hectares of agricultural lands situated in the barangays of Magsaysay, J.P. Laurel, Trojillo and Calantiao to 25 agrarian reform beneficiaries (ARBs).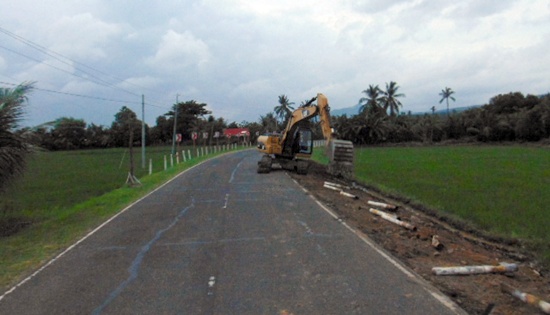 On-going roadway excavation and embankment along Biliran-Naval: Burabod Section, one section of the P172.192M widening project along Biliran Circumferential Road. As of July 30, 2017, it has an accomplishment of 18% under contract with Yakal Construction.
DPWH-Biliran DEO starts construction for the P172.192M widening project
By DPWH-BDEO
August 7, 2017
NAVAL, Biliran – The Department of Public Works and Highways- Biliran District Engineering Office (BDEO) has started its construction for the P172.192M widening project along Biliran Circumferential Road as of July, 2017.
Engr. Rosario B. Rosete, Chief of Planning and Design Section revealed that this is the biggest project allocated to BDEO funded under the General Appropriation Act (GAA) of FY 2017. Engr. Rosete added that the said project involves the construction of additional lanes on both sides of the existing paved road with a width of 3.35 m., a thickness of 0.28 m. and a length of 5.88 Kms. on six (6) sections along Biliran Circumferential Road: Balaquid section, Caray-caray section, Burabod section, Bool section, Tucdao section and Virginia section. It also includes the construction of drainage and installation of road safety features.
According to Engr. Albert V. Cañete, Project Engineer, as of July 30, 2017, the above P172.192M widening project along Biliran Circumferential Road has an accomplishment of 18% from its start date on July 6, 2017.
"The project is now on-going with roadway excavation and embankment along Burabod section and soon will start at Balaquid section and Tucdao Section," said Engr. Cañete.
The P172.192M widening project along Biliran Circumferential Road were prioritized because of its potential for development with the vision to accommodate huge number of road users.
Completion of this project will increase the capacity of the existing roads and improves the safety aspect of said sections. This road also leads to the only Provincial Hospital and Port of the Province serving more or less 15,000 travelers.
The said widening project has a duration of 300 calendar days and is target to be completed on May 1, 2018.
Meanwhile, DPWH-BDEO have also started constructing the P125.588M widening along Biliran Circumferential Road with road sections: Sabang section, Burabod and Brgy. Mapuyo section Kaulanguhan section, and Lumbia -San Roque section of Biliran, Biliran.
DOLE urged to ban in Philippines the mandatory wearing of high heel shoes at workplace
By ALU-TUCP
August 7, 2017
QUEZON CITY – The country's biggest workers' group the Associated Labor Unions-Trade Union Congress of the Philippines (ALU-TUCP) is urging the government's Department of Labor and Employment (DOLE) to draft a regulation forbidding employers nationwide from requiring women employees to wear high heel shoes at work because it poses danger to their safety and health.
"We received many persistent complaints from salesladies working in department stores and malls that they are in pain walking and standing for long hours performing their jobs in high heel shoes. They also worry that it might have long-term damaged on them. This is a grave concern to their health and safety and so we are asking the DOLE to prohibit employers from requiring their employees to wear high heel shoes in doing their work," said Gerard Seno, ALU national executive vice president.
The DOLE's future prohibition policy should cover not only salesladies but promodizers in supermarkets, waitresses, hotel and restaurant receptionists and flight attendants as well, Seno said.
"Apart from the pain, working women also complain of injury after slipping, falling and tripping with high heel shoes on. This must be stopped. Women workers should not be compelled to put on high heel shoes against their will. They should not be exposed to any harm and danger at all times," Seno said.
The government have no existing regulation that govern the wearing of high-heel shoes in the workplace and gave the discretion to employers. Thus, women working under the company policy have choice but to comply and endure the agony for long periods.
"For fear of censure from supervisors and lack of genuine grievance mechanism in the workplace amid numerous anecdotal accidents involving high heel shoes, women in the circumstances are powerless – most of which are contractualized workers and have no union to represent them. They just endure the pain for the entire duration of their shift and have no choice but to comply with company policy for the entire duration of their contracts against their will," Seno said.
Seno said they also urge the Commission on Higher Education (CHED) to create a regulation outlawing schools from requiring female students to wear high heel shoes particularly those taking up hospitality and guest relations courses and training.
Researchers from the University of Aberdeen in the United Kingdom found out that high-heeled wearing skeletally immature adolescents are most likely to suffer postural disorders affecting head positioning, the back, pelvis and knee.
Duterte urged to raise wages of workers; last big one was P25 in 1989
By ALU-TUCP
August 6, 2017
QUEZON CITY – Labor group Associated Labor Unions-Trade Union Congress of the Philippines (ALU-TUCP) is urging President Rodrigo Duterte declare a nationwide across-the-board wage hike to raise the wages of workers amid falling purchasing power of daily pay and rising cost of living.
The call was made as the wage board is about to meet in this week to deliberate on a final new wage increase for minimum wage workers in Metro Manila, labor group and wage hike petitioner Associated Labor Unions-Trade Union Congress of the Philippines (ALU-TUCP) said yesterday.
"President Duterte can text or call the wage board and prod them the amount of wage increase that he desires and it will be done. The President can also issue a presidential executive order mandating a wage increase amount needed by workers and their families to cope and survive with the increasing prices of goods and service. The President has the variety of options to make a significant wage hike," said ALU-TUCP spokesperson Alan Tanjusay.
Tanjusay said the workers had been desperate for a significant across-the-board wage increase for many years because the wage board have always been granting meager and pittance wage increases despite an improving economy.
"The last time the workers experienced a significant wage hike was in 1989 or 28 years ago when the late Pres. Cory Aquino gave a P25 daily across-the-board wage increase nationwide. After which, the wage board has been issuing pittance wage orders as if workers are beggars," Tanjusay said.
The ALU-TUCP said workers' wage should be P675 a day instead the current P491 daily pay for workers in the National Capital Region. The real value of P491 has eroded to P375 a day.
In a position paper they submitted Friday last week in the light of their petition for wage hike, the ALU-TUCP filed an across-the-board P184 daily wage increase petition for workers in the cities and municipalities of the National Capital Region on top of the existing legislated P491 daily minimum wage in a bid to uplift them from poverty caused by rising cost of living and eroding purchasing power of their daily wage.
The Board last year issued Wage Order No. NCR-20 effective June 2, 2016 granting a Ten Pesos (P10.00) COLA per day. Before this, on 6 September 2013 granting Ten Pesos (P10) per day increase in basic wage effective 4 October 2013 and the integration of the Fifteen Pesos (P15.00) of the Thirty Pesos (P30.00) cost-of-living allowance (COLA) under W.O. No. NCR-17 effective 1 January 2014; (2) W.O. No. NCR – 19 on 16 March 2015, or more than a year ago, that granted Fifteen Pesos (P15) daily increase in the existing basic wage effective 4 April 2015.
However, the said increases, small and inadequate as they were, have been overtaken by increases in electricity and water rates, health and education costs, the prices of oil and its products, LPG, and basic goods and services.
And that despite the gains in the economy and productivity, workers and their families have not been granted a single peso in real wage increase since 1989, the petition said.
According to government official figures, as of April 2017, the purchasing power of the legislated P491 daily minimum wage in NCR is only P357.09, eroded by 27.3%.
Stormtroopers marks its 29th founding anniversary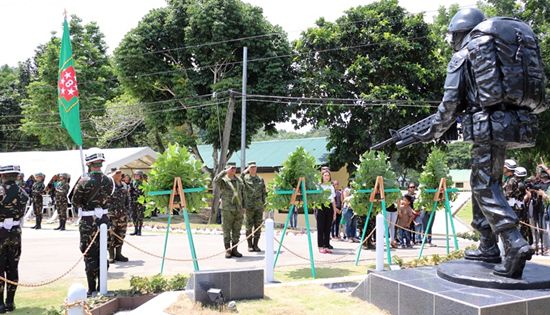 By DPAO, 8ID PA
August 2, 2017
CAMP LUKBAN, Catbalogan City – The 8th Infantry (Stormtroopers) Division, Philippine Army, marked its 29th Founding Anniversary with the theme, "Disiplinadong Hukbong Katihan sa Silangang Bisayas, Kasangga ng Pamayanan sa Pagsulong ng Katiwasyan at Kaunlaran" at its Headquarters in Camp General Vicente Lukban, Barangay Maulong, Catbalogan City, Samar on August 1, 2017.
The event was highlighted by a wreath-laying ceremony led by Maj. Gen. Harold N. Cabreros, Vice Commander, Philippine Army, in honour of the fallen comrade-in-arms and in recognition of the soldiers' heroism and ultimate sacrifice in pursuit of peace in Eastern Visayas and in Mindanao. The ceremony was attended and witnessed by the soldiers and their loved ones, officers, and civilian employees of the Command.
Another highlight of the activities was the awarding of deserving personnel who have shown meritorious achievement in both combat and non-combat role that significantly contributed to the overall success of the Command's mission.
In addition, civilian stakeholders, who contributed to the accomplishments of the Command mission, such as: PCSupt. Elmer C. Beltejar, Regional Director, PNP Regional Office 8 who was represented by PSSupt. Nicerio D. Obaob, Regional Chief Directorial Staff; Hon. Sharee Ann T. Delos Santos, Regional Peace and Order Chairperson; Hon. Edgar Mary Sarmiento; Mr. Leonardo R. Sibbaluca, Regional Director, Department of Environment and Natural Resources (DENR) Region 8; Hon. Vivian P. Alvarez, Municipal Mayor, Oras, Eastern Samar; Mrs. Imelda Ty Tipay, Principal, Las Navas National High School, Las Navas, Northern Samar; Mr. Rod Laurean D. Suan, former municipal mayor of Allen, Northern Samar; Ms. Imelda C. Bonifacio, Regional PAMANA Program Manager, OPAPP; and Ms. Christine C. Caidic, President 8ID MSAB were also awarded with plaques of recognition during the said occasion.
Maj. Gen. Harold N. Cabreros was thankful to the men and women of 8ID for its three decades of steadfast commitment as the protector and servant of the people not only in Eastern Visayas but to the Filipino as a whole.
"May your celebration today motivate you more, continue to serve with excellence, remain a witness in giving public service, with the same high standards you have set upon yourselves for the past 29 years," Cabreros added.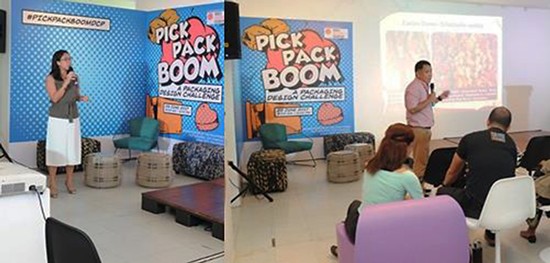 In photo (L-R): Anna Meloto-Wilk of Gandang Kalikasan, Inc. and Rex Puentespina of Malagos Chocolates discussing the design and packaging challenge before the participants of the Pick Pack Boom Design Challenge.
DTI intensifies design and packaging campaign for PH brands
By DTI-TIPG-DCP
July 31, 2017
MAKATI CITY – In its effort to further support Philippine brands in accessing the global market, the Department of Trade and Industry's (DTI) Design Center of the Philippines recently held a design challenge for young design professionals dubbed as "Pick Pack Boom" at the exhibition hall of Design Center in Pasay City.
The one-day packaging design challenge urged young design professionals to develop and recreate sustainable and locally-sourced recycled and sustainable packaging materials for the two world-renowned Philippine brands namely, Human Nature and Malagos Chocolates.
Participants developed a prototype for Human Nature's bath soap bar and Malagos' Chocolates' gift bag that took into consideration the concept of sustainable design. With the celebration of the World Industrial Design Day, the event also served as a support of the Design Center in this year's theme and focus on United Nations Sustainable Development Goal #12 of "Responsible Consumption and Production."
The design challenge featured Anna Meloto-Wilk from Gandang Kalikasan Inc., which produces Human Nature and Rex Puentespina of the Malagos Chocolates. Wilk and Puentespina both shared their respective brands, social entrepreneurship thrusts, and their local to global business narratives.
The event included design sprint sessions, which tested participants' ideation and design skills for the prototyping competition. The best prototypes included an origami concept, integrating konyaku as a material to protect and reinforce the packaging for Human Nature's bar bath soap; and the graphic storytelling of Malagos' tree-to-bar single origin cacao, incorporating the terroir elements for the Malagos Chocolates gift pack. All prototypes developed during the session will be turned over to Human Nature and Malagos for further development.
The Design Center of the Philippines is a member of the World Design Organization (WDO), and is committed to the use of design as a tool for improving the quality and competitiveness of Philippine products.
The WDO, formerly known as the International Council of Societies of Industrial Design (ICSID), is an international non-governmental organization that promotes the profession of industrial design and its ability to generate better products, systems, services, and experiences; better business and industry; and ultimately a better environment and society.