First of its kind: Fashion show atop hydroelectric megastructure
Jessica Minh Anh added Hoover Dam into the world's most iconic runway venues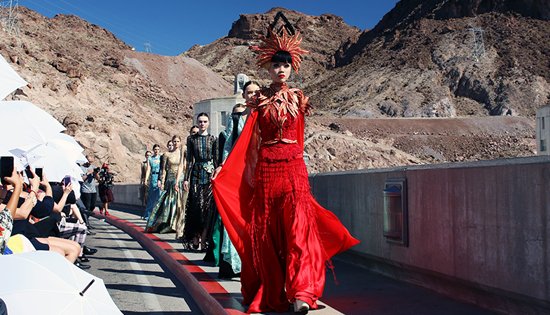 Press Release
June 27, 2017
NEVADA – Earlier today, producer of the world's most innovative runways transformed American engineering masterpiece, Hoover Dam, into a sky-high catwalk. Matching the unstoppable strength of a new daring generation with the hydroelectric power, Jessica Minh Anh's Summer Fashion Show 2017 premiered design excellence while redefining a series of modern standards. The extraordinary production, which stopped traffic atop the iconic megastructure, showcased 9 exquisite haute couture, ready-to-wear, and jewelry collections from 4 continents.
A perfect portrait of modern beauty with endless sensuality, Jessica Minh Anh opened the highly-anticipated catwalk in a mesmerizing mermaid red dress by Brazilian haute couturier Patricia Nascimento. Her striking royal look was complimented by an artistic crown-shaped architectural hairpiece by Mirror Mirror Vegas and uniquely designed crystal and gold jewelries from artist Cristina Sabatini. Against the cinematic backdrop of the Black Canyon and the dreamy Lake Mead, the exotic beauty was followed by a gorgeous model lineup in nude, white, pink, gold, and ocean blue gowns made of fluid fabrics. A master at stand-out waistline and elongated silhouette, Patricia and her new collection 'Realize' successfully inserted mystery and seduction onto the epic catwalk.
Returning to Jessica Minh Anh's grand production for the fifth time, Pakistani award-winning designer Syeda Amera celebrated femininity and elegance with a colorful floral collection inspired by the beautiful nature. Featuring over-sized shoulders, extravagant maxi dresses, and uniquely-cut jumpsuits, the radiant designs brightened up the catwalk while demonstrating special print technique on luxurious fabrics. Poppy, daisy, lily, and rose print were certainly part of the summer charm.
On the contrary, newcomer Kine Dione chose beige and white color pallet for her creatively embroidered collection. Focusing on refinement and craftsmanship, each piece was distinctively cut and handcrafted with gold flowers and pearl details on tulle, lace, silk, and organza. The gold regal designs played a significant role in adding the sun-kiss glow on the lavish looks.
Turkish representative Gulnur Gunes rejoined Jessica Minh Anh's exclusive runway with a powerful collection influenced by the beauty and intelligence of the Greek goddess Métis. Using special crystal embellishments on lilac, gold, and silver fabric mixed with daring cuts, the talented designer created ultimate glamour while effectively reflecting a woman's personality.
Next, South American designer Christian Zerrá gave audience a sense of solemnity and modernity through his exciting new collection which used baroque art on red, black, and white velvet and fine cotton. Perfectly blending traditional elements of the great Cuzco heritage with contemporary cuts and original embroideries, Cristian's designs cleverly revealed the alluring side of practical but by no means simplistic garments.
The ultra-charismatic and bold collection by Hong Kong-based brand Kaprice was a harmonious fusion of the East and the West. Bringing together ambience of texture and designs influenced from across the world, each piece infused freshness with vibrant colors and lightness from soft fabrics such as silk, satin, and chiffon. Imaginative and lavish, the "Kouture" collection, which included exclusive prints and Swarovski and sequins embellishments, gave out a dramatic appeal.
Adding class and sophistication to Jessica Minh Anh's summer catwalk, Malaysian powerhouse Emmanuel Haute Couture premiered a romantic bridal collection using luxurious fabrics, hand-beaded embellishments, and couture craftsmanship. With deep necklines and polished silhouettes, each design conveyed effortless elegance and edge.
An expert at fabric manipulation, three-dimensional embellishments, and technological cuts, Peruvian designer Ani Alvarez Calderon put the traditional crafts into a new context in the finale collection of the grand show. Inspired by famous architectural shapes of the pyramids, huacas and royal tombs, Ani's wearable arts were made of gold, turquoise, green, and black colour pallet. Saving the best for last, Jessica Minh Anh appeared as a goddess in a brilliantly crafted royal red dress and an impressive golden feather crown. Symbolizing the ancient beauty with both fragility and power, the supermodel closed the show with unattainable desire and supremacy.
The iconic J Summer Fashion Show 2017 was supported by industry best Joy Mangano, AVP Nationwide Productions, Saks Fifth Avenue Las Vegas, Arrow Stage Lines, Fred's Bakery, Alexis Park All Suite Resort, Hoover Dam Lodge Hotel & Casino, Body in Mind Pilates Studio, JB Pro Graphics, Icelandic Glacial, and Haas-Jordan. The show marked Jessica Minh Anh's 20th highly successful productions since her history-making catwalk on England's famous London's Tower Bridge. The catwalk queen is now ready for her next step: producing original series to share her inspiring journey of conquering the most challenging venues.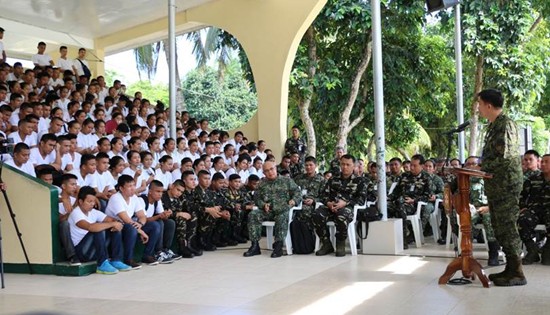 8ID commander MGen. Raul Farnacio AFP delivering his message during the Opening Ceremony of the 38th National Reservist Week at 8ID Grandstand on June 24, 2017.
8RCDG celebrates the 38th National Reservists Week
By DPAO, 8ID PA
June 24, 2017
CAMP LUKBAN, Catbalogan City – The 8th Regional Community Defense Group (RCDG) celebrates the 38th National Reservist Week with the theme, "Laang Kawal: Laging Handa sa Pagtugon sa Pangangailangan at Kusang Loob na Naglilingkod Para sa Kaunlaran ng Bayan," on June 23-25, 2017 at Camp Lukban, Maulong Catbalogan City.
The three-day activity held at Headquarters 8th Infantry Division, PA is a Provincial Assembly Test to the 1st Western Samar Ready Reserve Battalion in order to determine the completeness of the Reserve Force fill-up; to account the actual number of AFP reservists in the area; disseminate awareness of the AFP Policies; improve their Humanitarian Assistance and Disaster Response (HADR) capabilities; and to disseminate the direction of ROTC to the school administrators and cadets.
The activity focuses on the significant contributions and roles of the trained and equipped reserve force of the country and its people through maintaining internal security and stability, participation in disaster/emergency response, community development activities and humanitarian assistance.
Maj. Gen. Raul M. Farnacio AFP in his message said: "I am pleased with your presence because the spirit of volunteerism is still in our youth today. Volunteerism is one of the many ways to show our patriotism to our country. You've chosen the right path to be among the selected few who served our country without expecting anything for return."
"Our constitution recognizes the role of the Citizen Armed Force as protector of the country and its people. In particular, the reserve force, in tandem with the regular counterparts, has played a significant role in maintaining internal security and stability by actively participating in humanitarian assistance, disaster response and community development activities. Let us all continue to work together for peace and progress in our country. Congratulations to all of us and Mabuhay Tayong Lahat!" Farnacio added.
DTI backs electronics industry development
Calls for closer industry-academe ties towards innovation
By DTI-OSEC-PRU
June 22, 2017
PASAY – Relevant industry players should continue partnering with the Philippine government in developing further the electronics industry, being one of the primary sources of economic growth today, the country's trade chief said.
Stressing the robust Philippine economy and a booming global market, Department of Trade and Industry (DTI) Secretary Ramon Lopez outlined government initiatives to strengthen the electronics industry, as well as DTI's partnership with industry stakeholders.
Said initiatives include projects that will move the industry's capabilities to higher value activities, as well as help identify products and technologies in the developing sectors of electronics in the next five years. DTI and the Board of Investments (BOI) also have active partnerships with other institutions to forward capacity-building programs and exchange of best industry practices.
In his keynote speech at the 14th Philippine Semiconductor and Electronics Convention and Exhibition (PSECE) on 21 June, Sec. Lopez said that closer industry-academe linkages can lead to a stronger electronics industry that will later on "generate inclusive economic growth, reaching those at the bottom of the pyramid."
As one of the pillars of the country's industrial growth and one of the top 12 industry priorities of the current administration, the electronics industry is a top export performer with a 51.3% share of total exports in 2016 (worth USD 28.8 billion). The industry has also generated about 2.6 million direct and indirect employments as of 2015.
He also mentioned that as the Philippines chairs ASEAN 2017, the government's priority is to lead an inclusive, innovation-led growth, which means working to create an enabling environment to develop micro, small, and medium enterprises (MSMEs), and prepare them to become globally competitive, innovative, inclusive and resilient.
"There is a very strong role that innovation plays in helping and enabling a lot of our countrymen to develop an innovation mindset, culture and capability, for them to also have equal chances to success and move up in life," Sec. Lopez said.
The trade chief noted the need to focus on key areas affecting MSME growth, including the promotion of productivity, technology, and innovation, as well as making these available and accessible to MSMEs.
"If we are able to broaden the capacity and innovation culture to a larger percentage of our population, then we also increase peoples' chances of becoming successful," he added.
Sec. Lopez reiterated that Pres. Duterte's Dutertenomics aims to narrow development gap and widen the gains of economic growth through creation of jobs and income opportunities for all.
Led by the Semiconductor & Electronics Industries in the Philippines Foundation, Inc. (SEIPI), the 14th PSECE provides an avenue, wherein public and private stakeholders gather to strategically identify possible areas of cooperation and to learn best industry practices.
"As we gain insight and appreciation on the issues affecting the electronics industry, we are confident that whatever we learn will help us in our efforts to create broad-based growth that generates jobs, fosters entrepreneurship, and gives Filipinos more opportunities," Sec. Lopez said.
'Now, a perfect time to expand' – Lopez to IT-BMP players
By DTI-OSEC-PRU
June 20, 2017
TAGUIG – The government intensifies its support for the continuous development of the information technology-business process management (IT-BPM) industry, following the industry's generated revenue of around US$23 billion and direct employment of 1.3 million last year.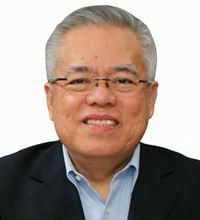 Speaking at the office opening of financial institution ING Business Shared Services BV on 20 June, Department of Trade and Industry (DTI) Secretary Ramon Lopez said that ING's expansion comes at a perfect time when the Philippines is considered the global leader in IT-BPM, having an annual growth rate of 30% over a decade.
Sec. Lopez also mentioned that IT-BMP's economic contributions surpass remittances of overseas Filipino workers, making the industry more competitive and growth-driven.
"The industry benefits from an enabling policy environment under the administration of President Rodrigo Duterte. I encourage the IT-BMP industry players to continue expanding and specifically take advantage of this moment, when the Philippines is experiencing an economic breakout, as further intensified by efforts to improve ease of doing business," he said.
The trade chief also highlighted that the country has a qualified, highly-trainable, hardworking work force, with notable English proficiency and fast learning curve.
"Filipinos' adaptability to universal cultures and their high level of commitment and loyalty prove that the country's greatest asset has always been its people, who will bring inclusive growth to the rest of the country," he said.
Globally, the Philippines is competitively positioned in terms of talent, costs, and risks relative to established and emerging offshore destinations. Cities from Metro Manila to Clark, to the cities of Cebu, Davao, Santa Rosa, Bacolod, Iloilo, Dumaguete, and Baguio are listed in the 2016 Top 100 Outsourcing Destinations as reported by Tholons.
While the Philippines is the number one global provider of voice BPM services, it is also rapidly expanding in the value-driven non-voice, complex services segments of the industry.
Non-voice services included range from engineering, health care, legal, financial, creative, and software services for the energy, banking, investment, insurance, shipping, media, and other industries.
DTI has set up Training for Work Scholarship Program (TWSP) for IT-BPM, wherein the government invests on training for students to work in the industry.
DTI also has a partnership with the Commission on Higher Education (CHED) and the IT & Business Process Association of the Philippines (IBPAP) to run the Service Management Program (SMP), a specialized track for business and IT schools to develop skills in students needed to work in the IT-BPM industry.
The first foreign bank that transitioned into a universal bank in the country, ING offers banking insurance, retirement and investments services with global presence in 40 countries.
NPA harass troops while conducting community service
By DPAO, 8ID PA
June 20, 2017
CAMP LUKBAN, Catbalogan City – A squad of Task Group Alpha of 78th Infantry (Warrior) Battalion while conducting Community Service at Barangay Paglaum, Carigara, Leyte was harassed by undetermined number of NPA terrorist group on June 19, 2017 at around 9:10 o'clock in the evening.
This activity is intended to deliver basic services to interior barangays that will promote economic development and will address the problems affecting peace and security.
Initial result of the harassment disclosed that PFC Reynaldo C. Llemos, suffered a gunshot wound on the left side of his stomach. He was immediately brought to Saint Paul's Hospital, Tacloban City for immediate medical treatment while undetermined casualties on the enemy side.
Maj. Gen. Raul M. Farnacio, 8ID Commander ensures that no matter what conflict may arise that needs to be addressed, the soldiers are ready to dedicate their lives. Your Army in Eastern Visayas will still pursue and continue its mandated duty to protect the welfare of the populace in the far flung areas. The 8ID is calling the massive support of the communities to report any presence of armed group in their barangays to help stop violence that hinders the fast development of the region.
Philippine Airlines orders seven more Bombardier Q400 aircraft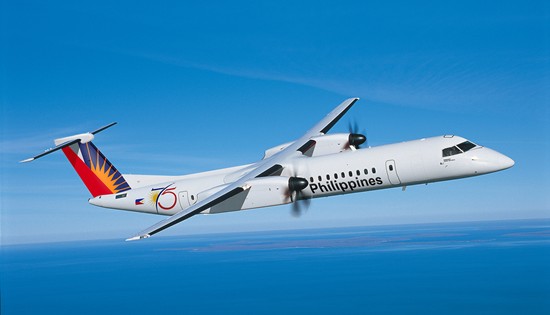 Via MARKETWIRE
June 19, 2017
TORONTO, Ontario – Bombardier Commercial Aircraft announced today, from the International Paris Air Show, that it has signed an agreement with Philippine Airlines, Inc. for the exercise of its seven Q400 aircraft purchase rights. This latest rights exercise brings Philippine Airlines' total firm order to twelve Q400 aircraft. The original firm order for five Q400 with purchase rights for an additional seven was previously announced on December 8, 2016.
Based on the list price of the Q400 aircraft, the firm order is valued at approximately US$235 million.
"The Q400 aircraft have helped airlines around the world expand their networks, and capture new opportunities" said Fred Cromer, President, Bombardier Commercial Aircraft. "We are delighted that Philippine Airlines is growing its fleet with more Q400 aircraft, and are confident that the airline will benefit from the aircraft's outstanding economics and performance."
"As we position ourselves for growth, we are pleased to be adding more Q400 to our fleet," said Jaime J. Bautista, President & Chief Operating Officer, Philippine Airlines. "We are thrilled about the opportunities that lie ahead, and we look forward to offering more capacity and improving connectivity in the region with comfortable, fast and efficient regional aircraft like Bombardier's 86-seat turboprops."
The flag carrier of the Philippines is expected to take delivery of the world's first dual-class, 86-seat Q400 aircraft in July 2017.
Including this latest order, Bombardier has now recorded a total of 585 Q400 aircraft on firm order.
Big labor group ALU lauded Lorenzana and Año for sophisticated and careful generalship of Maute and Martial Law in Mindanao
By Associated Labor Unions
June 15, 2017
QUEZON CITY – The country's biggest labor group the Associated Labor Unions-Trade Union Congress of the Philippines (ALU-TUCP) today calls for recognition for the nuanced sophisticated leadership of both Defense Secretary Delfin Lorenzana and Armed Forces of the Philippines (AFP) Chief of Staff General Eduardo Año in this difficult hour of our nation's history.
The ALU-TUCP lauds Lorenzana and Año for their adherence to the highest standards of professionalism and patriotism in the fight against the Maute terrorist group and in the deliberate and measured tenor of their administration of martial law in Mindanao.
"We warrant full confidence that Secretary Lorenzana and General Año will make the courageous, careful and deliberate moves to counter the seriousness of the Maute threat. The Maute group is the new generation of Muslim youth disgruntled with the failed strategies and tactics of their MILF and MNLF elders and who are now adopting the new social media as the new political fashion for organizing their struggle," ALU vice president Louie Corral said.
While the Maute's are seeking to legitimize by identifying themselves as ISIS, Secretary Lorenzana and General Año are systematically reducing their military capacity and annihilating their political potential.
"Let us take our cues from these officers and gentlemen rather than listening to the siren calls of opportunists trying to make political hay of the conflict. We know that both Lorenzana and Año are running an intelligent and intelligence-based interdiction to minimize both troop losses and civilian casualties. We also feel that that their leadership of the military effort is taking proper heed that both the MILF and MNLF secessions can be taken advantage of to evolve into something more sinister and evil. Thanks to their appreciation of the facts on the ground and political sophistication, they are drawing the bounds and scope of both military and political intervention," Corral said.
We encourage support for both Lorenzana and Año in their difficult task. They have avoided reckless warmongering and irresponsible scaremongering of those wrapping the Philippine flag around themselves while engaging in self-promotion and aggrandizement.
This war against the Maute will not be solved by political adventurism or politicos. Let us fight the fire in one room intelligently now, lest by incautious calculation we destroy the whole house. Let us support our troops in this struggle. Let us support the political and military maturity of Lorenzana and Año to seeing us through this crisis soonest, he added.
Lopez to sari-sari store owners: gov't is your expansion partner
By DTI-OSEC-PRU
June 15, 2017
MANILA – Filipino sari-sari store owners can count on the government to finance their dream expansion through the Pondo para sa Pagbabago at Pag-asenso (P3), the country's trade chief said.
Department of Trade and Industry (DTI) Secretary Ramon Lopez encouraged sari-sari store owners, who belong to the sector of micro, small and medium enterprises (MSMEs), to consider expansion plans through the P3 program, a direct alternative to the "5-6" lending scheme.
"Sari-sari stores form part the economic backbone of the country. Providing them more opportunities can only mean greater economic development," said Sec. Lopez during the appreciation and awarding ceremonies of supermarket chain Puregold on 14 June.
President Rodrigo Duterte's P1 billion financing program offers an affordable, MSME-friendly micro-financing system, whose priority beneficiaries include microenterprises and entrepreneurs that do not have easy access to credit, or are accessing credit at very high cost, such as, micro-entrepreneurs, market vendors, agri-businessmen and members of cooperatives, industry associations and co-operators.
"Loanable amount has interest rate ranging from 20 to 25% per annum with no collateral requirement. This rate is substantially lower than what is being charged by 5-6 loan sharks," he said, adding that the government hopes that through the P3 Program, it will be able to reach and help even the smallest of entrepreneurs in the countryside.
The trade chief expressed hoped that Puregold continue its advocacy of assisting sari-sari store owners increase their potential earnings through the Tindahan ni Aling Puring program, as it complements DTI's grand objective of helping MSMEs level-up and contribute to national development.
Meanwhile, reading Pres. Duterte's message for the event, Philippine National Police Chief Gen. Ronald "Bato" dela Rosa urged stakeholders to make MSMEs "globally competitive through sustainable and innovative business practices."
Puregold's Lucio Co highlighted the significance of sari-sari stores as the immediate go-to pantry of the common Filipino household, adding that establishing one has likewise become "the business of choice" of returning overseas Filipino workers.
"The shared vision to address inequality and reduce income gaps is the thrust of the Durtertenomics. The current growth story of the Philippines can only matter more to our countrymen if it reaches the bottom of the pyramid," said Sec. Lopez.
"As we strengthen the industries to create more jobs, DTI's programs are available to encourage and to inspire Filipinos to give entrepreneurship a good try," he added.
Puregold, which currently caters to about 10 million Filipino households and employs 52,000 and growing, recognized its top 20 gold members, as well as those with highest sales, highest growth and best merchandise.