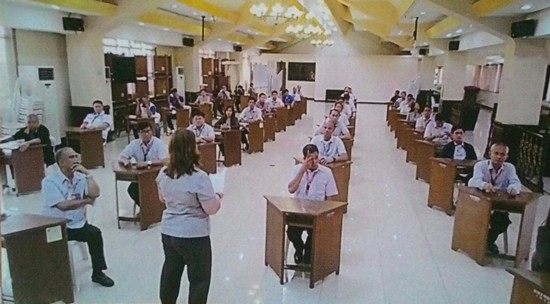 To gauge the effectiveness of the training, a comprehensive exam was conducted to the participants on the last day of the District Engineer Candidate training Course on June 9, 2017 at the DPWH Central Office Training Room, Manila. Engr. Alfredo L. Bollido, (sitting front most right) OIC-Assistant District Engineer of Biliran District Engineering Office is one of the examinees of the training.
ADE Bollido attends district engineer candidates training course
Press Release
July 14, 2017
NAVAL, Biliran – Engr. Alfredo L. Bollido, OIC-Assistant District Engineer of Biliran District Engineering Office (DEO) attended a 24-day District Engineer Candidates Training Course from May 9- June 9, 2017 at the Department of Public Works and Highways (DPWH), Central Office, Manila.
The seminar workshop was participated by 38 incumbent OIC-District Engineer, Assistant District Engineer and OIC- Assistant District Engineer of the DPWH from different Regions of the country.
Considering the very delicate and vital task of the department, Engr. Bollido said that the 24-day course for District Engineers is designed to equip them with all the knowledge and skills that would make them competent and effective in their roles and responsibilities in various stages of project implementation.
Due to the nature of the course, a variety of specialist resource personnel were invited within and outside DPWH with expertise in the design, construction, maintenance, materials quality control, project management, legal, financial and administrative discipline.
Engr. Bollido said that the training courses were divided into seven modules which cover the whole 24-day of training from 8:00AM - 5:00PM inclusive of one Saturday for Project Evaluation an Assessment (Field).
Discussed under Module I are the Principles of Management which mainly focuses on the Overview: Management and Functions Planning, Organizing, Leading and Controlling; Module II - Planning and Design which focuses on the Environmental Impact Assessment and Detailed Feasibility Study; Module III Contract and Resource Management which focuses on Communication Management: The Importance of Stakeholders Relations and Communications in Infrastructure Projects; Resources Management- Equipment Utilization/ Allocation and Financial Management and Control; Module IV- Construction Methods; Module V-Materials Quality Control; Module VI – Project Monitoring and Control and Module VII – Administrative and Legal Discipline which highlights the Accountability of Public Officials.
Bollido revealed that the methodologies employed during the training include lecture-discussion, audio-visual presentation, workshop, case studies and project evaluation and assessment.
"After every discussion, an intellectual exercise were given at the end of every module and before graduation, a comprehensive exam was given to us on the last day of the training to gauge its effectiveness," said Bollido.
At the end of the course, participants were expected to enhance their managerial skills in project implementation through following procedures for various project categories, design data, criteria and standards; undertake and evaluate the planning, design, construction, and schedules of projects; undertake project evaluation and supervision of maintenance of such local roads, and other infra projects; apply quality control measures in project implementation; acquire the necessary know-how on effective and efficient utilization and management of manpower, materials and equipment; acquire effective communications in project management; apply the latest and innovative approaches/ techniques in project management; and be aware of the values that a District Engineer should possess and internalize in their roles and responsibilities.
The 24-day training ended with the giving of certificates to all participants who successfully completed the requirement of the course for the District Engineer Candidates Training.
Coconut association clarifies AHA's advisory on coconut oil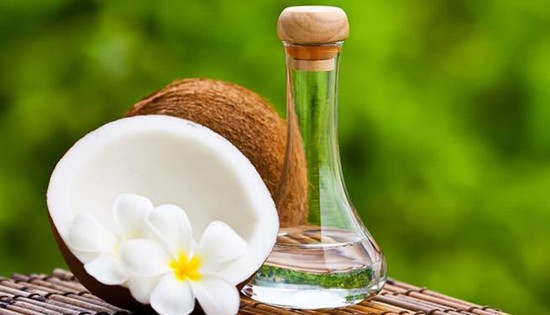 By DTI-TIPG-EMB
July 12, 2017
MAKATI CITY – United Coconut Association of the Philippines (UCAP) recently issued a statement clarifying the American Heart Association's (AHA) advisory against the consumption of coconut oil.
In the statement, UCAP mentioned that the advisory has gone viral with adverse effect on the coconut oil since it is considered a saturated fat. UCAP called on readers and users of coconut oil to be discerning of the said advisory and news articles drawing conclusion that coconut oil is unhealthy.
According to Dr. Fabian M. Dayrit of the Ateneo De Manila University, the AHA adopted a position that ignores the distinction between medium-chain fatty acid (MCFA) and long-chain fatty acid (LCFA) despite the numerous advances in this certain field of science. Coconut oil is mostly medium-chain saturated fats, the healthy type of fat. Detailed comparison of the fatty acid composition shows that coconut oil is very different from animal fat. Hence, studies that assume they are similar are consequently in error.
Furthermore, Asian and Pacific Coconut Community also highlighted in their recent statement the words of Dr. Bruce Fife, a USA Certified Nutritionist and Doctor of Naturopathy Medicine, "You cannot say LDL is bad and HDL is good." He explained the two types of LDL: one small and dense, while the other is large and soft. The large LDL is the type that is used in making bile, hormones, and Vitamin D, which are all good for one's health. Dr. Fife further concluded that, "Eating coconut oil (and other saturated fats) increases both HDL and the "good" LDL, thus, lowering the risk of heart disease. This is one of the reasons why populations that eat a lot of coconut oil have the lowest heart disease rates in the world."
Department of Trade and Industry's Export Marketing Bureau (DTI-EMB) concurs with the stand of industry associations such as United Coconut Associations of the Philippines, Inc. and the Asian and Pacific Coconut Community that the advisory is misleading as AHA based its findings on limited studies on saturated fats.
"This is not the first time this kind of negative publicity against coconut oil has happened. If we will look closer to historical accounts, this has happened before. It was magnified this time due to social media and technology," said DTI Export Marketing Bureau Director Senen M. Perlada.
By and large, DTI will continue to support the industry in sharing the good news about coconut and its economic contribution to millions of Filipino farmers and exporters.
Backed by recent studies and firsthand experiences of its consumers around the globe, DTI will help sustain the impressive health and economic contribution of coconut products such as coconut oil, virgin coconut oil, coconut water, coconut sugar, among others, by continued promotion through roadshows in various markets which will eventually bring additional jobs and income opportunities for Filipinos especially in the countryside.
American Heart Association (AHA) issued a Presidential Advisory on Dietary Fats and Cardiovascular Disease (CVD) on 15 June 2017 which recommended a decrease in consumption of products high in saturated fat such as dairy fat (butter), lard (pork), beef tallow, palm oil, palm kernel oil, and coconut oil.
Lumad forced to evacuate anew for fear of aerial strikes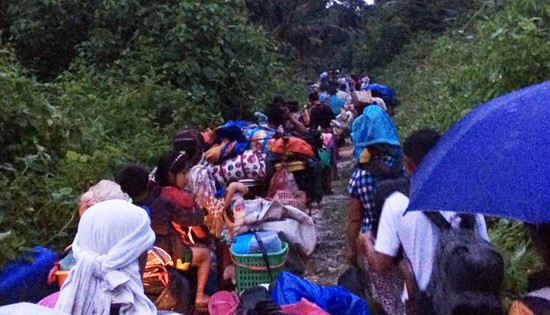 Press Release
July 7, 2017
SURIGAO DEL SUR – "Hindi naman kami terorista pero kami ang inooperasyon ng militar" (We are not terrorists yet we are targeted by military operations), Josephine Pagalan, a Lumad council member of Sandugo – Movement of Moro and Indigenous Peoples for Self Determination said a day after 2,047 Lumad residents of Lianga, Surigao del Sur left their homes for fear of airstrikes. This came after the Supreme Court upheld Pres. Duterte's martial law in Mindanao due to the terrorist threat of ISIS in Marawi City.
On July 5, 2017 at around 1am, a bomber plane of the Armed Forces of the Philippines (AFP) hovered around the mountains in the nine communities of Lianga, including Han ayan, where two years ago Lumad leaders Datu Juvello Sinzo, Dionel Campos and school administrator Emerito Samarca were massacred by Magahat-Bagani paramilitary group with the 36th Infantry Battalion. The 75th IBPA, 36th IBPA and 6th Special Forces Battalion have been conducting military operations in these areas since July 3, 2017.
Pagalan also represents Malahutayong Pakigbisog Alang sa Sumusunod (MAPASU), a Lumad organization based in the Caraga region.
"Hindi pa nga kami nakakabangon sa pagbabakwit namin, nagbabakwit na naman kami" (We have yet to recover from being dislocated, and now we are again forced to evacuate), Pagalan said. The Lumad from Lianga spent more than a year in an evacuation center in Tandag City after the massacre on September 1, 2015. They returned in 2016 to find their homes and fields ransacked and wrecked.
"Ang mga Lumad at Moro ang binibigwasan ng batas militar. Nasisira ang buhay at kinabukasan ng aming mga anak dahil hindi makapag-aral," (The Lumad and Moro bear the brunt of martial law. Our lives and our children's future our destroyed with their schooling interrupted) Pagalan said. "Military approach has never been an effective solution to the country's problems. Martial law and All-Out war only impacts their way of life and culture, thus driving them to fight back," Pagalan said.
"Kung gusto talaga ni Pres. Duterte na matigil ang rebelyon o maging ang terorismo , kailangang malutas niya muna ang mga dahilan ng armadong tunggalian. Sa aming mga pambansang minorya, ito ay kahirapan, pang-aagaw sa lupang ninuno at teritoryo at daang taong karahasan," (If Pres. Duterte truly wants to end rebellion or even terrorism, he first needs to resolve the roots of the armed conflict. For us national minorities, this is poverty, land grabbing of ancestral lands and territories and hundred years of violence) Pagalan said.
A total of 633 Lumad students including 43 volunteer teachers from the Alternative Learning Center for Agricultural and Livelihood Development (ALCADEV), Inc. and five community schools run by the Tribal Filipino Program of Surigao del Sur are affected with the suspension of classes due to the evacuation. The evacuees, are curently staying at the Simowao Tribal Community School.
16 PH firms bag US$23.4 export sales in major Taiwan food show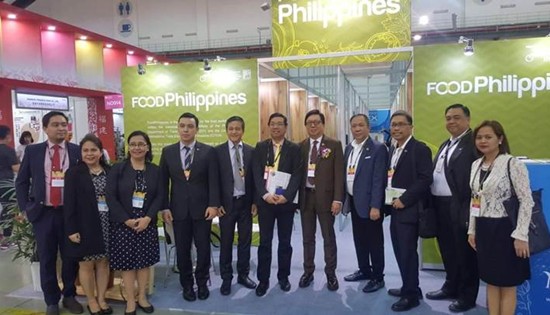 By CITEM
July 5, 2017
MANILA – Sixteen (16) Philippine food companies generated US$23.4 million worth of export sales in the recently held Taipei International Food Show (TIFS) at the Nangang Exhibition Center Hall 1 in Taiwan last June 21-24.
Led by the Center for International Trade Expositions and Missions (CITEM), the Philippine delegation in TIFS 2017 surpassed the target sales of US$22 million and exceeded the previous US$21.58 sales generated in 2016 by 8.4 percent.
"The Philippines had a successful participation in Taiwan. We surpassed our sales goal and actually brought 16 companies under the Philippine banner from an initial target of 12 companies," said CITEM Executive Director Clayton Tugonon. "We were also able to share necessary information to these companies so that they can capitalize on the promising market opportunities in Taiwan."
Part of the Philippine delegation are Celebes Canning Corporation, CJ Uniworld Corporation, DMI Medical Supply Company, Inc., Fitrite Inc., Greenlife Coco Products Philippines, Inc., JNRM Corporation, Malagos Agri-Ventures Corp., Mama Tina Pasta Company, Inc., Pasciolco Agri-Venture, Prosource International Inc., Raw Brown Sugar Milling Company, Inc., Team Asia Corporation, Tropicana Food Products, Inc., Weambard International Traders, Inc., and Yearluck Food and Industrial Food Corporation. Also included is the Department of Science and Technology-Industrial Technology Development Institute (DOST-ITDI).
Among the Philippines' best-sellers in the event were ready-to-drink tropical fruit juices and preserves; canned tuna; coconut products, such as virgin coconut oil, coconut cream, sugar and medium chain triglycerides (MCT); muscovado sugar in powder form and rock form; banana chips; soft-served ice cream mix, cones and waffles; and herbal tea, MX3 coffee and food supplements.
Other products showcased in the Philippine pavilion included unsweetened chocolate powder, roasted cacao nibs and dark chocolates; bagoong; noodle pasta; canned meats; vacuum-fried vegetables and fruits; and premixed rice cakes and other food flavorings.
"Through our benchmarking and market visits, we observed that the Taiwanese market has a huge demand for health and organic food and beverages. There is also a big market potential for exporting high value fresh/frozen high-value fish, shrimps and prawns, abalone, scallops, and other seafood products," said Tugonon.
"We also surveyed that the major international competitors for the Philippines' best-selling products were China, Vietnam, and Thailand because of their price and packaging. Sri Lanka was also found as one of the toughest competitor for coconut products, while European countries, such as Switzerland, are also seen as a major competitor for chocolate products," he explained.
The TIFS, or popularly known as FOOD TAIPEI, is an annual food fair that links the entire food industry supply chain in Taiwan and other countries – from agriculture and aquaculture, refrigeration, processed food, food machinery, packaging and packaging equipment.
The four-day event was held in conjunction with Taipei Pack, Foodtech & Pharmatech Taipei, Taiwan Horeca and Halal Taiwan. It was participated by 1,717 exhibitors with a total of 4,011 booths, including participating representatives from 36 countries, to cover every link of the supply chain in Taiwan.
"CITEM looks forward to its next participation in FOOD Taipei next year. Hopefully, our participation this year has helped Philippine companies benchmark themselves in the international market to better improve their packaging, product labeling, and secure the necessary food standards and certifications to expand their reach on the Taiwanese export market," said Tugonon.
According to the show organizer, the Taiwan External Trade Development Council (TAITRA), the local revenue of the Taiwan food industry has already reached NT$ 618 billion (US$ 20 billion), and it is expected to increase to NT$ 620 billion (US$ 21 billion) by the end of 2017.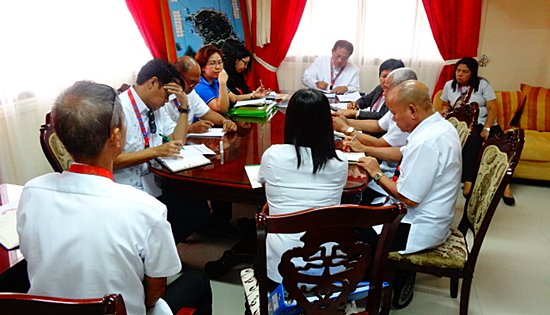 Department of Public Works and Highways (DPWH) – Internal Audit Service (IAS) conducts exit conference for ISO 9001:2015 Certification with Biliran District Engineering Office (BDEO) key officials headed by District Engineer, David P. Adongay Jr. on June 28, 2017 at BDEO's Conference Room.
DPWH-IAS conducts management audit at Biliran DEO for ISO 9001:2015
Press Release
June 30, 2017
NAVAL, Biliran – The Department of Public Works and Highways (DPWH) - Internal Audit Service (IAS) conducts its first management audit at Biliran District Engineering Office (BDEO) for the ISO 9001: 2015 Certification.
According to Engr. David P. Adongay, Jr., District Engineer, the main objective of the auditing process is to ensure that all the processes in the office are in accordance with the standard of the department.
"The auditing process makes sure that what we are doing here in the Department of Public Works and Highways district office follows the principles of quality management system", said Adongay.
The auditing process took two days from June 27-29, 2017 which started with a conference with key officials of BDEO and from the auditing team.
DPWH-IAS from the Central Office represented by Ms. Ma. Cristina Suyom and Ms. Erlyn Caguiroa scrutinized BDEO of its different processes in the office.
According to Adongay the audit process for the ISO 9001:2015 was focused on leadership, engagement of people, evidence-based decision making, relationship management and improvement.
The auditing process ended with an exit conference where the audit team discusses their findings and assessment of BDEO and the areas that need improvement.
Adongay said that the result of the audit process is satisfiable.
"If I would round it in the scale of 1-10, I think we scored nine because based from our exit meeting with IAS, most of the findings can be immediately corrected," said Adongay.
Adongay also revealed that the next auditing process for BDEO's journey to ISO 9001:2015 Certification will be in the month of August.
According to Adongay, the office is preparing audit by the third party, Anglo Japanese American (AJA).
"We just had our meeting and we discussed about the inputs of the management review and we are expecting that our section chiefs, unit heads as well as other employees will follow the Quality Management System as far as the operation of our office is concerned. So everything that we had discussed, needs their immediate action and we are going to follow it up in a weeks time," Adongay disclosed.
A New Book - Torture: as an entrenched part of Cruel, Inhuman & Degrading Legal Systems
By Asian Human Rights Commission
June 30, 2017
A Study on the use of torture as a routine part of criminal investigations in developing countries; lessons from the situation in Sri Lanka
HONG KONG – The Asian Human Rights Commission is happy to present its latest publication which is now available in print and as an e-book. The book is based on over 20 years of work attempting to expose glaring flaws of criminal justice systems in particular and the overall legal systems in general of the developing countries which prevents people living in these countries from actual achievement and enjoyment of basic human rights. This is done by way of selected study on the widespread use of torture and ill-treatment in these countries, which is a direct result of the defects that exists in the systems of justice. The flaws in the policing systems, prosecution systems and judicial systems which instead of protecting the rights of people, in fact becomes an obstacle to their achievement – is being analyzed in detail in this book.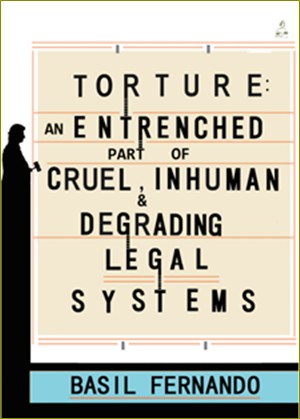 Detailed studies on the defects of Sri Lanka's justice systems are used in this book as illustrations of common problems that exist in almost all developing countries.
The book uses details of actual stories documented over a long period to illustrate various questions and issues highlighted in the book. Then a detailed analysis is made of these narratives to explain the root causes for the prevalence of such extremely defective systems and the unwillingness of the Governments to improve or to reform these systems.
In one instance, the story of a young man who made a complaint against a few police officers of a particular police station, regarding illegal arrest and torture is used as an illustration. The result of the complaint was that he, his mother and his father were made to disappear as a way to erase all evidence against the police officers who allegedly violated his rights. Nearly 30 years have passed since this incident which is well-known, but the state has made no attempt at all to investigate this heinous crime. This illustrates that despite of widespread knowledge about very serious crimes, the Governments can ignore them as matters of no consequence. When serious crimes become matters of no consequence, it is an indication that no amount of legislation would be of ant use if the state neglects the enforcement of such laws. When law itself becomes irrelevant, can human rights be regarded as relevant and important in these societies - is the question that the book poses, quite poignantly.
The Book consists of four parts; first part deals with the impact of a bad system of justice on judges, lawyers, law enforcement officers, civil servants and all citizens in the country, who all suffer by way of a deterioration of their intellect and capacity for rational living; second part deals with the consequence of introducing what was called "constitutional autochthony", which in Sri Lanka meant displacement of separation of powers and other basic tenants of liberal democracy; the third part deals with the manner in which the deterioration of the Legal System affected the entire political system; the last part gives graphic details of how the crisis of justice system is manifesting itself in contemporary Sri Lanka.
The aim that the book is pursuing is well summarized is its dedication. This book is dedicated to the hope that a better understanding may emerge of the wrongs that people who live in countries with broken justice systems suffer, giving rise to a heightened level of concern and a drive to undo such wrongs through local and international strategies and actions, all to create environments where the life and liberties of people are protected.
The foreword to the book has been written by Dr. Sunil Coorey, Senior Counsel and author of the monumental work, Principles of Administrative Law in Sri Lanka, who writes that the "biggest obstacle to the eradication of the practice of torture by the Police is the apathy with which the State machinery as a whole and those in the higher strata of society (including judges, lawyers and the comparatively well to do), look upon it".
Copies of the book can be obtained from the Asian Human Rights Commission based in Hong Kong and will soon be available in book shops as well as an e-book.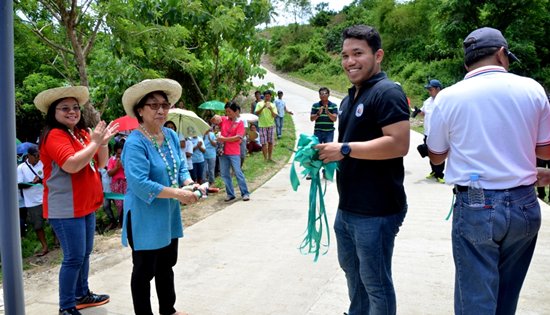 DAR Undersecretary Sylvia Mallari (2nd from L) and Mayor Philip Martin Astorga (2nd from R) cut the ceremonial ribbon during the inauguration and turnover of the 12.4-kilometer farm-to-market road implemented under the second phase of the Agrarian Reform Communities Project (ARCP-II) in the island-municipality of Daram, Samar. Assisting them are DAR Regional Director Sheila Enciso (L) and Provincial Agrarian Reform Program Officer Enrique Granados III (R).
DAR turns over third FMR in Daram
By JOSE ALSMITH L. SORIA
June 28, 2017
DARAM, Samar – As the Department of Agrarian Reform (DAR) commemorates this month the 29th year of implementation of the Comprehensive Agrarian Reform Program (CARP), said agency turned over on Monday to the local government unit its third and longest farm-to-market road project constructed in this island-municipality.
Undersecretary Sylvia Mallari led the turnover rite of the 12.4-kilometer all-weather road held in Barangay Birawan, some seven kilometers away from the town proper.
"This is in line with the President's pronouncement, Build! Build! Build!" Mallari said referring to the road project. "Upang patuloy ang pag-unlad ng kabuhayan, at magkaroon ng kapayapaan sa kapaligiran" she added.
In his acceptance message, Mayor Philip Martin Astorga stressed the benefits this project would bring to his town. According to him, this would serve a faster way to travel across the island, and further spur development through agriculture.
Residents of this municipality used to travel around the island by motorboat in the absence of a road.
Implemented under the second phase of the Agrarian Reform Communities Project (ARCP-II), this road, according to Municipal Agrarian Reform Program Officer Alfonso Jalalon, passes through seven barangays; Mabini, Ubo, Birawan, Astorga, Marupangdan, San Vicente and Bono-anon that would be benefited by the more than 5,600 residents in the area wherein about 500 are agrarian reform beneficiaries.
Regional Director Sheila Enciso disclosed that the total cost of this project, where critical portions of five kilometers are concreted, reached P48.9-million being shared by the LGU and a loan from the Asian Development Bank by the national government.
Thus, Enciso reminded the recipients to maintain it in good condition for 10 years. Otherwise the loan portion comprising 40 percent of the total cost will likewise be shouldered by the LGU.
Vice Mayor Lucia Astorga, who was the mayor during the planning stage, never forgot to mention in her welcome message former ARCP-II National Project Director Homer Tobias for considering this municipality and became a recipient of three farm-to-market roads making almost all barangays not only accessible, but opening livelihood opportunities as well.
According to her, the 40 percent share of the national government is of big help in the realization of this town's dream of building road networks.
Meanwhile, aside from the convenience they now experience in hauling farm products for trading, Birawan Kagawad Leonardo Papawran enumerated other benefits they are now enjoying with the existence of this road.
He disclosed that the road provided many residents another source of livelihood as motorcycle drivers.
It also serves as an alternate route during bad weather when not safe to travel on waters.
Likewise, Papawran emphasized, the youth from other barangays would now be encouraged to enroll at the Birawan National High School.
1 NPA captured during a brief fire fight
By DPAO, 8ID PA
June 27, 2017
CAMP LUKBAN, Catbalogan City – A platoon from Samar Provincial Public Safety Company (SPPSC) and a team from Alpha Company, 87th Infantry (Hinirang) Battalion while conducting Focus Military Operation (FMO) at Sitio Opong, Barangay Veloso, Marabut Samar encountered about 15 fully armed communist terrorists on June 26, 2017 at 5:00 o' clock in the morning.
A five-minute fire fight ensued which resulted to the capture of a certain Jojo Gerilla and the recovery of one (1) .45 pistol with one (1) magazine; assorted cartridge of M-16 5.56mm and M-14 7.62 mm empty shell; IED power source and triggering device with 200 meters of firing wire and five (5) kilograms of rice.
The forewarning on the presence of an armed group from concerned villagers in the area shows a good rapport between the military and civilian populace which is a shared responsibility in preventing the communist terrorists to conduct atrocities that could impede the peace and development in the region.
This NPA terrorist group shows how desperate and inconsiderate they are despite of the on-going tension in Marawi City. Henceforth, they cannot stop our military troops in pursuing security operations until their presence is still in Eastern Visayas. We encourage everyone to follow the path of peace and condemn those terrorist whose advocate is to bring violence and threat in the whole region.
Likewise, Maj. Gen. Raul M. Farnacio, 8ID Commander commended the combined team from the Army and PNP for their efforts and dedication in the performance of their mandated duty. The 8ID is providing support to the Philippine National Police and other concerned government agencies in creating a concept and understanding that security is a shared responsibility not just among security forces and government institutions but also of civil-society and the community.