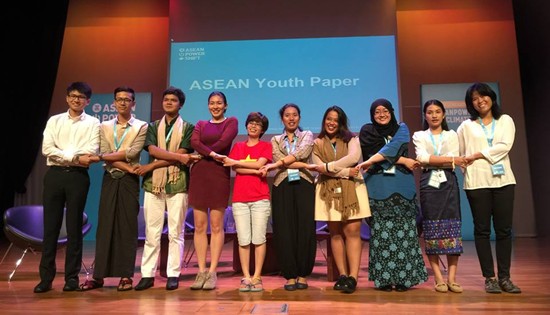 ASEAN Powershift 2015 youth heads of delegations from Singapore, Myanmar, Cambodia, Malaysia, Vietnam, Laos, The Philippines, Brunei, Indonesia and Thailand. (Photo credit: Dorothy Ng/350.org Singapore)
PH youth delegates make a stand on climate justice
By The Climate Reality Project Philippines
July 31, 2015
QUEZON CITY – Six national delegates from the Philippines attended the ASEAN Powershift Conference held at the University World College of South East Asia in Singapore from July 24-26. The conference, organized by 350 Singapore, gathered more than 100 youth delegates from the ASEAN region who worked together to create a regional policy paper on climate. The paper will be submitted to the Conference of Parties (COP21) in Paris this coming December.
"As one of the most vulnerable regions in the world, it is important to bring ASEAN-specific issues and corresponding commitments into light," Beatrice Tulagan, one of the Philippine delegates, said.
"The Philippine team reiterated the human rights approach to climate change, emphasizing quite a number of times that one cannot reduce the most vulnerable communities to a lazy statistic and there is a moral imperative for the ASEAN Youth Paper to highlight this unfortunate reality," Tulagan added.
The Philippines has always been at the top of the list of countries most vulnerable to climate change. The country has experienced climate change impacts such as extreme weather events, El Niño, warming waters, and rising sea levels. Haiyan, the strongest typhoon to make landfall in history, left more than 6,000 people dead and hundreds of thousands without homes and livelihood.
"After experiencing climate impacts first hand and working directly with the most vulnerable communities who have lost homes and livelihoods in the wake of natural disasters, I look forward to seeing a legally binding treaty come to be," Erin Sinogba, also a Philippine delegate, said.
The COP21 which will be held in Paris this December is expected to come up with a legally binding treaty among countries to address climate change and its impacts. Countries are also expected to commit to keeping global warming below 2 degrees celsius relative to pre-industrialization through their Intended Nationally Determined Contribution (INDC). The INDC reflects each country's ambition for reducing carbon emissions, one of the major causes of climate change.
Among countries in the ASEAN region, only Singapore has submitted their INDC commitments. The Philippines, meanwhile, through the Climate Change Commission, has opened the INDC for consultation until August 10.
"We call on the Philippine government to urgently prepare an ambitious and a strong INDC and to legislate and strictly implement laws that will help our country address climate change, such as RA No. 10174 or People's Survival Fund," said Napoleon Paris, another Philippine delegate.
The role of youth in climate talks and in pushing countries take climate action was highlighted during the conference. According to H.E. Dr. AKP Mochtan, Deputy Secretary General of ASEAN for Community and Corporate Affairs, "the youth has much at stake, because the youth has much future to live."
"The youth needs to have a stronger voice in the climate talks. They will bear the brunt of climate change impacts which will be felt for years to come. Global leaders should always remember that what they will decide on in Paris will be a decision which will impact the lives of young people today and the future generation," Rodne Galicha from The Climate Reality Project and adviser of the youth delegates, said.
"We are running out of time. If we don't commit to ambitious targets this year, the damage to our planet will be irreversible. This is a question of social justice as much as it is a question of our morality," said Renee Karunungan, Dakila advocacy director who also participated in the conference.
As the rest of the world waits for global leaders to take climate action, the youth of the Philippines, together with the youth of other ASEAN countries, are ready to make a stand and fight for climate justice.
Other Philippine delegates who were part of the ASEAN Power Shift were Mark Conrad Ravanzo, Jan Michael Rase, and Alfhonso Jose Platero.
Army encounters NPA in Eastern Samar, recovered M16 rifle and NPA body count
By DPAO, 8ID PA
July 29, 2015
CAMP GENERAL VICENTE LUKBAN, Catbalogan City – Army troops operating in Eastern Samar Province encountered NPA members in a remote area of Sitio Sumlot, Barangay Magtino, Llorente, Eastern Samar at about 12:05 P.M. on July 24, 2015.
According to Lt. Col. Peter P. Burgonio, Commanding Officer of the 14th Infantry (Avenger) Battalion, his troops were conducting Peace and Security Operations in the outskirts of barangay Magtino when they chanced upon seven (7) NPA rebels which resulted to a 15 minute encounter.
The brief encounter resulted to the recovery of one (1) M16 rifle and one (1) NPA body count. In addition, the troops also recovered one (1) bandoleer, three (3) camel backpacks containing sim cards, memory cards and personal belongings from the fleeing NPAs. There was no reported casualty on the government side.
MGEN Jet B. Velarmino AFP 8ID Commander, expressed his appreciation to the operating troops of the 14IB for their dedication and commitment in safeguarding the communities against the rebels which resulted to a commendable accomplishment.
Further, he reiterated the government's call for non-violence, for the NPA rebels to return to the mainstream society and take advantage of the government's reconciliation programs.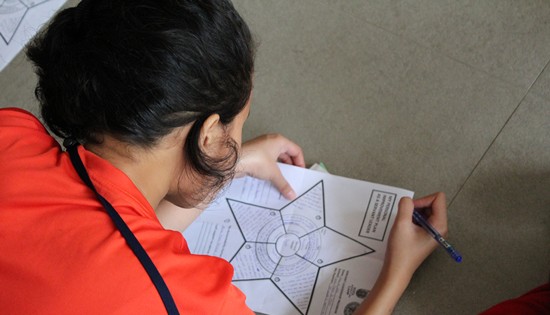 A public high school student who joined the Ramon Aboitiz Foundation Inc – Kool Adventure Camp Servant Leadership Program writes down her personal improvement plan as a servant leader. (Contributed Photo)
Cebu Province youth to train as servant leaders
By Ramon Aboitiz Foundation Inc.
July 28, 2015
CEBU CITY – A thousand public high school students from more than 100 schools in Cebu province will undergo a leadership program where they would be trained before the year ends on how to be good servant leaders of the country.
The students would go through a Servant Leadership Program designed by the Ramon Aboitiz Foundation Inc – Kool Adventure Camp and are expected to create change in their schools and communities.
The program aims to promote the principles of servant leadership through an adventure program, establish a common behaviour and personal improvement plan for the students to better execute their roles and responsibilities as young leaders.
"The debriefing process after each activity during the program was really helpful because it gave me the opportunity to discover what was wrong and what I must do. It also helped me identify my strengths and improve it even more," shared Wryppner Wolter Wurbey Timbal, one of the participants.
The program would teach the students the 10 principles of servant leadership: listening, empathy, healing, awareness, persuasion, conceptualization, foresight, stewardship, commitment to the growth of people, and building a community.
The students who either already underwent the program or are set to experience the program are from 30 cities and municipalities of Cebu, namely: Alcoy, Alegria, Aloguinsan, Argao, Asturias, Badian, Balamban, Bantayan, Barili, Boljoon, Camotes, Consolacion, Cordova, Daanbantayan, Dalaguete, Dumanjug, Ginatilan, Madridejos, Malabuyoc, Medellin, Minglanilla, Moalboal, Oslob, Pinamungajan, Ronda, Samboan, Santander, Sibonga, Tuburan, San Fernando.
The first 200 student leaders have completed the training last June and first week of July. The next sessions so all 1,000 students will be able to finish the program will be conducted in the next five months, or until December, 2015.
KAC has been offering adventure education programs for leadership and team development for youth and professionals for the last decade. It is a program under the Leadership and Citizenship focus area of the Ramon Aboitiz Foundation Inc. (RAFI). It has recently opened the Philippines' first fully dedicated adventure education center last August 2.
For more information on KAC and its services, contact 260-9000 local 1001 and look for Althea May Santillan, or visit www.kac.rafi.org.ph or www.facebook.com/kooladventurecamp
5th SONA: Salary of 24.4 million workers still can't cope with rising cost of basic needs
By TUCP-NAGKAISA
July 25, 2015
QUEZON CITY – Five years into the administration of President Benigno Simeon Aquino III, there are still an estimated 24.4 million poor Filipino workers' whose income still cannot cope even with the barest cost of basic food and non-food needs set by the government's National Economic Development Authority (NEDA).
The biggest group of labor federation in the country the Trade Union Congress of the Philippines-Nagkaisa (TUCP-Nagkaisa) said they are baffled why Aquino remains reluctant to raise the wages of poor working people amid results of government's Philippine Statistics Authority (PSA) survey conducted in July 2014 and released on March 2015 showing big disparity between family income and barest expenditures.
Informal sector workers
The poverty threshold set by NEDA for 2014 was at P8,778 a month for a family of five to survive. However, in the first semester of 2014, average incomes of poor families were short by 27 per cent of the poverty threshold.
According to the NEDA, poverty threshold is the minimum income set by government as required to meet basic food and non-food needs for a family of five to ensure that one remains economically and socially productive.
It showed poor workers in the informal economy, estimated to be at 21 million, who received less than the mandated minimum wage, were found to earn average monthly income of measly P6,408. This means they needed P2,370 more per month to move out of poverty in that year.
"This is an actionable set of information on the part of the President. It's very alarming that a huge problems confronting workers who fell through the cracks has not been acted upon ever since. Right now, they are coping on their own, coping by the means available to them and we feel they are totally excluded from the agenda sharing the profits," TUCP-Nagkaisa spokesperson Alan Tanjusay said.
Workers in the informal economy include construction workers, farmers, vendors, jeepney, bus, tricycle, pedicab drivers, conductors, salesladies, barbers, street-sweepers and garbage collectors.
Minimum wage-earners
For minimum wage earners in Metro Manila, a disparity of P1,082.31 a month from the prescribed P8,778 poverty threshold amount last year. PSA computation show the real value of P466 minimum wage for the National Capital Region (NCR) last year was P356.64 a day or P7,695.69 a month.
This year, the current value of the current highest minimum wage of P481 is only P371.64 a day or P8,176.08 a month – still aP601.92 short compared with the 2014 P8,778 threshold.
Today, TUCP-Nagkaisa estimated the mid-year poverty threshold at P9,177 a month, Tanjusay added.
Implications of gaps
The impact of a widening gap between income and expenditure, he said, largely contribute to the increasing ranks of underemployed Filipinos now numbering to close 11 million working people.
The gap also undermines the effectiveness of Aquino's ongoing flagship poverty alleviating programs including the Conditional Cash Transfer (CCT) Program otherwise known as Pantawid Pamilya Program (PPP) being implemented by the Department of Social Welfare and Development (DSWD), the Community-based Employment Program and the Sustainable Livelihood Program by the Department of Labor and Employment (DOLE).
Labor group proposed menu of solutions
Gerard Seno, executive vice president of the 61-year old Associated Labor Unions (ALU) said the latest ideal minimum wage should be at P1,068 a day to cover the fast rising costs of prices of basic food and non-food needs can be achieved through a priority legislated wage hike measure or through a uniform decision of regional wage boards.
"That is why with less than a year in office, we are still hoping President Aquino to make tough policy decisions in raising Filipino family income both at the formal and informal sector workers. As a leader, he must ensure that the country's growth is widely shared with the workforce who provided the backbone in building and sustaining the vibrant economy in the last five years of his administration," said Seno.
On the other hand, Seno said aside from increasing government and private sector wages, Aquino can otherwise alleviate the impact of the economic burden by lowering the cost of power and ensure its reliable supply, minimize contractual job scheme in private and public sector, and allow government employees to form unions and bargain collectively.
Minimum wage-earners' discount card
He added the ALU has submitted in March 2014 a proposal for Aquino to use the Executive department's annual excess budget to subsidize informal sector and minimum-wage workers with a P2,000 worth of rice, groceries or medicines a month using an electronic debit card.
"We know what it means when they say our proposal is being considered by the Office of the President. But we will never run out of variety of ways to address directly or indirectly this problem of worsening poverty among poorest of the poor and minimum-waged workers," Seno said.
Cayetano wants senate committee to reopen probe on Mamasapano
By Office of the Senate Majority Leader
July 24, 2015
PASAY CITY – "Why are we dishonoring the memory of the SAF 44?"
Senate Majority Leader Alan Peter Cayetano wants the Senate committee on public order and dangerous drugs to reopen its investigation into the January-25 Mamasapano incident amid the seemingly conflicting findings of various investigative bodies that conducted a probe on the case.
In a series of interviews on Friday, Cayetano expressed his deep concern over the Ombudsman's recent approval of a recommendation to conduct preliminary investigation proceedings and administrative adjudication even against the junior officers and some survivors of the operation, stressing that the decision could lead to a chilling effect on the entire police chain of command.
"Gulat na gulat po ako nang pinaimbestigahan pati ang mga Junior Officers ng SAF (who were part of the Mamasapano operation and survived). Isipin mo, kung ikaw ay isang police officer, police superintendent, o kaya colonel, kapag hindi ka sumunod sa utos na kunin ang teroristang si Usman o Marwan, kakasuhan ka ng insubordination. Ngayon, sumunod ka pero hindi perfect ang operation, at maraming namatay, pero nahuli ang terorista, kakasuhan ka pa din," the senator said.
As such, he wrote a letter to Senator Grace Poe, chairperson of the Senate committee on public order and dangerous drugs that led the probe into the incident, seeking for a reopening of the investigation.
"The Senate committee, once and for all, should set out to reveal the entire truth behind this gruesome massacre," he said, noting that finding justice for the deaths of the 44 elite cops should be a prerequisite for conducting peace talks with armed rebels and securing the safety of the entire Mindanao region.
He further lamented that justice has not even been served in relation to the deaths of the SAF members who were killed in the operation, and now two of the survivors are facing cases.
While admitting that there are varying liabilities in the operation that claimed the lives of 44 elite cops, Cayetano said the Ombudsman's decision demoralizes both police and military officials in the front lines who were merely obeying legitimate orders from their superiors.
He pointed out that command responsibility over the failed operation should only rest with those who gave the orders – such as dismissed Philippine National Police (PNP) chief Dir. Gen. Alan Purisima – not the ones receiving them.
Cayetano also expressed dismay over the conflicting reports released regarding the incident, including reports from the Department of Justice, Philippine National Police Board of Inquiry, Armed Forces of the Philippines and the MILF.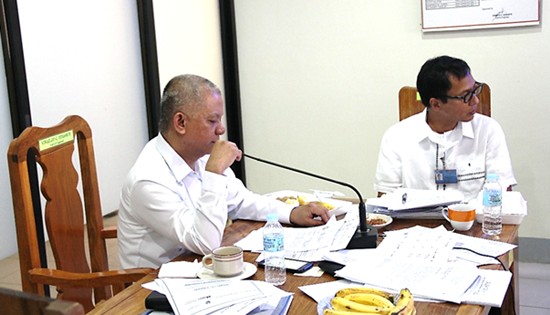 District Engineer Virgilio Eduarte (left) giving instructions during the Samar First Regular staff meeting.
DPWH SFDEO's school building projects on progress
By DONNA C. DEBUTON
July 23, 2015
CALBAYOG CITY – Samar First District Engineering Office headed by District Engineer Virgilio C. Eduarte gives priority to school building programs for senior high school CY 2015. During the conference held, DE Eduarte instructs all assigned programming engineers to conduct site inspection on the different school sites. The three-storey buildings require soil exploration which should be conducted as early as possible. In addition to DE Eduarte's instructions, reports should be submitted to the DPWH Central Office for the release of fund estimating P150,000.00 for six (6) classrooms per school building site.
Including in the list order of the Basic Educational Facilities Fund is the first batch of school building projects for CY 2015. With the total number of 23 school buildings in Region VIII wherein 14 senior high school buildings coming from the Division of Calbayog, and 9 senior high school buildings coming from the Division of Samar. The total appropriation reaches to P121,405,895.06 for Calbayog Division and P79,565,979.59 for Samar Division.
According to one of the Project Engineers of the said program, the school sites need embankment, and soil exploration first in accordance to DE's instruction for a better foundation to produce high quality school buildings which are typhoon resilient.
DPWH orders SAMELCO I to observe ROW limit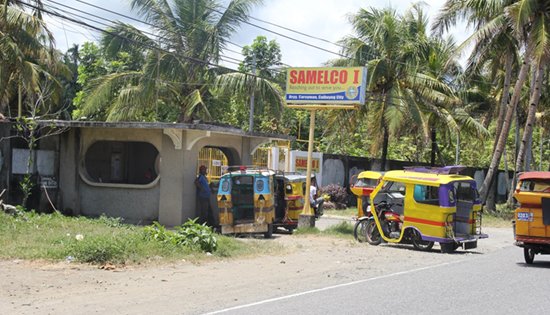 By MARIANETTE Y. GOMEZ
July 22, 2015
CALBAYOG CITY – The ongoing pole replacement and repair/rehabilitation of the primary distribution lines along National Roads by Samar I Electric Cooperative, Inc., has caught the attention of the Maintenance Point Persons assigned in road sections where the activity is undertaken.
Samar First District Engineering Office in Brgy. San Policarpo, Calbayog City immediately calls the attention of SAMELCO I invoking Department Order No. 73, Series of 2014 which prohibits the construction of all kinds of temporary and permanent structures within the right-of-way (ROW) of all national roads which is 15 meters from the centerline.
The prohibition includes posts and towers of electric cooperatives and major electric power distributors, distribution lines, posts for cable of phones and mobile service providers.
Although SAMELCO I is mandated to undertake pole replacement and repair / rehabilitation of primary distribution lines along national roads, DPWH - Samar I poses no objection to the installation of electrical posts as long as it is beyond the Road-Right-of-Way limit, 15 meters from the centerline of the road along Daang Maharlika and 10 meters from the centerline along Calbayog - Catarman Road via Lope de Vega road.
District Engineer Virgilio Eduarte discloses that all road sections are scheduled for road widening this year hence, the observance by SAMELCO I of installing the posts beyond ROW to prevent the waste of fund and incurrence of damages on both parties. Non-compliance to DPWH Dept. Order No. 73, series of 2014 will oblige your office to make a commitment that no payment will be made to that end once the widening projects commence.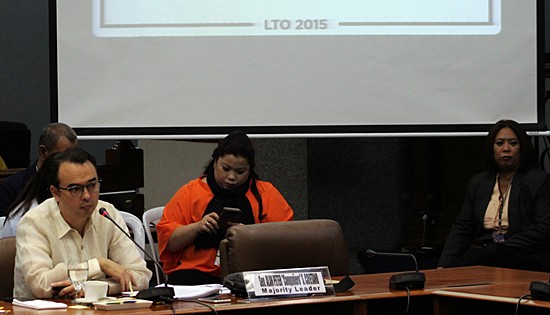 Senator Alan Peter Cayetano reiterates his call for the Land Transportation Office (LTO) to stop collecting fees from car owners for the purchase of its new license plates amid allegations of overcharging and irregularities involving the agency's license plate standardization program.
Cayetano slams LTO officials for continuing license plates program
By Office of the Senate Majority Leader
July 22, 2015
PASAY CITY – "LTO, kayo na ang nakaperwisyo at nang-hassle sa delay ng mga plaka, kayo pa ang magpe-penalize sa car owners."
Senate Majority Leader Alan Peter Cayetano castigated Land Transportation Office (LTO) officials anew over their refusal to suspend the license plate standardization program despite a notice of disallowance that was already issued by the Commission on Audit (COA).
"The sole mandate of this government is to serve the people, not the other way around. If public officials in agencies like the LTO or the DOTC fall short of fulfilling this task, or worse, if they repeatedly burden the public with their inefficiencies, then I see no other immediate solution but to fire and replace them," Cayetano said.
COA recently disallowed P477,901,329 in procurement transaction between the LTO and the Dutch-Filipino consortium PPI-JKG Philippines Inc., saying the agency's procurement process violated the procedures in accordance with Republic Act 9184 or the Government Procurement Reform Act.
Despite this, LTO spokesman Jason Salvador said the agency will still push through with the program as there is no "explicit" instruction from COA to stop it.
Cayetano, however, said until and unless allegations of overcharging and irregularities involving the issuance of new license plates are clarified, collection of fees from vehicle owners should be put on hold.
The senator continued to protest the additional P50 being charged to motorists for registration stickers.
He said the P450 fee is supposed to include license plates, plate screws and registration stickers, but pointed out that motorists are being forced to pay for something already covered by the bidding.
In light of these controversies, Cayetano says he plans to pass an "anti-hassle bill" in Congress that will make government officials accountable for any inefficiencies in public service.
"Kapag na peperwisyo ang tao, ang mga opisyal at mga contractor ng gobyerno ang dapat managot at maparusahan. Hindi ang tao," Cayetano said.
"This is the only way by which we can give the public the proper services they deserve. Let us set the bar for public service by appointing more efficient and competent officials who will take the lead in creating great changes in our system of government," he added.