PRO8 intensifies campaign against bladed weapons
By RPCRD, Police Regional Office 8
May 12, 2015
CAMP KANGLEON, Palo, Leyte – Police Regional Office 8 thru the leadership of PCSupt Asher Abanilla Dolina, acting regional director, continuously pressing its drive against illegal possession of bladed weapons or Batas Pambansa Blg. 6.
The Acting Regional Director said that PNP PRO8 is continuously conducting pro-active operations against deadly/bladed weapons and invigorates its efforts to achieve peaceful and orderly communities.
Section 1 of BP Bilang 6 disclosed "It is unlawful to carry outside of one's residence any bladed, pointed or blunt weapon such as "knife", "spear", "pana", "dagger", "bolo", "barong", "kris", or "chako", except where such articles are being used as necessary tools or implements to earn a livelihood or in pursuit of a lawful activity. Any person found guilty thereof shall suffer the penalty of imprisonment of not less than one month nor more than one year or a fine of not less than Two Hundred Pesos nor more than Two Thousand Pesos, or both such imprisonment and fine as the Court may direct."
The PNP leadership is very much hopeful that thru the continuous implementation of Lambat Sibat, a plan that involves focusing on strategies to sustained service of search warrants, warrants of arrest, manhunt operations to arrest Most Wanted Persons and decrease of hacking/stabbing incidents in the region.
This Lambat Sibat is formulated to negate the occurrence of murder, homicide, robbery, physical injuries, theft and the proliferation of illegal drugs in the region. By using several anti-crime strategies and tactics – like the "fishing nets and spears" – PRO8 will be able to address multiple crime problems and issues. These strategies include checkpoint and choke point, Oplan bakal/sita in order to prevent the proliferation of loose firearms and deadly weapons that are frequently being used to commit crimes, Beat/Foot Patrol and Police Community Relations for a wider community awareness to generate support and cooperation in crime control and public safety program.
He encouraged all police commanders down to the MPS level to religiously implement night watches, enhance patrol operations, rapid deployment of personnel and resources, as well as deployment of ninety percent (90%) office personnel as patrollers.
PCSupt Dolina added that the PNP will not flinch in its fight against lawless elements and will make sure that they will be put behind bars. He likewise reminds all its personnel to remain alert at all times. He said, "Police authorities would relentlessly maintain and sustain orderliness, especially in places where illegal activities like illegal drug pushing, illegal gambling and other street crimes are rampant. These strategies also aim to arrest criminals and wanted persons from their hideouts."
PCSupt Dolina showcased PRO8's accomplishment in its stern campaign also of deadly weapon. For the 1st quarter of 2015, a total of One Hundred Seven (107) stabbing incidents and Twenty Nine (29) hacking incidents were recorded by the Regional Investigation and Detection Management Division, PRO8. Assorted deadly/bladed weapons were seized during the various police operations such as the conduct of checkpoints, services of Search Warrants and Warrants of Arrest and implementation of Oplan Bakal/Sita being carried out by the different police/city provincial police offices.
The public is further encouraged to help the police by way of providing relevant and timely information on any criminal activities in social media (Twitter - @Pro8Pcrd or Facebook Page - ruperto_kangleon) or through the following: Dial 117 or text 2920; RPCRD 09173238683/09088146421; RTOC 09173114794/09478907155 and Isumbong Mo Kay Tsip 09178475757.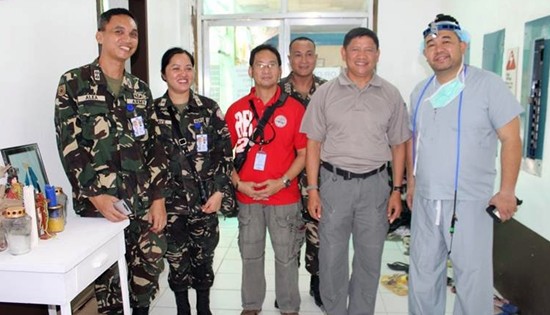 (L-R) LtCol. Erwin Alea, Maj. Cherry Llave, LtCol. Reynaldo Cruz, MGen. Jet Velarmino and Dr. Benedict Valdez during the Free Clip Lip and Palate Surgery at Samar Provincial Hospital from May 4-8, 2015.
8ID partners with Maharlika Foundation and Smile Train, and Road Bees2 in providing free clip lip and palate surgery
By DPAO, 8ID PA
May 11, 2015
CAMP VICENTE LUKBAN, Catbalogan City – The 8th Infantry Division, Philippine Army partnered with the Davao City based Maharlika Foundation; United States of America based Smile Train Children Charity; the Catbalogan City based motorcycle rider group, Road Bees 2; and Samar Provincial Hospital (SPH) in providing free clip lip and palate surgeries from May 4-8, 2015 at Samar Provincial Hospital in Catbalogan City.
The Medical Team of the Command led by Lt. Col. Reynaldo R. Cruz (MC), Commanding Officer, Camp Lukban Station Hospital participated in the conduct of surgeries along with the medical doctors provided by SPH and other partner organizations. The Army Command also provided 40 Cot Beds and four Squad Tents that served as the Command Center and resting area of different medical teams.
The endeavour benefited 50 indigent individuals whose clip lip and palate deformities underwent corrective surgeries. The eldest beneficiary was 60 years old, while the youngest was 13 years old.
Lorda A Fuego, whose daughter underwent corrective surgery was thankful to the organizers of the medical mission and said that the free surgery provided is a turning point of her daughter's life as she will now be acknowledged as a normal child.
Maj. Gen. Jet B. Velarmino AFP, Commander of 8ID lauded the effort of the 8ID Medical Team, the Maharlika Foundation, the Smile Train Children's Charity, the Road Bees 2, and the Samar Provincial Hospital (SPH) for the partnership in providing free clip lip and palate surgeries to indigent patients. He also said that 8ID will always be ready and willing to work with other stakeholders to be of service to the people of Eastern Visayas, such as the just concluded free Clip Lip and Palate surgeries rendered for indigent patients.
World's first solar power catwalk
Jessica Minh Anh to mark her 10th history-making catwalk at Gemasolar in Spain
Press Release
May 11, 2015
PARIS – Jessica Minh Anh will mark her 10th history-making production by transforming the award-winning solar power plant, Gemasolar in Seville, Spain, into the world's most innovative catwalk on 17 July 2015. The highly anticipated J Summer Fashion Show will set a new standard for modern fashion presentation by not only promoting the most exquisite designs from 5 continents, but also the best of advanced technology and environment preservation.
Pushing the visual envelope, the model and entrepreneur will stage the unique catwalk right in the middle of Gemasolar, with the cinematic backdrop of the famous central tower and thousands of cutting-edge shining mirrors. The 100-meter catwalk will be filmed from various angles, using the latest drone technology from above to highlight the sunlight's effect on the stunning circle-shaped power plant.
"It is an honor to host Jessica Minh Anh's Summer Fashion Show at Gemasolar and to be included in her series of fashion events at the world's most iconic venues," said Raul Mendoza Ruiz, Gemasolar Plant Manager, Torresol Energy. "Gemasolar is an international symbol of the next generation of power plants and represents the future, just as Jessica does in fashion. We look forward to fascinating the world with a mixture of high technology and high fashion in this particular project."
Similar to Jessica Minh Anh's previous fashion phenomena, J Summer Fashion Show 2015 will premiere a combination of haute couture and high end ready-to-wear collections from over 15 countries. The carefully selected fashion houses embrace tradition and culture whilst experimenting with innovative techniques of modern design. Jessica has worked with famous names such as Paul Costelloe, Addy van den Krommenacker, Tony Ward, Shiatzy Chen, Yumi Katsura, Montblanc, Buccelatti, Van Cleef & Arpels, and Ivanka Trump Jewelry among many others.
Jessica Minh Anh, who "combines art, architecture, culture, and fashion in her extraordinary catwalks" (ABC New York), can now add technology in her list. Representing the new generation of creative leaders, the IT graduate has more passion for the high-tech world than one might have guessed. "Gemasolar took my breath away. It represents a rare modern beauty, which sees the best of designs and sustainability efforts in one place. I would consider this show my most challenging yet exciting project so far," said Jessica Minh Anh.
J Summer Fashion Show 2015 will welcome influential faces from various industries, international designers, country ambassadors and ministers, and international press. Having witnessed Jessica Minh Anh's many catwalks around the world, ELLE Italia fashion editor Giulia Pacella said, "Jessica had models walking in the sky (Grand Canyon Skywalk), atop the iconic Eiffel Tower, and on water (Hudson River). I have no doubt this show will be yet another mind-blowing success."
The official pre-show photo and video shoot will take place on 13 June 2015 at Gemasolar. For more information, visit www.jmodelmanagement.co.uk
TransUnion hosts Philippine President Benigno Aquino III at its corporate headquarters
By MARKETWIRE
May 8, 2015
CHICAGO, IL - TransUnion hosted a dialogue today with Philippine President Benigno Aquino III and representatives from some of Chicago's leading corporations to discuss continued business opportunities with the republic. The event was held in cooperation with the U.S. Chamber of Commerce, the US-ASEAN Business Council, and the National Center for APEC.
Executives from TransUnion, which has had operations in the Philippines since 2011 and is helping lenders extend new credit to 25,000 Filipinos every month, renewed their commitment to bringing information for good to the people of the Philippines.
"We were honored to host President Aquino and his delegation at the TransUnion headquarters to help facilitate more open trade dialogue between the U.S. and the Philippines," said David Neenan, president of TransUnion's international operations. "The Philippines economy is poised for long-term economic growth, and we are proud to be providing services and solutions in an incredibly positive and open market that allow the country's businesses to thrive. At the same time, we are providing the consumers of the Philippines with essential financial tools and information to help improve their standard of living."
TransUnion currently offers the following services to the Philippine market:
Credit Reporting
Risk Management
Decisioning Services
Collections Management
Fraud and Identity Management
"By hosting this dialogue, TransUnion furthered the conversation between the U.S. business community and the Philippines during this crucial year of Manila's APEC chairmanship. Additionally, our conversation helped provide a path forward for greater interaction between our two economies as the Philippines considers its possible participation in the Trans-Pacific Partnership, further down the road." said Tami Overby, senior vice president for Asia at the U.S. Chamber of Commerce. "We look forward to continued engagement with President Aquino and working with him to promote economic growth."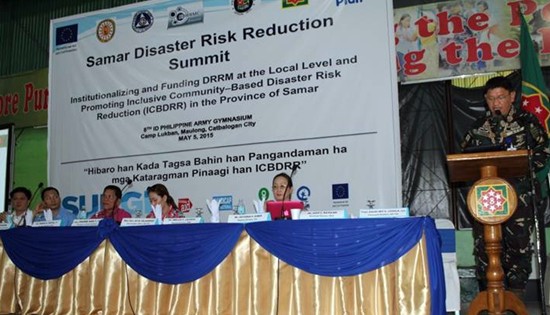 MGen Jet B. Velarmino (standing right), commander 8th Infantry Division, while presenting his lecture on Incident Command Post System During Typhoon to the participants of Samar Disaster Risk Reduction Summit at 8ID covered court on May 5, 2015.
8ID hosts the Samar Risk Reduction Management Council Summit
By DPAO, 8ID PA
May 7, 2015
CAMP VICENTE LUKBAN, Catbalogan City – The 8th Infantry Division, Philippine Army hosted the Samar Disaster Risk Reduction Management (DRRM) Council Summit at its Headquarters in Barangay Maulong, Catbalogan City Samar on May 5, 2015.
The summit was attended by the different stakeholders of Samar and Region-8 led by Maj. Gen. Jet B. Velarmino AFP, Commander 8ID; Hon. Sharee Ann T. Tan, Governor of Western Samar; Mr. Rey M. Gozon, Regional Director of the Office of Civil Defense (OCD8); Mr. Pedro A. Noval Jr., Regional Director of the Department of Interior and Local Government (DILG8); Ms. Victoria F. Esber, Regional Director of the Civil Service Commission (CSC8); Dr. Imelda C. Laceras, Regional Director of Department of Budget and Management (DBM8); Mr. Delfin P. Aguilar, Regional Director of Commission on Audit (COA8); Mr. Judy L. Batulan, DILG of Western Samar; Mr. Manuel Van Torrevillas, Provincial Risk Reduction Management Officer of Samar; Ms. Natividad O. Silorio, Area Manager Plan International Inc.; and the Local Chief Executives of Samar.
The Summit had a variety of resource speakers coming from the Army, LGUs, LGAs and the private sector who shared their expertise and experiences in addressing disasters.
On the part of 8ID, Maj. Gen Velarmino presented the Incident Command Post System which the Army Command implemented during the Typhoon Haiyan/Yolanda in 2013; Mr. Ruel Maga of SURGE presented the concept of their group in helping communities be resilient during disasters; Hon. Moreno, Brgy Captain of Solsogon, Sta. Margarita, Samar presented their actions taken prior, during and after Typhoon Yolanda. While RD Gozon presented the Republic Act 10121 or the Act of Strengthening the Philippine DRRM System, the National DRRM framework, and institutionalization of the National DRRM Plan, as well as the appropriation of funds.
The highlight of the summit was the signing of the Memorandum of Agreement (MOA) by the Hon. Sharee Ann Tan, Hon. Danny V. Tan, RD Rey M. Gozon, DILG Judy L. Batulan and Natividad Silorio. It was witnessed by the Army and the PNP representatives, the Local Chief Executives, representatives of national government agencies, and the Risk Reduction Management Council Chairpersons of different towns and cities of Western Samar.
The MOA is aimed to divide the stakeholders' tasks during disasters and to institutionalize the disaster preparedness of the Local Government Units (LGUs) of Western Samar Province by standardizing the methodology in training the Municipal and Barangay officials through a participatory framework.
It is also aimed to adopt a disaster risk reduction and management approach with holistic, comprehensive, integrated and proactive approach in lessening the socio-economic and environment impact of disasters and climate change, and promote the involvement and participation of all sectors and stakeholders concerned, at all levels, especially in the local communities as stipulated in Section 2, Sub Section D of R.A 10121.
While on the part of Plan International, as was stipulated in the MOA, will implement the Scaling Up Resilience in Governance (SURGE) which will advocate successful experiences on Inclusive Community Based Disaster Risk Reduction (ICBDRR) in communities through the peer-to-peer approach that is aimed to increase resilience of disaster high-risk communities. SURGE is funded by European Union.
Another highlight of the summit was 8ID HADR Capability demonstration by the 8ID Emergency Response Company (ERC) simulating a multiple vehicular accidents scenario.
8ID also showcased its Disaster Response Operation (DRO) equipment in conducting rescue operation in the bodies of water through its Water Search and Rescue (WASAR) Team, as well as its equipment in conducting search and rescue operation in collapsed structures.
Hon. Tan was full of optimism after the summit and appreciated 8ID for hosting the Samar Province DRRM Summit and stressed the importance of coming up with a holistic approach in addressing disasters.
Maj. Gen. Velarmino hailed the outcome of the summit and dubbed it as a step towards the right direction in strengthening the DRRM system of Western Samar Province in order to mitigate the impact of disasters.
He also said that the signed MOA will greatly benefit the Province, the LGUs under it, the concerned government agencies, as well as the PNP and AFP units as they will have an anchor to craft supporting policies and laws to prepare in addressing problems during disaster planning phase, and during the actual implementation of disaster plans in areas of coordination, sharing of resources, as well as in technical expertise.
Chiz: Where did P63-B AFP modernization fund go?
By Office of Senator Chiz Escudero
May 6, 2015
PASAY CITY – Senator Chiz Escudero wants the military to account for almost P63 billion it has received since 2002 to modernize the Armed forces of the Philippines (AFP), as the Senate began its probe into questionable acquisitions of equipment and weapons system under the modernization program.
"Money for the modernization program has been in the AFP's hands beginning 2002. We want to know how it was spent, where it was spent. We want to know what their procurement did to the force, how the military condition has changed," Escudero said.
Escudero, chairman of the Senate Committee on Finance, filed Senate Resolution No. 1234 which sought an investigation into the AFP's questionable procurement to modernize the military. Escudero's initiative is one of the resolutions tackled during the Blue Ribbon Committee hearing.
According to Escudero, a total of P63.38 billion has been released to the AFP from 2002 to 2013. Out of this figure, P41.832 billion came from the General Appropriations; P12.958 billion from the remittances from the Bases Conversion and Development Authority (BCDA); P1 billion from the Malampaya fund; P6.59 billion from the Department of Energy (DoE); P909.98 million from interest income; and P92.438 million from government arsenal.
"Why is our military still in a sorry state after P63 billion? With this money, we get to ask: is the Filipino soldier better off than before? Are our soldiers better equipped? Are they better trained? Is their inherent bravery boosted by more confidence in fighting with the purchased arsenals? The answers will show us where this modernization plan can and will take us," he said.
Escudero said the funds appropriated for the modernization program may pale in comparison to the military giants of our neighboring countries but wise, judicious and efficient spending will go a long way in strengthening our military force.
"We are no Hercules compared to the formidable forces of China or Japan, so we better equip our military with the right arsenal. There is a dream sequence and there is reality. We want to see how they chose between these two in terms of spending," he added.
The senator asked Defense Secretary Voltaire Gazmin for a full accounting report on the use of the Modernization Fund. The defense chief said he will provide the committee with the said report before the next hearing.
On eve of state visit, PNoy told:
Do not forget the illegal Canadian wastes
Press Release
May 4, 2015
MANILA – Environmental justice and public health groups tell President Benigno Simeon Aquino III to not forget the illegal Canadian waste issue as he leaves for a state visit in Canada this week.
Mr. Aquino will be in Canada on May 7-9 for a state visit, and his itinerary includes meetings with top Canada officials, including Prime Minister Stephen Harper and Governor General David Johnston.
"Mr. President, we urge you to stand up to the Canadians and ask Prime Minister Harper to take back their illegal waste shipment," said BAN Toxics executive director, Atty. Richard Gutierrez. "Do this not simply because it is the right and legal thing to do, but do so to defend the dignity of the Filipinos."
In 2013, the Bureau of Customs (BOC) seized 50 forty-footer container vans containing various waste materials and hazardous wastes imported from Canada, which were misdeclared by the Canadian exporter as 'assorted scrap plastic materials for recycling'.
Citing a change.org petition, Gutierrez urged President Aquino to 'grab this chance and show the world that the Philippines is not a dumping site'. The petition has already garnered more than 25,000 signatures, with a considerable portion of signatures coming from Canada, and is continually growing.
The groups fear that the decision of the interagency committee to dispose of the Canadian wastes here will set a precedent and give way to more garbage being dumped here by richer countries like Canada. They see this as a result of 'indirect pressure from the Canadian government' by doling out economic packages in exchange of brushing the Canadian waste issue under the rug.
"PNOY should not sweep the issue of Canada's waste under the rug during his visit to Canada on May 7 for the sake of not hurting diplomatic relations. There is nothing diplomatic in dumping waste to another nation and still expect a friendly stance from them," explained Greenpeace Philippines toxics campaigner Abigail Aguilar. "The issue is of equal importance as labor, infrastructure and development assistance. The Filipino people – whom PNoy refers to as his bosses – are the ones most disadvantaged by this irresponsible waste dumping by Canada and by both governments' inaction over the issue."
The interagency committee in charge of the Canadian waste is composed of the Department of Foreign Affairs (DFA), Department of Environment and Natural Resources (DENR), Bureau of Customs (BOC), and the Department of Health (DOH).
The Canadian government continues to dodge the issue by saying this is a private matter between the Canadian exporter, Chronic Inc., and its Filipino counterpart, Chronic Plastics. However, various sectors have pointed out that the illegal shipment is a violation of the Basel Convention on the Transboundary Movement of Hazardous Wastes and Their Disposal, an international treaty that regulates toxic waste and other wastes to which both Canada and the Philippines are parties to.
As per the Basel Convention, the illegal shipment should have been re-exported to Canada.. The Convention requires the exporting country, in this case Canada, to take back the illegally seized shipment and to pay the costs for the return.
Apart from the Basel Convention, the importation violates a number of local laws such as the DENR Administrative Order 28 (Interim Guidelines for the Importation of Recyclable Materials Containing Hazardous Substances) and Republic Act 9003 or the Ecological Solid Waste Management Act of 2000.
"By allowing Canada to dispose of its illegal wastes in the country, the President will in effect, abet and aid in the violation of international law. That is not the "matuwid na daan" we expect from President Pnoy, nor what the Filipinos put him in office for," Gutierrez lamented.
The shipment has been festering in the Philippine ports for more than 700 days and, according to the groups' calculations, the government is spending at least P144,000 a day for the loss of income for storage space and the additional expenses for demurrage, which, to date, costs around P90 million.
Last year, a petition was signed by international organizations to express their concern over the illegal waste shipment and urged Canada to take back its waste. Representatives from NGOs in several countries, including Australia, China, Germany, India, Russia, and the US, signed the letter.
"To allow our country to be treated as a dumping ground of Canada in the name of 'preserving diplomatic relations' indicates how little – if at all – this government appreciates our sovereignty as a nation," ended Global Alliance for Incinerator Alternatives' Paeng Lopez.