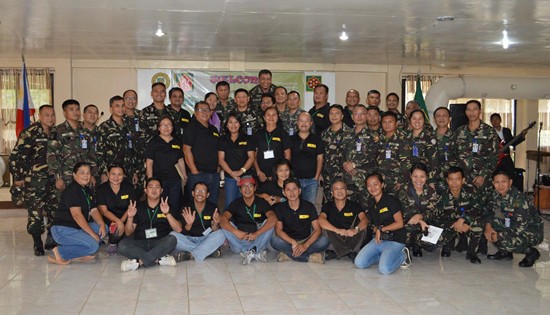 8ID Staff Officers together with the members of the 8ID Press Corps during the media fellowship at 8ID multi-purpose hall on June 8, 2015.
8ID conducts media fellowship in Eastern Visayas
By DPAO, 8ID PA
June 8, 2015
CAMP VICENTE LUKBAN, Catbalogan City – The 8th Infantry (Stormtroopers) Division, Philippine Army along with media practitioners in Region 8 conducted the 8ID Press Corps Media Fellowship at the 8ID Multi-Purpose Hall, Camp Vicente Lukban, Catbalogan City on early morning of June 8, 2015.
The said event was highlighted with an election of the new set of officers followed by an induction of 8ID defense press corps presided by Major General Jet B. Velarmino, Commander 8ID. The media fellowship was anchored on the theme, "Forging Strong Partnership thru Public Information" which gives emphasis on the role of media in our society today.
Team building activity was also conducted thru an Amazing Race event in order to promote interaction between the Command and the media practitioners in the region.
Major General Velarmino for his part said, "Media plays a vital role in our modern society today, making us aware of everything that has been taking place, and information dissemination. We are all aware of the hardships and challenges that you have to go through in the performance of your duties, and 8ID appreciates your effort".
"Let us continue to strengthen our partnership and let us pursue the genuine peace and development in our region".
8ID troops encounters NPA in Northern Samar, recovers high powered fire arm
By DPAO, 8ID PA
June 8, 2015
CAMP VICENTE LUKBAN, Catbalogan City – Army troops operating in Northern Samar Province encountered NPA members in a remote area of Sitio Cabangahan Barangay Mckinley, Catarman, Northern Samar at around 2:25 in the afternoon of June 8, 2015.
In a report from Lt. Col. Carmelito T. Pangatungan, Commanding Officer of the 63rd Infantry (Innovator) Battalion, troops of 81st Division Reconnaissance Company under his unit's operational control while conducting Focus Military Operations in the outskirts of said barangay when they chanced upon a team of NPA rebels passing also in the area. A brief exchange of firefight followed forcing the enemy to withdraw from their position leaving behind several war materiels at the encounter site. Among the items recovered were one AK47 and ammunitions.
The rebels were unable to inflict casualties against government forces while one casualty on the rebel side whose cadaver will be turned over to the Barangay Council of Mckinley for identification.
Major General Jet B. Velarmino, 8ID Commander, expressed his appreciation to the operating troops of the 81st Division Reconnaissance Company for their dedication and commitment in safeguarding the communities against the rebels. Further, he reiterated the government's call for non-violence, for the rebels to return to the mainstream society, and for them to take advantage of the government's reconciliation programs.
Labor group hits ERC verdict, recommends guillotine for 'Dirty 13' power price manipulators
By NAGKAISA
June 3, 2015
QUEZON CITY – Big labor coalition group Nagkaisa criticized the "very late and toothless verdict" of the Energy Regulatory Commission (ERC) in coming out with a decision on a very high profile and important case of conniving to manipulate electricity spot market prices leading to a record high cost of electricity during the latter part of 2013 victimizing millions of consumers in Luzon area.
"How come it took the ERC commissioners almost two years to decide on a very important case? But then, now that they have their judgment, how come that the verdict is too weak – it's as if no large scale thievery happened? How come the wheels of justice very, very slow on this case?" said Wilson Fortaleza, spokesman of the Partido Manggagawa-Nagkaisa (PM-Nagkaisa).
The ERC announced the other day they found the 13 power players liable for market abuse for withholding supply that led to a record high P4.15 per kilowatt hour.
"Respondents will be accorded with due process after which, ERC will decide on the imposition of penalties, if warranted, and grant of other reliefs," the ERC decision said.
The Nagkaisa labor coalition rather recommended the highest form of punishment of guillotine to the so-called "Dirty 13" companies identified by the Energy Regulatory Commission (ERC) as the Power Sector Assets and Liabilities Management Corporation (PSALM), AP Renewables, Pan-Asia, Therma Mobile Inc., Manila Electric Company (Meralco), 1590Bauang, CIP 2, TransAsia Power Gen, AP Renewables, Udenna Management Resources Corp., Strategic Power Development Corp., GNPower Mariveles, and SEM-Calaca Power Corp.
"Nagkaisa deemed that these irresponsible "Dirty 13" companies be brought to the bar of justice and be slapped with multiple and the highest criminal and administrative charges of the land for wittingly duping millions of Filipino consumers," said Leody de Guzman, president of Bukluran ng Manggagawa-Nagkaisa.
The group is also insisting that the "Dirty 13" power players be made to return to consumers the excess payment involve including its accrued interests – estimated to be billions of pesos – along with the criminal and administrative charges.
"These people behind the collusion and manipulation of electricity prices are without any soul nor any sort of conscience. They were not there to do good business and offer public good. What they have is brute desire to steal hard-earned Filipino working people's money bigtime and hope to get away with the hard cash quietly. They almost tried successfully but they were blind-sided by the stacks of money that they forgot to cover the imprints of their crime. Now that they are caught, they and their cohorts have to made to face the guillotine of the people and must be made to answer for the consequences of their high crime," said Alan Tanjusay, spokesperson of the Trade Union Congress of the Philippines-Nagkaisa (TUCP-Nagkaisa).
In the light of this development, the group called on the Office for Competition Department of Justice (DOJ) to immediately file charges to make these firms accountable for the high crime they committed against the Filipino people.
"The Philippine Justice department should already come right away and not wait for another almost two years in filing the charges. The DOJ must come in immediately and prosecute these high-flying criminals in behalf of the millions of irate households and make the public feel that their prosecutors in their DOJ are standing for them," said Josua Mata of the Alliance of Progressive Labor-Nagkaisa (APL-Nagkaisa)
BBL still won't pass the second deadline – Chiz
By Office of Senator Chiz Escudero
June 2, 2015
PASAY CITY – Senator Chiz Escudero said the approval of the Bangsamoro Basic Law (BBL) is set to miss its deadline, yet again, as the Senate leadership looks at October to pass the measure.
"Di pa din ba sila nadala?" Escudero said of the deadlines given to the BBL approval, the first of which was in June.
Escudero pointed out that the supposed October deadline, as mentioned by Senate President Franklin Drilon, may still not be enough time to scrutinize and identify the necessary revisions and adjustments needed by the BBL.
"I honestly don't know if a deadline is doable; we also have to factor in the bicameral approval. Again I am not a believer in deadlines when it comes to a very important piece of legislation."
The senator said he has questions with the procedures adopted by the House in proposing the amendments in the BBL. "These are questions which have to do with the ones not provided for under the Constitution."
"Basta ang importante, tama at maayos na BBL na tatalima sa Saligang-Batas ang maipasa. Imbes na BBL na minadali lamang," Escudero added, saying the legislation should not compromise the accuracy and constitutionality of the law just to rush its enactment.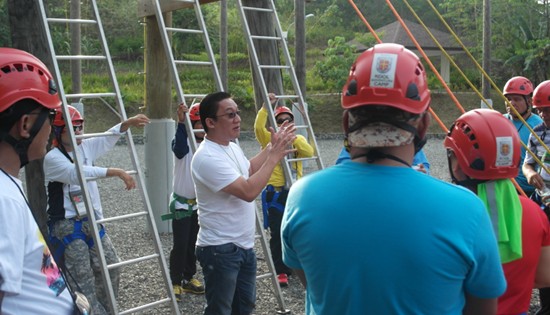 Mandaue City Mayor Jonas Cortes gives a pep talk to motivate the barangay captains before they take on the challenges during their synergy program.
Barangay leaders train for a better Mandaue City
By Ramon Aboitiz Foundation Inc.
June 1, 2015
CEBU CITY — To help improve services to their constituents, Mayor Jonas Cortes led 25 Mandaue City barangay captains in a three-day synergy program organized by Ramon Aboitiz Foundation Inc. (RAFI) at the Kool Adventure Camp (KAC) Adventure Education Center in Cansomoroy, Balamban, Cebu.
"Kool Adventure Camp is the propeller of the transformation of the people of Mandaue. The program was able to change our old perception and mindset. We are now equipped on how to handle the different challenges in our barangays," said Association of Barangay Councils President Ernie Manatad.
"I am amazed of the transformation of the barangay leaders. This is the best training we have attended. This will help me correct my old maps in executing my function as a barangay official. I want to apply the learnings I got from KAC and change myself to be more open to other ideas. This program is really aligned to the goals of I AM Mandaue," he added.
"I AM Mandaue" is the official seal and slogan of Mandaue City. It refers to the responsibility and contribution of every residents for the city's progress.
"If we want a strong Mandaue, we have to build a strong barangay", said Cortes.
KAC has been offering adventure education programs for leadership and team development for youth and professionals for the last decade. It is a program under RAFI's Leadership and Citizenship focus area.For more information on KAC and its services, contact 260-9000 local 1001 and look for Althea May Santillan, or visit www.kac.rafi.org.ph or www.facebook.com/kooladventurecamp.
BBL won't end armed conflict
Let's look for better alternatives to have genuine peace - Cayetano
By Office of the Senate Majority Leader
June 1, 2015
PASAY CITY – Senate Majority Leader Alan Peter Cayetano said the passage of the proposed Bangsamoro Basic Law (BBL) will not guarantee lasting peace in Mindanao, since it is not inclusive, not even within the Moro Islamic liberation Front itself.
He cited a recent news report published by the Manila Standard claiming that at least 85 top commanders of the Moro Islamic Liberation Front (MILF) denounced the leadership of MILF Chair Ebrahim Murad for forging a "doubtful" peace deal with government and vowed not to support the BBL.
"The bill has not even been enacted into law, yet we hear of Moro commanders eyeing to break away from the MILF. This adds to our fear that even if the BBL is passed, there will be more armed clashes," the senator said.
With this in mind, the senator stressed that all efforts for peace in Mindanao should no longer be focused on a single group like the MNLF or the MILF.
"We must learn from the lesson of history. Before the BBL, we already had peace negotiations with the Moro National Liberation Front (MNLF), leading to the creation of ARMM. We all expected this to bring peace in the region," Cayetano said. "But soon after, MILF broke away from MNLF due to their disagreements with the signed peace deal. Now that it is MILF's turn to talk peace, there is a threat of another breakaway group. So how sure are we that the BBL can really create permanent peace in Mindanao?"
Further, Cayetano said he learned from consultations with stakeholders that many Mindanaoans distrust MILF's intentions in pushing for the BBL. He said both Muslim and Christian leaders in the region are looking for a better measure that will promote the welfare of all groups in Mindanao.
"The BBL is not the answer to Mindanaoans' problems. What we need is a better solution, a real change for peace, one that takes into account the concerns of all other stakeholders," he said.
One alternative, he suggested, is to pass a bill that seeks to strengthen the Autonomous Region in Muslim Mindanao (ARMM) or have two autonomous regions in the South.
Moreover, he assured the public and stakeholders that senators will not railroad the passage of the BBL, noting that an enacted law should not only be constitutional, but should also address the needs of all Mindanaoans.
"This development should not be disregarded. OPAPP Secretary Teresita Quintos-Deles and chief peace negotiator Miriam Coronel-Ferrer should explain what they know about this issue and how this could greatly affect the ongoing peace process. This should serve as a wake-up call for government to learn from the mistakes of the past and not allow history to repeat itself," Cayetano said.
PICE Calbayog chapter joins Barangayan Caravan 2015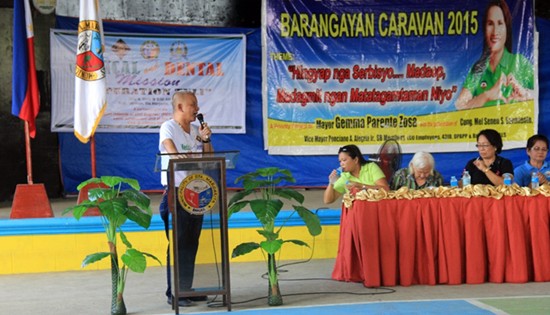 By DONNA C. DEBUTON
May 28, 2015
CALBAYOG CITY – Philippine Institute of Civil Engineers-Calbayog Chapter (PICE) collaborates in one of the summer programs of the Municipality of Sta. Margarita Barangayan Caravan 2015 with the theme "Hingyap nga Serbisyo… Madaop, Madagmit ngan Matatagamtaman Niyo."
The Local Government Unit's key officials in partnership with the PICE headed by their President Virgilio Eduarte, Samar First District Engineering Office's District Engineer, and the PICE members extended their help and assistance in making the program a successful one.
The Caravan 2015 starts with a short program which formally opening the different activities participated by the residents of Sta. Margarita with the assistance of the PICE members.
"We are thankful that we are permitted to join this activity through our Mayor, Gemma Zosa. Wara ak magruhaduha nga ihatag an akon 100% support sini nga medical and dental mission para bumulig, kay diri kita nasabot kun sano kita ma ta-transfer sa iba nga lugar kay an aton posisyon nadepende la san aton mga labaw. Ini man la an maging hinumuduman para aton munisipyo…" is DE Eduarte's message to the beneficiaries and key officials of the Municipality.
The Caravan 2015 offers "Operation Tuli", dental consultation, tooth extraction, and distribution of rice to beneficiaries barangay. The PICE then did donate medicines prepared snacks for other volunteers. The Municipality's key officials were very grateful to the success of the program which was also realized in cooperation of the good-hearted members and leader of PICE.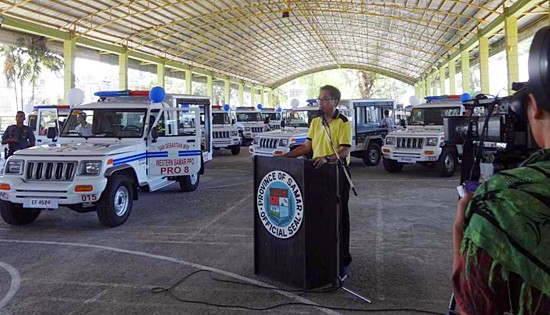 "Kabahagi tayong lahat ng isang lipunan, republika, at pamahalaan." - Secretary Roxas at the turn-over of the 23 new PNP patrol jeeps in Catbalogan.
Roxas: Patrol jeeps will help address insurgency issues in Samar towns
Press Release
May 29, 2015
MANILA – Secretary of the Interior and Local Government Mar Roxas is certain that the 23 brand new patrol jeeps turned over to all municipalities in Samar on Thursday (May 28) will not just help the province in times of disaster, but will definitely reinforce the counter-insurgency operations of the Philippine National Police (PNP) in the area.
"Matindi ang pangangailangan ng internal security operations dito. Maraming insidente kasama ang NPA (New People's Army) sa buong island ng Samar. Tinutugunan natin ito para makapagresponde, para makapagpatrolya, at sakaling mangyari man ay mahahanap at mahahabol nila ang mga salarin na ito," Roxas stressed during the turn-over of vehicle units in Catbalogan, Samar on Thursday.
With the new patrol jeep units, Roxas assured Samar residents that the PNP can deliver support to troops from the Armed Forces of the Philippines (AFP), the frontliners who are tasked to neutralize internal security threats.
The peace and security situation of the province in Samar also urged Roxas to discuss operative solutions with Samar Governor Sharee Ann Tan, Police Regional Director Asher Dolina, 8th Infantry Division Commander Gen. Jet Velarmino, Calbayog City Mayor Ronaldo Aquino, and Catbalogan City Mayor Stephanie Tan.
Roxas also told local government and police officials that the new patrol jeeps are results of inclusive growth and that the government has never left their side.
"Tignan natin ito hindi lang bilang patrol jeep pero bilang isang simbolo na kabahagi tayong lahat ng isang lipunan, republika, at pamahalaan na hindi kayo kinakalimutan," Roxas said.
Samar is the first province to receive brand new multi-role patrol vehicle units in Eastern Visayas, as a complementary part of OPLAN Lambat-Sibat, an intensified anti-crime campaign that employs a deliberate, programmatic, and sustained approach initiated by Roxas.
He reiterated the importance of addressing issues in peace and order, not only for society in general, but more importantly, for the individual.
"Sinisiguro natin ang kaligtasan ng mga kababayan natin. Napakapersonal ng krimen para sa mga biktima nito at inaasahan talaga nila ang kanilang pamahalaan. Wala naman silang matatakbuhang iba," Roxas stressed.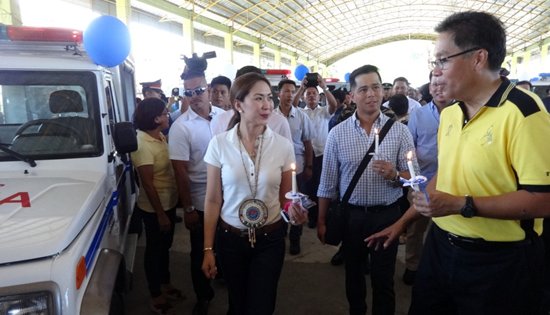 DILG Sec. Mar Roxas at the blessing and turnover of patrol jeeps to all 23 Samar municipalities. Also in photo are Samar Governor Sharee Ann Tan and Vice Governor Dingdong Avanzado of Siquijor. Avanzado has roots in Samar.
DILG Secretary Roxas leads turnover of patrol jeeps; holds dialog on EV peace situation
By MYLES JOSEPH E. COLASITO
May 28, 2015
CATBALOGAN CITY - All twenty-three (23) towns in Samar province will now have new police patrol jeeps to help curb criminality and assist in disaster response operations. This, as Secretary of the Interior and Local Government Mar Roxas will distribute brand new units of multi-role patrol jeeps today, May 28, 2015 in simple rites at the Provincial Capitol in Catbalogan City.
The jeeps will help the police boost peace efforts by enabling it to reach even the remote barangays. These are part of the first tranche of the 1,470 brand new patrol jeep units procured by the PNP, which will be distributed nationwide under the PNP mobilization program.
"Sa ilalim ng Daang Matuwid na polisiya ng administrasyon, lahat ay magkakaroon ng isangpatrol jeep. Sino ka man, nasaan ka man, hindi ka pababayaan, walang maiiwan,at hindi ko kayo kalilimutan," Secretary Roxas said.
The procurement of new patrol jeeps is part of DILG's efforts to curb criminality in areas outside Metro Manila, following the success of Oplan Lambat-Sibat: a deliberate (hindi bara-bara, hindi patsamba-tsamba), programmatic (hindi kanya-kanya, hindi patse-patse), and sustained (hindi ningas-cogon, hindi photo-opp lang) approach.
After the turnover, Secretary Roxas will meet with the Joint Regional Peace and Security Council in Camp Lukban, Catbalogan City for peace and order assessment and consultation. The DILG Secretary will also attend the closing program of the Youth Leaders Training on Disaster Risk Reduction at the Samar Provincial Capitol in the afternoon.
This activity also called the Operation Listo Wemboree, aims to involve the youth in making communities disaster resilient. DILG as the agency tasked under Republic Act10121 as Vice Chair for Disaster Preparedness, has strengthened the capacities of local governments against disasters.
In Eastern Visayas, Regional Director Pedro A. Noval Jr. said the agency is in the thick of popularizing the Listo disaster warning system; conduct of training and various forms of technical assistance, and preparation of the Disaster Preparedness Audit, among others.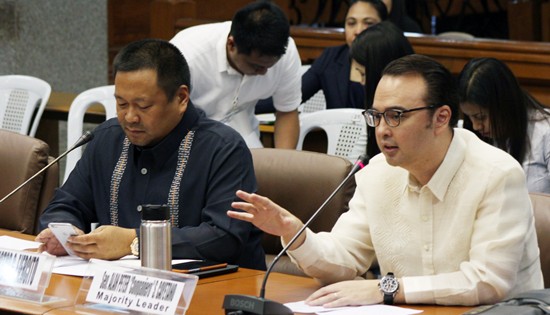 Senator Alan Peter Cayetano questions LTO officials at the joint hearing of the Senate Blue Ribbon Subcommittee and the Committee on Public Services regarding the agency's questionable license plate program. Cayetano had called for the suspension of LTO's 'No Plate, No Travel' policy, noting that the agency should not have imposed unjust fines to car owners and drivers for its own failure to issue license plates and car registrations on time.
LTO heeds Cayetano's call, suspends 'no plate no travel' policy
By Office of the Senate Majority Leader
May 26, 2015
PASAY CITY – After a series of hearings conducted at the Senate, the Land Transportation Office (LTO) finally heeded to the calls of Senate Majority Leader Alan Peter Cayetano and the public to suspend its 'No Plate, No Travel' policy.
"Ako'y natutuwa na nagka-solution… that LTO met with car dealers, and tried to solve the existing problems," Cayetano said in an interview on the sidelines of the Senate Committee on Public Services and Blue Ribbon Subcommittee's joint investigation on the alleged irregularities in the agency's license plate program.
"Pero kung kinonsulta siguro muna nila ang mga tao bago ipatupad ang polisiya, hindi na sana nangyari itong napakalaking problema," he added.
Admitting to the agency's problems as cited by Cayetano, and acknowledging the inconvenience it had brought to the public, LTO officials finally agreed to the senator's proposal to defer the implementation of its policy.
Cayetano said he welcomes LTO's decision, but asserted that he will continue monitoring updates on the issue.
"While we commend LTO's suspension of its 'No Plate, No Travel' policy, it does not end here. We know that the DOTC, among other agencies in government, are still riddled with several problems that cause burden to the people. That is why we will continue to guard the public against any government inefficiency," Caytenao said.
The senator earlier blasted the LTO for imposing unjust penalties to car owners and drivers under its 'No Plate, No Travel' policy, while noting that it was in fact the agency's fault that there had been a delay in the issuance of plates for new vehicles.
He also cited LTO's failure to clarify the guidelines of its regulation to law enforcers on the ground, which he feared could have caused confusion and possible abuse of the public.
Cayetano said LTO enforcers should not have penalized car owners who travel without the necessary license plates, provided they have shown proof of registration.
He said no fine should be imposed if the motorist can present an official receipt, since the LTO failed to issue the license plate, considering the current shortage.
"The public should not in any way be burdened by what is clearly a product of the LTO's and the plate contractor's failure to deliver and process plates on new vehicles," he said.
"Vehicle owners who have registered their vehicles promptly should not have been barred from using their vehicles nor penalized for government's inefficiency," he added.