NMP continues to offer Deck, Engine, SMS & other upgrading courses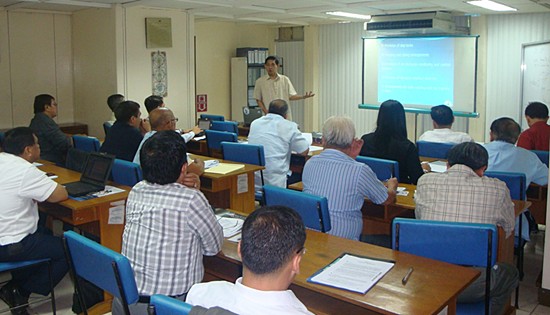 Press Release
March 19, 2015
TACLOBAN CITY – National Maritime Polytechnic (NMP), a government maritime training and research agency located at Brgy. Cabalawan, this City, continues to offer Deck, Engine, Safety, Medical and Security (SMS) upgrading and Professional Development Courses to aspirants to the seafaring industry, active seafarers, maritime trainers and assessors, and other allied personnel in the maritime industry.
The Deck, Engine, Safety, Medical and Security (SMS) upgrading and Professional Development Courses regularly offered by NMP include Marine Electrical System (MES), Radar Navigation, Radar Plotting and Use of ARPA (RNRPUARPA), Marine Refrigeration and Air Conditioning (MRAC), Maritime Law for Ship Officers (MAR LAW), STD/HIV/AIDS Prevention in the Maritime Sector (SHAPIMS), Prevention of Alcohol and Drug Abuse in the Maritime Sector (PADAMS), and Gender Sensitivity Training for Seafarers (GSTS).
Marine Electrical System (MES) is a five-day course wherein the trainees are expected to be able to apply the concepts and principles of electrical systems normally installed in ships; carry out all necessary activities in the generation of electrical power; perform the tests required in the operation and maintenance of electrical machines and control systems; and appreciate the importance of marine electrical system in shipboard operations.
Radar Navigation, Radar Plotting and Use of ARPA (RNRPUARPA) is a nine-day upgrading course which will enable the trainee to recognize the appropriate time when radar should be in use, select a suitable mode and range setting for the circumstances, set the controls for optimal performance, and be conscious of the limitations of the equipment in detecting targets and in terms of accuracy, to name a few. Course contents include Basic theory and operation of marine radar system, setting up and operation of radar in accordance with manufacturer's instructions, performing manual radar plotting, use of radar to ensure safe navigation, use of radar to avoid collisions or close encounters, and description and operation of an ARPA system.
Marine Refrigeration and Air Conditioning (MRAC) is another five-day course that provides trainee participants with the applied knowledge and practical skills in blueprint reading, operation, maintenance and troubleshooting techniques of marine refrigeration and air-conditioning systems. This also helps trainees acquire required knowledge, understanding and proficiency in working with marine refrigeration and air-conditioning on board ship.
Maritime Law for Ship Officers (MAR LAW) is a five-day professional development course which is intended for masters and ships' officers focusing on the salient features of maritime law with regard to their authorities, rights, duties and responsibilities in the commercial operation of seagoing merchant ships. Based on IMO Model Course 7.01, the course is aimed at enhancing and broadening the seafarer-trainees' legal knowledge and understanding.
STD/HIV/AIDS Prevention in the Maritime Sector (SHAPIMS) is a one-day training course which deals on the nature of STD/HIV infection/AIDS and the methods of prevention and control, sexual behavior changes and modification, communicating its prevention in the workplace and among seafarers, partner notification and preventive measures. Aside from active seamen and aspirants, seafarers' wives, and personnel of shipping and manning agencies are likewise encouraged to take this.
Prevention of Alcohol and Drug Abuse in the Maritime Sector (PADAMS) is another one-day course which covers topics on the nature and extent of alcohol and drug problem in the maritime sector, preventive measures and policies to address such problems, effects of alcoholic beverages in the performance onboard ships, pertinent laws and regulations as prescribed in Chapter VIII, Section B-VIII/2, Part 5 of the 1978 STCW Convention, as amended.
Gender Sensitivity Training for Seafarers (GSTS) is a four-hour course covering topics on gender roles ascribed by the society, gender equality and equity, rights-based approach to sexual and reproductive health, Anti-Violence against Women and their Children Act (RA 9262), and The New Anti-Rape Law (RA 8353). This course is offered free to paying trainees enrolled in other courses.
To those interested in availing the said courses, you may directly visit NMP or inquire through the Registrar at the following contact numbers: 09771269675/09298417490. The training schedule of the said courses is now available at NMP. You may also send your inquiries and/or reservations to info@nmp.gov.ph or nmp.info@yahoo.com
4 million join "poorest of the working poor club" as poverty continue to overtake even minimum wage workers' income since 2014
By TUCP-Nagkaisa
March 16, 2015
QUEZON CITY – There are now four million more of more than 20 million poorest of the working poor nationwide who cannot even afford the daily P293 cost of food and basic commodities needed by a Filipino family of five to survive, said workers' lobby group the Trade Union Congress of the Philippines-Nagkaisa (TUCP-Nagkaisa).
With this, the labor group urged government to take immediate solutions following a survey showing poverty continues to surpass poor workers' take home pay and has now overtaken minimum wage earners' in Metro Manila and in all other regions in the Philippines since last year, recent poll released by the Philippine Statistics Authority (PSA).
Results of 2014 survey released March 6, poverty incidence among Filipino families worsened to 20% in the first half of 2014 from 18.8% in 2013 while the subsistence incidence rose from 7.5% in 2013 to 7.6% this year.
The result also showed incomes of poor families were short by 27% of the average poverty threshold of P8,778/month or P293/day for a family of five in the first semester of 2014. This means, on the average, an additional P2,370 was needed by a poor worker and his family with five members in order to move out of poverty.
"With its 400 days left in office, President Noynoy Aquino must re-focus and re-devote his remaining time, energy, and political capital if he still he wants to make a direct impact to Filipino workers and their families. Rather than being kept busy by sexy political issues, he has to address one of the core issue of growing and escalating poverty incidence," said TUCP spokesperson Alan Tanjusay.
In the National Capital Region (NCR) alone, the highest minimum wage in all 17 regions, government said the real value of the current P466 minimum daily wage is P356.64 or P7,846.08 a month or P932 short of the poverty threshold. The same survey showed 10.5% of the working population whose income cannot afford even the food threshold alone.
The poorest is in Yolanda-hit Eastern Visayas region with 2.2 million families who cannot afford the minimum amount of P293/daily amount. The current real value of the P280 daily minimum wage is P184/day.
The National Economic Development Authority (NEDA) cited the rapid rise in food prices and the lingering effects of typhoon Yolanda as key reasons poverty worsened. Rice prices alone increased to 11.9% in the first semester of 2014 to 1.7% in the same period of 2013.
International tribunal to hear rights violations in the Philippines launched
Press Release
March 12, 2015
QUEZON CITY – An international tribunal to try cases of human rights violations under the presidency of Benigno S. Aquino III has been launched today at the University of the Philippines, Diliman Quezon City.
Dubbed as the International People's Tribunal (IPT), the initiative will bring into focus the ongoing human rights violations in the Philippines and hold Pres. Aquino and the government of the United States as represented by Pres. Barrack Obama to account before the international community.
"Beneath the liberal-democratic façade of the Aquino regime, brutal repression of people's civil and political rights abound, with hundreds of cases of extra-judicial killings and forced disappearances and massive displacement of families," according to Cristina Palabay of Karapatan, one of the complainants to the IPT.
The IPT will also probe into the role of the increasing US military presence and intervention in the Philippines in worsening the state of human rights in the country.
"The Mamasapano operation raises questions over the extent of the US military's involvement in Philippine domestic security. Meanwhile, the Philippine government's failure to assert jurisdiction over US marine officer Joseph Scott Pemberton for the murder of Jennifer Laude highlights how unequal ties between the US and the Philippines invite impunity," according to Vanessa Lucas of the US-based National Lawyers Guild, one of the convenors of the IPT.
The Chairperson of the International Coalition for Human Rights in the Philippines and another IPT Convenor, Reverend Canon Barry Naylor, explained that the IPT, although judicially non-binding, is symbolic and significant.
"People's tribunals have had success in directing international attention to grave abuses of human rights in various countries including the Philippines during the Marcos and Arroyo regimes. The IPT draws inspiration and builds on the momentum of previous peoples' tribunals to advance human rights and hold governments to account," he said.
In 2008, a US Senate investigation on human rights violations in the Philippines under former President Gloria Macapagal-Arroyo led to restrictions on a portion of the annual US military aid package to the Philippine government tied to the implementation of strong human rights recommendations by US advocates.
The IPT is set to convene on July 16-18, 2015 in Washington DC. Former US Congresswoman and peace advocate Cynthia McKinney will be among the distinguished panel of jurors who will hear live testimonies of witnesses from the Philippines.
Conveners of the tribunal include the International Coalition for Human Rights in the Philippines (ICHRP), the National Lawyers Guild (NLG), the International Association of Democratic Lawyers (IADL), and IBON International.
For more information on the International Peoples Tribunal, visit internationalpeoplestribunal.org.
Construction of Gandara-Matuguinao road project completed
By MARIANETTE Y. GOMEZ
March 12, 2015
CALBAYOG CITY – The longtime dream of the people in the Municipality of Matuguinao to be connected to the growth centers of Samar and likewise to the neighboring Province of Leyte is coming true with the appropriation of the funds for the completion of the whole stretch of Gandara-Matuguinao Road every year.
For CY 2014, the concreting of 2,757 linear meter of road covering Brgys. Pizarro, Hiparayan and Peñaplata all in Gandara, Samar has been funded P50 million. The said road sections in three barangays can now offer convenient travel.
Though the total road stretch to the Municipality of Matuguinao has not been fully concreted yet, another project for 2015 with a total length of 2,384 linear meters amounting to another P50 million is underway starting from Brgy, Peñaplata to Brgy. Tawiran.
To render the road sections fully operational, road sections of four barangays have yet to be concreted which will continue to be funded by the District Office till 2017.
With this condition of the road leaving only few kilometers of all-weather road, economic activities in the area start to flourish.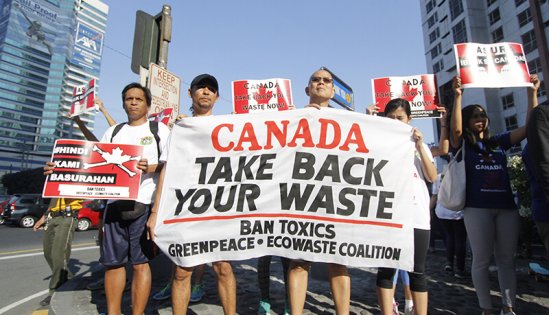 Rev. Fr. Robert Reyes joins environmental groups BAN Toxics, Greenpeace and Ecowaste Coalition in a protest run, dubbed as BasuRUN, along the streets of Makati Business District to demand the immediate re-exportation of the 50 Canadian container vans filled with hazardous wastes that continues to rot in the Port of Manila. (AC Dimatatac/BAN Toxics)
Running priest leads BasuRUN against Canadian toxic waste
Press Release
March 10, 2015
MANILA – As the illegal Canadian toxic wastes continue to rot in the Port of Manila for over 600 days now, running priest Father Robert Reyes joined the call for Canada to immediately re-export the illegal shipment, as he and environmental advocates led by BAN Toxics, Ecowaste Coalition and Greenpeace staged a "BasuRUN" in Makati City.
Reyes, a known environmental and human rights activist, joined the groups on Tuesday as they ran along the main streets of Makati City business district leading to RCBC Plaza, where the Canadian Embassy is located, to decry the illegal and 'overstaying' toxic shipment and to urge Canada to take responsibility for their wastes.
"These toxic wastes are the worst form of expressing friendship between our two countries," Reyes said. "Prime Minister Stephen Harper's government is an embarrassment to the civic-minded and environmentally conscious Canadians. We know this is not the real Canada. We urge Prime Minister Harper to take immediate action. Take back your illegal waste shipment now!"
On February 2014, the Bureau of Customs (BOC) seized 50 container vans containing various waste materials and hazardous wastes imported from Canada, with the consignee Chronic Plastics, Inc. declaring the shipment as 'assorted scrap plastic materials for recycling'.
Canada's stance, however, pins the blame on the private consignee and maintains that it does not have any legal capacity to compel the Canada-based exporter Chronic Incorporated, to re-export their noxious shipment.
"It's been more than a year and yet we are battling the same problem. The Canadian government won't listen but they should, and we will not stop until they take back the illegal shipment that they dumped in our country," said Atty. Richard Gutierrez, Executive Director of BAN Toxics.
Gutierrez said that the shipment – containing a mixture of household and toxic wastes – should be re-exported in accordance with the Basel Convention, an international treaty that regulates toxic waste shipments. The Basel Convention prohibits illegal toxic waste trade and requires the exporting country, in this case Canada, to take back the illegally seized shipment and to pay the costs for the return. Both Canada and the Philippines are party to the Basel Convention.
The importation violates a number of local laws such as the DENR Administrative Order 28 (Interim Guidelines for the Importation of Recyclable Materials Containing Hazardous Substances) and Republic Act 9003 or the Ecological Solid Waste Management Act of 2000.
According to the groups' calculations, the government is spending at least P144,000 a day for the loss of income for storage space and the additional expenses for demurrage, which, to date, costs around P87 million.
In an effort to gain public attention on the issue, the coalition filed an online petition on change.org that drew more than 25,000 signers, more than half of which are Canadians. The group is encouraging more people to sign the online petition to appeal and urge the Canadian embassy in the Philippines to facilitate the pick-up and return of the garbage back to Canadian soil.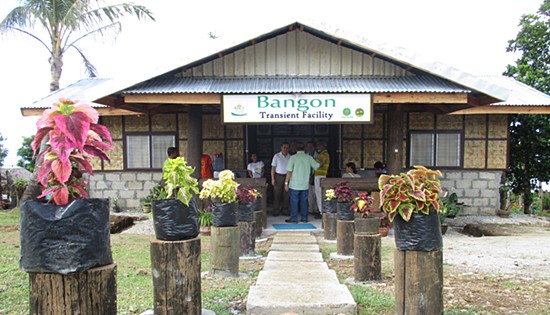 The newly constructed Bangon Transient Facility at the 19th Infantry (Commando) Battalion camp in Brgy. Aguiting, Kananga, Leyte which serves as housing to Bangon farmer-partners, former rebels, dependents and visitors.
Bangon holds assembly at Army camp in Leyte
By 19th Infantry Battalion, 8ID PA
March 8, 2015
KANANGA, Leyte – An Army camp in Leyte was again abuzz Thursday, March 5, 2015.
Some 120 trustees and farmer-partners of the Bangon Mini-Farms Alpha Sector Association Incorporated (BMFASAI) all over the province of Leyte convened for a seminar dubbed as "7-Habits of Highly Effective People" at 19th Infantry Battalion camp in Brgy. Aguiting, Kananga, Leyte.
The two-day live-in seminar was conducted to empower and inculcate key habits that will ensure productivity of Bangon farmer partners.
Coinciding the aforesaid seminar, Army-inspired peoples organizations composed of former rebels (FRs) from Ormoc City and from Jaro, Kananga, San Isidro and Calubian towns put up booths. Each displayed organic vegetable products from their respective mini-farms.
Other products were also displayed by military dependents, turning the entire camp on holiday mode amidst nearly 200 spectators.
Lt. Col. Nedy Espulgar, commanding officer of 19IB said Bangon Executive Chairman and Landbank of the Philippines (LBP) Director Domingo Diaz have earlier recommended 19IB camp as venue of aforesaid assembly.
Landbank of the Philippines (LBP) has poured resources resulting to the completion of a transient facility inside 19IB camp which now serves as billeting to Bangon farmer-partners, dependents and other visitors.
Having hosted similar events, Lt. Col. Espulgar was confident that the assembly would run more comfortable and educational for the participants as its camp is already equipped with advanced and protocol-based Livestock and Organic Garden Demonstration Farms.
"At first, we were merely partakers when the program jumpstarted on January last year. But now, we in 19IB under supervision of Col. Dinoh Dolina, the commander of the 802nd Infantry Brigade, proudly consider ourselves as one of the prime movers of Bangon. Our interest grew when we saw it to be in line with the AFP's Internal Peace and Security Plan "Bayanihan". We also believe that we can help more depressed communities through implementing sustainable, integrated, organic and natural mini-farm program", Lt. Col. Espulgar narrated.
The program is set to expand and be introduced to farmers in other parts of Leyte and even Southern Leyte province.
According to trustee Thelma Pondolanan, Bangon is eyeing the areas of operations of 78th Infantry Battalion particularly in the town of Mahaplag, Leyte.
Bangon sustainable, integrated, organic and natural mini-farm program, as LBP's post-Yolanda initiative was founded on January 2014 at Blanco Farm, So. Marag-ing, Lemon, Capoocan, Leyte.
It was later renamed Bangon Mini-Farms Alpha Sector Association Incorporated (BMASAI) and received its Certificate of Incorporation (COI) from the Securities and Exchange Commission on June 18, 2014. The COI contains Company Reg. Nr. CN201411778 and Company TIN 008-801-182 signed by Dir. Ferdinand B. Sales of SEC's Company Registration and Monitoring Department.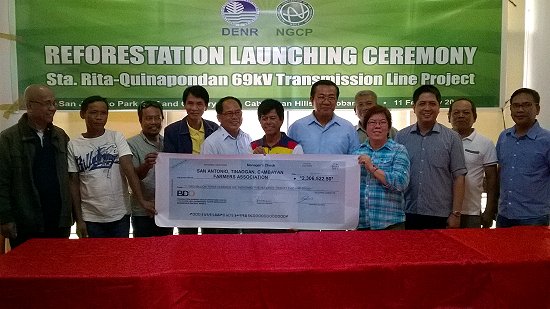 Mr. Randy Galang (3rd from right) and Ms. Julia Echavez (4th from right) of NGCP's Planning and Engineering Group turn-over a check to the San Antonio, Tinaogan, Cambayan Farmers Association for the implementation of the reforestation project in Basey, Samar. A similar check was handed over to the Samar Sur Upland Farmers Association and DENR-PENRO.
NGCP launches 90-hectare reforestation project in Samar island
Press Release
March 5, 2015
TACLOBAN CITY – Power grid operator and transmission service provider NGCP is tapping Basey, Samar and Giporlos, Eastern Samar as prime sites for its reforestation projects. NGCP is undertaking the projects in coordination with the Department of Environment and Natural Resources (DENR)'s Community Environment and Natural Resources Office (CENRO) and farmer associations.
At the February 11 project launching, NGCP formalized its commitment to plant more than 149,000 fruit-bearing and indigenous tree seedlings as part of its Sta. Rita-Quinapondan transmission line project. The 69-kiloVolt (kV) lines will span 95.53 kilometers and pass through the municipalities of Sta. Rita, Basey, and Marabut in Western Samar and Lawaan, Balangiga, Giporlos, and Quinapondan in Eastern Samar.
"NGCP takes into consideration the environmental impact of all its projects. For every naturally growing tree cut, 100 seedlings will be planted. And for every planted tree, 50 seedlings will replace them. We also included the replacements for trees felled by Typhoon Yolanda. With the guidance of CENRO and the commitment of the Farmers' Associations in Basey and Giporlos, NGCP is confident that we will complete this project over the course of three years," NGCP's Engineering Project Management Department Head Mr. Randy A. Galang said.
The 80-hectare Basey reforestation site will be jointly developed by NGCP and the San Antonio, Tinaogan, Cambayan Farmers Association while the 10-hectare Giporlos site will be maintained by NGCP and Samar Sur Upland Farmers Association. DENR-CENRO will be tasked to handle surveying, mapping, training, and supervision of the entire project.
The Sta. Rita-Quinapondan transmission line project aims to accommodate growth in power supply and demand, ensure voltage quality, improve reliability of power transmission services to SAMELCO and ESAMELCO franchise areas, and extend power delivery services to unelectrified areas in the region.
NGCP is a privately owned corporation in charge of operating, maintaining, and developing the country's power grid. It transmits high-voltage electricity through "power superhighways" that include the interconnected system of transmission lines, towers, substations, and related assets. The consortium holds the 25-year concession contract to operate the country's power transmission network and is comprised of Monte Oro Grid Resources Corp., led by Henry Sy, Jr., Calaca High Power Corporation, led by Robert Coyiuto, Jr., and the State Grid Corporation of China (SGCC) as technical partner.
As a socially responsible company, it is committed to create a sustainable environment and protect the natural resources particularly in areas hosting its transmission facilities.