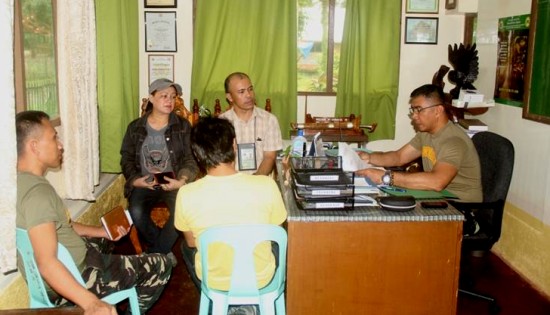 LtCol. William Peñafiel Jr. (right), commanding officer of the 52nd Infantry Battalion with Ms. Liza Aldo of DENR Regional Office 8 and Mr. Elpedio Cabahit of CENRO Sta. Rita made coordination regarding the confiscation of illegally cut lumbers at Brgy. Tinabanan, Marabut, Samar.
Army and CENRO confiscate illegally cut lumbers anew
By DPAO. 8ID PA
March 5, 2015
CAMP LUKBAN, Catbalogan City – Army troops under the Sta. Rita based 52nd Infantry Battalion (CAFGU) and Sta. Rita, Samar CENRO confiscated 1,500 Board Feet of illegally cut good lumbers at Brgy. Tinabanan, Marabut, Samar last March 2, 2015.
In a report from Lt. Col. William P. Peñafiel Jr, Commanding Officer of the 52nd Infantry Battalion, Ms Liza L. Aldo and Mr. Elpedio V. Cabahit of CENRO Sta Rita, Samar made coordination with 52nd IB to assist them in confiscating assorted sizes of illegally cut lumbers.
This is the second time in a month that 8ID assisted DENR in its effort to curb illegal cutting of trees. It can be recalled that on February 9, 2015 troops in tandem with DENR confiscated 10,000 board feet of illegally cut lawaan lumbers at Barangay Tagadtaran, Burauen, Leyte.
Meanwhile, Maj Gen. Jet B Velarmino AFP, Commander 8ID led the Coastal Clean-up at the Barangay of Estaka and San Roque of Buri Island, Catbalogan City in 8ID's continuing effort in helping to protect and preserve the environment.
Around 300 troops participated in the coastal clean-up in Buri Island. Incidentally, a fund raising run dubbed as "Alay Sa Kawal Fun Run" will be spearheaded by 8ID on March 8, 2015 where part of the route of the 5 Km, 10 Km & 21 Km run will pass thru where the coastal clean-up was conducted. The proceeds of the Alay sa Kawal Fun Run will be donated to the Kawal Foundation.
Chiz to MILF: Congress is legislating, not dictating
By Office of Senator Chiz Escudero
March 4, 2015
PASAY CITY – Senator Chiz Escudero said Congress will not simply rubber stamp the draft Bangsamoro Basic Law (BBL) without sifting through its facts to resolve contentious issues, as what the Moro Islamic Liberation Front (MILF) seems to fancy from the legislators.
"Let the MILF be reminded that we in Congress are not dictating, we are legislating," Escudero said, in reference to a statement attributed to MILF's Mohagher Iqbal cautioning Congress against imposing pre-conditions to clear the way for the approval of the BBL.
The senator underscored the need for a thorough review of the BBL draft since Congress has no participation in the crafting of the proposal put together by Philippine and MILF negotiators.
"Sila-sila lang ang nag-uusap nung ginagawa ang laman niyan. We were actually kept in the dark, and now they give us this take-it-or-leave-it stance. This is demanding; they are the ones demanding," said Escudero, chair of Senate Committee on Finance.
Escudero scored government negotiators for not doing their job and has put them to task to relay to the MILF the work Congress needs to do in as far as the negotiated draft agreement is concerned. He said they should also be forthright about the limitations of their negotiating jurisdiction.
"Nung may sulat na lumabas na ang pagkakaintindi ng MILF nung nakikipag-usap sila sa GRP panel, ang kausap nila ay buong executive, legislative at judiciary. Ito ba ang ipinaunawa sa kanila ng ating mga negotiators? Ni walang pumalag sa ating panel at sinabing hindi ganyan yan. Ngayon nakuha na lahat ng MILF ang gusto nila tungkol sa BBL kaya hindi na naming pwedeng baguhin?" Escudero pointed out.
Escudero was referring to a December 29, 2014 letter from MILF chair Al Haj Murad Ebrahim to the House of Representatives, as cited by Sen. Alan Peter Cayetano in the Senate Mamasapano hearing last February.
In a letter dated Dec. 29, 2014, MILF chair Al Haj Murad Ebrahim told the House of Representatives that when they negotiated the peace agreement they had "the understanding it was negotiating with the totality of the Philippine government or the 'whole of government' especially since the Commander-in-Chief powers of the President allow him to bind the whole government including its different branches."
"It's now up for Congress to clean up the mess our government negotiators have created. Now let OPPAP (Office of the Presidential Adviser on the Peace Process) and the GRP panel work and impress upon their counterparts that Congress reviewing the draft BBL and amending provisions is fairly part of our democratic process," Escudero said.
89 LGUs in Region 8 earn DILG's seal of "Good Financial Housekeeping"
By MYLES JOSEPH E. COLASITO
March 4, 2015
TACLOBAN CITY – Eighty-nine (89) or about 60% of local governments in Eastern Visayas passed the Seal of Good Financial Housekeeping for 2014. [ see list ]
This was revealed by Regional Director Pedro A. Noval Jr. of the Department of the Interior and Local Government (DILG) in Eastern Visayas who cited the official list released recently by the DILG Bureau of Local Government Supervision (BLGS).
"I am glad to report that all six provinces in our region, namely: Leyte, Southern Leyte, Biliran, Samar, Northern Samar and Eastern Samar passed the Seal of GFH. So did six cities: Tacloban, Ormoc, and Baybay in Leyte; Maasin, Southern Leyte; Borongan, Eastern Samar and Catbalogan, Samar," said Dir. Noval, adding that 77 of 136 municipalities also passed the GFH.
The GFH, a component of the Seal of Good Local Governance (SGLG), was formerly known as the Seal of Good Housekeeping (SGH), which the Department initiated in 2010. GFH applies the same SGH minimum criteria: that a local government must have an Unqualified or Qualified COA Opinion for the previous year, and full compliance with the Full Disclosure Policy (FDP).
RD Noval explained that for an LGU to be a recipient of the stepped-up SGLG, it should also pass the two other essential assessments on Disaster Preparedness and Social Protection. It should likewise pass at least one of the three essential assessments on Business Friendliness and Competitiveness, Environmental Protection and Law & Order and Public Safety.
RD Noval said that the assessment was conducted last year through cross posting of Regional Assessment Teams (RATs) composed of DILG Field Officers, representatives from CSOs and NGAs.
The complete list of GFH passers is available at the DILG website www.dilg.gov.ph. The GFH Certification is a requirement for local governments in order to access loans pursuant to Local Finance Circular No. 1-2012, and to avail of programs such as Grassroots Participatory Process (GPP) and Sagana at Ligtas na Tubig sa Lahat (SALINTUBIG) program of DILG.
LGUs that failed to pass the GFH have some immediate recourse if the reason was non-compliance with the FDP. They simply have to fully observe FDP requirements on posting to avail of the "After Assessment Compliance" and secure GFH certification without waiting for the next assessment period.
On the other hand, if the LGU was subjected to an "Adverse" or "Disclaimer" opinion from COA, it should fully comply with all the findings in order to garner a passing opinion on the next Annual Audit Report (AAR).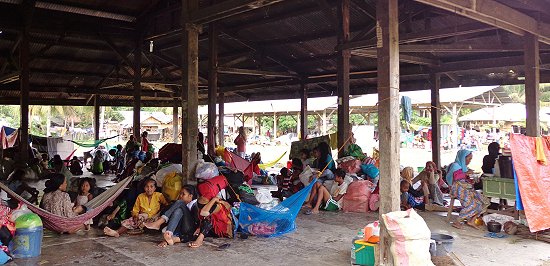 The young and the elderly have no other option but to sleep on the floor of the old public market in Pagalungan, Maguindanao. They left their mats home when they fled. (©ICRC/L. de la Cruz)
Thousands flee fighting in central Mindanao
By ICRC
March 4, 2015
MANILA – Thousands of people have fled their homes as fighting between government security forces and armed groups escalates in Maguindanao province, in central Mindanao.
The number of displaced people is rising.
Entire communities from villages in Kalbugan and Buliok, in Maguindanao, displaced by a range of clashes in early February, fear returning to their homes owing to the risk of explosive devices and the general uncertainty of the situation.
"Civilians are forced to flee out of fear. Displacement, especially when it's prolonged and repeated, uproots people from their normal lives and causes untold suffering," said Pascal Mauchle, head of the ICRC's delegation in the Philippines. These families need food, clean water and access to sanitation, he said.
The ICRC reminds all parties to the fighting to respect human life and dignity. Civilians and civilian property – such as houses, agricultural land, water-supply lines and health-care facilities – must be safeguarded. All injured or sick people – regardless of their religion, ethnic group, gender or political beliefs – must receive medical treatment appropriate to their condition.
Working closely with the Philippine Red Cross, the ICRC delivered relief, such as food and hygiene items, last week to some 20,000 people in North Cotabato and Maguindanao; and began providing drinking water daily in two evacuation centres. With their presence on the ground and close proximity to the affected population, both organizations stand ready to provide further support.
The ICRC is a neutral, impartial and independent humanitarian organization whose mandate is to protect and assist people affected by armed conflict and other situations of violence. It has had an established presence in the Philippines for over 60 years and a permanent presence in Mindanao since 1986.
Kantar Media commissioned as currency of radio industry in PH
Press Release
March 4, 2015
MAKATI CITY – Kantar Media, one of the country's leading television audience measurement providers, was commissioned by the Radio Research Council (RRC) and Kapisanan ng mga Brodkaster ng Pilipinas (KBP) for a series of radio surveys to serve as currency of radio listenership. This year, KBP will give networks, media agencies, advertisers, and other stakeholders in the industry free access to the data. Also providing support is the MSAP or the Media Specialist Association of the Philippines that established the specifications and evaluation of suppliers for the Kantar Media studies.
The survey will cover 53 key cities nationwide, including Cebu, Davao, Dagupan, Cagayan De Oro, Bacolod, and Iloilo. The project was awarded to Kantar Media last December 2014, and will be running throughout 2015. With the establishment of Kantar Media-commissioned studies as currency, RRC and KBP aim to establish a common ground among industry stakeholders not just for research and analytics, but also in negotiating and developing partnerships.
Kantar Media is very proud to take on this project. "Kantar Media is honored to have been selected as the audience measurement partner of the KBP for the radio industry. This endorsement is a validation of the high standards, quality and data accuracy of our work. This partnership with the KBP will enrich our research and knowledge in radio listenership," Gabriel Buluran, Kantar Media General Manager said.
Meanwhile, KBP president Ruperto Nicdao Jr. and vice chairman Butch Canoy stressed the importance of this partnership saying, "Radio research is an invaluable tool for us to highlight the importance of the medium. The renewed vibrancy of advertising through radio was brought about by the regular conduct of surveys which provide guidance to media agencies and clients in deciding their media mix. We thank Kantar Media for this continued partnership."
Furthermore, Angelito 'BoyP' Pangilinan, RRC chairman added, "Kantar's consolidated proposal for radio audience measurement and monitoring of spots as they are implemented turned out to be most cost-efficient. Now, the industry will not only be guided as to what stations to select, they will also have a way to monitor implementation without having to make those trips for the customary media checks."
This partnership cements Kantar Media as the currency for the radio industry. The data findings from Kantar Media will be provided for free by RRC and KBP to MSAP, the Association of Accredited Advertising Agencies-Philippines (4A's), and the rest of the industry.
87IB embark youth leadership activities to counter insurgency in Samar
By JAZMIN BONIFACIO
March 2, 2015
CALBIGA, Samar – The military here believe that education is a vital tool in risk reduction of NPA recruitment in the region. The youth sector, especially in urban and lowland areas, is more vulnerable to NPA recruitment and this has been repeatedly evidenced by the arrests of a good number of suspected activists that law enforcers believe to have links to the underground movement.
While poverty is a major factor of recruitment of children and minors up in the mountains, their counterparts living in the lowlands are more likely prone to recruitment due to idealism and deceit. To counter the activities of the NPA's "front organizations" in the urban and lowland areas, the Army's 87th Infantry Battalion embarked on massive and sustained education, information and awareness activities for the youth to understand the ills of the NPA.
A series of Security Awareness Symposium, Youth Leadership Seminar, sustained information dissemination through the tri-media, barangay visitations, local community consultations and dialogues, inter-agency conferences, and constant collaboration with the church officials and other stakeholders, have helped reduce the threat to massive NPA recruitment.
Lt. Col. Antonio Dulnuan Jr., Battalion Commander of the 87th IB based in Calbiga, Samar said that these are activities that need to be sustained not only the Philippine Army but by the local government units, barangay officials and local communities as well.
With this knowledge, the 87th IB eye on instilling in youth the desire and know-how to build peace and according to Col. Dulnuan there is no better way to work toward future peace than to capture and channel the imagination, passion, dynamism, capacities and commitment of the youth. By filling young people with confidence and giving them the tools to build peace in their own communities, a solid foundation for their future.
He lauded also some areas where residents are spearheading efforts to ensure that their communities are free from the presence of insurgents and some have even adopted measures to monitor the movement of visitors coming to their villages.
To recall, faculty of Mabini National High School in partnership with 87th IB and barangay officials facilitated a Youth Symposium (last Feb 13, 2015) in Brgy Mabini, Basey Samar, purposely to establish a peaceful society of youth in the community.
Mabini is a remote village in Basey, where children have to walk approximately two to three hours to attend school and, in most cases, the family income most likely will not allow them to go further than high school. And empowerment of people through education is a long-lasting transformation, leading to potential personal growth and capacity development, as well as bringing hope for a better and possibly sustainable livelihood.
According to Echene Sabanyao, the Mabini National High School Student President said that "I want to touch lives of those who are passing through difficult situations acute poverty and sufferings. I considered that my life is a solution to another person. I wish to change the story of every unhappy child and touch the live of the poor youth in our village."
The symposium according to School Principal Lauro Gacusana of Mabini National High School aims to strengthen youth-driven peace-building initiatives based on the needs of its members, facilitates a safe space for dialogue and conflict transformation, develop the organizational capacities of the members and to bring the voices of young people to policy makers on a regional and global level. And it is an opportunity to exchange ideas, experiences and approaches on advocacy and is aiming to connect the experiences of young change makers and peace builders with the international policy realm.
"It's a great feeling when you see someone who may have given up on life become empowered for success because of the impact someone had on their life. It is always a joy when I look at how much youth in marginalized communities I have worked in have grown because other young people took the time out to invest in their lives. I believe that once there are people willing to hear the voices of youth, inform them, interact with them, and join them in the movement, we will start to see a change in our nation's youth", Gacusana stressed.
8ID celebrates Women's Month with 3km long motorcade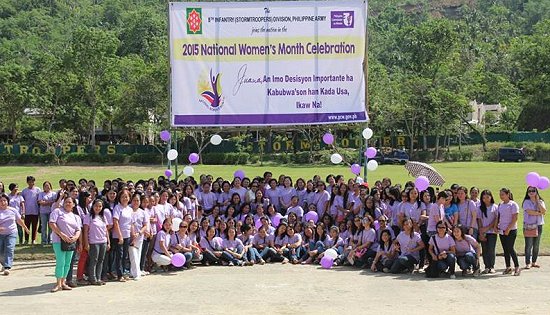 By DPAO, 8ID PA
March 2, 2015
CAMP VICENTE LUKBAN, Catbalogan City – The 8th Infantry (Stormtrooper) Division, Philippine Army launched the celebration of the 2015 National Women's Month Celebration at the 8ID Grandstand, Camp Vicente Lukban, Catbalogan City on March 1, 2015.
The said event was highlighted with a field mass followed by a three-kilometer long motorcade caravan from 8ID Grandstand to Catbalogan City proper. The activity was participated by more or less 800 individuals with 369 vehicles composed of 140 motorcycles, 150 bikes, and 79 private and military vehicles. The participants were members of 8ID Ladies Club, 8ID civilian employees, local motorcycle riding and biking enthusiasts, military personnel, PNP Catbalogan, City and the 8ID Marching Band.
Observers considered the three-kilometer motorcade as one of the longest and most participated Motorcade event in Catbalogan City history.
The month-long celebration was anchored on the national theme, "Juana, Ang Desisyon Mo, Mahalaga sa Kinabukasan ng Bawat Isa, Ikaw na!" which gives emphasis on the importance of women's role in today's society as well as a reminder of equality whatever gender or sex we are part of.
Gracing the event was the presence of Maj. Gen. Jet B. Velarmino, 8ID Commander; and Ms Christine Caidic, Chairperson of 8ID Multi-Sector Advisory Board and the focal person of Samar in Gender Awareness Development. Caidic also was the guest of honor and speaker during the ceremony.
Caidic in her message stressed that, "Women of today play vital roles in the different sectors of our society. The 21st century challenges are enormous and empowering women by giving them equal rights to hold the rein of running our society will make it easier to cope up with these challenges; and we, the women of today are ready to hurdle these challenging tasks."
Chiz: We want peace for Mindanao not just with MILF
By Office of Senator Chiz Escudero
March 2, 2015
PASAY CITY – Senator Chiz Escudero said the present form and shape of the proposed Bangsamoro Basic Law (BBL) may seal the peace deal with the Moro Islamic Liberation Front (MILF) but this would not necessarily translate to peace in the entire Mindanao region.
Escudero, chairman of the Senate Committee on Finance, said the government should take a hard and close look into the leadership composition of the MILF who sits in the negotiating table for the BBL following the bloodbath in Mamasapano, Maguindanao last January 25.
"The BBL will be hard pressed to get the Senate and Congress' nod after this fatal incident which gave away the leadership or lack thereof of the MILF over the area," the senator said.
Putting a timeframe to pass the proposed legislation is unlikely at this point after many questions cropped up as a result of bloody clashes between the elite Special Action Force of the Philippine National Police and the MILF, the Bangsamoro Islamic Freedom Fighters (BIFF) and private armed groups operating in Mamasapano.
"Are we talking to the right people for dealing with the entire community of the BBL area and its residents?" Escudero said. "I once said that I have doubts if the MILF can truly represent the BBL area and its residents, including the indigenous peoples, the Christians and other groups also endemic to the area."
He added: "Now more than ever we should press for the scrutiny of the MILF's capability to supervise and control their ranks after the Mamasapano massacre. Do they have influence over the entire MILF, the BIFF and other private armed groups?"
According to Escudero, if the BBL is passed, the MILF will be given at least P75 billion aside from the annual Internal Revenue Allotment (IRA) and the Bottom-up budget (BuB).
"Sa totoo lang, ang galing ng panig at panel ng MILF. Nakuha nila lahat ng pwede at gusto nilang makuha sa BBL at sa mga kasunduan. Ang tanong ko: Anong mapapala ng pamahalaan at ng nakararaming Pilipino?" the senator asked.
The fund is even larger than the P70 billion budget of the PNP and is close to the P90 billion allocation for the Armed Forces of the Philippines (AFP). According to Escudero, if taxes and other fees and charges will be added, the MILF will have a spending package bigger than that of the country's military.
Escudero explained that the Mamasapano clash, which resulted in the deaths of 44 SAF troopers, served as an eye-opener for lawmakers to further scrutinize the provisions of the BBL.
"I believe we should be grateful to the SAF 44 who gave up their lives for the country and pave the way for us to look into the details of the peace process because if this incident did not happen, the BBL could have been passed effortlessly and we will be bombarded with this problem one day," Escudero said.
He cited a provision in the BBL that the Shari'a High Court's decision is final and executory, which the senator said is totally in violation of the Constitution which provides that the country's Supreme Court (SC) has the final say and has the sole right to review all cases.
Escudero also scored a provision that says that the Judicial Bar Council created under the BBL has the authority to discipline a Shari'a judge. "The rule of judicial procedure solely lies within the power of SC, as provided by the Constitution. Not even Congress can pass a law to interfere with the Constitution."
However, Escudero still expressed support for the peace process while highlighting the importance of setting the bars high in crafting the provisions of the BBL and seeking justice for the slain SAF troopers – a move that is beneficial to parties involved in the peace agreement.
"Wala namang may ayaw na matuloy ang peace process, wala namang may ayaw ng kapayapaan sa Mindanao. Wala namang may gusto ng giyera at kaguluhan sa Mindanao. Subalit ang tanong, paano natin makakamit ang kapayapaang iyan? Ano yun paraan para marating natin ang kapayapaang yan? At dapat timplahin at sabayan ng hustisya ang kapayapaang isinusulong ng gobyerno at hinahangad natin sa Mindanao. Hindi pwedeng puro kapayapaan na lamang, maski papaano makamit yan at maski ano at sino masagasaan. May halaga na kailangan nating pagbayaran nito," Escudero said.
Army official reiterates concerted efforts to curb insurgency in Samar
By JAZMIN BONIFACIO
February 28, 2015
BASEY, Samar – The Philippine Army's 801st Infantry Brigade has called on for more concerted efforts to pursue peace and development and uphold rule of law and justice in their series of operations in Samar provinces.
Col. Leoncio A. Cerunay, brigade commander said the army is intensifying its peace efforts through bayanihan (heroism) and focused military operations to safeguard the community against armed threats from lawless elements.
Cerunay tackled the current situation of Basey and other areas in the Samar province, saying "the tensions have continued for nearly 46 years and people living in isolated communities in Samar are still in urgent need of support."
"It is negotiations, not fighting, that offers solution," Cerunay observed.
It was learned that the army continue to reach out and encourage members of the New People's Army to abandon the armed struggle, return to the fold of the law, and live a normal and peaceful life together with their families.
To jointly pursue peace and development and uphold rule of law and justice, he has called for equal treatment, uphold the principles of sovereignty and territorial integrity, safeguard the rights of all people to independently choose their social systems and development paths.
"We should be open and inclusive in order to achieve harmony between all people with different social systems, religion, cultural traditions and ideology," he explained.
"Mutually beneficial cooperation should be pursued for win-win or all-win progress by aligning common interests with those of others and working to expand areas where their interests converge."
The official stressed that beating swords with ploughshares may take time and effort, but history and reality have repeatedly demonstrated that to meet violence with violence will not lead to enduring peace, and the use of force will create more problems than solutions.
"For the good of all, there is a need to intensify efforts and initiatives aimed at creating the conditions for a stable peace based on justice, on the recognition of the rights of every individual, and on mutual security," the commander explained.
Project Bagong Araw
Leyte mothers become entrepreneurs through store rehab project
By PBSP
February 23, 2015
TACLOBAN CITY – A revitalized local economy awaits Leyte as more than 300 women sari-sari store (small retail store) owners completed a six-month business skills training course that transformed them into smarter entrepreneurs.
The training is part of "Project Bagong Araw," a sari-sari store rehabilitation program for communities affected by typhoon Yolanda. Implemented by Hapinoy, Project Bagong Araw supported store owners in Tanauan, Palo, Javier, and Tacloban City with funding assistance from Philippine Business for Social Progress (PBSP) and other companies.
The project was capped off by the graduation of 348 mothers at the Apostolic Center in Tacloban City. It was attended by the project's partners, including PBSP executive director Rafael Lopa who stressed the importance of supporting micro-enterprises, especially the sari-sari stores, which he calls the "haligi ng komunidad."
"Napakahalaga na gamitin natin ang ating mga tindahan para ang ating mga kababayan na nahihirapan pa ring bumangon pagkatapos ng Yolanda ay magkaroon ng lugar na kung saan makakabili ng mas murang bilihin (It's important that we use our stores to provide those who still find it hard to rise up and move on after Yolanda, a place where they can buy cheaper products.)," Lopa said.
Through the business training, the women were provided new skills in managing a business such as basic record-keeping, business planning, mobile literacy, and credit management, among others.
"Maraming nakikinabang dahil inayos ninyo ang inyong mga tindahan at inyong mga bilihin (Many are benefitting from your newly-renovated stores and newly-organized products.)," he added.
Resiliency Fund
Beneficiaries also received access to capital loans worth P10,000.00 and underwent store makeovers.
Through PBSP, Project Bagong Araw was able to assist 79 sari-sari store owners who were about to complete the repayment of their loans. Lopa said this was a sign that the owners are taking the project seriously.
According to him, the repayments will go back to a credit facility called the Micro Enterprise Disaster Assistance Fund for Resiliency, also called the MIDAS fund. It aims to provide lending capital to 25,000 Yolanda-affected micro-entrepreneurs made available through micro-finance institutions (MFIs).
The MIDAS fund was established by the United States Agency for International Development (USAID) in partnership with PBSP as a way to rebuild the local economy and help the Visayas region respond better to future disasters.
Through regular repayments, Lopa said MFIs can provide loans to more individuals also in need of financial support.
"Napakahalaga na hindi kayo tingnan na tao lamang na humihingi. Napakahalaga sa dignidad ninyo na kayo ay negosyante at kayo ay mga taong talagang seryoso sa trabaho ninyo at alam ninyo ang kahalagahan ng pag-utang ang pagbayad ng utang, (It's important that you will not only be seen as people depending on dole-outs. It is important for your dignity that you are perceived as businesspersons who are serious in your work and know the value of lending and paying for your debts.)," he added.
Festive Celebration
The Apostolic Center evoked a festive vibe as the graduates each received their diplomas handed by Hapinoy co-founder Mark Ruiz and the representative of the sponsoring companies. To further support the women in their enterprises, store items like weighing apparatuses and candy jars were also distributed during the event.
Twenty-two model store owners were also selected as Hapinoy Ambassadors during the event. They are tasked to share their experiences in becoming better entrepreneurs and hopefully inspire others to follow the same path.
Other partners of Project Bagong Araw are AirAsia Founation, SunLife Financial, SunLife Foundation, Manulife, Ayala Foundation, Tanging Yaman Foundation, Porticus, CARD Bank, and Taytay sa Kauswagan, Inc.