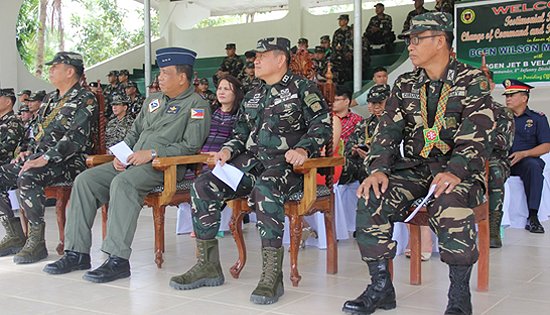 (L-R) BGen Wilson M. Leyva AFP; LtGen Nicanor M. Vivar AFP, Commander, Central Command AFP; MGen Jet B. Velarmino AFP, Commander 8ID PA; and Col. Leoncio A. Ciruray Jr., incoming Commander of 801st Bde, during the Change of Command Ceremony on February 2 at 8ID Grandstand.
Army installs new commander for 801st Infantry Brigade
By DPAO, 8ID PA
February 2, 2015
CAMP VICENTE LUKBAN, Catbalogan City – The Philippine Army installed Col. Leoncio A. Cirunay Jr. as the new Commander of 801st Infantry Brigade in a Change-of-Command Ceremony conducted at Headquarters 8th Infantry Division on February 2, 2015 in Catbalogan City.
Col. Cirunay succeeded BGen. Wilson M. Leyva, who is compulsory retiring from the military service. He took over the helm of an Army unit that covers the provinces of Samar and Eastern Samar. Prior to taking the helm of 801st Infantry Brigade, Cirunay was the Deputy Brigade Commander of Lumban, Laguna based 202nd Infantry Brigade of the 2nd Infantry Division, Philippine Army.
The installation of Cirunay was presided by Maj. Gen. Jet B. Velarmino, Commander of the 8th Infantry Division, Philippine Army. It was also graced by Lt Gen Nicanor M. Vivar, Commander of Central Command (CentCom), Armed Forces of the Philippines (AFP); BGen. Vic C. Castro, Deputy CentCom; Rev. Fr. Ferdinand Figueroa, Parish Priest of St Bartholomew Parish of Catbalogan City; Ms. Imelda Bonifacio, OPAPP Area Manager; Ms. Christine Caidic, President, 8ID Multi-Sectoral Advisory Board; Hon. Melissa Dela Cruz, Mayor of Matuguinao Samar; Hon. Vaughn Zosa, Board Member of Samar Province representing Gov. Sharee Ann Tan; and Hon. Bethoveen Bermejo, Councilor of Catbalogan City, representing Mayor Stephanie Uy-Tan.
Relatedly, Leyva was given a traditional testimonial parade and review in honor of his 31 years of the honorable service to the Armed Forces of the Philippines. Velarmino in his message acknowledged the contribution of Leyva to the relative peace that Samar and Eastern Samar provinces is now experiencing, at the same time, he challenged Cirunay to continue the plans and programs initiated by Leyva that fit the current situation and work hard towards the realization of "Insurgency Free" Samar and Eastern Samar provinces.
It can be recalled that Samar and Eastern Samar were declared as Peaceful and Ready for Further Development (PRFD) Provinces in March 2013 and December 2014 respectively.
The PRFD status is one step below the insurgency-free category.
"With Col. Cirunay as the new Commander of 801s Infantry Brigade, I know it is in good hands as I am aware of his past designations where he performed well. I know he will do the same in the duties and obligations that he is assigned with right now", Velarmino said.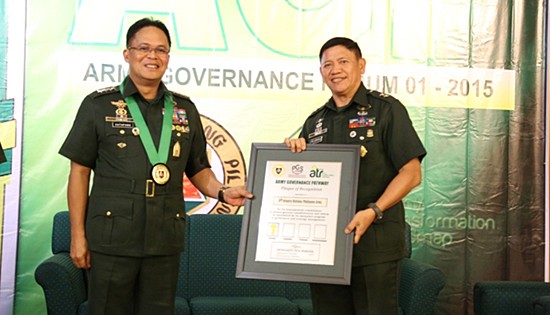 Gen. Gregorio Catapang Jr., the Chief of Staff, Armed Forces of the Philippines conferred the Plaque of Recognition to 8ID having achieved Compliant Status (2nd Stage) of the Army Governance Pathway (AGP). Maj. Gen. Jet B. Velarmino, the Commander of the 8th Infantry Division, Philippine Army received the plaque during the Army Governance Forum 01-2015 at Ricarte Hall, Philippine Army Officer's Clubhouse, Headquarters, Philippine Army on January 30, 2015.
8ID achieves milestone in pursuit of the army transformation roadmap
By DPAO, 8ID PA
January 30, 2015
CAMP LUKBAN, Catbalogan City, Samar – The 8th Infantry (Stormtroopers) Division, Philippine Army marked another milestone in its pursuit of attaining the Army Transformation Roadmap (ATR) by 2028 having been conferred the Compliant Status (2nd Stage) of the Army Governance Pathway (AGP).
Maj. Gen. Jet B. Velarmino, the Commander of the 8th Infantry Division, Philippine Army received a Plaque of Recognition in behalf of the 8th Infantry Division during the Army Governance Forum 01-2015 at Ricarte Hall, Philippine Army Officer's Clubhouse, Headquarters, Philippine Army on January 30, 2015.
A Compliant Status is granted after an organization has formally organized internal and external stakeholders (also known as Multi-Sector Advisory Board or MSAB) to be part of the governance process, and consequently passed an audit review. This stage is centered on alignment of resources and people to the strategy.
It can be gleaned that last November 11, 2014, 8ID convened its Multi-Sector Advisory Board (MSAB) which became its strong partner in attaining the Army Transformation Roadmap (ATR) by 2028.
Composed of civilian stakeholders from the public, academe, business, private, health and religious sector, among its important tasks is to promote continuity, sustainability, and shared responsibility in pursuit of the 8ID ATR; ensure adoption and institutionalization of PGS as embodied in the ATR; provide assessment of ATR-related programs, projects, and activities, and recommend relevant policies critical in achieving breakthrough results; enhance partnerships with key stakeholders and generate public support for the 8ID ATR; evaluate the Command's performance relative to its scorecard and the implementation of ATR-related programs, projects, and activities; and assist in the generation of additional resources to support the unit's programs, projects, and activities.
The PGS is hinged on the Balanced Scorecard technology (BSC), a performance management tool developed at the Harvard University Business School. PGS translates vision to actionable strategies and commitments that lead to breakthrough results. Working under the tenet of true and genuine governance, these breakthrough results make the agency more sustainable and responsive to its purpose. Inherent in the design of the system are the strategic private-public partnership of the organization and the sectors it closely interacts with, as well as transparent executive leadership. This revolutionary system institutionalizes a new culture of governance that can produce tangible results within two to three years.
The Army Governance Forum is a semi-annual event that forms part of the Performance Governance System (PGS), the good governance program of the National Competitiveness Council and the Institute for Solidarity in Asia. The forum features progress reports from Philippine Army Major Units (PAMUs) and their compliance to the Army's good governance pathway, which is divided into four (4) stages, namely: Initiation, Compliance, Proficiency, and Institutionalization.
This year's preliminary forum was graced by the presence of Gen. Gregorio Catapang Jr., the Chief of Staff, Armed Forces of the Philippines, who at the same time conferred the recognition award to 8ID; Lt. Gen. Hernando DCA Iriberri, the Commanding General of the Philippine Army; and Dr. Jesus Estanislao, Chairman, Institute of Solidarity in Asia.
Aside from 8ID, three (3) other Infantry Divisions of the Philippine Army achieved the compliant status, and these are: the 3rd Infantry Division, the 6th Infantry Division Infantry Division, and the 9th Infantry Division. Other major commands of the Philippine Army that received the same award were: the Mechanized Infantry Division and the Training and Doctrine Command. The awards were received by the respective commanders of the said Army Commands.
Maj. Gen. Velarmino was visibly proud and elated having received the distinct recognition for the 8ID, "This recognition bespeaks of the tireless efforts of the Stormtroopers' along with the shared responsibility of our stakeholders' in working closely together in pursuing the ATR. Now that we have gone this far, I fervently hope that thru the same cooperation and collective effort, we will achieve the third stage (Proficiency Stage) in the soonest possible time."
Army, UNTV, KFI NGO and Catbalogan City LGU conduct joint medical mission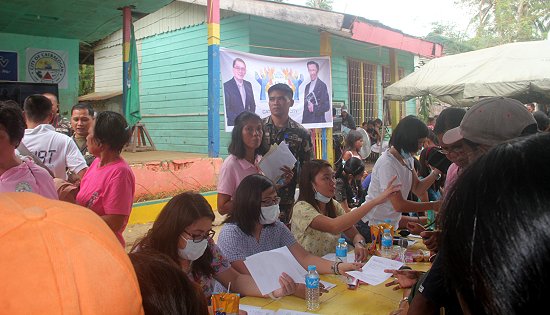 By DPAO, 8ID PA
January 25, 2015
CATBALOGAN CITY, Samar – Some 856 villagers of Barangay San Andres, Catbalogan City benefited in the joint medical mission conducted by Gandara, Samar-based 43rd Infantry Battalion (43IB), UNTV, Kamanggagawa Foundation Incorporated (KFI), and Catbalogan City LGU on January 25, 2015.
Barangay San Andres is located in a mountainous area and is around four km from the City proper. Based on the report of Lt. Col. Seigfred Tubalado, the commanding officer of 43IB, of the 856 beneficiaries, 242 adults and 262 children were provided with free medical services and medicines, while 148 were given free dental services, mostly on tooth extraction.
206 villagers were also provided with free ophthalmology and optometry consultation where they were also given eye glasses. In addition, 81 villagers were also able to avail of free haircut by Army barbers.
A film showing was also conducted, to the delight of around 150 children who enjoyed watching children films. The medical mission was conducted with two civilian medical doctors and one military doctor; one civilian ophthalmologist; one military dentist and seven nurses, one of which is from the Army.
Some of the stakeholder leaders that attended supervised the activity were: Hon Domingo Jabien, Barangay Chairman of San Andres; Ms Nilda Aroza, CSWDO of Catbalogan City; Ms Annabele Daca, Head Teacher of San Andres Elementary School; Mr Roland Antonio of KFI; Ms Jen Gaquit of UNTV; and Lt. Col. Tubalado.
The joint medical mission was lauded by Maj. Gen. Jet B. Velarmino AFP, the Commander of 8th Infantry Division. Commenting in the incident, he said, "I am delighted by the unity of effort among the key peace stakeholders in providing basic services to our countrymen in the far-flung areas like barangay San Andres. This activity depicts beauty of the "Bayanihan" spirit if it is practice among us".
"Encourage everyone to spearhead similar activities for our countrymen who have less in life. With more activities such as this, I foresee more peaceful communities in the countryside, as creating solutions, instead of creating problems will be the focus of everyone's effort", Velarmino added.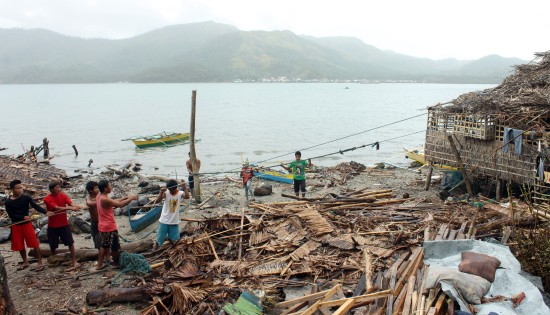 The unconditional cash grant assistance of IRC and PBSP will provide immediate relief to 1,404 households in Daram who lost their homes to typhoon Ruby.
Ruby survivors in Daram receive cash grants from IRC, PBSP
By PBSP
January 8, 2015
TACLOBAN CITY – Global non-profit group International Rescue Committee (IRC), through Philippine Business for Social Progress (PBSP), extended financial assistance to victims in Samar whose homes were totally damaged from typhoon Ruby.
A total of 1,404 households from 53 barangays in the municipality of Daram received unconditional cash grants worth P2,500 intended for the initial recovery of affected families.
The unconditional cash grant assistance, which covers a total amount of P3.15 million, is one of IRC's and PBSP's initial responses in the early recovery and rehabilitation of the island municipality, which is identified as one of the hardest hit areas by Ruby. The typhoon made its first landfall in Dolores, Eastern Samar on December 6.
Daram's local government reported that the town sustained a total of P395.97 million worth of damages, with P23.95 million coming from damages in agriculture.
Prior to the unconditional cash grant assistance, 1,730 households also received SPHERE-standard relief packs which were distributed by PBSP and IRC. The distribution is also participated by IRC's Director of New Country Programs Nicky Smith, who also led the rapid assessment in the area to identify the community's urgent needs.
In 2014, IRC and PBSP poured more than P21 million for the early recovery and relief of more than 4,000 households in San Dionisio and Batad, Iloilo, which were hit by typhoon Yolanda. The project included the provision of 470 motorized boats and fishing gears, installation of 1,100 artificial reefs and 11 fish enhancing devices, and the replanting and rehabilitation of 30 hectares of mangrove forests.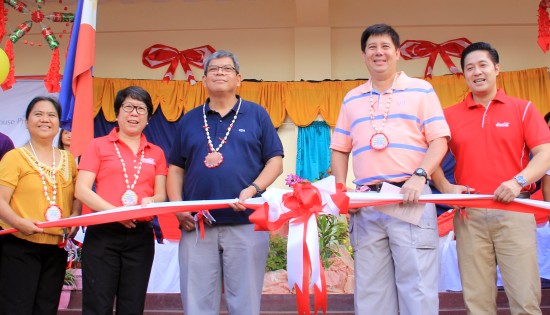 GIVING HOPE THROUGH EDUCATION – PBSP Project Management Office director for Education Marylin Muncada, CCPFI president Ma. Cecilia Alcantara, DepEd Undersecretary Mario Deriquito, Tacloban City Mayor Alfred Romualdez and Coca-Cola Philippines vice president for Public Affairs and Communications Atty. Adel Tamano lead the turnover ceremony for the new school building.
Coca-Cola Philippines, PBSP turn over first disaster-resilient Little Red Schoolhouse in Tacloban
By PBSP
January 6, 2015
TACLOBAN CITY – Coca-Cola Foundation Philippines, Inc. (CCFPI), in collaboration with Philippine Business for Social Progress (PBSP) and Department of Education (DepEd), recently turned over a two-storey, six-classroom school building to school officials of the Yolanda-torn Marasbaras Elementary School (ES) in Tacloban City, Leyte to help bring back a better and more conducive learning environment to its schoolchildren.
Leading the turnover ceremony were Coca-Cola Philippines vice president for Public Affairs and Communications Atty. Adel Tamano and CCFPI president Ma. Cecilia Alcantara with DepEd Undersecretary Mario Deriquito, Tacloban City Mayor Alfred Romualdez, and PBSP Program Management Office Director for Education Marylin Muncada.
During the event, Mayor Romualdez said that he will be pushing the local government to adopt the model of the building for the city's future building projects.
"This is the first structure that I've seen that is not only functional but also cost-effective," Mayor Romualdez added.
The new building is the first disaster-resilient school building CCFPI has built in the country. Its other features include a roof deck for possible evacuation, ramps for better access to persons with disabilities, and wider doors and windows in every room.
For Grade 6 adviser and Science teacher Helen Daaco, the new school building is not just the biggest project a donor has given to Marasbaras ES but a symbol that their school could finally go back to normal.
"It made us hope that we could teach in the way that we envisioned," she added.
Daaco recounts how, after the typhoon, they had to scrub desks and dry whatever books and records they could find just to provide a learning environment for their students.
"We went around different areas and evacuation centers to find and encourage our students to go back to school. It was important that we could teach them to help them feel that our situation will get better," she said.
With the new building, Daaco is more inspired to teach since the rooms have bigger spaces which are more conducive to learning.
"I'm teaching Science, so for me, a spacious room really matters. In Science, you don't learn through chalk and talk alone. You have to let your students explore through experiments, film shows and other activities that really encourage them to open their minds," she added.
The Little Red Schoolhouse (LRS) project is funded by the global network and business partners of the Coca-Cola Company. It also supports PBSP's flagship project in its program on Education which is on classroom construction.
"When people work together especially after a calamity, they give the essence of hope to the people. Partnerships like this give educational value because we show our children the value of working together, which they will need to become responsible citizens," Undersecretary Deriquito concluded.
Innovative Israeli project – cultured chicken meat
Press Release
December 24, 2014
The Modern Agriculture Foundation – a nonprofit organization founded in early 2014 in Israel – is launching a world-wide pioneering project in the study field of cultured meat, focused exclusively on chicken meat.
The project will start on January 1st headed by Professor Amit Gefen from Tel Aviv University, one of the world's leading experts in Tissue Engineering.
The project team will be conducting a feasibility study for the production of cultured chicken breast meat that will be published and shared with the general public. During the course of the project, the challenges of production of cultured chicken breast meat will be mapped and potential solutions, along with the implications of their realization (methodology, time and cost), will be examined and described.
The organization's goal is to make the field of cultured meat more open and accessible by creating an academic and funding infrastructure for every researcher and entrepreneur intending to join the field as well as provide support in the process. Researchers and entrepreneurs who will take part, will help redesign the food industry and move it forward into a cleaner, healthier and environmental friendly world.
Cultured meat will not require raising animals in crowded, industrial sheds or slaughtering them, as well as carry a significantly reduced ecological footprint (in terms of land and water use, etc). Such a product will also be vastly superior in terms of health & food safety concerns to practically all broiler chicken meat consumed today, which is factory farmed. Click here for more information on the benefits of cultured meat.
Cultured meat is a type of meat produced in sterile, controlled environments using cells taken from animal bodies, in a process which results in 100% real meat, as opposed to the "meat substitutes" available today. Culturing meat begins with creating a pool of cells harvested from living animals. Cells are then incubated in a serum rich with energy substrates, amino acids and inorganic salts to support cell metabolism and growth. After just a few days a thin layer of muscle tissue can be created, identical in every way to the type of meat consumed today.
Modern, industrial meat production has had extensively documented negative impacts in terms of the environment, food safety, natural resources, as well as the welfare of billions of animals annually. Cultured meat has the potential to reduce and, in some cases, eliminate that impact, by revolutionizing the way we produce meat for human consumption.
Prof. Amit Gefen: "With the growth in populations and projecting to the future, humanity needs to consider more sustainable models of food production, which will provide alternatives to the traditional ways by which we currently produce proteins from animal source for consumption. Tissue Engineering may offer such alternatives, which is what we will be exploring in this research project. We are targeting the development of a tissue-engineered chicken breast, which is a popular choice for a main course in many cultures and countries, to test feasibility of the concept and, in particular, to identify gaps in knowledge and challenges on the route to commercial production."
The project is made possible with the support of various organizations from Israel and abroad, including US organization "A Well Fed World" for ending world hunger.
RAFI sending Samar financial assistance
By Ramon Aboitiz Foundation Inc.
December 18, 2014
CEBU CITY – After consulting its partner organizations in the province, the Ramon Aboitiz Foundation Inc. (RAFI) will be giving cash aid instead of relief goods to help families, particularly those in Northern Samar, recover from the effects of typhoon Ruby.
"Around 1,600 families with totally damaged houses in the towns of Lope de Vega, Lapinig, Mapanas, Gamay, and Mondragon in Northern Samar will receive the cash assistance," said Margaret Ann T. Gravador, Executive Director of the RAFI Integrated Development Unit and the designated Operations Head of the RAFI Disaster Response Team for typhoon Ruby.
Gravador said RAFI have decided to give cash assistance instead of relief goods to the families to "provide them more options to buy their respective needs."
"Some families might need building materials while others may need other things," she said.
The target areas were identified based on the assessment report by the Diocesan Social Action Center of Catarman (DSAC), an organization that closely coordinated with RAFI a few days after Ruby tore through the Visayas and Southern Luzon early this month.
Yesterday, Gravador led a five-person team to validate the information RAFI's partner organizations provided and to further check for other needs of the typhoon survivors. Gravador assured that beneficiaries would receive the financial assistance before the year ends.
Aside from DSAC, RAFI also partnered with SHIFT Foundation based in Mondragon, Northern Samar and the International Rescue Committee in their disaster relief initiatives.
Dominica B. Chua, RAFI chief operating officer, said the foundation chose Samar because it was hit the worst by Ruby.
She said that based on the foundation's assessment, Cebu local government units were deemed capable enough in handling the situation in their respective jurisdictions, which is why RAFI is assisting those LGUs that badly need help the most.
Metro Cebu Development Coordinating Board co-chairman Roberto Aboitiz earlier said he was impressed and glad over the response of Cebu LGUs in preparing for typhoon Ruby.
Receiving updates from RAFI assessment teams sent immediately after Ruby hit Cebu, Aboitiz said the mayors did their job in preparing their respective localities and "seeing to it that their constituents are at the top of their plans."
"They are more focused on what they need to do," Aboitiz had said, adding that the disaster preparedness response was a product of past lessons learned.