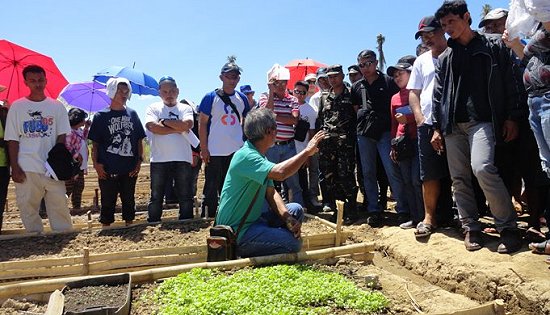 Mr. Gil Carandang, the Father of Organic Farming explained how vegetables grow with organic farming technique.
LBP farming program seen to fully benefit former rebels in Leyte
By 19th Infantry Battalion, 8ID PA
March 1, 2014
KANANGA, Leyte – Lt. Col. Nedy Espulgar, commanding officer of the 19th Infantry Battalion commends the prime movers of LANDBANK Countryside Development Foundation Incorporated and said its program will fully benefit former rebels in Leyte.
This after attending the follow up workshop on "Sustainable Integrated Organic and Natural Mini Farm Program" held at Blanco Farm, So. Marag-ing, Brgy. Lemon, Capoocan, Leyte on Friday, February 28.
Lt. Col. Espulgar was among the 81 participants of the workshop, to include the 15 former rebels which the military had been assisting since they (former rebels) surfaced back to the folds of the law.
The workshop provides opportunities to the participants to learn more on organic farming techniques especially to former rebels who had been accustomed to primitive farming methods.
The workshop was facilitated by Mr. Gil Carandang, the country's "Father of Organic Farming" and Land Bank Director Domingo Diaz.
According to Mr. Carandang, organic farming will free, even small farmers from the burden of rising prices of basic commodities.
"Small farmers can even utilize their backyards in this farming method." Carandang stressed.
On top of these, the military is hopeful that the program will last so as to benefit more, not just the farmers but also the former rebels who had long denounced the bloody armed struggle.
Procter & Gamble brings rainforest destruction into bathrooms, says Greenpeace
By GREENPEACE
February 26, 2014
MANILA – Procter & Gamble, which makes Head & Shoulders, is sourcing palm oil from companies connected to orangutan habitat clearance in Indonesia, making consumers part of a widespread forest destruction scandal. That's according to findings from a year-long investigation by Greenpeace International. The findings also reveal that current sourcing policies of the personal care company also expose its supply chain to forest fires and habitat destruction that is pushing the Sumatran tiger to the edge of extinction.
Palm oil is a common ingredient in detergents, shampoos, cosmetics and other household goods that P&G manufactures.
"The makers of Head & Shoulders need to stop bringing rainforest destruction into our showers. It must clean up its act and guarantee its customers that these products are forest-friendly. Procter & Gamble should follow the lead of other palm oil using companies like Unilever, Nestlé and L'Oréal, which have already promised to clean up their supply chains," said Bustar Maitar, head of the Indonesian Forest campaign at Greenpeace International.
Greenpeace found that orangutan habitat was being cleared in plantations linked to P&G's supply chain. Land used for palm oil cultivation owned by the BW Plantation Group, a company connected to P&G's supply chain, also correlates with the deaths and burials of orangutans next to the Tanjung Puting National Park. In other cases, Greenpeace documented ongoing forest clearance within the concessions of two producers known to directly supply P&G.
"We've been confronting P&G over the last eight months with how it's exposing consumers to forest destruction. Instead of taking urgent action, the company has been greenwashing its actions. It's time P&G committed 100% to forest protection and stopped making its customers part of the Sumatran tiger's extinction," said Areeba Hamid, Forest Campaigner at Greenpeace International.
Companies without strong policies to cut deforestation from their products are exposed to illegal practices in high-risk areas, like the province of Riau in Sumatra. An example of this is the PT RokanAdi Raya concession, which includes tiger habitat plus forested deep peat, and which experienced large-scale forest clearance and uncontrolled fires last year. In June 2013, over 150 fire hotspots were recorded within this concession. Many of P&G's palm oil suppliers ship from Dumai, the main port of Riau province.
"Greenpeace believes the palm oil industry must make a genuine contribution to Indonesia's development. Progressive palm oil producers in the Palm Oil Innovation Group, along with ambitious commitments from big palm oil players GAR and Wilmar, prove that there is a business case for responsible palm oil. There is no excuse for companies like P&G, Reckitt Benckiser and Colgate Palmolive to delay immediate action on deforestation," said Bustar Maitar.
Indonesia's forests are being destroyed, with areas bigger than nine Olympic swimming pools disappearing each minute. Palm oil is the biggest driver of forest destruction. Through a global campaign launched today, Greenpeace is demanding that Procter & Gamble end its role in forest destruction.
Locally, Greenpeace is encouraging Filipino consumers to sign "Protect Paradise," an online petition calling on companies like P&G to guarantee forest and tiger-friendly products in an effort to stop the further destruction of some of Southeast Asia's remaining forests. Netizens can sign the petition by logging on to www.protectparadise.org/dirtysecret.
Cayetano calls for daily trials for pork scam
By Office of the Senate Majority Leader
February 26, 2014
PASAY CITY – Senate Majority Leader Alan Peter "Companero" S. Cayetano is pushing for daily trials to be held on the P10-billion pork barrel scam through the designation of special criminal courts by the Supreme Court.
"Isang pwedeng maging legacy ng ating Supreme Court ngayon ay ang pagsasagawa ng continuous trial nang mapabilis ang hearing ng lahat ng ito pag nakarating ito sa korte," Cayetano said.
The senator issued the call amidst concerns and fears that political affiliations and loyalties may render meaningless all of the efforts of the present administration in weeding out graft and corruption in government, particularly the case filed by the Department of Justice (DOJ) against those involved in the pork barrel scandal.
Earlier, Vice President Jejomar Binay – a declared presidential aspirant – issued statements belittling the DOJ's efforts in going after those involved in the pork barrel scam, some of whom are his staunch allies in the opposition.
Cayetano said Binay's statements are raising fears from the ranks of the pork scam whistleblowers and state witnesses that the case might be abandoned once he wins as president.
"Ang iba, inaasahan nila na magkakaroon ng change of administration in 2016. Tapos ang nakaupo doon ay maglalagay ng DOJ at ng NBI officials na hindi sing-init ngayon. Huwag mong sasabihin na itong mga akusado ay walang pera at walang political clout," he said.
"Ang akusado, lalo kung malaki ang pera, malaki ang impluwensya. Nasasakripisyo ang hustisya sa politika."
Cayetano said that the unfortunate reality is that the administration of justice in the country moves at a glacial pace, and the resolution of the pork barrel scandal case, if it even reaches the courts, might go beyond 2016.
"Ang ating hustisya sa bansa ay napakabagal. Katulad ng Ampatuan massacre, after four years, wala pang nangyayari. Halos isang taon na ang rebelasyon ng PDAF scam, pero wala pang formally na nakakasuhan sa korte," he said.
"The longer it takes, the more you give the powerful the chance to maneuver."
Continuing protest vs. PNoy-created HR Victims Claims Board
SELDA files certiorari at SC, demands nullification of Gen. Sarmiento's appointment to Human Rights Victims Claims Board
By SELDA
February 25, 2014
QUEZON CITY – On the occasion of the 28th anniversary of the EDSA People Power I, Martial Law victims led by former Bayan Muna Rep. Satur Ocampo filed a petition today asking the Supreme Court to nullify the appointment of PNP Gen. Lina Castillo-Sarmiento as chairperson of the Human Rights Victims Claims Board, the formation of which Pres. BS Aquino announced on February 13, 2014.
Petitioners include martial law victims namely Former Bayan Muna Rep.Saturnino Ocampo, Bayan Muna Rep. Neri Javier Colmenares, Dr. Maria Carolina P. Araullo, Trinidad Repuno, Tita Lubi and Josephine Dongail. All of them belong to the almost 10,000 Martial Law victims awaiting recognition as stated in Republic Act 10368, or the Human Rights Victims Reparation and Recognition Act of 2013 signed into law by Pres. BS Aquino.
According to RA 10368, members of the Human Rights Victims Claims Board should possess the following qualifications: 1) must be of known probity, competence and integrity; 2) must have a deep and thorough understanding and knowledge of human rights and involvement in efforts against human rights violations committed during the regime of former President Ferdinand E. Marcos; 3) must have a clear and adequate understanding and commitment to human rights protection, promotion and advocacy.
"We want to mark it in our history that never again shall we allow perpetrators of human rights violations go unpunished. Letting a Martial Law relic head the Human Rights Victims Claims Board is a betrayal of that purpose. We shall exhaust any legal remedy available so that justice may be served," Ocampo said.
The petition for certiorari concluded that "It is more than an issue of trust between the Human Rights Claims Board and the human rights victims. It is greater than ensuring confidence in the system supposedly envisioned to bring about justice. It is beyond the integrity of the process of arriving at the compensation to be awarded and the standards to be used in determining compensability and linking it to the rightful beneficiaries. The sum total of these values, though important, does not adequately address the issue against appointing a former police general to head the Human Rights Claims Board.
The petition said, "The human rights victims are not beggars and are not concerned merely with seeking compensation for themselves for past and continuing atrocities. Compensation is a component of justice. Re-writing the history of human rights violations during the martial law regime is the bigger picture. By appointing a former police general to head the Human Rights Claims Board, the President is practically exonerating the entire system that perpetrated the abuses, justified their occurrence, and concealed them with a veneer of impunity."
The counsels of the petitioners are from the National Union of Peoples' Lawyers (NUPL) namely Attys. Edre Olalia, Julian Oliva, Ephraim Cortez and Minerva Lopez.
A number of Martial Law victims gathered infront of the Supreme Court to support the filing of the petition.
Post-Yolanda rehabilitation:
PBSP, DepEd to build disaster-resilient classrooms with donors
By REGGIE MARIE B. BARRIENTOS
February 22, 2014
CEBU CITY – More than 5,900 school children in different parts of the Visayas will soon receive new classrooms donated by international organizations and companies in partnership with the Philippine Business for Social Progress (PBSP) and Department of Education (DepEd).
With more than P137 million pooled for this effort, PBSP will be rebuilding 132 disaster-resilient classrooms in the provinces of Leyte, Cebu, Bohol, Iloilo and Capiz.
The project aims to assist DepEd in addressing the classroom backlog of the country, which worsened when Typhoon Yolanda hit the country last November 2013.
DepEd has gathered that close to 4,600 classrooms were totally destroyed post-Yolanda while over 13,000 classrooms badly needed repairs. In Leyte, 1,706 classrooms were totally damaged and collapsed affecting 186,617 students while in northern Cebu, 357 classrooms are totally damaged while 1,832 classrooms needed repairs.
PBSP's disaster-resilient classroom school building costs around P1.3 million and is designed to withstand a 5.2-magnitude earthquake and a wind speed of 250 kilometers per hour. It is elevated at least one meter from the ground and contains a cemented roof deck instead of an angled roof. Stairs are provided at the center of the building to provide access to the roof deck in case of emergency flooding while ramps and wider doors are also included in the building design to be friendly with persons with disabilities.
Aside from being disaster-resilient, the school buildings include furniture and safe water and both male and female toilet facilities.
Donors supporting PBSP in the classroom project include the Australian Agency for International Development (AUSAID), Epson Precision (Philippines) Inc., Telus International Philippines Inc., China Trust Banking Corporation, Mondelez International Inc., Intel Philippines, Felta Multi-Media Inc., Coca-Cola Foundation Philippines Inc., International Container Terminal Services Inc., PHINMA Corporation and YesPinoy Foundation.
PBSP plans to turn over at least 67 classrooms within the year while all classrooms donated by AUSAID will be completed by 2015.
PBSP is the largest corporate-led social development foundation in the country, with over 240 companies as members. After Typhoon Yolanda swept the Visayas and displaced more than four million people and destroyed over one million houses, PBSP was able to raise more than PHP 13 million and provided 20,378 households in Cebu, Leyte and Eastern and Western Samar with relief goods and hygiene and comfort kits.
Aside from providing classrooms, PBSP will also distribute more than 1,000 shelter repair kits and provide various livelihood and enterprise programs in the Visayas as part of its Yolanda early recovery and rehabilitation plan.
DOST, Ortigas, Habitat for Humanity join forces to build climate-adaptive houses
Press Release
February 22, 2014
MANILA, Philippines — Property developer Ortigas & Co., in partnership with the Department of Science and Technology (DOST) and Habitat for Humanity, launches a landmark campaign post-Yolanda that is deemed to lead the future of climate-adaptive housing in the Philippines.
The project dubbed Build Forward was born out of the tripartite agreement to design a house and school building prototype that will stand the test of time and of the elements for the resettlement sites of Habitat for Humanity. With Ortigas & Co. lending its resources and the technical guidance of DOST, this design would be sourced from no less than the country's young talents.
"Ortigas is an 83-year old property developer. We have seen the trends in construction and architecture. We have seen the needs of the people change from the day we started developing some of our subdivisions back in the 1970s until today. And today, as seen in the devastating effects of Typhoon Yolanda, Filipinos need something radically different, which is climate adaptive infrastructure," says Joey Santos, General Manager of the Real Estate Division, Ortigas & Co.
Engaging young talent
Build Forward activates a nationwide design competition for architecture students enrolled in a Philippine college or university. Their challenge is to work on a house and school design with three considerations: durability, cost, and construction time, using locally sourced and readily available materials. The proposed design should be strong enough to withstand an intensity eight earthquake and wind gusts of up to 250 kilometers per hour.
Ortigas highlights the parameters of the design: The house should be at least 36 square meters with two bedrooms, one toilet and bath, kitchen, and living space. Construction time should be a month and a half within a budget of P200,000.00. The school building should have four classrooms and one toilet and bath with a minimum area of 63 square meters per classroom. Construction time should just be two months with a budget of P1,200,000.00, with the design allowing versatility for the school to become an evacuation center in times of crisis situations.
From the entries culled between January to March 28, five designs would be chosen to undergo a wind tunnel test, supervised by DOST, that imitates the conditions during Yolanda. This January, Ortigas has officially opened an online registration facility (www.buildforward.com.ph) for the full set of mechanics.
Prototype usage
Habitat for Humanity will be using the winning design for the construction of the houses in Yolanda-ravaged areas. It has a target to build 30,000 core houses and distribute 30,000 shelter repair kits in the next three years.
"Suppose each core house would cost about P200,000, Habitat would be needing at least P6-billion to meet the construction target. It's a tough mission for us, but we are glad to have some corporate partners like Ortigas & Co. who are willing to lend their resources and expertise," says Charlie Ayco, CEO and General Manager of Habitat for Humanity.
"We are determined to make a lasting commitment in this program and the rebuild initiatives because apart from helping our countrymen, we are also investing in the future of design," concludes Santos.
Ortigas & Co. is the developer behind some of the country's well-loved residential and retail destinations such as Greenhills Shopping Center, Tiendesitas, Capitol Commons, Frontera Verde, Circulo Verde, Greenmeadows, and the Greenhills Subdivisions.
For more information, visit www.buildforward.com.ph, like Build Forward on Facebook, or follow its twitter handle @BuildForwardPH.
Red-baiting of Yolanda survivors shows Lacson as unfit, Aquino's rehab plan as bogus
By People Surge
February 21, 2014
TACLOBAN CITY – The alliance of typhoon Yolanda (Haiyan) survivors said today that reconstruction head Panfilo Lacson's redbaiting of them shows that the Aquino government has no one capable in charge of rebuilding, and that its plan itself is bogus. "Lacson's smearing of the Yolanda survivors is rubbing salt into our wounds and should not be dignified with a response," said Dr. Efleda Bautista, storm survivor and convenor of People Surge.
Dr. Efleda Bautista adds, "He does not respond promptly but engages in smear campaign rather than take accountability with the government's snail-paced response on legitimate issues raised by Yolanda survivors. He is in effect turning his back against his own statement that his office, achieving not even ten percent of the target, is a lame duck in the face of Aquino's government callousness during the first 100 days from Yolanda's wreck in Eastern Visayas."
"It is also unseemly for the Aquino government to question the motives of Bayan and its associates in helping the Yolanda survivors, when the support of everyone willing to help in a time of humanitarian crisis is welcome. Moreover, it is not Bayan or People Surge alone that has criticized the Aquino government response to Yolanda, but also the international community including the United Nations, because everyone is interested that the administration get its act together in the common goal of helping the survivors."
Dr. Efleda also responded to Lacson that it was not the Yolanda survivors who were destabilizing the country but the Aquino government itself. "Eastern Visayas has been left in a state of socio-economic ruin. The major cash and staple crops are devastated. The people lost homes and livelihood and face looming starvation. But the government reconstruction plan is not addressing basic problems. Such as recovery in agriculture, on which most of the people depend, and where the losses in the region alone amount to P65 billion while the government reconstruction estimate is P18.7 billion for all affected regions.
"Meanwhile, the government reconstruction plan is throwing away hundreds of billions of pesos on construction contracts, which will be grabbed up by corrupt officials and big business cronies. What comes next to that? Just this week, we tried to initiate a dialogue with the President but he responded with arrogance and rejection even before reading our petition. Who is now destabilizing the country by aggravating the socio-economic crisis, worsening corruption in the government, and putting private profit over public service?"
Dr. Efleda called on the Aquino government to listen to the people and to dump the incapable Panfilo Lacson, as well as come up with a genuine and transparent recovery plan led by capable administrators and conscientious in public consultation.
Chiz: Repeal all libel provisions in PH laws
By Office of Senator Chiz Escudero
February 20, 2013
PASAY CITY – Senator Chiz Escudero is pushing anew for the passage of proposals he put forward to decriminalize libel, including online libel which constitutionality was upheld early this week by the Supreme Court.
Escudero has first put the proposal in 2007 to decriminalize libel and the provisions that define and penalize libel under Article 355 of the Revised Penal Code (RPC).
And now that the High Tribunal has ruled on the constitutionality of Republic Act No. 10175 or the Cyrbercrime Prevention Act of 2012, Escudero saw the need to pass his proposed legislation seeking to repeal laws that consider libel a criminal offense in order to guarantee freedom of expression.
"The Philippines, as a country deemed democratic and developing, cannot rest on its antiquated laws that run detrimental and contrary to the exercise of freedom," Escudero said. "Decriminalizing libel accords greater protection to freedom of speech and expression."
He added: "If we take away the threat of fear of incarceration and restraint of liberty, we encourage a strong print media to continuously provide a mechanism that promotes transparency over the excesses of government and other entities."
According to Escudero, the existence of libel in Philippine laws is hurting the country's global press freedom ranking, which has dropped in recent years from 147 out of 179 countries in 2013 and 140 in 2012 based on the World Press Freedom Index.
Last year, the senator introduced Senate Bill No. 126 to amend the cybercrime law by removing its online libel provision. In Senate Bill No. 127, which Escudero reintroduced, he is seeking anew the repeal of Article 355 of the RPC to decriminalize libel committed by writing, printing, airing on radio or any similar means.
Escudero said the two proposed bills, while seeking to scrap criminal penal provisions, did not completely remove the remedies provided under existing laws against media abuse and irresponsible reports.
"I respect the decision of the High Court but there still lies a pressing need to pass the amendments removing the criminal provisions of libel as a crime." These bills are only consistent with my long-time position to decriminalize libel from our statutes and just retain civil liabilities just so we also ensure that the exercise of our freedom of expression comes with equal responsibilities," Escudero said.
With SC decision on cybercrime constitutionality
Libel provision will be used vs. protesting public – Karapatan
By KARAPATAN
February 19, 2014
QUEZON CITY – Karapatan today said that like extrajudicial killing, enforced disappearance, illegal arrest and detention and, other human rights violations, "The libel provision in the cybercrime law will most likely be used against those who criticize BS Aquino's anti-people policies and programs and those who expose corruption and rights violations."
"If such would be the case, BS Aquino's lies and spins used to cover up the country's real situation should also be subject of libel for they are far more disastrous to the Filipino people," said Karapatan secretary general Cristina Palabay.
Lies and spins, such as the hype on country's economic growth and development, according to Palabay "prevent us from looking deeper into the roots of poverty, coming out with the right solutions and plan of action. Such lies serve as blinders and prevent the people from pursuing the real path to development."
"Lies and spins on the benefits of the privatization of our health services to provide would only kill the poor people who will be deprived of the health care they deserve; Lies and spins such as claiming that the Public-Private Partnership program would uplift the lives of the poor are likewise libelous," added Palabay.
Karapatan was among the organizations who filed a petition for a Temporary Restraining Order at the Supreme Court, saying that the law "poses serious threats to the right to privacy, freedom of speech and expression, among other civil and political rights."
The rights group also criticized the law for its "implications on the work of human rights defenders, as this further impedes on our right to articulate the facts on the human rights situation that we gather on the ground and our analyses on the situation."
On October 8, 2012, Karapatan submitted a complaint before the United Nations, through Frank La Rue, Special Rapporteur on the promotion and protection of the right to freedom of opinion and expression; and Margaret Sekaggya, Special Rapporteur on the situation of human rights defenders.
The complaint said the Cybercrime Law constitutes several violations of international human rights conventions and declarations, including the International Convention on Civil and Political Rights and the UN Declaration on the Protection of Human Rights Defenders of which the Philippines, as a signatory, has the obligation to implement.
Cayetano: Repeal online libel clause in cybercrime law
Pushes to decriminalize libel in penal code
By Office of the Senate Majority Leader
February 19, 2014
PASAY CITY – Saying it is one of the reasons he did not sign the Cybercrime Prevention Act of 2012, Senate Majority Leader Alan Peter Cayetano is strongly urging his colleagues in the 16th Congress to repeal the online libel provision in the controversial law recently upheld as constitutional by the Supreme Court.
In an interview with Senate reporters, Cayetano pointed out that the said provision suppresses internet users' freedom of speech.
At the same time, Cayetano pushed for the enactment of his bill which seeks to decriminalize libel and all forms of criminal defamation as it is restrictive of the freedom of expression, much like the provisions on online libel in the much-debated Republic Act 10175.
"What is constitutional and what is legal is not necessarily what is moral and what is right. The Supreme Court based it on the legality of the provision. But on the wisdom of the law, that is for Congress to determine," Cayetano said.
"Kung magiging final yan, trabaho ng Kongreso kaagad na i-repeal o i-modify iyan nang hindi naman ganoon ang epekto."
Cayetano is pushing for the approval of Senate Bill No. 249, which in part mandates the repeal of Sec. 4 (c) 4 of Chapter II of RA 10175 or the online libel provision of the anti-cybercrime law.
The bill, which he filed in July 1, 2013 during the first day of the 16th Congress, also calls for the repeal of Sections 5 and 7 of RA 10175 which was already declared as unconstitutional in part by the SC in its decision last Monday.
He also filed SB 248, which also seeks the repeal of the "take-down" provision of the law that is now also rendered unconstitutional by the High Court.
In urging his colleagues to support SB 249, the Senate leader warned of the dire effects of the online libel provision not only on the freedom of speech of netizens, but on the Philippine justice system in general.
"Napakahirap ng magiging epekto noon. Kahit anong sabihin mo na mao-offend ang ibang tao, pwede kang kasuhan ng libel. That will kill the freedom of speech and the creativity that we have in the internet," he said.
"Kung magkakasuhan tayong lahat, mapupuno ang mga korte, walang mangyayari kung hindi ang mga piskalya, walang ibang gagawin kung hindi mag-prosecute ng internet at social media libel cases."
Cayetano further noted that although people are discouraged from making defamatory statements against others online, the internet should still be regarded as a different kind of medium in which anyone has the right to express their views and opinions.
"True, we should not libel each other in the internet. But it is also true that the internet is a different kind of medium... Hindi katulad yan, halimbawa, ng dyaryo. Kapag nilagay sa dyaryo, people will believe the credibility of the story, kaya dapat i-check muna ng mabuti ng mga journalist ang kanilang facts. But in the internet, anyone says anything," he said.
On the other hand, Cayetano is also pushing for the enactment of Senate Bill 245, which seeks to decriminalize libel and defamation.
The bill, he said, will pave the way for the creation of a Civil Defamation Law which will only impose civil penalties in the stead of criminal sanctions on all forms of defamation.