NPA camp seized, firearms recovered by government troops in Northern Samar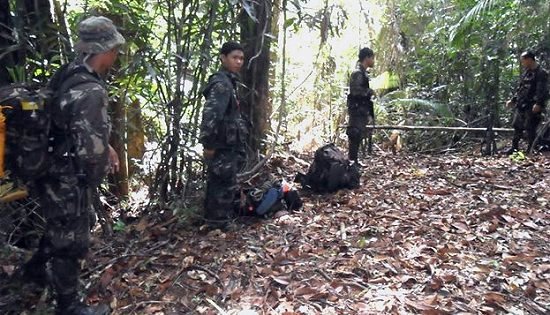 By 20th Infantry Battalion, 8ID PA
April 13, 2013
BRGY. MAGSAYSAY, Lope de Vega, Northern Samar – An abandoned communist terrorist's camp was recently discovered by government security forces at Happy Valley, San Isidro, Northern Samar at around 10:30 in the morning today, April 13, 2013.
Lieutenant Colonel Noel A. Vestuir, 20IB's Commanding Officer, in his report to 803rd Brigade Commander, Colonel Rolando Malinao, said the camp was seized by the operating troops of 20IB led 1LT Florencio Tayo III.
The camp has fifteen (15) bunkers that can accommodate more or less twenty (20) communist terrorists, one (1) kitchen, one (1) comfort room, three (3) outposts and has just been abandoned by the CTs as they evade armed engagement with the operating troops. After thoroughly searching the area, the troops recovered four (4) cal .38 revolvers hidden in one of the bunkers.
The camp was seized after 20IB launched sustained combat operations in the area in response to the information tipped-in by some residents in the nearby barangays of the presence of armed men roaming in the area enforcing their Permit to Campaign (PTC) strategy, extorting money and food stuffs from the peace-loving people as well as political.
The recent accomplishments by the 20IB troops against the NPAs in the area of 1st district of Northern Samar have disrupted the impending terroristic activities that are being hatched to be conducted by the NPA. The government troops has dislodged them from their guerilla camps and cut-off their supply support lines that they forcibly take from the residents in the area. The discovery and seizure of the said camp in the area was made possible by the information provided by local populace and is a clear indication that the enemy revolutionary organization has already alienated the people and the communities where they got their support through their forced extortion activities.
LTC Vestuir, 20IB's Commanding Officer commended his troops for a job well done. He also thanked the continued support of the people in the government's efforts of 'Winning the Peace'. "Through the timely and accurate information tipped by the residents, our troops were able to discover the NPA encampment, a staging place of their terroristic activities in the area. The seizure of the said NPA encampment and the recovery of their firearms is a big blow to the CTs considering that we have denied them of their safe haven and sanctuary and once again proven that the people are with us in our pursuit for peace in this part of the country".
Vestuir also calls for the fleeing Communist Terrorists to lay down their arms in order to once again live decent and normal lives along with their families.
RD Soria orders probe on alleged hazing of PNP rookies
By RPCRD, Police Regional Office 8
April 12, 2013
CAMP SEC. KANGLEON, Palo, Leyte – Police Regional Office 8 (PRO8) Regional Director Police Chief Superintendent Elmer Ragadio Soria ordered an immediate investigation on the alleged case of hazing victimizing new police recruits at the 8th Regional Public Safety Battalion (RPSB8) headquarters in Capoocan, Leyte.
"If proven true, this is a clear violation of human rights and we will not tolerate such inhuman acts conducted in no less than an official camp of the PNP," Soria said as he directed the Regional Investigation and Detective Management Division (RIDMD) to conduct an in-depth investigation on the matter.
"We are exercising zero tolerance on hazing and excessive punishment in any police camp. Any form of hazing has no place in the organization where respect for human rights and the rule of law is a command policy that every PNP member is duty bound to uphold," Soria added.
Reports reaching PRO8 disclosed that at least 11 new policemen who reported to the RPSB camp for their first official assignment were allegedly subjected to hazing and maltreated for no particular reason.
Nine policemen were placed under investigation for possible culpability and may face administrative and criminal charges.
The top police official also directed all police units to refrain from conducting "reception" and other initiation rites to new police recruits as a form of tradition during the turn-over and downloading of police personnel to field units as he also reminded unit commanders on the provisions of Republic Act No. 8049 or the Anti-Hazing Act of 1995.
"All downloaded personnel are full-pledge members of the organization and therefore should not be treated as trainees. Violations of our directive will be dealt with severely in accordance with existing laws," Soria added.
Police personnel allegedly involved in the hazing incident were relieved from RPSB and were restricted at the PRO8 Regional Personnel Holding Accounting Unit (RPHAU).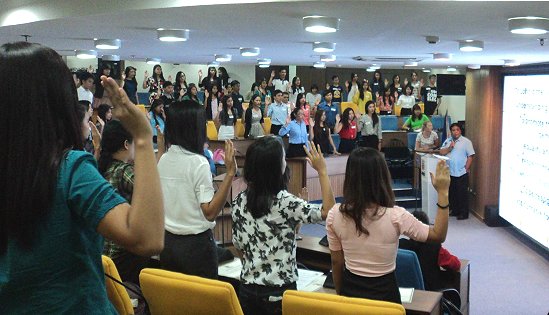 YMA 7 scholars recite the YMA pledge during the covenant signing, marking the start of the eight-month leadership program.
94 scholars begin Young Minds Academy Season 7
By Ramon Aboitiz Foundation Inc.
April 11, 2013
CEBU CITY – To further engage the youth in creating a smart, inclusive, and sustainable Metro Cebu, the Ramon Aboitiz Foundation Inc.-Eduardo Aboitiz Development Studies Center (RAFI-EADSC) will tackle the Mega Cebu Program and framework in the Young Minds Academy (YMA) Season 7. This is in line with the theme, "Urban Development", which YMA is adopting for the second year.
This year's batch of YMA scholars was officially announced during the Covenant Signing last April 2 at the Eduardo Aboitiz Hall of RAFI-EADSC Building. Ninety-four young emerging young leaders aged 13 to 20 years old will begin their eight-month leadership and citizenship development program this summer. This will include awareness-raising, experiential education, immersion, and open discourse on the dynamics and challenges facing the community, especially the 13 cities and municipalities comprising Metro Cebu. The scholars' final output is to generate ideas and possible solutions through a team project that they could implement in partnership with the said local government units.
Evelyn Nacario-Castro, RAFI-EADSC executive director, cited Mother Teresa's missionary work as a brand of service and leadership worthy of emulation.
"She (Mother Teresa) cultivated, nurtured, and developed personal qualities and personal excellence, which became leadership qualities and leadership excellence... She strived and lived, unconsciously, as a great person by leading her life well. Her personal qualifications led to leadership qualifications. With a life well lived, many people wanted to and did, and continue, to follow her footsteps," Castro noted.
Last year, YMA Season 6 scholars were able to implement six community-based projects addressing issues and concerns on public safety and security, youth violence, transport and traffic management, flooding, and disaster risk reduction in the cities of Naga, Talisay, and Mandaue, and in the Municipality of Liloan. They were also able to gather more than 2,000 supporters for Mega Cebu through their social marketing initiatives, and designed dream block exhibits to promote smart growth and better block principles in existing urban communities.
RAFI hopes to get more innovative and creative ideas from the YMA scholars this year as it continues to advocate for a collaborative, integrated, and sustainable urban planning and development through Mega Cebu.
"An important part of the program is to let you know better the society that you are living in. You will be immersed in different communities in Metro Cebu to learn about their current situation, problems, and good to best practices. This will hopefully allow you to understand how to bring about progress that even your future children and grandchildren can enjoy," Dominica Chua, RAFI chief operating officer, addressed the new batch of scholars during the event.
YMA is a program of RAFI-EADSC under the Leadership & Citizenship focus area, which aims to groom future leaders and influences in a community that is ready to effect change. Other focus areas of RAFI are Integrated Development, Microfinance & Entrepreneurship, Culture & Heritage, and Education.
For more information about YMA, you may contact Mel Yan at 418-7234 loc 110, or visit www.rafi.org.ph/leadership-citizenship/young-minds-academy/ or www.facebook.com/rafi.org.ph, or follow RAFI on Twitter, @rafiorgph.
RSOG nabs most wanted persons of Culaba, Lapaz towns
By RPCRD, Police Regional Office 8
April 10, 2013
CAMP SEC. KANGLEON, Palo, Leyte – Two most wanted persons in Leyte and Biliran provinces were arrested by the Regional Special Operations Group 8 (RSOG8) of the Police Regional Office 8 (PRO8) in separate manhunt operations in Samar and Metro Manila recently.
"These manhunt operations are part of our continuing effort in the implementation of LOI Manhunt: Charlie and solve cold cases in the region," Police Chief Superintendent Elmer Ragadio Soria, Regional Director of Police Regional Office 8 (PRO8) said.
Soria has made the campaign against wanted persons one of PRO8's priority programs as he reiterated his directive to all unit commanders to account for all wanted criminals in their respective jurisdictions.
The top police official informed that on early Sunday morning, RSOG led by PInsp. Constantino Jabonete, Jr. conducted manhunt operations in Sitio Ipil, Brgy San Miguel in Daram, an island town in Samar, after receiving positive information on the presence of a wanted fugitive in the area.
The operations resulted in the arrest of one Bonifacio Custodio y Bernaldo alias Boni, 38, with live-in partner and tagged as the number 4 most wanted person of Culaba, Biliran.
RSOG was armed with an Alias Warrant of Arrest for the crime of Murder issued on October 5, 2001 issued by Judge Plenio Dela Peña of 3rd Municipal Circuit Trial Court, Caibiran-Culaba, Biliran docketed under criminal case number 875.
Judge Dela Peña did not recommend any bail for the suspect's temporary liberty.
The police regional director further informed that while on the process of negotiation for his surrender, Custodio resisted and opened fire to the apprehending team that forced the police team to retaliate, hitting the accused on his legs.
Subsequently, the team recovered from Custodio's possession one unit snub-nose caliber .38 paltik revolver with serial number 61178 loaded with 2 spent shells and 2 live ammunitions for caliber .38 and a holster tucked in his waist.
The arrested suspect was immediately brought to Samar Provincial Hospital for medication while the recovered firearm was turned-over to Western Samar Provincial Crime Laboratory Office for laboratory examination.
RSOG is already preparing a separate case for illegal possession of firearms and violation of Comelec gunban against Custodio.
Meanwhile, RSOG also arrested the number one most wanted person of Lapaz, Leyte who was also ranked as the number 4 most wanted man in Leyte province in a manhunt operation in East Greenhills, Mandaluyong City.
Ruel Refugia, who is facing 3 counts of murder charges in the sala of Judge Buenaventura A. Pajaron of the Regional Trial Court Branch 10 in Abuyog, Leyte was arrested on April 4 by an RSOG tracker team led by SPO4 Ananias Monteroso together with elements of Police Regional Office 4-A (PRO 4-A) based on Canlubang, Laguna.
Refugia is the primary suspect in the killing of Apolonio Pelinyo, Dennis Guiron and Edgfar Escalante during a dance party at Brgy. Sta. Cruz, Lapaz, Leyte on July 27, 2000. He went into hiding immediately after the incident.
Suspect was brought to PRO 4-A regional headquarters for temporary safekeeping, Soria further informed.
PIA chief wows future journalists of the country
By Philippine Information Agency (PIA 8)
April 10, 2013
TACLOBAN CITY – Undersecretary Jose Marie Oquiñena of the Presidential Communications Operations Office set the tone of the National Schools Press Conference now ongoing in Ormoc City, Leyte by exhorting the future journalists to aspire not only to become good writers, good broadcasters but to become great ones who love their country and its people.
USec Oquiñena, with his wit and contagious humor, kept the audience alive, continuously clapping their hands and bursting in laughter from the time he started to the moment he ended his keynote message on the theme "Campus Journalists: Championing Ethics in Social Media."
The Undersecretary who is also the Director General of the Philippine Information Agency, encouraged the campus journalists to use their talents on a higher scale.
"Our country needs to hear good news all the time. Our country needs to be inspired. We need you to write all the good things about the Filipino and the Philippines. We will have to do this because there is a lot of good news about this country," the youthful Undersecretary said.
Underscoring his salient points through stories or anecdotes, Secretary Mari as he wanted to be called, captivated the young audience numbering about 5,000 in the jump packed Ormoc Super Dome in the early evening of April 8.
The good Undersecretary cautioned the Journalism Advisers and teachers in the use of the social media as a communication tool. The students must have the right preparation, the right values before they are trained on the social media, he said, because the social media has so much power within one's reach that it can build or destroy people.
"If the Inang Bayan will ask how you will show your love for it, how will you answer," the USec asked.
"One who is in love is always all praises of his love one, so you write, write with passion and excitement. Never stop writing good things about the Filipino. Do not get tired of writing good about your country," USec Oquiñena said as he encouraged the future journalists of the country.
The Undersecretary exhorted the participants to have the freedom to express themselves, not to be afraid to write what is in their minds because fear will "only limit us, will not allow us to reach our destiny."
By the reaction of the young participants in the Facebook saying he was the best speaker ever, by the way they took time to have their pictures taken with the Guest of Honor, and requested for his autograph, the Honorable Undersecretary was able to light up the fire of enthusiasm. The 71st National Schools Press Conference is up to a good start.
The crucial role of women in agri sector
By Philippine Information Agency (PIA 8)
April 10, 2013
TACLOBAN CITY, Leyte – The progress in the farming sector will not be realized without the involvement of women, Dr. Wilson Cerbito, Department of Agriculture Technical Director for Research and Regulations in Eastern Visayas, said, emphasized the significant contribution of women in agriculture development.
Dr. Cerbito made the pronouncement during the two-day Program Implementation Review, Planning and Budgeting Workshop of the Gender and Development (GAD) Technical Working Group held on April 4-5, 2013 at Patio Victoria, San Jose, Tacloban City.
"If we try to think more deeply, women actually have great influence not only in their respective households, but also in terms of decision-making and strategy implementation so that agricultural enterprises can be more productive and profitable. In fact, many of our women become efficient hands-on farmers and agri-entrepreneurs," Director Cerbito stated.
RTD Cerbito added that men and women should be given equal recognition, opportunity and access to resources especially in food production. Thus, he suggested that the GAD TWG should make a clear plan for a more effective implementation of GAD-responsive activities in the region.
Dr. Cerbito cited the Food Agricultural Organization study which showed that women provide up to 90% of labor force for rice cultivation in Southeast Asia. Women in rural areas produce half of the world's food production.
Among the developing countries in the world, FAO estimates that almost half of the total agriculture labor force in the developing countries consists of women, Director Cerbito added. Thus it is safe to assume that, indeed, women are also major producers of main crops.
In the Philippines, of the 48.93 M labor force participation rate in August 2002, half are women. They are mostly in sales, agriculture and services sectors, as per the National Statistics Office survey, Director Cerbito said.
Women, on top of being mothers and wives, are also farmers in their own right, Director Cerbito underscored. Rural women fulfill many responsibilities at farm and at home. Some of them even act as farm managers, while others are food processors and traders.
As to the present GAD Program supervision, RTD Cerbito commended the active leadership of Ms Eva T. Adora, DA-8's GAD Focal Person, for her initiative to empower women associations in the region by not only involving them in various activities of the DA but by conducting several fora especially designed to address their concerns.
"Through our GAD Focal Person, women's associations are also encouraged to have their groups registered in order for them to avail of the various programs and services of DA," RTD Cerbito said.
Meanwhile, during the same activity, Ms Ma. Aurora Teresita W. Tabada, Regional GAD Coordinator of the Visayas Consortium for Agriculture and Resource Program (ViCARP) at the Visayas State University (VSU), Baybay City, Leyte, discussed the highlights of the Magna Carta of Women, the harmonized GAD guidelines, and the core elements of gender-responsive programs and projects.
Ms Tabada said that gender equality can best be advocated through mainstreaming of GAD-related strategies including funding initiatives with the DA banner programs.
Moreover, Mr. Paul Nigel P. Custodio, DA-8's Media Production Aide, presented the summary of proposals drafted by the women associations who participated during the Rural Women Congress held on December 10-11, 2012 at the Leyte Park Hotel.
Time to show act of heroism, stand up for the rights of the children, says "Bata Muna"
By Save the Children
April 9, 2013
MANILA – Children and advocates in today's kickoff event for "Bata Muna: Bomoto para sa kapakanan ng mga Bata" nationwide caravan face off with candidates who do not have children agenda in their political platform.
Children organizations supported by Save the Children such as Active Youth Movement (AYM) and Children and Youth Organization (CYO), ChildFund Philippines and Inclusive Education Network Chapter (IEN) will lead the caravan kick-off with children wearing super hero costumes symbolizing various children's issues today, April 9 Araw ng Kagitingan, at the Bantayog ng mga Bayani monument in Quezon City, a day apt to call on the heroism of aspiring leaders.
"Twin Aiders and Super Nene" are among the superheroes to lead the group, representing the issue of early pregnancy and children's participation; "Darna" to represent children with disabilities; "Volta" to represent children in emergencies; and "Pintados" to represent children in unsafe surroundings.
"Bata Muna" campaigners lament that the Philippines still lacking policies that promote the rights and welfare of Filipino children. Children's issues remain at the back seat when it comes to enactment of laws. Key bills that protect children's rights –bills on corporal punishment, children in situations of armed conflict and statutory rape – remain pending in Congress.
Save the Children Child Rights Governance Advisor Minerva Cabiles said that forty two percent (42%) of more than 92 million Filipinos are children. Children are totally dependent on adults to choose the country's next leaders. But they are not consulted when policies are passed or when programs are developed; they are rarely informed of what goes in the government; and most often than not, their opinions are not taken seriously.
She added, "Children are the most affected by poor policies, programs, and services. They are the ones who suffer the worst from poverty, hunger, disasters and conflict – problems that our legislators are mandated to solve through the passage of laws that will be the basis for appropriate government programs. It is also the job of our lawmakers to assess the implementation of our current laws, and consult the public, including children, in crafting new laws."
Sectors working on disability among children raise the lack of specific provisions in the law to ensure the access of children with disabilities to education, health and social welfare services. A research done by Angels of Peace Academy Foundation (AFAPI) in 2012 reveals that public schools in general are not ready to accept children with disabilities due to lack of accessible classroom facilities. Most public school teachers are not trained to handle children with various types of disabilities, and teaching and learning materials are not suited to learning requirements of children with disabilities. The education and social participation of children with disabilities are hindered by the lack of disability services provision.
Richard Arceno, Chairman of AFAPI pointed out that the Millennium Development Goals will not be achieved if more than ninety eight percent (98%) or 2 million children with disabilities in the country are not in school.
"This clearly says that despite over 100 years of Special Education program in the Philippines, the Department of Education still cannot fully handle concerns of children with disabilities," added Arceno.
Meanwhile, Hubert Par, Area Manager of ChildFund Philippines stressed the importance of involving young people. "If we want real progress then the government must provide opportunities so children, in all stages of their lives, will thrive to become productive citizens."
"Skilled and involved young people can make informed decisions for their own economic, physical and social well-being and they can act for positive change in their families, communities, countries and the world," Par said. "The well-being of the country starts with the well-being of the children," Par explained.
Starting off with the Liberal Party, the "Bata Muna" campaign caravan seeks to reach political leaders and personally meet with them to present their agenda.
"We may not reach and dialogue with all of the candidates, but through this caravan we are conveying our challenge that they speak up for children; bare their legislative agenda and plans of action on how to improve the situation of children," said Cabiles.
"We hope to see heroes who, on the remaining days of the campaign, will bravely stand for the rights of the children; no matter how controversial the needed policy would be," ended Cabiles.
Historic Greenpeace Arctic mission begins
Young campaigners to meet with the Arctic Council to save the melting North Pole
By GREENPEACE
April 8, 2013
MANILA – A group of young campaigners on a mission to protect the Arctic is set for a historic and unexpected meeting with a delegation of powerful Arctic officials at the North Pole this week.
Sixteen people, including four international youth ambassadors – Hollywood actor Ezra Miller, two Arctic Indigenous representatives and a young man from the Seychelles – have recently set out from Barneo Base on a trek with Greenpeace to the geographic North Pole. But shortly before setting off, they learned that members of the Arctic Council – the governing body comprised of foreign ministers and senior officials from Arctic states – will also be at the North Pole this week.
One of the explorers, Josefina Skerk, is a 26-year-old Swedish-Sami student studying law at Umeå University and a Member of the Sami Parliament in Sweden. When she learned that the Arctic Council would be meeting at the North Pole around the same time, she sent a letter to Gustaf Lind, Swedish chair of Arctic Council's Senior Arctic Officials, requesting a meeting with her fellow ambassadors, should they auspiciously meet at the North Pole. Mr. Lind has accepted the invitation, and weather-dependent, the groups hope to meet at the North Pole later this week.
The young campaigners are carrying with them a specially designed time capsule that contains a 2.7 million signature declaration demanding that the Arctic be designated an internationally-recognised global sanctuary. They plan to lower the capsule and a flag through 4.3km of freezing water to the seabed beneath the North Pole.
Speaking from Barneo base, Josefina said:
"We're really excited about meeting Mr. Lind and the rest of the Arctic Council during our trip to the North Pole. I'm with three young people from across the world who all have connections to the Arctic, and it's a great honour to be able to deliver our message to the council in the exact place that we all wish to protect for future generations. This is going to be a really gruelling expedition and we're all a little bit nervous right now. But this is a great chance for us to talk with the people responsible for protecting the Arctic and we know all our supporters around the world would want us to go for it."
In 2007, the Russian explorer Artur Chilingarov planted a Russian flag on the seabed beneath the pole, claiming the Arctic for Moscow. Now the young explorers will challenge that claim by lowering a 'Flag for the Future' designed by Sarah Batrisyia, a 13-year old Malaysian girl who won the global competition, co-hosted by Greenpeace and the World Association of Girl Guides and Girl Scouts. The flag, which was chosen by fashion icon Vivienne Westwood, is intended to symbolise hope, global unity and peace.
The activists say no one nation should own the Arctic or be allowed to exploit the melting ice, a crisis created by climate change, for more of the very fuels that caused the melt in the first place.
The impacts of the runaway climate change are already being felt by vulnerable countries in Southeast Asia, like the Philippines where disruptions in monsoon patterns have resulted in more frequent and more destructive typhoons like Bopha/Pablo which devastated much of Southern Mindanao late last year.
The campaigners now plan to meet with the Arctic Council to challenge them and set out their demand that the uninhabited areas around the North Pole be declared a global sanctuary.