Chiz tells COMELEC to set date for source code review
By Office of Senator Chiz Escudero
April 2, 2013
PASAY CITY – Senator Chiz Escudero wants the Commission on Elections (Comelec) to set a definite date for the review of the precinct count optical scan (PCOS) machines source code, the absence of which, he said, is a major source of uncertainty for the May 13 elections.
"I have maintained that the source code for the 80,000 PCOS machines must be opened for checking by political parties and technology experts which is required under the Automated Polls Law," Escudero said.
Escudero said the Comelec should set a definite date for the review of the source code instead of giving a daily rundown on the progress it has achieved in obtaining the code from its owner the US-based Dominion Voting Systems, which is an action that Escudero said the Comelec should have done much earlier.
"The statement of Comelec Chairman Sixto Brillantes Jr. that he is 95 percent certain of obtaining the source code from Dominion does not offer much consolation to those seeking to review the code this close to the elections date," the reelectionist senator said.
Brillantes had explained that a court dispute in Delaware between Dominion and PCOS supplier Smartmatic had resulted in the delay of the release of the source code.
The Comelec had fixed the review of the code for the consolidation and canvassing system (CCS) next week but not the PCOS source code with Brillantes merely saying that a "big press conference" will be held to announce when the review will be held.
The Automated Poll Law provided that the source code should be reviewed by independent parties three months prior to the elections.
Almost a month to the 2013 midterm polls, Brillantes said that obtaining the code was 95 percent sure but he said a few details still needed ironing out.
Escudero said that while he has full confidence in the Comelec to hold credible elections, an unverified source code can be a point of protest particularly among losing candidates that may cause major post-election problems.
He said questions and concerns on the credibility of the elections in May will be soothed only if Comelec finally let the source code be subjected to reviews.
After CA decision and new evidence on military involvement in Burgos disappearance:
KARAPATAN calls on Aquino to remove ISAFP chief from post
By KARAPATAN
April 2, 2013
QUEZON CITY – "WE challenge Pres. Aquino to remove ISAFP Chief Brig. Gen. Eduardo Año from his post and hold him accountable for the enforced disappearance of Jonas and other human rights violations," Cristina Palabay, secretary general of Karapatan said.
The Burgos family yesterday submitted new evidence to the Supreme Court including the picture of Jonas allegedly under military detention. Two weeks ago, the Court of Appeals ruled on the writ of Amparo on the case of Jonas. "All of these point to one incontrovertible truth: that the enforced disappearance of Jonas and other desaparecidos are perpetrated by the AFP," Palabay said.
"The higher-ups involved with the disappearance of Jonas and its cover up such as Brig. Gen. Año were not only absolved by Arroyo administration but were also promoted to higher position by Pres. Noynoy Aquino," Palabay added.
"The glaring fact is that Aquino, after almost three years in office and empty air about his administration's 'daang matuwid', has not filed a single case to prosecute Arroyo and her generals on the basis of grave human rights violations. Instead, Aquino promoted these Arroyo generals under his AFP command," Palabay said. "This is among the stark features of Aquino's brand of 'justice', one that truly reveals his administration's perversion of the words 'human rights,'" Palabay said.
"For us, and for victims of human rights violations, as long as military officials such as ISAFP Chief Año, Ret. Maj. Gen. Jovito Palparan Jr., Maj. Harry Baliaga, and others involved in the act of enforced disappearances, extrajudicial killings and other human rights violations continue to go unpunished, that is NOT JUSTICE," Palabay said.
"After all these years of denying their dirty deeds, the AFP until now has never had the credibility when it comes to holding its men accountable for the human rights violations caused by the counter-insurgency programs that denied countless mothers, fathers, sons and daughters of their loves ones," Palabay concluded.
PRO8 sees secure polls
By RPCRD, Police Regional Office 8
April 1, 2013
CAMP SEC. KANGLEON, Palo, Leyte – The Police Regional Office 8 (PRO8) has expressed confidence for secure and fair elections as local candidates started their campaign to gain elective posts in the May 2013 midterm elections.
"As local candidates troops to the streets seeking support from the electorate, PRO8 is doing its best to ensure a peaceful conduct of the elections," PRO8 Director Police Chief Superintendent Elmer Ragadio Soria said.
Soria noted that since the start of the election period, no election-related violent incident was recorded in the region.
He attributed this to the religious implementation of preemptive police operations like the conduct of COMELEC checkpoints/chokepoints; strengthening of PNP-AFP linkages; deployment of more police personnel to areas with previous election-related incidents; police intervention against loose firearms; campaign against Partisan Armed Groups (PAGs) and accounting of wanted person.
"The situation is generally peaceful and we are confident we will have secure and fair elections on May 13," the regional director added.
The 45-day campaign period for the local elections was supposed to start on March 29, but since this falls on Good Friday when campaigning is prohibited, the Comelec had moved the date to March 30.
Senatorial bets and party-list groups started campaigning last February 12 and the campaign period for all candidates will end on May 11.
As this developed, two suspected members of New People's Army were arrested in Northern Samar and two wanted men were arrested in Calbayog City, all suspects were carrying firearms during their arrests.
At about 11:30PM of March 28, joint elements of Northern Samar Provincial Special Operations Group led by PSInsp. Joseph Imperial and Lapinig Municipal Police Station led by PSInsp. Arnold Gomba in coordination with the 52nd Infantry Battalion CAA Detachment of Lapinig arrested two suspected members of New People's Army in Brgy. Potong, Lapinig, Northern Samar.
The two suspects, names withheld pending investigation, were in possession of one unit caliber .45 pistol marked Colt MKIV Series 80 Government Model with serial number 355299 with one magazine assembly loaded with 6 live ammos and one unit caliber .357 revolver with no markings loaded with 4 live bullets.
In Calbayog City, wanted men Ryan Saucero y Dealagdon alias Baying, 38, and Ecer Saucero y Dignos, 40, both farmers, were arrested by elements of Regional Public Safety Battalion 8 (RPSB8) led by PSInsp. Shyrile Tan at the outskirts of Brgy San Isidro, Calbayog City in the early morning of Holy Thursday.
The suspects were nabbed by virtue of Warrant of Arrest for Robbery with Homicide docketed under criminal case number 5016 issued by Judge Reynaldo Clemens of Regional Trial Court Brach 31 in Calbayog City with no bail recommended.
Recovered from the suspects were two units of homemade shotgun with a total of 10 rounds live ammos for 12-gauge shotgun and two units of homemade firearms locally known as "bardog" and "boga".
Earlier on March 25, checkpoint operations in Brgy. Bantigue, Ormoc City resulted in the arrest of three persons identified as Mauro Danas, Marcelo Adoco and Ricky Malinao on board a black Toyota Vios with several high-powered firearms that includes a Larije Tactical M16 rifle; Colt M4 carbine; Ingram 9mm sub-machine pistol; two units .45 caliber pistols marked Colt IV and STI Edge; a Norinco 9mm pistol; and several magazines with live ammunitions of 5.56, .45 and 9mm calibers.
This brings to 88 the total number of people arrested by PRO8 for violating the election gun ban.
"Since our strict implementation of Comelec Resolution No. 9561-A, we have already confiscated 76 assorted firearms including 6 hand grenades and 3 rifle grenades, 31 bladed weapons, 2 firearms replicas and filed 66 cases in different courts regionwide." Soria said.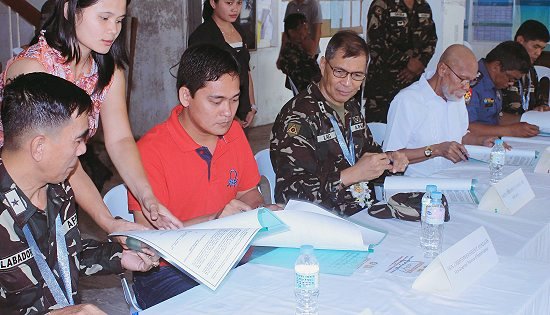 801st Brigade Commander Brig. Gen. Romeo Labador, Eastern Samar Vice Governor Christopher Sheen P. Gonzales, 8th Infantry Division Commander Maj. Gen. Gerardo T. Layug, and Eastern Samar Governor Conrado B. Nicart, Jr., sign a joint-declaration announcing the province is now ready for development. (Photo by REINIER M. AMPONG)
Army: Eastern Samar now ready for development
By MEDORA NB QUIRANTE
March 28, 2013
BORONGAN CITY – The Philippine Army and the Provincial Government of Eastern Samar announced through a joint declaration that the province is now a "manageable conflict-affected and ready for development area" (MCA-RDA).
In a program that lasted less than an hour in the morning of March 25, 2013, 8th Infantry Division Commander Maj. Gen. Gerardo T. Layug, Eastern Samar Governor Conrado B. Nicart, Jr., Vice Governor Christopher Sheen P. Gonzales, and 801st Brigade Commander Brig. Gen. Romeo Labador, signed copies of the declaration with provincial employees and members of the press as witnesses.
Layug, in his message, said the province is now ready to take its first step towards being a world class tourist destination.
Alternative tourism destination
The declaration came a year after the approval of the Samar Island tourism master development plan by the Regional Development Council.
Under the plan, the government and local tourist stakeholders will concentrate its efforts in developing Eastern Samar's Borongan-Llorente forest canopy and Calicoan Island in Guiuan, along with 16 other destinations in the island.
With the plan, Samar Island, home to eco-tourism adventure, cultural and heritage sites, and rich marine life aims to make be third largest tourist haven by 2016.
"We have to admit, in the past, when you talked of Samar Island, you'd think NPA or insurgents," Layug said.
According to the army commander, based on records, in the past three years rebel activities in the province have dramatically dropped.
"Now we can proudly say that insurgency is no longer as big a problem as it was before. Now, we're ready to invite tourists and investors to the province," Layug said.
Winning the peace
Under the Internal Peace and Security Program Bayanihan, the army has incorporated development initiatives and involved the local government units in its campaign against insurgency.
"The army has shifted its orientation from being combat-oriented to involving everybody not in winning the war but winning the peace," Layug said.
For Gov. Nicart, the declaration was not only the success of his administration but "the success of every Estehanon."
Army reports reveal that before the declaration was signed on the provincial level, same declarations have been signed in its component towns.
"We have 19 towns that have signed the same declaration. The signing will only make it official but Jipapad, Maslog, Giporlos and Gen. Mac Arthur are already in the list of MCA-RDA towns," Labador said.
The province is first in Samar Island and is third province in the region to be declared as manageable conflict-affected and ready for development.
DENR partners with ESSU to protect ecologically rich islets in Guiuan, Eastern Samar
By Philippine Information Agency (PIA 8)
March 28, 2013
TACLOBAN CITY – The Department of Environment and Natural Resources and the Eastern Samar State University recently inked a memorandum of agreement in a bid to protect and develop the ecologically rich Monbon and Batan Islets in Barangay Bungtod, Guiuan, Eastern Samar.
In a Memorandum of Agreement (MOA) inked last March 18, 2013, the DENR grants rights to ESSU for the special use of the 21.8 hectares Monbon/Batan Islets and pursue the implementation of activities related to sustainable management of coastal and marine resources in said islets.
The MOA provides that the management of the said islets shall now be jointly undertaken by the two parties, DENR Regional Executive Director Manolito Ragub informed.
Monbon/Batan Islets forms part of the total 60,448 hectares Guiuan Marine Reserve Protected Landscape and Seascape (GMRPLS), a protected area under the National Integrated Protected Areas System (NIPAS) Act of 1992 or Republic Act No.7586.
Under the agreement, the ESSU represented by its Administrator, Andres Pagatpatan, Jr., commits adherence to prescribed environmental protection measures as it makes use of the Monbon/Batan Islets and its vicinities.
Sustainable activities to be pursued include among others: resource and habitat conservation, protection, rehabilitation, and introduction of ecotourism projects for educational and research purposes.
On the other hand, the DENR through its Regional Executive Director Manolito Ragub, shall delineate and demarcate the exact boundaries of the islets and provide ESSU the map of the area which could be used in planning and implementing project activities.
Being inside the GMRPLS, the activities of ESSU in the Monbon/Batan islets shall be duly indorsed by the GMRPLS Protected Area Management Board, the governing Board of GMRPLS which has a multi- sectoral membership, RED Ragub said.
GMRPLS PAMB endorsed the approval and issuance of a Special Use Agreement within Protected Area (SAPA) per PAMB resolution No. 004 dated October 2009.
However, meantime that the SAPA issuance is still suspended, operation of the ESSU is legally based on the Special Land Use Permit, this MOA, and the provisions in the Local Government Code of 1991, RED Ragub added.
The DENR Director said the agreement shall cover a period of 3 years renewable for another 3 years, until a SAPA is in place.
ESSU is a duly recognized government academic institution mandated by law to provide quality advanced education, research and extension services particularly in the province of Eastern Samar where Monbon/Batan Islets are located.
The DENR recognizes the need to involve various stakeholders such as ESSU and other agencies particularly the Bureau of Fisheries and Aquatic Resources, non-government organizations in the management and protection of areas like Monbon/Batan Islets, RED Ragub concluded.
Soldiers clash with NPA rebels in Leyte
By 802nd Infantry Brigade, 8ID, PA
March 26, 2013
ORMOC CITY – Government troops clashed with rebels in a series of firefights during holy Monday and Tuesday in Barangays Liberty and Gaas, respectively, of this City, according to Captain Dranreb F Canto, Civil-Military Operations Officer of the Army's 802nd Brigade.
Troops from 19th Infantry Battalion under Second Lieutenant Amin A Macalintangui while conducting security patrol was fired upon by more or less ten NPA rebels in the outskirt of Barangay Liberty, Ormoc City on March 25, 2013 at three o'clock in the afternoon.
After 15 minutes of firefight, the rebels fled. One soldier suffered a minor wound in his left shoulder and was immediately brought to OSPA Hospital in Ormoc City where he was treated and then released immediately as an outpatient.
The fleeing rebels were pursued by the troops and another clash occurred on March 26, 2013 at one o'clock in the afternoon in the vicinity of Barangay Ga-as, this City. Firefight lasted for fifteen (15) minutes. Government troops suffered no casualty while three rebels were seen by the troops felled down by bullets and dragged by the withdrawing rebels. The troops found bloodstains on the positions of the rebels where they also recovered one back pack, one improvised bandoleer with six magazines for M16 rifle with one hundred fifteen (115) rounds live ammunitions and one magazine for AK-47 rifle with twelve (12) live ammunitions.
Colonel Rafael C Valencia, Commander of the Army's 802nd Infantry Brigade based in Camp Downes, Ormoc City said that the armed confrontations with the NPA rebels were the results of the continuous conduct of security patrols by the troops to protect the communities and the Bayanihan Teams conducting peace and development activities in these areas.
"With a number of rebels wounded during the encounters, we are offering our help to get them immediate medical treatment," Colonel Valencia added. He further asked the populace in the areas surrounding the encounter sites to serve as conduits for the wounded rebels and the soldiers so that "we can immediately bring them to the nearest hospital."
"Our main objective is to attain peace in order to sustain the pace of development in the Island of Leyte that will ultimately provide opportunity for the people to uplift there lives. I am calling everyone to join hands and work for a just and lasting peace," Valencia ended.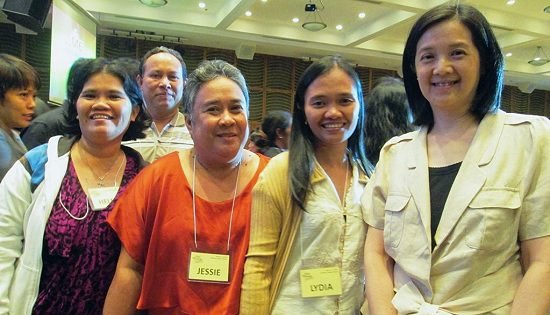 (From L-R) Virgilia Bonghanoy, Nestor Bonghanoy, Josefina Magallones, and Ma. Lydia Jamora pose with Viel Aquino-Dee, Steering Committee member of PinoyME Consortium, during the Me Naman, Na Naman! Pinoy Micro-entrepreneurs' Convention last March 6-8.
RAFI Micro-finance joins ME Naman!
By Ramon Aboitiz Foundation Inc.
March 26, 2013
CEBU CITY – Three clients of the Ramon Aboitiz Foundation Inc. (RAFI) Micro-finance were among the 150 select participants to the Me Naman, Na Naman! Pinoy Micro-entrepreneurs' Convention, a gathering of micro-entrepreneurs from all over the Philippines last March 6-8 in Metro Manila.
Participants from RAFI Micro-finance were nanays Josefina Magallones (Argao branch), Virgilia Bonghanoy (Cebu City branch), and Ma. Lydia Jamora (Cebu City branch).
PinoyME Foundation organized the said event in celebration of their seventh anniversary of lifting lives through micro-finance. It was a free event that brought together micro-entrepreneurs and observers from micro-finance institutions and non-government organizations to share their experiences, gain new knowledge and skills that they could apply to their own businesses, and link them to bigger markets.
Some officials of PinoyMe Foundation and other companies delivered inspiring messages and shared success stories in micro-financing.
"It is possible to earn while helping the community. In this way, we are also giving others the opportunity to have a better life," Rommel Juan, president of Binalot Fiesta Foods Inc., said.
Renowned television and movie director Jose Javier Reyes hosted a segment wherein outstanding micro-entrepreneurs shared their experiences, from managing their livelihood to providing for their families, and even helping their communities.
Sample products from selected participants were also evaluated by potential markets, such as ECHOstore, Pinoydelikasi, PHILFOODEX, and Philippines Amalgamated Supermarket Association Inc.
"Products should be designed according to the target market, which should be studied well," Jeannie Javelosa, co-founder and director of ECHOstore, stressed.
RAFI Micro-finance nanay, Josefina Magallones, a torta maker from the Argao branch, was among the MEs chosen to present their products.
On the second day of the convention, partner government agencies such as Department of Trade and Industry (DTI) and Department of Science and Technology (DOST) provided information on how to develop products and proper design and how to avail their services economically.
The MEs shared their insights on business with one another while the observers discussed ways to assist the micro-entrepreneurs to realize their goals and utilize their full potential.
"This is an experience that I would always cherish because it was my first time to go to Manila with my husband and at the same time, I was able to learn new ways and brilliant ideas to run my business," Virgilia Bonghanoy, the Most Outstanding RAFI Micro-finance Client in 2012, shared.
Important points emphasized in the convention include efficiency in managing a business, strengthening a business towards expansion, market identification, packaging for sales and long-term shelf life, application of technology, and regular monitoring.
Micro-finance is a program under the Micro-finance & Entrepreneurship focus area of RAFI, providing financial resources and know-how to women micro-entrepreneurs to nurture financial independence and entrepreneurship. Other focus areas of RAFI are Integrated Development, Culture & Heritage, Leadership & Citizenship, and Education.
PHL youth attended the 2013 Southeast Asian Youth Environment Network event
Press Release
March 26, 2013
MANILA – Six youth leaders represent the Philippines to the 2013 Southeast Asian Youth Environment Network (SEAYEN) Meeting-Conference in Bali, Indonesia on March 21-28, 2013.
The Philippine youth delegation is composed of the following: Ponce Ernest Samaniego of the University of the Philippines-Diliman; Iris May Ellen Caluag of Miriam College; Arnel Alipao of Caraga State University-Cabadbaran Campus; Jairus Carmela Josol, Masaki Mitsuhashi and Gerald Perry Marin of the Ateneo De Manila University.
Said youth leaders came from the different universities in the country to join with the different youth leaders from Southeast Asia to discuss environmental issues such as post Rio+20 and the post 2015 development agenda. The said event will result in a Southeast Asian youth statement on United Nations (UN) Post 2015 that can be shared with partners, youth networks in the region and to the UN community.
The SEAYEN was jointly set up by the United Nations Environment Programme's (UNEP) Regional Office for Asia and the Pacific, Bayer and the National Youth Achievement Award Council of Singapore, as part of UNEP's global strategy for engaging youth in environmental issues. The network unites youth leaders from its 10 member countries, namely Brunei Darussalam, Cambodia, Indonesia, Laos, Malaysia, Myanmar, Philippines, Singapore, Thailand and Vietnam, and supports them in environmental sustainable development initiatives, enhancing environmental awareness and acting as youth ambassadors for the environmental conscience of young people in Southeast Asia. The said youth environment network is one of the target objectives of the ASEAN Environmental Education Action Plan.
In the Philippines, the Philippine Youth Environment Network was launched last November 2009 as a response to the Green Generation campaign of Earth Day Network International, UNEP SEAYEN TUNZA Strategy and Republic Act No. 9512 also known as the National Environmental Awareness and Education Act of 2008 which recognizes the youth as an active stakeholder in nation-building through environmental education.
The Philippine youth delegation will be expected to undertake a project during the next one year and contribute towards strengthening SEAYEN. They will also be expected to disseminate information about TUNZA and SEAYEN during any forum/ national/ international meetings that they participate and appropriately inform the National Focal Point and SEAYEN/UNEP Secretariat about the same.