Freedom for detained poet reaps int'l clamor amidst military threats
By FREE ERICSON ACOSTA
November 15, 2012
QUEZON CITY – The world's oldest international literary organization, the PEN International, heightened its call to release Filipino poet Ericson Acosta and other imprisoned writers in various worldwide activities observing the PEN's Day of the Imprisoned Writer today, November 15.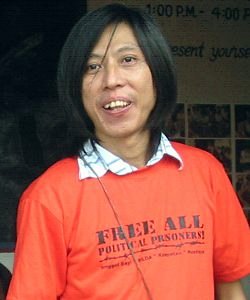 For the past three months, detained poet Ericson Acosta, 40, has been receiving serious threats from state elements. Acosta, his family, visitors and supporters, have also been subjected to various forms of harassment – from text warnings of a planned assassination, rumors of an armed rescue plot, and outright intimidation. Acosta's supporters in Calbayog City, and his elderly parents, Isaias and Liwayway Acosta in Manila receive the same death threats via SMS. For more than a year, Acosta, his family and visitors, have been directly intimidated by the military camp-out at the Calbayog civilian jail where he is detained.
The PEN International's Writers in Prison Committee has expressed serious concern on the prolonged detention without trial of Ericson Acosta. Acosta was arrested in San Jorge Samar in February 2011 because the laptop he carried roused the suspicion of soldiers. Since last year, various PEN Centers in the USA, Canada, South Africa, Australia and the United Kingdom have mounted activities in support of Ericson Acosta's release. Other prominent organizations, like the Amnesty International and the International People's Art Network, have also called for Acosta's release.
In Manila, the PEN's Philippine Center led by National Artist for Literature Bienvenido Lumbera mounted a writers' forum today at the University of the Philippines. The local Writers in Prison Committee has put together literary contributions from different writers groups in Metro Manila, Baguio, Davao, and Samar; as well as appeals from artists, human rights advocates, international solidarity groups and Filipino communities from all over the world.
The Day of the Imprisoned Writer is an annual, international day intended to recognize and support writers who resist repression of the basic human right to freedom of expression. This year, PEN International highlights the cases of Regina Martínez, a Mexican journalist (murdered); Shiva Nazar Ahari, journalist, human rights activist and blogger (Iran); Muharrem Erbey, a human rights lawyer and writer from Turkey; Eskinder Nega, a journalist and blogger (Ethiopia); and Ericson Acosta, a Filipino poet, songwriter and activist.
The AFP in Calbayog suddenly deployed three more squads last week to supposedly foil plots of an armed rescue mission. The military camp-out right beside the Calbayog Sub-Provincial jail upon Acosta's detention has been transferred to another area, allegedly for the purpose of preventing the same rescue operation. These patchy military suspicions are used by authorities to justify repression in Calbayog and other neighboring towns in Samar.
Yet the clamor for Ericson Acosta' release has only gained more popular support from fellow artists. Local youth rock bands have frequented the Calbayog jail to jam with Acosta, and provide guitar riffs for his compositions. Band members were individually confronted by military elements in most unlikely places like internet cafes. But still, Acosta's music echoed in the latest youth rock event held on November 10 in the largest university in the city. Last week, 30 writers from a National Commission for Culture and the Arts (NCCA)-sponsored writers' workshop visited the jail. The writers held a short program filled with solidarity messages that ended in a highly-emotional group singing of "Bayan Ko."
Acosta's 79-year old father laments, "Our petition for review before the DOJ (Department of Justice) has been pending for more than a year now, when it should only take 60 days for them to issue a resolution. Why is my son being kept in prison?" Acosta's colleagues from Philippine PEN assert that "His [Acosta's] commitment to shared ideals can never be a basis for his imprisonment. The writer must create, imagine, speak truth to power."
PRO8 arrest 8 suspects as anti-illegal gambling campaign continues
By RPCRD, Police Regional Office 8
November 14, 2012
CAMP SEC. RUPERTO K. KANGLEON, Palo, Leyte – The Police Regional Office 8 will continue to enforce its anti-illegal gambling drive as eight more persons were arrested by different line units of PRO8 recently for engaging in the illegal numbers game, according to its director.
"Guerilla-type" or "hapa-hapa" gambling operation is still being patronized by some bettors and we will continue to go after them," Police Chief Superintendent Elmer Ragadio Soria said while announcing the accomplishments of his men.
Soria added that he reiterated his directives to unit commanders to sustain their anti-gambling campaign even with the absence of big-time illegal gambling operators in the region.
First to fall was 22-year old Ronald Oliva y Solayao, resident of Brgy Canlapwas, Catbalogan City who was collared by local police officers under Police Senior Inspector Rommel B Sorila while in the act of soliciting bets for "swertres". Police also confiscated a bundle of stubs with different number combinations, a black ballpen and P81.00 cash as bet money.
In Hilongos, Leyte, Wilfredo de Veyra Vargas, 44, and his live-in partner Teresita Vienes, 42, both residents of Brgy Catandog 1, were caught while engaged in 'swertres' by joint elements of Hilongos Police Station under Police Chief Inspector Virgilio D. Plaza and Games and Amusement Board - Anti-illegal Gambling Unit (GAB-AIGU) led by Director Omar Villarba, resulting in the confiscation of 8 tally sheets with different number combinations.
Jerry A. Bascon, 28, single and a resident of Brgy Mayuga, Liloan, Southern Leyte was arrested by PO2 Roderick A Lapingcao while in the act of collecting "swertres" bet. Also seized from the violator are 2 tally sheets with number combinations, 2 lotto tips, 2 stubs and bet money amounting to P115.00.
"Swertres" paraphernalia with cash bet amounting to P173.00 were also confiscated from Charlie Bolo y Ligas, 28, of Brgy Capacuhan, Anahawan, Southern Leyte by policemen led by PO2 Paul C. Tupaz when law enforcers conducted anti-illegal gambling operations in said area.
In Brgy Cabaohan, Pastrana, Leyte, policemen led by PO3 Raul Baldesco conducted police operation against one Diosdado Catindoy, 47, married of Brgy Jones, while engaged in "swertres.
Confiscated from him were stubs with different number combinations, a black ballpen and P50.00 cash bet.
Marven Dico y Epiz, 21 and Rolando Pakiding y Lopez alias Lando, 44, were also arrested by policemen in Maasin City and Hinunangan, Southern Leyte, respectively, while also engaged in "swertres", with cash bet totaling to P203.00 and illegal gambling materials confiscated by the police.
One alias Emboy Dionaldo and his unidentified cohort however evaded arrest when a police team led by Police Senior Inspector Ricky C. Geli tried to arrest them in Jaro, Leyte. The duo left behind one unit motorcycle with Plate No. 6737HL and 300 pieces tally sheets with different "swertres" combinations. They are now the target of manhunt operations by the local police.
The arrested suspects were detained at the local PNP station pending the filing of complaints for violation of Republic Act 9287 or the Amended Gambling Law in court.
Director Soria commended his men for their no-nonsense efforts in addressing the on-and-off operations of illegal gambling in their area of jurisdiction as he vowed further to continue the PNP's anti-illegal gambling drive in the region.
DOE grants gasoline station loan in LGUs without gasoline station
By Philippine Information Agency (PIA 8)
November 13, 2012
PALO, Leyte – The Department of Energy has introduced the granting of gasoline station loan in order to promote retail competition in the Downstream Oil Industry as well as to encourage and support new industry participants who are interested to put up gas station business especially in areas or local government units without gasoline stations.
Director Zenaida Monsada, chief of DOE's Downstream Oil Industry Management Division, gave this information during the multi-sectoral advocacy on downstream oil industry forum, held recently at the Leyte Oriental Hotel.
One of the pillars of deregulation is to encourage the entry of new industry participants, Director Monsada said.
To this effect, the Gasoline Station Lending and Financial Assistance Program was introduced, Director Monsada said.
In order to be able to avail of the credit assistance, the borrowers must first successfully complete the two-fold program on management and skills training in the retailing of Petroleum Products for the establishment, operation, improvement, management and maintenance of gasoline stations within the current deregulated environment.
The financial assistance covers the retailing of all Petroleum Products sold in gasoline stations, including LPG.
Director Monsada said that the total amount earmarked for the Program is Ninety-Four Percent (94%) of the Three Hundred Million Pesos, equivalent to Two Hundred Eighty-Two Million Pesos (P282M).
This Program Fund shall be made available by the Philippine Amusement and Gaming Corporation (PAGCOR) through the DOE and administered by the Development Bank of the Philippines (DBP).
Director Monsada said that the local government units may also apply as the usual problem of the applicants is the land property.
All eligible projects (Projects) can avail of the one hundred percent (100%) loanable amount provided that such amount shall not exceed fifty percent (50%) of the total Project cost or Five Million Pesos (P5,000,000.00), whichever is lower.
The maximum term of the loan shall be seven (7) years and payments of principal shall be made monthly; provided, that the first installment shall be due within six (6) months from the date of initial release of the loan proceeds, Director Monsada said.
Drive vs. PAGs, loose weapons are PRO8's top priority – Soria
By RPCRD, Police Regional Office 8
November 13, 2012
CAMP SEC. RUPERTO K. KANGLEON, Palo, Leyte – Vowing to ensure a peaceful and orderly 2013 midterm elections, the region's top police official has ordered his men to step up their investigation of individuals who may be employing "partisan armed groups," particularly those with links to some politicians, and to spare no one in their campaign against PAGs and loose weapons.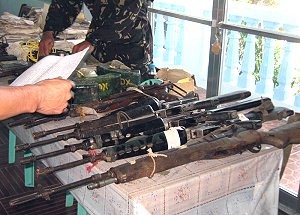 "We are cross-checking and ironing all the information that we could get on these aspects to make the 2013 elections peaceful and credible," Police Chief Superintendent Elmer Ragadio Soria, PRO8 regional director said.
"Among the critical factors are the possible employments of the PAGs being cuddled by politicians and loose firearms. We are reviewing the assessment of our intelligence units, records of poll-related violence in the past elections and consolidating the operational targets," Soria added.
The police regional director disclosed that at least two remaining PAGs are being monitored by his office as they also aimed to neutralize them before the campaign period. He added that he ordered his field commanders to conduct a stepped up crackdown on PAGs and to continue the massive drive against loose firearms across the region that may be used as an "instrument of violence" during the 2013 polls.
Since assuming post as the region's top cop, Soria ordered a massive drive against them which saw the Joint Special Operations Task Group on PAGs smashing a number of suspected members. At least four positive police operations resulted in the arrest of 3 members of one group, including Samar's Most Wanted criminal, and also one member from the other group. All four suspects have pending arrest warrants for murder.
"While there are no monitored activities by PAGs in the region as of this time, continuous monitoring is being undertaken by our men as they maybe recommissioned by some politicians to be utilized in the coming elections," Soria said, adding that remaining members with existing arrest warrants are subject for neutralization and he hopes the police would eventually dismantle them.
Aside from conducting assessment and monitoring on the existence of PAGs, Soria also already directed his men to religiously implement checkpoint operations and conduct random checkpoints as part of the measures to control the proliferation of loose firearms and constrain the movement of PAGs.
"The conduct of random checkpoints has been proven to be an effective formula in running after PAGs, that is included in our security plan for the elections," Soria averred, adding that this initiative would be part of the police effort to safeguard the elections.
PRO8 is also making political and security assessment particularly focusing in areas where there have been election-related violent incidents due to existence of intense partisan political rivalries and lawless groups in the past elections.
The PNP earlier launched Task Force: Secured and Fair Elections (SAFE) with their operations focusing on the campaign against loose firearms and PAGs that are considered the major contributors in election-related violent incidents in the past elections.
New ICRC website reunites dispersed families
By ICRC
November 12, 2012
GENEVA – War, disaster and migration separate thousands of family members every year.
To help members of dispersed families restore contact with each other, the International Committee of the Red Cross (ICRC) is launching a new website – familylinks.icrc.org – on 13 November.
"Familylinks.icrc.org will change the way people go about getting back in touch with family members they've become separated from," said Olivier Dubois, deputy head of the Central Tracing Agency and Protection Division of the ICRC. "Staying in touch with other members of one's family has a huge effect on a person's well-being and their ability to cope with a crisis. We have developed this simple, user-friendly website together with national Red Cross and Red Crescent societies for people who want to restore contact with relatives during or after a crisis," he explained. "A few clicks will put them in touch with dedicated specialists who will provide personal follow-up on enquiries."
Regardless of whether people are fleeing armed conflict, other violence, natural disaster, poverty or other causes of hardship, displacement can cause them to be cut off from their loved ones. Whatever the reason for a person's struggles, staff and volunteers of the Red Cross and Red Crescent network strive to ensure that they are treated with dignity, respect and compassion.
"What makes the new familylinks.icrc.org website special is the way it combines suitable technology and unique resources," explained Mr Dubois. "The International Red Cross and Red Crescent Movement has a grassroots network of volunteers already on the ground, in virtually every corner of the world, who actively search for missing persons. No other organization in the world can provide such a service."
One example of the strength of the grassroots network is provided by the story of a Libyan man who fled his country in 1968 and settled in Switzerland. For decades, he was totally cut off from relatives and friends. This year, with help from the ICRC and the Swiss Red Cross, he was able to get back in contact with his loved ones in Libya and go visit them. "Seeing your family again after 43 years – it's like being born again," said Mr Al Naji, overwhelmed by emotion as he set foot on Libyan soil.
"Many more people will be able to find out what services are available and how to obtain them. We may well see an increase in the number of tracing requests," said Mr Dubois. The new website will provide information on tracing services available in every part of the world, contact details of national Red Cross and Red Crescent societies and ICRC delegations, and other useful resources. While the chief purpose of familylinks.icrc.org will be to serve people searching for loved ones, the website may also be of interest to humanitarian organizations and welfare service providers to whom these people have turned for help. The site will also serve as a platform for exchanges between tracing specialists.
Under international law, people have the right to be informed of the fate of missing relatives. Where appropriate, everything possible must be done to find out where they are, restore contact with them and reunite them with their families.
The ICRC launched its first website of this kind in 1996 in response to the Bosnia conflict. The organization has since set up ad hoc sites in response to 23 crises, most recently in connection with last year's tsunami in Japan. Over the years, these efforts have helped countless people restore contact with relatives.
Western Samar steps up efforts on coastal resource management
By PBSP-Visayas
November 12, 2012
CEBU CITY – In order to sustain the province's efforts on the protection and conservation of its coastal waters, various stakeholders of Western Samar join hands in formulating an integrated plan on coastal resource management which will include development of the province through eco-friendly means.
The provincial agriculturist office teamed up with Philippine Business for Social Progress (PBSP), Samar State University-College of Fisheries and Marine Sciences, Gugma Han Maqueda Bay Iguin Ondong han Organisasyon Samarnon (GIOS), Regional Fisheries Training Center, Bureau of Fisheries and Aquatic Resources (BFAR), Provincial Police Office and the municipal Fisheries and Aquatic Resource Management Councils (FARMCs) for the said planning.
The plan will include comprehensive and integrated programs anchored on sustainable development and will include the towns of Motiong, Jiabong, Daram and Tarangnan and the city of Catbalogan as the pilot areas.
The agreement happened during a fisheries forum which recently took place at the New Maqueda Bay Hotel in Catbalogan City, which presented the various CRM plans of the five local government units for adoption.
"It is high time for Samar to adopt an integrated plan; we are no longer productive," Catbalogan City Tourism Officer Raulito Reyes stated.
Fishing remains to be the main livelihood of Samar but illegal fishing practices, which destroy coral reefs and other fish breeding areas, continue to deplete marine resources.
"Let's formulate the plan and let our provincial government endorse this to the Regional Development Council for adoption," Provincial Agriculturist Anita Taran stated.
Taran added that the initiative is one of the province's steps in beefing up integrated approaches to the management of its coastal and marine resources.
"Momentum is on our side. Kung ano ang gagawin natin ito ngayon, susunod ang lahat (ng areas ng Samar)," Reyes added.
Aside from the creation of an integrated CRM plan, the team will also provide support to the municipal and barangay FARMCs on the implementation of fishery laws and look for more schemes to get funding support for the implementation of the plan.
FARMCs are mandated by the government to oversee coastal resource regeneration as well as look into the improvement of the fisheries sector in the local level.
"Ang nakanindot, atong municipalities capacitated na," Samar Chamber of Commerce and Industry President Dominador Cabanganan said.
The fisheries forum capped the two-year program on collaborative coastal resource management (CRM) implemented by PBSP and funded by the European Union.
Called the Linking Initiatives for Collaborative Coastal Resource Management and Governance (LINC-CRMG), the project assisted the province in achieving effective and sustainable coastal resource management and contributing to poverty reduction through the rehabilitation of the Visayas coastal zones, enhancement of alternative livelihood to further prevent use of coastal resources, and enforcement of fishery laws.
One of its major strategies is building the capacities of local government units, especially the FARMCs, on the implementation of measures towards the conservation of coastal resources.
LINC-CRMG also provided support towards the province's food security and livelihood generation for coastal communities by funding more than P1.2 million on livelihood projects in Samar to ease up the pressure on the coastal zones for two years.
These projects include milkfish and grouper production in sea cages and seaweed and green mussel farming, among others.
PRO8 nabs 57 illegal fishers
By RPCRD, Police Regional Office 8
November 9, 2012
CAMP SEC. RUPERTO K. KANGLEON, Palo, Leyte – Elements from different line units of the Police Regional Office 8 arrested a total of 57 men the past two days for using illegal fishing methods in the seawaters of Samar, Leyte and Biliran provinces.
Eastern Visayas police director Police Chief Superintendent Elmer Ragadio Soria said that seaborne patrols off the territorial seawaters of the 3 provinces resulted in the confiscation of 5 fishing boats while engaged in different illegal fishing practices.
"Sustained implementation of fishery law is our contribution to the preservation of the environment", Soria said.
At about 5:45 AM of November 7, at the territorial seawater of Maripipi, Biliran, joint elements of Maripipi Police Station led by Police Inspector Edgardo Z De Asis and Bantay Dagat personnel arrested one Ronnie Baldonando, 35, married and resident of Brgy Binongto-An, Culaba, Biliran, owner and operator of the confiscated fishing boat which was used in illegal fishing activity also known as "mano-mano" in violation of Article IV, Section 15 of municipal ordinance number 2011-01 of said municipality with 4 other crew men.
At about 11:00 AM, joint elements of Calbayog City Police Station led by SPO4 Jonas Genoguin Tecbobolan and Fish Wardens of Brgy Banti-An conducted seaborne patrol within the seawaters of the aforesaid place which resulted to the confiscation of one fishing boat marked F/B Veralous while being used in illegal fishing activity locally known as Holbotan by the 10 arrested crew men skippered by one Alex Acuin Y Sodario. Subject fishing boat with an estimated market value of 1.3 million pesos is owned by Rolly Soria of Brgy Aguit-Itan, Calbayog City.
At about 7:45 PM, within the seawaters of Maripipi, Biliran, elements of Maripipi Police Station led by Police Inspector Edgardo Z De Asis confiscated a fishing boat marked F/B Kirby while being used in illegal fishing activity known as Holbotan with 9 crew men skippered by Manuel Balboa, 52, married and resident of Brgy Tucdao, Kawayan of said province. Subject fishing boat with an estimated market value of P500,000.00 is owned by one Balbino Paghunasan.
Earlier on November 6, at about 8:10AM, along Binangonan Reef, more or less 2 kilometers from the shoreline of Brgy Cogon, Palo, Leyte, joint elements of Palo Police Station led by SPO2 Absalon F Barbosa and Palo Fishery Law Enforcement Team (FLET) led by Mario L Torreros while conducting seaborne operation arrested one Salvador Regano, 34, married, fisherman and resident of Sitio San Fernando, Brgy Cogon of same municipality while engaged in illegal fishing activity with the use of air compressor which is violation of law.
At about 8:00AM, elements of Cabucgayan Police Station led by Police Senior Inspector Vicentito Untoca conducted seaborne operation within the seawater of Cabucgayan, Biliran which resulted to the apprehension of two (2) fishing boats marked Victoria 2 and Victoria 7, both owned by Pablo Lotoc, a resident of Brgy 62, Sagkahan, Tacloban City. Subject fishing boats were skippered by Nonoy Yano and Diosdado Makabenta respectively with 32 combined crew men and were used in illegal fishing activity with the use of fine net and active gear. Accordingly, both have an estimated market value of P500,000.00 and weight of 20 tons.
Recovered from the suspects were different illegal fishing paraphernalia like fine nets, bamboo boom, compressor and other gears which are prohibited by law. Confiscated fishing boats and arrested persons were subsequently released after paying the corresponding fines ranging from P1,000.00 to P25,000.00 in violation of local ordinances in the municipalities where they committed the violations.
The recent apprehensions were in addition to more than a thousand illegal fishers previously caught by the police in the region, the Regional Director informed.
Soria further said that illegal fishing have no place in Eastern Visayas since he himself leads the crusade against it.
Chiz seeks probe on toxic dumping charges
By Office of Senator Chiz Escudero
November 9, 2012
PASAY CITY – Senator Chiz Escudero is seeking an investigation into the reported dumping by a contractor of the United States Navy of hazardous wastes on Subic Bay last month.
"The government should investigate this alarming report immediately. Such activity, if indeed it took place, could prove to be an environmental disaster," Escudero said.
"If its proven that Glen Defense Marine Asia had indeed dumped hazardous wastes on Subic Bay, they should immediately be made to dispose of the wastes properly as mandated by our environmental laws and international ecological standards and pay for all damages," the senator added.
Escudero chairs the Senate Committee on Environment and Natural Resources.
Reports said the Subic Bay Metropolitan Authority is now investigating Glen Defense Marine Asia after it claimed one of the contractor's vessels, the M/T Glenn Guardian, dumped wastes collected from US ships that participated in the recent joint military exercises in the Philippines.
Test results of water samples conducted by Subic Water and Sewerage Co. allegedly showed very high levels of toxicity. SWSC was contracted by SBMA to conduct the tests following the alleged dumping.
Escudero also wants the Department of Foreign Affairs to make representations to prevent similar incidents in the future.
Earlier, Glen Defense Marine Asia claimed through its lawyers that the SBMA had no jurisdiction to investigate it, invoking the Visiting Forces Agreement between the US and the Philippines.
"Our laws are clear on environmental protection, particularly Republic Act 9275 or The Philippine Clean Water Act of 2004 if indeed hazardous wastes were dumped on Subic Bay," the senator said.
"The main point that we need to determine at this point is whether hazardous wastes were dumped on Philippine waters and if so, how do we proceed to clean up, hold the contractor accountable, and make sure that such an incident does not take place again in the future," Escudero added.