An Waray – a bogus partylist says BAYAN
By BAYAN Eastern Visayas
October 28, 2012
TACLOBAN CITY – Regional patriotic umbrella alliance, said today that the local An Waray Partylist is one of those dubbed bogus party-list groups earlier disqualified by the Commission on Elections (COMELEC).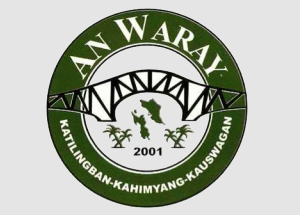 The Eastern Visayas formation of BAYAN is represented by its Secretary-General, Mr. Rogelio "Jun" Berino.
As the prominent AKO BICOL Party-list was disqualified by the COMELEC for participation in the 2013 National Midterm Elections, Bagong Alyansang Makabayan (BAYAN) called An Waray Partylist bogus as it is in many ways similar in character to those party-list groups already disqualified by the said electoral body.
"An Waray's representatives do not belong to the marginalized and underrepresented sector that the partylist group seeks to represent. Florencio Noel is the husband of a District Representative, Malabon Congresswoman Jane Lacson-Noel that makes him financially capable to compete in the regular congressional district elections. He is also the 28th richest party-list representative among the 56 partylist congressmen as of 2011 as he totaled a net worth of P13,105,000.00," Mr. Berino said in the statement.
Berino also added that, "Neil Benedict Montejo, An Waray's second representative, is even richer than Noel with his net worth amounting to P19,690,000.00 making him the 19th in ranking among millionaire partylist congressmen. The Montejo family also owns Montejo Newspaper and Hotel Alejandro, a prominent and luxurious hotel in Tacloban City while as of press time, they have another hotel constructed in the same city."
On the other hand, concerning the aspect of An Waray's national scope, Berino said that, "The uneven distribution of An Waray's projects through the Project Development Assistance Fund or PDAF of its congressmen, especially that of Cong. Noel's are highly concentrated in the small thriving city of Tacloban which is contrary to the mandate of a partylist to have a national scope and character, similar to that of a senator.
The recent P2 million-cost rehabilitation of the Tacloban Legislative Building, the mushrooming of Tanod outposts bearing initials of Cong. Noel, the pouring of funds for medical and financial assistance to the Region 8 alone, are only some of the perfect examples of how An Waray in essence represents a sole region in the Congress, while the Eastern Visayas region is already well-represented as it is politically subdivided into 6 provinces, 1 chartered and 1 highly urbanized city, 6 component cities, and 12 congressional districts. This is a clear violation of the intent and purpose of the party-list law and 1987 Constitution."
"An Waray is one evidence of the abuse of the partylist system by the rich and the powerful. The tempo started by the COMELEC is a very good chance to cleanse the partylist system. I just hope that before the printing of ballots for the 2013 Elections, bogus partylists are already out of the list, for them not to take away the seats supposedly for the poor and the marginalized," Berino concluded.
Family of political prisoner decries threat, harassment
By Free Ericson Acosta
October 26, 2012
Father asks President Aquino: "Who will be held responsible if something bad happens to my son while he is unjustly detained?"
QUEZON CITY – The family of political prisoner Ericson Acosta decried threats against their son and their family after receiving text messages which said he or his parents might get killed on November 2, All Souls Day.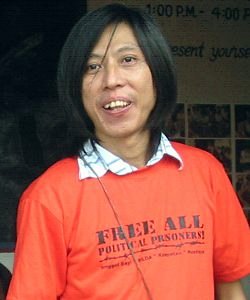 Jailed poet and journalist Ericson Acosta
Isaias Acosta, 79, father of Ericson, said his driver received a series of messages in the morning of October 24 and 25. The first message read: "ericson acosta is in danger he might get killed on all souls day please spread the news."
This was followed by a Filipino translation of the first message: "please spread the news ericson acosta plano patayin sa araw ng patay. kung ndi man siya ay ang kanyang magulang n nktra sa anapolis cubao... Anonymous UST..."
Ericson Acosta, 40, is a poet and journalist who was arrested without warrant on February 13, 2011 in San Jorge, Samar. Military elements accosted him for mere possession of a laptop. After three days of interrogation and torture inside a military camp, Acosta was charged with illegal possession of explosive and was tagged by the military as a high-ranking NPA rebel.
"Wala kaming kaaway. Matatanda na kami. Marami na kaming sakit. Mag-ootsenta anyos na ang asawa ko ngayong Linggo. Magbi-birthday siya na nakakulong pa rin ang aming bunso. Ito pa ba ang ireregalo nila sa kanya? (We have no known enemies. We are too old. We have many illnesses. My wife is turning 80 this Sunday. She will mark her birthday with our youngest son still behind bars. Is this their idea of a birthday present?)
According to Acosta, they can only suspect these threats to come from state agents. "Ericson is the lone political prisoner (at the sub-provincial jail in Calbayog City), yet the military has deployed troops around the jail to harass him and his visitors. The jail is supposed to be a civilian facility, yet Ericson has been virtually under military detention."
The elder Acosta is equally disheartened about President Aquino's rash statements on the country's human rights situation. In recent interviews, human rights violations were dismissed by the President as "only Leftist propaganda."
Lamenting the President's recent pronouncements, Isaias said, "My son is a victim of torture and prolonged illegal detention. Our petition for review before the DOJ (Department of Justice) has been pending for more than a year now, when it should only take 60 days for them to issue a resolution."
"Last July, we filed a motion for Ericson to be accorded immediate medical attention for his renal problems. After three months, the court has not acted upon the motion. Private doctors have silently turned down our requests to check on Ericson – we understand their fears because Ericson is surrounded by soldiers. In his latest letter, Ericson said he had another high fever last week. Instead of justice, we now receive more insults and threats."
"Bakit naghahamon ng tulong ang Presidente para maresolba ang mga kaso ng pang-aabuso, gayong nasa kanya na nga ang lahat ng kapangyarihan? (Why must the President challenge people to help him solve these cases of abuses, when he has all the power to do this?)" he asked.
"Gusto ko pong tanungin ang Pangulo: sino po ang magiging responsable kapag may masamang nangyari sa anak ko habang siya'y nakakulong at hindi gumugulong ang hustisya? ( I would like to ask the President: who will be held responsible if something bad happens to my son while he is unjustly detained?)" said Mr. Acosta.
Think before you speak, Mr. President, the ball is in your hands – Karapatan
By KARAPATAN
October 26, 2012
QUEZON CITY – Karapatan today derided Pres. Aquino's statement that extrajudicial killings is not his government's policy, as he called on senatorial candidate, Teddy Casiño of Bayan Muna, to help in solving the killings by looking for evidences and filing cases.
"The problem with the Aquino government is when it can no longer justify the existence of human rights violations and when its pro-human rights posturing is exposed as a sham, it turns the table around and puts the burden of proof on the victims and those who advocate and defend human rights. Ano naman ang silbi ng ganitong gobyerno? " said Cristina Palabay, secretary general of Karapatan.
"Mr. President, you should think before you speak, because the responsibility of exacting justice is in your hands. In the first place, the burden of solving the cases of extrajudicial killings and serving justice to the victims is with the Aquino government, especially because majority, if not all of the killings, involve the armed and paramilitary forces headed by Aquino. But since he failed to even lift a finger to solve these cases, the relatives of human rights victims and Karapatan have taken it upon ourselves to initiate the filing of cases in Court," she added.
Karapatan said that there are several cases long pending in court, among them are the killings of Fernando Baldomero, the first victim of extrajudicial killing under Aquino; the case of botanist Leonard Co, Italian Priest Fr. Fausto Tentorio, the Dutch volunteer Willem Geertman and Dr. Gerry Ortega. "These high-profile cases remain unsolved and none of the perpetrators are put to jail yet. One could just imagine how it is for the families of the more than 100 lesser-known victims of extrajudicial killings under Aquino," added Palabay.
Karapatan said that "Aquino is responsible for these killings because of his administration's Oplan Bayanihan, and accountable at the very least, for not exercising due diligence in rendering justice for the victims."
The perpetrators in the killing of Baldomero remain free from arrest, while the case filed by the relatives of Co at the Department of Justice have yet to be heard after more than a year. Meanwhile, the masterminds in the killing of Tentorio and Geertman, who are alleged to be members of paramilitary and military forces, remain unscathed.
There are other perpetrators, Palabay said, "who remain scot-free as in the case of Gen. Jovito Palparan Jr. and the Reyes brothers who are involved in the killing of Ortega; while other such as Maj. Gen. Jorge Segovia and Col. Aurelio Baladad, who face charges for the torture of 43 health workers known as Morong 43 were promoted by Aquino."
Palabay also stressed that Aquino could not brush off these killings as isolated cases, and not as part of his government's policy. "We would like to remind the President that his counterinsurgency program, the Oplan Bayanihan has been terrorizing people, especially in the countryside, and has already resulted to a continuously increasing number of human rights violations, aside from extrajudicial killings. How can the killings not be part of his government's policy?"
Greenpeace says Philippine seas is facing an unprecedented crisis
By GREENPEACE
October 25, 2012
DONSOL, Sorsogon – Climate change, ocean pollution, and overfishing threaten the Philippines' stature as the leader in global marine biodiversity, and are already affecting communities that rely on rich marine ecosystems for food.
At a community conference held at the Municipal Hall of Donsol, Sorsogon, Greenpeace today expressed alarm over the unprecedented destruction of the Philippine marine ecosystem that foreshadows serious health, social and economic impacts.
"We are an archipelagic nation. Soon, we will become the epicenter of global marine adversity if our government agencies refuse to acknowledge and address the crisis at sea," said Vince Cinches, Oceans Campaigner for Greenpeace Southeast Asia.
"Our seas are already under threat from massive overfishing and decades of unsustainable fishing practices that have resulted in today's dwindling fish catch. With ocean acidification and rising sea temperatures, fish won't be able to spawn and propagate. That now leaves 30 million Filipinos with even less fish to eat," he added.
There is also the problem of illegal commercial fishing. Monsignor Angel Dy of the Sorsogon Social Action Foundation Inc. said that fisherfolk around Burias-Ticao Pass cannot compete with large commercial fishing vessels that encroach on municipal waters. "We know that illegal and unregulated fishing is rampant in our waters, and yet no one seems to be doing anything about it. This is the reason why last year some bishops went to President Aquino to request that his office ban commercial vessels from the waters around Burias, Ticao, and Ragay Gulf," said the Monsignor.
With climate change affecting the world's oceans, more extreme and unpredictable weather has shortened the fishing season for small-scale fisherfolk who are entirely dependent on the sea for their livelihood. In Donsol, fishermen have experienced another lackluster year. Most can barely meet six kilos per day, the average haul that will give them a good day's wage. About 1.2M jobs in the fishing, tourism and the food sectors would be directly affected by poor oceans management. Cinches said that the government has so far not offered a comprehensive solution to revive Philippine seas.
Philippine Fisheries has an annual estimated production of 6,000,000 metric tons of fish, but there has been a steady decline due to overfishing attributed to illegal commercial fishing vessels. Greenpeace has long called on the government's attention to help avert a fish crisis. Earlier this year, the Bureau of Fisheries and Aquatic Resources (BFAR) revealed that ten out of 13 fishing grounds in the country are heavily exploited due to illegal and unregulated fishing activities.
Greenpeace is working to support fishing communities in the Philippines, particularly in places like Ticao Pass and Donsol which are home to vulnerable species such as whalesharks and manta rays.
"We are in deep trouble. The government must acknowledge that our seas are in crisis," Cinches said. He urged the BFAR to come up with a fisheries rescue roadmap: "What the country needs is the establishment of more marine reserves and the reduction of our fishing capacity to sustainable levels, alongside long term solutions to climate change."
In the coming weeks, Greenpeace will launch its Ocean Defender initiative, bringing together a network of volunteers who are committed to raising awareness about oceans issues such as marine pollution and overfishing. The group is calling on Filipinos who care about our seas to join this movement by logging on to http://www.facebook.com/groups/oceandefender/
Greenpeace is committed to defending the health of the world's oceans and the plants, animals and people that depend upon them.
PRO8 strengthens police-media relations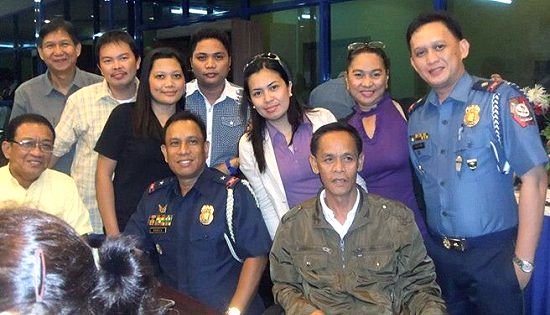 By RPCRD, Police Regional Office 8
October 25, 2012
CAMP SEC. RUPERTO K. KANGLEON, Palo, Leyte – The Police Regional Office 8 have seen the need to revisit media relations in order to strengthen the organization's relationship with the fourth estate.
Police Regional Director Police Chief Superintendent Elmer Ragadio Soria cited the importance of strengthening police relations with the media saying they are crucial communication partners not only during crisis but also in normal situations.
"The media acts in various ways – as watchdog, gatekeeper and instrument – to disseminate vital information and also to help strengthen and support government development undertakings so people may appreciate it and from which they can come up with informed decision.", the police official said during the election for vacant position and induction of new officers of the PNP-8 Press Corps held at PRO8 Conference Room yesterday afternoon.
Broadcaster Rey Ledesma of dyDW Radyo Diwa-AM is the new Press Corps President following the rule-of-succession vice radioman Roy Tolibas who departed in a motorcycle accident last April while Marvin Modelo of dyBR-AM replaced Ledesma as Executive Vice President.
Soria pointed out the significance of continuous harmonious camaraderie and working relations between PRO8 and the local media.
"The symbiosis of the police and the media makes our jobs easier that will ultimately lead to a well-informed public. It is our duty to inform our clienteles since it is their right to know while the media plays a vital role because they serve as our extension in releasing information to the public," according to the region's top police official.
Soria also declared that the only way to promote a better relationship between the two organizations is to learn from each other. "It is by learning each other's ways and fostering greater understanding that we can promote a better relationship," he said.
The regional director also highlighted the importance of making the media a partner in its anti-criminality campaigns making it easier for the police to inform the public that the force is doing its job in making sure that law and order prevails.
"Police accomplishments supported by media reports on our successful operations always yield positive impressions from the community", he said.
A fellowship between PRO8 officials and more than 20 journalists coming from different parts of the region held at the PRO8 Matapat Hall Boardroom highlighted the occasion.
NZ Group to Aquino: It's not only the 'extreme left' who are critical of unabated killings under your watch!
Press Release
October 25, 2012
"The United Nations Special Special Rapporteur on human rights defenders, Human Rights Watch, Amnesty International, World Council of Churches and other reputable institutions and various individuals have raised concern on the continuing human rights abuses under more than two years of the Aquino presidency. It's not only the 'extreme left' who are critical of unabated killings under your watch."
Thus was the message of Philippine solidarity group in New Zealand as the Office of the President stated that its "views resemble misinformation commonly being disseminated by a number of individuals and organisations with ties to extreme leftist elements in the Philippines."
Ramon A. Carandang, secretary of the Presidential Communications Development and Strategic Planning Office in Manila, wrote in The New Zealand Herald in response to PSNA article. The PSNA urged Prime Minister John Key to raise the issue of human rights in the Philippines and challenge President Aquino to make the country an "actual" democracy."
One of the Herald's reader commented: "Despite the assertion of Mr. Carandang, criticism of the Aquino Administration's response to extrajudicial killings has not just come from the 'extreme left'.
Human Rights Watch has announced its disappointment that no soldiers or police responsible for killings and torture of civilians have been successfully prosecuted yet, even though Aquino has been in power for two and a half years. General 'Butcher' Palparan, who has been charged with the kidnapping and torture of two young female university students, has yet to be captured. Human Rights Watch and a number of Filipino human rights groups believe he is being sheltered by elements in the Armed Forces.
Last year the President also made a directive allowing mining firms to employ paramilitary forces. Amnesty International has called for these paramilitaries to be disbanded because they have engaged in human rights abuses against local residents. Many people would take President Aquino's commitment to human rights more seriously if there were some successful prosecutions of those soldiers who had killed and tortured civilians and the directive allowing mining companies to employ private armies was reversed."
PSNA dares President Aquino to immediately respond positively to the request of the United Nations Special Rapporteur on human rights defenders to visit the country in order to assist the Government in improving the volatile situation of human rights defenders in the Philippines. In July 2012, Margaret Sekaggya and Christof Heyns, special rapporteurs on human rights defenders and extrajudicial killings, urged the government to immediately adopt measures to protect rights defenders in the Philippines and investigate the increasing number of threats and killings targeting them over the past months.
Just like previous administrations, President Aquino, Mr. Carandang and other government apologists resort to red-baiting when they are confronted on outstanding issues of corruption and impunity. In truth, Aquino's continuing failure to end impunity besides failure to bring economic relief for the nation's poor and redistribute land monopolized by his clan and other landed elite, places him under critical eyes of local and international watchdog groups.
The Philippine government will continue to be monitored by the UN and other international human rights groups who do not belong to the "extreme left." It better take steps to truly deliver justice for the human rights victims and refrain from red-baiting in vain attempt to cover up its failure to end impunity.
PRO8 intensifies drive vs. loose firearms ahead of 2013 polls
By RPCRD, Police Regional Office 8
October 24, 2012
CAMP SEC. RUPERTO K. KANGLEON, Palo, Leyte – The accounting of loose firearms is now the top priority of the Police Regional Office 8 as it gears up its security preparations for next year's mid-term elections even as it urged gun holders to renew their expired licenses.
Police Regional Director Police Chief Superintendent Elmer Ragadio Soria directed all provincial and city directors to keep a watchful eye and to arrest persons who are keeping unregistered firearms.
"The proliferation of loose firearms has remained as a critical obstacle in the fight against criminality since majority of all the crime incidents involving firearms were committed using loose or unregistered firearms," Soria said.
Soria reported that since January 1 this year, PRO8 has accounted a total of 532 assorted loose firearms of which 269 were with unrenewed licenses, 13 from threat groups, 21 from criminal elements and 229 from the hand of general public.
He also urged the gun owners to renew their expired licenses because PRO8 has intensified operations against illegal possession of firearms in connection with the elections in May 2013.
The Regional Director added that once the license of a gun has expired, it is already considered a loose firearm and gun owners were allowed a grace period of six months to renew their gun licenses. "When the gun licenses have not been renewed after the six months grace period, then they will be subjected to police operations or search warrant.", the police official added.
He said that they duly informed gun owners about the expiration of their licenses and urged them to renew papers. "Revoked gun licenses may still be renewed subject to fines and penalties. A gun owner with expired license when caught will be charged with illegal possession of firearms.", Soria said.
He added that it is also the law which will determine if an applicant is fit to carry a gun. The gun owner must be a Filipino citizen, of legal age, possesses business permit for businessmen, oath of office for professionals and he must pay the corresponding fees.
Once a license is granted, the gun owner is allowed to carry the firearm inside his residence only. If he wishes to carry it outside his house, he should apply for a permit to carry outside residence, Soria explained.
"This campaign would reduce the chance of loose firearms being used in election related crimes which may derail the realization of a peaceful, orderly, and credible electoral exercise next year", he added.
As this developed, one Michael Hinampas y Genito, 36, married, motorcycle (habal-habal) driver and a resident of Brgy. Imelda, Silago, Southern Leyte personally appeared to Silago Police Station and turned-over one unit homemade shotgun (12 gauge) locally known as "boga" to Police Senior Inspector Marianito Malibago. Said firearm is now under the custody of Silago Police Station for safekeeping.
In Sitio Litong-litong, Brgy. Lipata, Paranas, Samar, a police team led by PO3 Sherwin Martin arrested one Gerardo Abanag y Abantao, 40, married, a resident of said place, while in possession of an unlicensed caliber .38 Armscor revolver bearing serial number 3529XV with 6 live ammunitions. Subject is in the custody of said station.
Meanwhile, in Brgy. Borac, Naval, Biliran, one Allan Calde y Arneo, 29, married, fisherman, a resident of said place, was arrested by a police team led by SPO2 Jovencio Abe. Confiscated from the suspect is an improvised PVC cannon locally known as "boga", a rifle replica with plastic barrel equipped with gas tank and loaded with marbles serving as bullet. A case for violation of RA 8294 was filed against the suspect at the Office of Provincial Prosecutor in Biliran.
Soria averred that it always pays to abide by the law to avoid unwanted consequences from authorities.