Proponents to Malacañang: disregard CBCP let's push through with RH
By PLCPD
February 22, 2011
QUEZON CITY – Amid reports that the Catholic Bishop Conference of the Philippines (CBCP) has pulled out from the supposed third round of the series of dialogues with Malacañang, leading proponents of the much clamored Reproductive Health (RH) bill urged Palace to be unfazed with this development but instead support passage of the bill by certifying it as urgent and by including the bill as one of the legislative priorities of the Legislative Executive Development Advisory Council (LEDAC).
Ramon San Pascual, Executive Director of the Philippine Legislators' Committee on Population and Development Foundation, Inc. (PLCPD), expressed disappointment over CBCP's recent initiative. According to San Pascual pulling out in the middle of the dialogue on a very crucial issue is an attitude of defeat. "This development does not surprise us, CBCP has long been trying to block RH from floor deliberations and approval," he added.
San Pascual explains, much as we try to understand CBCP's excuse for their temporary suspension, we cannot help but see malice in their intent. If indeed, they are sincere with their dialogue with the Palace, why would they pull out in the scheduled end of February dialogue and resume on March when Congress is set for recess. "Could this be another delaying tactic?" he asked.
Meanwhile, San Pascual expressed optimism over Presidential Spokesperson Edwin Lacierda's statement that the Palace intends to fulfill its mandate consistent to the 5-point position on responsible parenthood (RP).
As this develops the civil society and other concerned government agencies are initiating a friendly dialogue with P-Noy on RH and RP.
"Since CBCP will never change their opposition on contraceptives, it is best if Malacañang would just terminate the dialogue with CBCP and adopt RH as part of its legislative priorities, San Pascual stressed.
City Dad meets with colleges, universities' Presidents throughout Eastern Visayas
By R.G. CADAVOS, PIA Southern Leyte
February 22, 2011
MAASIN CITY – Presidents from different private colleges and universities throughout Eastern Visayas Region, met Thursday at the Holy Infant College, Tacloban City to respond to queries concerning each institution and to know its commitment to work for the common good of the society, as a whole.
City Mayor Maloney Samaco, the President of Maasin City College (MCC), as one of the participants during the gathering disclosed in a live interview this morning over radio station DYDM that the meeting focused on the standard and quality of education they can give to the students, performance of board examinations participated by each school, upgrading of systems and services, among other concerned topics.
The body also agreed to put up a Research Department which is one of the bases for standard education, Samaco reported. "For Maasin City College, we will hire one from the Visayas State University (VSU) of Bayabay, Leyte to head the research department," Samaco said during the "Maasin City in Action" program.
They had also jointly decided to meet quarterly at different venues throughout the region. While Maasin City was agreed to host on the third quarter of this year, 2011, the city mayor revealed. There are more than 50 presidents from the colleges and universities in the whole region, he added.
Moreover, the group also suggested creating a consortium in order to share to other schools each expertise, knowledge, resources or to facilitate the same and offer their facilities or equipment during seminars and the like.
Each member-president was also asked to share their ideas and to tie up with other schools that have advance learning, explained the city mayor. A quality of a broad variety of educational opportunities for learning through its processes can provide the students a quality place of learning.
Though Mayor Samaco was from a government owned institution, a director from one of the schools in Tacloban said "you should be grateful to have invited in the said gathering."
PROGAY begs Bahrain, free jailed gays, respect street protests
Press Release
February 22, 2011
MANILA – Gay activists in the Philippines issued a call for the release of gay men arrested by police a week before massive protests swamped the oil-producing kingdom of Bahrain.
Goya Candelario, spokesperson of the Progressive Organization of Gays in the Philippines (PROGAY) called on the government of Bahrain to immediately free 127 gay Arab men as their security in detention is compromised due to the political instability in the kingdom's capital.
On February 2, Bahraini police raided a private reception for an alleged same-sex wedding, netting more than a hundred men, mostly visiting from Syria and Lebanon. The party venue was a sports hall in Hidd, a village on Muharraq Island.
Police argued that the party was decadent and depraved because of the presence of male guests who wore makeup and women's attire, and were also consuming alcohol, behaviors that are sanctioned as immoral and illegal in most Gulf countries. Later, the police conducted checks to ascertain if the men engaged in sexual relations.
PROGAY expressed concern that the police in the Middle East routinely practice increased cruelty when dealing with gay men in their custody, while citing reports from returning gay overseas Filipino guest workers. According to Candelario, some unlucky gay OFWs who entertain in private parties for fun or income get arrested in surprise raids and spend between six months to one year in prisons, where they suffer further sexual abuse, deprivation and shame.
However, victims do not file complaints and even reapply and reenter Gulf countries for work, preferring curbs on homosexual lifestyles to the grinding poverty and unemployment in the Philippines.
Last year, the Kingdom of Saudi Arabia issued a blanket ban on the recruitment of known homosexuals from the Philippines, raising protests from gay activists and prospective migrant workers.
On the other hand, PROGAY also saw hope of increased freedoms for gays and lesbians in the simultaneous uprisings of the Arab peoples against tyrannical rulers in Bahrain, Egypt, Tunisia, Libya and Yemen. PROGAY believes that democratization in these countries may provide opportunities for advancing human rights based on sexual orientation and gender identity.
Candelario also scored the Aquino administration for not pursuing genuine economic reforms that would generate employment for Filipinos. The gay advocate said that Aquino should now order an immediate evacuation plan to protect thousands of lives in the Middle East and Africa who fear further escalation of violence and job losses.
Build Saint Bernard, build a nation – Oquiňena
By BONG PEDALINO, PIA Southern Leyte
February 22, 2011
SAINT BERNARD, Southern Leyte – A tested advocate in the Filipino concept of "bayanihan" has raised the significance of helping this town recover from a fresh challenge of keeping its inhabitants safe and productive, saying doing so would be like building a nation.
"The biggest challenge is: can we work together? Can we actually work together?" asked Jose Mari Oquiňena, Assistant Secretary for Special Concerns under the Office of the Executive Secretary, as he spoke in front of various public and private agencies gathered here last week for a pledging session.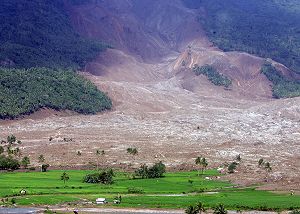 The Guinsaugon landslide tragedy
The occasion was the fifth commemoration of a tragedy that shook the world, in which more than a thousand unsuspecting people were trapped to their death mid-day of February 17, 2006, as an avalanche of rocks and soil of Mount Kan-abag, loosened by days of incessant rains, resulted in a killer landslide.
The tragedy was repeated last month, albeit in a much smaller scale, when a house in barangay Bolod-bolod was crushed also because of non-stop rains, killing three children.
But January's rains only compounded settlement problems here and along with it livelihood opportunities, as three more barangays with over a thousand residents needed to be fully evacuated in new locations.
The 2006 disaster had already resettled seven barangays in permanent resettlement sites.
In his message, Oquiňena reiterated a point he stressed in an exclusive interview earlier with PIA, saying that "people power", a force that can remove Presidents, can also be a potent force to build a new Saint Bernard and to build a nation as well, especially against poverty.
He noted that in the presentation of Mayor Rico Rentuza, no totals were shown in the figures, but totals, he said, should not be that important.
"A person having a big heart is more important that having a big pocket," Oquiňena said, stressing once again that attaining the vision ahead is not impossible.
He said the plan must be inclusive, not exclusive, for everybody, referring to the 5-year recovery plan of the town in which anyone can contribute anything.
The same mindset can be extended to nation-building, Oquiňena said, adding that those who want to help should do so not for recognition but for love of country.
"Pilipinas natin ito" (this is our country), he added.
ESSU's nursing passing rate surpasses national's
By NINFA QUIRANTE, PIA Eastern Samar
February 21, 2011
BORONGAN, Eastern Samar – The result of the December 2010 Nursing Board Exam revealed the lowest passing rate in the last ten years – 35.25%.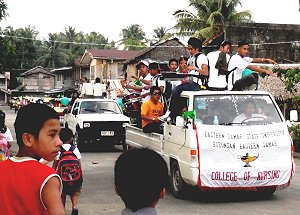 Closer to home though, the Eastern Samar State University's first go at the board examinations resulted in a 63.62% passing rate.
Out of the 44 examinees from the university, 28 graduates passed the licensure examinations hailing from the towns of San Julian, Balangkayan, Dolores, Borongan, Maydolong, Jipapad and Hinabangan, Samar.
The dean of ESSU's College of Nursing Ruth Aguilar, is expecting a motorcade to congratulate the passers and most certainly a streamer with the passers' names.
Rey Dominic Ladera, instructor in the college credits "teacher factor and the rigorous screening process" for this success.
The university conducted a pre-board examination before the actual board examinations on December and 90% of the students aced the test.
"But we were overwhelmed of the result," Ladera said.
The stakes are high for high school graduates wanting to enroll to the university's program because a student has to have a general weighted average of 85% to qualify.
Entry to the college is not the end all though because, Aguilar explained, students in the nursing program are expected to get a 2.2 mark on all courses; otherwise, they are "advised to shift to a different program or transfer."
"The students are evaluated every semester," Aguilar said.
When asked about her reaction to reports of nursing graduates ending up unemployed or underemployed, Aguilar said that she would still encourage people to take up nursing. "In our province alone, there remains a big need for health workers," Aguilar said.
The college is planning to launch a campaign in local high schools to encourage students to become nurses.
The passers will take their oath on March 14 and 15, 2011.
DOH launches RN HEALS in Northern Samar
By TERESITA B. CARDENAS, PIA Northern Samar
February 21, 2011
CATARMAN, Northern Samar – The Department of Health has launched the Registered Nurse Health Enhancement and Local Service (RN HEALS) in Northern Samar on February 18, 2011 at the Ibabao Hall, Capitol Building in Brgy. Dalakit, Catarman.
The launching was attended by DOH Secretary Enrique Ona, DSWD Secretary Corazon "Dinky" Soliman, DBM Secretary Florencio Abad and DepEd Secretary Armin Luistro, Deputy Speaker Raul A. Daza, Governor Paul R. Daza, Philhealth Regional Vice-President Walter R. Bacareza, DSWD Regional Director Letecia Corillo, DOH Regional Director Edgardo Gonzaga.
According to Secretary Enrique Ona, RN Heals is the immediate answer of the government to provide registered but unemployed nurses the practical experience. They will be having the work experience they need to qualify and be employed on hospitals and other related institutions.
He said our presence here is to attest the commitment of President Aquino to combat poverty, economic and social problem of the nation. The program will service the most advantageous group of our society.
This bridging program will train and employ them for 6 months to one year to deliver health services. The span of the training is the minimum entry-level of what is required for job seekers.
In Northern Samar we deployed 201 nurses for the 24 municipalities of the province. They will be given a monthly stipend of P8,000 from the Department of Health and P2,000 as counterpart from the local government where they are assigned, he added.
DepEd Sec lauds Leyte Sports Academy project
By Provincial Media Relations Center
February 20, 2011
TACLOBAN CITY – Education Secretary Armin Luistro lauded Leyte province's sports-academic program at the Leyte Sports Academy saying it is an "excellent" program which other local government unit can replicate.
Sec. Luistro, who was among of the four cabinet secretaries in attendance during the Regional Development Council Meeting, made a side trip to the Leyte Sports Academy at the Leyte Sports Development Center to personally see the facility that has produced athletes who have earned a number of medals during the recent regional sports fete.
Sec. Luistro was showed around the facility and personally briefed by Gov. Carlos Jericho Petilla of the five-months old sports-academic program which was initiated by the provincial government of Leyte to offer high-caliber training to young individuals in the fields of swimming, athletics and boxing as well as provide them with quality education.
Describing the program to be "excellent", Sec. Luistro said the program is a bit similar, in principle, to the sports program of the Chinese government which have produced great swimmers and other athletes in the world.
"In principle, this program is a bit similar and I hope it will produce the same effect as it did in China," Sec. Luistro told the governor.
The education secretary otherwise wanted assurance that the athlete are getting the academic part of the scholarship in accordance with the curriculum provided in public elementary and high schools.
DepEd-8 Regional Director Felicidad Saet assured the scholars are being given the tight academic learning similar to that of a regular student in a public school.
The pool of athletes who are full scholars of the province now numbers to 42. They have been undergoing rigid sports trainings under professional trainers and coaches and at the same time completing their school studies supervised by the DepEd Leyte.
Rooms and other areas at the Leyte Sports Development Center have been converted into a dormitory, kitchen, mini gym and other necessary facilities for these athlete-scholars while the rest of the facilities of the Grandstand such as the oval track and swimming pool are made available for their everyday training.
Gov. Petilla said this is a fund-consuming undertaking but this is the only way to develop champion-caliber athletes and to improve the province's and subsequently the Region's standing in national sports competitions.
Region 8's PNP Press Corps "under watch", proposed reorg suspended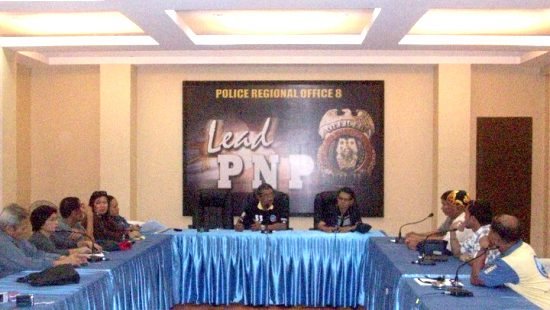 By GINA DEAN-RUGUDO, Samar News.com
February 19, 2011
CALBAYOG CITY, Samar – In his attempt to alienate other members of the media from participating the election or reorganization of the PNP Press Corps, DRDO PSSupt. Edgar Basbas failed to justify the basis of his assertion that "only legitimate media practitioners of Region 8 who are members of the PNP Press Corps can cast their votes and be nominated/voted upon and those who are not members will serve as witnesses in the election." This statement has created doubt and negative reactions from the body especially those who came from Samar, Southern Leyte and Biliran provinces that attended the general assembly for the first time based on the invitation of the PNP Press Corps under the leadership of Ben Veridiano.
The effect of his statement has prompted others to check if the organization had an existing constitution and by-laws that could define and identify the legitimate members of the PNP Press Corps. Offended and dismayed, the rests opted to leave the conference room in the middle of argument, though there were those who walked-out disappointed when their ultimate intention of unseating an officer was deferred due to technicality.
It was found out that the organization had no constitution and by-laws, and dominated mostly by Tacloban or Leyte media.
It was also observed that there were even no minutes of the previous meeting made, and accomplishment reports from the previous year or 2011 plan of activities presented by the incumbent officers.
The fact that the organization could not present any list of the "legitimate members" of the PNP Press Corps is a manifestation that the organization is inoperative and dysfunctional, said Samar media.
Information revealed, was the alleged move of the officers to overthrow their president from the position and submitted their new set of officers before the office of the PNP regional director but was rejected.
Should the reorganization had pushed through last Wednesday, only few of region 8's media practitioners could participate, and the scenario could worsen the situation by defeating the efforts of the PNP to establish alliance with the group.
Be it noted that Eastern Visayas is composed of 6 six provinces namely Biliran, Leyte (Tacloban City and Ormoc City), Southern Leyte, Samar (Calbayog City), Northern Samar and Eastern Samar but the PNP Press Corps for the past 4 administrations had been monopolized by only one province. That is why the present leadership of Ben Veridiano and PRO8's Community Relations Office endeavored to tap the region's member of the press (radio, television, print, and online media) to attend the general assembly.
Since no reorganization was realized, PCR Chief PSupt. Elizar Egloso recouped by allowing everyone to become a member of the PNP Press Corps.
The present set of officers would act as "interim officers" while the committee created to draft the constitution and by-laws chaired by Chito Morante (dyVL) will meet again to finalize the rules and internal regulations of the organization that would prescribe the rights and duties of its officers and to regulate the acts of all its members which would be in accordance with the journalist's code of ethics.
Reports banning communion to RH supporters angers women's group
Press Release
By DSWP
February 18, 2011
A group of women advocates working with the grassroots communities is angered over reports that a certain parish has initiated banning communion to Reproductive Health (RH) supporters.
The Democratic Socialist Women of the Philippines (DSWP), a group of more than 300 organizations nationwide, cried foul over this initiative and called on Catholic RH supporters to act on the call.
Elizabeth Angsioco, DSWP National Chairperson expressed grave concern that the anti-RH Roman Catholic hierarchy is again using people's faith to hostage the RH bills. "Using the pulpit and the sacrament of communion to block the passage of the RH bill in Congress is an act of desperation," Angsioco said.
The Catholic hierarchy says that it is unfazed by the passage of the RH bill in the House Committee on Appropriations and that they have the numbers to block it in the plenary, yet it resorts to desperate measures laments Angsioco.
"This is totally unfair and detestable," said Angsioco. "Many of our members are practicing Catholics who religiously hear mass every Sunday. These poor women do not see any inconsistency between their religion and active advocacy for the RH bill. Today, upon learning of this ban, one of our leaders said that she will no longer go to mass if she is not welcome there. She also said that she can always directly pray to God."
"Moreover, people are now talking of ways to make the Catholic hierarchy feel their resentment. Some say they have walked out and will continue to walk out of masses where the RH bill is vilified; others call for total boycott of masses; there are those who engage their priests in discussions; and there are Catholics who vow to stop giving donations to the church," added Angsioco.
"As a woman RH advocate, I urge other pro-RH catholics to act on this call of the Catholic church to NOT receive communion. This is religious bigotry plain and simple. This is coercion in the guise of religion Do not let the Catholic hierarchy's arrogance deter us from our work of making RH information and services available especially to those in poverty who need these the most," she continued.
Angisoco urges Catholic RH supporters to make their sentiments known. "This is the time to speak up and act. Whatever you do, make the hierarchy know how you stand on this issue."
LGU dad appeals for public-private partnership to redesign a disaster- proof St. Bernard
By ES GORNE, PIA Southern Leyte
February 18, 2011
ST. BERNARD, Southern Leyte – "Ano ang taya mo?" The battle cry of Municipal Mayor Rico Rentuza as he invited for a public-private partnership in redesigning and rebuilding St. Bernard into a disaster-free municipality during the Disaster Risk Reduction Management (DRRM) forum at Cristo Rey High School Social Hall, Thursday, February 18, 2011.
Mayor Rico Rentuza, who spearheaded in the 5th commemoration of the Guinsaugon landslide, met with the various private and public agencies who responded to his five-year recovery plan at the DRRM forum right after the Holy Mass at the New Guinsaugon Relocation Site.
Mayor Rentuza hoped to begin the process of a disaster-free nation building right in St. Bernard as he called on those present to take their share in moving at least 1,300 families of St. Bernard to safer grounds in his presentation yesterday.
Mayor Rentuza disclosed that the municipality could have taken off from the 2006 calamity, however with the onslaught of the tail end cold front that brought incessant rains resulted to flooding and landslides, more barangays were greatly affected and needed assistance, thus the municipality is back to zero.
He said that the task to relocate some areas of Barangays Tambis Tabon-tabon, Mahayag, Malinao and Sitio Ma. Asuncion (Barangay San Isidro), portions of Barangay Bolod-bolod, Catmon, Maria Asuncion, Hindag-an and Himbangan for permanent relocation and the task is gigantic but he intended to start in smaller scales, he added.
He clearly illuminated that the five year recovery plan is anchored on the following aspects: The livelihood assistance, that relocating these families need livelihood assistance since they are moving in another environment. Secondly, the need for the acquisition and development of relocation sites and building of their new houses. Third is the dire need to construct their own primary hospital since the district hospital of Anahawan is located in another town, and fourth will be the rehabilitation of now three-pronged and wild Lawigan River that brought at least three barangays underwater including their rice fields during heavy rains.
Mayor Rentuza appealed for help since their municipality's coffers which is P2.4 million where 70% is intended for the preventive measures and 30% is mandated to be utilized for the relief assistance is surely not enough for the great task to rebuild St. Bernard and move people to safer grounds.
The DRRM forum was assisted with Assistance and cooperation for Community Resilience and Dev't. (ACCORD), who is among those non-government organizations who provided continuously technical assistance in managing ongoing humanitarian response, drafting early recovery plan, long-term development plan.