PSWD: 8ID brings hope to the people
By CMO Battalion, 8ID PA
February 3, 2011
CAMP LUKBAN, Catbalogan, Samar – The Head of the Samar Provincial Social Work and Development (PSWD) Mrs. Luz Tacal happily received Mylene dela Cruz, one of the survivors of the New People's Army's Matuguinao massacre last year in a simple yet meaningful turn-over ceremony in the headquarters of the Army's 8th Infantry Division, Catbalogan, Samar around 10 a.m., yesterday.
Mrs. Tacal dubbed 8ID to have been bringing hope to the people after saving Mylene's family and her life in the claws of death brought by the terrorist NPA. She and her family were in the custody of the 8ID as she underwent series of medical operations for several months until finally turned over to the care of PSWD.
It can be recalled that sometime in March 2010 Mylene's family was mercilessly attacked at Barangay Bag-otan, Matuguinao Samar. She, his husband Jovic and son Joshua had miraculously survived but her left hip was seriously hit by the terrorist bullet. Doming and Junie, father and brother of Jovic respectively died in that tragic event.
Mylene was immediately brought by the government troops to Samar Provincial Hospital for her immediate medication, but because of lack of facilities, she was brought to Camp Lukban Station Hospital. She was then brought to AFP Medical Center or V-Luna hospital for immediate hip prosthesis. The series of operations has incurred an expenses amounting to around P1.3 million pesos that was shouldered by the Philippine Army.
Meanwhile, Colonel Virgilio Espineli, the assistant Division Commander of 8ID said that Mylene was indeed lucky enough for surviving the misfortune in her life. He said that the support extended to her by the Philippine Army is somewhat fulfilling to the mandate of Army's protection of life and people's right.
"We want to inform the public especially the local government units that this problem could not be solved by a mere military solution. Necessary cooperation and collaboration is needed to achieve our aspiration to fully develop our province as well as to attain the long and lasting peace for the Samarnon," Colonel Espineli adds.
The colonel also said that Mylene is a typical example of what our people would be if insurgency will continue to reign as it posses a big threat to our innocent people. The family of Mylene has no arms nor power to defend themselves but still, terrorist NPA did not hesitate to pin them down for just a mere allegation.
Mrs. Tacal further thanked the leadership of 8ID for continuously making coordination to their office especially with regards to the welfare of their constituents. She said that although their agency could not certainly provide the same amount of assistance extended by the 8ID, they will do their best to seek assistance from the city government of Tacloban and to the other agencies or organizations to sustain the needs of Mylene.
"We are very much thankful to the military for the efforts and medical assistance they gave to Mylene. That kind of effort on your part is a genuine manifestation of your will and commitment to serve our people here in Samar," She says.
Mylene is now re-united with her family, starting anew her life along with her husband Juvic and son Josua, after the trauma that was brought to them by the terrorist NPA. The DSWD 8 will continue to monitor Mylene because after the physical healing of Mylene, the emotional trauma still haunt them where Mrs. Tacal promised to address by letting them undergo counseling sessions to help them recover and move forward to a new life.
PNP dismisses cop in possession of illegal drugs
By RODRIGO S. VICTORIA, PIA 8
February 3, 2011
TACLOBAN CITY – A cop arrested by the drug enforcement agency in possession of illegal drugs was dismissed from the service for commission of an administrative offense.
According to Rochelle Febria, information officer-designate of the Philippine National Police Regional Office 8, PO2 Elmer A. Ampong was arrested by agents of the Philippine Drug Enforcement Agency (PDEA) on January 28, 2011 in a buy-bust operation in Candahug, Palo, Leyte.
Febria said that seized from PO2 Ampong was a brick of cocaine and a .45 caliber pistol.
PO2 Ampong is charged for violating Section 5 of Republic Act 9165 or the Comprehensive Dangerous Drugs Act of 2002 which prohibits the sale of illegal drugs, Febria said.
She said that P/CSupt Arnold R. Revilla, Regional Director of PNP 8 clarified that PO2 Ampong who was assigned at the Regional Headquarters Service Support Group in Camp Kangleon, Campetic, Palo, Leyte was already dismissed from the service on December 21, 2010 for Serious Neglect of Duty (AWOL).
Febria added that PNP 8 Director Revilla disclosed that several notifications were sent to PO2 Ampong directing him to appear before the hearing officer and submit pertinent documents related to his administrative case.
She further said that Director Revilla informed that after all efforts exerted were futile for PO2 Ampong to appear before the hearing officer and submit pertinent documents related to his administrative case, the hearing officer in the ex-parte or summary proceeding conducted found PO2 Ampong administratively liable and was penalized with dismissal from the service.
Febria said that Director Revilla stressed that any report or sweeping statement implicating the police organization in any illegal drug activities which tainted the integrity of the PNP is deemed improper and baseless.
Local motorists plan to increase fares in Maasin City
By ES GORNE, PIA Maasin
February 3, 2011
MAASIN CITY – After series of fuel price increases being implemented by local gasoline stations in Maasin City, local motorist associations have been attempting to step up fare increases by P1.00 since late last year yet.
Ramon Buyser, a member of the Maasin Motorcab Association (MAMODA), reported that they have already presented their petition for fare increase after series of fuel price increases in the locality that were experienced. This is excluding from the price increases on the spare parts of their motorcab in the market.
Should the petition for fare increase be approved, an additional amount of P1 for the first five kilometers will be collected from the present P7 which will eventually become P8 fare in the city, Buyser added.
He further said that their petition for fare increase has already been brought to the attention of Sangguniang Panlungsod for deliberations and legal actions needed to enforce such fare increases.
Meanwhile, Sangguniang Panlungsod of Maasin City would like to conduct a public hearing to the public commuters about the petition as planned by the motorists.
It was learned earlier that the said petition will face resistance from the parents and students since these will only add more burden to the public with the price increases in almost all of the prime commodities in the market, among others.
NSO Southern Leyte spearheads first provincial barangay secretaries convention for civil registration
By FAITH GENOVANA, PIA Maasin
February 3, 2011
MAASIN CITY – In connection with the observance of February as Civil Registration Month, the National Statistics Office (NSO) In Southern Leyte will be initiating the first Provincial Civil Registration Convention of Barangay Secretaries this coming February 18, 2011.
The day-long, historic event will be held at the Southern Leyte State University (SLSU) gym in Sogod town, and it will be graced by luminaries and civil registration experts coming from the NSO central office.
The visitors will also serve as lecturers during the one-day orientation seminar for all the barangay secretaries from all the 500 barangays of the province.
In fact, this will be the first time such gathering of barangay secretaries can take place all throughout the country for the purpose of learning how to handle civil registration procedures and related matters at the barangay level.
It is expected that the village secretaries can learn the basics of birth, marriage and death registration, including the new civil registry laws such as RA 9048 (Clerical Error Law) and RA 9255 (Illegitimate Children's Act).
The convention was carried out in coordination and cooperation with the Southern Leyte Municipal Civil Registrar's Association, Inc. (SOLEMCRA).
Also in the month of February, the provincial NSO will be initiating civil registration symposiums in different schools and colleges around the province to further create awareness among students on the relevance of their civil registry documents.
February every year was declared as Civil Registration Month pursuant to Proclamation No. 682 signed by then President Corazon Aquino.
This year's theme, "Quality Civil Registration in Support of the National Development Goals," enshrines the importance of quality civil registry data in the formulation of accurate development plans.
Among the activities suggested to mark the month-long observance included mobile registration, display of streamers, free issuance of certification, mass weddings, symposiums, civil registration quiz, slogan contest, and holding of exhibits promoting civil registration.
PH Embassy in Riyadh bares guidelines to avail of amnesty for those who overstayed or violated residency rules
By Philippine Information Agency (PIA 8)
February 2, 2011
TACLOBAN CITY – The Philippine Embassy in Riyadh bared the guidelines on how to avail of the Royal Pardon or Amnesty for those who overstayed their visas or violated residency rules.
This was learned from Mr. Alex Bello, an OFW leader from Tacloban who is now in Dubai.
With reference to those who violated their hajj, umrah and visit visa, their fingerprints shall be taken by the Wafeeden Departments and then they shall be processed accordingly and allowed to leave.
With reference to those who are visitors on family visit visa, they should proceed to the Directorate for Passports [Jawazat], settle fees for extension of the visit visa which has a penalty of SR200 per month. The SR10,000 penalty has been suspended for the six month period of the Royal Pardon.
Their status should be corrected at the computer database of the Directorate for Passports. The visit visa holder is also required to present him or herself to the General Directorate for Passports or Jawazat in the respective regions for biometrics or fingerprinting and finalization of his repatriation.
According to the authorities, all overstaying nationals, including those availing of the Royal Pardon, will be blacklisted from returning to the Kingdom.
Overstaying foreign nationals apprehended after the 23 March 2011 will be required to pay a heavy penalty and may be subject to imprisonment.
In its reply to the query of the Philippine Embassy in Riyadh, the Saudi Ministry of Foreign Affairs did not include any mention of those with expired iqamas; those who came to the Kingdom for employment with a sponsor and have stayed beyond the validity of their iqama; or those who absconded from their original employer and seek repatriation.
The Philippine Embassy in Riyadh said that it is therefore clear that, as mentioned in various news reports, absconding workers or TNTs are not included in the Royal Pardon or "Amnesty".
Various officials of the Embassy and the Philippine Overseas Labor Offices in Riyadh, Al-Khobar and the Philippine Consulate General in Jeddah have made representations with the Saudi concerned authorities, particularly the General Directorate for Passports [Jawazat] and the Directorate for Expatriates Depending on a case to case basis, the general procedure and requirements include: the absconding or overstaying worker should contact and proceed to the nearest Philippine Oversees Labor Office and provide the information on the sponsor or employer; the original or copy of the iqama.
POLO officer shall interview the OFW to determine his/her status and shall contact the sponsor to negotiate for the "No Objection certification" by the original sponsor; the Settlement Agreement or mukhalasa between the employee and employer wherein both parties sign that they have no claims.
In the case of the employee, this ensures that he has received all his monetary claims from the employer. In case of the employer, this ensures that he has no monetary claims against the employee, such as debts and other possible claims.
Filipinos who have overstayed their hajj, umrah and visit visas are advised that the procedures for the Royal Pardon or Amnesty for these categories are identical and applicable in all regions and provinces of the Kingdom.
The Embassy reiterates its advice to all Filipinos seeking repatriation, who came to work with a sponsor and have absconded but had not filed a complaint with the Saudi Labor Office or Saudi police for private rights such as unpaid salaries that they should seek the assistance of the Philippine Overseas Labor Office in their city of residence, whether POLO Riyadh, POLO Jeddah or POLO Al-Khobar.
Filipinos seeking repatriation should not travel to other cities to seek repatriation. In case of apprehension by Saudi authorities, their repatriation could be stalled by the need to take them back to their city of residence for processing and clearance from their sponsor or employer.
Samar's first district solon pushes K12 Program and DepEd merging with CHED and TESDA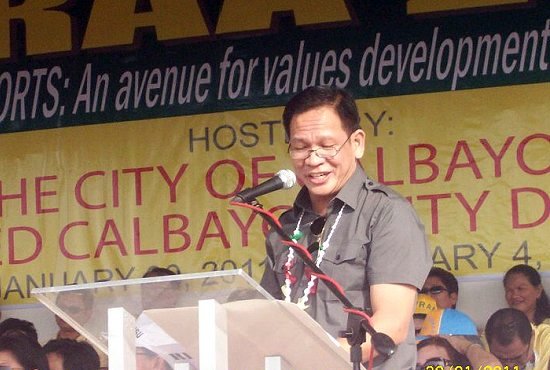 By GINA DEAN-RAGUDO, Samar News.com
February 3, 2011
CALBAYOG CITY, Samar – As guest speaker in the opening ceremony of Eastern Visayas Regional Athletic Association (EVRAA) Meet held Sunday (January 30) at Northwest Samar State University, First District Representative Mel Senen Sarmiento highly acknowledged former congressman now Calbayog City Mayor Reynaldo Uy for being his coach before he entered the House of Representatives.
From among the various committees that Uy listed, Sarmiento underscored his membership and active participation in the committees on education and appropriations.
"It really pays to have a coach just like you guys right now. It pays to listen to your coach. Thank you very much former Congressman Reynaldo Uy for the support you have provided me," Sarmiento said.
While the budget is defended on the floor, he added that being a member of the Basic Education and Appropriations Committees, it has given him a good opportunity to provide and put premium on his educational agenda as well as pushing for improving the educational system in the country which was recognized by the chair.
The bill that he's supporting is geared towards institutionalizing the creation of kindergarten or K+12 Program in the country which was already approved in the house.
By the next school year, elementary schools may not anymore accept Grade 1 enrollees who have not finished preschooling.
This is according to House Bill 3826, otherwise known as the "Kindergarten Education Act," which seeks to include kindergarten education in the country's basic education system starting school year 2011-2012.
Should the bill be signed into law, children aged five years and above would be required to finish a year of kindergarten education as a prerequisite for Grade 1.
According to the bill, kindergarten education is vital to the academic and technical development of children in the period where they have the sharpest absorptive capacity for learning. Thus, kindergarten schooling is seen as a sufficient preparation period for children before they receive formal elementary education.
Sorsogon 1st District Rep. Salvador Escudero III, chairperson for the House Committee on Basic Education and Culture, recommended House Bill 3826 as a substitute for House Bills No. 18, 25, 63, 89, 1622, 2104 and 3555 considering them the same. Rep. Thelma Almario of Davao Oriental is the principal author of the said bill.
The passage of HB No. 3826 said Sarmiento would paved the way in authorizing the country's high school graduates to join the labor force without the need of enrolling into college or finishing first a degree.
In Unites States, Singapore and other ASEAN regions their high school graduates are already competitive in terms of employment. Unlike the Philippines, ours are not allowed under the labor code to sign a contract of service until they reach 18 years of age.
Sarmiento, as designated by Basic Education and Culture Chair Escudero led the group in going around the country to explain the rationale behind adopting the K12 Program.
Aside from introducing said bill, he informed the public especially Dep Ed Region 8's bigwigs that President Aquino's administration is facing a big challenge in the education department as it needs 150,000 classrooms but the government can only provide 14,000; and 108,000 teachers but only 10,000 is being allowed by the budget.
On the other hand, the government is contemplating to integrate or merge Department of Education (DepEd) with Commission on Higher Education (CHED) and Technical Educational and Skills Development Authority (TESDA), thus making into one department in order to establish a closer coordination among the educators and formulate reforms in the educational system of the country, Cong. Sarmiento concluded.
Mayor Samaco spells out 11 things to do for 2011 in SOCA
By BONG PEDALINO, PIA Southern Leyte
February 2, 2011
MAASIN CITY – In front of a captive audience of city heads of offices and members of the Sangguniang Panlunsod (SP) at the session hall here, City Mayor Maloney Samaco yesterday enumerated a number of things he intended to focus his energies this year.
Speaking for his annual State of the City Address (SOCA) dubbed "11 for 11", Samaco dwelled on his top priorities that included enhancing some structural landmarks in the city, gaining access for alternate sea and air transport, developing key spots to attract tourists, promoting sports as a kind of tourism magnet, and adding a vocational-technical course of the city-initiated college.
In specific terms, Samaco briefly discussed plans for improvement of the integrated market and bus terminal, improvement of the old public market, improvement of the Maasin city gymnasium, improvement of the Maasin city hall, establishment of the Eco-Park at the new sanitary landfill;
Development of the City Forest Park and Guinsohotan Cave as tourism sites, establishment of the Guadalupe Ro-Ro port and development of Panan-awan airport, offering of vocational-technical courses for Maasin City College, establishment of mobile classes through Alternative Learning System (ALS), and promotion of sports tourism.
The eleventh or last item for this year's SOCA was the continuity of his 13-point agenda, a governance thrust based on the spelling of his name, "Maloney Samaco."
These included Market and business improvement, Agricultural productivity, Livelihood assistance, Orderliness and peace promotion, Nutrition and health services, Education for the masses, Youth empowerment, Sports excellence, Anti-illegal drug campaign, Mangrove and forest protection, Concreting and maintenance of roads, and Overall barangay development.
The SOCA was timed during the regular session of the city council yesterday morning, and it lasted for one hour, from 11:00 to 12:00 noon.
With Rabusa and Mendoza's testimonies on the pabaon for military generals
Women rights group calls the AFP a bastion of human rights violators and thieves in uniform
By Tanggol Bayi-Karapatan
February 2, 2011
MANILA – "When Heidi Mendoza risked her life and career by attesting to the plunder of public funds of the military generals, two things were made clear, among others: that a bold conviction in the truth trumps over fear, and that the Armed Forces of the Philippines is not only a bastion of human rights violators but of thieves in uniforms as well."
Thus said Cristina Palabay, convenor of Tanggol Bayi-Karapatan (an association of women human rights defenders), as former Commission on Audit auditor Mendoza yesterday detailed the money trail of Garcia who stands accused of plundering P303 million from government funds, including the questionable use of $5 million allegedly from funds given by the United Nations for peacekeeping operations of the AFP.
"The Philippine military has always been a bastion of crime and corruption. The very institution that has vowed to protect and serve the Filipino people is appallingly the same one that violates their rights, steals from them and aggravates their poverty. Mendoza's revelation on the corrupt practices of the military goes to show that the institution has perpetuated these with impunity, the same way it has perpetuated its human rights violations with impunity," she said.
Palabay commended women like Mendoza and former Navy Lt. Nancy Gadian, who exposed similar cases of corruption in the military's corruption of the Balikatan funds in 2008.
"We commend Mendoza and Gadian who, even with threats to their lives, family and jobs, chose to expose such corrupt practices. We should remain vigilant in ensuring that accountability and justice should be served," she concluded.
Non-uniformed civil servants should handle AFP funds – Romulo
Press Release
February 2, 2011
QUEZON CITY – Non-uniformed career civil servants should directly supervise the quality of financial reporting and accounting in the Armed Forces, House Deputy Majority Leader and Pasig City Rep. Roman Romulo said Wednesday.
"This is one way to curb the rampant misuse of military funds that is depriving our foot soldiers and their ground officers the full support that they need in the field," Romulo said.
In the military, Romulo noted that soldiers are strictly taught to obey and comply first and ask questions later, or not ask questions at all.
"Under the circumstances, with uniformed personnel looking after military funds, they are under the total control of their superior officers," Romulo pointed out.
He said lower-ranking officers who defy their superiors would be extremely vulnerable to trumped-up court martial proceedings, or to summary field reassignments.
Romulo said the proposal to allow non-uniformed civil servants to oversee military funds was first advanced by former Armed Forces Chief of Staff and retired Gen. Narciso Abaya in February last year.
"There is wisdom is General Abaya's proposal. Those handling the funds should not be directly under the military's chain of command, which is absolute," Romulo said.
"This way, they will not be under any undue pressure to illegally release or divert funds, or make unwarranted purchases," he said.
Romulo made the statement amid reports of hundreds of millions of pesos in "missing" military funds.
Former military budget officer and retired Lt. Col. George Rabusa earlier also claimed that newly promoted as well as retiring chiefs of staff have been illicitly getting multimillion-peso cash gifts out of a slush fund.
"The more relevant question now is whether the practice of giving welcome and send-off cash gifts persists to this day," Romulo said.
He added: "Who was the last newly designated chief of staff to receive a welcome cash gift? And who was the last retiring chief of staff to receive a golden parachute?"
"This is totally unacceptable – that our troops in the front have to endure the lack of weapons, basic protection gear and even food provisions, on account of the unchecked misappropriation of military funds," Romulo said.
In pushing for the enlistment of non-uniformed personnel to run the military's accounting, disbursement and purchasing processes, Abaya had said that the culture of confidentiality and an "old boys network" were to blame for the financial irregularities in the Armed Forces.
Abaya had also lamented that "in the military service, graft and corruption take its toll on the lives of soldiers and on the accomplishments of the mission."
Barangay officials find hand grenade while laying pipes for a water system project
By BONG PEDALINO, PIA Southern Leyte
February 2, 2011
MAASIN CITY, Southern Leyte – What used to be a non-event of a chore working the ground for laying out pipes and channeling water in a barangay turned out a shocker when an old hand grenade, its safety pin unlocked, was found in the course of the digging.
This was what happened Tuesday as recounted to the City Police by Benito Tagra Lorzano, Punong Barangay of Batuan, a hinterland village located some seven kilometers from the city proper to the northwest, together with his lead Tanod Floro Candole Oliva.
Police Officer 2 Herman Montederamos of the City Police Office said that at about ten in the morning on Tuesday, both Lorzano and Oliva showed up at the station bringing along the found item, a grenade similar in appearance with a cacao fruit.
It was not an easy task, as the barangay volunteers scampered to a safe distance first upon seeing the dreaded thing dug just a feet off the ground's surface, fearing it will explode, and only a little later did one of them mustered the courage to peep and pick the unusual find.
PO2 Montederamos said he likewise surrendered the old grenade immediately to the Firearms and Explosives Division at the provincial PNP headquarters for safekeeping and disposal of the same.
In a follow-up call at the provincial PNP, Police Inspector Antonio Tiu told the Philippine Information Agency (PIA) that the grenade was technically called NK4, and that it was probably buried in the 70s at the height of the imposition of Martial Law in the country.
P/Insp. Tiu, a bomb expert, said the grenade still had some powder inside but it will no longer explode on its own, yet remained dangerous as it can be harmful once triggered by heat, like thrown into an open fire.
He said he had custody of the object for now, but this will be disposed in a quarterly disposal of similar materials at the Police regional office.